So, you got tired of spreadsheets to manage your company data and looking for CRM software for your business, right?
If so, that would be one of the best business decisions you have made to date. A Good CRM software enables you to manage all your business data, including customer details, marketing, and sales statistics in one place, which ultimately saves you time and helps your team operate more efficiently.
No matter in which industry or how big or small your company is, a CRM is a must-have tool. That's why in this article, I have collated a list of the best CRM software suitable for businesses of all kinds and sizes.
Best CRM Software for Small Businesses
Being a small business cannot be an excuse for companies to continue using inefficient spreadsheets to manage all their contacts and related operations.
Having said that, here are some of the best CRM software which are affordable and offers all the essential features a sales and marketing team needs to generate leads and nurture them efficiently.
1. HubSpot – Best Free CRM Software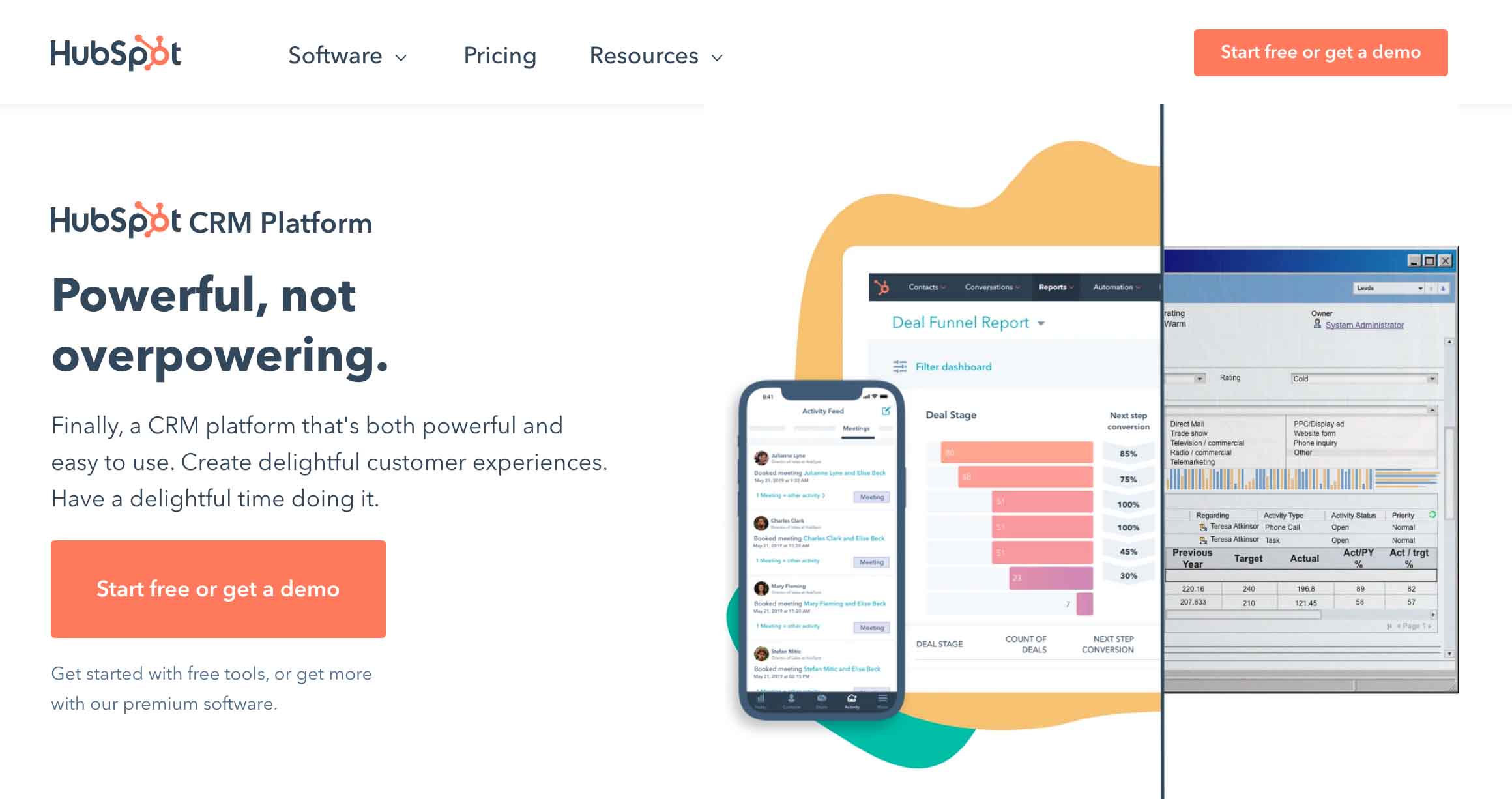 Hubspot CRM acts as a pioneer that reinforces small to large-sized businesses by automating all the sales & marketing pipelines by gearing up your entire customer lifecycle management.
Whether you are a marketer or a salesperson, the HubSpot CRM provides you with a complete set of automated features to enhance your customer experience.
Feature Highlights –
Collaboration: It will help you manage all the conversations in one inbox, allowing you quickly access all the previous conversation details.
Chatbots: It enables you to integrate with live chats and chatbots to improve customer experience.
Automation: It can easily automate your email marketing workflows, and it offers productivity tools for enhancing your team's efficiency.
Lead Management: It helps organize and sorting deals in your pipelines and takes care of all the critical activities resulting in a better relationship with the customers.
Marketing: It lets you create on-brand, professional landing pages with a free landing page builder and offers free ad management tools to capture leads and convert them into long-lasting customers.
Pros:
It offers free email marketing and list segmentation to create a high-level personalization experience with your customers.
It provides excellent third-party integrations and saves more time by providing superb automation facilities.
It provides powerful Ad management tools to manage paid campaigns on Google Ads, Facebook, & LinkedIn Ads, etc.
It provides excellent 24/7 customer support via phone calls, emails, and chat.
Cons:
HubSpot's mobile application is not very useful and requires more improvements.
Sometimes the dashboard can become quite difficult for users to understand.
2. ZohoCRM – Powerful CRM Software for Small Businesses
Zoho CRM is one of the best-in-class CRM software, which extensively covers all automation capabilities right from lead management to team collaboration.
Zoho's omnichannel support connects with social media, live chat, emails, etc. Zoho provides its AI-powered assistant for sales called Zia, which uses intelligent automation to enrich your team productivity and ignites your conversion rates.
This powerful CRM software also provides actionable analytics and reporting by offering customizable reports and allows you to set a target meter wherein you can easily understand whether your business goals have been achieved or not.
Feature Highlights –
Lead Management: It enables you to scan your lead's business card, and it's automatically stored in CRM, which allows you to send timely emails before they churn out.
Customer Segmentation: It lets you create separate buckets based on various criteria so that the customers who fit into those buckets will be automatically added.
Sales Enablement: It offers a broad range of sales enablement tools that maximize your efficiency and lets you dive into the world of data by providing deep actionable insights.
Team Collaboration: It offers a centralized feed to discuss day-to-day tasks, integrate chat tools with CRM, and allows to tag your teammates for getting the task done quickly.
Pros:
Whether your organization is B2B or B2C, ZohoCRM provides the best-in-class tools to optimize efficiency and revenue.
It lets you access all your daily tasks with its mobile CRM app, using which you can manage prospects, view sales analytics, and more.
It allows you to create multiple pipelines with fully customizable stages.
It provides an in-built no-hardware telephone system, allowing you to make and receive calls, purchase phone numbers for your team members.
It is one of the most affordable CRM in the market right now, starting with $7/user/month (paid annually).
It provides seamless integration with Zoho Tools and others, including GSuite, Office 365, Zapier, etc.
Cons:
Some customers feel that service support could be even more quick and reliable to solve emerging issues.
Exporting any type of document becomes highly cumbersome.
3. EngageBay – Free CRM Software for Small Businesses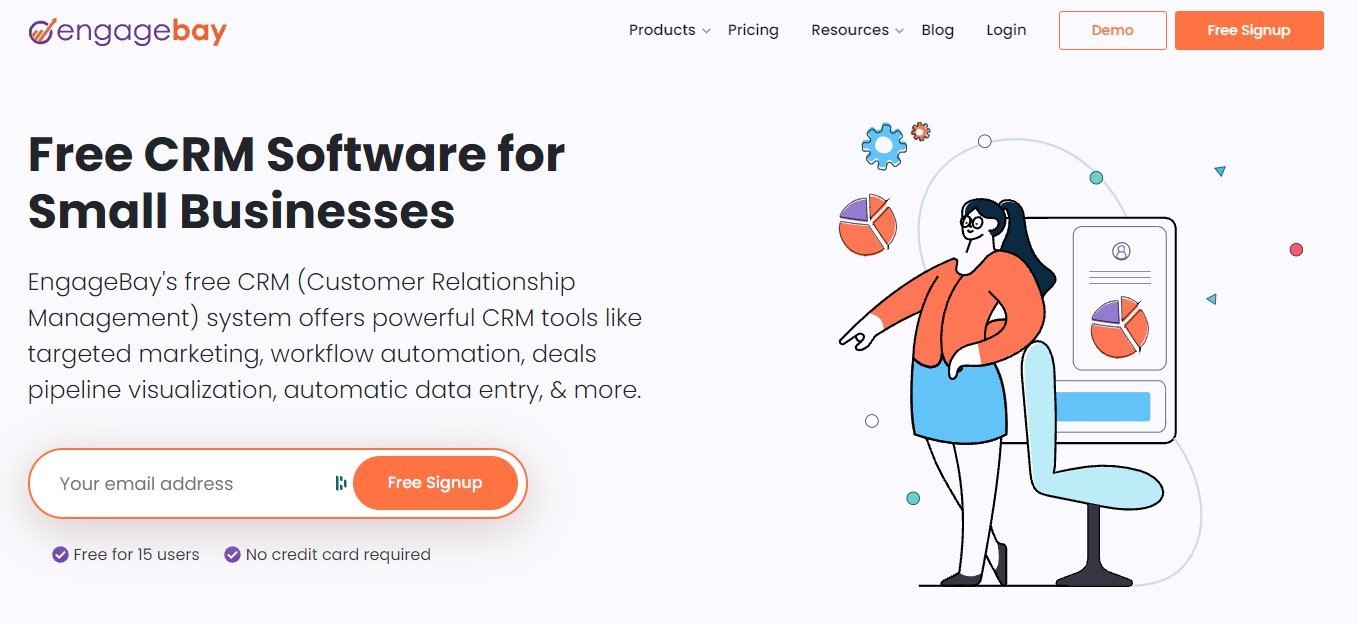 EngageBay is a complete, all-in-one growth platform that provides a comprehensive list of automation tools and features that help grow small businesses and startups.
Many users worldwide trust it as it offers separate enriching tools for marketing, sales, and customer service which is a boon for all business owners.
It offers free CRM software that helps nurture potential leads, scale up your sales pipeline, and track deals that result in high profitable conversions.
It also offers free live chat software with powerful features that create one-on-one personal customer relationships.
Feature Highlights –
Contact Segmentation: It segments your contact lists based on demographic factors like gender, location, etc., and also based on behavior, which helps in sending targeted personalized messages.
CRM Telephony: It lets you integrate your calls to EngageBay's telephony CRM thereby, you need not miss even a single potential lead. It also sends timely reminders to make upcoming calls.
Service Automation: It provides a complete list of tools to automate every task related to customer service, such as working on helpdesks, ticket routing, etc.
Email Marketing: It offers various email templates suitable for any need, offers rich formatting options, segments subscribers' lists, and sends personalized email messages.
Pros:
It provides a 360-degree customer view that helps you to understand various touchpoints and delivers accurate information.
It helps you to build highly convertible landing page builders with optimized SEO settings.
It eliminates the complex methodology of managing deals as every single process is streamlined and all the stages are made clearly visible.
Cons:
The landing page optimization for mobile must be done manually, and the social suite tool could be even more improved for better insights.
5. Keap – Sales & Marketing CRM Software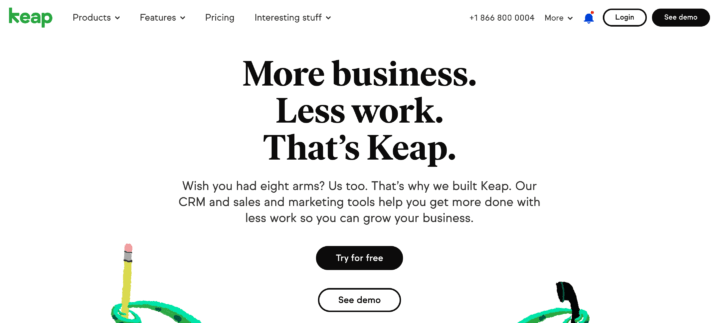 If you wish to scale up your small business to the next level with the help of automation, then Keap is the most recommended choice for you.
Keap's automation eases your workflows by automating all the repetitive tasks, which saves your time. It lets you set up an automatic process to proactively communicate with your new prospects by sending highly personalized emails.
Feature Highlights –
Client Management System: Keap seamlessly takes care of all your potential client records to stay on track with updated data and records.
Sales Pipeline: It also provides a pipeline management tool with which you can group and monitor all the data related to your leads and clients, and also it gives you cues as to what step should be taken next.
Automation: Keap offers advanced automation wherein you can create a sequence of email messages delivered instantly based on user actions or timely triggers.
Invoices and Payments: It can proactively track invoices to see who has paid, which payments are due, and offers integrations with Paypal, Stripe, and WePay.
Pros:
The campaign builder offers easy customization options and lets you build sequences with flexible if/then conditional logic.
It provides amazing marketing automation facilities and readily tracks the charges associated with your client's profile.
It lets you create multiple pipelines to see where your leads are at in every sales stage.
It offers the best customer support via free phone and chats during US office hours.
Cons:
Pricing is high, and you can add only a limited number of custom fields.
Keap offers a steep learning curve as it is not as intuitive as other software.
4. Nutshell – Sales CRM Software for B2B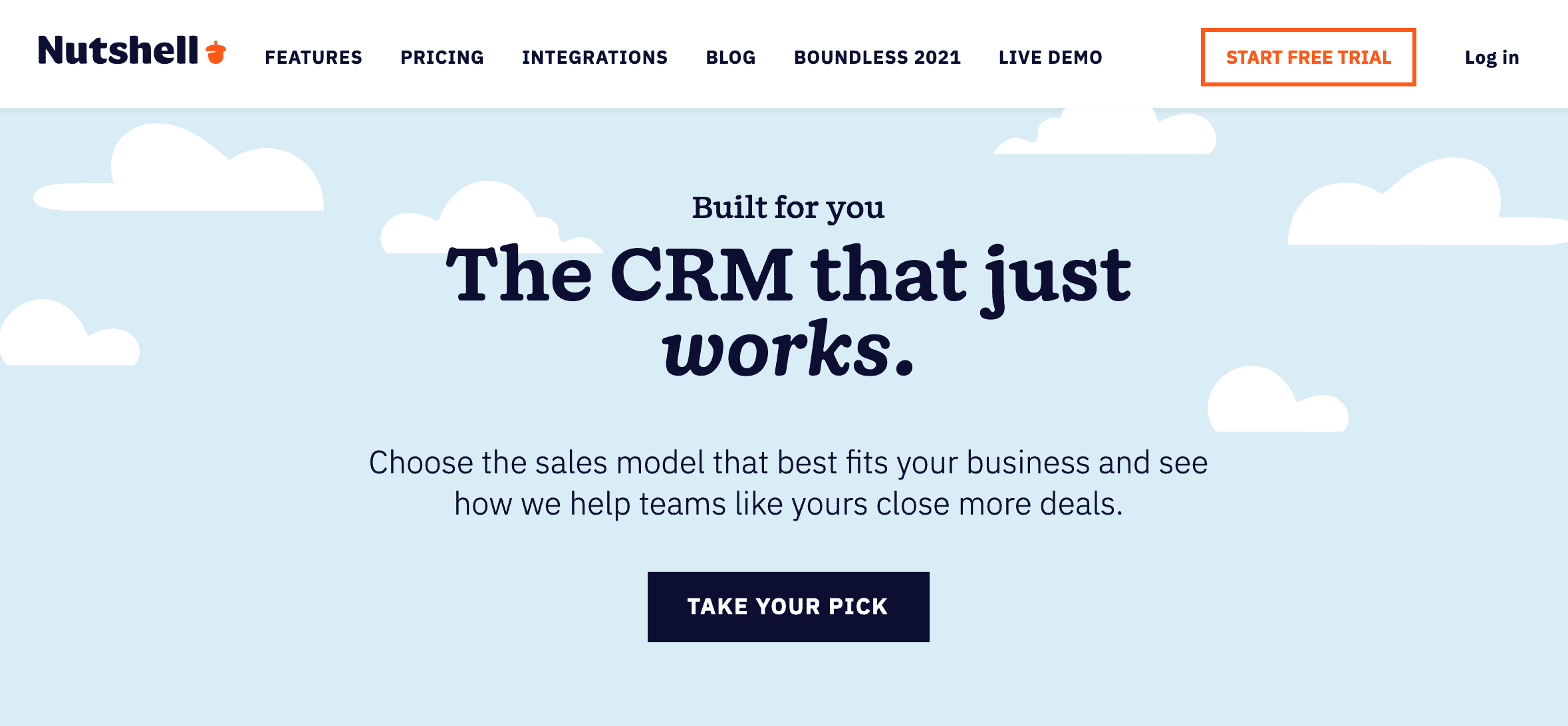 Nutshell is another powerful CRM designed for B2B teams to skyrocket the conversion rates by offering the best sales automation and pipeline management features.
It is slightly different from other CRM software as it allows you to choose the best sales model that ideally suits your business needs, which is a notable feature to accentuate.
Nutshell helps boost your team productivity by offering mobile CRM applications for Android and iOS thereby all essential tasks are accessible from anywhere at any time.
Feature Highlights –
Sales Automation: It automatically pushes your leads from one stage to another if they are qualified and offers personal email sequences triggered from your pipeline, which helps build more customer engagement.
Pipeline Management: It offers different types of views, namely board view, list view, chart view, etc., to manage all the operations and lets you heat-up the most recent leads on the dashboards for effective tracking and monitoring.
Contact Management: It allows you to import all the contacts, calendars, emails from any source for free and synchronizes all details, which eliminates manual data entry.
Team Collaboration: Your team members can be tagged to notify you about important tasks and lets you manage all the functions by sending mobile alerts.
Pros:
It provides a user-friendly dashboard wherein you can apply filters and find results quickly.
It is compatible with Android & iOS mobile devices.
Nutshell makes it very easy to reach out to contacts by sending timely reminders, scheduling and offering useful email templates.
It provides continuous backups by taking snapshots twice-daily, weekly, and monthly.
It offers easy integrations with tons of tools from accounting, automation, email to lead generation tools like Unbounce, Slack, Zapier, etc.
It provides extensive customer support via phone, email, live support, and tickets.
Cons:
The capability to collect lead's data via forms on the website and implement them requires a little extra time.
Tag functionality could work even better, and you need to export all the data to excel to view the detailed analysis.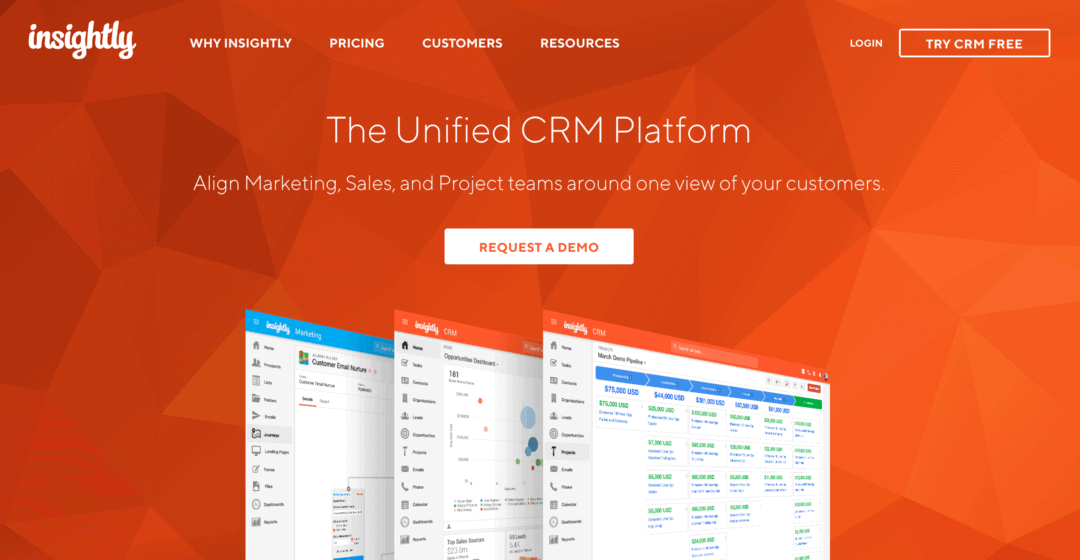 Insightly is one of the most prominent CRM platforms that completely align your marketing, sales, and projects in a unified view. It offers an intuitive builder that helps in creating optimized campaigns that help in boosting your conversion rate.
Using custom fields and dynamic page layouts, you can quickly capture the most potent leads and build an effective sales pipeline that facilitates your business needs. It also helps close your deals fast and convert them into happy customers by efficiently completing all the assigned tasks.
Feature Highlights –
Workflow Automation: It lets you send email alerts, create/update records, frame a multi-step business process that helps you to maintain your daily tasks in a streamlined manner.
On-Target Segmentation: Since the marketing and CRM platforms are unified, all customer data can be tracked, and the segmentation process becomes highly precise and efficient.
Build Custom Apps: It allows you to build your own custom apps with clear validation rules, automation, dashboards, reports, etc., and deploy the app to employees to be used in both web and mobile platforms.
Analytics and Reporting: It offers a built-in BI tool that helps you create stunning data visualizations with which you can unbox many insights and lets you share dashboards/reports with your team members.
Pros:
It provides in-built automated email reminders and tracking.
It offers an amazing project management tool that helps organize your client details and sort them by categories.
It provides customer support via phone, tickets, and email.
It provides integration with many marketing and sales tools allowing you to keep connected to the tools you already use.
Cons:
Navigation from one area to another seems to be quite tricky.
It stores data in the public cloud, leading to potential security issues from an organization's point of view.
Best CRM Software for Enterprises
An enterprise CRM is designed for large companies that have multiple departments and require cross-functional coordination between sales, marketing, and service teams for business strategy and decisions.
Another advantage of enterprise CRM software is that it offers plenty of user profiles for teams and is built to handle a range of complex tasks, data, and workflows to automate the process throughout the customer journey.
The cost of enterprise CRM software is comparatively higher than most small business CRM solutions. It may be because most of these CRM solutions providers offer customized solutions as per your business need, train your team and deploy it effectively.
That being said, here are the best enterprise CRM software –
1. Salesforce Pardot – Best B2B Marketing CRM Software
Salesforce Pardot is the most sophisticated enterprise Marketing CRM software that offers powerful features to streamline the entire marketing activities of your organization.
It makes your sales pipeline overflow by building landing pages, conversion-friendly forms, search tools for analyzing your campaign efforts, etc.
The biggest perk that Pardot offers is the ability to integrate Account-based marketing with the CRM platform. The ABM is powered by an AI algorithm, which lets you generate more targeted leads, engaging with them by automatically sending personalized messages.
Feature Highlights –
Marketing Automation: It allows you to build your lead generation pipeline, organizes all the sales/marketing workflows, provides detailed ROI reports and automated email marketing features.
Sales Alignment: It provides a detailed history of your prospect's activities, and you can access the tracking information of prospects in your CRM, smartphone, or Gmail interface.
Email Marketing: It offers highly responsive email templates and automatically segments your target audience so that personalization becomes much easier.
Useful ROI Reporting: It clarifies how your customers travel through your sales funnel via lifecycle reporting and analyze marketing campaigns based on channels and objectives.
Artificial Intelligence: It provides an accurate solution with the help of predictive lead scoring and uses the Einstein campaign insights methodology to optimize your marketing goals.
Pros:
When coupled with Salesforce, Pardot becomes the most powerful sales & marketing tool as it offers top-notch features for enterprise based companies.
It provides a great social experience with high-level automation and personalization.
It provides powerful visual email workflows which help you to navigate through the sales funnel quickly.
It provides seamless integration with a large number of third-party tools (LeadExec, Ambassador, Zuora, Zendesk, among others)
It provides excellent 24/7 customer support available via phone, email, and tickets.
Cons:
Pricing is very high, and you need to upgrade to a premium plan to access more than 10,000 contacts.
The learning curve of Pardot is deep, and it is complex to understand the entire structure and flow.
2. Adobe Marketo – Marketing CRM Software for Enterprises
Marketo is the pre-eminent CRM software owned by Adobe which offers a complete suite of marketing automation features like cross-channel communication, content personalization powered with AI, dynamically nurturing leads, and developing a consistent customer journey for your business across various stages.
This CRM is highly suitable for B2B and B2C businesses whose primary focus will be on customer engagement, personalization, and segmentation capabilities.
Feature Highlights –
Cross Channel Engagement: It enables you to interact with your target audience across native, online, and offline channels, nurturing strong relationships.
Account-based Marketing: Marketo allows you to engage with your key targeted accounts by incorporating account-based marketing.
Marketing Analytics: It provides intelligent reporting features to witness your customer journey and tells you which type of content will bring in more conversions.
Automation: It lets you create flow actions and campaigns that automatically perform the internal workflow tasks based on various activities.
Pros:
It is a scalable platform as it allows you to design a flexible lead nurturing process.
The filtration of user-profiles based on different segments is easily managed and offers flexible email templates for effective campaigns.
It helps you identify the best prospects and customers and close more business by triggering a sales call at exactly the right time.
It offers an inbuilt cloud platform called Adobe Experience Cloud, which deals with all-in-all customer experience management, acting as a spotlight to manage and automate the entire process.
It provides 24/7 customer support via email, chat, and phone calls.
Cons:
Some users have faced problems while integrating Marketo with third-party applications.
The user interface could, even more, be improved, and the landing page templates can be updated when compared to emails.
3. SugarCRM – All-in-one Enterprise CRM Software
Sugar CRM is the top-rated customer experience platform and has been given the prestigious award by PC Mag as the best CRM software. It is fully customizable, and you can deploy it both in the cloud or on-site.
It offers built-in advertising and social tools with which you can derive high-quality leads and provides intuitive tools to set up multi-step lead nurture campaigns to skyrocket your sales and conversions.
It offers different platforms for each automation process –
Sugar Sell – Automating your sales workflows.
Sugar Market – All-in-all Marketing automation features.
Sugar Serve – For enriching your customer service.
Feature Highlights –
Artificial Intelligence: It offers AI-powered features with which you can easily predict and develop your customer journey.
Excellent Integrations: It provides seamless integration options with other modules and allows you to manage all the operations from a centralized console.
Advanced Analytics: It offers a powerful BI-grade reporting module that helps you track all the crucial metrics that help you make effective data-driven decisions.
Sales Automation: It will automatically gather all potential data of your target audience, synchronizes calendars, tracks emails, and saves them to your CRM with just a few clicks.
Pros:
SugarCRM provides many add-ons and enables you to add large amounts of targets, which helps enrich your campaigns.
It lets you stay on track by sending timely email notification reminders and gives an in-depth analysis of your customer journey by effective grouping.
It breakdowns all the complex processes into a simple, efficient one and helps you build meaningful relationships with your prospects.
Cons:
The user interface of the admin panel seems to be a little clunky and needs to be optimized.
Customization is a bit lengthy and takes time.
Microsoft Dynamics 365 facilitates and automates your entire business process. Apart from sales and marketing, it extends its support in optimizing your financial activities, eCommerce platforms, operations management and uplifts your human resource capabilities.
Feature Highlights –
Financial Decision Making: It allows you to control your financial risks and make data-driven decisions with AI, which increases your business performance.
Effective Commerce Capabilities: It provides a highly engaging shopping experience to your users by interacting with them online and offline.
Supply Chain Management: It streamlines the entire supply chain process by ensuring that all resources fall into the right place at the right moment.
Marketing: It lets you strengthen the customer relationships by delivering highly targeted personalized messages at the right time and offers a 360-degree customer view.
Pros:
It lets you predict future demand for your products and offers full integration with MS products.
It offers powerful customization options and provides outstanding capabilities to grow your sales.
Cons:
Data entry seems to be a bit tiresome process, especially for beginners.
The UI on the mobile version is less competitive than the web version, and the dashboard is complex.
Sharpspring is a cloud-based marketing automation platform that offers the best-in-class features like behavioral-based email automation, social media management, built-in CRM system, landing page designer, campaign tracking and the list goes on.
It offers a powerful yet easy-to-use visual workflow builder to implement all the marketing automation tasks. It enables you to quickly synchronize all critical pieces of information with the built-in CRM suite so that you need not miss any potential leads.
With the help of its robust email marketing tools, you can send highly targeted and personalized email messages that provide detailed analytics reports for every possible interaction which helps in shaping up your marketing strategy.
Feature Highlights –
Real-Time Lead Scoring: It assigns a unique score to each lead based upon their interactions and behavior. It also offers a decay tool that decreases lead scores if they are inactive for a long period of time.
Landing Page Builder: It offers an intuitive interface that helps in building convertible landing pages and with dynamic content, it adapts to the user behavior which results in more conversions.
Marketing Automation: It can automatically update new contacts when it matches your list segmentation criteria and constantly engage with your leads by setting up custom triggers and filters.
Marketing Analytics: It offers in-depth campaign analytics for enhancing your marketing campaigns and integrates with Google Ads with which you can analyze the ROI of paid search campaigns.
Social Media Management: It provides a flexible content calendar for advanced planning and scheduling of social media posts which helps in fetching the optimum level of engagement to your brand.
Pros:
It is termed as the best marketing automation tool for agencies.
Sharpspring has its own app marketplace where it offers a long list of integrations such as API, Native, Zapier, and Piesync (customer data sync in two-way).
It offers a dynamic blogging platform that allows you to build highly responsive blogs without losing your brand identity.
It provides a visitor ID for tracking every anonymous user on your website which helps you to build an effective customer mapping journey.
Cons:
The email editor can be quite improved for editing emails at a faster rate.
The landing page builder is sometimes clunky and could be enhanced for better functionality.
Choose the best CRM software for your business
The best CRM software for a business entirely depends on the company size in terms of team members, marketing strategy, and budget.
Now that you are familiar with the top CRM solutions, it's your turn to evaluate your business need and choose the CRM that offers everything your team needs to perform efficiently.
Here are a few of the essential features you must check while evaluating these CRM software or taking demos –
Analytical dashboards and reports
Consolidated and organized customer data
Effective funnel management
Sales and marketing automation
Data-driven forecasting
In this article, I tried to highlight all the essential features of CRM software to help you make decisions and pick the right CRM software for your team. Most of the listed CRM software offer free trials and free plans, so sign up and try before making your final call.
If you are looking for other sales & marketing tools to add to your arsenal, here are few hand-picked articles you should read –