Thanks to all the modern eCommerce platforms, anyone can sell products online from home or anywhere in the world, without having any technical knowledge to build websites and manage them.
However, if you want to sell digital products, you will need a specific type of platform that enables you to upload your digital products and deliver them securely to the buyers' email addresses or enable them to download the files instantly.
There are tons of platforms that allow selling products online. So, to help you find the best one for your business, we curated the list of the best platforms for selling digital products.
What are digital products?
A digital product is any product you can sell online, and it doesn't have any physical existence. It is intangible, and the feeling of using it comes via the software or technology that customers use to access it.
Here are the most popular digital products you can sell online –
eBook
Video Courses
Music
Audiobooks
Podcast
Software and tools
Graphics & Illustrations
Webinar and Online events
Newsletter subscription
Membership
Services and consultancy
If you haven't decided what you want to sell, this list should help you choose, and based on that, you can select the most suitable platform to sell your digital goods from the next section.
Top 12 Platforms to Sell Digital Products
In this section, I picked some of the best platforms that enable you to sell digital products. I reviewed them and ranked them on various factors, including ease of use, user experience, checkout process, etc.
If you are ready, let's start with my favorite one.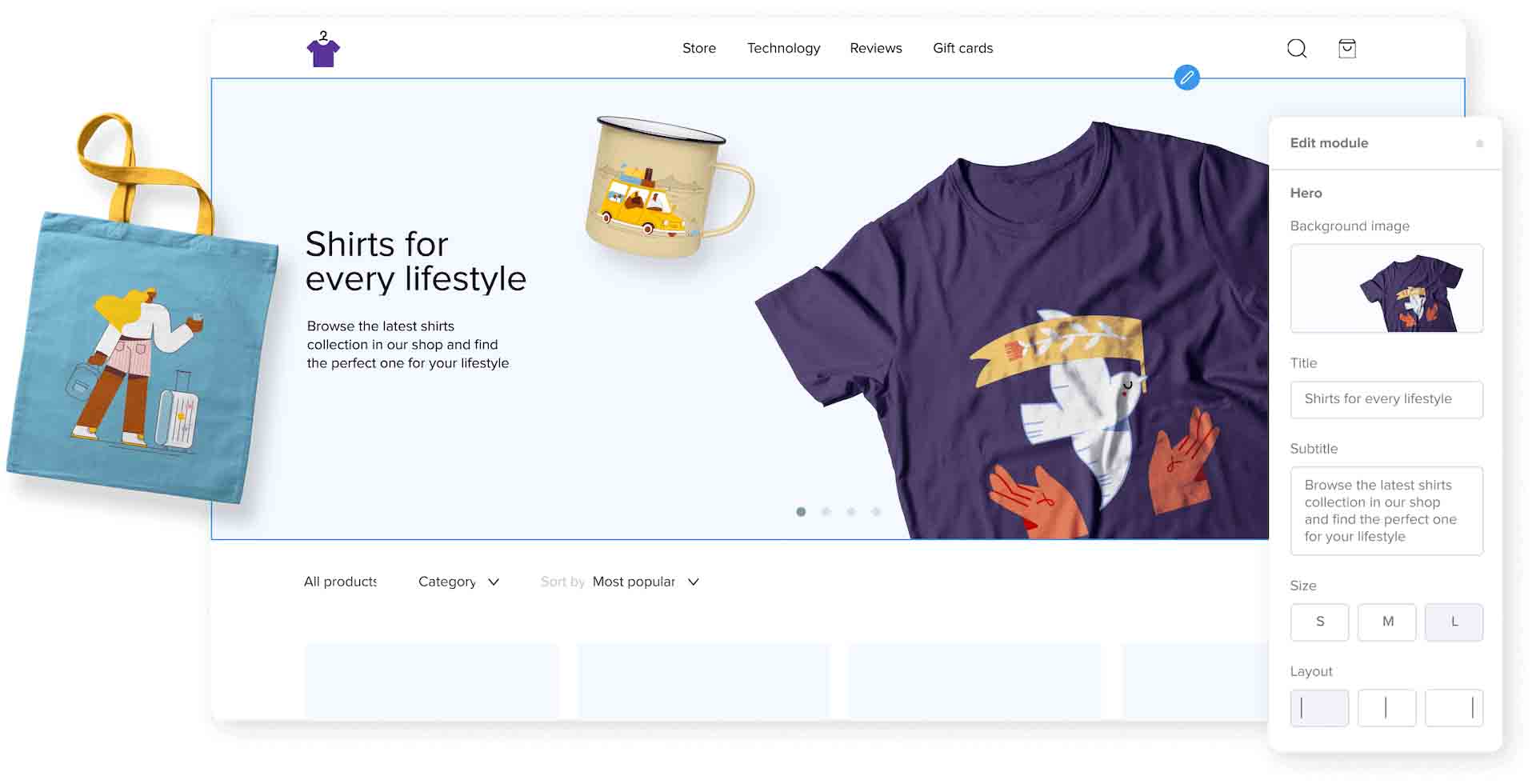 Sellfy is one of the best platforms to sell digital products like music, illustrations, photos, videos, etc., in digital files. You can set up a mobile-optimized storefront by adding a logo, colors, layouts, social links, and more in less than 5 minutes.
Managing your digital products is relatively easy with Sellfy. You will find different sections to add various product types. You can also add audio/video previews from Youtube, Vimeo, Soundcloud, etc., to save product size and page loading speed.
With Sellfy, you can earn recurring revenue by creating digital subscription products, letting you charge your customers on a weekly, monthly, or yearly basis.
In general, Sellfy is the most accessible platform for anyone to create a website to sell digital products. It lets you set up a simple yet powerful online store to monetize your valuable digital assets.
Check out our detailed review to understand how Sellfy can help you accelerate your online selling.
Pros of Sellfy –
Zero transaction fees
Beginner-friendly platform
Support for multiple languages
Built-in Facebook live chat
30-day moneyback guarantee
Launch your own print-on-demand merch
Built-in marketing features to promote your digital products
Embed buttons, product widgets, or the entire store on other sites.
Offer videos on demand to reduce the risk of piracy
Customers can purchase multiple items at once via the shopping cart
Cons of Sellfy –
Email marketing is not available for the Basic plan
Priority support is available only for the highest plans
Yearly sales cap for each plan
Pricing Plans – Sellfy offers 14-day free trial on all its paid plans, starting at $29/month.The plans are based on the annual sales volume, which means when you exceed the sales limit of your plan, it will be automatically upgraded to the next highest plan.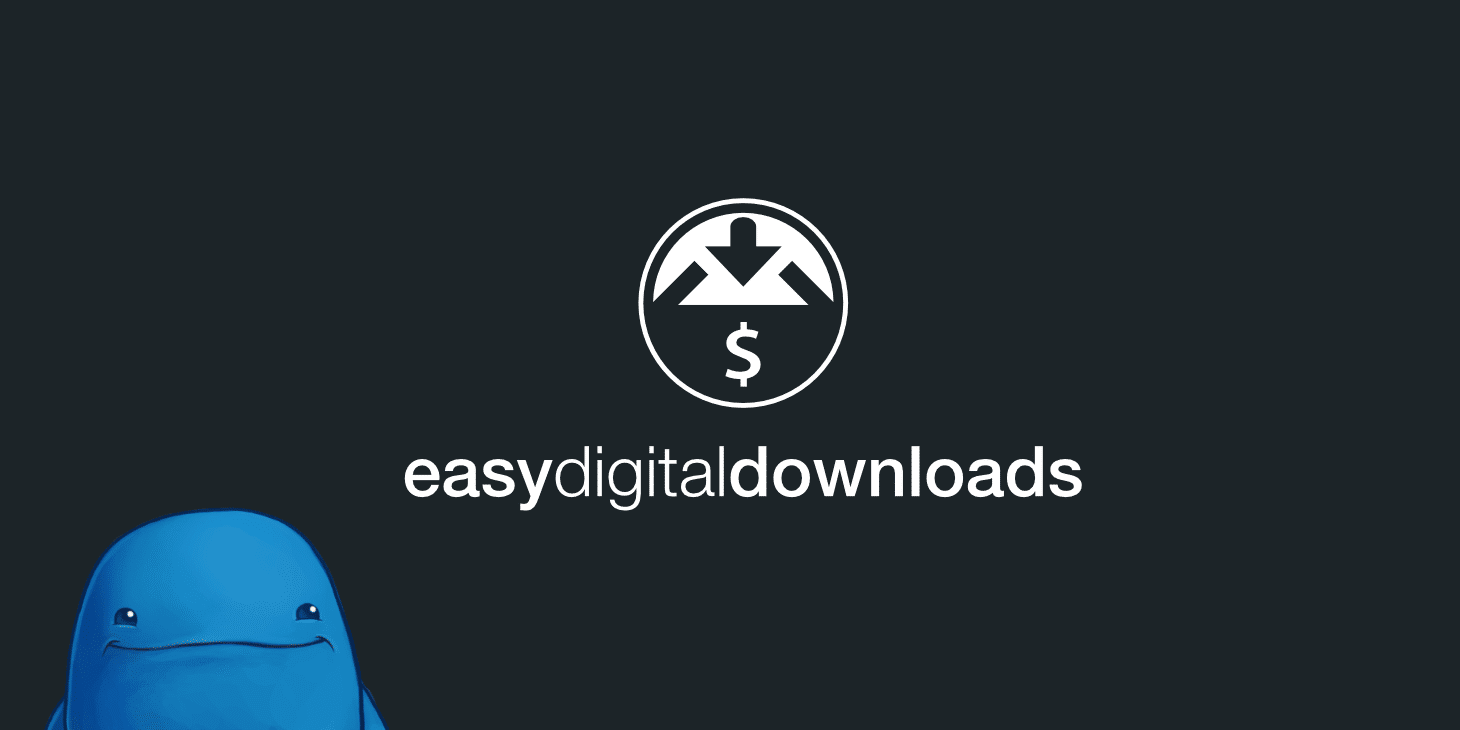 As the name suggests, Easy Digital Downloads (EDD) is a WordPress plugin that lets you sell digital products on your sites. With over 50,000 active installations, it is one of the trusted plugins by WordPress users and content creators.
It provides all the essential features that enable you to sell products like eBooks, plugins, and more without writing a single line of code. Moreover, it allows unlimited file downloads, creating discount codes, recording payment history, and providing detailed analytics reports on sales.
The best thing worth mentioning is that all the product files are assigned to authorized customers only. Therefore no separate configuration is required. If needed, you can set the file download limit and expiration link.
Pros of EDD –
Easy to use and beginner-friendly
Multiple payment gateways including Paypal
SEO friendly and compatible with plugins like Yoast & Rank math
Customers can purchase multiple downloads at once
Affiliate system integration
Cons of EDD –
Not many WordPress themes are designed specifically for EDD
Additional add-ons can increase the cost of setting up the store
Pricing Plans – EDD is free to use. Still, to access features like email marketing, subscriptions, and more, you will have to opt for one of its paid 4 passes starting at $99.50/year. It also comes with an unconditional 14-day no-risk money-back guarantee, so you can boldly make a move in testing the platform.
Shopify is one of the most popular eCommerce platforms for selling physical and digital products. One of the reasons behind its popularity is its ease of use and customization flexibility that allows customers to design the store as they desire.
In order to sell digital products on Shopify, you'll need to install one of the digital download apps in your Shopify store, which allows uploading digital files and delivering them to the downloaders. One of the unique aspects of Shopify is that it lets you sell NFTs as a digital product.
To learn more about its features and functionalities, you should read our Shopify review next.
Pros of Shopify –
Easy to use and navigate
24/7 customer support
Personalize email templates & checkout options
Set a download limit to prevent fraudulent attempts
Ability to attach a digital file to an existing product
Cons of Shopify –
You will need additional paid apps to sell subscriptions and licensed products
Transaction fees on all the pricing plan
Pricing Plans – Shopify offers a 3-day free trial and charges only $1/month for the first three months. It has 3 paid plans starting at $29/month and ranging to $299/month, offering you all the features you need for your store. You can refer to our Shopify tutorial for selling digital products to get started.
Podia is an online platform that enables you to sell courses, webinars, memberships, etc. With its minimalistic interface, you'll never have to undergo the tedious task of managing things. Whether you need to build a customized website or host your content, it is easy & effortless.
From Podia's dashboard, you can set up everything within seconds. You can build your site, upload products, schedule email broadcasts or campaigns, integrate payments, etc. It also lets you convert browsers into active shoppers via in-built live chat & messaging.
One of the distinctive aspects is that you can create a pre-launch offer for your digital products before it goes live. This is one of the smartest ways to attract interested prospects, build relationships and convert them into pure loyalists.
The main goal of Podia is to keep things simple and accessible in an orderly manner. That's why 50,000+ creators love Podia, as they get all tools & resources to sell digital products in one place.
Read our comprehensive Podia review to get a clear picture of its features and functionalities that can be useful for your business.
Pros of Podia –
Unlimited on everything – products, messages, customers, sales
Straightforward, simple, and intuitive design
Unlimited video bandwidth
Create automated drip campaigns to build your sales funnel
Launch upsells and bundles to boost sales
Get paid faster with instant checkouts
Excellent customer support – 7-days a week
Cons of Podia –
Additional costs for adding teammates
Only Stripe and Paypal available for payment processing
Pricing Plans – Podia has 3 pricing plans starting at $39/month and goes up to $199/month. However, you will be required to pay $20/month for additional teammates. Free teammates are allowed only in the highest pricing plan.
Podia also offers a 14-day free trial on all of its paid plans so you can test how it best fits into your requirements.
SendOwl is a versatile platform that lets you sell digital products from your existing website, blog, social media, or API. Irrespective of the type of digital product & the number of orders, SendOwl delivers the files to your customers once the payment is complete.
The best part is it lets you automate marketing flows to boost sales – you can offer discounts, boost AOV via 1-click upsells, send personalized emails & recoup lost sales.
SendOwl also guarantees secure storage & distribution. You can add watermarks, limit the no. of downloads, set a time limit on download links, and enable 2-factor authentication to preserve your digital assets.
Overall, Sendowl has everything to help you build, launch and grow your digital product business. It is simple, easy to use, and delivers optimized customer experiences that convert.
Pros of Sendowl –
Ensures a faster & secure content delivery
The "Pay what you want" payment method is available
Support for multi-language & multiple currencies
Drip functionality to share content within a timeframe
Ability to convert customers into affiliates
Easily manage taxes and EU VAT rules
Block buyers based on their country, IP address, or email for preventing suspicious activities
Cons of Sendowl –
Customization could be more user-friendly
Cap limit on the number of products and storage for all plan
No live chat customer support.
Pricing Plans – SendOwl has 4 paid pricing plans based on the number of products, storage limit, and other features. The Basic plan starts at $9/month and ranges to $39/month. However, if you wish to self-host or sell subscriptions, it has separate pricing plans catered to both.
SendOwl offers a 30-day free trial on all pricing plans with no credit card required.

Payhip is another amazing platform for selling digital products such as ebooks, online courses, software, etc. It is a simple, affordable, and user-friendly platform that makes it easy for anyone to get started.
It lets you sell digital products directly to your customers from your existing website, social media, blog, or any online platform. The checkout process is highly optimized for a seamless buying experience, resulting in a high conversion rate.
If you wish to sell online courses, Payhip makes it a breeze. You can add different lesson types, manage students, deliver drip content, and accept pre-orders before the course launch. In the case of memberships, it gives you complete flexibility in managing members, subscriptions, and their exclusive access to content.
The best part of Payhip is that it is a sales-driven platform with powerful features to promote your digital products – from social sharing to a robust affiliate system, everything will be at your disposal.
Pros of Payhip –
Free-forever plan available
Beginner-friendly and easy to set up
Upload any type of file (ebooks, software, video, etc)
Unlimited storage and bandwidth
PDF stamping and software licenses
Pay-what-you-want pricing
Multiple payment options (PayPal, Stripe, Cards)
Embed checkout & shopping cart to other sites
Offer coupons and social discounts
A robust affiliate marketing system
100% control over setting up payments & subscriptions
Cons of Payhip –
High transaction fee for free plan
No built-in analytics reporting
Pricing Plans – Podia has a forever-free plan that gives you access to all the features. The Plus plan costs $29/month and the Pro plan is priced at $99/month. However, a transaction of 5% is charged on the free plan and 2% on the Plus plan. The Pro plan does not incur any transaction fees.
Gumroad is a popular platform to sell digital products as it simplifies the way you manage things – you can easily navigate, access various payment options, sell any digital product type and grow your audience via automated workflows.
With its flexible editor, you can create your store or easily get started by embedding it on your existing website. Gumroad doesn't restrict your imagination – right from simple subscriptions to selling software with authorized license keys, it has your back.
So whether you're a writer, designer, filmmaker, game developer, musician, or an artist, looking for an uncomplicated platform to monetize your knowledge, Gumroad shall be the best one.
Pros of Gumroad –
Generate unique license keys for software for each buyer.
Add multiple versions of your digital products
Add stamps on the PDF version of eBooks to avoid duplication
Lifetime access to purchased content
Collect VAT as required per the EU regulations
Make data-backed decisions with in-depth reporting
Cons of Gumroad –
High transaction fees
No live chat or phone support
Does not offer upsells
Pricing Plans – Gumroad does not charge any monthly fees so you can get started for free. But you'll have to pay transaction fees based on your lifetime earning milestones, which range from 2.9% to 9% per sale.
If you want to sell digital products along with other physical products with little to no-budget, Ecwid can be the right platform for you. You can set up a store quickly and sell from anywhere – your website, social media, and marketplaces like Amazon, Walmart, and eBay.
You can sell downloadable items like photos, videos, ebooks, tutorials, etc. When you add the digital product, you can upload a file that will automatically be delivered to customers via unique download links once they make a purchase.
You can easily manage everything from the dashboard – running your online store, adding new channels, launching campaigns, accepting payments, and managing customers.
With Ecwid, you don't have to worry about hosting. It takes care of your products and digital delivery. You're free to add as many files per product, but every file can be only up to 25GB.
You should read our Ecwid review to learn more about its features and how it can help you sell your products at an affordable price.
Pros of Ecwid –
Extremely beginner-friendly
Easy-to-customize within minutes
Simplified order management
Centralized inventory & control
Prevent customers from sharing download links
Mobile responsive shopping cart
Integration with WordPress, Joomla, Squarespace, Wix, Weebly, etc.
Cons of Ecwid –
Lacks advanced options
No built-in reporting
Pricing Plans – Ecwid has a free plan but for selling digital products, you'll have to opt for one of its paid plans starting at $15/month. You can enjoy zero transaction fees on all the pricing plans.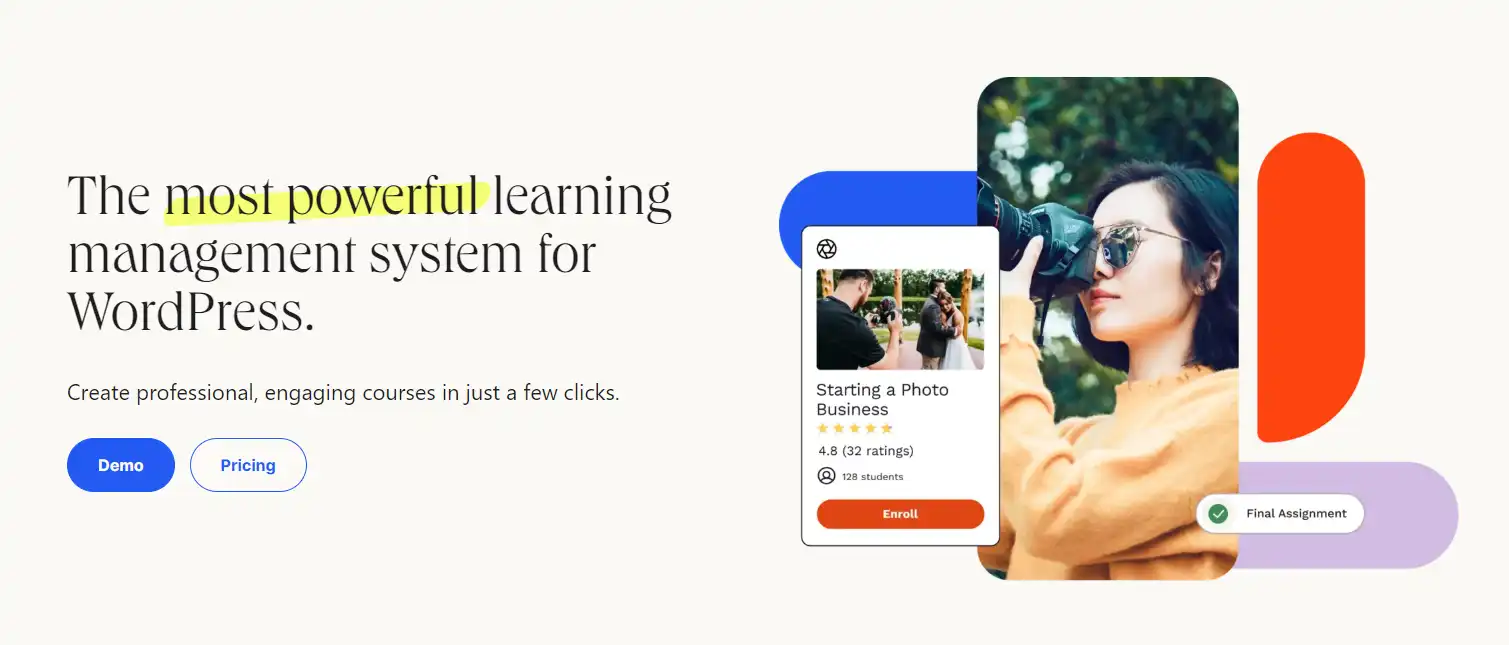 LearnDash is the best WordPress LMS plugin that enables you to sell and manage online courses. It is a lightweight, flexible plugin used by Fortune 500 companies, best-selling authors, and solopreneurs worldwide.
By switching to focus mode, LearnDash lets you create a stunning branded portal for distraction-free learning. It also allows for dynamic content delivery, which means you can drip-feed lessons at preset intervals.
Learndash delivers the best value for your business – you can set one-time purchases, subscriptions, and memberships, sell course bundles, and enable customers to purchase licenses in bulk. So you just have to choose the preferred payment method and start hitting more sales.
Overall, Learndash is the ultimate option to supercharge your online course-selling business to the next level.
Pros of LearnDash –
User-friendly drag-and-drop builder
Works with any modern theme – no custom coding required
Supports images, videos, audio, SWF files, SCORM, etc.
Set access to courses, lessons, and quizzes based on pre-requisites
Award badges and certificates to gamify the learning process
Add coupons, discount codes, tax rules, custom receipts, and sales funnels
Use Learndash across a WordPress multisite network
Cons of LearnDash –
No free version or trial period is available
No built-in shopping cart functionality – you need a third-party plugin like WooCommerce or EDD
Pricing Plans – Learndash has 3 pricing plans starting at $159 billed annually. A 15-day money-back guarantee backs all the plans.
Being trusted by 100k+ creators, Teachable lets you create & sell courses and coaching online. Although it is mainly an online course platform, it allows you to sell your students digital downloads like ebooks, PDFs, templates, etc.
It lets you create multimedia lectures, videos, coaching sessions, and optimized sales pages with its powerful editor. You can also invite authors, team members, and contributors to make it a valuable team effort.
The best part is that it lets you incentivize existing students to refer your course to their peers. This way, you'll seamlessly expand your student network via smart acquisition.
In a nutshell, Teachable makes online course creation and management simple. It does the hard work of hosting your course, so you don't need a website.
Pros of Teachable –
Simple and straightforward dashboard to get started
Ability to access lots of different file types
Unlimited on everything
Accept international payments in 130+ currencies
Offer subscriptions, memberships, one-time payments, bundles, etc.
Built-in affiliate marketing tools
Cons of Teachable –
Limited customization flexibility
Incurs transaction fees on free and basic plans
Pricing Plans – Teachable has a free plan that gives access to course design templates, product bundles, 3rd party integrations, basic quizzes, etc. The Paid plans start at $39/month and range to $299/month.
The free plan incurs a fee of $1 + 10% per transaction and 5% per transaction on the basic plan.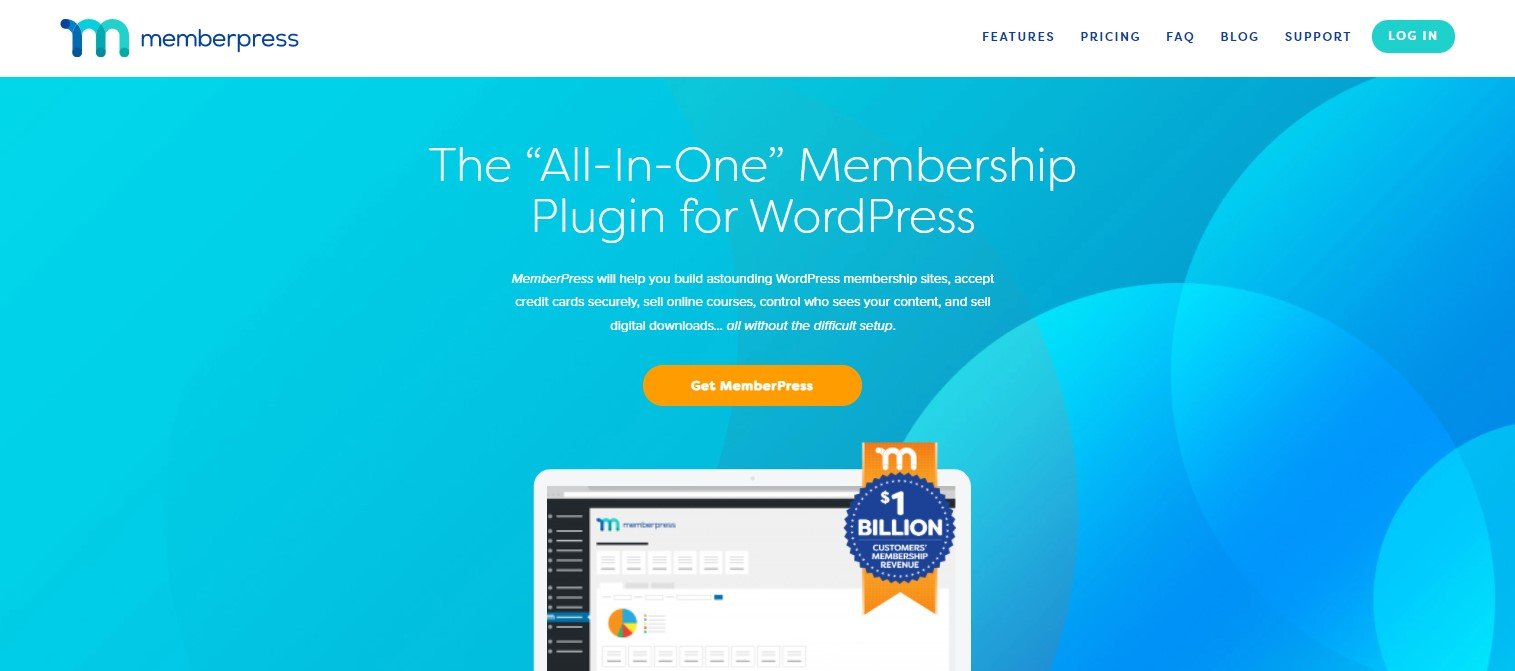 Memberpress is a top-rated WordPress membership plugin that lets you create & sell membership subscriptions. It enables you to deliver your premium content in posts, pages, videos, or digital downloads that are accessible only to members.
It also lets you set up one-off payments and recurring memberships, create coupon codes, or deliver drip content to boost sales. The best part is that it lets you design high-converting dynamic pricing pages without writing a single line of code.
Overall, if you want to take complete control over what you offer\, Memberpress is the ideal choice. It is a powerhouse that lets you deliver a friction-free customer experience to skyrocket your digital product sales.
Pros of Memberpress –
Easy to set up
Unlimited membership plans
Create powerful access rules
Sell more with membership gifting
Built-in tax calculations to save you time
Diverse payment gateway integrations
Cons –
Though it is powerful, it can be quite difficult for beginners
Pricing is quite expensive
Pricing Plans – Memberpress pricing starts at $279 and scales up to $599. It also comes with a 100% no-risk money-back guarantee. You are allowed to change plans at any time.
WooCommerce is an open-source & free eCommerce WordPress plugin to sell digital products. With WooCommerce, you can sell any digital product. It has extensive setup options for digital downloads.
WooCommerce is a powerful eCommerce WordPress plugin as it is the only free platform in this list that gives you 100% customization flexibility. So, if you already have a WordPress site and want to build an online store to sell digital products, you may consider using WooCommerce.
You must know that, unlike other platforms on the list, WooCommerce is not a self-hosted platform. You need to purchase a WooCommerce hosting service to build your website.
Pros of WooCommerce –
Completely free to use
Unlimited flexibility for customization
Access to an exclusive community of developers
No limitation on the maximum file size
Append a unique string name to the file for security
Automated tax calculations and live shipping rates
Integration with 140 region-specific gateways
Cons of WooCommerce –
Must have in-depth technical knowledge
Requires premium extensions for subscriptions & memberships
Pricing Plans – WooCommerce is a free WordPress plugin. However, additional costs may be incurred if you install additional extensions for more features. You can refer to our WooCommerce tutorial to set up your online store for digital products.
Advantages of using an eCommerce platform to sell digital downloads
In many cases, people ask us why they need to use a specific eCommerce platform to sell their products when they can just create a landing page for each product.
And that's a valid question. If you sell a single product, you can use a landing page builder to create a convertible landing page and accept payments using any payment gateway. That should be enough, and you don't need to invest in building a standalone eCommerce site.
However, if you are selling multiple products and plan to add more variants to digital products for your customers, you need an eCommerce platform to help you with –
Easy payment and transaction process
Product delivery to customers' mailboxes or other platforms (like Facebook Messenger)
Upselling and reselling the products
Managing customer database
Above all, you need a platform to market your products to the target audience and existing customers via different channels.
Which is the best platform to sell digital products?
The best platform to sell digital products depends entirely on what you are selling and what you are planning to add in the future.
There are tons of platforms that let you sell digital goods, but not all are the best for you. So, first, decide what you want to sell and create your business plan before deciding on the platform.
That being said, let's wrap up with a quick overview of all the platforms mentioned above.
I hope this article helped you pick an ideal platform to sell your digital products. If you want to sell Subscription-based products and services, you should check out our guide on the best subscription eCommerce platforms.