Inventory management is one of the crucial aspects that contributes to the success of your eCommerce store.
You need to maintain the correct stock levels, restock items when they are low in number and also ensure that your products get shipped to the customers at the right time.
Keeping track of all these procedures 'manually' can be tiring and time-consuming. Even, there are chances that you might forget some of the crucial tasks, potentially harming your sales rates and conversions.
To combat this, you need to choose the best inventory management software that automates all the processes and ensures you maintain a streamlined inventory flow.
Inventory management software keeps you updated with when to reorder, how much quantity has to be ordered, where to store your stock items, and much more.
Bearing this in mind, I've handpicked the best inventory management software for your eCommerce store that seamlessly manages, processes, and works beyond complicated databases and manual formulas.
Ready to dive in? Let's get started.
Zoho inventory is the best and my favorite inventory management software. it offers robust features that magnify your eCommerce inventory such that you accomplish higher productivity in your store operations. It enables you to manage orders, track inventory, handle GST billing, and other mind-blowing features, making inventory management a complete breeze.
What Zoho Inventory Offers?
Inventory control
Warehouse management
Multichannel selling
Order management and fulfillment
It enables you to control your stocks present in different warehouses in a centralized platform, contributing to high operational efficiency. In addition to this, you can keep track of saleable items, expiry dates, etc., with the help of both serial and batch tracking, which helps in the healthy maintenance of your inventory.
Zoho Inventory Features –
It enables you to sell on multiple channels like Amazon, Etsy, Shopify, etc., and adjust inventory quantities across all channels when an order is received.
It lets you create packages, print package slips, and get real-time shipping rates for 30 different shipping services managed in a unified platform.
It allows you to mark an order as drop shipment, so even though you don't have stock, your vendor can ship the package directly to your customer.
It uses the FIFO (First-In-First-Out) method to evaluate your stocks and keeps you notified when items need to be restocked.
Unicommerce is another top-rated cloud-based inventory management software that empowers retailers with tons of packed features that scales up their inventory to the next level. It offers seamless integration with 45+
marketplaces, shopping carts, shipping partners, and ERP systems that generate high sales volume for your eCommerce store.
What Unicommerce offers?
Multichannel order/inventory management
Warehouse management
Drop shipment solutions
An omnichannel solution to manage orders from online & offline stores.
Unicommerce helps in quick order processing and generates invoices with automatic tax calculations, helps in processing your orders in bulk, and dispatches them quickly.
Unicommerce Features –
It offers an advanced return management process that gives clear visibility to the vendors about the returns received, thus eliminating the delay in managing these return items.
It lets you effectively manage your warehouse operations, such as maintaining healthy stock levels, routing/tracking shipments, order management from multiple POS, etc.
It provides robust omnichannel software that updates the inventory across multiple locations and automatically syncs the stock status with 40+ marketplaces.
It enables routing of marketplace orders to the respective seller panels based on seller code.
It enables you to split or merge shipments as per your requirement and allocate shipping providers based on priority.
Inventory management is made simple, and all the data is available within a few clicks when you use Xero. It is a flexible inventory management software for eCommerce that lets you track items in stock, generate meaningful reports, and adds items to your invoices in a hassle-free manner.
What Xero offers?
Tracking your product items in stock and their value.
Deep analysis of how your products are selling.
Using preset details in invoices and orders.
This easy-to-use software allows you to create and send purchase orders online, which can also be converted into bills quickly. It also gives you the freedom to adjust the quantity, average cost, or total value of a tracked inventory item, making editing easy on the go.
XeroFeatures –
It enables you to track up to 4000 finished goods and see the stock's total value.
It offers meaningful analysis on best/worst-selling items on your inventory and the highest profitable/least profitable lines.
It permits you to save the details of the items you buy and sell regularly, saving a considerable amount of time.
It enables you to easily refer back to a supplier contract by attaching a PDF file to any inventory system and attaching photos to view any item's picture.
NetSuite is a comprehensive inventory management software that helps in maximizing your sales by enabling you to meet your customer's product demands without any friction. It offers powerful native tools and features like inventory tracking in multiple locations, cycle counts, reorder points, distribution planning, etc.
What NetSuite Offers?
Traceability
Warehousing
Cycle counting
Replenishment (restoration of a stock)
NetSuite gives complete control over your inventory assets as it allows you to categorize inventory based on the volume of transactions or value. It also allows you to enter regular periodic counts of your product items to maintain precision and reliability in your inventory levels.
NetSuiteFeatures –
It enables you to trace your product inventory in lot tracking or serial tracking and gives quick access to all related transactions.
It offers advanced parameters which help you balance demand and supply across your entire eCommerce business.
It allows you to break down your locations into bins that favor a more deep inventory tracking level.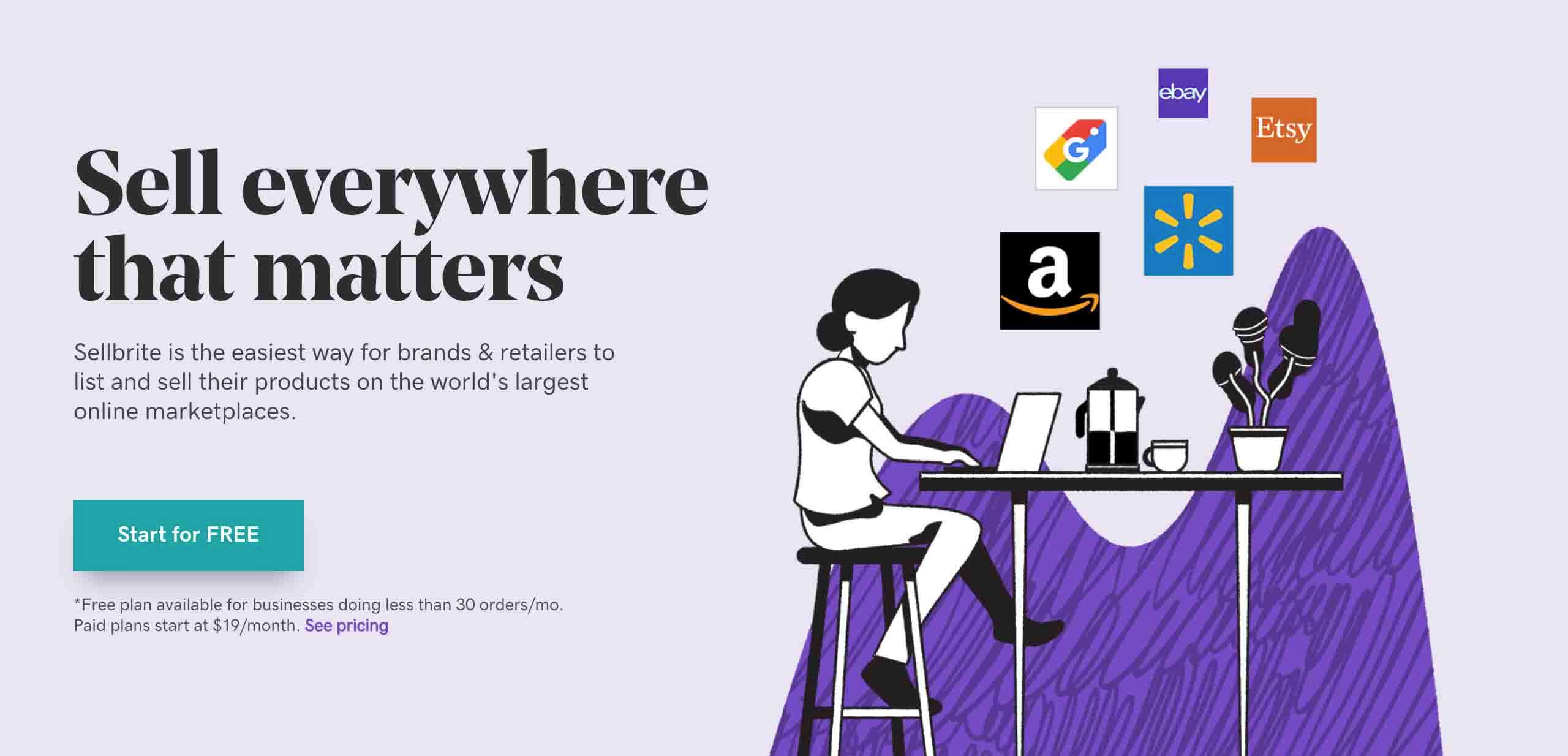 If you are an eCommerce vendor selling in multiple marketplaces and managing your inventory, then Sellbrite will be my first choice for you. It enables vendors from overselling their products by rapidly syncing their inventory levels to stay on track and earn more profits.
What SellBrite Offers?
Listing Products
Synchronizing Inventory
Shipment of orders
Sellbrite offers a centralized inventory management system that lets you manage your available, reserved, and on-hand stock levels across all warehouses and make changes via the excel bulk editor.
An extra bonanza is that it also syncs your FBA inventory across multiple channels. With this, automatic inventory adjustments can be made between Amazon and Sellbrite, which helps manage your inventory levels accurately without alarming delays.
SellbriteFeatures –
It automatically alerts the sales channel when the order was placed once it is shipped and provides the shipment tracking number.
It automatically routes the orders between multiple warehouses and fulfillment partners, which improves your efficiency level.
It allows you to customize each sales channel to display only the inventory from one warehouse.
It offers discounted USPS rates, so all your shipping costs are absolutely under your control.
Wrapping Up
By synchronizing all your inventory in a unified interface, all crucial information and updates about your product stock levels are present right at your fingertips. Remember that inventory maintenance can literally either make or break up your eCommerce store.
However, choosing the best inventory management software is solely based on your business requirements. I hope this article helped you pick the right inventory management software for your business.
Are you looking for more tools for your eCommerce store? Here are few hand-picked articles you should check next –