As a Shopify store owner, starting a reward program for your store has never been as easy as it is today. You have tons of apps that you can simply add to your store and get the programs live.
However, having so much to choose from can be difficult and time-consuming.
That's why I did all the leg work for you and picked some of the best Shopify loyalty apps to start an attractive loyalty program and top Shopify referral apps for referral marketing.
Here is our curated list of best Shopify loyalty and referral apps –
Now let's dive deeper into these apps.
1. Growave – Best Shopify Loyalty & Referral App
Growave is an all-in-one marketing app that enables you to build attractive loyalty and referral programs for your store. It lets you create point-based and VIP tier-based loyalty programs in which you can reward customers for taking any action that leads to conversion.
With Growave, you can collect customer reviews and display it across your website. Moreover, you can encourage customers to submit reviews and add product photos to earn loyalty reward points.
Additionally, it comes with a wishlist feature, one-click social logins, and a shoppable Instagram gallery widget that you can use to display your Instagram photos on store pages.
In brief, Growave is more than just a Shopify loyalty app, it is a complete marketing app that you can use to improve customer experience and generate more sales. You can read our Growave review to learn more about it.
Feature Highlights-
Allow customers to redeem their points via gift cards, cash, percentage discounts, free shipping, etc.
Automatically invite your existing and new customers to join the program right after they make a purchase.
Create unlimited VIP tiers for your loyalty program
Send automated email reminder to customers about points expiry, rewards, and other activities to boost engagement rate.
Send personalized emails with tips to help customers earn more rewards and get better deals using their loyalty points.
Pricing and Plans – Growave pricing plans are designed to match businesses of all sizes. It has 6 pricing plans which are as follows –
Hobby – $19/month, allowing up to 100 orders
Starter – $29/month, allowing up to 250 orders
Small – $49/month, allowing up to 500 orders
Medium – $99/month, allowing up to 1000 orders
Large – $199/month, allowing up to 2000 orders
Enterprise – $299/month, allowing up to 3500 orders
Growave offers a 14-day free trial on all the plans but using our Growave Coupon, you can get a 30-day extended free trial.
2. ReferralCandy – Best Shopify Referral App
ReferralCandy is a top-rated Shopify referral app that enables you to monetize word-of-mouth marketing by starting an exciting eCommerce referral program for your store.
It provides you complete flexibility with customizing the reward options for both referrers and the referred ones. You can offer a cash incentive, custom gifts, or a percentage discount on the next purchase, it is all up to you to decide.
ReferralCandy comes with an automatic fraud detection system that helps you prevent referral fraud by identifying suspicious referrals (like self referral) and automatically ban fraudulent activities. This saves you a lot of money that you might spend on reward such customers.
Feature Highlights-
Automatic distribution of referral rewards to your customers
Add a popup after checkout to invite customer to join the referral program
Retarget your new referral leads in Adroll, Google Ads and Facebook Ads
Support seamless integration with app like Klaviyo, Google Analytics, Google Ads and more.
Provides analytics and insights like industry benchmarks and top referrers
Provides an excellent live chat customer support to help you set up the program.
Pricing and Plans – ReferralCandy offers a 30-day free trial and the premium plan starts at $49/month.
3. Stamped.io – AI-powered Shopify Loyalty App
Stamped.io is another amazing Loyalty and referral app for Shopify stores. It enables you to create engaging reward programs to boost customer retention and generate more sales.
Like Growave, Stamped also enables you to create a hybrid loyalty reward program with exciting reward options like free shipping, percentage discounts, gift cards, and more. It provides you complete flexibility with choosing reward options and the actions you want to reward for.
Feature Highlights –
Customizable landing pages for loyalty and referral programs.
Dedicated rewards page to introduce your rewards program to customers.
Mobile-optimized, 100% responsive, and works with any theme.
Multilingual, available in English, French, German, and 15+ languages
Seamless integration with Facebook, Omnisend, Gorgias, and many more.
Pricing and Plans – Stamped offers a free plan with up to 100 monthly orders. It has 3 premium pricing plans based on the number of orders which are as follows –
Premium Plan – $39/mo up to 500 orders

Business Plan – $149/mo up to 1500 orders
Professional Plan – $479/mo up to 3500 orders
If your store exceeds the limit of 3500 monthly orders, you have to request customer pricing under the enterprise plan.
4. Retainful – Referrals & Abandoned Cart App
Retainful is a sales optimization app that primarily focuses on reducing cart abandonment. Its referral program feature is designed to turn your customers into brand advocates and to acquire new customers at a low cost.
Starting a referral program with Retainful is super easy – you can make it live within just a few minutes. It has three reward options – a flat amount discount, a percentage discount, and free shipping which you can offer to both advocate and their friends.
Feature Highlights-
Use referral widgets to promote Refer-a-friend program in your store.
Allow guest users can refer their friends.
Offer seperate rewards to both referrer and referrals.
Easy Drag & Drop email editor to customize the emails.
Automatic fraud prevention (based on the IPs and Emails)
Pricing and Plans – Retainful has a pricing plan based on the number of contacts. It offers a free plan, allowing up to 300 contacts. However to start a referral program, you will have to opt for one of the paid plans –
Starter Plan – $15/month

, for up to 2000 contacts
Growth Plan – $39/month, for up to 5000 contacts
Pro Plan – $159/month, for up to 25000 contacts
Once you reach the contact the contact limit, the plan will be automatically upgraded to the higher plan to ensure continuous tracking for referrals.
5. LoyaltyLion – Data-driven Shopify Loyalty App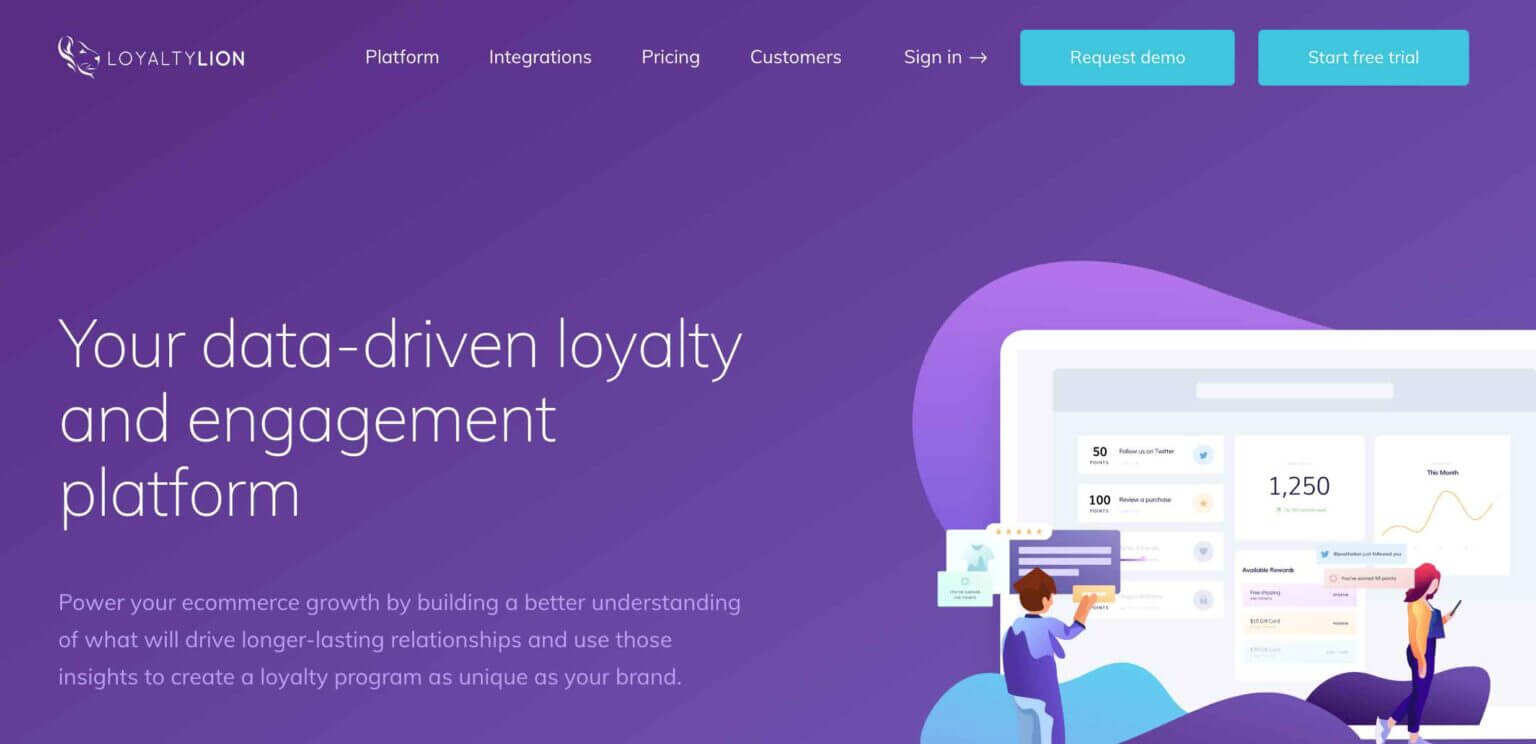 LoyaltyLion unlocks the great revenue potential of your Shopify store by giving you real-time insights that dig deep into fueling up your loyalty programs. Such actionable data lets you rethink and revamp your loyalty programs such that it creates a heap of loyal brand advocates.
Using this loyalty app, you can design point-based loyalty programs, tier-based loyalty programs, and referral programs for your stores. With Tier-based loyalty programs, you can provide different types of rewards to your customers based on milestones they reach. This encourages them to shop to unlock higher rewards.
In addition to this, you can also run A/B tests for your loyalty programs to try multiple program ideas and determine the most effective and engaging loyalty program for your customers.
Feature Highlights-
Allow customers to earn points for any on-site activity like making purchases, leaving reviews, etc.
Let customers exchange points for vouchers, gift cards, free products, etc.
Offers advanced rewarding options like in-cart rewards, instant points, and tiers to increase the boost enagement.
Enables customers to share referral links via email, social media, or mobile.
Allows you to send loyalty emails and other on-site notifications to your customers to keep them updated with your loyalty rewards.
Pricing and Plans
Classic Plan – $399/month
Advanced Plan – $699/month
Plus Plan – $1500/month
6. Smile.io – Top rated Loyalty and Referral App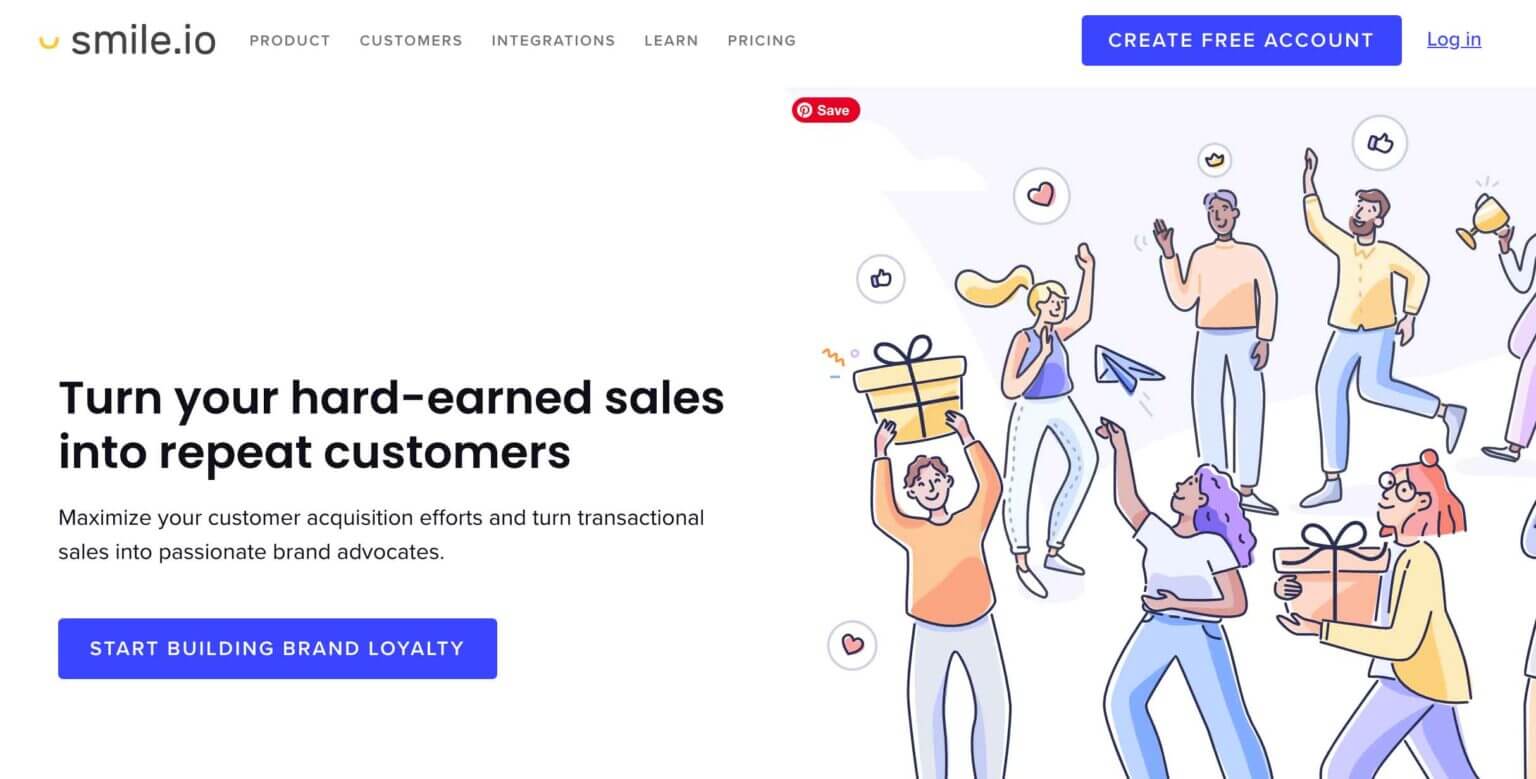 Smile.io is the highest rated Shopify loyalty app that encourages repeat purchases and boosts your customer retention rate by rewarding them in the following ways:
It offers an easy-to-use intuitive editor that lets you add stop-scrolling banner images and logos. You have the complete control to make desired changes to your loyalty program, manage your reward members, and deliver powerful insights that gear you up for more conversions.
As many customers will be participating in your loyalty program, this Shopify loyalty app gives a clear track of record by allowing you to analyze and monitor the points balance, referral URL, reward history, etc.
This makes your job easier in updating your customers with relevant details, and you can know the level at which your loyalty programs are being loved by your customers.
Feature Highlights-
It allows in rewarding your customers when they perform specific actions like account creation, social shares, birthdays, purchases, and much more.
You can allow your customers to redeem their points for their rewards in terms of percentage, dollars or also offers free shipping/free products.
It enables you to use actionable conditions to customize the loyalty program and create specific rules for a particular customer group.
It lets you create personalized referral links, and you can ask your existing customers to share them with their friends/family members.
Pricing and Plans
Starter Plan – $49/month
Growth Plan – $199/month
Pro Plan – $599/month
7. Rise.ai – Shopify Gift Cards & Loyalty App
Rise.ai is a full engagement focussed platform that intensifies the conversion rates of your Shopify store by offering store credits, gift cards, loyalty programs, referrals, etc. It enables you to establish an intuitive customer loyalty program using automated store credits, which opens the gateway for high retention rates.
This powerful app enlightens your customers as they can send personalized gift cards directly to their loved ones. This gives a euphoric feeling to your customers and adds a 'plus' level to your Shopify store.
Moving on to the referral program, it is different when compared to traditional referral marketing programs. Rise.ai allows your customers to accumulate their credit points every time they successfully refer new ones, for which they'll be rewarded with mesmerizing benefits.
Feature Highlights-
It allows you to send bulk gift cards and vouchers to your customers, and the best part is these processes are automated.
It enables you to issue store credits for your customers when they are not satisfied with your product to retain them.
It permits you to track the recipient's email ( for whom your customer has sent the gift card) so that you can send targeted offers and promotions.
It lets you create tiered reward plans that push your customers to the VIP level.
It allows you to issue virtual and physical punch cards, offering your customers the convenience to collect and redeem their rewards.
Pricing and Plans
Starter Plan – $19/month
Small Business Plan – $59/month
Pro Plan – $199/month
Premium Plan – $599/month
Enterprise Plan – Custom Plan
8. Bamboo – Simple Shopify Referral App
Bamboo is a simple yet impactful Shopify referral app that helps in generating free influencers for your Shopify store by providing stunning referral programs. It lets you monetize your customer's efforts by offering coupons, points, and free products that ignite the advocacy trait hidden in them.
It also provides a detailed analysis of all your referral marketing efforts. This Shopify referral app presents key statistics like your referrer's identity and source. You can also compare your performance with the industry benchmarks to witness where you stand in this eCommerce competitive field.
Feature Highlights-
It allows you to create a unique referral link, set up rewards, and as soon as the process is complete, both the referrers and the referred friend will get rewarded.
It lets you customize your referral marketing programs that complement your Shopify store's branding.
It enables you to send email notifications to the referee and referred customer to redeem the offer and bring them back to the store.
It permits you to integrate your referral program into the custom software that you use.
Pricing and Plans
Free Plan – $0 (up to 30 orders)
Pro Plan – $29/month (scales up based on the no. of orders)
Choose the best Shopify Loyalty and Referral App
Shopify is undoubtedly one of the most powerful eCommerce platforms and as a Shopify store owner, you must create a loyalty and referral program for your store.
A loyalty program helps you stay connected with your existing customers, increasing the customer lifetime value (LTV) and Referral programs encourage your existing customers to promote your products and bring in new customers for your store.
Loyalty and referral programs are a win-win strategy for both the parties – customers & store owners which makes it one of the successful marketing tactics in the eCommerce space.
And I hope this article helped you pick the app to start an engaging loyalty & referral program for your store. If you are looking for more tools to improve your Shopify sales, you should check out these hand-picked articles –