In this fast-growing digital era, you can find people not being active on social media. Still, it's not possible to find even a single individual without an email address. This is why eCommerce businesses should vigorously focus on email marketing.
According to Statista, the number of email users globally is set to rise to 4.48 billion in 2024, making it a crucial marketing channel for eCommerce businesses to communicate with their existing customer base and potentially drive more sales.
Building an email list is the fastest way of acquiring hot potential leads for your eCommerce business. Because convincing someone to give their email address is easier than persuading them to purchase on their first visit.
However, you must understand that privacy is of utmost concern for consumers nowadays; no one wants their mailbox filled with promotional emails and social feeds with retargeted ads.
So, you have to give them a viable reason to share their email address with you and remember that you cannot bombard generic emails and expect your subscriber list to grow overnight. It requires a strategy and high-value content that benefits your customers.
11 Effective Email List-building Strategies for Ecommerce
In this section, I will some of the creative ideas and proven strategies that successful eCommerce brands are using to build their email lists fast.
Ready? let's get started.
1. Use Standard Pop-ups
Pop-ups are the eCommerce retailer's best friends because they play a huge role when it comes to building email lists. These small-sized interactive boxes can do magic and wonders when they are triggered at the right time in a non-intrusive and subtle manner.
There are different kinds of pop-ups that you can use on your website. The most effective ones that you shouldn't ignore are as follows –
Exit-Intent pop-ups – These pop-ups are triggered when the visitors show intent to leave the website. You can use this pop-up to capture the visitors' attention one last time with a compelling offer that they can't ignore.
Shopping Cart Abandonment pop-ups – Use this pop-up for users leaving the shopping cart page without completing the purchase. You can offer huge discounts or free shipping on the existing products to encourage customers to complete the purchase right away.
Newsletter pop-ups – This is the most common pop-up you must have seen across eCommerce websites. The best place to use this pop-up is on the blog pages where people are looking for information. You can offer them to subscribe to your newsletters for more tips and guides.
You can use Optinmonster to create smart and personalized pop-ups throughout your website. It lets you create pop-ups by quickly and personalizing the offers based on the user's behavior on the site.
2. Offer Incentives for Email Sign-ups
If you want new visitors to join your email list, start by offering them a lucrative incentive that they can't reject.
For instance, in the image below, the brand is offering 15% off + free shipping on their next purchase just to join their email list.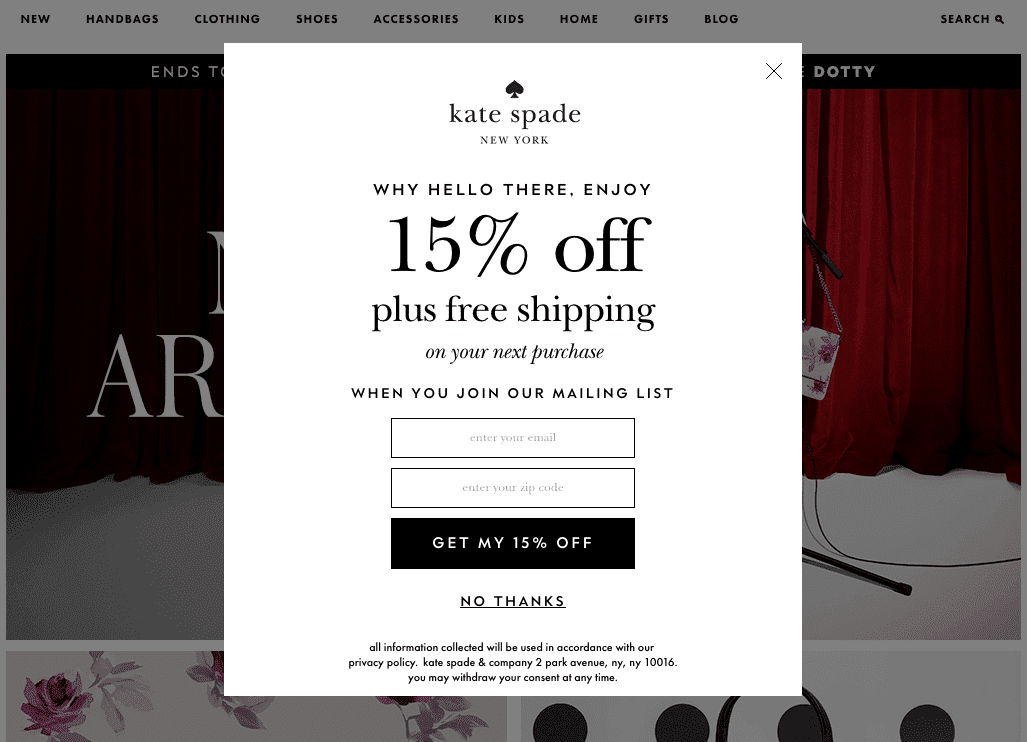 Anyone who is ready to shop and wants to save money on their shopping list would sign up instantly, right?
Similarly, you need to offer something exciting and useful for your incoming visitors for free like:
Free shipping
Free Gifts
Cashback offers
Early access to sales offers and new products
Free trial for membership, etc.,
The idea behind this strategy is simple, today, people know how valuable their email address can be for a business. So, they want a "real-value" in exchange for allowing you to drop by their mailbox.
3. Add Email Opt-in at the checkout
When a customer reaches the checkout page to place their order, they will have to provide their email addresses to receive the order updates. You can take advantage of this step, by asking customers to sign up to your email list for the latest product updates and offers.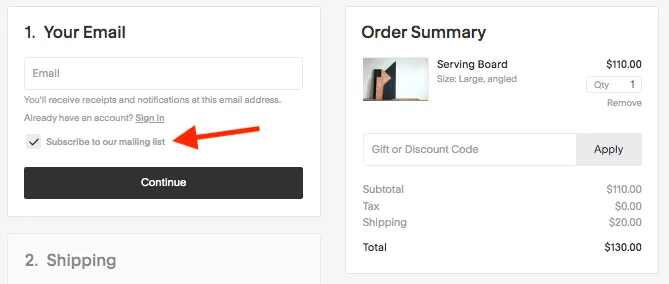 In the above image, you can see how you can ask your customers to subscribe to your mailing list at the checkout page – it is just a click away.
4. Host Giveaways on Social Media
Free giveaways are the tried and tested method to attract massive new email subscribers for eCommerce brands. But remember that your prize amount or the value of your offering must be high to gain the people's attention and engagement.
You can use SweepWidget to conduct successful giveaways that can help you grow your email lists. It enables you to conduct contests & giveaways and sweepstakes, across social media platforms, and much more.
The best way to run eCommerce giveaways is by influencer marketing. You can collaborate with bloggers, content creators, and YouTubers from your niche to promote the giveaway contest and reach their massive follower base. This way, you will be able to reach your target audience and build a clean email list of potential customers.
5. Offer Attractive Lead Magnets
If you have a blog on your eCommerce website with decent traffic, you can convert readers into leads by offering them a relevant lead magnet. Lead magnets can be anything the users might be interested in to find more information about their problems.
Some of the best lead magnets for eCommerce brands can be –
Free product consultation
Free lookbooks (for fashion brands)
Ebooks and guides
Newsletters
On-demand Webinars, etc.,
Now, if you offer a generic lead magnet to all the readers, you may not see a good conversion rate. Instead, you can provide content-based lead magnets that match the blog topic.
For instance, a lookbook would be the perfect thing to offer for users looking for wedding dress ideas. On the other hand, someone looking for the best skincare products for dry skin would be more interested in a free expert consultation than an ebook.
So, the rule to succeed at this strategy is to offer a valuable resource in which your potential customers might be interested.
6. Create a Loyalty Program
In many cases, we have observed that even loyal customers do not subscribe to your email list – they might want to keep their email clean or avoid promotional emails.
Whatever the reason, if you want to get them into your email list, you should start a customer loyalty program. To receive the email alerts regarding their loyalty rewards, they may open the door to their mailbox for you.
However, you must ensure that such customers are more interested in their loyalty rewards than your marketing emails or newsletters. So, avoid spamming their inbox with other types of emails, resulting in unsubscription.
7. Start Referral Marketing
Referral marketing is another effective way to build your email list. All you have to do is to create a referral link and encourage your existing customers to invite others to the platform in exchange for rewards.
As soon as they sign up, both the referred and the referrer can be rewarded in cash, discounts, free shipping, or reward points.
Once your referral program starts, your email list will multiply as new customers create accounts to claim the referral offers. Further, you can use the data to qualify them as leads and nurture them via email to convert them into loyal customers.
8. Gamify User Experience
Incorporating gamification into the user experience for visitors is always fun and can drastically boost your email subscribers list.
A simple Quiz contest in exchange for gifts and rewards or a spin-a-wheel with various offers can do wonders for you to grow your email list.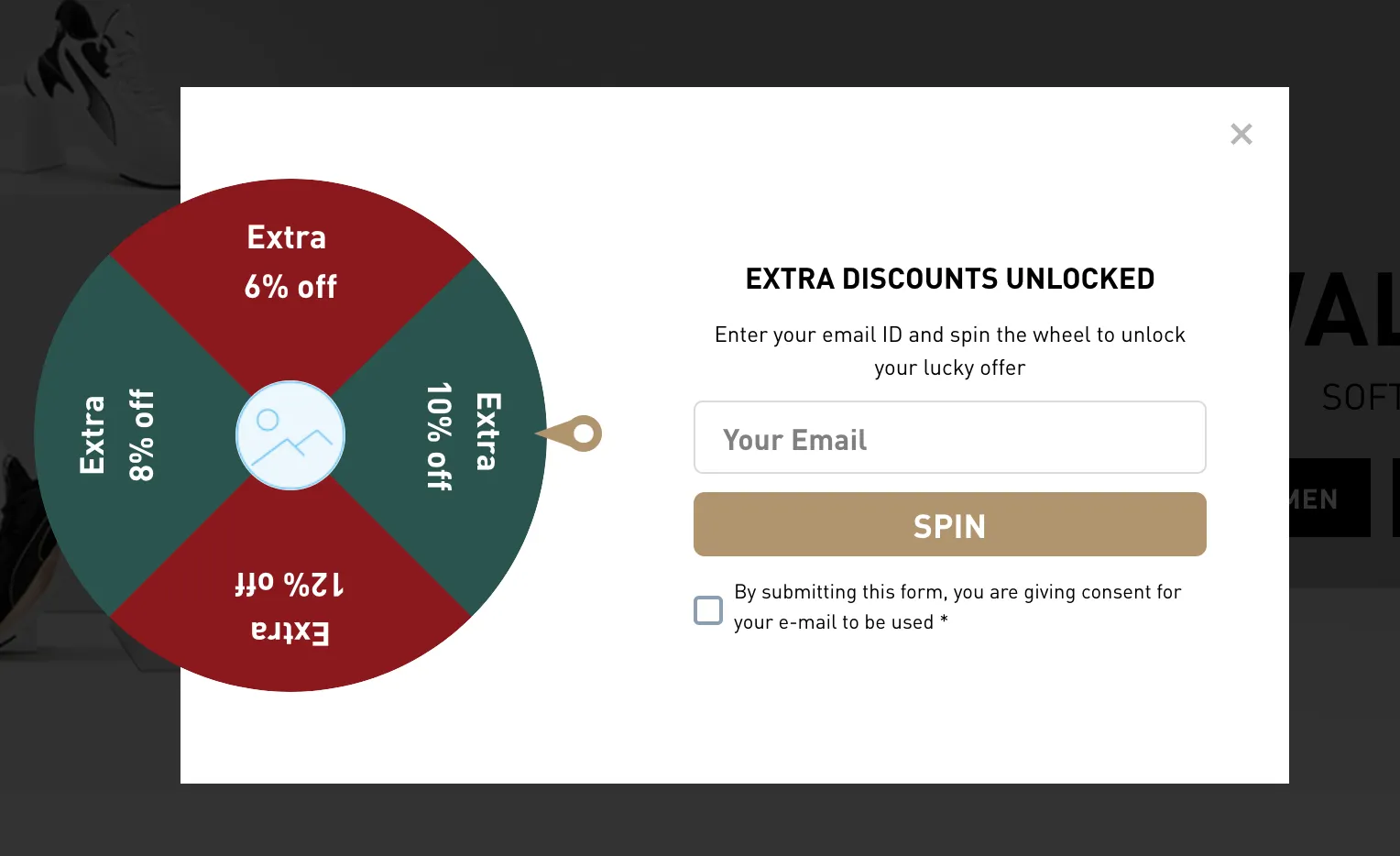 In the above example, the brand is offering extra discounts, and in exchange, the user has to enter the email and spin the wheel. Who doesn't want to try their luck to save some money? Ask yourself!
Using OptinMonster, you can easily create such gamified pop-ups with various price and discount options. Some email marketing tools like Omnisend also provide you with an in-built wheel of fortune pop-up that you can add to your website.
9. Add Product Recommendation Quiz
Let's say a user lands on your website and browses through multiple products but can't finalize the product to purchase. You can offer them to take part in a quiz to find the most suitable product for them.
Once users complete the quiz and find the recommended product that matches their style or needs, they are most likely to convert and complete the purchase.
Even though many of them don't complete the purchase, you can collect their email address before revealing the recommended products. This way, you will have an email list of the most potential customers.
Using Outgrow, you can create interactive content tools like calculators, surveys, product recommendations, quizzes, and more. It offers a drag and drop interface that enables you to easily create any kind of interactive content with zero coding knowledge.
Further, it can be embedded as a pop-up or on a webpage, where users can use it. The best part is that Outgrow tools are responsive, making them accessible for mobile users, which means more conversion for you.
10. Offer Back in stock alerts
This is the most underestimated list-building tactic that eCommerce brands ignore. Let's say a visitor finds the product they want on your website, but it is out of stock; how would you reach them back?!
This is where you can ask visitors to subscribe to your back-in-stock email alerts. Along with it, you can also offer if they would like to subscribe to your mailing list as shown below –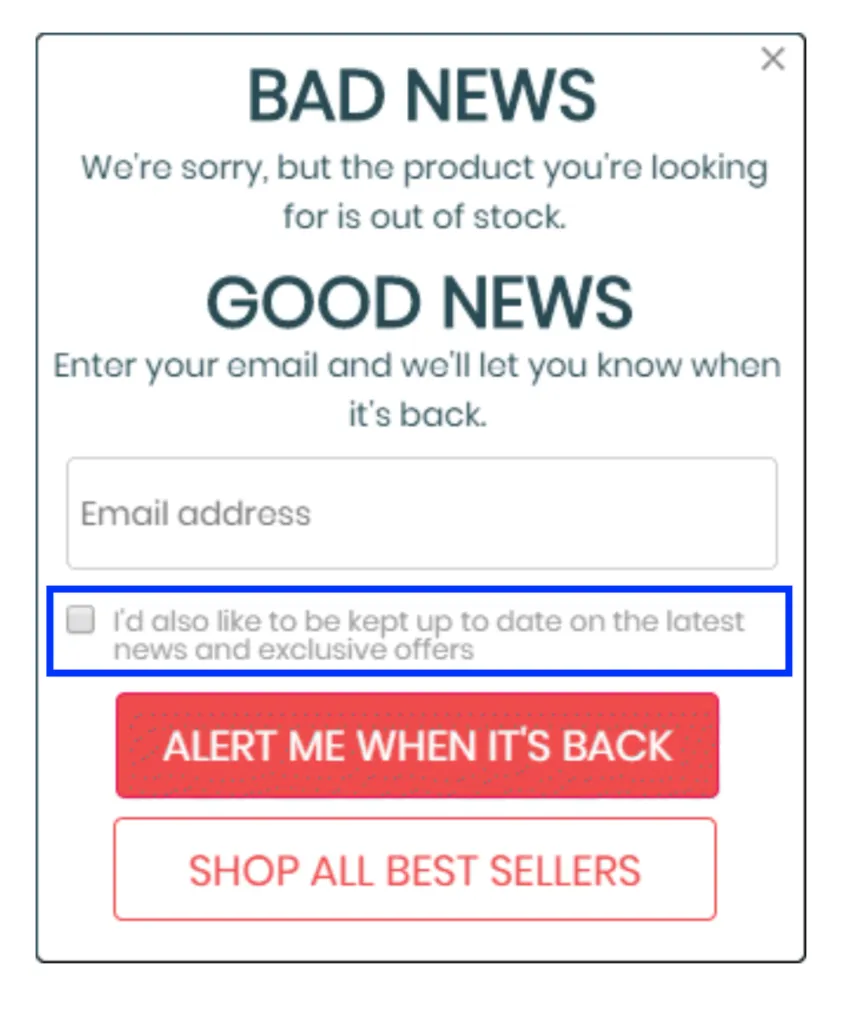 Make sure to add an opt-in email option below such forms, which allows you to add the user to your mailing list for sending newsletters or other promotional emails.
11. Create High Converting Landing Pages
Whether you are running a giveaway contest, offering discounts, or newsletter subscriptions, you cannot use pop-ups everywhere. Instead, you need landing pages where you can direct users to complete the sign-up process and claim the offer.
Just take a look at the image below –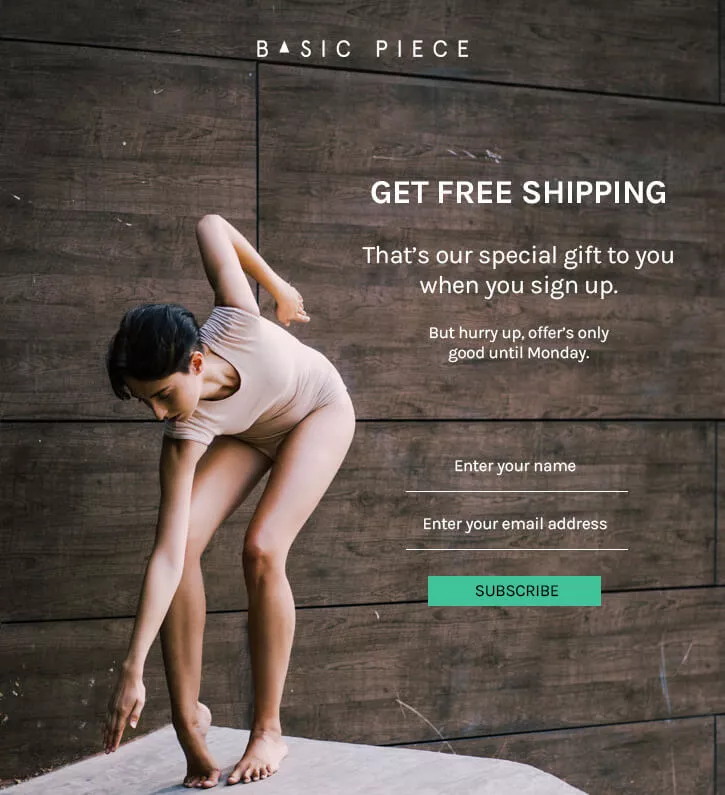 As you can see in the above image, the page has less content as it is designed to encourage users to subscribe to the email list. So, it has to be to the point, guiding visitors to complete the action.
Further Reading – Best practices to create high-converting landing pages
You can use the landing page builder like Unbounce, and Leadpages to create landing pages easily without any coding knowledge.
5 Best Tools to Build Ecommerce Email List
By now, we have looked into several strategies to build an eCommerce email list. But to implement them successfully, you need tools and software in your toolkit.
So, here are my must-have tools to build an email list for eCommerce brands –
Omnisend: It is one of the best email marketing software for eCommerce. It is easy to use and compatible with popular eCommerce platforms like Shopify, BigCommerce, WooCommerce, etc. Read our comprehensive Omnisend review to know everything about it.
OptinMonster: It is the best pop-up creation software that enables you to create smart pop-ups with a personalized user experience for your website. It integrates with all the major eCommerce website builders and marketing tools, which makes it easier for you to deliver personalized offers and discounts via pop-ups.
Outgrow: It is an interactive content creation tool that enables you to create content tools like quizzes, calculators, and product recommenders, which you can use to attract users and collect their emails
SweepWidget: It is the best tool to run giveaway contests and sweepstakes on social media to gain more followers and grow your email lists.
Unbounce: It is one of the best landing page builders that offers a drag-and-drop builder to design and customize the pages. It also allows you to create pop-ups and alert bars. Read our in-depth Unbounce review to know more about it.
Wait! Are you building your email list with proper consent?
To build your email lists, never try to break the rules, as it can hugely impact your business and the brand reputation. Even though it is not mandatory in many countries, following the GDPR (General Data Protection Guidelines) is advised while collecting emails or sending promotional emails to your customers.
Here are some of the important rules from the GDPR guidelines that you should comply with while building your email list –
Get proper consent: While you send email newsletters asking for sign-ups, you potentially collect their data for future communication purposes. So you need to ask your users' permission and get their approval for using their data.
Explain the privacy policy: The GDPR compliance requires you to explain your privacy policy about the users' data you collect and how you will process them. This can be done by adding a link in the opt-in form footer that will be easily accessible.
Legibly store the data: In countries like Germany, you need to have proper records showing the users' consent to receive your emails. For this, you can enable double opt-in emails from the sign-up forms.
Adding the 'unsubscribe' option is mandatory: Users must be allowed to revoke the permission whenever they want. So an unsubscribe option must be added in the email body to opt-out of receiving your emails.
Ready to Build Email lists for Your Ecommerce Brand?
Contrary to what many marketers believe, email marketing is not dead, and it's far from dying anytime soon. In fact, with the growing privacy issues and regional restrictions on social media platforms, I believe email marketing will be the only marketing channel that will allow you to communicate with your customers worldwide.
Not only that, the personalization aspect of email marketing is way better than any other channel. So, without further ado, start building your email list and implement the above strategies one by one to find what's working for you and stick to it.
So, which email list-building strategy are you going to try first? Tweet us at @ecomsutra and follow us for regular updates.