If you are a marketer or business owner, you might have encountered the term "Buyer Personas" several times while reading articles, watching videos, or listening to podcasts.
We also use this term in almost every marketing-related topic. And, just to be clear, it is not just another buzzword that we like to toss around – it is, in fact, an incredibly helpful tool that can help you communicate with your target audience more effectively.
So, if you want to understand buyer personas and why they are important for eCommerce businesses, you have landed on the right page. In this article, we will dive into the topic and walk you through the process of creating buyer personas for your business.
Ready? Let's get started.
What is a Buyer Persona?
A buyer persona is a data-backed fictional character that represents ideal customers for your products. It is created based on researching your existing customers who use your products because you want to acquire and serve similar customers.
A buyer persona comprises all the details that might affect the purchasing decision of a specific type of consumer. It may include their likes, dislike, profession, pain points, and goals along with their demographic data (age, gender, location, etc.,)
You can have multiple buyer personas based on your products and the types of consumers you want to target. It is also called customer persona or marketing persona,
Remember that buyer personas represent your model customers. So, you should think of them as your real customers who might be interested in your products. For ease, you can also give names to each persona like Geeky Goerge, Lazy Lilly, etc.,
Why do Ecommerce Businesses need Buyer Personas?
In eCommerce, buyer personas play a crucial role in almost every aspect of business operations. Here's how –
Product Research: You can find if a specific product addresses the needs of at least one of your personas. If not, you can reject the product idea immediately.
Marketing: Does your marketing campaign address the pain points and challenges to any persona? If not, you may want to reconsider it. Similarly, you can use personas to create effective marketing strategies to address all kinds of customers.
Customer Service: Rather than giving generic responses to every customer, a buyer persona can help you identify the challenges of a specific customer and address the issue more effectively.
Order Fulfillment: You can pick the nearest fulfillment and warehousing centers to provide faster delivery services to your ideal buyer personas.
Post Purchase: Based on buyer personas, you can create appropriate post-purchase strategies to make customers feel values and convert them into loyal ones. 
Bottom line, whether you want to run marketing campaigns, introduce new products or optimize website to improve conversion rate, you will need well-defined buyer personas for your online store. It not only help you understand your customers better, but guides to make customer-centric decisions.
Steps to Create Buyer Personas for Ecommerce
As mentioned earlier, a buyer persona is data-backed. So instead of creating random personas, here's the right you to create buyer personas for eCommerce businesses –
Step 1: Analyze your customer data
First, if you are already running an online store, start gathering data on your existing customers. You can dig into your customer data to find details such as –
Age
Gender
Location
Product interests
Purchasing power
And more based on the data you collect from your customers…
You can also use website analytics tools and market campaign data to gather more data on the type of users visiting your site and those who engage with your marketing campaigns.
Step 2: Survey your customers
Next, you want to know your customers' likes, dislikes, preferences, and other personal and professional data that can help you understand them better.
The best way to gather such insights is to interact with customers directly via survey forms or one-to-one phone calls. While doing so, you can start by asking the following questions –
How did you discover our brand?
What are the biggest challenges that our products solve for you?
Why do you purchase our products over other brands?
Do you use research on the internet before purchasing? If yes, how do you search for information?
What are your hobbies and interests?
Do you need others' approval to make purchasing decisions?
How do you spend most of your time?
Which social networks do you prefer?
How do you prefer to communicate?
The objective of your customer surveys is to know more about their interest, challenges, and pain points that can factor into their purchasing decision. So, make sure to curate a list of relevant questions – keep it specific, direct, and easy to answer.
Step 3: Interview customer-facing teams
Nobody can provide you more insights into your customers than those who interact with them on a daily basis – your sales and customer support team.
By interviewing them, you can find the common objections that salespeople has to deal with and what customers expect from your brand in terms of service, product quality, and more.
Here are a few questions that you can ask during interviews –
Reasons why customers don't buy from us
Reasons why customers buy our products
What are the most common questions consumers ask before purchasing?
What are the most common questions customers ask after purchasing?
How can we improve their shopping experience on our site?
Step 4: Create your Buyer Personas
By now, you should have gathered enough data that you can use to compile and identify common attributes among different types of customers.
So, at this stage, you have to create multiple groups of customers with shared characteristics such as age, gender, pain points, locations, etc. These groups are your buyer personas.
For instance, say you identified a group of female customers aged 25-30 who are tech-savvy, big spenders based in London.
It can be one of your buyer personas.
Finally, you need to name the persona and give a face to it, for which you can use stock images or your teammates (pun intended!)
Once you have figured out every detail, you design an attractive persona using Semrush Free Persona Builder. You just have to select a template and enter all the details in the respective fields as shown below –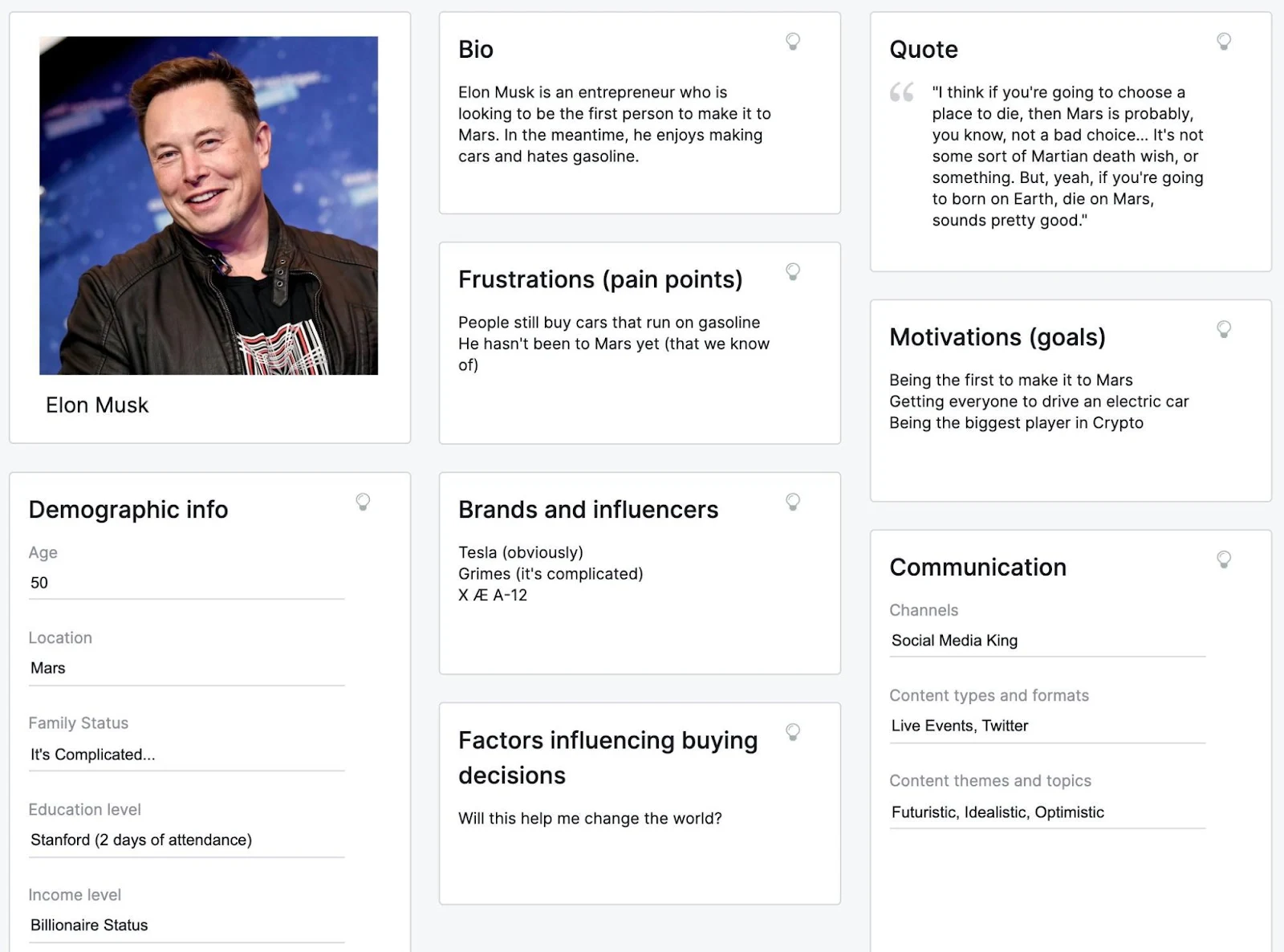 Ready to Create Buyer Personas for your Store?
Everyone starts an eCommerce business to sell products online, but if you want to grow it to the next level, you need to know who your customers are and what they expect from you. Since you can't engage with every customer directly, you need buyer personas representing them and their characteristics. 
It helps you understand them on a deeper level and enables you to make decisions that may affect them in one or other ways. From deciding on website design, and social media captions to adding new products to your online store, buyer personas can be your guiding lamp to stay focused on your ideal customers.
So, if you haven't created buyer personas for your eCommerce business, create now and make sure to share them with every decision-maker in your organization.