Link building is one of the most challenging aspects of eCommerce SEO. It is also one of the essential elements of our eCommerce SEO checklist – you should check it if you haven't already!
It requires a lot of research & repetitive tasks which makes it quite boring. But with an effective link-building strategy, you can smoothen up the process and get some quality links to your eCommerce sites.
In this article, I will share some of the proven link-building strategies that successful online stores use, and you can also leverage them.
Before that, let's get into the fundamental of eCommerce link building.
What is Link Building?
Link building is one of the SEO practices to get quality backlinks to your website from other authoritative websites. The more "quality" backlinks you can get to your eCommerce sites, the higher the chance of getting your site pages on top of the result pages.
Here, the quality of a website is analyzed in terms of the Domain Authority (DA) and the content relevance to your site. That is, links coming from sites with high DA scores and related to your niche add more value than links from low-quality and unrelated websites.
Moreover, links from spammy websites like adult sites would do more harm than any good for your site SEO, even if they have higher domain authority.
In a nutshell, link-building is a process of getting links from other high authority websites to your own to build your authority and rank higher on search results.
Effective Ecommerce Link Building Strategies
Link building strategies are different ways to attract or encourage other site owners/managers to link to your site pages without sponsorship or paid collaborations.
In this section, I will walk you through some of the proven link-building strategies that successful eCommerce sites are using, and you can too.
Ready? Let's get started.
1. Create linkable assets
One of the biggest challenges with eCommerce link building is that most websites will never link to the pages that sell. So, whether you are selling eBooks, courses, artworks, or physical products like coffee machines, you have to give people a reason to link to your website, apart from your product pages.
That's why you need to create linkable assets that people find unique and relevant for their readers – just focus on creating content that is not focused on selling your products.
For example, if you sell coffee machines, you can create infographics illustrating how Coffee machines work or publish an article on the types of coffee machines available in the market. This type of content is informative, and since it's coming from a coffee machine selling website, it makes it an authentic source for publishers to link from their websites.
2. Replicate competitors links
If your competitors rank higher for your target keywords, they must be doing well with link building. So, why not start with assessing the outbound links coming to their website and replicate it?!
Honestly, this is my favorite strategy as it saves time and provides you with potential websites which are most likely interested in linking to your site as they did for your competitors.
For this strategy, you will need an SEO tool like Semrush that enables you to analyze your competitors' backlinks.
To get started, go to the Semrush Backlink Analytics, add one of your competitor's websites, and hit the "Analyze" button.
On the next screen, select the "Backlinks" tab and scroll down to see a complete list of websites linking to that website. You can also see the number of links provided by a website from a specific page to your searched domain.
Here's how it should look like –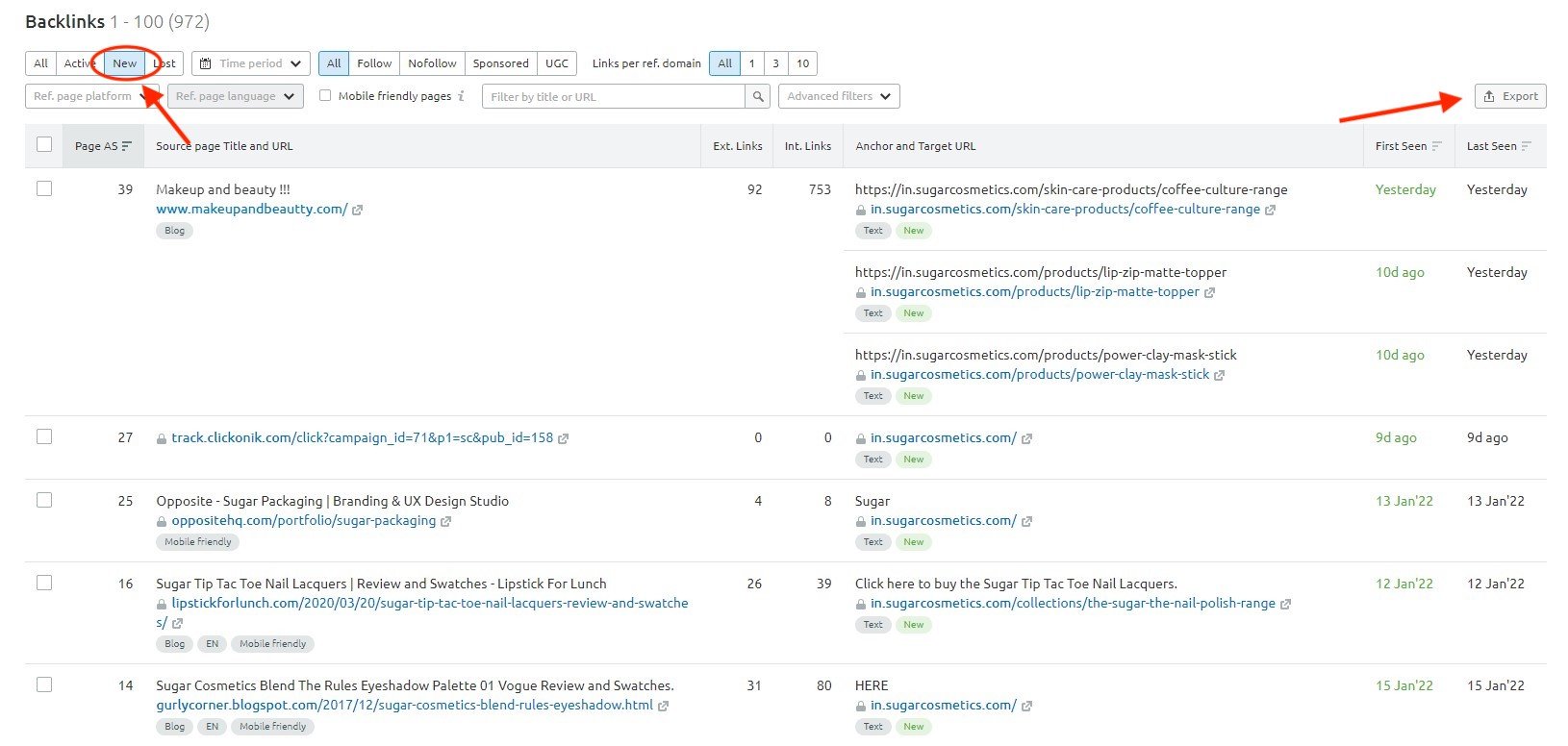 In the above image, you can see that I have added a filter to only display "New" links. Similarly, you can add link type, No. of links per referring domain, and other advanced filters to narrow down the list for better analysis.
Once you have filtered the list, export it and analyze the domains to identify the relevant websites from where you can expect a link and outreach them with your proposal.
3. Claim unlinked brand mentions
In many cases, people may mention your brand name in their blog posts, but they don't add a link to your site. The authors may have forgotten to add the link or might be seeing it as irrelevant to the content.
Whatever the reason, if you can find such unlinked mentions of your website, you can reach out to the author or website managers and ask them to add a link to your site.
You can use platforms like BuzzSumo that allow you to set up alerts for any keyword or brand name and get notified via email every time someone mentions the specified keywords.
However, if you are running low on budget, Google Alerts is the best free alternative to Buzzsumo. It enables you to create alerts for your brand name mention, and it will notify you whenever a page mentioning your brand name gets indexed on Google.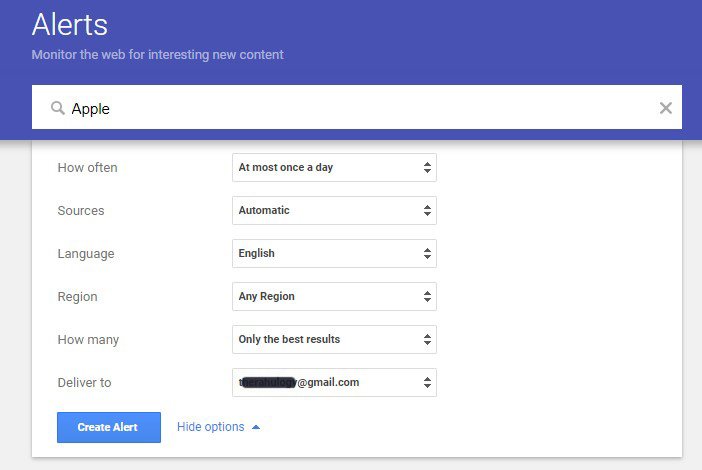 Once you get an alert, assess the website page to see if it is a high-quality website from where you would like to get a link. If yes, the next step would be to reach out to the author or website manager to add a link to your brand mention.
4. Leverage Affiliate Partnership
Affiliate marketing is not only an effective marketing strategy, but eCommerce brands can also leverage it for link building.
With an attractive affiliate program, you can collaborate with top bloggers and influencers to promote your products by creating tutorials, product reviews, and product roundups with links to your products.
However, you should know that as per Google guidelines, bloggers and publishers may not add a do-follow attribute to the affiliate links. But, if you can provide them with other types of assets like articles and infographics, you can ask them for a link.
Since they are already in partnership with you and earning from your store, it should be easier to convince them for the link. Or, you can set up a bonus reward for publishing an article with your infographic or add a link to one of your pages.
Further Reading: How to start an eCommerce affiliate program
5. Get Listed on Coupon Websites
Coupon websites have been one of the best sources of referral traffic for eCommerce sites. Consumers always look for discounts to get better deals on products.
So, if you are already offering discounts for sales, why shouldn't you leverage it for link building as well, right?!
There are several free and paid coupon websites to register your site or connect with their sales team to list your discount coupons. This way, you will be able to reach new customers and get some quality links to your store.
6. Leverage Digital PR
Digital PR is an effective strategy to get links from high-authoritative news and magazine websites. However, truth be told – it is not easy to pull off for new and small websites.
You need to offer exciting stories and exciting products that journalists would like to write about and ultimately get you backlinks.
Services like HARO and ResponseSource are popular platforms to connect with journalists looking for input and inspiration from business owners. You can find queries related to your industry and answer them.
If they find your inputs useful, you may find yourself featured on some of the popular news and magazine websites with a link to your store.
How to Outreach for Link Building?
In all the strategies mentioned above, one of the common steps involved is outreaching to the website owners to ask for a backlink.
In fact, outreaching is the key to successful link-building campaigns. The better your outreach approach would be, the easier it will be to get links for your site.
Here are a few tips you can consider to make an effective outreaching strategy –
Outreach to websites with Higher Domain Authority than yours.
Use email finder tools to extract emails of authors or website owners. 
Use Outreach Tools to automate the process.
Don't expect to hear back from everyone you message.
Try Communicating via social media.
Don't be pushy.
Now it is your turn to create a list of websites you would like to build links from and start outreaching them with your un-deniable proposals.
Wrapping Up
Creating an online store and starting an eCommerce business is not as difficult as what comes after that – driving traffic to the website and generating sales from them.
Link building is a crucial aspect of off-page SEO for any kind of website. It is what helps you win credibility score for your website to rank higher on search result pages of Google, Bing, and others.
In this article, we covered the most effective and proven eCommerce link-building strategies. If you do it right, I am sure, you will have quality backlinks to your website in little to no time.