Whether you are starting a new eCommerce business or looking for opportunities to grow the existing one, you must keep eye on reliable eCommerce statistics reports provided by recognized institutes and companies.
There are tons of statistics you will find for almost everything, but not every data can be trusted when it comes to making a business decision, right?
That's why, we have compiled some of the important eCommerce statistics that we believe every eCommerce merchant and professional should know. We have also shared our insights on why these statistics matters and how you can leverage it for your business.
Ready? Let's get started.
Ecommerce Growth Statistics
eCommerce growth statistics provide a window into the performance and growth of the eCommerce industry, offering valuable insights into consumer behavior, market trends, and areas for improvement. By analyzing these statistics, you can make informed decisions about how to optimize your online operations and better cater to your target audience.
By keeping abreast of these eCommerce statistics, you can stay ahead of the curve and invest in what growing like mobile-friendly design, streamlining checkout processes, or implementing data-driven marketing strategies to stay competitive and succeed in the world of online sales.
1. eCommerce sales are expected to grow by 8.9% in 2023 (Insider Intelligence)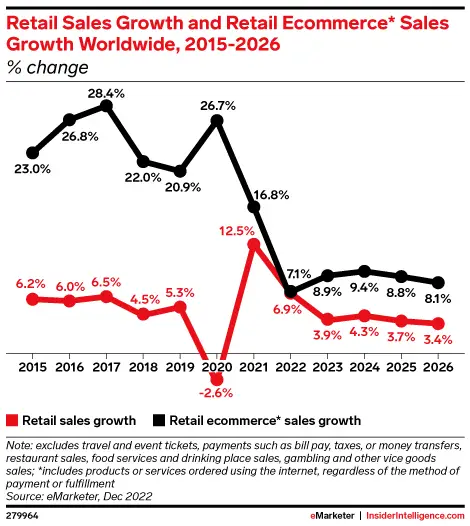 According to Insider Intelligence's Global Retail eCommerce Forecast, eCommerce sales are expected to grow by 8.9% in 2023. This growth has the potential to provide various advantages to businesses, including the ability to generate more revenue, access a broader customer base, enhance brand recognition, and gain a competitive advantage.
You can capitalize on this trend and optimize your eCommerce operations to generate more sales and revenue, expand your reach beyond your geographic location, establish yourself as a reliable player in the eCommerce industry, and stay ahead of your competitors.
2. It is estimated that 95% of all purchases will be made online via eCommerce by 2040 (NASDAQ)
The growing trend towards eCommerce and the projected dominance of online sales by 2040 make it crucial for businesses to stay ahead of the curve. By implementing strategies to optimize your operations, you can position your business for success in the digital space.
With the increasing shift towards online shopping, you must prepare yourself to stay ahead of the competition. One way to do so is by investing in a strong online presence and user experience. This includes ensuring that your website is user-friendly, mobile-responsive, and secure.
You can also focus on personalization by leveraging customer data to tailor your marketing and product offerings to specific customer preferences. Additionally, providing excellent customer service and support can help differentiate your business from competitors and increase customer loyalty.
3.Online retailers will contribute 24% to all retail sales by 2024 (Statista)
The increasing significance of online retailers in the global retail industry is creating substantial opportunities for eCommerce businesses. One key advantage of eCommerce is the ability to reach a broader audience than traditional brick-and-mortar stores.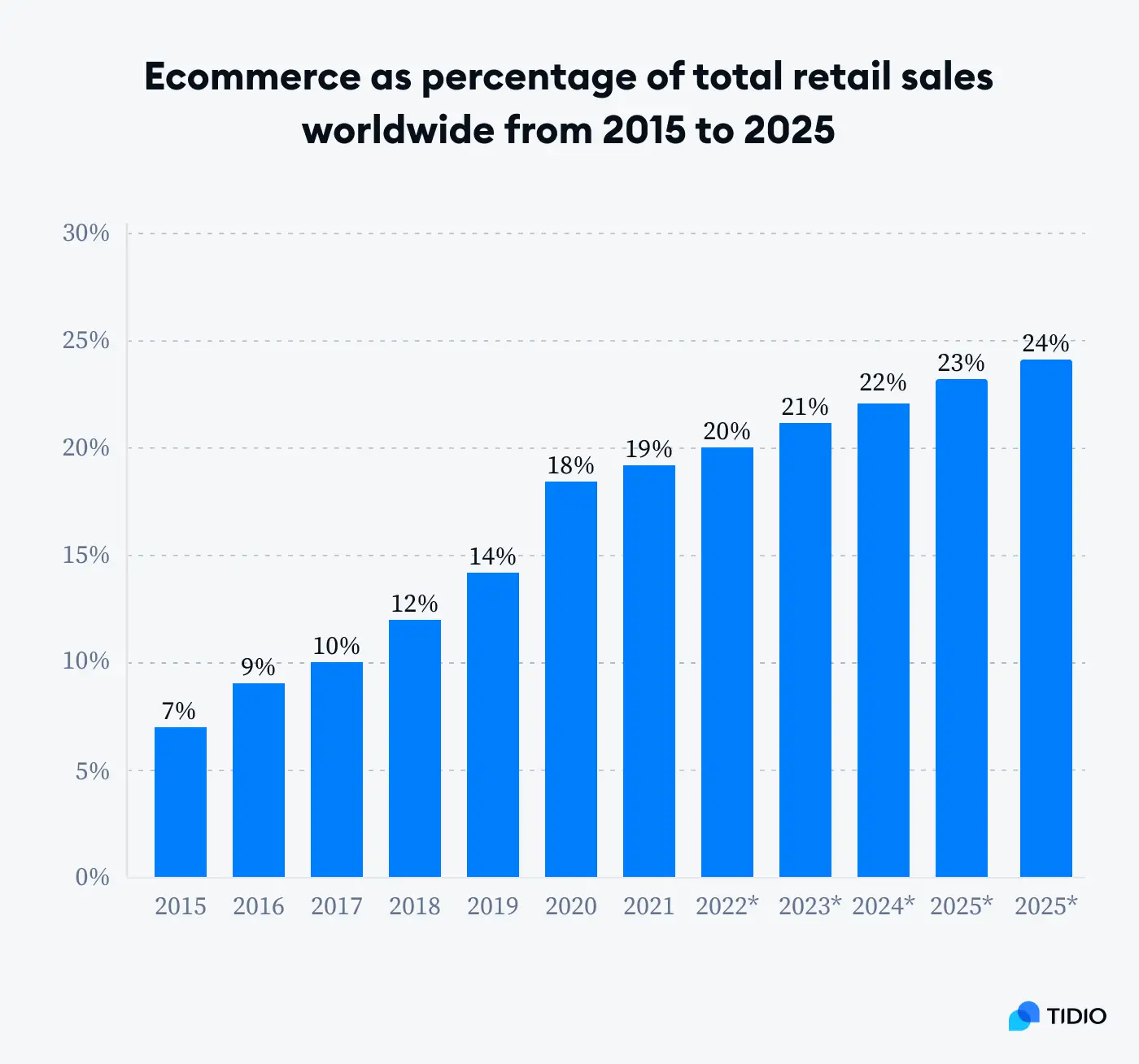 As more consumers turn to online shopping, you can expand your customer base beyond their local area and tap into a global market. This can lead to increased sales and revenue, as well as new business opportunities and partnerships.
Additionally, online retailers have the ability to offer a wider variety of products and services compared to traditional retail stores, as they do not have to worry about physical space constraints. This provides your businesses with the opportunity to specialize in niche markets and offer unique products or services that cater to specific consumer needs.
By leveraging this trend and focusing on factors such as data analysis, customer experience, and partnerships, eCommerce businesses can enhance their sales and revenue and stay competitive in the rapidly evolving world of digital commerce.
4. eCommerce sales by country show Asia as the leader in eCommerce sales, followed by the US, and Western Europe (Statista)
The latest eCommerce sales statistics by country reveal that Asia is the leading region in terms of online sales, followed by the US and Western Europe. This presents a significant opportunity for eCommerce businesses, as the growth of online sales in these regions can enable them to tap into a massive and rapidly expanding market.
In the US and Western Europe, the growing popularity of online shopping has also led to significant eCommerce sales. In these regions, eCommerce businesses can leverage factors such as advanced logistics and transportation systems, reliable payment gateways, and widespread internet and mobile phone usage to drive their sales and revenue.
5. It's predicted that eCommerce will account for half of B2B revenue by 2025 (Statista)
The latest eCommerce industry statistics predict that eCommerce will account for half of all B2B revenue by 2025. This trend presents a significant opportunity for eCommerce businesses, as it enables them to tap into the rapidly growing B2B market and boost their sales and revenue.
To succeed in the B2B eCommerce market, you must focus on building strong relationships with your buyers, offering personalized and tailored solutions, and streamlining your procurement and payment processes. By delivering exceptional customer experiences, you can earn the trust and loyalty of your B2B customers and establish long-lasting partnerships that drive growth and revenue.
6. The online fashion industry is expected to reach a value of 1.2 trillion US Dollars by 2025 (Statista)
The projection that the online fashion industry will grow to a value of 1.2 trillion U.S. dollars by 2025 offers a lucrative opportunity for eCommerce businesses. The substantial growth of fashion eCommerce, fueled by mobile shopping, social media marketing, and e-wallet payments, presents an avenue for eCommerce businesses to tap into and increase their market share.
With such promising forecasts, you can position your business to take advantage of the expanding online fashion market and reap the benefits of increased revenue and customer acquisition.
To thrive in the online fashion industry, eCommerce businesses need to prioritize immersive and tailored shopping experiences by utilizing cutting-edge technologies like artificial intelligence, virtual reality, and augmented reality. Through features like virtual try-ons, customized product options, and personalized recommendations, your eCommerce business can stand out from your competition and enhance customer loyalty and satisfaction.
Ecommerce Shopping Behavior Statistics
As the world becomes increasingly digital, eCommerce has become the norm. With this shift, understanding customer behavior has become crucial for success. eCommerce shopping behavior statistics offer valuable insights into what drives customer purchasing decisions, what factors influence their choices, and how they interact with the online shopping experience.
By analyzing these statistics, you can optimize your business's online presence, improve customer satisfaction, and boost sales. So, whether you're a seasoned eCommerce veteran or just starting out, taking the time to dive into eCommerce shopping behavior statistics can be a game-changer for your business.
1. 81% of Shoppers Conduct Online Research Before Buying (Adweek)
The Adweek statistic revealing that 81% of shoppers conduct online research before making a purchase highlights the critical role of a robust online presence for eCommerce businesses. A well-designed website, optimized product pages, and detailed product descriptions can help your business establish credibility with your target audience, ultimately leading to higher conversion rates and increased sales.
In addition, this data suggests that eCommerce businesses can capitalize on the importance of customer reviews and ratings by featuring them prominently on their website. Since these reviews often play a crucial role in the decision-making process of potential customers, you can use them to build social proof, establish credibility, and ultimately drive sales.
2. The number one reason people shop online is that they can shop at all hours of the day (Oberlo)
The primary reason why people choose to shop online is the convenience of being able to shop at any time, and this has significant advantages for eCommerce businesses. While traditional physical stores have fixed hours of operation, eCommerce businesses can operate around the clock without any time constraints. This provides a significant advantage as you can reach customers at any time, offering a more flexible and convenient shopping experience.
Furthermore, shopping online allows them to make purchases at their own pace, without feeling rushed or pressured. This can lead to higher customer satisfaction and loyalty, as customers feel empowered and in control of their shopping experience. By providing a convenient and stress-free shopping experience, you can build stronger relationships with your customers and encourage repeat business.
3. More than 55% of Gen Z US internet users who do half of their fashion shopping online said their most recent fashion purchases were inspired by social media browsing (eMarketer)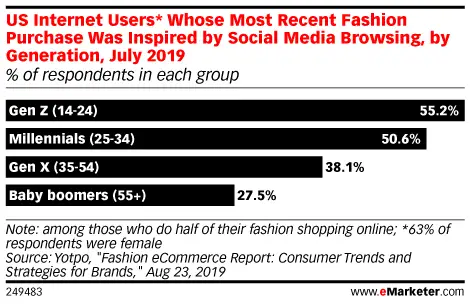 This statistic about internet users getting influenced by social media to shop online emphasizes the significance of integrating social media into the eCommerce business strategy. To capitalize on this trend, you can expand your social media presence and produce compelling content that appeals to your target audience. Doing so can boost your visibility and establish yourself as an industry leader.
Furthermore, you can partner with social media influencers or promote sponsored content to expand your reach and attract fresh customers. By collaborating with influencers who have a substantial following in their target market, you can leverage their influence and enhance your credibility.
4. 79% of people say social user-generated content highly impacts their purchasing decisions (Stackla)
The significance of user-generated content (UGC) in eCommerce business strategy is evident from the fact that 79% of people consider it highly influential in their purchasing decisions. UGC is any content generated by customers, such as product reviews, testimonials, and social media posts. Incorporating UGC into your website will enable you to establish trust and credibility with potential customers, as it provides genuine and unbiased feedback from existing customers.
By providing genuine and unbiased feedback from existing customers, UGC can significantly influence the purchasing decisions of potential customers. It can provide social proof that a product or service is valuable, reliable, and worth the investment. Moreover, UGC can help you establish a community around your brand, encouraging customers to engage and participate in your brand story.
5. 83% of consumers factor in customer service quality when deciding what to buy (Khoros)
The data indicating that 83% of consumers consider customer service quality when making purchasing decisions highlights the significance of providing top-notch customer service in the eCommerce industry. Exceptional customer service can contribute to customer loyalty, retention, and satisfaction, thus promoting positive word-of-mouth advertising that attracts new customers.
Offering high-quality customer service should be a priority for your eCommerce business to stand out in the highly competitive market. By delivering a positive shopping experience to customers, your business can establish a loyal customer base, increase sales and generate positive reviews. Soliciting customer feedback can help improve the customer service experience and the overall shopping experience, allowing your business to continually enhance its services.
Ecommerce Conversion Rate Statistics
To maximize your online store sales, utilizing eCommerce conversion rate statistics is a critical step. These statistics provide valuable insights into the behavior of customers on your website, which can help you make data-driven decisions that increase your conversion rates and revenue.
Monitoring key metrics such as conversion rate, bounce rate, average order value, and cart abandonment rate can enable you to pinpoint areas of your website that require enhancement and take steps to optimize your conversion funnel.
1. The average eCommerce conversion rate is around 2% (Growcode)
Gaining a clear understanding of the average conversion rate is a valuable tool for eCommerce business owners, as it can provide important insights into your website's performance and guide your business strategies. It is also useful in benchmarking your business against industry standards and competitors, allowing you to identify areas where your business may be underperforming or excelling.
Moreover, comprehending the average conversion rate can enable you to set practical goals for your business and create key performance indicators (KPIs) that allow you to measure progress over time. This is particularly significant for startups or businesses that are new to eCommerce since it provides a foundation for success and allows you to monitor your advancement towards achieving your goals.
2. A one-second delay in page load leads to a 7% decrease in conversion rate (Think with Google)
As an eCommerce business owner, the statistic that a one-second delay in page load results in a 7% decrease in conversion rate should be taken seriously. This statistic highlights the importance of website speed and its impact on business performance. By taking steps to improve website speed, your business can benefit in several ways.
One way to improve website speed is to optimize your website's content. You can do this by compressing images, reducing the number of plugins used, and minifying CSS and JavaScript files. Additionally, enabling browser caching can help reduce load times for repeat visitors. Another way to improve website speed is to use a content delivery network (CDN). A CDN can distribute your website's content across multiple servers, reducing the load on your server and improving the speed at which customers can access your website.
3. The average desktop conversion rate is about 4.14% against 1.82% on mobile (Growcode)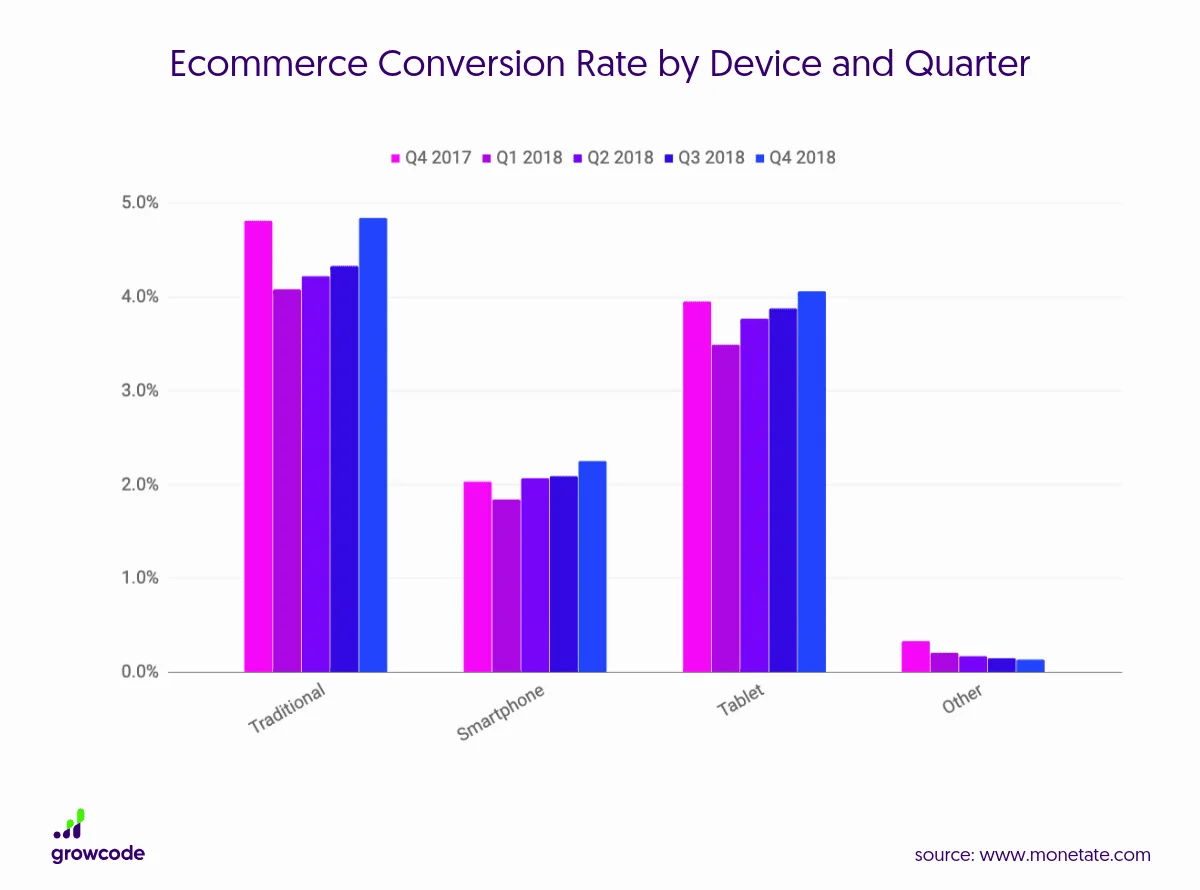 Being aware of the disparity between the average desktop conversion rate (4.14%) and mobile conversion rate (1.82%) can yield valuable insights into the behavior of your website visitors. It can improve your business strategy in several ways.
To begin with, this knowledge can help you optimize your website for mobile users. Since a significant portion of your website, visitors are likely accessing your site from a mobile device, ensuring that your website is mobile-friendly and tailored to the needs of mobile users can enhance their user experience and improve the chances of conversion. Furthermore, understanding the difference in conversion rates between desktop and mobile can help you adjust your marketing and advertising strategies to better target each platform.
4. 68% of small businesses don't have a documented CRO strategy (CXL)
By learning that 68% of small businesses do not have a documented CRO (Conversion Rate Optimization) strategy, you can improve your own business by creating and implementing a CRO strategy. This can give you a competitive edge over businesses that have not yet prioritized optimizing their conversion rates, which can lead to increased sales, revenue, and customer satisfaction.
Implementing a CRO strategy can help you optimize your website, improve user experience, and ultimately increase conversions. By conducting regular testing and analysis of your website, you can identify areas for improvement and make data-driven decisions to improve your website's performance.
5. 53% of Abandoning Visitors recovered with Exit Intent popups (OptinMonster)
Implementing Exit Intent popups on your website can help reduce the number of visitors that leave without making a purchase. This can result in an increase in conversions and ultimately, revenue for your business.
Exit Intent popups can also be used to collect visitor contact information before they leave, allowing you to re-engage with them through email marketing campaigns. By re-engaging with visitors who were previously interested in your products, you may be able to convert them into customers over time.
6. The highest average conversion rate by traffic source is paid search (SmartInsights)
Knowing this information you can invest more in paid search advertising, to increase the traffic to your website that is more likely to convert into customers, thereby improving your overall conversion rate and ROI.
By understanding the behavior of visitors from paid search, you can tailor your landing pages, product descriptions, and checkout process to better cater to their needs and improve the likelihood of conversion.
7. Using videos on a landing page can improve conversion rates by 86% (Wishpond)
Knowing that using videos on a landing page can improve conversion rates by 86%, your business can implement a video marketing strategy to improve conversion rates and increase customer engagement. To take advantage of this statistic, you can create informative and engaging videos that showcase your products or services and highlight their unique features and benefits.
You can also use videos to provide customer testimonials, share industry insights, or offer tutorials and how-to guides that can help educate and inform your audience.
Ecommerce Cart Abandonment Statistics
As an online business owner, you have probably noticed that many visitors are exploring your products, adding items to their virtual carts, but ultimately abandoning their carts without making a purchase. This phenomenon is called "cart abandonment," and it's a common issue in the eCommerce industry.
However, there is no need to panic as these eCommerce cart abandonment statistics can help you understand the industry-wide benchmark so that you can ensure if your store is performing at optimal level and optimize accordingly.
1. The average rate of cart abandonment rate across all industries is 69.57% (Baymard)
Understanding the average cart abandonment rate can be a valuable tool in optimizing your online store's performance. By recognizing that the majority of online shoppers are leaving their carts before completing a purchase, you can explore the reasons why this happens and work to reduce the rate of cart abandonment on your website.
These statistics can help you identify specific pain points in your customer's shopping journey. Perhaps your shipping costs are too high, your checkout process is too complicated, or the customers are being distracted by other websites. These insights can allow you to adjust your eCommerce site and improve the shopping experience for your customers, ultimately increasing the chances of completing a sale.
2. 46% of shoppers abandon because a discount code doesn't work (Sleeknote)
If 46% of shoppers abandon their carts due to a discount code not working, it is essential for your business to improve its tactics. Failing to address this issue could result in lost sales and dissatisfied customers.
One way to improve your tactics is to ensure that all discount codes are valid and working correctly before promoting them. You can also consider implementing an automatic discount system that applies the discount code at checkout without the customer needing to enter it manually. This can reduce the likelihood of errors and make the checkout process smoother and more efficient.
3. Slow delivery or poor returns policy causes 27% of consumers to abandon their carts (99 Firms)
If slow delivery or poor returns policy is causing your customers to abandon their carts, it is essential to take action and improve your processes to prevent further lost sales. To improve the delivery process you can offer faster and more reliable shipping options, such as expedited shipping or same-day delivery, if feasible for your business. You can also consider partnering with reputable shipping companies to ensure timely and efficient delivery.
To address the issue of a poor returns policy, you can review your policy and make necessary improvements. For instance, you can offer free returns or an extended return period to provide your customers with greater flexibility and confidence when shopping on your website.
4. Cart Abandonment rate can increase by 75% if your site loads slowly (Fundera)
Slow website load times and high cart abandonment rates can greatly affect your business. A high rate of abandoned carts means that potential sales are being lost, which can ultimately impact your profits. Additionally, customers who leave due to slow load times may not come back in the future, resulting in a potential loss of customer loyalty and repeat business.
This combination of lost sales and reduced customer loyalty can have a long-term negative impact on your business. Slow website load times can also harm your website's search engine rankings, which can further reduce traffic and potential sales. As such, it is crucial for businesses to optimize their website's performance and speed to minimize cart abandonment rates and maximize their online sales potential.
5. Too long or complicated checkout processes can lead to 17% of cart abandonments (Baymard Institute)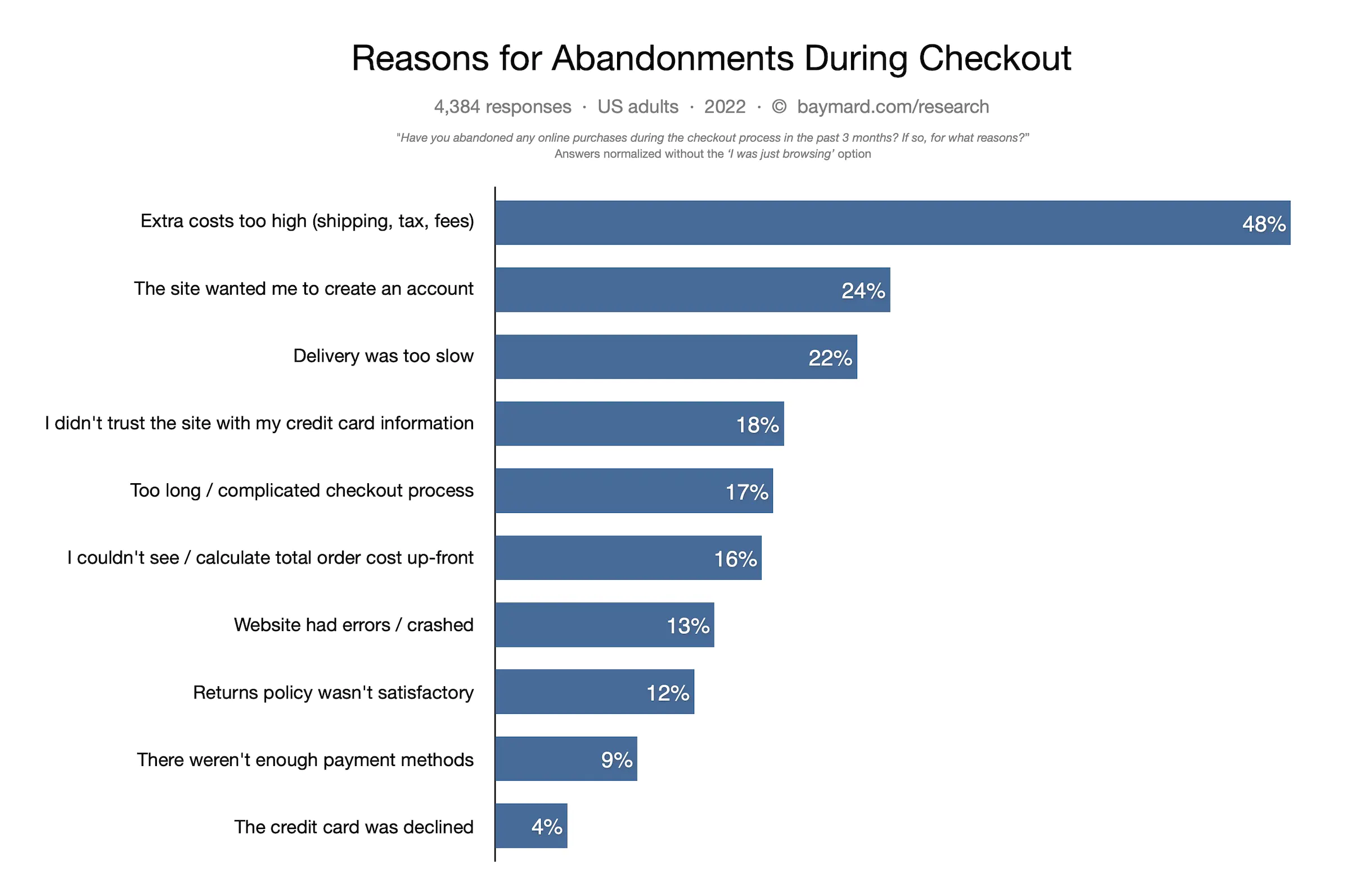 A high percentage of cart abandonments due to a long or complicated checkout process is a red flag for any business. A complicated checkout process can cause frustration and confusion among customers, leading them to abandon their carts and potentially seek out a competitor with a more streamlined process.
In addition to lost sales, a complicated checkout process can also harm your business's reputation and customer trust. If customers have a negative experience during checkout, they may be less likely to recommend your business to others or to return for future purchases.
6. 35% of online transactions are dropped if the site asks for registration to complete the purchase (Baymard Institute)
Requiring customers to register for an account can be seen as an unnecessary hurdle, particularly for those who may be making a one-time purchase or who value their privacy. As such, it is important for businesses to evaluate the necessity of requiring registration and balance it against the potential loss of sales.
In addition, this particular statistic serves as a reminder of the critical role that offering alternative payment options can play in driving sales. By allowing customers to complete their purchase without having to register or offering various payment options, businesses can make the checkout process more user-friendly, and in turn, increase the likelihood of converting a sale.
7. 34% of shoppers will walk away from a purchase if there isn't a guest checkout option (OptinMonster)
If your business does not offer a guest checkout option, it can have a significant negative impact on your sales and customer experience. This is because a considerable portion of potential customers are likely to abandon their purchase and leave your website if they are required to create an account to complete their purchase.
It is thus crucial for businesses to offer a guest checkout option, as it can help reduce friction in the checkout process, increase the likelihood of completing a sale, and ultimately improve customer satisfaction and retention.
Wrapping Up
If you are in online business, you might have noticed new research reports appearing almost every other day. If you keep tracking all these reports and their statistics, you will never know which one is correct and based on which data you should make your decisions.
That's why we recommend our clients to stay focused on your business performance reports to track important eCommerce KPIs rather on the research reports and studies published on internet. However, we should also not ignore these data as it can provide insights into the industry benchmarks on range of metrics based on which you can analyze if your business is under-performing or doing better than others.
Finally, you should use these statistics merely for educational purpose and if needed conduct your own data analysis and survey your customers for accurate data that will go long way for your business growth.