Is your website optimized for search engines? Are you struggling with getting organic traffic to your eCommerce website?
If that's the case, you are at the right place.
In this article, I will share some of the best tips to optimize eCommerce SEO to rank #1 on search result pages and generate more sales.
If you are ready, let's get started.
1. Target Long Tail Keywords
Since you are here, I'm guessing that you already know about SEO and keyword research. However, there are multiple instances when I have seen that eCommerce sites are only focusing on their primary keywords.
That's great and it has a huge potential to generate traffic to your site. But there are already a ton of sites already ranking and competing for such keywords and for new sites, it may take over 6 months to rank; that also if you're expert at it and spending a lot of money on link building.
Well, there's another way around to avoid such competition and still drive quality traffic to your site – target long-tail keywords.
According to Moz, long-tail keywords make up over 70% of online searches, and also these keywords match the transactional intent of searchers which tend to be more convertible.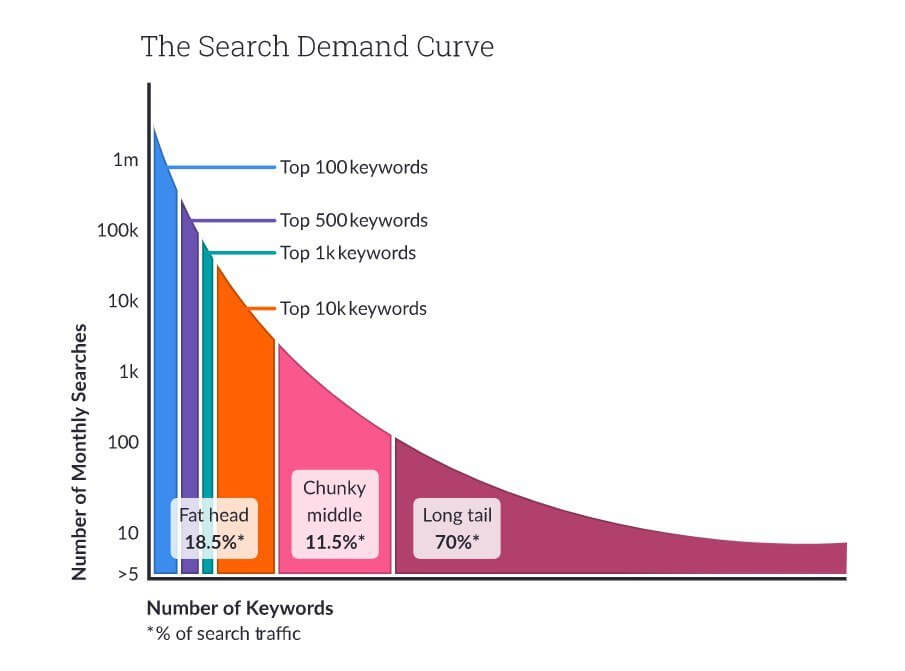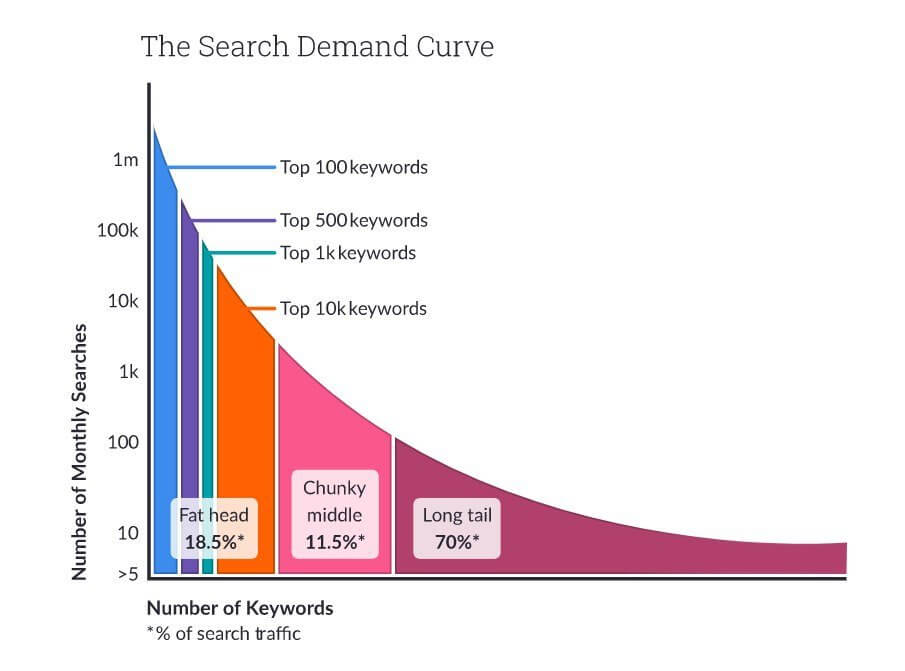 Targeting long-tail keywords have its own advantages and it's more than just from an SEO perspective. When searchers use long-tail search queries, they want something very specific whether it's for information or transaction. And using long-tail keywords, you can serve them all with relevant content.
For example, someone searching for "rain boots" is likely to be at an informational stage, who might be looking for information to know more about rain boots. You can provide the information to educate them about the same.
Whereas, someone searching for "buy black rain boots" is closer to making the purchase decision. He/she might be looking for a trusted online store to place the order for black rain boots. And you can be that store for such visitors.
Bottom line, target relevant keywords for your eCommerce site, and most importantly, focus on using long-tail keywords because it allows you to target most potential customers and drive quality traffic to the site without competing for high search volume keywords.
Further reading –
2. Add blog section to your site
Are you wondering about how to drive more traffic to your online store? The answer to this question is straightforward- add a blog section to your site.
Blogs derive organic traffic to your website through search. It helps in building trust with your target audience and brand loyalty in the longer run. In fact, according to HubSpot, websites with blogs tend to attract 55% more traffic than those without blogs.
Another benefit that your website can have through blogs is that it helps you build authority in the space. The better ranking your website has the more visibility it will have amongst your target audience and thus build trust with the brand.
Now if you are wondering what content you can put up on the blog section, then do not worry, we have the solution to your problem.
People are always looking for answers, and you can be the source to provide those answers. These answers can be provided in the form of blogs. All you need to do is keep the blog informative, relevant, and detailed.
Making a sale through blogs is a proven method and the most prominent example of this case would be Shopify. They have managed to increase their paying customers by 55%, making their revenue stand at $389 million
In eCommerce SEO, take your blog as a section that tends to rank higher on search results for relevant keywords and can be a foundation to build page authority for the product and category pages.
Further reading – Blog topic ideas for eCommerce sites
3. Build internal links strategically
Internal linking is a way to add links from one page to another page on your website. You can bank upon interlinking of the most relevant product pages from your blogs.
Internal linking is very crucial for eCommerce SEO because this is how Google crawls a website and finds all products and pages, and understands the relation between them.
You can add sub-category links to help Google get better context about the content on the page. These sub-categories will allow your visitors and web crawlers to navigate easily through different product pages.
One of the common ways to build internal links is to add a "Related products" section on every product page. So, make sure you have added a "customer also bought/shopped " section on your website.
Another way to build internal links is to add breadcrumbs on your category and product pages. Breadcrumbs are the links at the top of the page that map the user journey to that specific page. Here's how it appears-
Home > Category > Product
Home > Category > Sub- category > Product
Breadcrumb links are very effective for eCommerce SEO as they are not only useful for user navigation, but they give Google a clear indication of the relationship between a set of categories, subcategories, and product pages.
4. Optimize the product images
The primary function of creating an eCommerce website is showcasing your products, their features, advantages, and benefits so that visitors trust and purchase from your site.
When you put up information about your products, make sure you use images in such a way that it helps visitors and search engines understand your product better.
While you put up pictures, always add alt tags to all the images. Google gives these alt tags high priority as search engines use these alt tags to understand what the image is about.
Another point you need to take care of is the size of images on your website. The larger the size of an image, the more time it requires for a website to get loaded and be visible to the users.
Remember, page loading speed is not directly related to search ranking but slow loading causes a high bounce rate and that can affect your page ranking on search results.
Further reading –
5. Optimize the product pages
Product pages are the most important pages for eCommerce sites both from the SEO and conversion perspective.
While doing the keyword research, you must have understood that people search for the product names or categories to find their desired products. And that's why the product pages must rank on search results to drive traffic and sales.
Here are a few tips to optimize product pages and boost your eCommerce SEO –
Write keyword-targeted product description – Product descriptions are a great space to tell more about your products and add relevant keywords related to the product to boost your on-page SEO score.
Add SEO-friendly Meta tags – Meta tags is how Google knows what the page is about. So, add meta description and meta keywords on every product page with relevant keywords.
Use SEO-friendly URLs – Using simple and SEO-friendly page URLs keeps you a step ahead of your competitors. It is easy to remember and most-importantly search engines use it as a keyword to rank for the pages.
Add Keyword targeted Alt texts in images – For eCommerce, a large portion of the traffic comes from Google Image search results. So, if you want your product images to rank in the image search results, always make sure to add alt text in the images.
Use SEO-friendly product titles- Brands give unique names to their products, but still, it is a good practice to include their generic names in the product title that people use to search on Google. This increases the probability to rank the product page higher on search results.
Most of the popular eCommerce platforms like WordPress, Shopify, BigCommerce, Wix, Ecwid provide SEO-optimized product pages or plugins and extensions that you can use to make your product page more search-friendly. So, make sure that you explore every option available on the platform and optimize your product pages.
6. Use Rich Snippets
Using rich snippets in your eCommerce store is one of the best tactics for increasing the visibility and click-through-rate of your product pages on search results.
In fact, a study by Search Engine Land shows that having a rich snippet can increase click-through rates (CTR) by 677% and drive 20-40% more traffic than the product pages without them.
Rich snippets allow you to add extra information on your website that helps search engines interpret and understand the contents of your website in a better manner. Also, it helps users find the best information they seek.
In the case of eCommerce websites, you want search engines to know which pages are product pages, product prices, customer reviews, price range, categories, etc.
Here's how your products might display on search results-
You can add all these snippets on your site easily using Google's own Structured Data Markup Helper. It helps you visually tag and assign values for each common property. For more advanced rich snippets, you can refer to the product properties provided by Schema.org
7. Build backlinks to your store
Backlinks play a crucial role in the success of eCommerce SEO. Backlinks are links from other websites to your website. All links are counted as votes for your websites, passing on authority, relevancy, and trust.
Google considers backlinks as one of the important ranking factors for websites. However, the most important factors that need to be kept in mind concerning links are the quality of the links.
The links from authoritative and relevant websites add more value to your website domain authority than the links from irrelevant websites. Also, while building a link-building strategy, focus on getting more links with a do-follow tag and targeted keywords in the anchor text.
Further Reading – Effective Link Building strategies for eCommerce sites
Checklist to optimize eCommerce SEO
We all know that with the advent of the internet, the shopping pattern of people has changed. With more than 70% of the consumers being online to search and purchase products, it has become essential for eCommerce websites to increase their visibility and popularity.
And SEO plays a very crucial role in eCommerce success because when someone has to buy something, he/she first search on Google. And unless you create your presence on those result pages, you'll struggle to keep up with the competition.
PPC and social media advertising can help you gain customers but only till you keep spending and this affects the ROI in the long run. So, once you launch your online store, start focusing on SEO from the first day.
Let's wrap this article with a checklist for eCommerce SEO optimization –
Target relevant keywords
Add blog section
Build internal links
Optimize product images
Optimize product pages
Use Rich snippets
Build quality backlinks
I hope this article would help you optimize your site SEO and boost organic ranking. To find the complete SEO checklist for eCommerce sites, check out my complete eCommerce SEO checklist.