Want to boost sales on your online store? In this article, you will learn ways to optimize eCommerce website design for a better customer experience and higher conversion rates.
Ecommerce websites are the need of the hour in the digital revolution we're experiencing today. Brands need to have an online presence even if they have a physical one in order to be available to customers at all times. 
However, conversion on eCommerce websites can be a bit trickier than on-the-ground selling. There you don't have your salespeople to help your customers find the right products and guide them through checkout – all you will have is your online store to attract visitors, engage, and convert them into paying customers.
And many a time, eCommerce websites struggle to convert despite deploying top-notch SEO strategies and marketing campaigns. If this sounds like you, we've come up with the 10 most critical elements in your eCommerce website that might be the cause of it.
Read on to know what they are and how you can fix them.
10 Essential Elements to Optimize Ecommerce Websites
In simple words, conversion refers to users performing the desired action on your webpage. The action doesn't necessarily have to be a sale, it can be registering on the website, signing up for a newsletter, etc.
The action is something that pushes the user down the conversion funnel and gets them closer to becoming paying customers. In physical stores, you have the advantage of human interaction to persuade a potential customer into performing an action.
However, in the eCommerce business, all you have is your website which must be optimized in a way that converts visitors into paying customers. If your website isn't converting, you need to assess the critical elements of your website to identify the issues better.
Once you have your eCommerce site optimized, you shall look toward your marketing strategies. Having a fully optimized website provides a solid foundation for your marketing efforts. Here are the 10 elements you need to assess if your eCommerce website isn't converting:
1. User persona
One of the first and most important questions you need to ask yourself is who is your target audience. Your target audience becomes the base on which you build your products and market them.
If you're unclear on who you want to target with your eCommerce website, your marketing efforts and website purpose is going to be all over the place. You will not be able to attract them, let alone engage them on your website.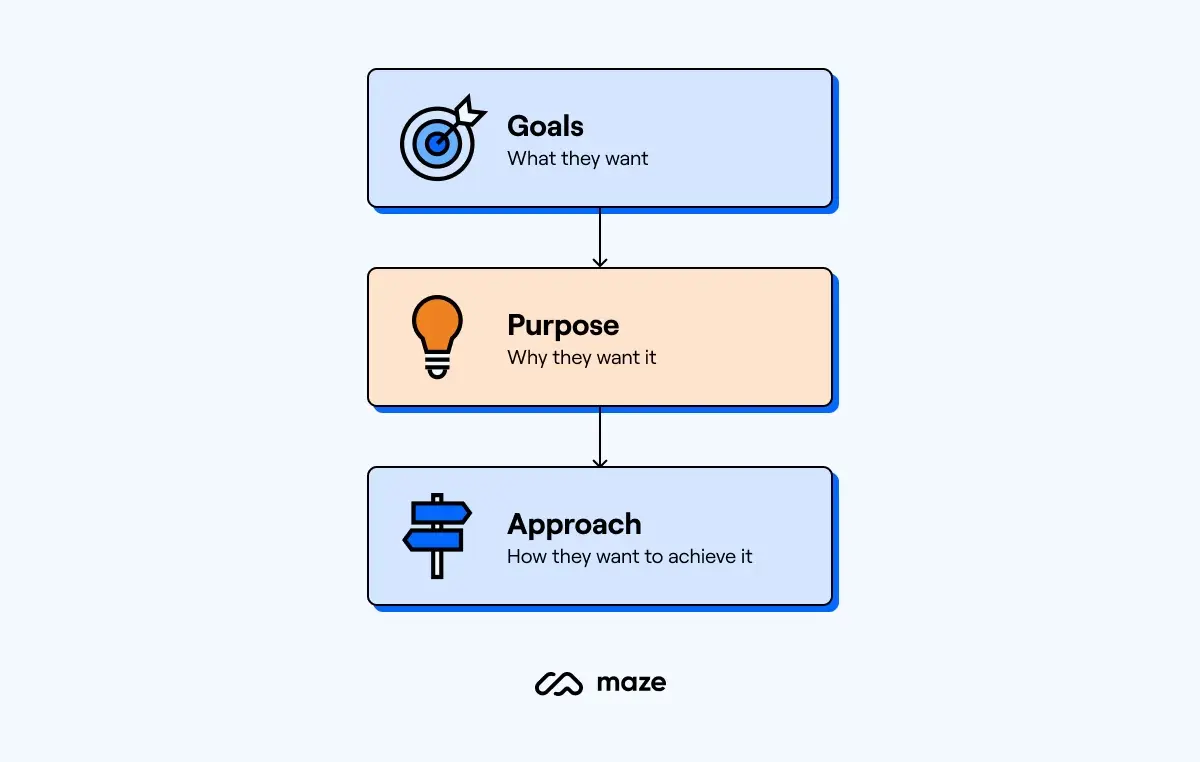 Maze's guide to building personas for UX will help you understand the role of user personas in eCommerce websites as well as create user personas from scratch for your store. Here's how you can create various user personas for your store:
Research the audience that interacts with products similar to yours. Note their age group, interests, likes, dislikes, etc.
Analyze their usage patterns and what they need the product for. Zero in on their pain points and the goals they want to achieve with the product.
Come up with varied ways your product can solve the customers' pain points.
Create a few personas that would benefit the most from your products and services. They shall serve as the foundation of all your SEO efforts and website purpose, the target audience your eCommerce website is for and aimed at.
2. Website purpose
If your website is unclear about what it wants to achieve with a user, it's going to have a hard time engaging users. It's extremely important to be precise in what you want to tell a user with a website and navigate their journey with you.
Take the example of the skincare brand Glow Recipe's eCommerce website. They have their overall brilliance as a brand on display — starting with a recent collaboration with a celebrity to the best sellers kit, and ending with a powerful declaration about officially becoming carbon neutral.
Such a strong website's purpose instantly draws the customer and immerses them in the world of the brand. The customer should know what your website is about within a few seconds of visiting it, no matter what demographic they belong to.
You need to make your website as universal as possible so that people from all walks of life can feel welcome on it. Furthermore, make it abundantly clear who you are, what you do, and what you have to offer to the user.
3. Website design & navigation
Once you have your website's purpose clear, you shall move toward its design and navigation. Your website design needs to be simple, clear, and easy to navigate for your visitors. Most importantly, it should guide visitors toward conversion as a customer or at least an email subscribers.
Website navigation serves as an excellent starting point for users. Whether they know what product they want or simply explore, they should be able to do it effortlessly. Effective navigation helps push users down the sales funnel as you get them hooked to your site the minute they enter it.
Further, the product page is the most crucial element of an eCommerce website. So, make sure to optimize it properly for a higher conversion rate. You can check our guide on creating high-converting product pages for more tips.
4. Checkout process
The checkout page is arguably the most important aspect of your eCommerce website. It is where the user becomes a customer. The customer can be fully willing to buy the product and you can still fail to convert if the checkout process creates friction or doesn't work as intended.
So, it's important to optimize the checkout page of your eCommerce website such that the payment process is quick, easy, and understandable for your customers.
You can start by offering a one-click checkout, which shortens the whole process by 90% and customers will be more willing to go ahead with the purchase when they know it's a simple process.
Furthermore, try to give two to three payment options, helping the customer choose their preferred method with ease. You can also consider accepting crypto payments if your customers are willing to use them.
5. Call-to-Action (CTA)
A CTA instructs the users on what they should do next on your website. There are many ways to set users on the path of your choice. You may ask them to take a tour of your website, learn more about a certain product, or purchase it.
You can a simple CTA such as 'Shop Now' or 'Shop Your Favorite'. In the example above, skincare brand Ole Henriksen used the CTA 'find your truth', alluding to its brand image that it helps people rediscover skincare through its products.
An excellent way to spice up your CTA is to add a sense of urgency to it. It increases the conversion rate by 330%. Make sure it's clearly visible. It needs to be short, and concise, but precise on what you want the user to do.
6. Product Filters
Filters are an important element of an eCommerce website. They help users sort the products to their liking. For example, on a clothing eCommerce website, the user may want to buy a women's skirt. For that, that will sort the skirt page with 'color', 'size', 'length', and price.
If you have unclear or ineffective filters, it can greatly damage your conversions. The user will not be able to look through your collection as they would want to, causing them to abandon the search and move to another website.
Even if you have fairly limited products, you need to put filters on them. It helps the user save time and find a suitable match right away. An important tip here is to allow multiple filters, such as 'size' and 'color' together for maximum search spectrum.
7. Availability of products
You need to be on your toes regarding the availability of the products you sell. It's your responsibility to update the website as soon as a product goes out of stock or comes back in stock to help customers get the right idea.
Delay in updating the product availability confuses users and negatively impacts conversions. If they're searching for a specific product that is not available currently or has been discontinued, they're likely to land on a page that says SOLD OUT or '404 error'.
This is a dead end for the users which will lead them to abandon your site and look for a competitor. In such cases, offer alternative products to keep the user engaged. Or ask for their email address to be notified when the product comes back in stock.
8. Mobile Responsiveness
Around half of the web traffic worldwide comes from mobile devices. If your website isn't optimized to work on the smaller screens of mobile devices, it can dent your conversions. It's imperative to ensure that your eCommerce website works just as well on mobile.
What this entails is to make sure the layout of the website adapts to the dimensions of the mobile screen, especially the checkout section. The customer is already working with a smaller screen, the process needs to be quick with no distractions.
Similarly, the website should load easily on a mobile. It shall be able to load quickly even with mobile data internet. As not every mobile user will have a WiFi connection attached. Moreover, a customer will usually use a mobile when on the go.
9. Content
The content surrounding your products and eCommerce website is a major contributor to attracting your target audience to it. It includes everything from the product description to blog posts regarding your products.
Insufficient or dated product descriptions and lackluster content on your blog post can hamper customer interest in your eCommerce website. Make sure the content on your website is up to the mark. Add short, precise, and engaging product descriptions.
Come up with interesting blog posts about your products and share them on social media with a link back to your site. If you have added any topical information such as a seasonal sale, make sure to update or remove it in a timely manner.
10. Customer service
Making the user feel assisted as soon as they enter your website helps keep them engaged. If they get no or poor customer service from you, they're more likely to leave the website when they don't find the product they're looking for or face an issue.
Always be on your toes and assist users on your website. You can have live chatbots welcoming users. This lets them know that they can consult the bot should they face an issue such as not finding a suitable product.
Adding a 'frequently asked questions segment helps users resolve issues without consulting anyone. It also lets them know you've already put up resources to assist them. Furthermore, you can list ways to contact you such as phone numbers and email.
Further reading –
Ready to Optimize your eCommerce Website?
With so many eCommerce brands fighting for customers' attention, you need to make sure your website shines bright among your contemporaries.
Take a look at the critical elements that collectively form your eCommerce website to identify issues if your eCommerce website struggles to convert. Elements such as CTAs, checkout, filters, and website navigation play a pivotal role in converting customers.
Keep your store fully optimized in every department and create stellar content to draw audiences to it and grow your business. Further, if you want to learn more, you should read our guide on eCommerce conversion rate optimization.