Are you struggling with driving organic traffic to your Shopify store? Looking for ways to optimize Shopify SEO to rank #1 on Google?
eCommerce is growing massively as it allows consumers to shop from the comfort of their homes. As a result, a lot of retail brands are looking to move their business to the internet. And as the industry is growing, the competition is also getting bigger among brands to acquire top rank on search results.
And being a Shopify user, you have the advantage to create an online store that gets people to your site and even helps convert them into paid customers.
In this article, I'll show you some of the best tactics to optimize the SEO of your Shopify store and secure the #1 position on search results pages. Before that, let's get into some details.
Is Shopify SEO friendly?
Absolutely Yes!
Shopify is an SEO-friendly eCommerce platform that provides built-in SEO features that are truly a game-changer for eCommerce entrepreneurs to generate quality organic traffic and boost sales.
And the best part is that it offers a ton of SEO apps in their app store that you can use to optimize your website SEO with just a few clicks.
Also, Shopify is emerging as the biggest rival against Amazon and eBay by empowering the retailers and brand owners to build their own eCommerce site and sell instead of sharing the profit margin with other marketplaces.
Why do you need to focus on Shopify SEO?
Although Shopify is a search engine-friendly platform, your site isn't going to rank itself. There are some common SEO issues that you may encounter in your Shopify store. You must pay special attention to fix it to improve your ranking.
Some of the major issues that can impact your store SEO are:
Presence of duplicate content
Broken links
Usage of low-quality templates
Poor optimization of product titles/descriptions.
All these issues act as a strong shield in preventing the organic growth of your Shopify store. So while you are in the process of building your Shopify store, keep all the SEO issues in mind and optimize it, as I will show you in the next section.
Practical Tips to Optimize Shopify SEO
If you have just created your Shopify store, you should first:
Be on a paid plan. Shopify doesn't let search engines index stores on trial accounts.
Set up Google Analytics for your site to track visitors coming to your site.
Set up Google Search Console to submit your site pages to Google to track the search performance, amongst other things.
Submit your sitemap to Google. You can find your site map at yourstore.com/sitemap.xml.
Once done, follow these steps to optimize the SEO of your Shopify store.
1. Optimize Site Structure
The ideal placement of content on your site is the most important factor for getting a successful mark on your SEO efforts.
When visitors land on your site, they should be able to find products easily and navigate to different parts of the site without any complications. If they find it difficult, it takes less than a few seconds to drop out of your store and move to another.
So how can you combat this? It's simple; you just have to focus on organizing your website content into a simple and user-friendly site structure.
A simple structure should look like this: Homepage >> Categories >> Product pages.
Such a simple structure provides a smooth user experience for visitors, and it is also better for search engine crawlers to understand the relation between pages.
By optimizing the site structure of your Shopify store, you provide a positive experience to your customer and makes the site easier for search engine bots to crawl and index the pages.
2. Improve Page Loading Speed
Page loading speed is an important ranking factor for Google. So, you must ensure that your Shopify store loads faster.
You can check your Shopify store loading speed using the Shopify speed report, GTMetrix, or PageSpeed Insights. And if the loading time is more than 5 seconds, you need to take appropriate action.
Since you are using the Shopify server to host your online store, you cannot make any technical changes to improve page speed. Still, you can follow these steps –
Use compressed images
Avoid using image sliders
Uninstall unnecessary apps in your Shopify store
Use the mobile responsive themes & templates
3. Use SEO-optimized themes
Generally, while building a Shopify store, users focus on picking the best Shopify theme that provides all the required design elements and customization options.
But what's more important is to pick a Shopify theme from a trusted developer and is constantly updated with new changes on Shopify and Google policies.
Additionally, your Shopify themes must be mobile-friendly because, since the last Google core algorithm updates, it prefers mobile-friendly for ranking over non-responsive sites.
Also, you must know that 51% of all website traffic is now mobile. So, if not for SEO, get a responsive theme to provide a better user experience and generate more sales.
4. Research your target keywords
Keyword research is the most crucial step in SEO optimization. After all, this is how you discover the right keywords that your consumers are using to search for products like yours.
There are several SEO tools like SEMrush, KWfinder, and many more that you can use to create a list of target keywords for your products.
But the most basic and free way to do keyword research is to use Google search. The key is to search for keywords that you think your product pages should rank for, and then try to figure out the common keywords among the top search result pages and create your list.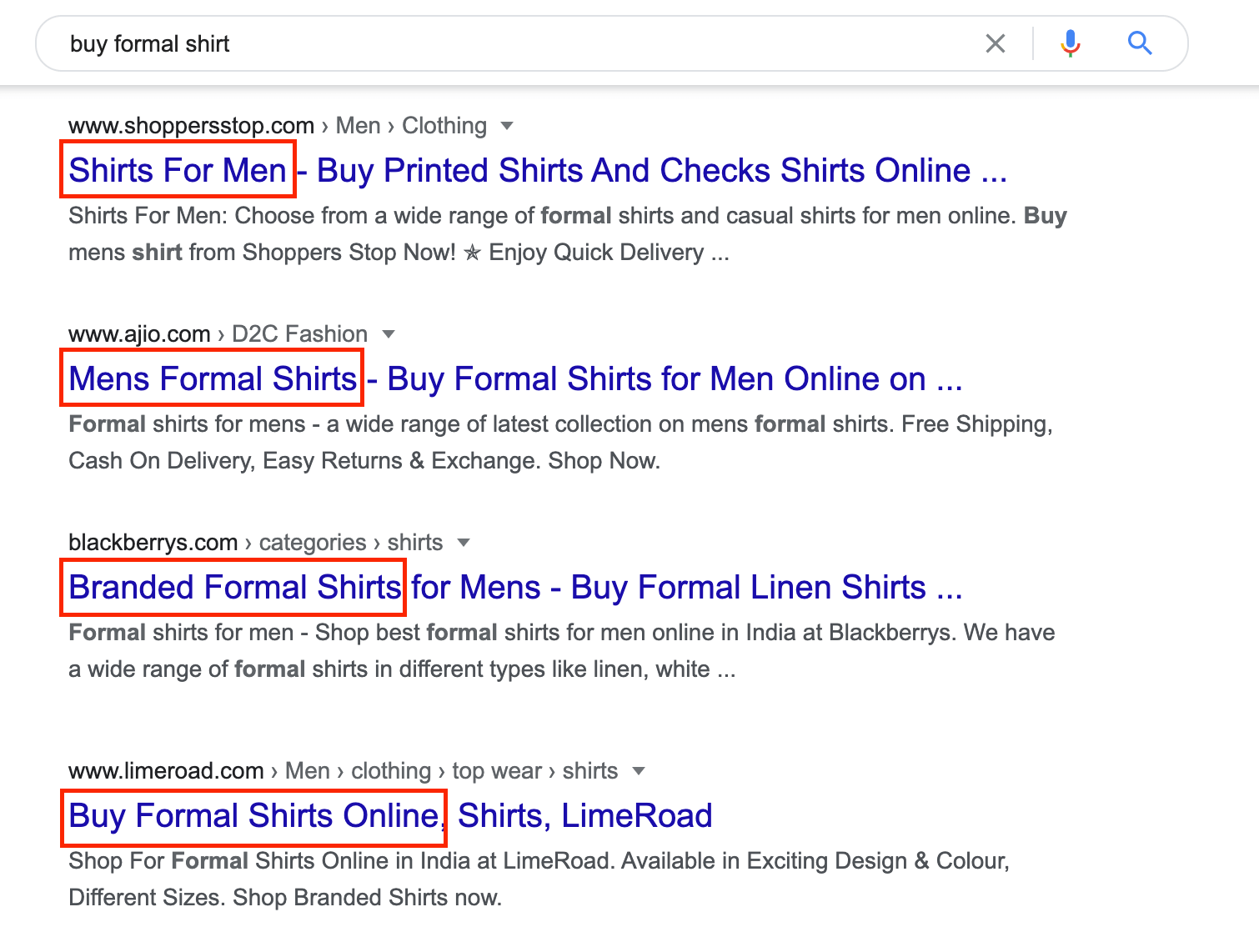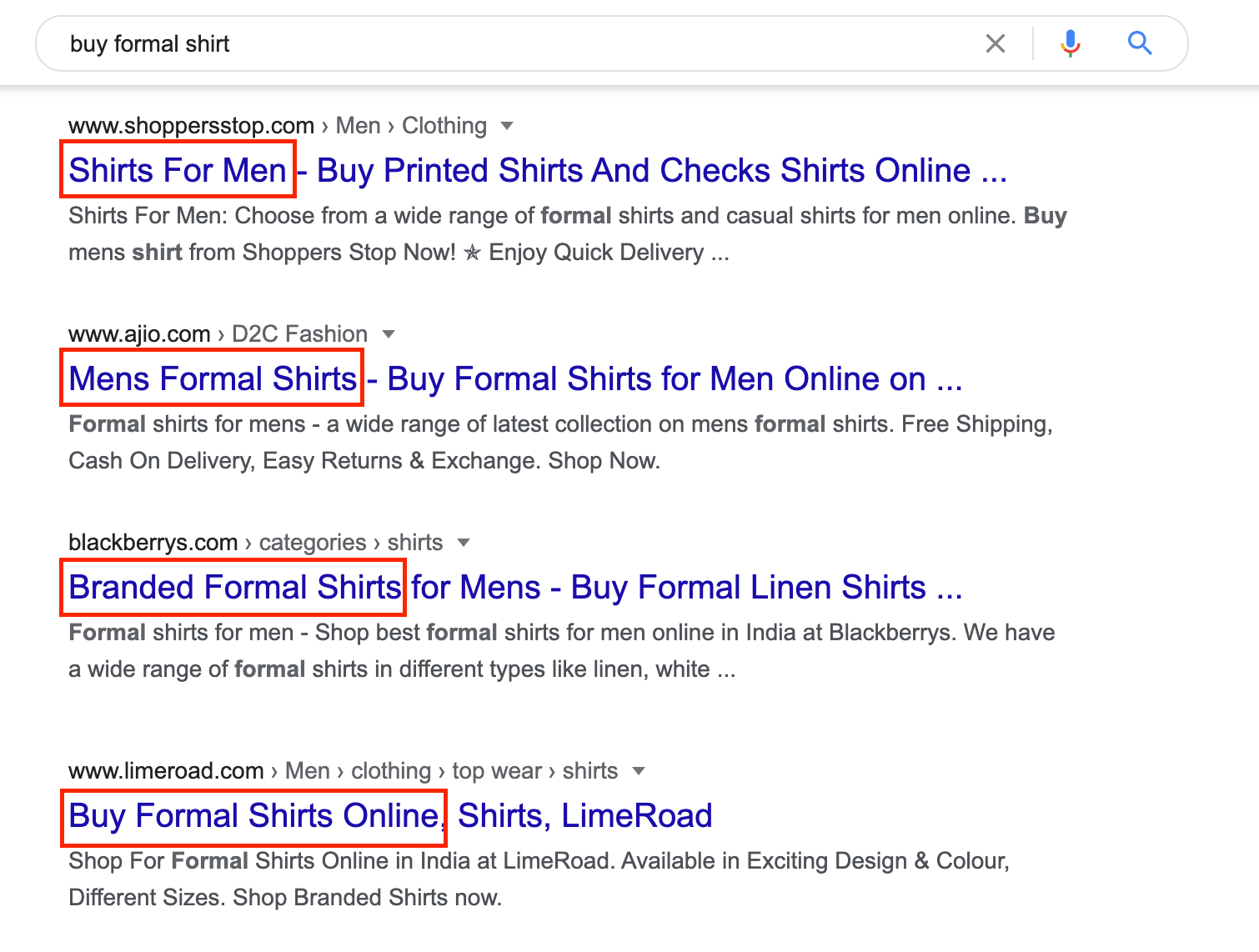 Next, you can use Google Keyword Planner to determine their search volume and discover more related keywords that you can target.
Further reading –
5. Optimize product title, meta description & URL
Once you have created a list of target keywords for your products, start adding those keywords to your product title and meta description.
Product title and meta description help search engines understand what the page is about, add the right keywords to it, and boost your page ranking to top search results.
To edit them, choose a product, scroll down, and you'll see "search engine listing preview". On top of that click Edit website SEO, and you can start editing the product title and description.
If you edit the page, make sure that you use the most relevant keyword that users search. For example, instead of using "v-neck-tee-shirt", use "v-neck-t-shirt" because "t-shirt" is the most common search keyword.
6. Add alt-text and title to product images
Next, like the product title and description, you must add alt-text & title to your product images to improve their ranking on Google Images search results.
Google Images is an excellent source of quality organic traffic for eCommerce sites. So you must try to get your product images ranked there.
To do so, you need to optimize the alt-text and title of product images by adding relevant target keywords.
To do that, go to the All Products page and select a product. Then, click on "add alt text" to add the alt-text and save it as shown below.
7. Focus on Content Marketing
So far, we have seen each and every aspect of SEO optimization of your Shopify store. But do you know that 72% of online marketers believe that content marketing is the most effective SEO tactic?
Content marketing allows you to create content across multiple channels to educate your customers about your products. This enables you to build authority for your brand and get more traffic to your store.
To begin with, content marketing, create a 'blog' in your Shopify store and start publishing informative and helpful content related to your products.
Just go to your Shopify dashboard and click on the "Blog posts" option under Online store. Click the "create blog post" button and start publishing.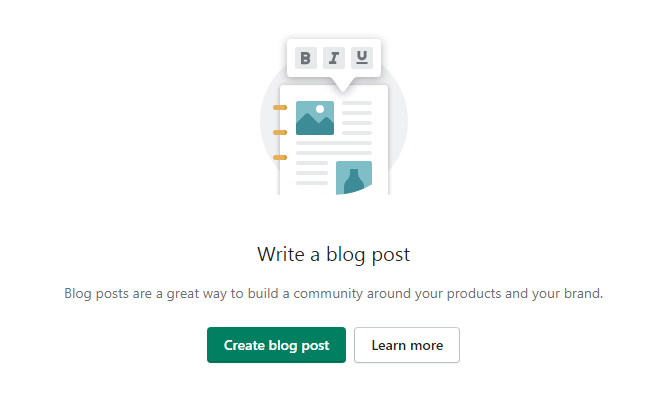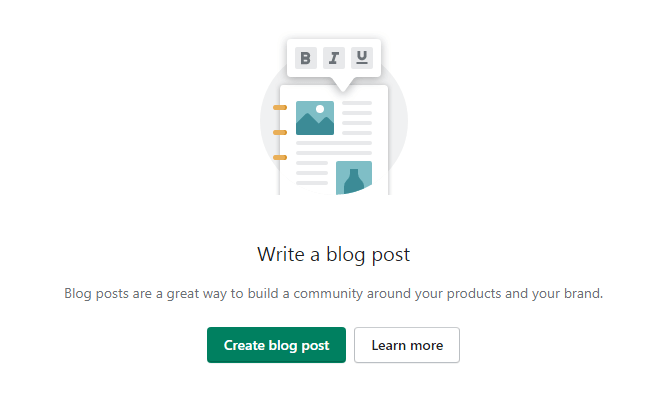 To succeed with content marketing, make sure to do extensive keyword research to find what type of information your target customers are looking for.
Further Reading – Best blog topic ideas for eCommerce sites
8. Build Backlinks to your Shopify Store
Quality backlinks are crucial for any website to rank #1 on search result pages. Each backlink for a reputed site acts as a credibility score for your site, which Google uses to rank the articles.
It is tough to acquire backlinks to eCommerce sites. But if your store has a blog section, you have an added advantage to get links from bloggers and reputed sites.
Customer guides like "How to select the best laptop" and list-based content like "Best laptops under $500" are the best performing content to attract backlinks to eCommerce sites.
Here are a few ways to get backlinks to your articles & store pages –
Do guest blogging on reputed sites from your niche
Ask for a link from manufacturers & suppliers.
Get your products reviewed by influencers & bloggers.
Further reading – Most effective eCommerce link building strategies
9. Improve internal link structure
For eCommerce sites, product and collection pages are the most essential pages that you want to rank higher on search result pages. But as I said in the previous section, acquiring backlinks to such pages is very difficult.
However, if you have a blog on your eCommerce site and can attract some quality links to the pages, you can use internal links to share some of its authority to the product pages.
The idea is to strengthen the internal linking between product & collection pages using blog posts as a medium.
Bonus Tip: Install a Shopify SEO app
Shopify provides powerful SEO apps that enable you to automate several SEO tasks and to optimize your store by –
Enabling rich snippets for the store
Automatically adding image alt-text
Allowing you to change the image file name
Compressing image size
Verifying your website authority with major search engines like Bing, Alexa, Google Search Console, Pinterest, etc.
Shopify SEO apps also display the analytics data and send you email alerts on detecting any major issue like duplicate content and broken links, enabling you to resolve it asap.
Checklist to Optimize Shopify SEO
SEO is an essential element for any online business to succeed – the higher you rank for the relevant keywords, the more sales you can generate.
In this article, I covered some of the essential SEO tips that can help you get your Shopify store to the #1 position on search results.
Let's wrap up this article with a checklist to optimize Shopify SEO-
Optimize site structure
Improve page loading speed
Use SEO-optimized themes
Research your target keywords
Optimize product title, meta description & URL
Add alt-text and title to product images
Focus on content marketing
Build backlinks to your store
Improve internal link structure
Install best Shopify SEO app
All done? Now, just wait and see how your Shopify store jumps to the top-ranking positions. Want to learn more? You should check our eCommerce SEO checklist for more tips.