If you ever check your eCommerce analytics report, you will find plenty of abandoned carts that could be a potential sale for your store. In fact, according to a report, the average online cart abandonment rate is around 70%, which makes it one of the biggest challenges for eCommerce brands in generating sales.
There are numerous reasons why shoppers don't end up buying the products they add to their cart. You can try to reduce cart abandonment by optimizing your site with better UI/UX, but still, you can't avoid it completely. 
With an effective cart recovery strategy, you can re-engage with such shoppers to get them back and encourage them to complete their purchases. You might still not be able to recover 100% of them, but you will have the interested ones returned for their products.
Why you should recover abandoned cart sales?
There are many eCommerce businesses I have seen that don't bother with recovering abandoned cart sales. That might be working for them, but if you want to grow your business, here are a few of the many reasons why recovering abandoned carts is important for eCommerce businesses –
Increase Revenue: Abandoned cart recovery allows you to recover sales that would otherwise be lost. By reaching out to customers who have left items in their carts, you can encourage them to complete the purchase and increase your overall business sales & revenue.
Improve Conversion Rates: By recovering abandoned cart sales you can improve the overall conversion rates for your online store. Just by reminding customers about their abandoned items and offering them incentives to complete the purchase, you can increase the likelihood to convert most of these customers to make a purchase.
Build Customer Loyalty: By reminding shoppers about their abandoned carts, you can demonstrate that you care and are willing to go the extra mile to ensure they don't lose the product they like. This can help you gain their loyalty and encourage repeat purchases in the future.
Cost-effective: As you will see in the next section, abandoned cart recovery strategies are often more cost-effective than acquiring new customers through paid campaigns. Therefore, investing in abandoned cart recovery can be a cost-effective way to reduce customer acquisition costs and improve overall business performance.
Bottom line? If you want to maximize your revenue, improve conversion rates, build customer loyalty, and grow your business to success, you cannot ignore abandoned cart sales.
6 Effective Strategies to Recover Abandoned Cart Sales
In this section, I will share some of the effective strategies that successful D2C eCommerce brands use to turn their abandoned carts into completed purchases and keep the customers coming back for more.
Ready? Let's get started.
1. Use Exit-Intent Popups
First things first, you should try to encourage customers not to leave their shopping carts without checking out. And, the most effective way to do that is by using exit-intent popups.
Exit intent popup appears when shows an intention to leave the cart page – it shows up exactly when the user's cursor leaves the browser window. So, by using this type of popup, you can remind shoppers or encourage them to complete the purchase by offering discounts or free shipping.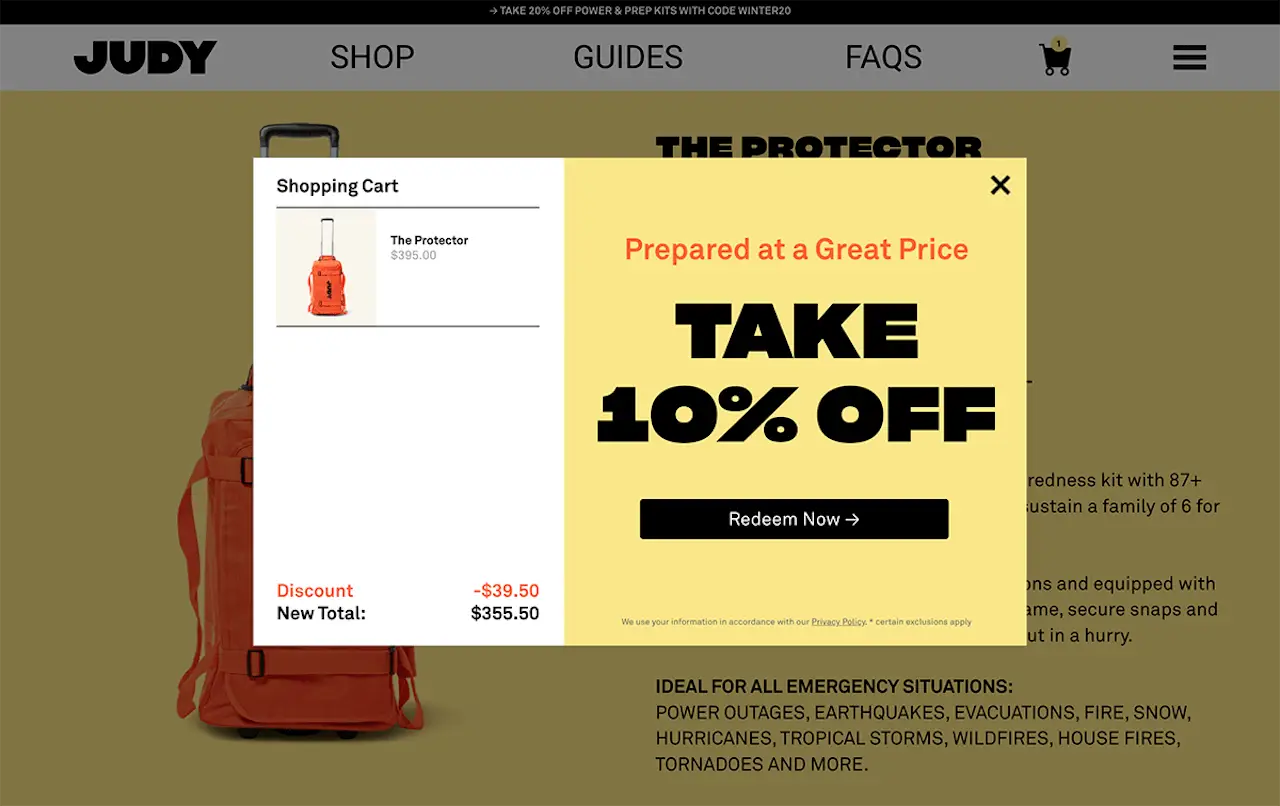 You will be surprised to know that by using this simple tactic, you can recover 4-8% of abandoned cart sales. The best part is that you don't have to be a technical expert to create such popups- you can just use Justuno to create attention-grabbing, personalized pop-ups for your eCommerce website.
Finally, while creating exit-intent popups, keep it simple, attractive, and straightforward with a compelling offer. And, don't forget to A/B test different CTAs and designs to find what works best for your customers.
Further reading –
2. Send Push Notifications
Ever visited a website and noticed the small, clickable pop-up messages that appear on top of the browser asking permission to show notifications? If you accept that, you allow them to send push notifications with the latest updates, offers, and other marketing communications.
As an eCommerce site owner, you can use this marketing channel to send notifications with cart abandonment reminders and get them back to check out their cart items.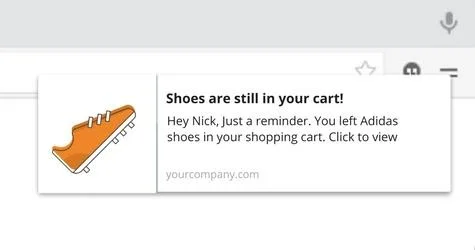 You can offer time-sensitive discounts on cart value, free shipping, or just send product updates like price change alerts, and low stock alerts to remind them about the products they liked and give a little nudge to complete their purchase instantly.
You can use PushEngage for WooCommerce and PushOwl for Shopify stores to send personalized push notifications from abandoned cart recovery. Using these plugins, you can set automated notifications and schedule them to deliver right after the customer leaves your site or later.
Further reading –
3. Send Cart Recovery Emails
Email marketing is undoubtedly the most preferred marketing channel for eCommerce brands to engage with customers and drive them back to the store. If customers create their account in your store and leave the cart without checking out, you will have their email to re-engage them.
With abandoned cart recovery emails, you can reach out to cart abandoners reminding them about their cart and offering discounts to entice them to complete the purchase.
However, you should know that customers receive a ton of such emails from various brands. So, you will have to be creative with your email content and offerings to stand out in their mailbox and drive them back to your store.
With email marketing software like Klaviyo, you can set up personalized and automated email series for abandoned cart recovery. You can even add cart items, custom coupon codes, and other dynamic elements in the email body to run high-converting campaigns to generate more sales.
Further reading –
4. Send Reminders via Text Messages
Email marketing is great, but if you want to send time-sensitive marketing messages, SMS marketing would be the most effective one. With over 90% of text messages opened within 3 minutes, SMS marketing allows you to establish an instant connection with customers and entice them to take the required action immediately.
Once a customer leaves your site without completing the purchase, you can send a gentle reminder about the products left in the cart and then send personalized offers and product offers.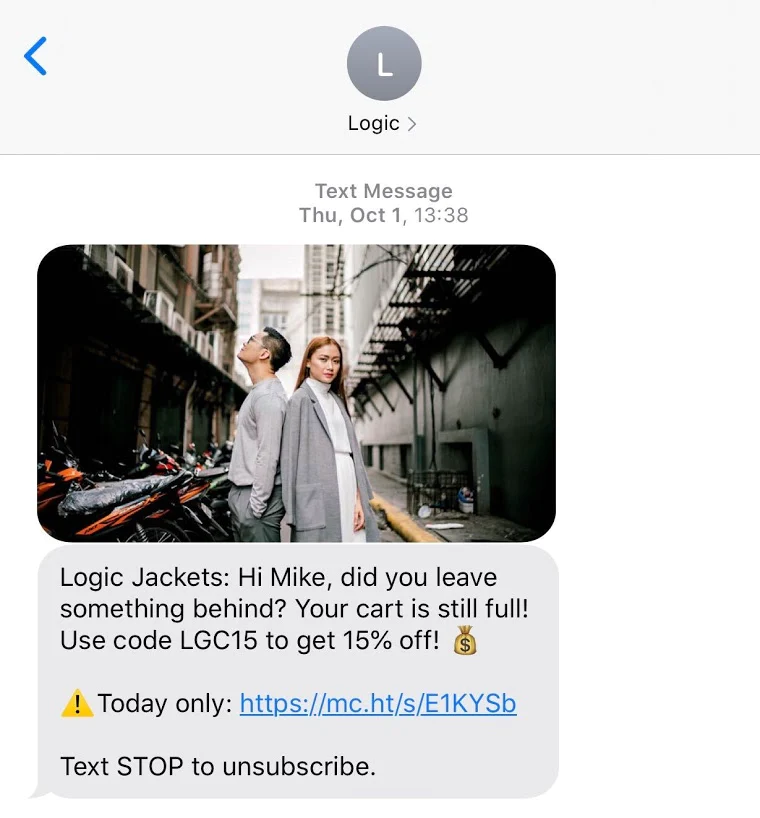 You can use Omnisend or Klaviyo to set up automated cart recovery SMS campaigns. To improve the effectiveness of your cart recovery messages, you can combine email and SMS campaigns in automation flow to avoid over-messaging and reach customers on their preferred channel.
For instance, if a customer doesn't engage with emails, you can stop it and send SMS campaigns or vice-versa better results and higher ROI.
Further reading –
5. Run Retargeting Ads
If you run paid ads on Facebook, Google, and other advertising channels, you must be aware of the retargeting feature they offer. With retargeting ads, you can display the exact abandoned cart products on their social media feeds as reminders.
You can also display product prices, offers, discounts, and other information in ads to make them more compelling and drive them back to your store to complete the purchase.
The best part of this strategy is that you don't necessarily need a specific tool to run these ads – you just need to install Meta pixel and other tracking codes from your advertising channels and manage ads from the respective platforms.
You can also use platforms like Adzooma or HubSpot CRM to run retargeting ads across multiple platforms from a single dashboard and generate more sales with higher returns.
6. Consider Personal Outreach
You might not like this strategy, but the truth is that nothing works better than a personal interaction with potential customers – it helps you build trust with them and offer personalized solutions to address their concerns.
For instance, a shopper might leave the cart because a specific coupon didn't work or their preferred payment method was not available. You cannot figure out these issues on your own, so taking the time to interact with such customers might help you get them back.
You can also offer chat support on your website where customers can ask for assistance with shopping or any technical challenges they might be facing. For better results, you can also consider offering phone and video chat support.
Further reading –
Wrapping Up
In offline shopping, you will hardly see any abandoned cart at retail stores, malls, or shopping complexes, but in online shopping, cart abandonment is a common practice. So, yes, cart abandonment is a challenge for eCommerce businesses, but you will also have to see as a part of buyer's journey to recover the possible sales.
Some customers add products to their cart and forget to checkout, some don't want to pay extra shipping charges, some look for better deals on other site – this is all part of their purchasing journey. And, with the above-mentioned cart recovery strategies, you can ensure that such customers come back to complete their purchase successfully.
Finally, to implement these strategies for your online store, you may need some specialized tools based on your eCommerce platform. So, here are few articles that you might want to read next –