PageFly is a popular Shopify page builder app that enables you to create beautiful and high-converting Shopify store or landing pages without coding. It is easy to use for anyone with basic knowledge of website building.
It is packed with 100+ beautiful templates for almost every type of page, which you can easily customize with its drag-and-drop editor. It comes with tons of design elements, page sections, and layouts that you can use to customize existing pages or create new ones from scratch.
From sticky header and color swatches to animation effects, PageFly offers you a lot of design elements and customization flexibility that enables you to provide an excellent user experience to your visitors and generate more sales.
(Coupon code: ECOMSUTRA20 is automatically applied to the button)
Here are some of the articles featuring PageFly–
To learn more about its features and functionalities, you should check out our detailed PageFly Review.
How to claim the PageFly discount code?
EcomSutra's exclusive PageFly coupon code gets you a 20% discount on all plans for a lifetime. To claim this deal, the only thing you have to do is follow the instructions below –
Click the above button or this link – ( Get 20% OFF PageFly ), and you will be directed to the PageFly page on Shopify App Store.
Next, click the "Add app" button to install it in your store.

Upon installation, you will get complete access to its free plan, which allows 1 publishable page of any type. If you want to publish more pages, you can switch plans for publishable slots.
To switch your plan, head over to Settings >>Account and click the Switch plan link as shown below.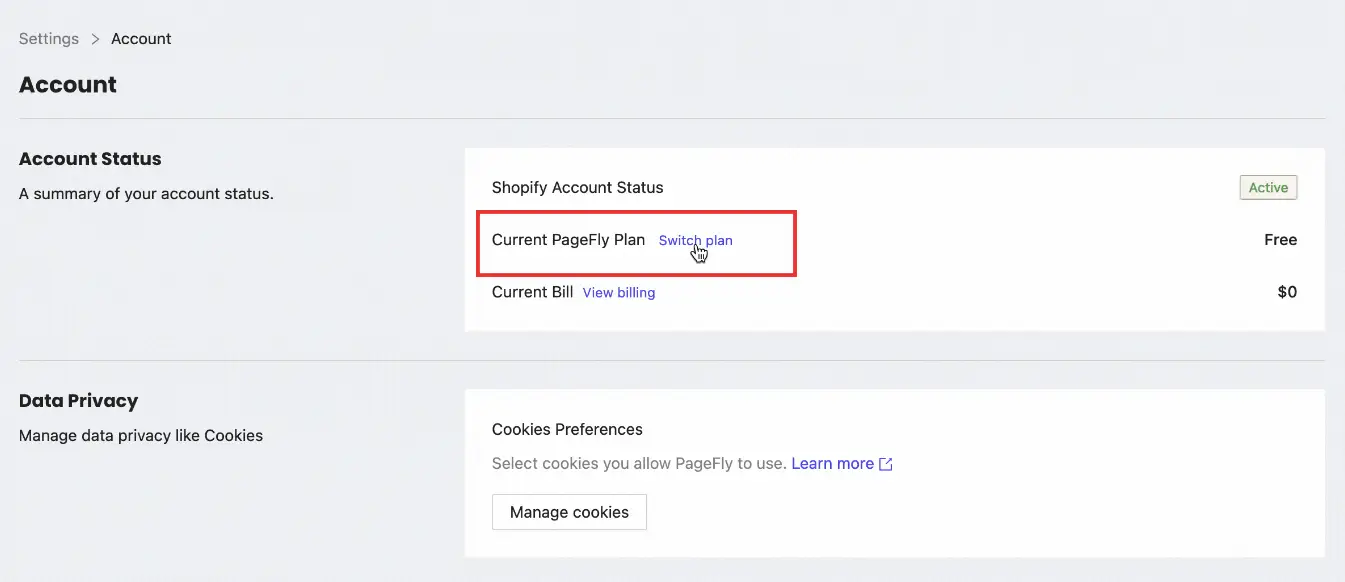 Next, select the number of slots you want. The discount code should already be applied, but if it is not, you can click the Apply coupon link.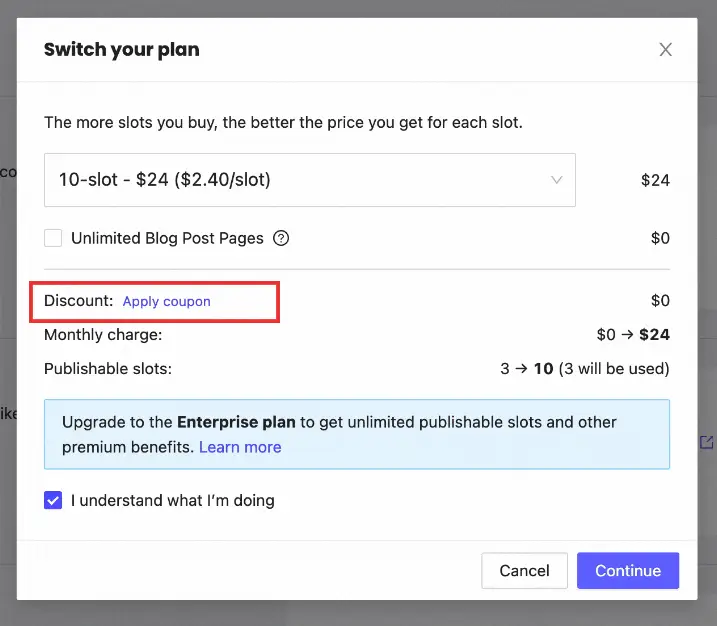 Now, enter the coupon code "ECOMSUTRA20" and hit the apply button.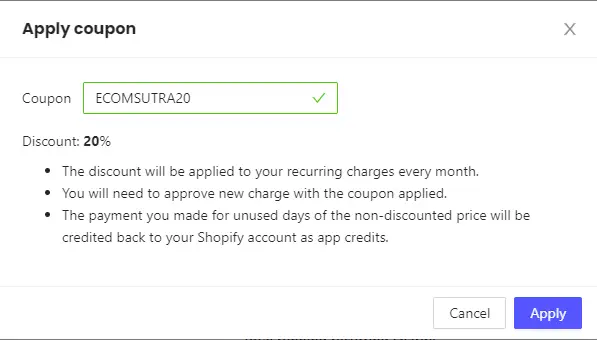 Now, you should see the discount monthly charge for your selected plan. Click the Continue button to enjoy 20% off forever.
PageFly Discount Code FAQ
Will the offer still be valid if I upgrade the plan?

Yes, you will retain 20% off even if you upgrade your existing plan. In case, it doesn't you can just apply the above-mentioned coupon code to get the offer.

What does Slot mean and how many do I need?

In PageFly pricing structure, each slot means a published page or a published page section. A slot can be any page type: home page, product page, collection page, or regular page.

PageFly allows you to choose the number of slots you need, which depends on how many pages you wish to create using PageFly.

What happens if I uninstall PageFly?

If you uninstall PageFly, you will be offered 2 choices. Either keep all data ( pages, theme templates, and assets created by PageFly) or remove all the data.

If you choose to keep all the data, then all the pages created with PageFly will be active and fully functional. On the other hand, if you remove all PageFly data, all the pages will be blank / non-functional.

Will PageFly work with my theme?

Yes, we have used PageFly with various themes and it works perfectly with all of them. So, as PageFly claims, it should work with your theme too.