Unbounce is one of the best landing page builder software which enables you to create beautiful and high-converting landing pages for any kind of product or marketing objectives. Be it to promote sales, new products, or lead generation, Unbounce can be a great tool for you.
In addition to landing page builder, it also provides built-in tool to create pop-ups and bars for your website. You can leverage it to promote specific deals or collect email list. Unbounce supports seamless integration with major ecommerce platforms, marketing and sales tools. So, it shouldn't be challenging for you to automate your marketing campaign with Unbounce.
( Coupon is automatically applied to the button)
How to use Unbounce Discount Code?
With EcomSutra's exclusive discount code, you can get up to 35% off on all Unbounce plans. The offers are as follows –
21% off for first three months
35% off for the fist year
To claim one of these deals, you just have to follow these instructions –
Step 1: Visit Unbounce using this link and you will land on our discount page. There, click the "Start My 14-Day Free Trial" Button, as shown below.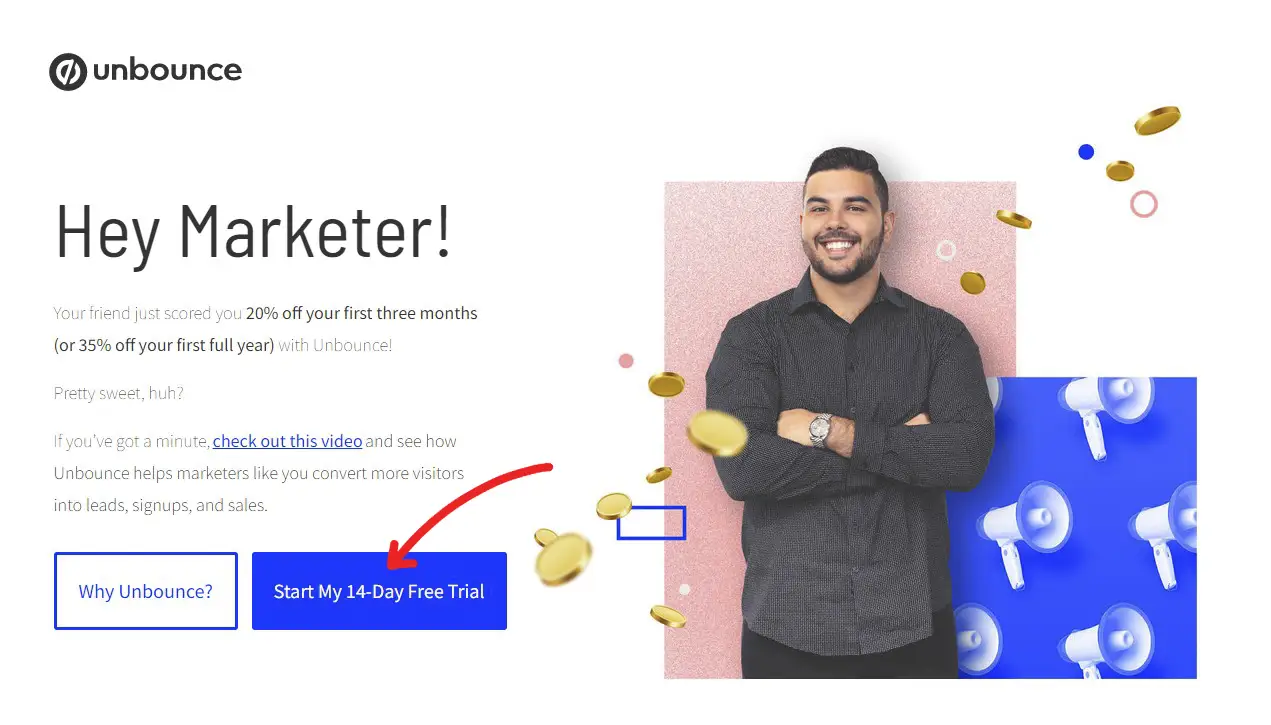 Step2: On clicking the button, you will be taken to the pricing section, where you will see the discount price of each plans. You can choose monthly or yearly options based and click "Start Building for Free" button to select the plan you need.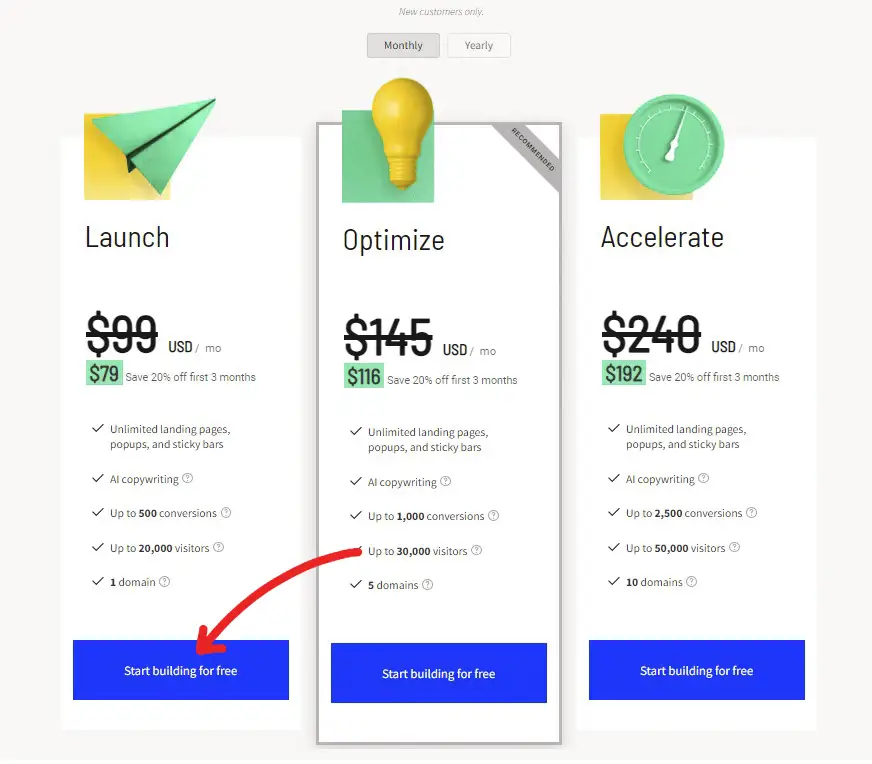 Step 3: Next, you will see the discounted billing details per your chosen plan. Below that, you will have to provide all the details, confirm email and add payment details to create your account.
Here's the discounted billing for the Launch Plan if you use our link –
Once you provide all the details, you will be directed to your Unbounce dashboard where you can create landing pages, popups and view analytics. Read our detailed Unbounce review to know everything about it.
Unbounce Discount Code FAQs
Will I be charged while creating the account?

No, you will not be charges any fees while creating the account as you will get a 14-day free trial. You will only be charged if you don't cancel your Unbounce subscription before the trial ends.

Can I cancel the Unbounce Subscription before trial ends?

Yes, you can cancel your Unbounce subscription any time during the trial period. Even after cancellation, you will be able to use Unbounce for Free till the trial ends.

Change I change plans before trial ends?

Yes, you can easily change the plan before and after the trial ends and you will be charged accordingly with the discount. While signing up you can choose the highest plan to explore its features and based on your needs you can decide whether to continue or downgrade the plan.
I hope you will find this Unbounce discount code helpful for your business as it will save a lot of your time. If you are looking for more tools and software for eCommerce business, you should check our deals & discount section for more such amazing deals.