Yes, you can use your own domain name with Shopify. In fact, we highly recommend using a custom domain for your store. You can buy one through Shopify or third-party domain registration websites.
Shopify enables you to connect the domain automatically if bought from GoDaddy. If you don't want to go through the hassle of changing the DNS server to connect the domain, you should consider GoDaddy over other domain providers.
When you sign up on Shopify, it assigns a free subdomain to your store, which you can customize per your store name. However, it doesn't look professional. So, before you start promoting the store, make sure you add your own domain.
How to add your domain to Shopify?
If you have an existing domain name, you can connect it to Shopify from your store's admin.
To do so, go to Settings > Domains and click the "Connect existing domain" link.
After that, enter your domain name in the text box and click the "Next" button.
Next, if you buy a domain from GoDaddy, click the "Connect automatically" button. This step also applies if you have a domain from Google Domains or IONOS.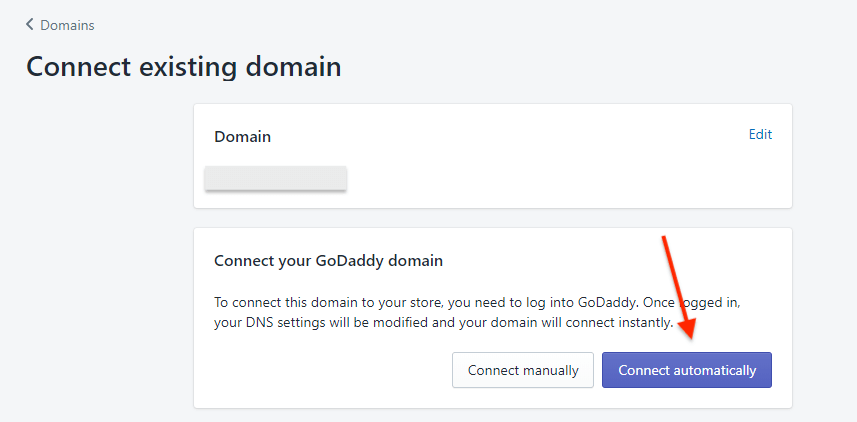 A pop-up will appear where you can sign in to your Godaddy account and select the domain you want to connect to your Shopify store.
Once you connect the domain, it may take up to 48 hrs to verify it and listed.
Once the domain is listed, you need to set it as the Primary Domain to update the domain address of your Shopify store.
Note – If you have bought the domain name from providers other than GoDaddy, Google Domain, or IONOS, you will have to connect the domain manually by editing the DNS setting. For instance, if you buy a domain from Namecheap, you can follow this article. You can also use this as a general guide for other domain providers.