The store name is one of the most important elements of an eCommerce business. This is the first thing you decide while creating a Shopify store, and if you have been running the store for a while, your loyal customer knows you by that name.
By changing the store name, you may have to start from scratch to create awareness and build trust with your target audience. It may also affect you negatively if your audience doesn't like the name.
So, before changing your store name, make sure you have thought about it from every aspect.
Ready to change your store name?
Here's a video tutorial to help you with it –
Or you can follow these steps to change your Shopify store name –
Step 1: Go to Settings from the bottom-left of your Shopify admin

Step 2: Go to Store details & click the Edit link in the Basic information section.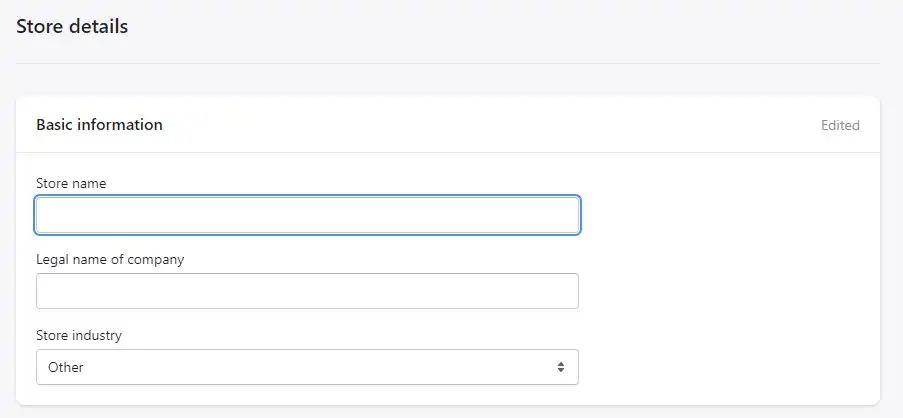 Step 3: Enter the new store name & click save.
Once you click the save button, your store name will be changed. However, you should know that the default Shopify store URL and the domain name will be unchanged.
In fact, Shopify doesn't allow changing the store's default URL, but you can change the custom domain of your store.
Should you change your Shopify store name?
The decision to change the Shopify store name depends on why you want to do that. Do you want to rebrand the store? Have you found a better name for your store that may spike growth?
Whatever your reasons are, it is a huge decision to change the name of a running store, and it must not be taken lightly.
If you change the name of your Shopify store, you might want to change the domain name to match the store name. By doing so, you will lose your ranking on search results- you will have to take a huge hit on organic traffic and start from scratch to grow your ranking on SERPs.
The toughest part is that if you have existing customers, it may be challenging to retain them and create awareness about the changing name among them.
So, unless you genuinely want to change your Shopify Store name, think twice before taking action.
Finally, if you change your Shopify store name, you may want to follow this Shopify SEO checklist to optimize the store for search engines.