Yes, Shopify supports selling in multiple currencies. However, it is only supported by Shopify Payments, which includes Shop Pay, Apple Pay, Google Pay, and PayPal, in addition to the other Shopify Payments methods.
Since Shopify Payments is available in a few countries, you may/may not be able to leverage this feature for your store. Check the eligible country list here.
How to enable multiple currencies on Shopify?
Since Shopify Payment is the only payment processor that supports multiple currencies to accept international payments.
Here's how you can enable multiple currencies in your store –
From your Shopify admin, go to Settings > Payments
Activate Shopify Payments by providing the required details.
In the Shopify Payments section, click Manage.
In the Currencies section, click Add currency button.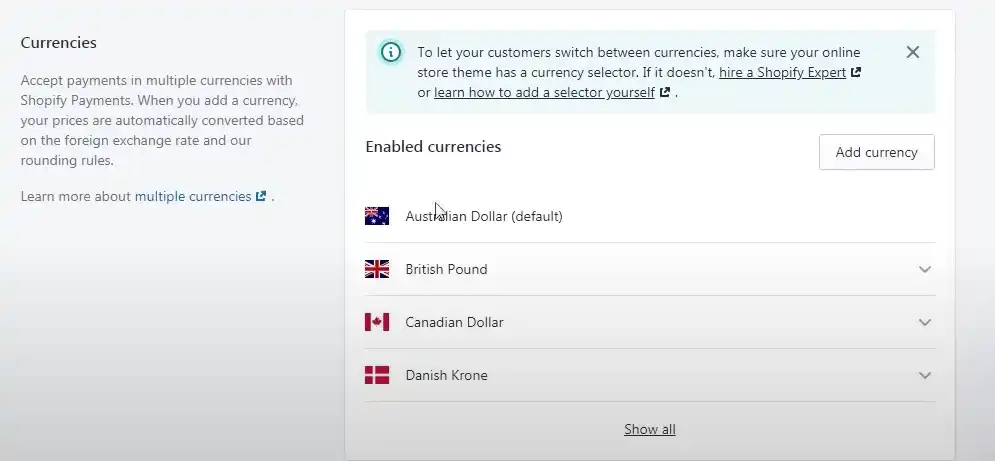 5. Now, enter the currency name and select those you want to add.
Once you add the currencies, your store is ready to accept payments in customers' local currency.
However, you must add a currency switcher to your Shopify theme to view the product prices in supported currencies. Currency switchers allow visitors to switch to view product prices in their local or preferred currency.
What currencies does Shopify support?
Shopify Payments supports over 140 currencies and using Shopify Payments as your payment processor, you can allow your international customers to pay in their native currencies Doing this can enhance customer experience and boost the store's conversion rate.
You can view a list of supported currencies to see if your preferred currencies are supported on the platform.