Do you want to remove the "Powered by Shopify" label from your store? Powered by Shopify appears in the footer of every page in the store – no matter which theme you use, this phrase will be available there.
Powered by Shopify is a trademark that Shopify places by default on Store pages to indicate that the store is built on Shopify. It also serves a marketing purpose for them to promote the platform. But, there's no such benefit or loss of removing the "Powered by Shopify" text from your store label – it is just a default text that Shopify uses on every store built on its platform.
However, there are a few convincing reasons, why you may want to remove it from your store pages –
Your store will get its own identity. Customers will not be confused about your brand by seeing another brand name on your website.
The footer of your website page is all yours, hence you can make better use of it for your brand promotion or for a better customer experience.
You can make that space useful by adding a message to highlight store policy or such as " Worldwide delivery available," " Free Shipping Available," "Easy Return & Exchange Policy," etc.
Steps to remove Powered by Shopify from store footers
Unlike major platforms, Shopify makes it super simple to remove its branding from your store pages. You can watch this video to get started –
Or, follow the below steps to remove "Powered by Shopify" without coding.
Step 1: Go to Online Store > Themes from your Shopify Admin page.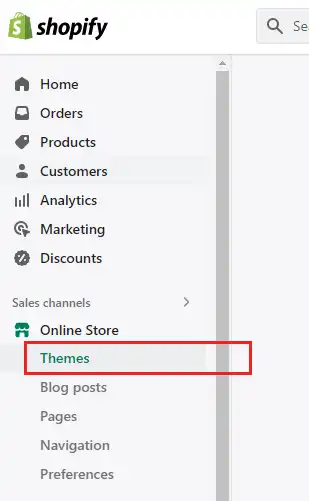 Step 2: Go to the theme you currently use, click on the three-dotted option button next to the customize button, and then select Edit Default Theme Content from the drop-down menu.
Step 3: Then enter "powered" in the search box to find the field where this term is used.
Step 4: Now, under the Links option in the "Powered by Shopify" box, add a single space by using the space bar of the keyboard.
Step 5: After updating your settings, click the Save button in the upper right corner of the screen. With this, you will have successfully removed Powered by Shopify from your store pages.
Hence, to maintain trustworthy relations with your customers, showing them that you are offering products at a very reasonable price and of the best quality, better remove the Powered by Shopify link from your store's page.
How to remove Powered by Shopify from the password page?
If your store is under construction or you decide to pause the store for a while, you can enable the password page to restrict visitors from visiting your store. Only people with a password will be able to access your store.
On the same page, below the password field, you will see a text saying " This store is powered by Shopify," which you can also remove or replace.
To do so, just follow the above instructions till Step 3 where you search for every theme content where "powered" is used.
Then, scroll down to the "Password page" section, as shown below.
Now, you can just delete the default text or enter different text to replace the powered by Shopify with your custom message.