BigCommerce is one of the leading eCommerce platforms to start an online store with a high scalability possibility. It is suitable for eCommerce businesses of all kinds, but is it the right one for you?
In this review, I will break down every aspect of BigCommerce to help you determine if it offers everything you need to start your eCommerce business.
Ready to dive in? Let's get started.
What is BigCommerce?
BigCommerce is an all-in-one hosted eCommerce platform that lets you build a full-fledged online store. It offers comprehensive store management features that enable you to manage unlimited products, manage customers, handle growing inventory, and gain insights via professional reporting.
It has powerful built-in sales tools that help in skyrocketing your store conversions. Besides, you can design streamlined one-page checkouts to procure customers and win shopping cart recovery.
To create a fulfilling shopping experience, BigCommerce lets you accept a wide range of payments. Moreover, it enables you to grow your revenue by offering customer subscriptions, credit card storage, and product pre-ordering.
On the whole, BigCommerce keeps your business moving by effectively aligning all operations and managing multiple channels. With unlimited bandwidth, you can process a large number of products to run your online store in a hassle-free manner.
Going further, I will break down all the key features of BigCommerce. If you want to explore BigCommerce while reading this review, you can use our special link to get a 15-day free trial (Exclusive Offer).
BigCommerce Review: Ease Of Use
BigCommerce has a user-friendly dashboard that helps you quickly navigate different sections and apply changes. From the dashboard, you can start adding products, set up shipping & taxes, customize your site, and view your entire store performance.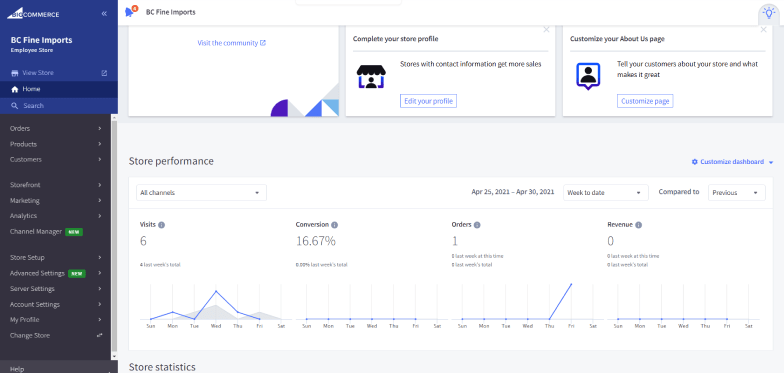 Updating your store settings becomes hassle-free as everything gets done instantly. You can modify your store profile, add new currencies, set up payment methods, and get access to built-in CRM to personalize the shopping experience.
Since it is a fully hosted eCommerce platform, you can get rid of complex tech functionalities. Moreover, it lets you create 301 redirects, access file storage to download or upload assets and install SSL certificates right from the server settings itself.
Altogether, BigCommerce makes it reliable for you as it handles every process efficiently under the roof. You just have to sign up on the platform and build the store and start your eCommerce business.
BigCommerce Review: Features
Now let us look at the list of features that BigCommerce has to offer –
Design and Customization
Order Management
Product Management
Customer Management
Marketing
Analytics
Customer Support
1. Design and Customization
BigCommerce gives you complete control over the design and customization of your online store – you can literally customize every element of your store pages.
It also offers a ton of stunning pre-designed themes, which are customization and responsive to mobile devices. This makes it super easy for anyone to design compelling and conversion-friendly stores.
You can add themes to your store directly from BigCommerce Theme Store or download from other theme marketplaces such as ThemeForest. You can also check our list of the Best BigCommerce Themes to pick the perfect one for your site.
Once you've added the theme, you can customize it either using the BigCommerce Style Editor or HTML/CSS editor. Style editor is a robust drag-and-drop page editor that comes with various page elements from basic to advanced that you can easily add anywhere on the page.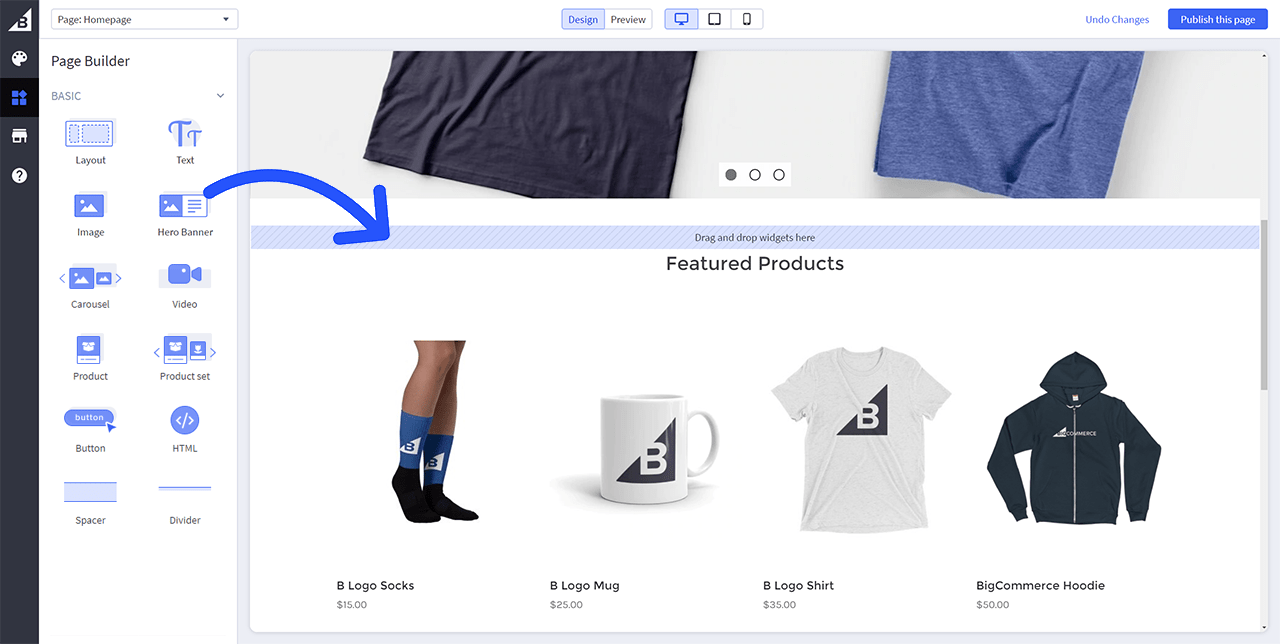 It also enables you to customize pages for mobile and tablet devices to make them responsive and highly convertible. For more advanced customization, you can always play with the theme HTML/CSS code and optimize it as per your requirements.
Overall, BigCommerce makes it easy for both tech and non-tech retailers to design and build their stores as they desire. Though it is an advanced platform, it doesn't incur much complexity and gives you free-hand to create and customize the store pages.
2. Product Management
The range of flexibility given to handle products decides how efficiently your store caters to the customer's needs. BigCommerce has got this covered by providing a scalable system that can process tons of products with an ever-growing capability.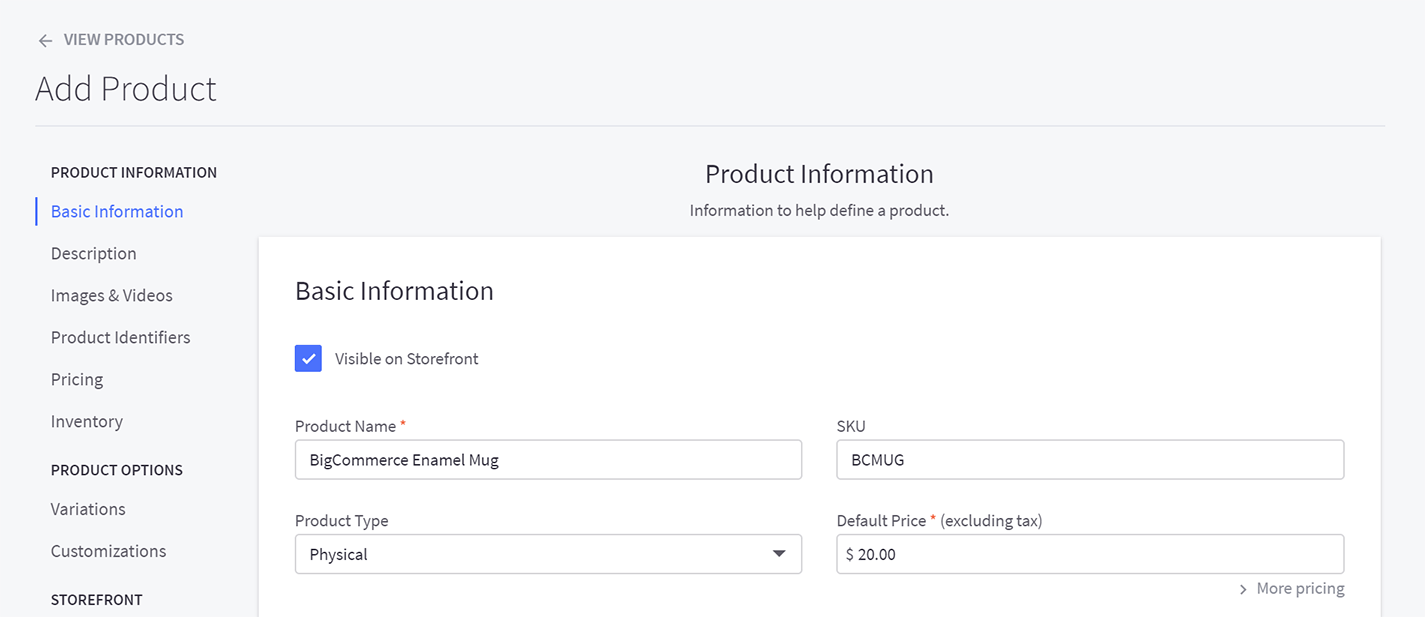 You can add unlimited products by specifying basic information, variations, storefront details, fulfillment, SEO & sharing. It also enables you to sell products that come in several variations. For example, you can add a text field to include a name for personalization.
Moreover, it enables you to offer advanced custom pricing based on the customer groups. You'll have to define which customer groups the list will apply to determine who views the prices on the Pricelist. It is available on the Enterprise plan only.
By getting access to these prominent features, you can implement the right resource allocation strategy to stay on top of customers' minds.
3. Order Management
To ensure that you run an effective fulfillment process, BigCommerce provides a streamlined order management system.
Here are some of the features you'll get with its order management system –
Manage Orders: Ability to view, add, search, export orders, and monitor draft orders.
Shipments: Access to complete shipment details of your store orders. You can create a new view for your shipments, filtering based on search keywords and date ranges.
Tracking numbers: Easily import tracking numbers to your store from a CSV file or via a server.
Gift certificates: Get access to details like customer name, code, amount, balance, date purchased, status, and action for gift certificates in your store.
Customize order status label: You can customize the order status label to give additional clarity to your customers or the order fulfillment team.
With this plethora of options, you can manage incoming orders, identify pending backlogs, deliver products on time, and optimize your business's cash flow.
4. Customer Management
You can easily add new customers, view their details, use advanced search options, and import/export customer details.
Another unique aspect to accentuate is that you can create customer groups. This lets you classify customers into different segments and groups to personalize the shopping experience.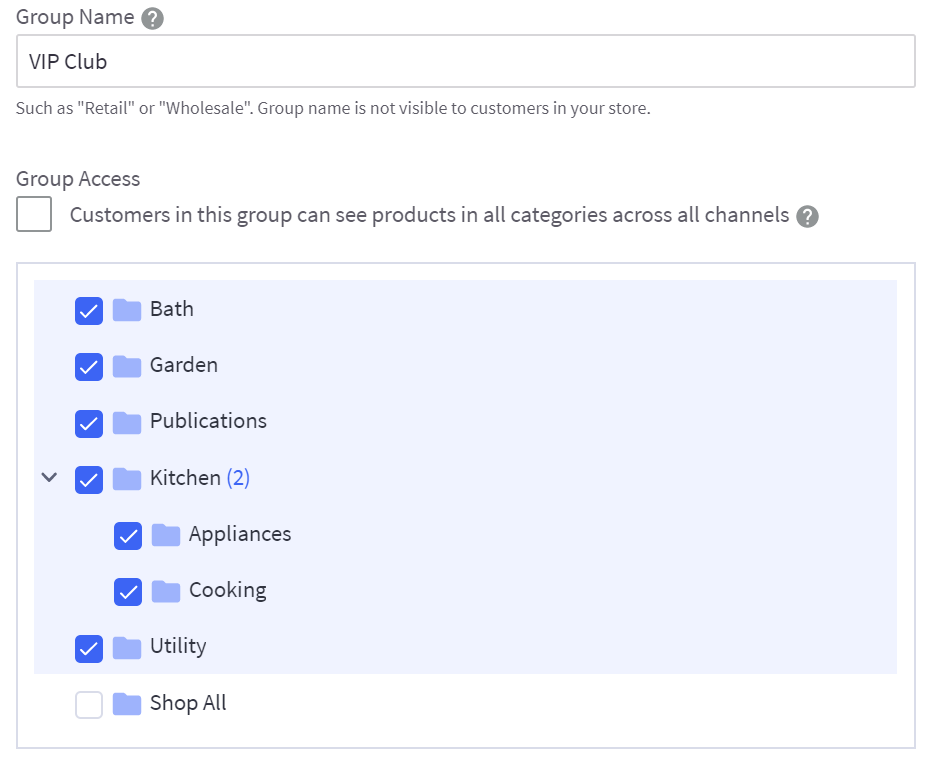 By grouping customers, you can set up loyalty programs and create diversified groups like tax-exemption, wholesale, and member-only groups to promote exclusive offerings.
5. Marketing
BigCommerce helps you expand your online presence by enabling you to work on a long list of promotional activities. Let's have a look at them –
Banners and Promotions: Create banners that let you add promotional links and images throughout your store to advertise special deals.
Abandoned cart emails: Send automatic emails along with coupon codes to your shoppers to complete their purchases.
Transactional emails: Send transactional emails like password reset, order update, sign-in link request, return status, etc.
Google customer reviews: Integrate Google customer reviews to display your product ratings for improving trust.
Coupon codes: Create general and advanced coupon codes to provide customers with discounts.
Email Marketing: Apply newsletter settings to build and grow your email list.
Gift certificates: Allow people to purchase gift certificates to send to their families and peer groups.
Omnichannel Sales: Improve your AOV by selling on Instagram, eBay, and Facebook and embedding Buy Buttons.
By tailoring your marketing strategy with these whopping options, you can surely win your customer's hearts by being there at their preferred medium at the right time.
6. Analytics
Since BigCommerce is designed for stores with large product catalogs, it offers 360° analytical and reporting options to implement strategic decisions that help in improving your overall sales.
You can view real-time data, merchandising revenue, dig deeper into marketing, orders, and customer metrics. It automatically examines your store data and delivers valuable reports to create the best-converting products.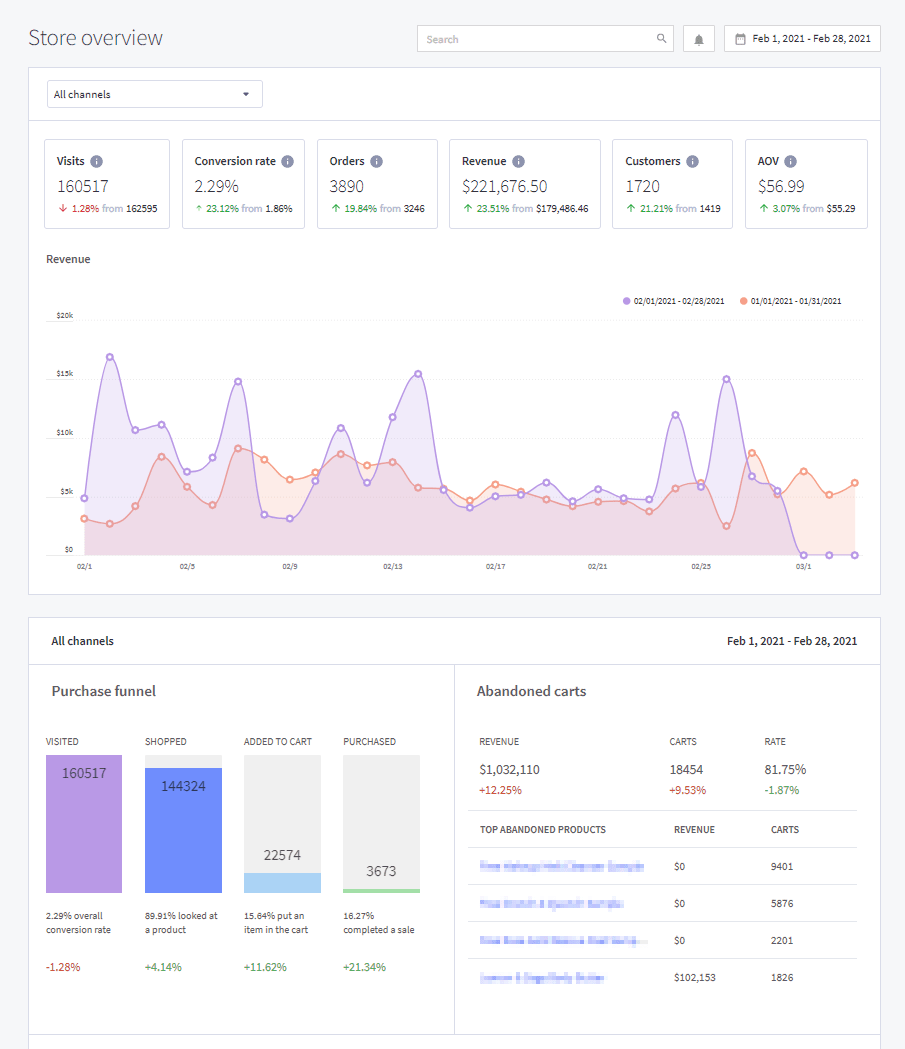 Besides, you can get a clear picture of how customers have progressed through the conversion funnel. This helps you identify and remove frictional points to optimize the customer journey roadmap.
BigCommerce Review: Customer Support
BigCommerce's support teams are available via 24×7 phone, live chat, and email. You can access tons of valuable resources on its help center, knowledge base, dev center, community, news & updates, ideas, and thousands of articles/videos.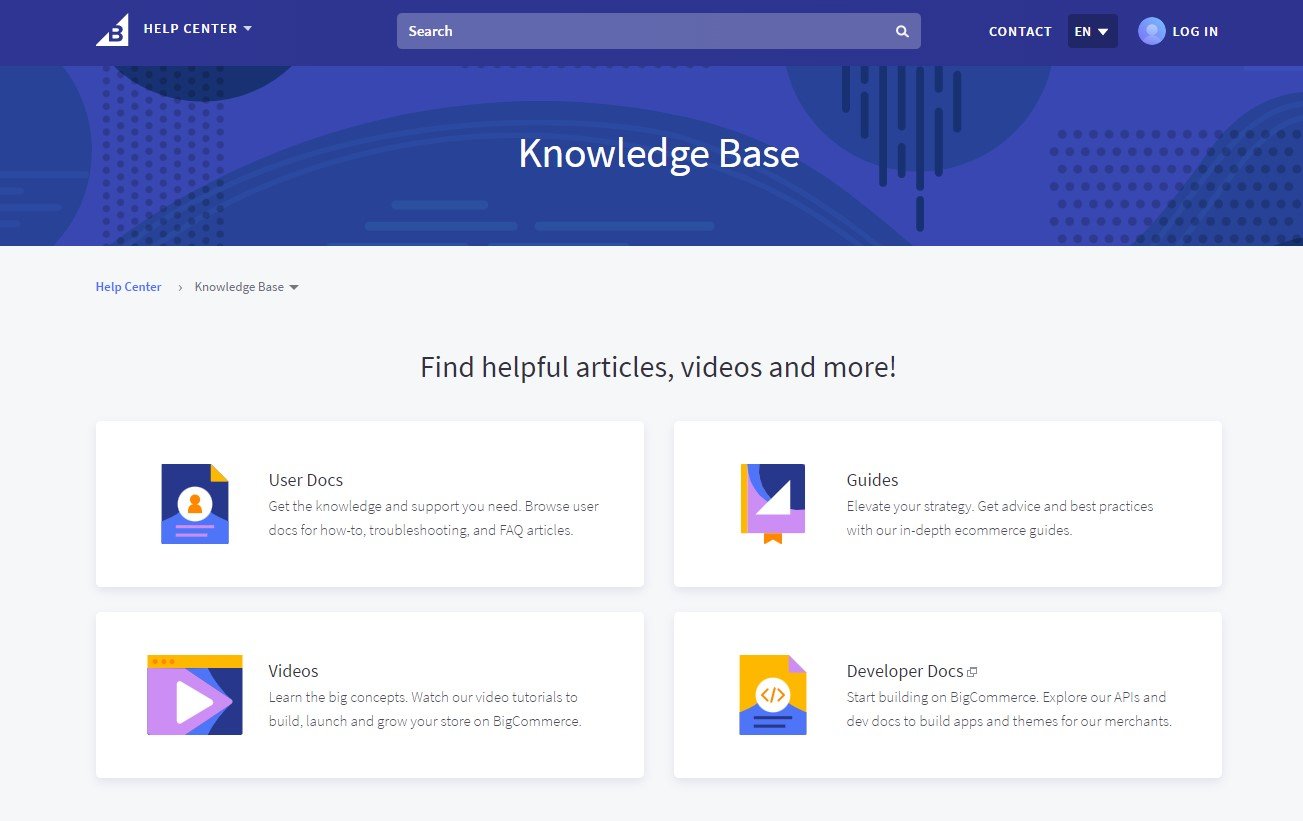 If you have any inquiries about sales, you can reach out to the team via phone or email. It is available to the US, Canada, Australia, New Zealand, Singapore, UK, Europe, and other international countries.
BigCommerce Review: 3rd-party Integrations
BigCommerce offers a mammoth of enterprise integration options and apps in a diverse set of categories. It includes accounting, analytics, wholesale, checkout, catalog & order management, CRM, in-store, marketing, mobile, merchandising, payments, shipping, site tools, product sourcing, tag management, etc.
Popular integrations include Stamped.io, Privy, Mailchimp, Quickbooks, Yotpo, ShipperHQ, ShipStation, ThemeBridge, SMSBump, etc., dropshipping platforms like Spocket, Printful, Modalyst, Syncee, AliExpress, and much more.
Note: BigCommerce also has several APIs to manage store data, authenticate customers, make client-side queries for product information, and much more.
BigCommerce Review: Pricing Plans
BigCommerce pricing plans are based on the annual sales of your online store. Once you surpass the specified sales limit, you'll have to upgrade to the next level of the pricing plan.
Here's the breakdown of its pricing plans –
Standard Plan – $29.95/month (upto $50k) – Sell in all sales channels, create unlimited products/staff accounts, and access to a good set of features to grow your online store.
Plus Plan – $79.95/month (upto $180k) – All Standard plan features plus access to customer groups, persistent cart, abandoned cart saver, and store credits.
Pro Plan – $299.95/month (upto $400k) – All the Plus plan features and access to product filtering and custom product filtering.
Enterprise Plan – Custom – Get full boost access to all the powerful features on the platform.
One notable aspect is that BigCommerce incurs zero transaction fees to use leading payment gateways. Also, a 24×7 customer support system (phone, chat, and ticket) is available on all the pricing plans.
Note: You can save upto 10% when you choose to pay annually (available for Plus and Pro plans only).
BigCommerce Review: Pros and Cons
By now, you've got to know various features of BigCommerce and how it works. Next, let us see where it shines and can do better.
Pros of BigCommerce –
No transaction fees
Excellent customer support
Easy-to-use customization abilities
Robust marketing and multi-channel selling to boost your revenue
High-security settings powered by strong firewalls
Tons of integrations and advanced API support to extend the functionality
Cons of BigCommerce-
Expensive for starters or small businesses
SEO options for products can be improved
Some paid themes are too costly
Final Verdict – Is BigCommerce best for your business?
BigCommerce is a scalable eCommerce platform that lets you manage and process your ever-growing inventory. With its robust eCommerce management capabilities, you can outgrow your competition and stay on top of your customer's minds.
I hope this article helped you get a complete overview of BigCommerce. If you have made up your mind and want to explore the platform, you can sign up using the button above to get a 15-day free trial (no-credit-card required).
If you still pondering and looking for other alternatives to start your online store, you should check the following lists next –