Drip is an all-in-one email marketing and SMS automation software designed for eCommerce businesses. It is also a CRM, which enables you to collect data from multiple sources and leverage it for precise targeting and segmentation to personalize the entire customer buying journey.
Drip is specifically designed for eCommerce businesses to enable advanced marketing automation across multiple channels. Earlier for this level of automation, you would have to consider expensive enterprise-level software; but now you have Drip.
On the whole, Drip is packed with many wholesome features to help eCommerce entrepreneurs convert leads, amplify sales, and communicate with customers on their preferred channels.
But the question is – Is Drip the right marketing automation software for your business?
In this review, we will break down every key aspect of Drip Marketing Software to help you determine if it has everything you need for your marketing automation.
Drip Review: What can you do with it?
Before jumping into the in-depth Drip Review, let me give you an overview of what you can do with Drip to grow your eCommerce business –
Create multi-channel campaigns – email, SMS, & social media
Nurture visitors via a series of automated emails
Personalize customer interactions
Connect Drip to Facebook Custom Audiences
Tag customers based on different categories.
Strengthen customer interactions with trigger links
Setup customizable workflows
Connect your order management system to Drip
Advanced Segmentation capabilities
Conversion tracking reports
Drip Review: Key Features
In this section, we will dive deep into some crucial features that Drip has to offer you –
Email Builder
Email Marketing
SMS Marketing
Forms & popups
Marketing Automation
Personalization
Segmentation
Analytics Reporting
Let's get started.
1. Email Builder
Drip's email builder is very simple and easy to use, enabling anyone to build attractive and high-converting email campaigns within minutes. Moreover, it comes with pre-built email templates that you can use and customize as per your needs.
If you want to craft email on your own, Drip provides you with three types of email builders –
Visual Builder
Text Builder
HTML Builder
With Visual Builder, you can easily design beautiful emails with graphic elements without writing even a single line of code. To create your email, you'll just have to point and click to add images, columns, buttons, layouts, and other elements.
On the other hand, Text Builder would be the best choice if you want to send plain text emails. It works just like your usual Gmail or Outlook email editor.
HTML editor is for advanced marketing campaigns, where you want complete control over the design and customization of email content. To make the best use of this, you need coding and designing skills. If you have that, make sure to try it once!
Overall, Drip's email editor is robust and gives your complete freedom over the design and customization of the email body.
2. Email Marketing
Email Marketing with Drip is all about nurturing and elevating customer experience at every step of their buying journey. And, Drip makes it possible by allowing you to run 3 types of email campaigns –
Single Email Campaigns are one-time emails you send to a segmented group with a specific objective like a product launch, announcement, flash sales, or newsletters.
Email Series Campaigns lets you send a continuous set of emails in a specific order to the selected set of audiences. Such campaigns are used for continued, topic-specific email sequences and can be used in automation.
Automation Email campaigns are singular emails that can be sent in Workflows and Rules. This type of campaign can be used for immediate follow-ups with recipients based on their interaction with emails.
Series emails are a kinda outdated marketing format in which you keep sending emails to your subscribers until they respond, unsubscribe, or block your email list. So, it is not an ideal email marketing format for eCommerce brands.
Regarding automation campaigns, Drip enables you to create a complete workflow by combining different emails, sent after a trigger or action taken by the recipients. This makes them part of the communication and allows you to deliver a personalized experience to them.
3. Split Testing
A/b testing or split testing is crucial in email marketing as it allows you to try variations of email campaigns on a small set of audiences before taking the best one to a large scale.
Drip enables you to run split testing in single email campaigns to test email subject lines or content – you can't test both simultaneously.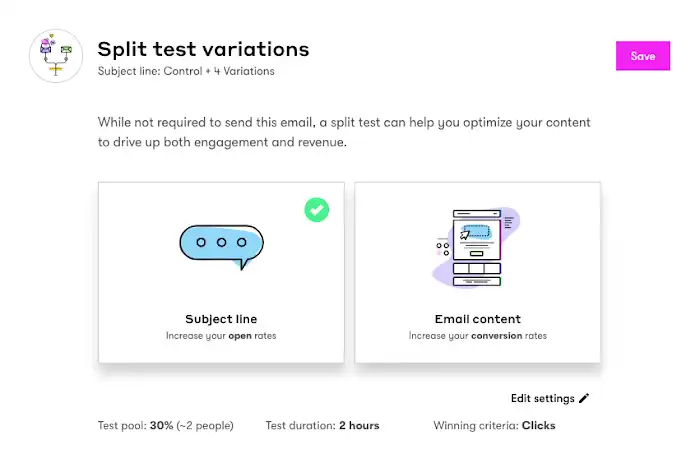 Drip allows you to test up to 4 email variations and select a Winning Criteria, Test Pool Size, and Test Duration as shown below.
Drip's split testing is not as robust as it could be -it is limited to a single campaign and the worst part is its reporting and winning metrics. So, if you are a fan of A/b testing in email campaigns, this can be a deal-breaker for you.
3. SMS Marketing
If you still haven't considered SMS marketing, this is probably the right time to get started. Text messages are one of the best ways to interact with customers as they get instantly delivered, guarantee high open rates, and are cost-effective.
With Drip, you can design engaging texts using its flexible SMS campaign builder. You can write your message, add emojis, personalize content, and visualize the preview as shown in the image. Note that by inserting images, your SMS will convert into MMS.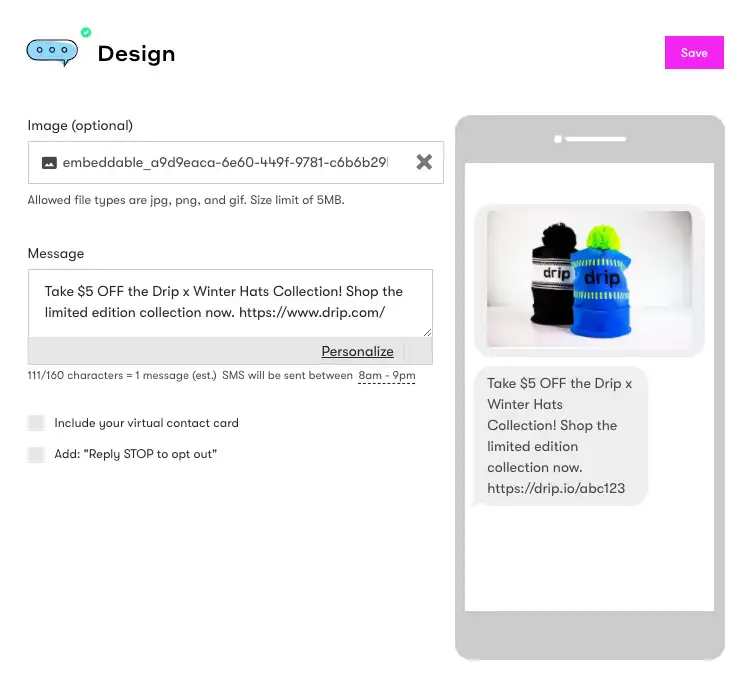 Conversations are meant to be two-way, right? And it shouldn't make customers feel monotonous. That's why Drip enables you to include your virtual contact card so that interested customers can get in touch.
Also, you can let them opt out easily by replying 'STOP' to respect their privacy.
Finally, it allows you to send an SMS campaign immediately or schedule it for a specific time. Based on TCPA regulations, the SMS can be sent only between 8 am – 9 pm in your recipient's time zone.
SMS Campaigns instigate people to take immediate action as they tend to be time-sensitive. With Drip's SMS marketing, you can directly tap into your growing eCommerce customer base and promote your time-sensitive offers within minutes.
4. Form Builder
Popups and Forms are essential elements of email marketing in converting website visitors into leads or subscribers, further nurtured into paid customers.
With Drip, you can create 4 types of forms –
Popup Form: Display popup after a time delay, page scroll, or button click
Exit-intent Form: Display when your visitor is about to leave
Side tab Form: Forms that pop up on the side of your webpage
Embedded Form: Minimally styled and advanced standalone form to embed on your site
You can get started by choosing from the pre-built form templates. The form editing process is straightforward as you just have to add required fields and customize text, buttons, fields, and images per your branding needs.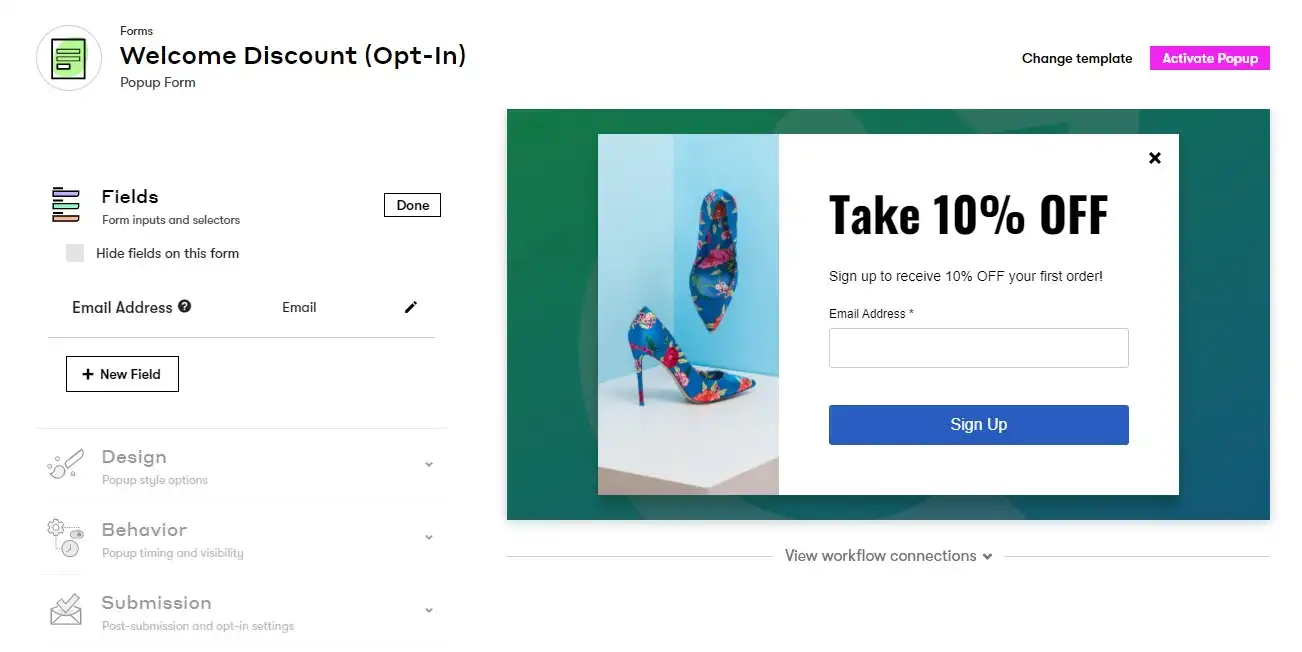 For a form to be effective in capturing potential leads, it has to dynamically engage with incoming visitors. To accomplish this, Drip lets you set the timing and visibility to non-intrusively nudge targeted visitors.
You can choose to display after a delay, upon button click, scroll percentage, or manually via Javascript API. Speaking about visibility, you've got the following important options to choose from –
Show/Hide popup to visitors in a specific segment
Display or hide popups on specific pages
Hide popup on mobile devices
Overall, Drip enables you to create custom forms and beautiful popups to minimize friction and improve conversions. The form builder is simple yet effective, with all value add-ons to help you achieve your marketing goals.
5. Marketing Automation
Drip offers powerful marketing automation capabilities to remove the weight off your shoulders. You can easily acquire more customers, generate profits, and seamlessly engage across multiple touchpoints via its customizable workflows.
You can get started by filtering the pre-built workflow templates based on the eCommerce platform and categories. It includes:
Welcome series
Abandoned Cart
Post Purchase
Win-back
Birthdays & Anniversary
First-time purchase
And the list goes on.
You can also create a new workflow from scratch using different triggers, actions, and other components such as;
Action: Steps required for people to reach your goal
Decision: Send people to subsequent steps upon fulfilling the criteria
Parallel Paths: Perform multiple actions at the same time
Goal: Specifying the action that you want people to achieve
Delay: Wait for some time before proceeding with the next path
Split Test: Send traffic to 2-5 unique paths to determine the most effective one
Exit: Remove a person from the Workflow
Overall, Drip provides you with all sets of customizable workflow components from a simple welcome email to building sophisticated multi-channel automation. You can confidently roll up your sleeves to bring life to your profit-generating campaigns via Drip's powerful automation capabilities.
6. Personalization
Personalization is the key to an excellent customer experience, and personalization should be more than just sending emails with the first name of recipients. Drip understands the level of personalization you need in eCommerce marketing to generate more sales.
Thus, it allows you to add dynamic content to your emails and SMS body, which is replaced by the value related to the product or the recipients' data.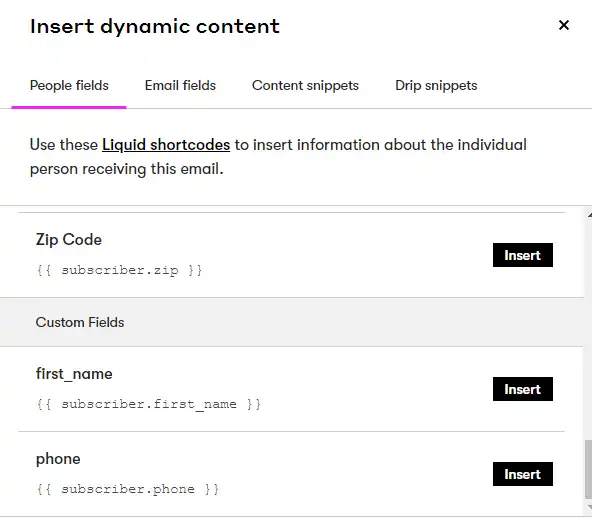 You can also add dynamic content blocks like discounts, top-selling products, cart abandonment, recommendations, price drops, and return to the cart to drastically boost sales and conversions.
In a nutshell, you can use Drip's dynamic content blog to personalize the message content for each recipient based on their behavior on your site and engagement with previous messages.
7. Segmentation
After the content personalization comes contact segmentation, which refers to grouping people based on similar characteristics to send a similar email or SMS campaigns with a specific objectives.
So, the better you can segment your contacts, the more unique and targeted campaigns you can deliver to them.
Drip allows you to create segments by filtering the list of people based on their email activity, purchase history, events triggered, tags, and more.
For instance, if you want to target inactive customers for the last three months, you can create a segment using the Purchase History filter. Next, you can send them personalized email communication with special discounts on products based on their past purchases.
Similarly, you can create more advanced segments using AND or the OR operators, as shown below

8. Analytics & Reporting
To analyze the performance of your email marketing campaigns and their overall contribution to sales and revenue, you need reliable analytics and performance report.
Drip's analytics and reporting provide you with various reports that give you a snapshot view of your business and marketing performances. The reports provide you insights into –
Key Email Marketing Metrics
Top-performing Drip strategies
Realtime Subscriber count by day and hours.
Subscriber Engagement
Overall revenue performance
Here's what the Revenue Report looks like –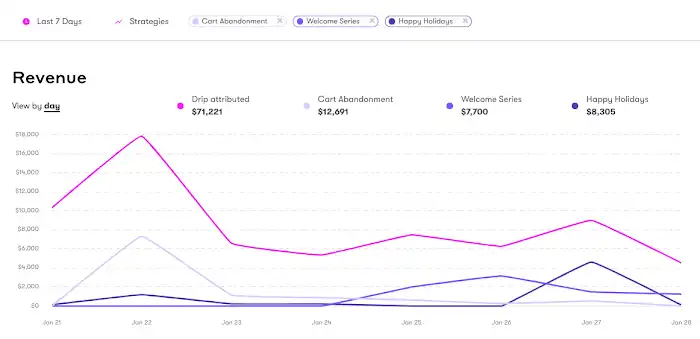 With this report, you can analyze top-performing strategies, visualize your customer journey, and view overall revenue performance.
Similarly, other analytics reports are –
Opens By Hour: Tracks the open rate for an individual email
Clicks By Link: Displays the number of unique clicks for each link in an email for a selected date range
New People: View the number of new customers being added to your list
Subscribed People: Displays the total number of subscribed people over a given date range
Events: Tracks the custom, predefined events and records each day. It includes bounce rates, unsubscriptions from mailings, email series, etc.
Recent Activity: Tracks those customers who have been active and engaging with you
Site Traffic: Analyze your site traffic, view first-time visitors and top traffic sources
Conversions: Visualize the customer actions that depict a conversion. You can also configure a new conversion and learn how you can record them.
With such actionable insights on your dashboard, you can identify winning probabilities and the areas that may require optimization for better performance.
Drip Review: Integrations
Drip comes with a wide range of eCommerce platform integrations to deliver an excellent customer experience. They are –
Shopify
Shopify Plus
WooCommerce
Magento
Gumroad
It also provides seamless integrations with 100+ platforms on different categories like analytics, customer support, forms, landing pages, payments, webinars, video, lead capture, membership, and the list goes on.
Drip even allows you to connect your custom store via API for a seamless flow of customer information between various applications.
Drip Review: Pricing & Plans
Drip's pricing plan is entirely based on the number of email contacts you have and the SMS you send, and you get access to all its features.
For email only, the pricing starts at $19/month for up to 1500 contacts and unlimited email sends.
With email and SMS, the pricing starts at $20/month with 200 messages.
You can sign up based on the number of contacts you currently have. However, the monthly billing amount will be based on the number of contacts and SMS sent in that month.
Drip's pricing plan is unique and affordable for small businesses as they don't have to pay high prices for advanced automation features. You get access to all the feature, and the price increases as your business grow.
Drip Review: Pros and Cons
Though Drip is packed with enormous automation capabilities, it also has some areas that could be better and others where it excels over other marketing automation tools.
So, let's look at some of its merits and limitations.
Pros of Drip –
Excellent marketing automation features
Integration with the most popular eCommerce platforms
Ability to segment customers based on any criteria you want
Dynamically serve personalized content across all touchpoints
Point-and-click email and workflow builder
Intelligent targeting capabilities for forms and popups
Cons of Drip –
Split testing is highly basic
Limited collection of email and form templates
Pricing might become expensive with the increase in subscribers
SMS is currently available only for the US-based business
Final Verdict – Is Drip the right email marketing software for you?
Drip is a powerful eCommerce email marketing and automation software with advanced features yet an easy-to-use interface that anyone can use.
So, is it the right email marketing tool for you? Well, that's up to you to decide; however, I think it will be best suited for you if you –
Have a growing eCommerce brand with high traffic
Want to advanced segmentation capabilities
Want to automate multi-channel marketing
Would like to use advanced targeting & personalization techniques.
On the whole, when you sign up for Drip, it is not just for sending regular transactional emails; you'll have access to a whole new world of advanced automation that you can leverage to provide a personalized shopping experience to your customers.
I hope this article gave you an overview of Drip features and helped you decide if it is the perfect marketing automation tool for your eCommerce business. If you like the platform and want to explore it, you can use the above button to create your account and get a 14-day free trial (no credit card needed).