Do you want to build an online store but lack technical knowledge? Or do you want to add an online store to an existing website?
Well, Ecwid could be the perfect tool for you to start. Moreover, it has a free plan that allows you to take a baby step toward starting an eCommerce business without investing much upfront.
In this article, we will break down every aspect of Ecwid and help you determine if it is the best platform for you to start an online store.
Ready to dive in? Let's get started.
What is Ecwid? – An Overview
Ecwid is a SaaS-based eCommerce platform that helps online entrepreneurs create an eCommerce store without writing a single code.
It is termed as Ecommerce Widget because its store plug-in can be integrated with any existing website, marketplaces, blog, social network, etc. This makes the process relatively friendly, and you can get your store running up within minutes.
Since it is cloud-based, you can just sign in and start publishing your store. You need not worry about hosting, as Ecwid completely takes care of all activities like installation, maintenance, and server updates.
On the whole, Ecwid is a simple and straightforward platform packed with all essential features to kickstart your business – you can manage your product, sales, inventory, etc., from a centralized dashboard and easily migrate from existing platforms like WooCommerce, Clover, etc., without hassle.
Do you want to explore Ecwid while reading this review? Well, I highly recommend you to do so and you can use the button below to create your free account.
Ecwid Review: Ease of Use
Ecwid offers a beginner-friendly control panel in which you can easily manage your routine tasks. You can personalize your site with a unique web address, view abandoned carts, to-do lists, and reports that reflect your store's activities.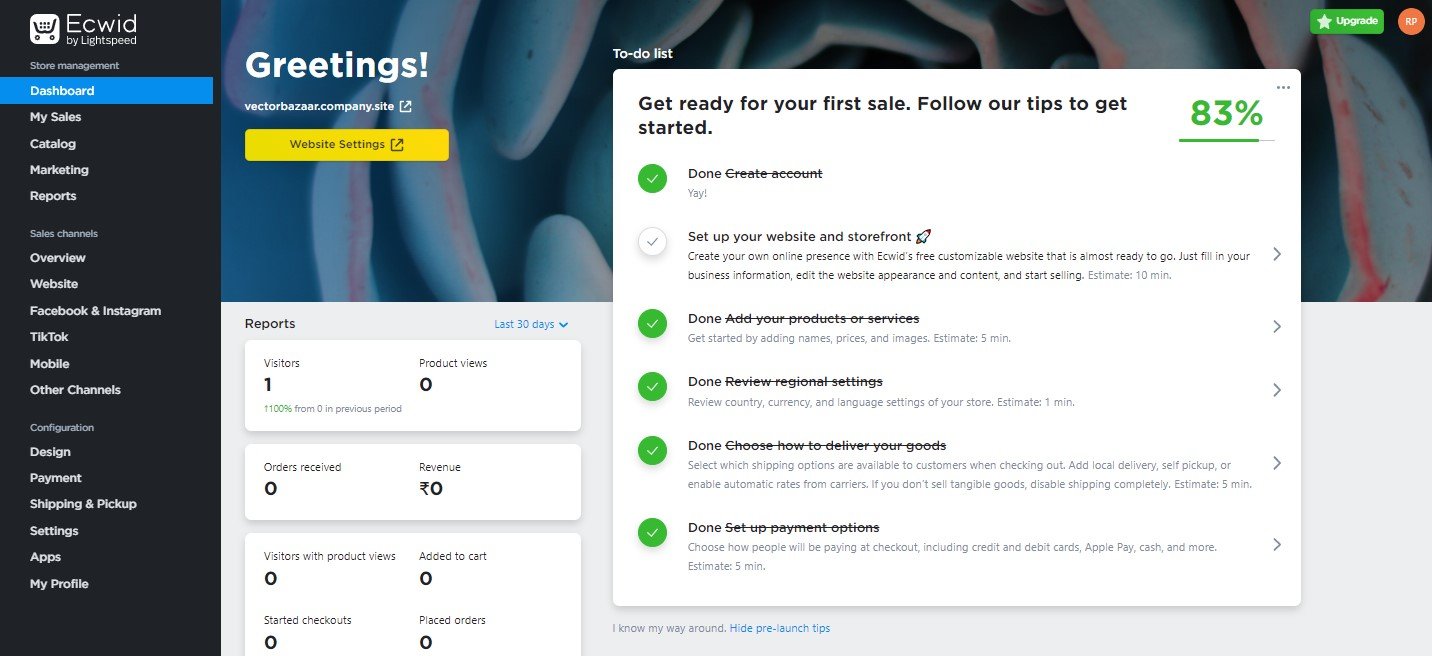 With a few mouse clicks, you can configure your online store by modifying image size, ratio, product card details, layout, shipping, payment options, categories, breadcrumbs, etc.
Besides, with its bulk product editor, you can edit the properties of multiple products and their variations at once. This is a sweet spot as your productivity and efficiency will be on par with your daily activities.
Overall, Ecwid provides easy-to-use management that enables you to stay on track 24×7. Furthermore, you can add your store to other existing websites and marketplaces like Amazon & eBay.
Now you have got to know about the platform's ease and simplicity, next, we shall take a look at its list of features.
Ecwid Review: Key Features
Now lets us have a look at the features that Ecwid has to offer –
Design and customization
Product Management
Marketing
Ecwid SEO
Ecwid Sales channels
Ecwid Payment options
Ecwid Shopping Cart
Ecwid Reporting
1. Design and Customization
When it comes to design and customization, Ecwid allows only for simple and basic capabilities. As a store owner, you can perform certain operations like adding headline/cover image, testimonials, uploading products, about us, contact page, mission statements, etc.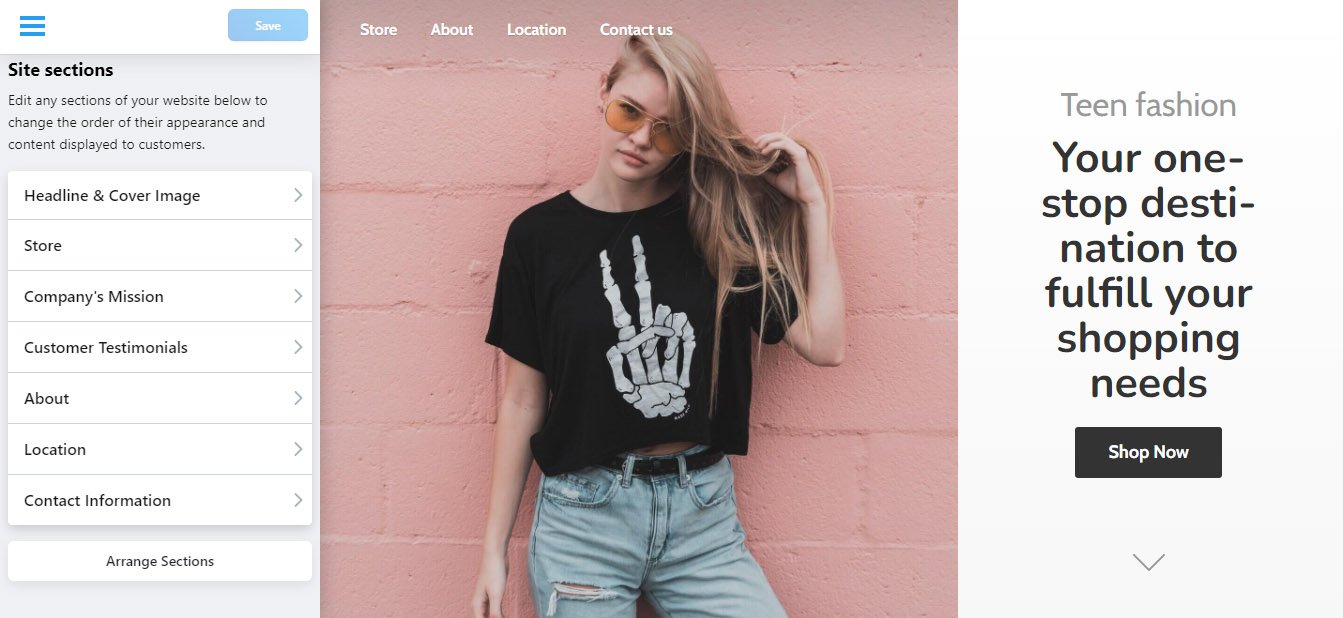 Even the range of built-in themes offered is quite limited. The categories include apparel, health, music, toys, jewelry, food & beverages, art & photography, sports, fitness, home & furniture, etc. Under each category, you can probably find a maximum of 8 to 10 themes.
Speaking about customization, it is as easy as pie. You'll just have to enter the required inputs, and your instant site will be ready. You can also update your site content, optimize it for SEO and link your instant site with your purchased domain.
If you're looking to add advanced functionalities, you can create your own CSS theme to make in-depth customization.
Overall, for beginners, Ecwid comes with a gradual learning curve as the store editing, and building process is highly simplistic.
2. Product Management
Managing products should be smooth and streamlined; otherwise, it may affect your selling process. Ecwid removes this burden by offering intuitive product management by covering all aspects. Now let us see how Ecwid makes your product management better –
Adding a new product: Fill in the product's name and description, upload multiple images and videos, manage in-stock, and add labels and product subtitles.
Marketplace category – You can quickly categorize products by specifying a general category that suits them to boost discoverability to your customers.
Options and Variants – Ability to add unlimited options and variants to your products to improve the shopping experience
Files – It is for digital goods to upload ebooks, videos, music, etc., and other downloadable items.
Shipping and Pickup – You can specify whether your product needs shipping, weight & dimensions, and shipping rates.
SEO – You can customize your search appearance by modifying the page title and description. It is available only on paid plans.
Related Products – Improve your average order value by displaying related products on the checkout page and emails.
Buy Now Button – With the buy now button, your customers can purchase from all pages where the product are embedded.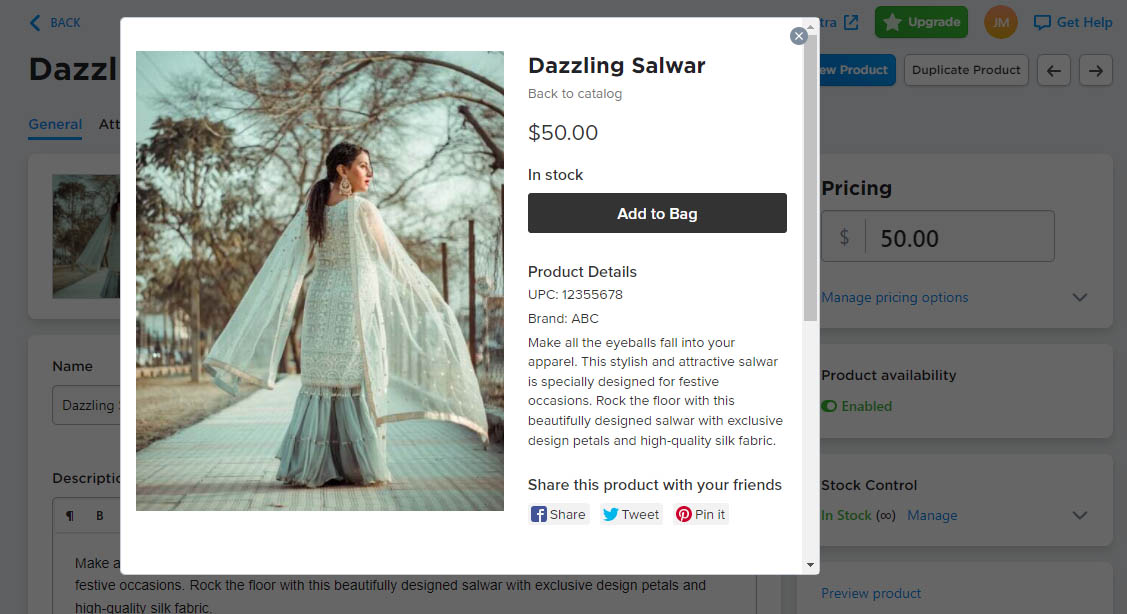 After finalizing all these details, you can see the preview of the product page appears (as shown in the above image). If not, you can choose to open directly on your storefront.
3. Marketing
Ecwid helps expand your online footprint via various marketing channels like Google Ads, Facebook Ads, Discount coupons, Newsletters, and Automated emails.
Google Ads
As a retailer, you can scale up your customer acquisition efforts by advertising products across Google with the Google Shopping tab and Google Shopping ads.
All you have to do is to optimize your ad in a step-by-step manner as follows –
Targeting – Where would you like to show your products?
Category – Select the category of your store and the condition of the product you're selling.
Store Review – Scan and fix any potential errors using Ecwid's diagnostic reports.
Preview and Run – Once everything is fixed, you can get your store on Google Shopping.
Besides, you can also advertise your products across Youtube, Gmail, Google Search, and Display.
Facebook Ads
To start with the Facebook campaign, you need to connect your store to enable Facebook Shop. This effectively syncs your products to make them fall under billion eyeballs.
Next, you need to set up the free Facebook Pixel to track visitors and display ads to those who left without a purchase.
Once this is over, you can start optimizing your ad campaign and launch it to fulfill your objectives.
Discount Coupons
Offering a discount coupon is one of the effective sales incentives to boost repeat purchases. You can offer percentage discounts, fixed value, free shipping, and a combination of discounts plus free shipping.
To get more control, you can specify rules like the number of times, minimum order amount, eligible customers, and for which products/categories the discounts should be applied.
To make it even more interesting, Ecwid enables you to apply automatic discounts at checkout based on order amount, customer's group, or a combination of both.
Newsletters
With Ecwid, you can connect to your store with Mailchimp and send interactive email newsletters and other campaigns. It is also possible to set up and customize how your customers should opt-in for your emails.
To grow your email list, you can ask your customer's permission to opt-in for your marketing emails at the checkout. Those who have signaled a positive response will be automatically flagged to accept emails from you.
Automated Emails
You can send automated emails to customers which get triggered by their behavior. This significantly acts as a nurturing process as you interact with your customers at every stage of their buying journey.
In addition to this, you can remind your customers about their favorite products, request feedback, and thank your loyal customers.
To motivate the buying trait, you can also add discounts and product recommendations to emails and embed links to your social media account to boost follower growth.
4. Ecwid SEO
Ecwid offers a decent range of SEO capabilities to improve your organic visibility, from optimizing product descriptions to ensuring whether SSL is enabled.
You can add keywords to product names and descriptions, add custom meta tags to product pages & instant site pages, collect reviews from customers, and register a custom domain name.
To further extend the potential, Ecwid lets you verify your domain with Google search console to manage your site presence. It also guides you in building backlinks which helps in improving your site authority.
Note: If you want/don't want search engines to index your site, you can immediately turn it on/off.
5. Ecwid Sales Channels
Ecwid offers tons of powerful selling options to generate brimming online purchases and convert inactive visitors into active customers. They are –
Sell on the go – Includes selling via Ecwid Mobile for iOS, Android and processing orders via POS system.
Sell on Facebook – Sell via Facebook Shop, Instagram Shop, and Facebook Messenger.
Sell on Marketplaces – Access to wide channels like Google Shopping, TikTok, Amazon, and eBay.
Sell on your website – You can add Ecwid to a website built with any CMS system and start selling your products.
Sell on Instant site – The Instant site created via Ecwid lets you upload products and sell them to customers.
With such a broad exposure for your eCommerce business, you can indeed tap into a diversified customer base to strengthen your brand position amidst ever-growing competition.
6. Ecwid Payment Options
By providing multiple payment choices, you give customers the comfort of choosing their payment mode. Ecwid has got this covered by presenting you with more payment options. Let's have a look at them:
Accept payments by cash.
Integrate payment gateways – Stripe, Square, PayPal.
Add Manual Payment methods – Allow for COD, phone orders, or check to receive payments outside your store's online checkout.
Accept online payments in the US – Integrate with tons of options like 2Checkout, AfterPay, Alipay Wallet Payments, American Express, Bank of America, Clover, PayLeap, and Crypto.com to accept crypto payments.
Other ways to get paid – You can choose from 120+ providers to accept debit and credit cards.
Connect with your preferred payment processor – Accept payments with your choice of the payment processor or customize existing payment methods to accept pre-orders and partial payments.
With such a whopping list of payment options, you should optimize your checkout to increase transactions, right? Let's talk about this in the next section.
7. Ecwid Shopping Cart
Ecwid includes a clean and well-designed shopping cart along with your online store. When your customers click on the checkout option, they'll be presented with the order information, payment information, and other relevant details.
You can also collect customers' emails to send order updates and promotional messages. The cart is designed to be functional by default, but you can customize it as per your store requirements.
Your checkout should be highly persuasive to make customers buy more. To accomplish this, you can display related products to multiply their cart value. This can be done by navigating to the Products section and adding relevant products in the Related Products section.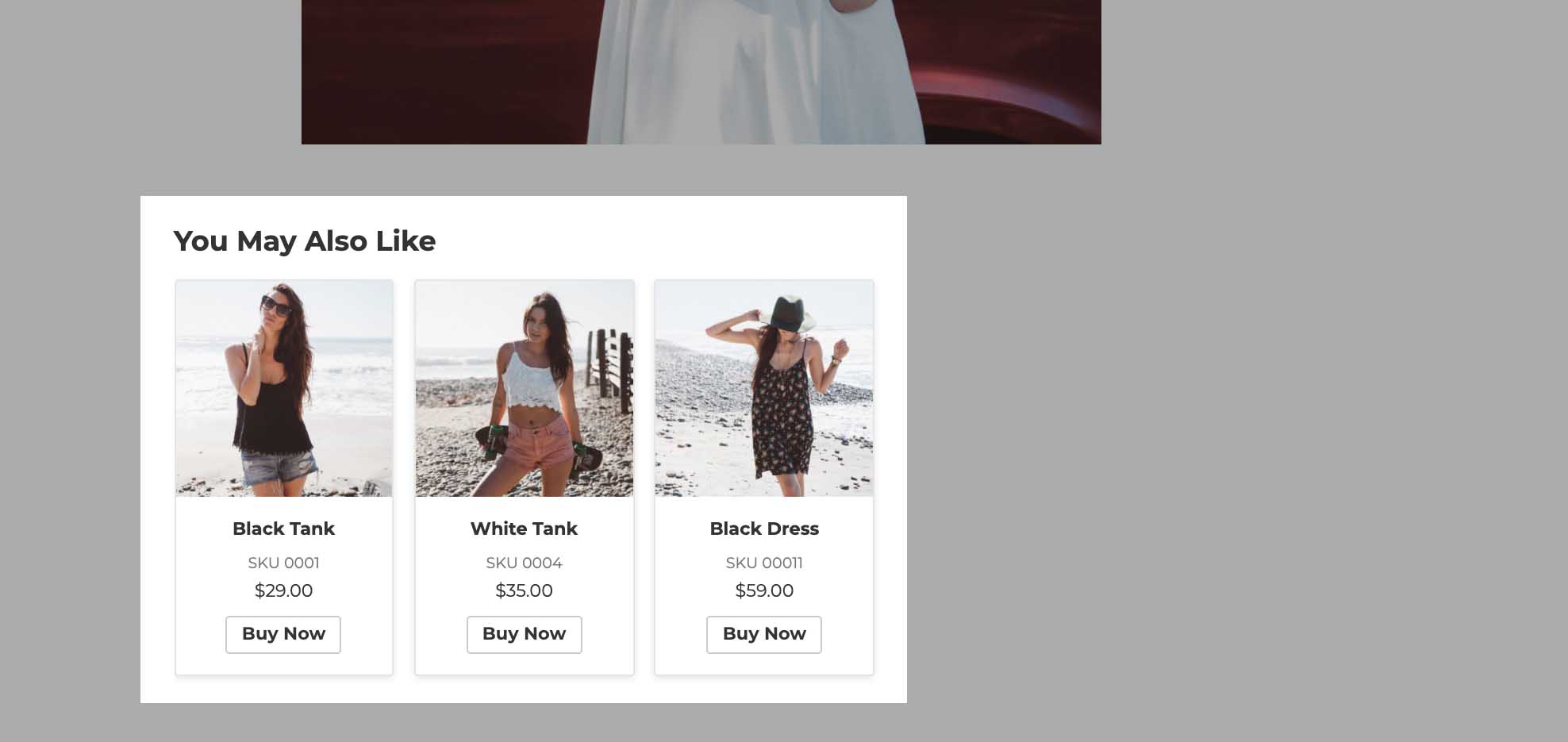 Another smart way to make your customers spend more is by setting a minimum purchase amount. For instance, you can set up a minimum cart total of $50. If a customer purchases below that amount, you can display a popup that notifies them to add additional products to fulfill the minimum cart requirement. You can enable this by navigating to Settings → General → Cart & Checkout → Checkout Settings.
8. Ecwid Analytics Reporting
Ecwid does not have an in-built analytics and reporting system. You need to integrate with the following third-party apps to access your store's performance:
Integration with Kiliken – Tracks real-time conversions, product, category sales, time-to-purchase, and store revenue.
Integration with MonkeyData – Get a clear picture via graphs and detailed reports on your sales, customers, and products.
Integration with Google Analytics – Get access to advanced reports and statistics by setting up Google Analytics ID in your store.
Besides these options, you can also view meaningful stats on your Ecwid mobile app, and lots of reporting apps are available on its app store.
Ecwid Review: Integrations
Ecwid offers a reasonable set of integrations under multiple categories: Marketing, Store Design, Accounting, Shipping, Catalog & Order management, Analytics, Customer support & Rewards, and Tools.
It even supports integration with several dropshipping suppliers and print on demand platforms like Spocket, Wholesale2b, Syncee, Printful, Printy6, and NextsChain.
Speaking about its one-click integrations with CMS, Ecwid makes online selling simpler for you. It integrates with all popular CMS platforms like WordPress, Joomla, Wix, Weebly, Squarespace, Blogger, Tumblr, etc., and Facebook & Instagram.
Note: To dive deep into advanced functionality, you can use Ecwid's API platform. It enables you to manage store data, add new interfaces to your Ecwid control panel and customize the storefront from an external application.
Ecwid Review: Customer Support
Ecwid provides support options like chat, phone, email, knowledge base, and video guides. If you want to get better clarity on getting started, improve sales or face any issues related to your account, you can visit their help center.
You must note that the phone support is available via call-back requests made in chat. The scheduled timings are from 2 pm to 10 pm PDT (Monday to Friday). However, chat and email support are available for 24 hours from Monday to Friday.
Keep in mind that there are no customer support options available for the free plan. Only by upgrading to the paid plans (Venture plan), can you get access starting from chat support.
Ecwid Review: Pricing Plans
Ecwid is one of the few eCommerce website builders that offer the cheapest pricing plans. It has a free plan which is suitable for anyone new to the eCommerce space.
Its paid pricing plans are based on the number of products you can sell in your store and some advanced feature accessibility. Here's how its pricing plan looks like –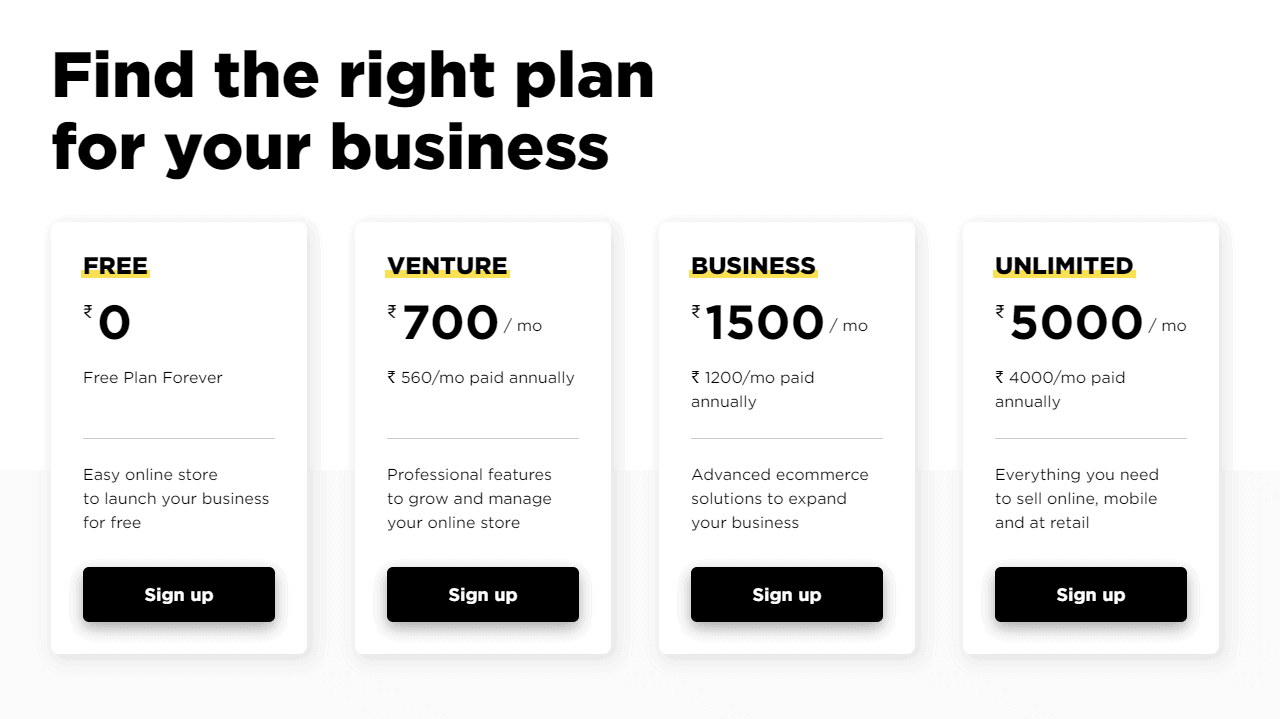 Free Plan – upto 10 products – Build an online store, advertise on different social channels, responsive shopping cart, unlimited bandwidth, selling on multiple sites, etc.
Venture Plan – starts at $15/month & upto 100 products – Sell on FB Shop, Instagram store, mobile POS & apps, sell digital goods, access to advanced SEO tools, inventory management, etc.
Business Plan – starts at $35/month & upto 2500 products – sell on marketplaces, Snapchat advertising, abandoned cart emails, wholesale pricing groups, product filters & variations, etc.
Unlimited Plan – sell unlimited products – Full access to all the features and make use of branded iOS and Android shopping apps.
Further, it doesn't incur any transaction costs, an added advantage. Whichever plan you might choose, it offers integration with all CMS systems like WordPress, Wix, Weebly, Joomla, Weebly, Squarespace, Adobe Muse, Blogger, Tumblr, and much more.
Ecwid Review: Pros and Cons
By now, you must have got a clear idea of how Ecwid helps eCommerce retailers to monetize their business. On that note, let us now view some of its advantages and limitations.
Pros of Ecwid-
Easily add Ecwid widgets to a custom site to help customers look for things
Long-list of marketing and selling features to strengthen customer relationships
Create customizable invoices by uploading the logo, tax ID, and business details
Very intuitive and user-friendly eCommerce platform
Free plan available and zero transaction fees
Create and sell gift cards to boost revenue
Android & iOS mobile apps to manage your store
Cons of Ecwid –
Ideal only for small to medium-sized businesses.
Lack of built-in reporting features.
Lack of customization abilities.
Abandoned cart emails and other essential features are available on higher plans only.
Customer support is not available in the free plan.
Final Verdict – Is Ecwid the best eCommerce platform for you?
Ecwid is a unique eCommerce platform that allows you create a solo online store or add eCommerce features to your existing website with its direct integration with popular CMS platforms like WordPress, Wix, etc.
Ecwid
Summary
Ecwid is designed specifically for small businesses and beginners who want to step into the eCommerce space with a limited budget and not prior experience in website development and management. So, if you are a beginner looking for an easy to use platform to sell good online, you should consider Ecwid.
In a nutshell, Ecwid is the perfect eCommerce platform for you if you are looking for –
A beginner-friendly eCommerce platform for small-sized businesses.
Simple customization abilities.
Seamless integration with your existing website, payment processors, and marketing channels
Want to sell on multiple marketplaces such as Amazon, eBay, and other channels.
If the above pointers match your need, we suggest you to give Ecwid a try and see how it adds value to your business.
I hope this article helped you get a complete overview of Ecwid and helped you determine if it is the perfect platform for your business. If you have made up your mind and want to try Ecwid, you should read our Ecwid Tutorial next to build your store like a pro.