Shopify is one of the best eCommerce site builders that allows you to build and customize your website pages as per your requirements. 
However, creating custom pages can be difficult if you are not a developer. This is where you can use drag-and-drop page builder apps. It enables you to design pages without writing a single line of code.
One such page builder for Shopify stores is GemPages. It is one of the most popular Shopify apps, but the question remains – Do you need it? Is it worth your investment?
In this review article, we will try to help you find answers to these questions.
What is GemPages?
GemPages is a drag-and-drop page builder for Shopify stores. It lets you create visually stunning and optimized pages of all types and purposes.
It is packed with tons of design elements, blocks, templates, sales boosters, and integrations. It is compatible with any Shopify theme and provides access to an extensive library of templates and block elements within a couple of mouse clicks.
GemPages also uses a high-speed CDN to cache content quickly and serve it to your customers across the globe. So no matter how many incoming requests you get, your site will be scalable and responsive.
If you want to explore GemPages while reading this review, you can use the button below to create a free account (no credit card required).
Video Review
Going forward, we will dive deep into all its key features, but if you want to just get a quick overview of its page editors, here's a video review for you –
GemPages Review – Key Features
In this section, we will break down the following key features of GemPage –
Page Builder
Design and customization
Elements library
SEO
A/B Testing
If you are ready, let's get started.
1. Page Builder
GemPages has an intuitive drag-and-drop builder that allows easy and quick customization of pages. You can edit hero banners, images, text blocks, icons, etc., and add a new section/template to improve the functionality further. Especially with the latest AI feature, you can effortlessly build your page by converting images or URLs into editable layouts.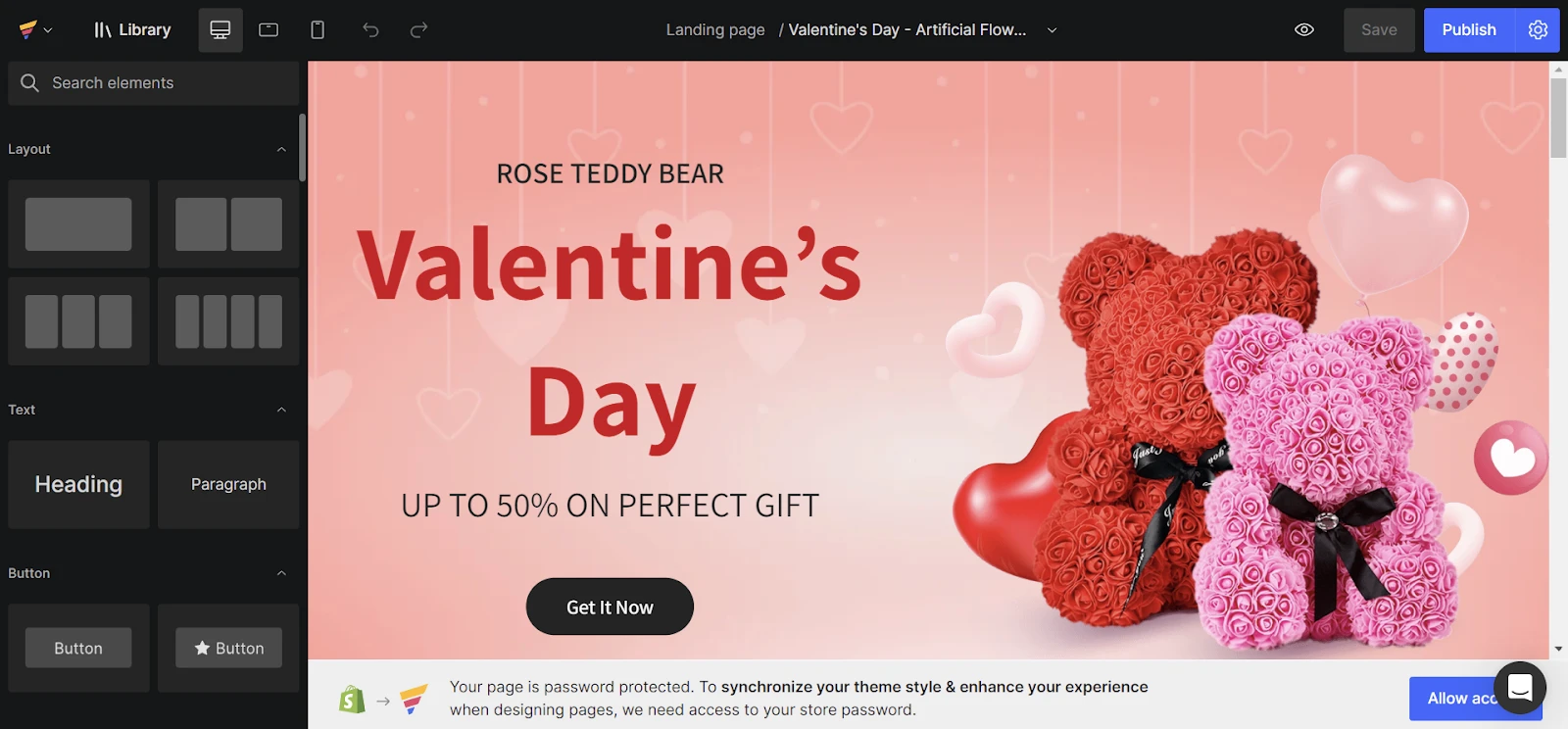 It enables you to build responsive pages separately for mobile, desktop, laptop, and tablet. You can start designing from the desktop view, as the changes made to the desktop design will be applied to all four views, saving you time.
Moreover, with its base element (row), you can create different sections. It will automatically adjust itself and the nest elements to any device type. Once you hit publish, all the changes will go live on your site.
Overall, GemPages has a robust drag-and-drop page builder that eliminates complexity in designing pages. All you have to do is choose a template, add necessary elements, and make it ready to garner conversions.
2. Design & customization
As mentioned above, GemPages has a robust page builder, which gives you complete control over the design and customization of your store pages. With GemPages, you can easily create different types of pages which are as follows –
Landing Pages – Design high-converting landing pages for your Shopify store.
HomePages – Grab the first impression of your visitors by designing attractive homepages.
Product Pages – Create a frictionless product page optimized for high conversions.
Collection Pages – List your products within the collection to help customers find what they want.
Blog Posts – Establish your brand authority by designing incredible blog posts.
Sub Pages – About us, Coming soon, FAQ, etc., to make customers understand more about your brand.
To start creating pages, need to first select the page type from the left sidebar and then you can either choose one of its stunning page templates or start from scratch as shown below –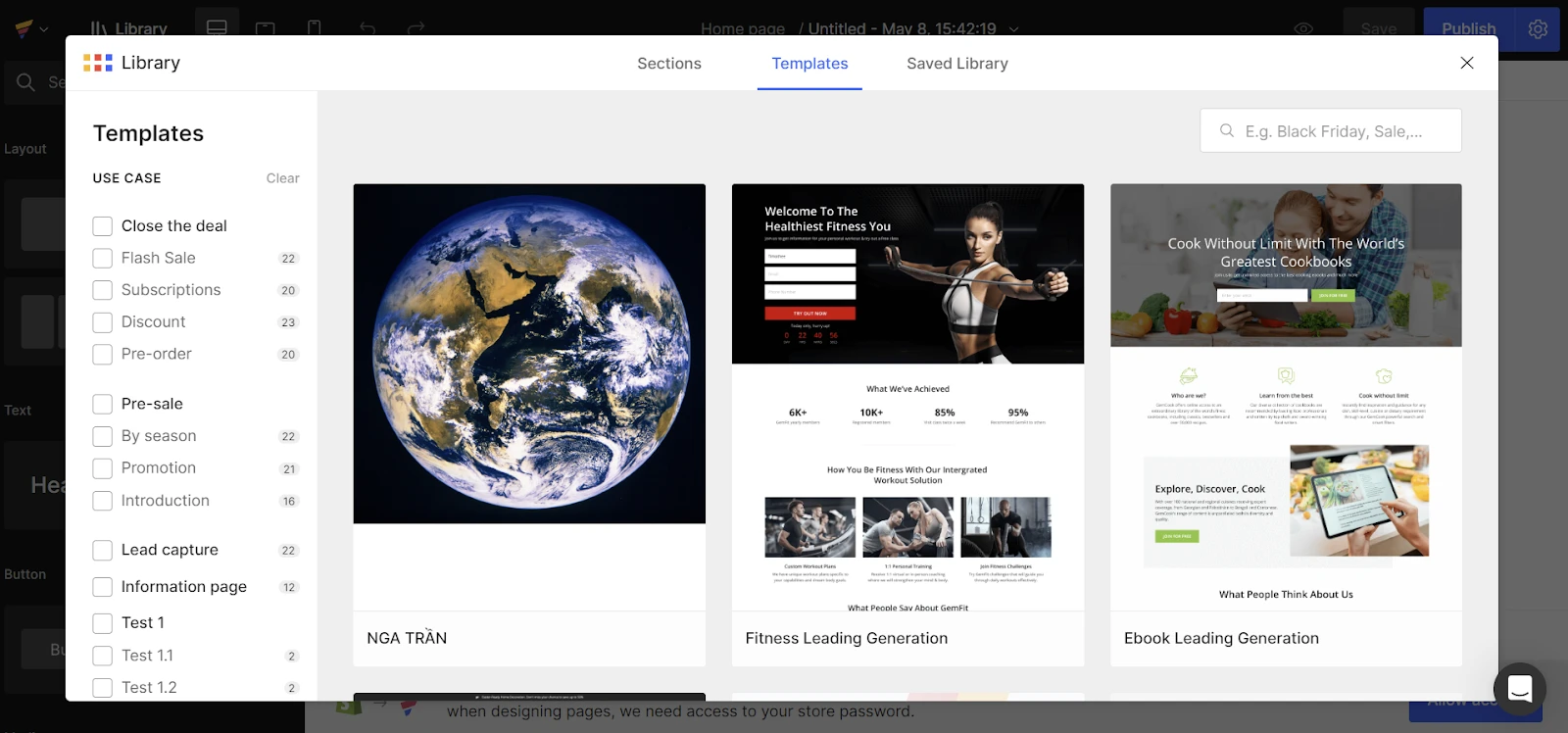 Before picking a template, you can click on the "Preview" to see how appealing and responsive it is. This gives you a better idea of whether a template is perfect for your brand or just starting from scratch.
With GemPages, you don't have to code unless you really need to. It allows you to edit the code of existing page elements or add new codes using the Liquid element. The Liquid element allows you to add Liquid, HTML, Javascript, or CSS codes to customize sections and integrate third-party apps.
Altogether GemPages lets you build optimized pages with next-level design and customization features. You can kickstart your store's campaigns by creating unlimited pages using its core features.
3. The Library
We've been talking about how GemPages enables you to design high-converting pages. This is possible because of its extensive library where you can find all the essential page elements, blocks, and templates to add to your pages.
You can find the Library on the top bar of the page editor, next to the main menu. Click the "Library" button to find the following tabs –
Sections
These two parts contain pre-design page sections and templates that you can directly add to your page and edit as per your need – you don't have to design everything from scratch.
Sections contain pre-designed sections of a page such as FAQ, Product Grid, Coming soon, Testimonials, Footer, Bundles, Categories, Information statements, Social Proof, Blog style, etc.
Templates
Templates are pre-designed pages of different types.It's much easier and faster to create a new page by selecting a template instead of starting from scratch.
Saved Library
Since GemPages allows you to create and save your own templates and sections for reuse on other pages, the Saved Library tab is where you will find them.
Overall, the GemPages Library is one of the best things it has to offer for designers and developers. It saves you a lot of time by providing every element in one place and making it accessible with a single click, rather than making you go to and fro to a different section to find shortcodes of each element.
4. Search Engine Optimization (SEO)
GemPages offers a good range of SEO capabilities to help your pages rank higher on search result pages. To access the SEO settings, click the setting icon on the right side of the Publish button. Choose Publish Settings, and you can optimize your pages for high organic visibility.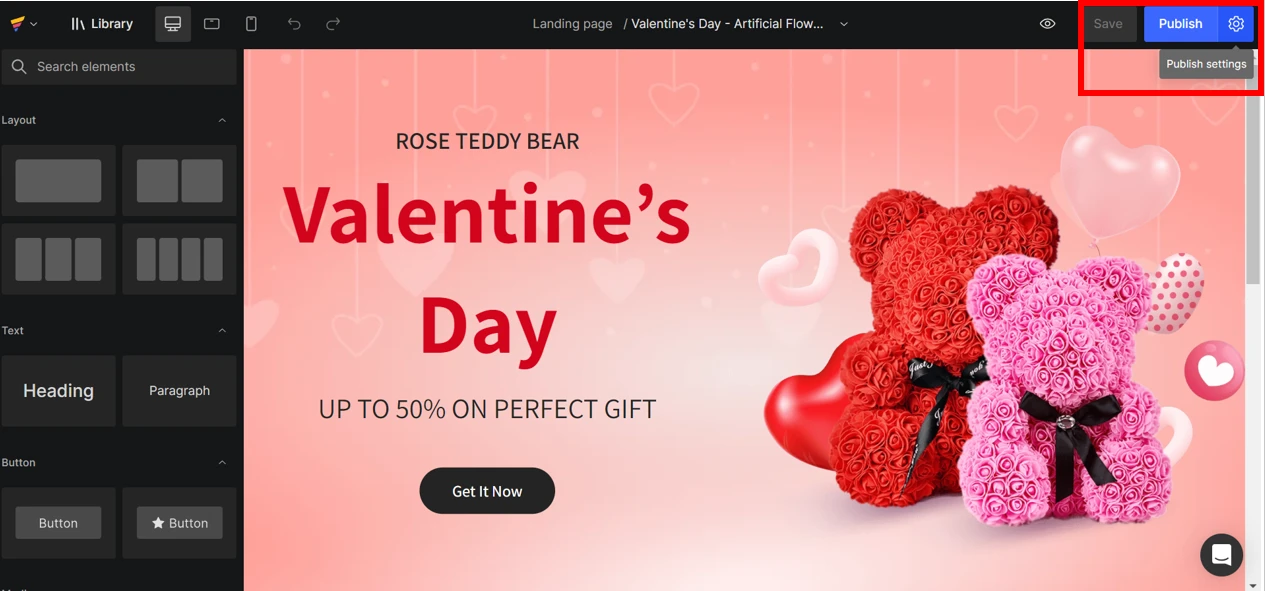 You can edit the SEO page title, view how it appears on the search results, add SEO descriptions, and upload the image for social sharing. It also lets you configure your H1, H2 tags and create alt text for your pictures and hero banner.
Apart from these factors, another critical aspect for high ranking is page loading speed, and to help you with this, GemPages allows you to enable lazy load from the "Advance" options.
5. A/B Testing
A/B testing is one of the best methods to remove the guesswork and optimize page conversions via a data-backed approach. GemPages makes this happen by letting you run A/B testing campaigns.
To begin with, navigate to your dashboard and select A/B testing. Click on 'Create a New Campaign,' enter your campaign title, and click Next.
Select your original & variation pages and click on Create. Once everything is set, you can click on 'Start campaign' to begin the test.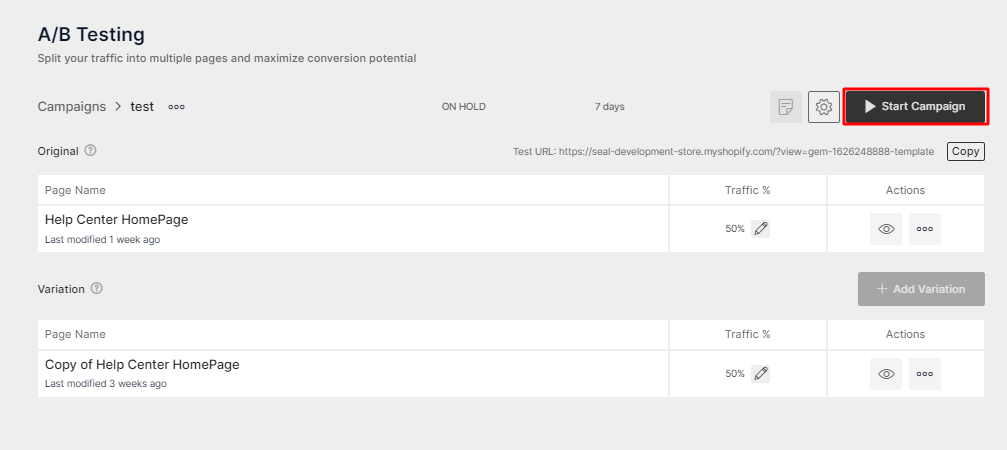 GemPages enables you to configure your test URL, test duration, traffic percentage, action, and campaign status. And, you will have to connect GemPages with Google Analytics to collect the campaign data.
A point to note is that this feature is available only for Business and Advanced plan users. The Business plan allows you to run only two campaigns, while the Advanced plan users can run up to 20 campaigns per store simultaneously.
Gempages Review: 3rd-Party Integrations
GemPages offers integrations in different categories like conversion, store design, marketing, reviews, and merchandising. It integrates with 3rd party Shopify apps that help in boosting sales.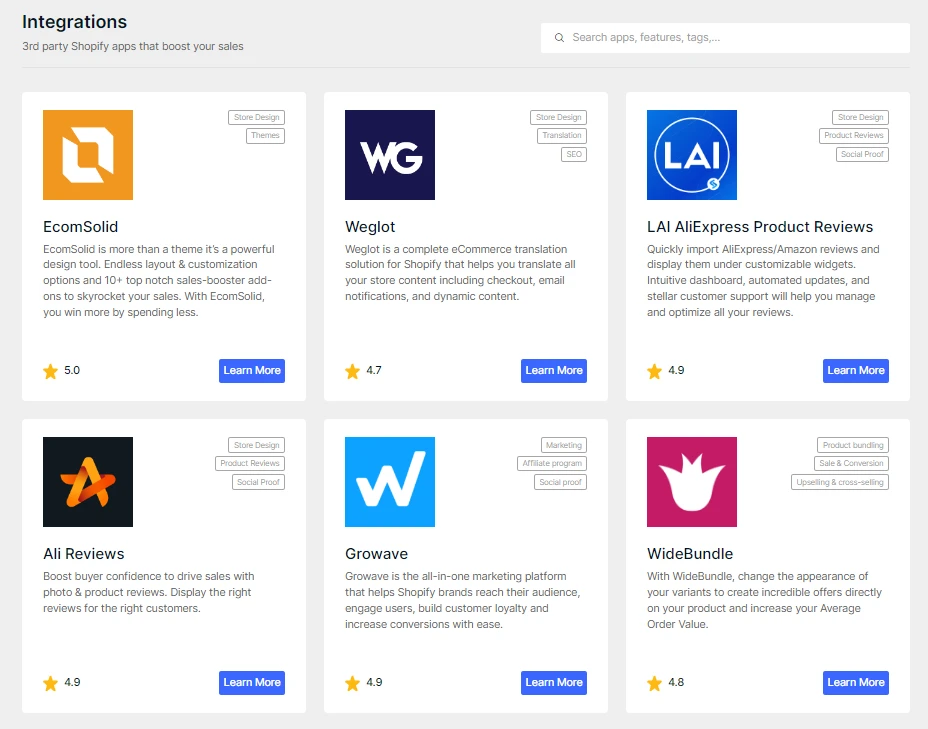 Here are some of the popular Shopify apps supported by GemPages Integrations –
Conversions – Growave, ReCharge Subscriptions, Ultimate Sales Boost, Widebundle, PickyStory, Bold Product Options, Frequently Bought Together, etc.
Store Design – Weglot, Cart Drawer, Ecomsolid, smart & instant search, and integrating apps with the liquid element.
Reviews – Ali Reviews, Judge.me, Loox, Yotpo, Rivyo, Opinew, Stamped.io, and much more.
Merchandising – With this option, you can utilize the liquid element to integrate third-party merchandising apps into your pages.
GemPages Review: Customer Support
GemPages offers excellent customer service by promptly resolving all the issues of its users. You can reach out to the team via the app dashboard, email, and live chat, which is available at the bottom right of the GemPages dashboard, website, and the help center. 
If you need tips, tricks, and user guides related to customization or design, GemPages has tons of resources in its help center and YouTube channel. It also has video tutorials that give you a visual understanding of how to build optimized store pages. 
You can also connect with online sellers through the GemPages community to get frequent product updates or interact with other business owners. Moreover, if you want to report a bug or request a new feature, you can send your feedback which will help them make GemPages better for you.
GemPages Review: Pricing Plans
GemPages has a free plan that allows you to publish one page of any type. The paid plans are designed to match the need of Shopify stores of all sizes. Let's have a look at them –
Build Plan – $29/month, 10 publishable product pages, 20 blog pages, unlimited other page types, and 1 A/B testing campaign.
Optimize Plan – $59/month – Unlimited publishable pages of any type, 20 A/B testing campaigns, and access to free and premium templates.
Enterprise Plan – $199/month – Unlimited publishable page, unlimited A/B testing campaigns, and video call priority support.
The Build plan will readily suit you if you are just getting started. If you are growing and wish to create unlimited pages of different types, then you can go with the Optimize or the Enterprise plan.
You can save 20% on these plans by opting for the annual subscription or using our exclusive GemPages coupon to get 10% off for the first three months.
GemPages Review – Pros and Cons
Now that you know what GemPages offers as a Shopify page builder app, let me throw some light on where it shines and lacks.
Pros of GemPages –
Beginner-friendly drag-and-drop builder
Massive collection of conversion-boosting elements
Templates and blocks can be saved to reuse or export to other stores
Access to custom code editor for advanced functionality
Automatic image compression for faster loading
30-day money-back guarantee
Cons of GemPages –
In-built tracking and analytic reporting features could be helpful
A/B testing is not available in the free plan
Final Verdict – Is GemPages the best Shopify Page Builder App?
GemPages is one of the most versatile Shopify page builder apps that enables even non-tech users to easily create optimized pages. It enables you to create pixel-perfect designs by accessing tons of elements and blocks that convert first-time visitors into potential customers.
GemPages
Customization Flexibility
Bottom line, if you're looking for super-easy, intuitive, and sale-optimized elements to create conversion-friendly Pages on your Shopify store, GemPages would be a perfect choice. With this no-code drag-and-drop builder, you can design stunning pages that smartly communicate with your customers.
I hope this GemPages review gave you an overview of what GemPages is and everything it has to offer. If you've made up your mind to try GemPages, you can use the button above to claim a discount on its paid plans
GemPages – Frequently Asked Questions (FAQs)
Is GemPages Free?
Yes, GemPages is free, but with limited features. It has a free plan that allows only one publishable page. However, it is great to try the app page editor before upgrading it to a paid plan.
How to install GemPages?
Installing GemPages on the Shopify store is just a matter of a few clicks. You just have to head over to the official GemPages website, enter your Shopify store URL, and click on "Get Started for Free." to install and get a 10-day free trial.
Which Shopify theme does GemPages support?
GemPages is compatible with all Shopify themes. You can easily switch between themes, as the Gemeditor can work well with any selected theme.

How many pages can you create with GemPages?
You can create unlimited pages with GemPages. However, with its Build plan, you can create any three types of pages out of the 6 different types – landing pages, homepages, product pages, collection pages, blog posts, and miscellaneous pages like FAQ, About us, Coming soon, etc.