Looking for customer service software for your eCommerce site? Wondering if Gorgias is the right tool for you?
You have come to the right place. In this article, I will break down every aspect of Gorgias and help you experience it from my perspective. By the end of this review, you'll be able to decide if Gorgias is the right fit for your business.
Also, if you want to explore Gorgias along with reading this review, you can use the button below to get a 7-day free trial (No credit card required).
That being said, I highly recommend sticking with me till the end to find out its advantages, limitations, and my personal opinion that can help you make up your mind about it.
What is Gorgias?
Gorgias is an eCommerce customer support software that includes live chat and helpdesk features. It centralizes the incoming requests from multiple channels like email, live chat, phone, Facebook, and Instagram in a single dashboard that lets you proactively respond to all the customer's questions.
It enables you to see your customer's details right inside the helpdesk to facilitate quick interactions. Also, you can automate responses to the most repetitive customer questions like "Where is my order?" by creating rules and macros to increase agent productivity.
Gorgias is a complete helpdesk solution that allows you to manage the entire communication at your convenience. It lets you provide unified and flexible customer service that helps improve satisfaction and pushes sales.
Gorgias Review: Ease of use
Gorgias has an easy-to-use interface that lets you manage all the interactions without hassle. The onboarding process is pretty simple, and you'll be presented with a clean dashboard as shown below: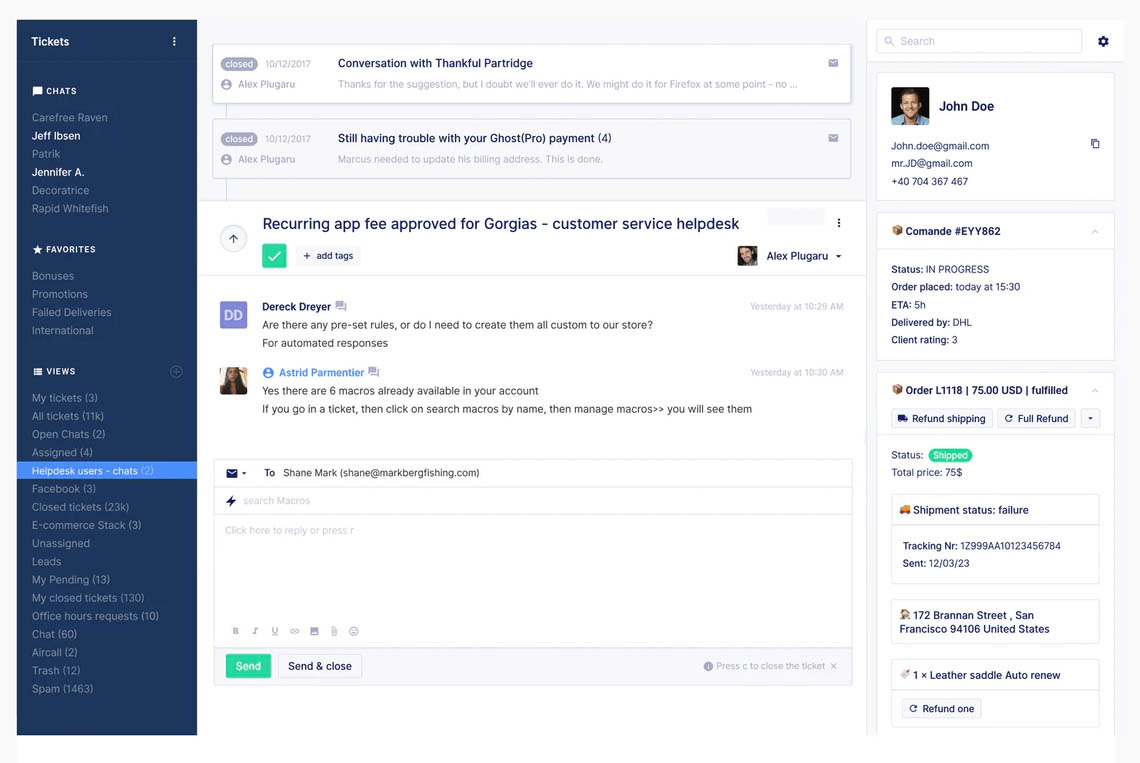 You can connect Gorgias to email, live chat, and social media, and add team members with a few clicks and taps. Also, it displays various options on the left side that give you the ability to handle all the support tickets instantly.
Gorgias allows you to create a ticket, assign tickets to another agent, send one-click replies via automation, set up tags, etc., which help improve collaboration. Besides, you can edit/refund orders, cancel subscriptions, etc., inside the helpdesk with a single click.
Overall, it has a user-friendly interface that lets you fasten up the communication process by pulling eCommerce data directly into your customer responses.
So going ahead, we shall review the features of Gorgias that help you in understanding its potential.
Gorgias Review: Features
In this section, we will go through the following features that Gorgias has to offer –
Live Chat
Ticket Management
Social media interaction
Views
Customer sentiment
Tags and rules
Analytics
1. LiveChat
Gorgias lets you interact one-on-one with your site visitors via live chat. Whenever a visitor/customer interacts with you, a ticket will be opened.
You need to click on 'Connect to live chat' (right side on the interface) → Integration → Add New. Now you'll be presented with a short range of options to embed a live chat widget in your site, as shown below –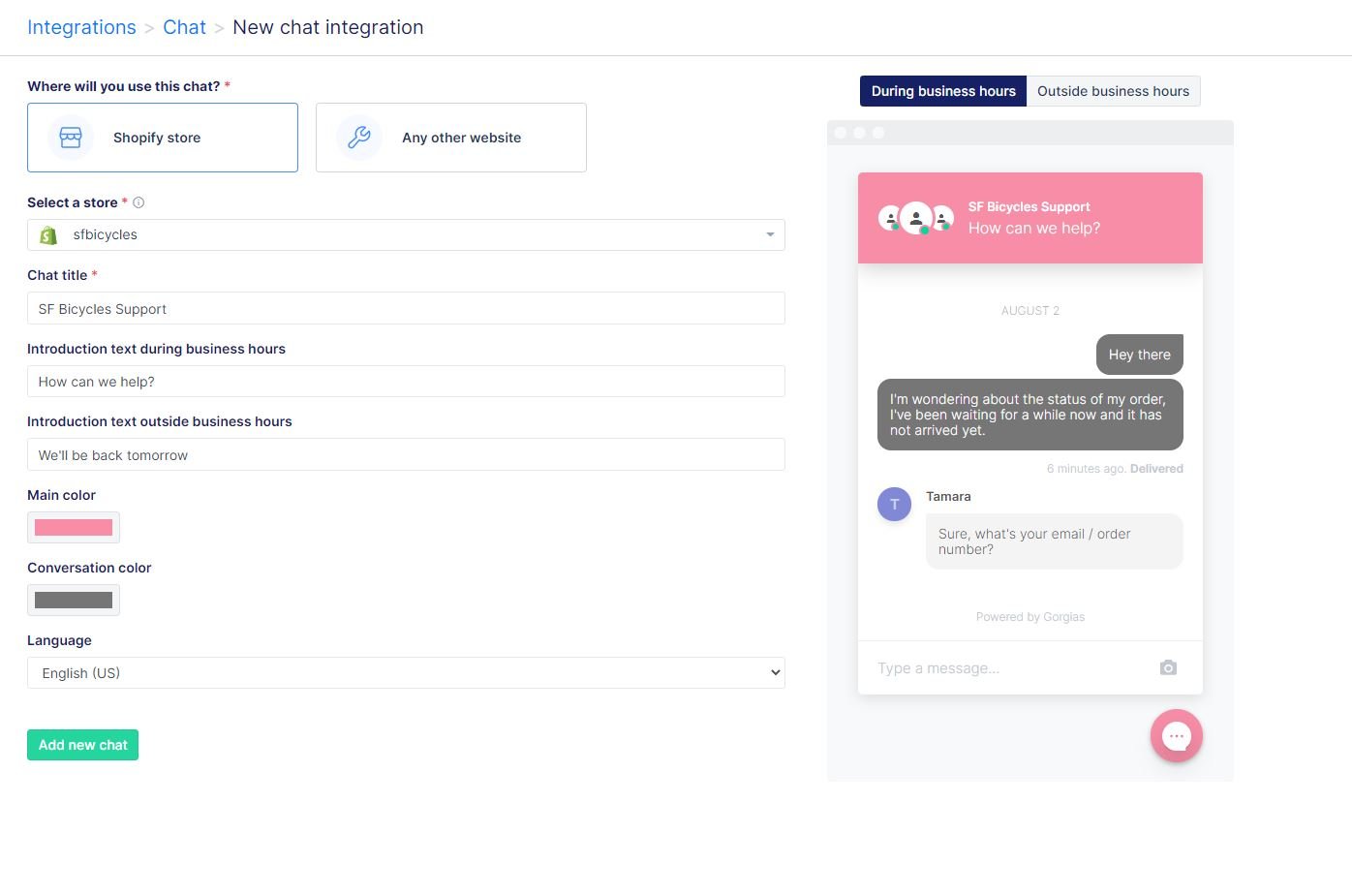 After filling out all options, you can click on add new chat and follow the one-click installation procedure. On the other hand, if you're not using Shopify and want to add a chat widget manually to a particular web page, you can follow the custom installation procedure.
An added advantage to highlight is that Gorgias lets you conduct chat campaigns. With this feature, you can proactively trigger live chat conversations with your customers by suggesting relevant products and improving sales by guiding them to the checkout process.
Note: You are allowed to add multiple chat integrations if you are managing several stores via Gorgias.
2. Ticket Management
Gorgias's ticket management system is robust and lets you quickly organize, prioritize, manage and resolve support tickets. You can also create your own ticket by clicking on the "Create a ticket" option on the top right of your dashboard.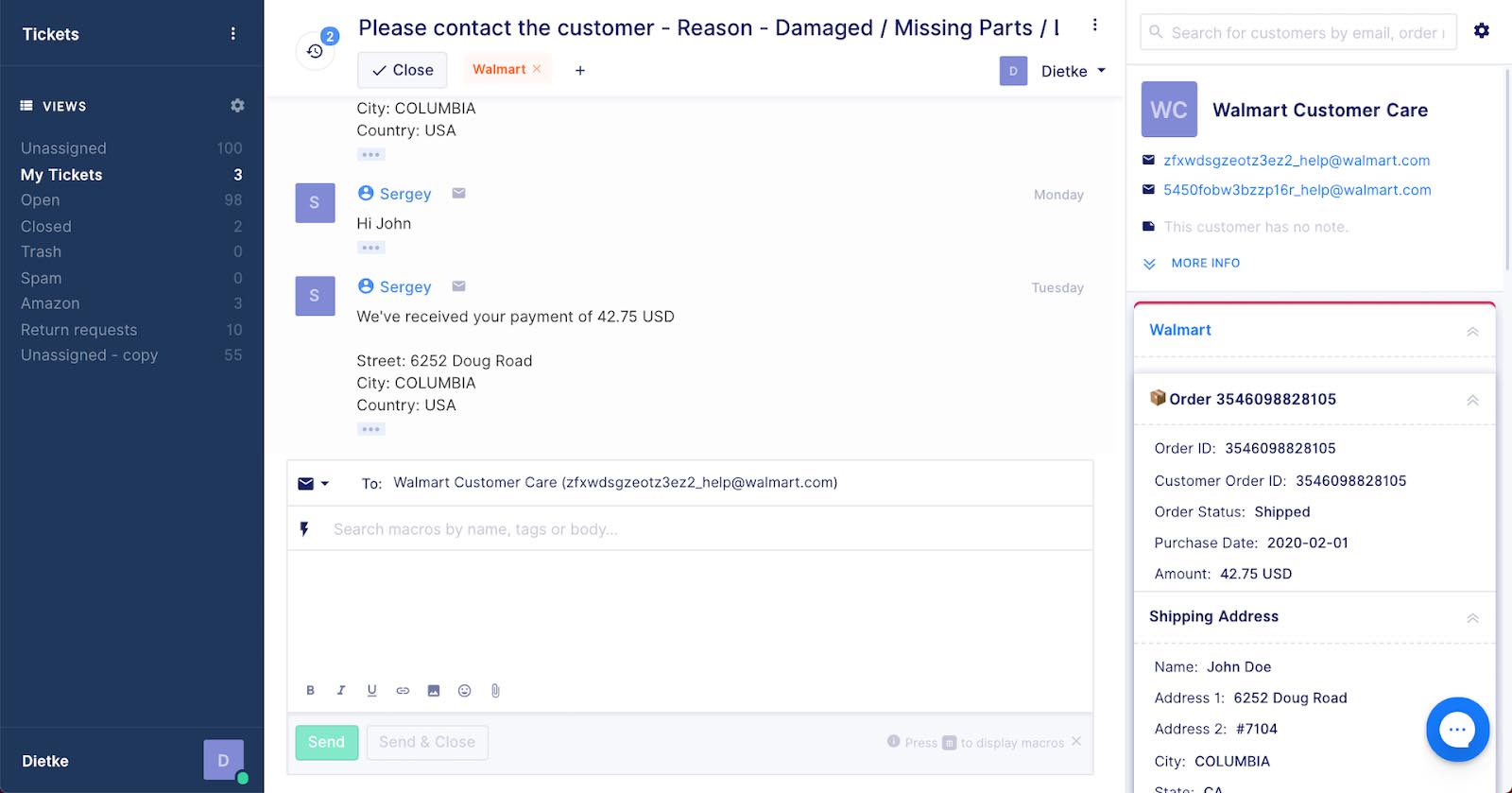 As a first step, you need to enter your customer email address or fetch it from your helpdesk. Next, you can manually type the message body or use macros containing pre-built texts on various categories.
Once everything is over, you can click "send" or "send & close" to close the ticket after it has been sent. Unfortunately, if you exit a ticket by mistake or close it before hitting send, you need not worry. You can view your message saved when you reopen, as it is internally stored on your browser.
Now that you know about creating a ticket, let us have a look at other important ticket management features to improve your routine workflow –
Snoozing the ticket – Reopen the ticket again if the snooze time interval expires or if your customers respond before the snooze interval.
Merge ticket – If you deal with the same customer with multiple issues, you can merge them to avoid redundancy. Also, remember that once it is merged, it cannot be undone.
Checking ticket events – To check how a specific ticket got triggered or closed, you can check the ticket events. With this option, Gorgias uncovers the current ticket status, rules, how/when the ticket was assigned, etc., which gives you a brief idea.
Thus with all these ticket management capabilities, you can effectively manage all the incidents from the moment they are captured till they get resolved.
3. Social Media Interaction
With brands heavily moving towards social commerce, Gorgias helps you leverage this aspect by responding to all social comments by connecting your helpdesk.
You can connect your Facebook and Instagram accounts and reply instantly to your post comments, ad campaigns. The best part is that you can reply directly via Messenger without leaving your Gorgias dashboard.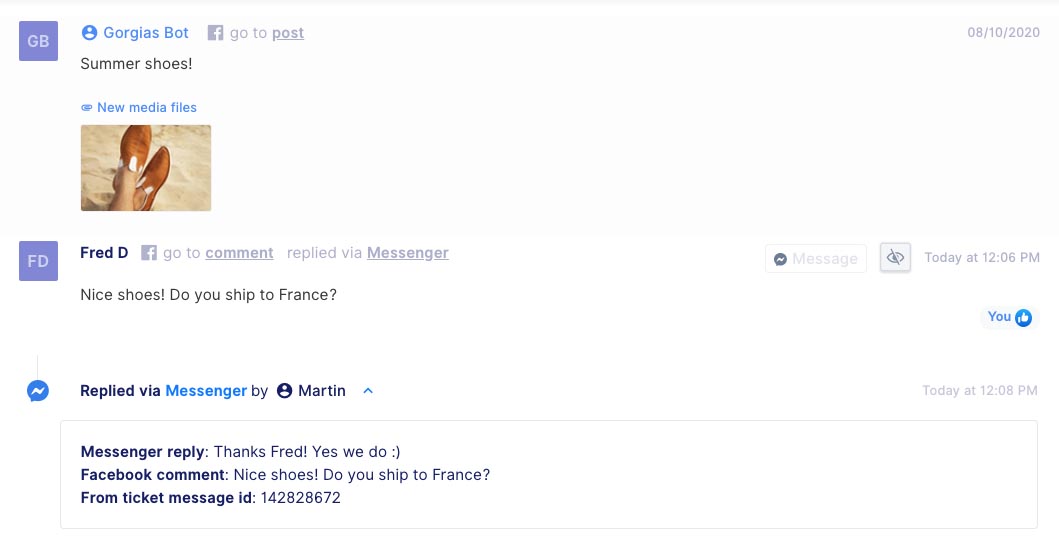 In addition to this, Gorgias lets you receive and respond to Facebook mentions. Every time when an individual or a page mentions you on Facebook, a ticket will be created. You can then reply as a comment or like the existing comments in the thread.
To further extend the potential, Gorgias lets you create rules to automate certain activities on Instagram. For instance, you can auto-close tickets for giveaway posts, auto-tag negative comments, and auto-assign Instagram tickets to your agents.
4. Customer Sentiment
One of the unique features that Gorgias offers is the ability to understand customer sentiment. While having online interactions, it will be difficult to read your customer's minds, but now with Gorgias, you can unlock this magic.
Gorgias currently supports the following types of sentiments –
Positive – Customers exhibiting their positive views about your brand.
Promoter – Customer showing great satisfaction towards your brand.
Negative – Customer having a bad opinion/ dissatisfaction about your brand.
Threatening – The customer intends to take hostile action against the brand.
Urgent – Customer wants to fulfill an immediate need from you.
Offensive – Customer's message contains abusive language.
Gorgias lets you automate all of these customer sentiments by creating a rule. For example, you can create a rule that automatically detects and tags a negative comment that lets you immediately take action to resolve the issue.
Similarly, you can create a long list of rules for identifying other sentiment types to improve customer satisfaction rates.
5. Views (Messages & Emails)
Views in Gorgias are pretty similar to email inboxes. We'll have messages that are opened, unread, etc., in our inbox, right? Gorgias also follows that but except for a few differences.
Gorgias Views are segmented overviews that classify your tickets as open, unassigned, snoozed and closed. A view in your dashboard displays tickets that match certain filters. These filters can be anything like tag, status, integration, assignee, customer, or channel.
For Instance, below is the "Open Ticket" view that displays all the unclosed tickets –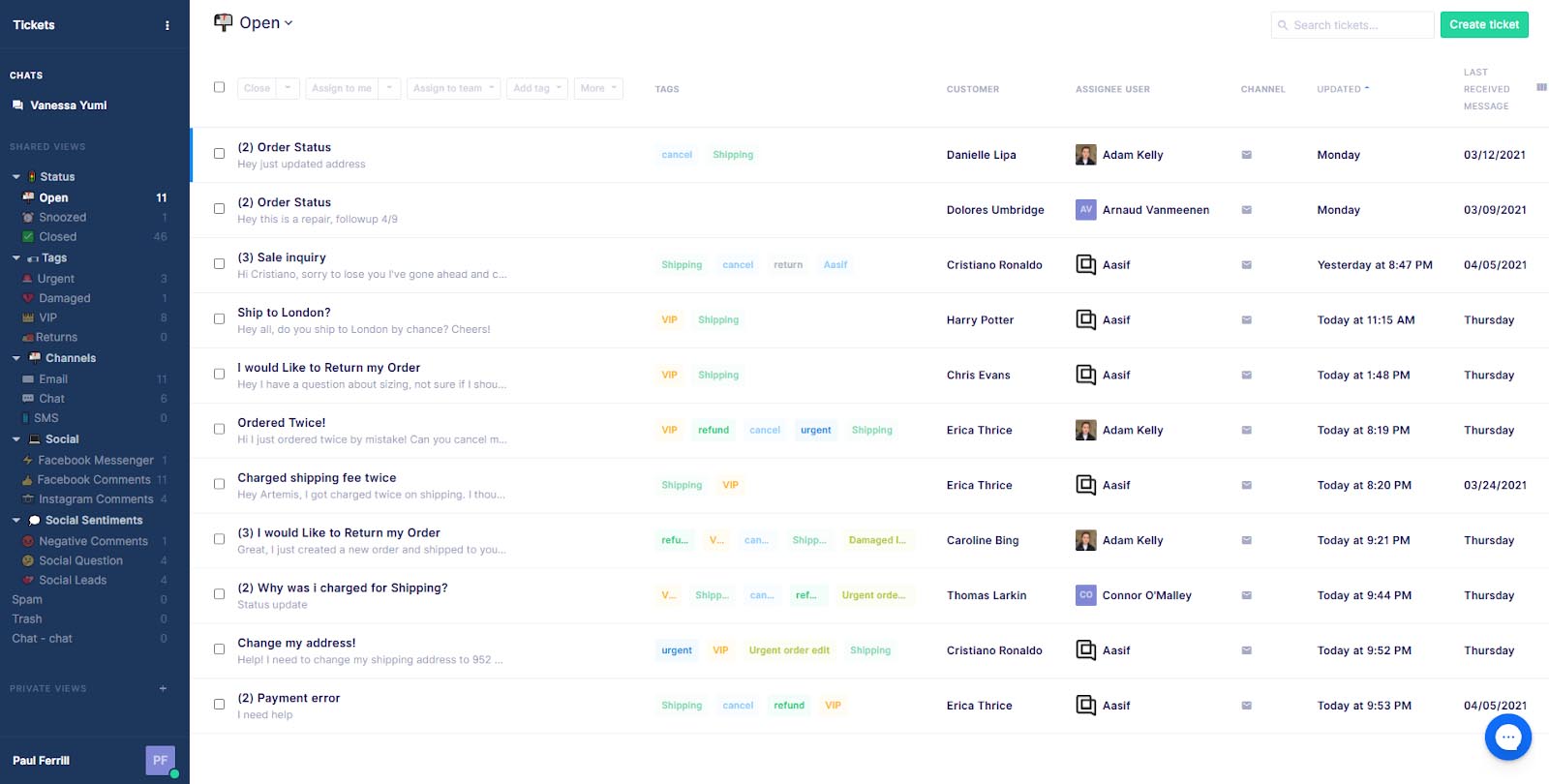 You can create a new view or update the existing view by using advanced filters. Once you save these views, it can be set to one of the following options –
Private View – Only visible to you.
Public View – Visible to all your agents.
Shared View – Visible only to specific people or your teams.
In addition to this, you can easily reorganize the views by simply dragging and dropping them. The changes in the order of the views are visible to all your agents. But note that the lead agents or admins can drag & drop both the shared and private views to re-order them.
6. Tags and Rules
Gorgias Tags let you sort the tickets for easy identification and processing. Rules help in automating your workflow by getting triggered based on certain conditions.
You can consider tags as labels and create them by navigating to Settings → Tags. Similar to tickets, tags can be created, edited, merged, and deleted depending on your support requirements.
Additionally, you can check your tag statistics that show how many tickets have been created during a time period and have a tag associated with them.
Next, speaking about rules, you can use them to automate specific repetitive questions to save time. You can specify the rule's conditions based on 'contains one of' and 'contains all of.'
The 'contains one of' means that there will be an OR operator indicating that you can use more than one keyword. The 'contains all of' means that there will be an AND operator indicating that all keywords must be used.
For example, you can create a rule that automatically sends an email notification to your agent when a ticket has been assigned. Another scenario is to add a tag for VIP customers based on their order spent in your store.
Likewise, you can create custom rules that let you delve into the "set-and-forget" mindset to improve productivity.
7. Analytics
Gorgias enables you to measure the impact of your customer service in a 360-degree view by considering all important parameters.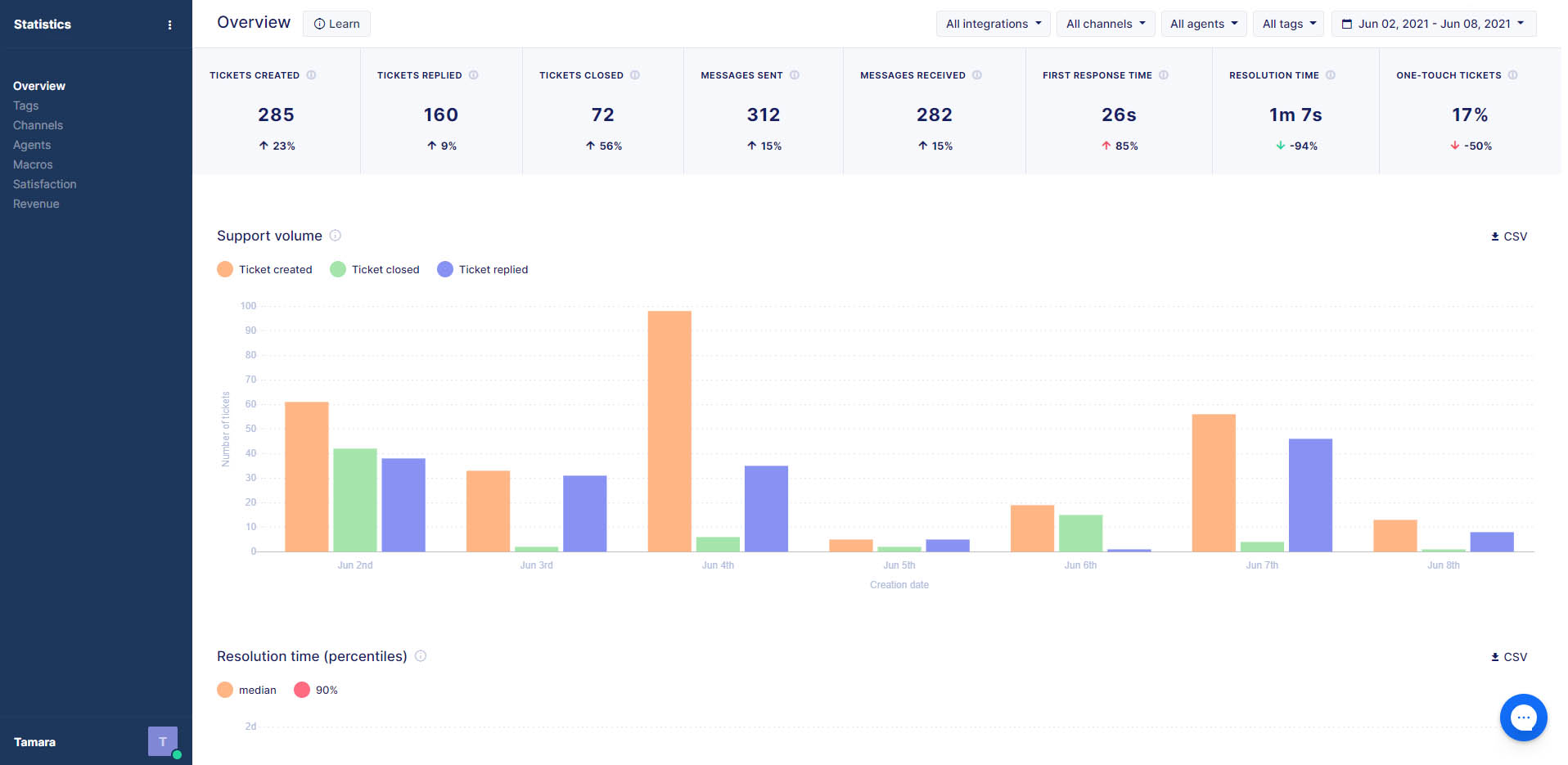 The Analytics part can be divided into three sections –
Live Statistics – Overview and Agents
Support Performance – Overview, Tags, Channels, Satisfaction, Agents, and Revenue.
Automation – Overview, Macros, and Intents.
Now let us break down the different metrics that are associated with each section.
Live Statistics –
Number of agents online/offline
Assigned and Unassigned open tickets
Number of tickets created, replied to by agents, and closed today/hour
Tracking agents in real-time. (available in advanced plans)
Support Performance –
Performance Overview – number of tickets created, replied to, closed, messages sent/received, first-time response, resolution time, and percentage of tickets closed only with one response. (apply filters)
Tickets that are created per tag
Tickets that are created per channel per day
Tickets closed per agent per day
Customer satisfaction metrics
Track revenue generated per agent ( upgrade to higher plans)
Automation –
Percentage of customer interactions automated with Gorgias automation capabilities
Number of customer interactions automated by channel
Analyzing where your customer interactions come from, if automated, identifying from which channel they have come
Messages sent per macro
Most common intent detected intents detected per day and intents occurrence on tickets
This is a whopping list of customer service statistics that genuinely lets you improve your flywheel by optimizing support tasks. With these metrics, you can seamlessly identify the barrier elements and remove them for increasing your growth and success deliverability.
Gorgias Review: 3rd-Party Integrations
Gorgias offers tons of integrations in different categories like email, marketing, social media, chat, voice & phone, eCommerce, shipping, SMS, rewards/reviews, subscription, and the list goes on.
In the eCommerce space, it supports seamless integration with Shopify, Magento 2, and BigCommerce. Other popular integrations include Facebook, Messenger, Instagram, Gmail, Omnisend, Slack, etc. that amplify your customer support functionality.
Besides, it also provides integration with knowledge base platforms like help docs to assist customers with flashing responses. Nevertheless, the Gorgias team is keenly working on adding much more apps to facilitate ease and flexibility.
Gorgias Review: Pricing Plans
Gorgias comes with four major pricing plans, and they differ based on your monthly ticket volume. The pricing breakdown is as follows –
Starter Plan – $10/month, up to 50 monthly tickets
Basic Plan – $60/month, up to 350 monthly tickets
Pro Plan – $360/month, up to 2000 monthly tickets
Advanced Plan – $.900/month, up to 5000 monthly tickets
Enterprise Plan – Custom pricing – Contact sales team
All the plans include unlimited users, social media integration, live chat, up to 150 integrations, and macros & rules.
You can access Magento integration, satisfaction survey, chat campaigns, team management, and phone calls on upgrading to higher plans. However, you will need to upgrade to the advanced plan to view the revenue statistics and and other analytics reporting.
Note: If your monthly ticket volume exceeds the mentioned limit, there is no need to switch to the next highest plan. Instead, you need to pay extra dollars to get an additional 100 tickets to manage incoming requests.
Gorgias Review: Pros and Cons
By now, you know everything that Gorgias has to offer. So, based on my experience, here are the advantages and limitations of Gorgias that you should know.
Pros of Gorgias –
Best suited for all types of businesses.
Out-of-box automation capabilities.
Enable easy access to all tickets.
Instant navigation and tons of integration options.
Filter social media comments for the hottest leads, negativity, and questions for effective prioritization.
Excellent customer support 24×7 via live representatives.
Cons of Gorgias –
Suitable for medium-sized eCommerce store owners.
You need to pay an additional amount if you override the monthly ticket limit.
Revenue statistics are available only on advanced plans.
Final Verdict: Is Gorgias worth it?
From this comprehensive review, you would have understood how Gorgias helps in improving your customer service aspects. It is an all-in-one customer experience platform that assists independent merchants in delivering exceptional customer service by automating every task.
On the whole, I would recommend Gorgias to anyone who wants to avoid the following major pain points in customer service –
Logging to multiple platforms separately to respond to your customers
Constantly sending out the same monotonous reply 100 times a day sucks your precious time
Not able to track your agent productivity deeply
Having only fewer integrations with your existing customer support platform
Difficulty in accessing your customer data to know their current status
Want to reduce customer support costs to boost efficiency
By using Gorgias, you can effortlessly get rid of these tiring problems. It offers faster response times, excellent automation and deeper analytics, etc., within a flash. It is a game-changer to elevate your customer service.
If you haven't signed up yet, I highly recommend you to create a free account now and try it yourself with its 7-day free trial. Again, no credit card is required for the trial.
I hope this article gave you a complete overview of Gorgias and helped determine if it is the perfect customer service software for your online store. If so, you may want to connect with us on Twitter and Instagram to stay updated with the latest tips, guides, and reviews.