As a Shopify store owner, you practice several marketing activities from SEO to Social media marketing to reach your target audience and drive them to your store. But the reality is that not all of them convert into paid customers – However, you can ensure a higher conversion rate by offering features that allow them to engage and spend longer time in your store.
Growave is one of the potential solutions that offer essential features like loyalty reward programs, wishlists, social login, and Instagram Shoppable Gallery. Such features can help you boost conversion and the retention rate for your store.
It has been one of the popular apps among Shopify merchants. So, in this article, we will be reviewing Growave to see how useful these features are and if it is the right tool for your store.
By the end of this review, you should be able to decide if Growave is the right fit for your Shopify store, or if you should be looking for another solution.
Ready to dive in? let's get started.
What is Growave? – An Overview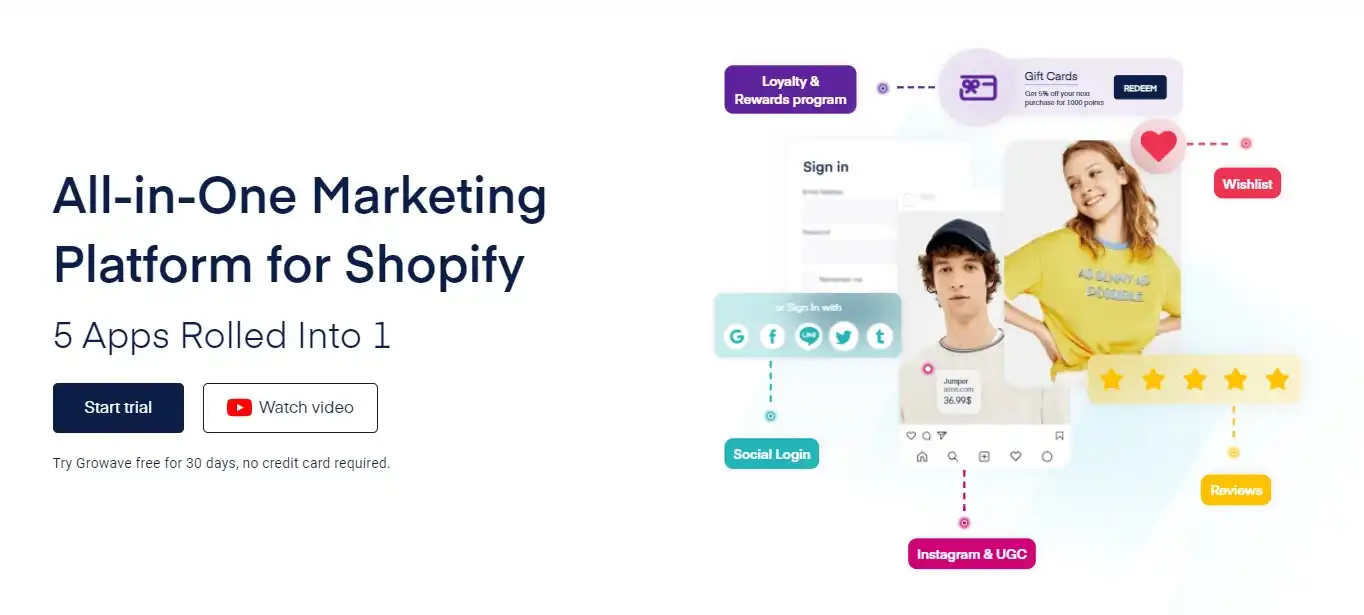 Growave is an all-in-one marketing tool for Shopify merchants that includes loyalty, reviews, wishlists, social login, and Instagram under one dashboard. It is the only Shopify app that has reviews, loyalty, and UGC in a single app.
Using Growave, you can implement loyalty programs, boost credibility via reviews, bring back customers by sending wishlist emails, launch shoppable Instagram galleries, and enable one-click easy login.
In the next section, I will break down all of its features and everything you need to know about Growave to make your decision.
So, if you want to explore this app along with reading this review, you can install it on your Shopify store using the link below, and you'll get a 30-day extended free trial.
Growave Video Review
If you want to take a video walkthrough of the app, you can watch our video review of Growave –
Growave Review: Features
As mentioned above, Growave comes with plenty of powerful tools and features that can enable you to grow your Shopify store and generate more sales.
In this review, we will look into the following features that the platform has to offer –
Loyalty rewards
Reviews
Wishlists
Instagram Gallery
Social login
Reward Programs
Growave's loyalty and rewards tool helps in creating engaging reward programs for your store. It allows you to create three types of loyalty and reward programs. These are as follows –
1. Point-based Program
With point-based programs, you can reward points to customers for every action they take in your store, and then customers redeem their collected points to earn discounts or other available offers.
Growave allows you to reward customers for every penny they spend on your store and encourage customers to earn more points by taking actions like –
Creating an account
Placing their first order
Leaving product reviews
Sharing pages on social media
Following social media pages
Here's the complete list of earning rules you can use to create a point-based loyalty program –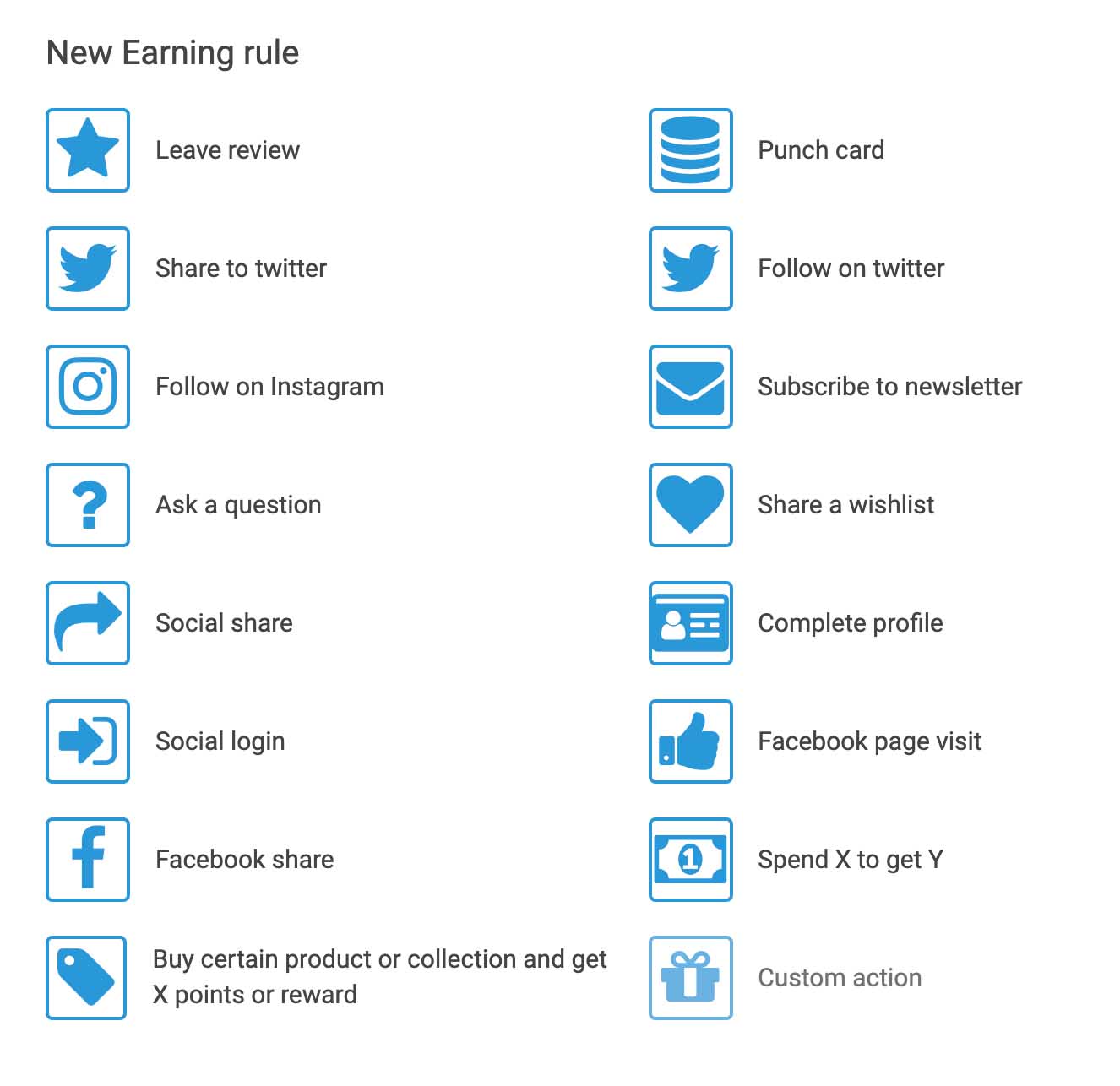 Further, it allows you to run time-limited offers to boost activity in your loyalty program by giving extra points for completing set activities or all the earning rules as shown below –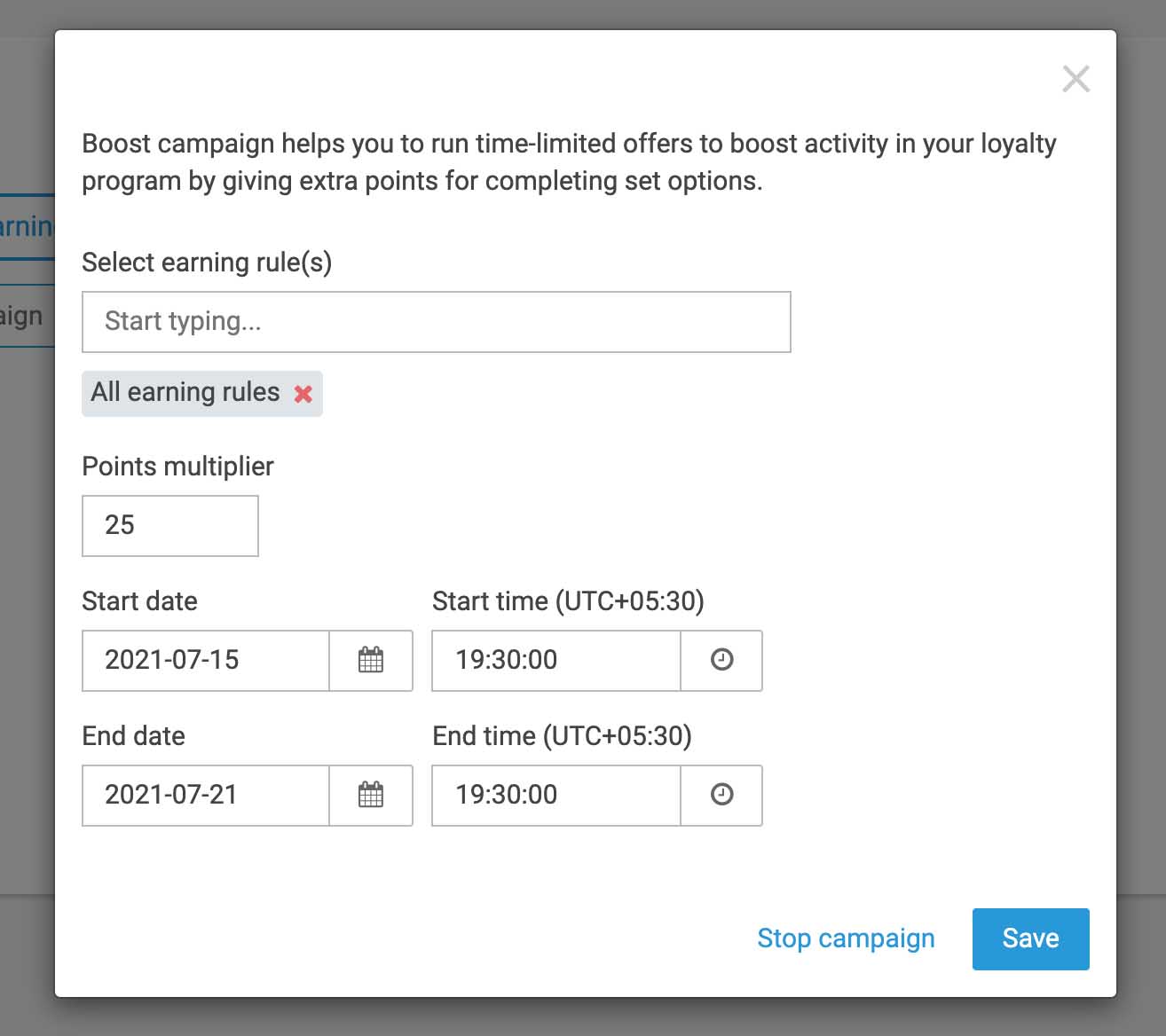 2. Referral Program
Referral Marketing is one of the best ways to monetize word-of-mouth marketing by rewarding existing customers to refer new customers to your store. In exchange, they earn discounts or store points.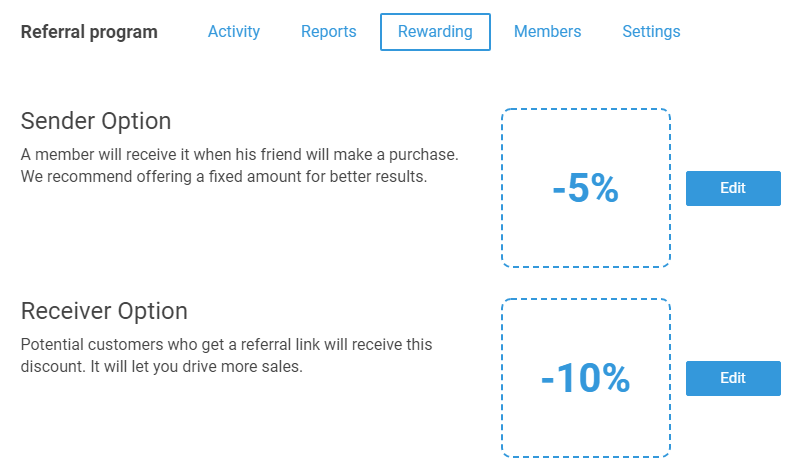 Growave enables you to create one of the best referral programs by providing you with multiple rewarding points to referrers. You can reward them with –
Discounts on their next purchase
Gift cards
Points on every purchase made by referred customers
3. VIP Tier Programs
Gamified loyalty programs are the most effective ones to keep customers engaged and encourage them to shop more to earn more points.
Growave understands this, and thus their VIP Tiers enable you to create rank-based loyalty programs. In such programs, you can set rules to promote loyalty program members to the next level/rank to earn extra rewards.
With Growave, you can create VIP Tiers based on the –
Points earned
Amount spent on store
Number of purchases made
Further, you can reward the achiever with multiplier point rewards, gift cards, discounts, free products, free shipping, etc.
Bottom line? Growave Loyalty & Reward tool enables you to create an amazing loyalty and referral program for your store. It makes it easy to set up rules for rewarding customers with various offers, which is crucial for a successful program.
Product Reviews
Customer Reviews are the most powerful social proof that an eCommerce store can use to build trust and credibility with consumers.
With Growave, collecting reviews and displaying them on your site pages is very simple and easy. It allows you to display reviews on product pages and sliders for other pages.
Growave Review tools come with features that allow you to obtain credibility with your product reviews. They are:
You can allow customers to add product photos with the review.
You can add a custom review form to get detailed feedback and display more informative reviews.
It allows you to mark customers as verified buyers to distinguish spammy or requested reviews.
You can sync the product reviews with Google Shopping and display them on Google search results.
You can also add a Q&A widget alongside the customer reviews on product pages. This allows customers to ask questions regarding the product, which either your team or verified buyers can answer.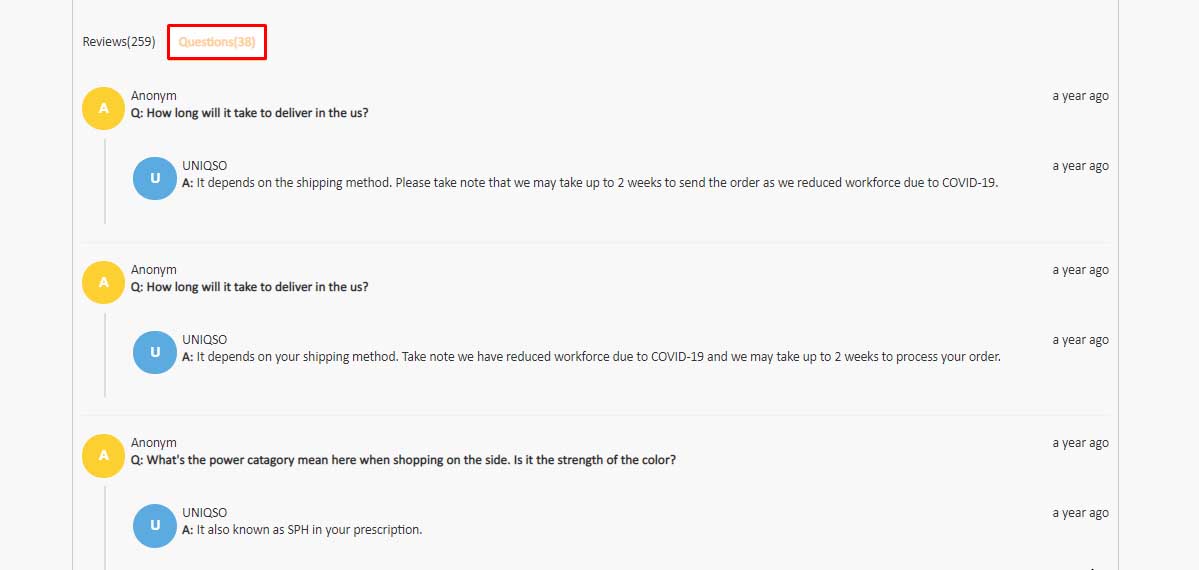 Finally, the most challenging task with reviews is encouraging buyers to come back to the site and leave a positive review. Growave helps you with automatically sending review request emails to the buyers.
Wishlists
Window shopping is one of the most common behaviors of online customers. They visit online stores to check out new products but may not be ready to purchase them right away.
With the Wishlist feature, you can allow such customers to save the products they like, which they may want to purchase later. And as a store owner, you have potential buyers whom you can convert later.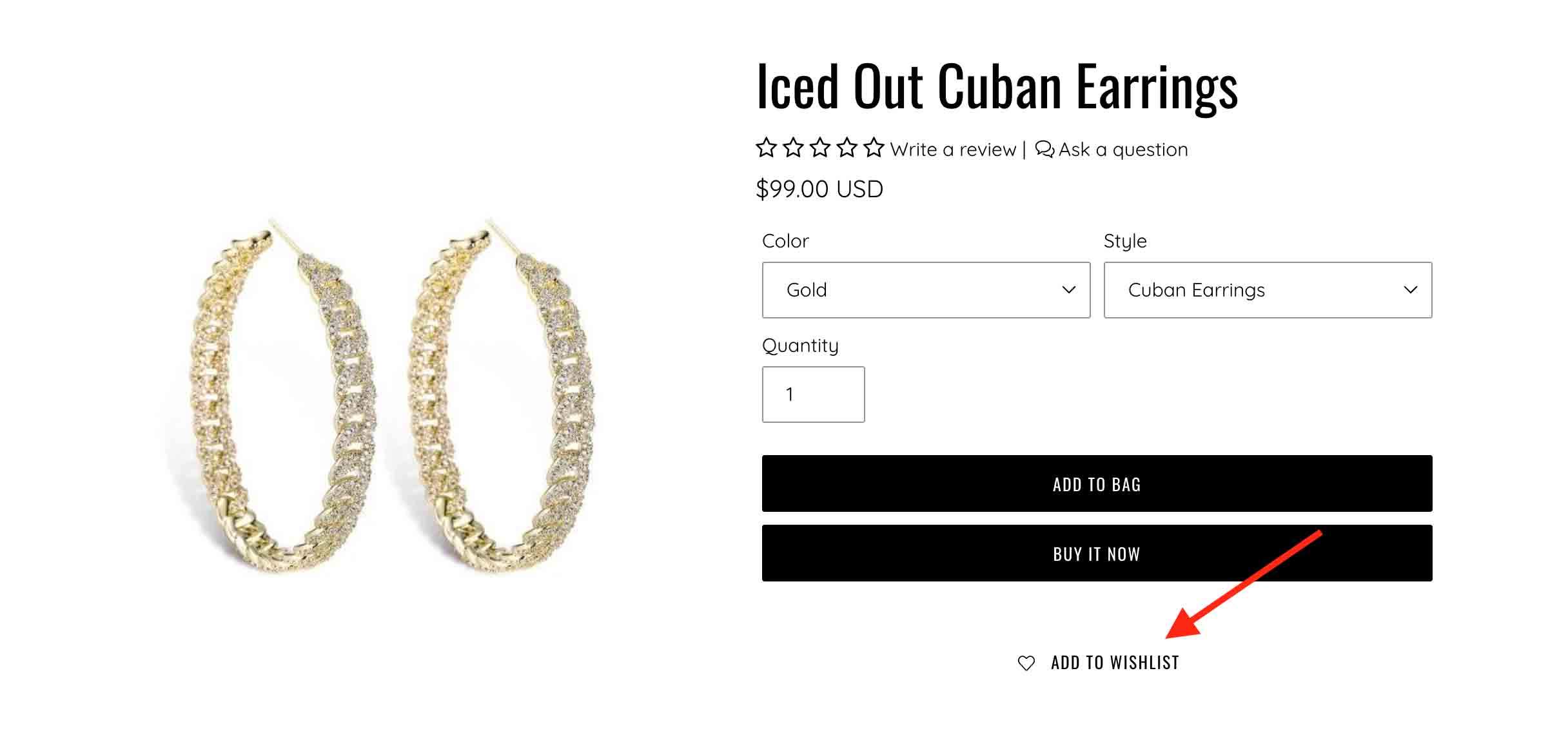 Growave Wishlist Tool makes it easy for you to add the wishlist button on the product pages and icon on the collection pages & homepage. It lets your visitors –
Create wishlists without registration or login
Add product variants to the wishlist
create wishlist boards and
share their wishlist page via social media and email
Once a user adds items to the wishlist, you can automatically send a series of 4 personalized wishlist emails. To trigger your customers' buying intent, you can also include a coupon code along with the wishlists.
Further, Growave automatically sends product updates for the wished items when they are –
On Sale
Back In Stock
Missing Variants Are Available
Running Out Of Stock
Next, when it comes to Wishlist analytics, Growave provides you data on what products were popular among the customers of your store for the past 30/60/90 days as shown below –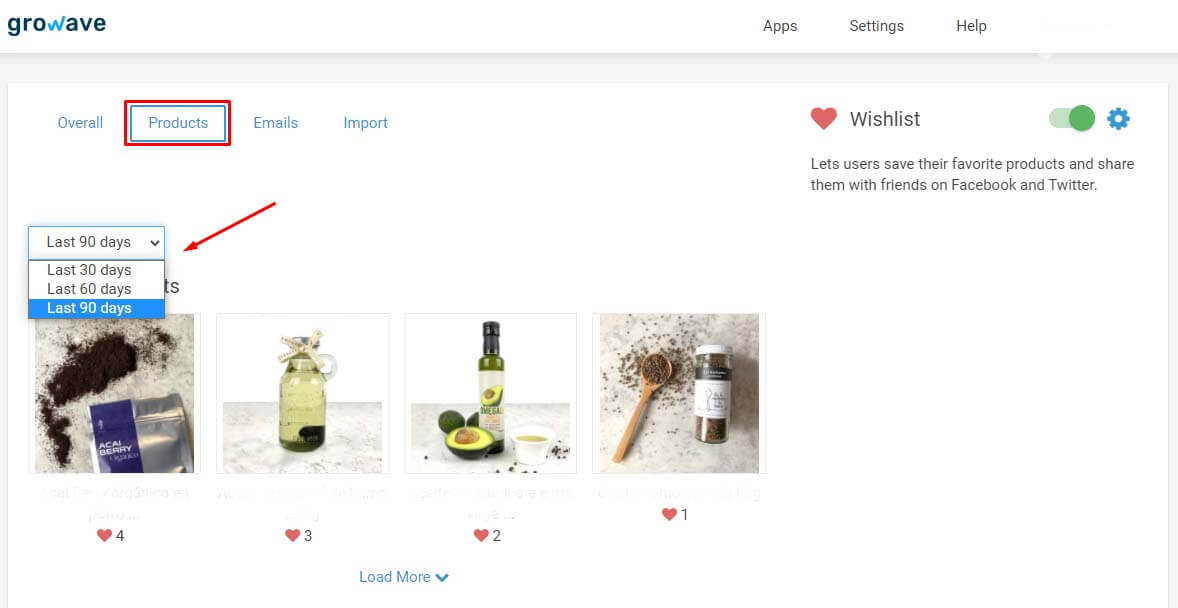 Instagram Gallery
Regarding eCommerce marketing, Instagram is an ideal platform as it allows you to display your product in a visually appealing manner. Growave enables you to turn your Instagram content into stunning galleries and allow your customers to shop directly from the posts.

It allows you to add the gallery anywhere on the store page, from the homepage, and product pages to any landing page using their gallery widget.
The process of creating an Instagram gallery is relatively easy. Once you've connected your Facebook account, you have to select your Instagram account and select photos to display in the gallery.
You can also tag products and link them to the photos allowing customers to visit and buy products right from the gallery.
Social Login
With Growave Social Login, you can allow customers to register and log in to your Shopify store with just one click. It allows you to embed social icons with any form on the store, including pop-ups.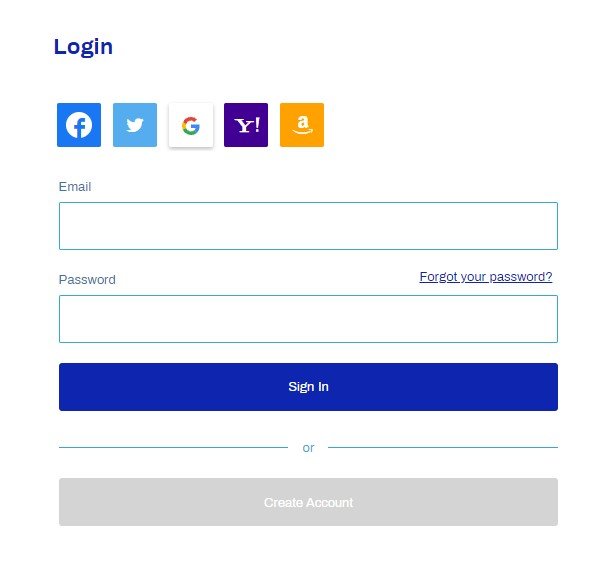 With Growave's social login, customers can use their Google, Facebook, Twitter, Amazon, and other social accounts to create an account or log in without entering their email and other details every time they want to access their account.
Growave Review: Integrations
Growave is a marketing app, and to make any marketing strategy a success, you need several tools synced together to consolidate data and provide a better user experience to consumers across channels.
Fortunately, Growave understands this and provides seamless integration with the most essential Shopify apps you will need to set up your store and run it smoothly. Pagefly, Omnisend, and Shopney are just a few among many apps to mention.
Growave Review: Pricing Plans
Growave pricing plans are designed to suit the needs of businesses of all sizes, from starters to enterprise brands.
The pricing plan entirely depends on the number of orders you can get in your store, and all the features we have discussed above are available with any plan you select.
Here's the breakdown of each plan –
The Starter plan starts at $19/month, allowing up to 100 orders.
The Small plan starts at $29/month, allowing up to 250 orders.
The Medium plan starts at $49/month, allowing up to 500 orders.
The Growth plan starts at $99/month, allowing up to 1000 orders.
The Large plan starts at $199/month, allowing up to 2000 orders.
The Enterprise plan starts at $299/month and, allows up to 3500 orders.
If you are a Klaviyo or Omnisend user for marketing automation, you may need to opt for the Growth plan or above as it provides custom integration from these automation tools.
Moreover, if your store gets more than 3,500 orders, Growave provides you with a custom plan to provide an integration engineer and strategy manager to set up your Shopify store.
Growave Review: Pros and Cons
Now that you know what Growave offers and its capabilities let's see where it shines and where it needs improvement.
Pros of Growave –
The user interface is beginner-friendly.
It can be used with any Shopify theme.
You can quickly import or migrate your existing data to Growave without any complexity.
The onboarding process is very smooth, as you will be assigned a manager to help you with everything you need.
Cons of Growave –
The email editor is very basic and can be further improved to enable advanced customization.
It automatically upgrades your plan to the next higher plan once you reach the order limit of the current plan.
Final Verdict: Is Growave the Right Shopify App for You?
Now, if you have decided and want to go ahead with Growave, you use the button above to sign up now with a 30-day extended free trial with access to all the features.
I hope this review helped you decide whether Growave is the right app for your Shopify store. Next, to help you get started with a loyalty and referral program for your store, here are a few hand-picked articles you should read next –