Wondering if Instapage is the right landing page builder for your business? It is an advanced marketing tool, but is it worth it for you? You will find out in this detailed review!
Instapage is an advanced landing page builder that lets you build conversion-focused landing pages for your marketing campaigns.
In addition to its feature-rich landing page builder, Instapage offers a marketing suite called Advertising Conversion Cloud, packed with personalization and experimentation features.
The Personalization aspects include creating a one-on-one ad page to deliver unique post-click experiences to visitors, and the experimentation part lets you test and improvise your landing pages via A/B testing and meaningful analytics.
In a nutshell, Instapage offers a diverse set of features that enable you to create, personalize and optimize every stage of your customer journey at a massive scale.
Going ahead, I will breakdown every aspect of the Instapage to help you determine if it is the right page builder for your business.
While reading this detailed review, our friends at Instapage have offered EcomSutra readers an exclusive plan at just $89/month with a 14-day free trial if you want to explore the platform.
Instapage Review: Ease of Use
Though Instapage offers advanced features, its user-friendly interface is not as complex as you might be thinking. From the dashboard, you can easily navigate to any of the preferred sections, start working on them and make them go live within a couple of clicks.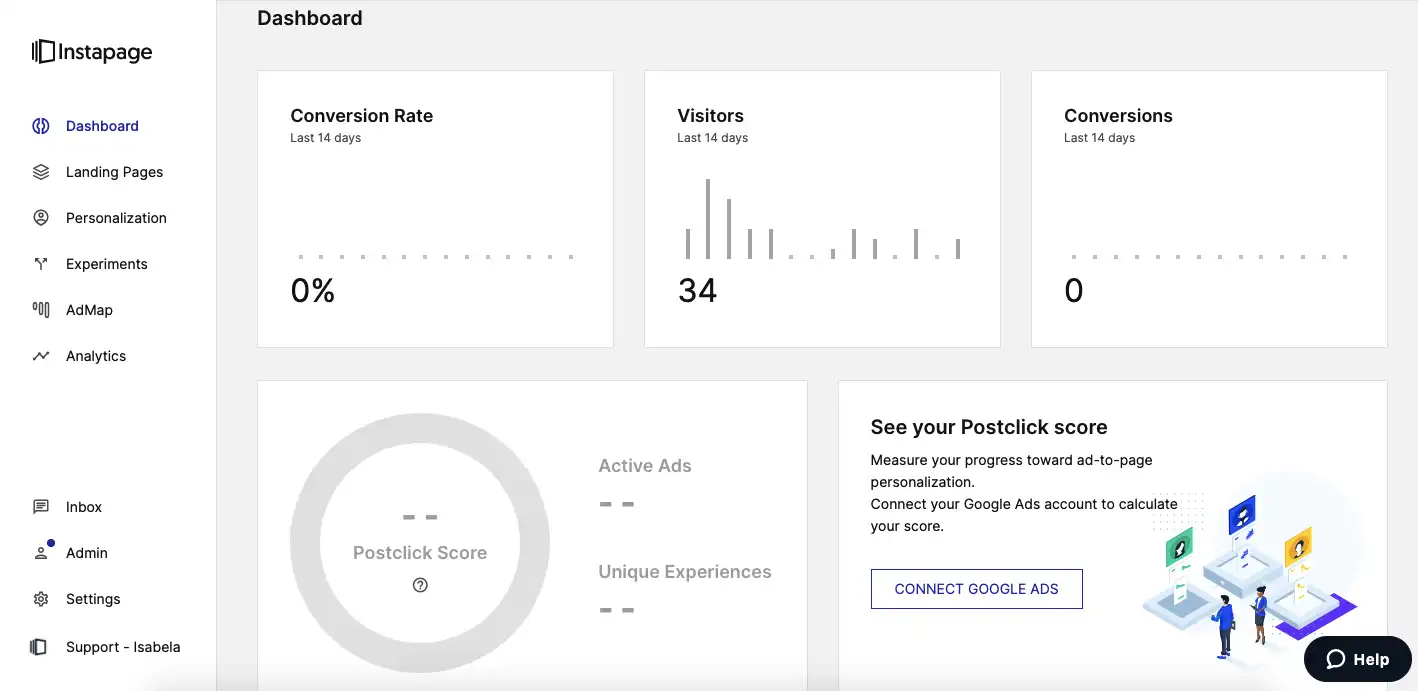 Also, it is one of those fewest landing page builders to enable real-time collaboration. This fastens up editing and modifying landing pages as all the team members can work together simultaneously.
Besides, it also offers different publishing methods for landing pages, including a custom domain, WordPress, Drupal, and demo site. You can also publish pages to as many unique domains for you or your client's needs.
Since Instapage is fully powered by blocks and widgets, you'll never have to use a single piece of code and enjoy building any type of page optimized for conversions as per your requirements.
Instapage Review: Key Features
In this section, we will look into the following features of Instapage –
Landing Page Builder
Popups and Form Builder
A/B Testing
Heatmaps
Ad Personalization
Analytics & Reporting
Landing Page Builder
Instapage offers a fully customizable landing page builder to build optimized landing pages on the go. It lets you design stylish and on-branded pages by giving you hassle-free access to intuitive widgets, 5000 fonts, and over 33 million images.
Let us now view the different range of templates and how Instapage page builder and AMP pages work.
1. Pre-built Page Templates
Instapage offers 200+ customizable templates based on industry and use cases. Whether your goal is to build a landing page for webinars, events, product sales, app/asset downloads, deals, upsell, or whatever, Instapage has a template for everything.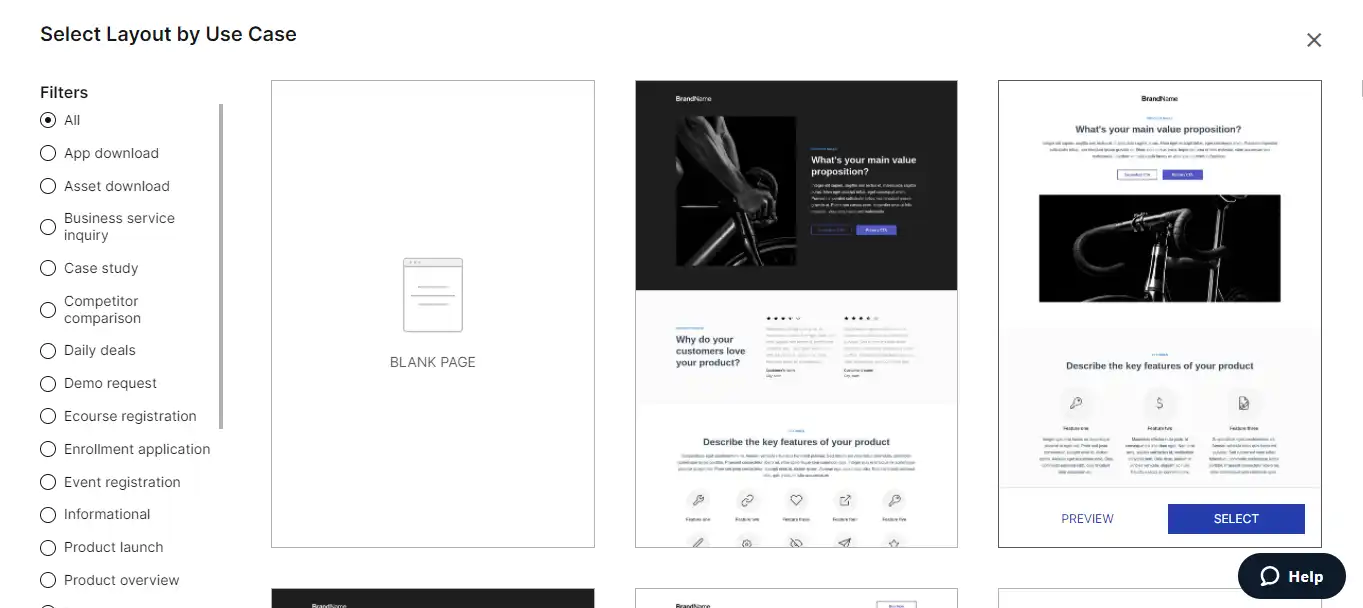 You can start from a blank page or by selecting any pre-configured templates. In addition to this, you can also use different block templates that can be inserted anywhere on your landing pages. Some include CTA, FAQ, footer, logo, pricing, table, quote, and more.
With this vast collection of templates, you can build eye-catchy post-click landing pages without writing a piece of code. Moreover, all the templates are optimized for lead generation, click-throughs, webinars, ebooks, events, and thank-you pages.
2. Page Builder
Instapage's intuitive drag-and-drop builder lets you build responsive landing pages to enhance customer experience. You can easily change fonts, images, colors, backgrounds, and text and create advanced page versions using HTML/CSS or Javascript.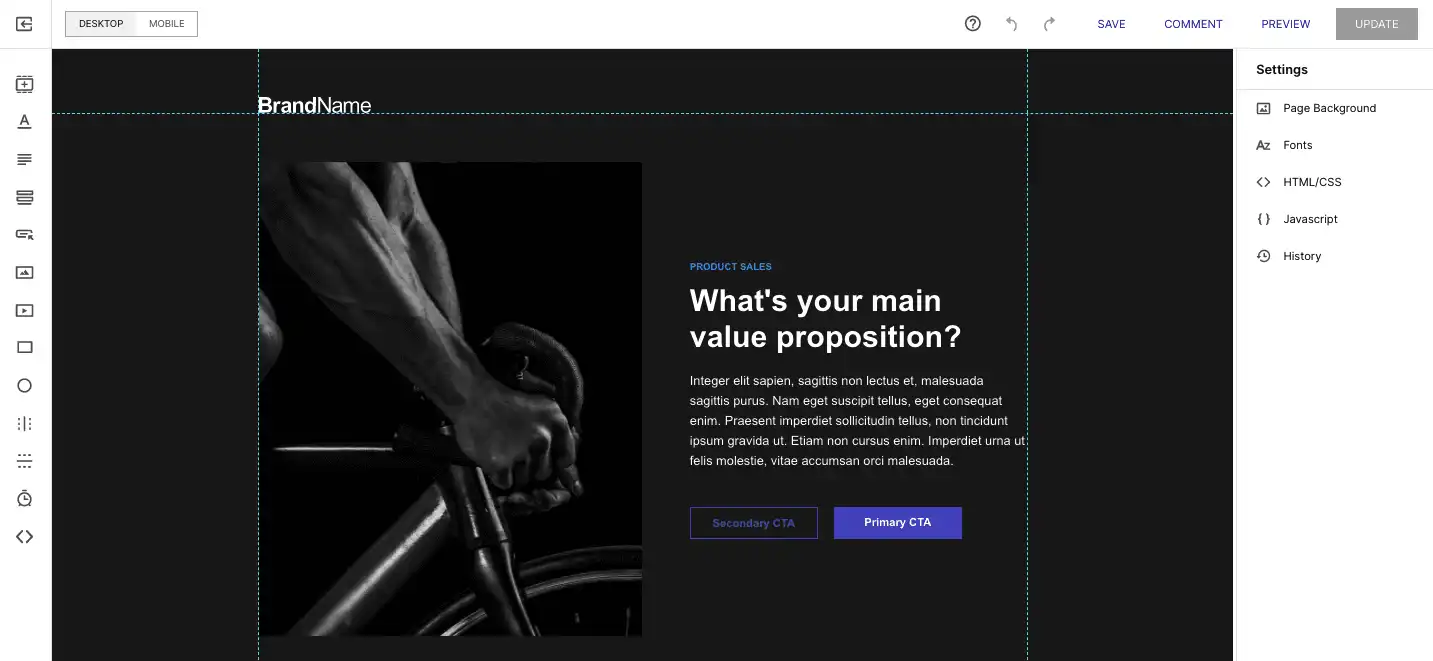 You can insert a new headline, paragraph, image, video, button, timer, box, form at the required position in your landing pages. Also, by clicking on "Regenerate Mobile," you can align the mobile version within seconds.
One time-saving feature that I love about the page builder is its Instablocks. With Instablocks, you can create and save custom blocks to reuse them across the landing pages. Instead of spending hours inserting and customizing every single element, you can easily reuse existing content that has already been designed.
Instablocks consist of three main sections, which include the –
Block Templates: A list of templates that you can filter based on different categories and apply to your landing pages
Global Blocks: Instantly update hundreds of landing pages on the fly. You'll have to edit it once, which will be reflected on every page automatically.
My Blocks: Custom blocks you create are saved here and can be reused for other pages.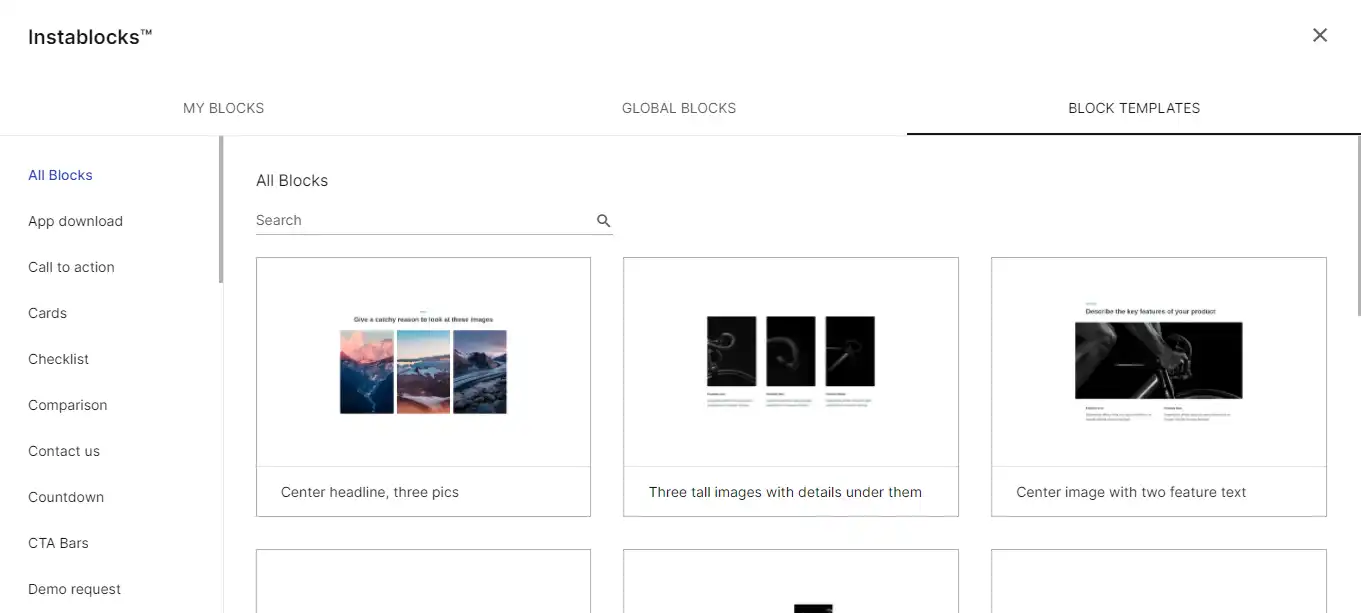 On the whole, Instapage's page builder lets you group, align and distribute elements to optimize your pages. With proper padding, balance, and symmetry measurements, you can place your blocks within the respective boundaries to get a pixel-perfect design.
3. Accelerated Mobile Pages (AMP)
The attention span of the audience is less than 8 seconds and with the emergence of short-video platforms such as TikTok and Instagram Reels, it can be challenging to grab the attention of users and convert them with slow-loading pages.
Fortunately, Instapage understands that and lets you combat this by creating ultra-fast AMP landing pages that can load within 1 second.
The process is the same as creating standard landing pages – click on Create New Page, then select AMP Landing Page. A blank interface will be displayed where you can start building your page by placing your widgets like regular pages.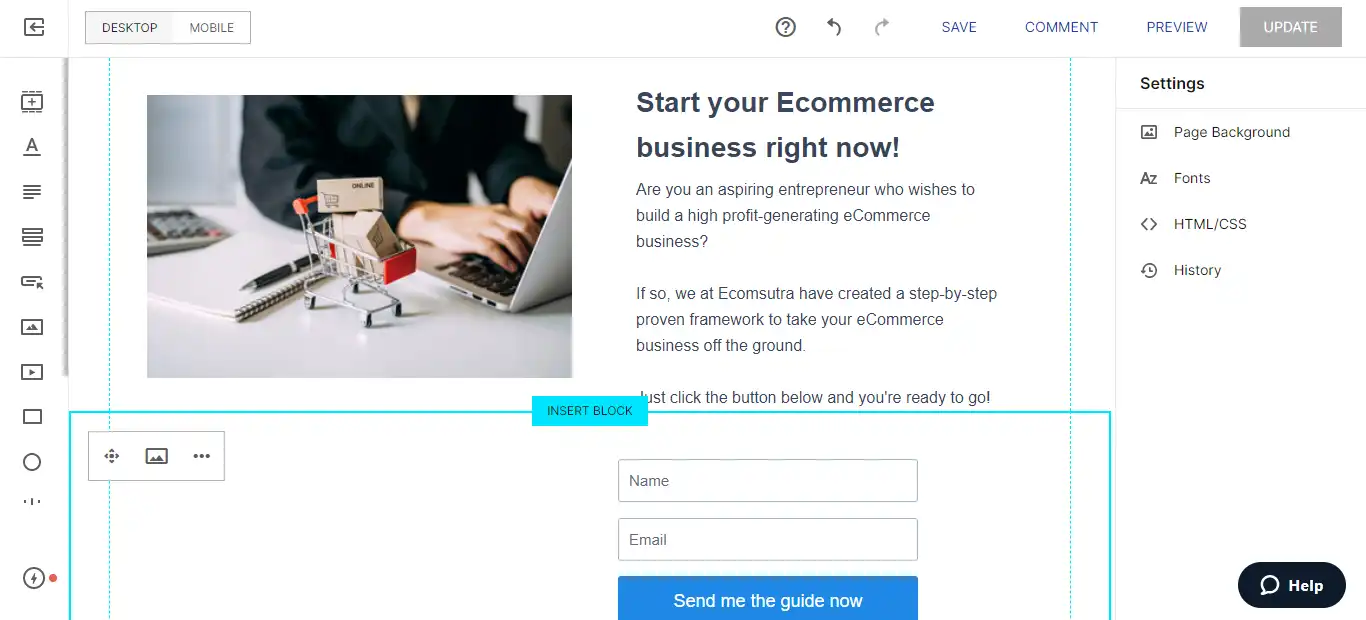 Once the editing process is over, your AMP pages will undergo validation. If it's successful, you can publish it. However, there are certain limitations to designing AMP pages.
One of the limitations is that Instapage allows only a 75KB size limit for a CSS file of an AMP page. So, if the page size exceeds the limit, the validation may fail, and you may have to redesign the page separately with fewer elements.
Besides this, Instapage also allows you to run A/B testing on AMP pages, which makes it stand out among other landing page builders – no other landing page builder offer this!
Popup & Form Builder
With Instapage, you can design an on-click popup box to place them on –
Landing page button
Texts
Images
Then you can customize and resize it with a few clicks from the popup editing screen. It automatically aligns with the visitor's screen size, you need not worry about centering the popups.
Speaking about the form builder, it's flexible and easy to create. By clicking on the form widget, you can add/remove the form fields with a few mouse clicks. You can customize the styles of both forms buttons and choose to redirect visitors to the other landing pages or thank you page.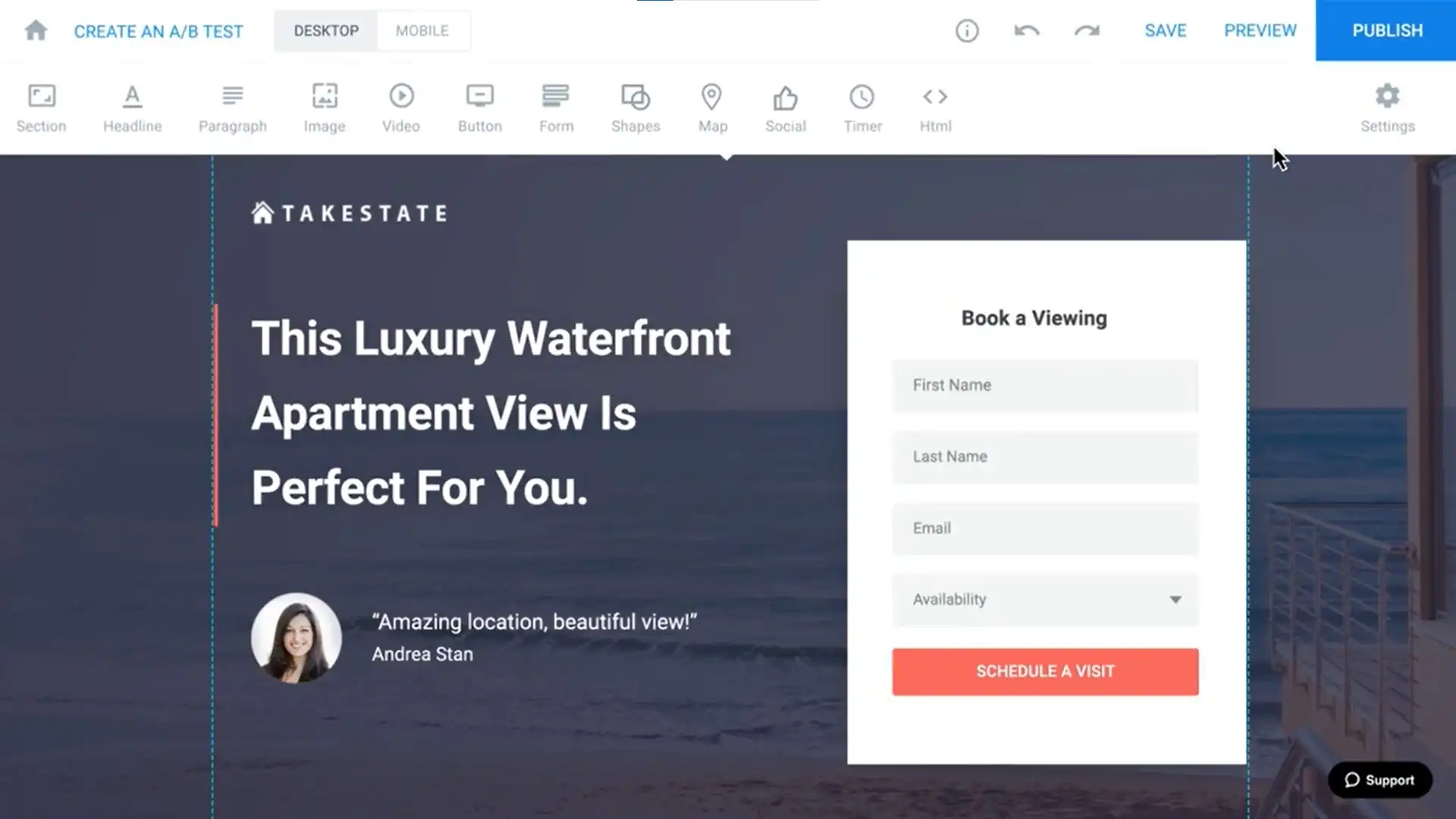 An added advantage is that you can design multi-step forms to extract more information from your prospects. You can add as many steps as you want. Instapage lets you edit the form details to collect the prospect's information for every step.
Creating multi-step forms is a great way to boost your lead generation efforts. But ensure you don't make it too long as it exhausts your visitors. Try to create relevant steps that ideally map your prospect's buying journey.
Instapage popup tends to be very basic and lacks targeting options that might not add value to your marketing efforts. But the form builder is intuitive and lets you smartly nurture customers by understanding their needs and preferences.
A/B Testing
Instapage's A/B testing lets you decide which version of your landing page resonates the best with your audience. You'll have to enter the name, and designated hypothesis, and select the required page to be tested to kickstart the process.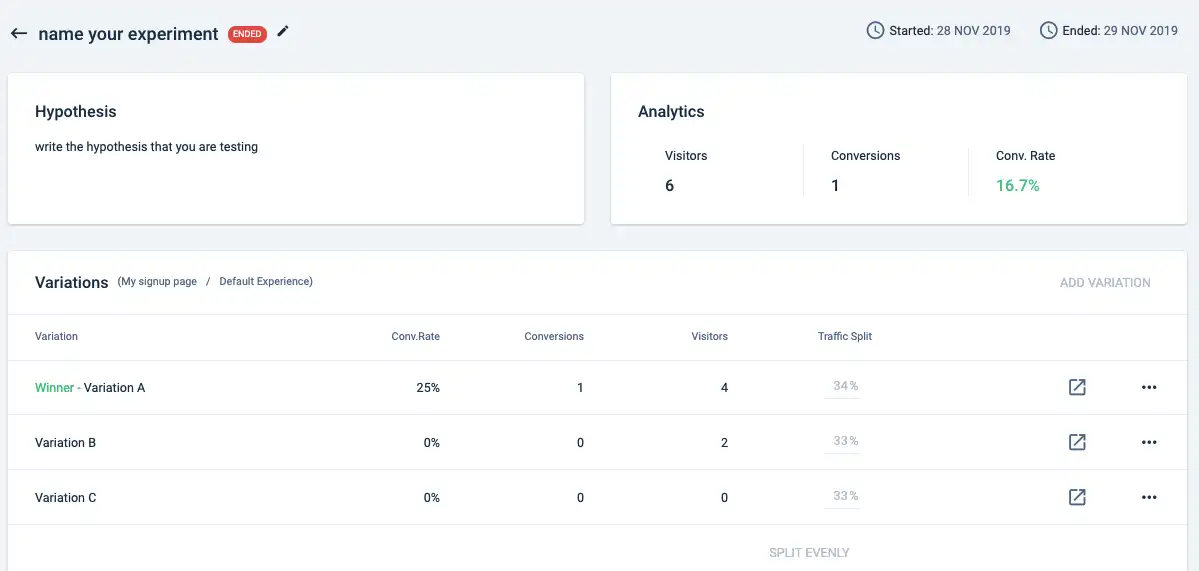 Once your A/B testing is live, you can view the statistics directly without navigating to the analytics page. However, any changes you make while the test is running will influence the end results. So ensure that you've set everything, and then go for starting your test.
Instapage helps optimize every visitor's click into conversions, and A/B testing is no exception. By carefully planning your hypothesis, you can understand which specific elements that highly impact your visitor behavior.
Heatmaps
Heatmap is a data visualization method that shows how visitors engage with your site. It uses a color-coded phenomenon that highlights the areas where the visitors interact the most and where they don't.
Instapage has an in-built heatmap tool that allows you to visualize how your visitors interact on your site, as shown below –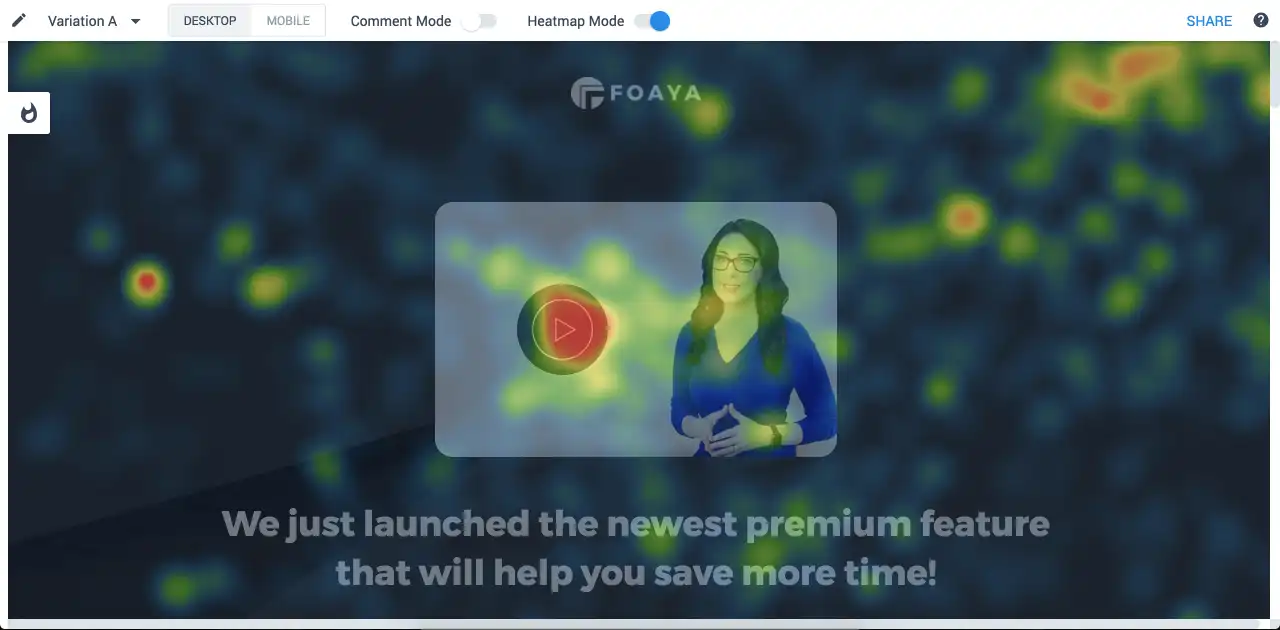 Instapage heatmap provides you with three metrics –
Scroll depth: shows how far your visitors have scrolled down the page.
Clicks: shows which elements your visitors have clicked.
Mouse Movement: shows where visitors spend the most time on your landing page.
By analyzing these heatmap metrics, you can uncover frictional elements on your page that prevent visitors from making purchases and optimizing their experience for better conversion.
So, if you ever wonder why your landing pages are not generating leads, instead of getting confused with complex jargon, check your heatmap data and optimize the pages as required to provide a better user experience to the visitors.
You should read our in-depth website heatmap guide to know more about heatmaps and how to use them for your website.
Ad Personalization
Creating personalized landing pages will offer a compelling advantage to your visitors. Fortunately, that's one of the key aspects of Instapage.
With Instapage, you can create any number of unique audience experiences for each landing page. It also enables you to dynamically drive visitors to unique pages with accurate targeting.
On that note, let's dive into the 3 ad personalization techniques offered by Instapage –
1. Ad Mapping
AdMapping is basically connecting your Google ads account to the Instapage landing pages. This way, you deliver a unique experience to your visitors for each ad to make them progress through your entire marketing funnel.
All you have to do is integrate your Google ad account and connect the page experience to a specific ad. Once you've made all the relevant changes, you can review and push them to your Google ads.
This will open a confirmation window showing which experiences can be pushed and which need to be published first. Select the required ones, and all the changes will be pushed to your Google Ads.
Finally, you're set to increase your ROI by personalizing every click in your Google ads. By designing hyper-relevant content, your prospects will get to know more about you from their interaction itself.
Note: Instapage AdMap is currently compatible with Google search ads only.
2. 1:1 Ad Personalization
One-on-One ad personalization means every visitor will enjoy a personalized experience when they visit your landing page. The visual experience that your visitor views depend on choosing the combination of parameters after the page's base URL.
You can include two types of parameters – UTM Parameter and Automatic Parameter.
With UTM parameters, you can add source, medium, campaign, and term to analyze deeply how visitors interact with your pages. But if you wish not to use these specific parameters and want Instapage to automatically append routing parameters, you can go with Automatic Parameters.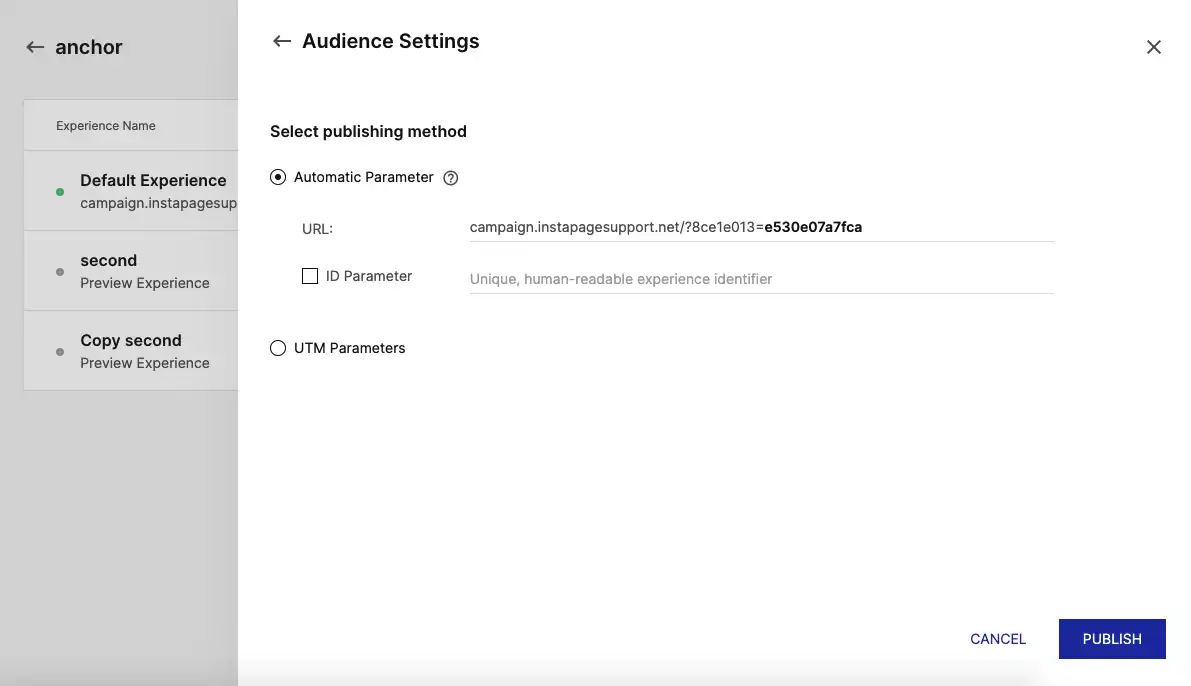 Once published, you can view the final URL and use it in all your campaigns. However, only the default experience will be shown to your visitors if anything goes wrong while setting up the parameters.
Personalization is all about creating unique experiences that match your customer's expectations. Instapage makes this effortless with just a few clicks and taps.
3. Dynamic Text Replacement
Dynamic Text Replacement maximizes your PPC campaigns by matching your ad copy and images to the targeted search intent. You can optimize your landing page to unlock more conversions using the URL parameters information.
To make this work, you can use Instapage's different use cases to apply DTR to your landing pages. Let's view them below –
Using URL parameters in your landing page copy. You can do this if you want to use URL parameters on your page to dynamically display things like location or someone's name if you already have that information.
Using URL parameters to a hidden field. You can add URL parameters like [utm_source] in a hidden field on your form to track the source of visitors who used the form.
Pass existing URL parameters through a redirect. You can use this to send URL parameters with which the user arrives on your landing page to an external link where the landing page copy can be personalized.
On the whole, Instapage is packed with powerful Personalization features that enable you to create high-converting landing pages with a personalized user experience for visitors. This helps you capture more leads and improve conversion rates.
Analytics & Reporting
Instapage offers separate analytics for each of your landing pages. You can view all the metrics associated with your landing page by clicking on the three-dot on the right side.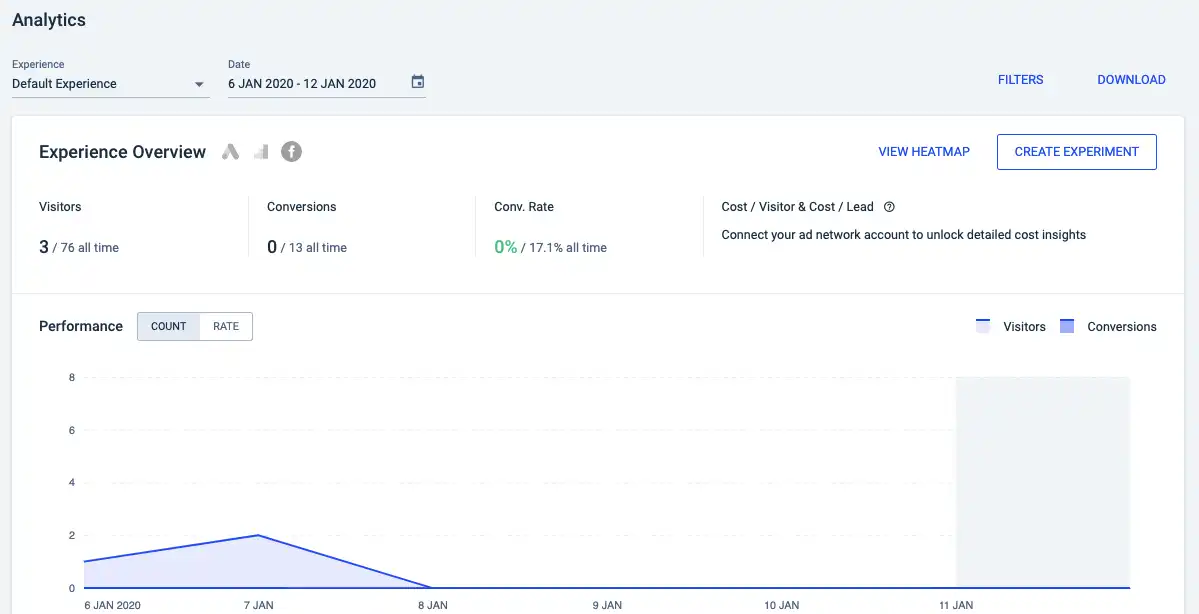 You can view all crucial metrics like visitors, conversions, conversion rate, and overall performance. By using the filters, you can narrow down your analysis and visualize your landing page's performance for device type, traffic (paid, organic, blended), and visitors (all/unique).
To have your reports accessible at your fingertips, you can download them in .txt, .csv, or .xlsx formats. Before downloading, ensure that you select the preferred time range to make strategic decisions.
Instapage Review: Team Collaboration
When you have a feature-packed landing page builder at your disposal, you don't want to work on it alone; instead, you would like to involve your team and delegate tasks to ensure fast and proper campaign delivery.
Instapage understands this and thus offers visual team collaboration features, which are as follows –
Instant Feedback – Instead of searching emails to track corrections and updates, Instapage lets you add comments directly to your landing pages, so your teammates get instant feedback and start working on them.
Real-time Edits – With real-time edits, you can clearly understand that everyone in your team is working on the latest version of any desired page.
Secured Sharing – You can safely share the designed landing pages with your clients by enabling password protection or inviting them through email.
Bottom line, with these visual collaboration features, Instapage gets you out of the to-and-fro feedback loop and saves you a lot of time.
Instapage Review: Integrations
Instapage offers integrations with over 120 tools in different categories like marketing automation software, CRM, email marketing, eCommerce, analytics, advertising, call tracking, live chat, and more. The types include native integrations and custom code and are enabled via Zapier and webhooks.
Now let us view some of the popular integrations available in each category:
Marketing automation – Hubspot, Marketo, Keap, SharpSpring, Autopilot, ActiveCampaign, LeadSquared.
Email Marketing – Mailchimp, ConstantContact, Campaign Monitor, Convertkit, Mailerlite, AWeber, Drip, etc.
CRM – Salesforce, Pipedrive, Zoho, SugarCRM, OnePage CRM, Nutshell, Agile CRM, and more.
E-Commerce: Shopify, Kenshoo, Stripe, PayPal, and Venmo.
Analytics – Hotjar, Geckoboard, Heap, Kissmetrics, Google Analytics, MixPanel, FullStory, Google Tag Manager.
Webinar – GoToWebinar.
Live Chat – Intercom, LiveChat, Olark, Zendesk, Cliengo, Apex chat.
Exit intent & Popups – Optimonk, Optinmonster, Hello bar, and Sumo.
Call Tracking – CallRail, DialogTech.
Advertising – Google Ads, Facebook Ads, Taboola, Marinone, AdRoll, RollWorks, Twitter Ads, LinkedIn ads, Microsoft ads, etc.
Other – Uberflip, Twilio, Outgrow, Podia, UsabilityHub, User Testing, Slack, Groove, Zapier, Crazy Egg, WordPress, Drupal, etc.
Instapage Review: Pricing & Plans
Instapage offers a 14-day free trial and comes with two pricing plans. Let's view in detail what each plan has to offer –
Building Plan: $299/month – Access to unlimited domains, conversions, landing page builder, A/B testing, Instablocks, AMP, AdMap, Multi-step forms, Post click Score, and integrations with Hubspot, Marketo, and SFDC.
Converting Plan: Custom pricing – All features of Building Plan plus Global Blocks, 1:1 Ad-Page Personalization, SSO, Audit logs, Page Migration, Custom Integrations, Conversion Consulting, Custom feature Implementation, Salesforce Integration, and much more.
The Building Plan allows 30k unique visitors/month, 30 established landing page experiences, 3 workspaces, and 3 team members. If you wish more flexibility in your plan, you can contact Instapage's Sales team.
If you want to deliver exceptional customer experiences via personalization, you should opt for the Enterprise Plan. It also lets you connect with expert-level support specialists to guide you in further optimizing your campaign for conversions.
Instapage Review: Pros & Cons
By now, you should have a clear understanding of how Instapage works and its features. Every platform has its own merits and drawbacks, so let's view where Instapage glows and the areas for improvement.
Pros of Instapage –
Beginner-friendly landing page builder.
Advanced personalization techniques to optimize post-click landing page experience
Intuitive team collaboration to quickly resolve problems and improve productivity.
Track and measure performance by experience and variation for every level of your campaign
Setup automatic digital asset library, which sends the offer instantly to your visitor upon signing up
Advanced image optimization algorithms for faster page loads
Cons of Instapage –
Wide range of mobile-responsive templates.
Suitable only for advanced marketers.
Important features like heatmaps, 1:1 Ad page personalization, and Global blocks are available on Custom plans.
Built-in analytics can be much more improved.
Final Verdict: Is Instapage Worth it?
Instapage is a powerful landing page builder software that lets you optimize every element of your landing page to boost conversions. It is the perfect page builder tool for any organization that wants to leverage advanced personalization for marketing campaigns and increase website conversion rates.
In a nutshell, if you are looking for a robust landing page builder that enables you to create high-converting landing pages and allows advanced marketing, then Instapage would be my #1 recommendation for you.
Now, if you are ready to leverage advanced personalization for landing pages for your marketing campaigns, do me a favor – sign up using our affiliate link (button below)
If you use my link, we will earn a small commission, and you won't have to pay any extra fee for that. It's an excellent way to thank our team for this detailed review, and you'll help us write more reviews like this one.