Klaviyo is a powerful marketing automation platform for your eCommerce business. It offers a range of powerful tools to help you create effective, personalized email & SMS campaigns for your customers and subscribers.
With advanced automation features, Klaviyo allows you to streamline your marketing efforts and connect with your audience in a more personalized and targeted way. Whether you're a startup or an established eCommerce brand, with Klaviyo, you will get access to a range of advanced automation features like triggered emails, segmentation, and personalization that can save you time and increase the effectiveness of your marketing campaigns.
Having said that, in this review, I will break down every aspect of Klaviyo, from its key features to customer support to help you determine if it is the right marketing automation tool for your eCommerce business.
Although I will try my best to share my experience of using Klaviyo features, I suggest you too create a free account and start exploring its features as we go through each of them.
Klaviyo Review: Ease of Use
Klaviyo offers an intuitive and user-friendly dashboard with clear and concise menus that make it easy to manage your email marketing campaigns without a hassle.
The dashboard serves as the central hub where you can access all of Klaviyo's features and functionalities, enabling them to track performance and analyze data efficiently. It is highly customizable, allowing you to personalize it according to your specific needs and preferences. You can create custom reports and metrics, set up alerts for critical events, and access real-time performance data to effectively monitor your email marketing campaigns and make necessary adjustments.
On the dashboard, you will find an at-a-glance overview of your email campaigns, including open rates, click-through rates, and revenue generated, which makes it easy to track your progress and make data-driven decisions.
Overall, while there may be a bit of a learning curve for some of Klaviyo's onboarding process, a user-friendly interface and extensive support resources make it relatively easy to use for anyone to learn and set up marketing automation.
Klaviyo Review: Key Features
In this section, we will dive into some of the essential features that make Klaviyo the preferred option for eCommerce businesses seeking to elevate their marketing strategies.
Email marketing
SMS marketing
Sign-up forms
Audience Segmentation
Marketing automation
Analytics reporting
Now, let's dive deeper into each feature to understand how it works and if it is useful for your business.
1. Email Marketing
Klaviyo's email marketing feature is an essential tool for eCommerce businesses, offering a wide range of features and benefits to help you create targeted, personalized email campaigns that drive results.
With an intuitive drag-and-drop email builder and a variety of professionally designed email templates, Klaviyo makes it easy to create visually appealing emails that engage your audience and promote your products or services.
Whether you're launching new products, announcing sales and promotions, or nurturing customer relationships, Klaviyo offers an array of professionally designed email templates that allow you to create visually appealing emails that align with your brand image and message.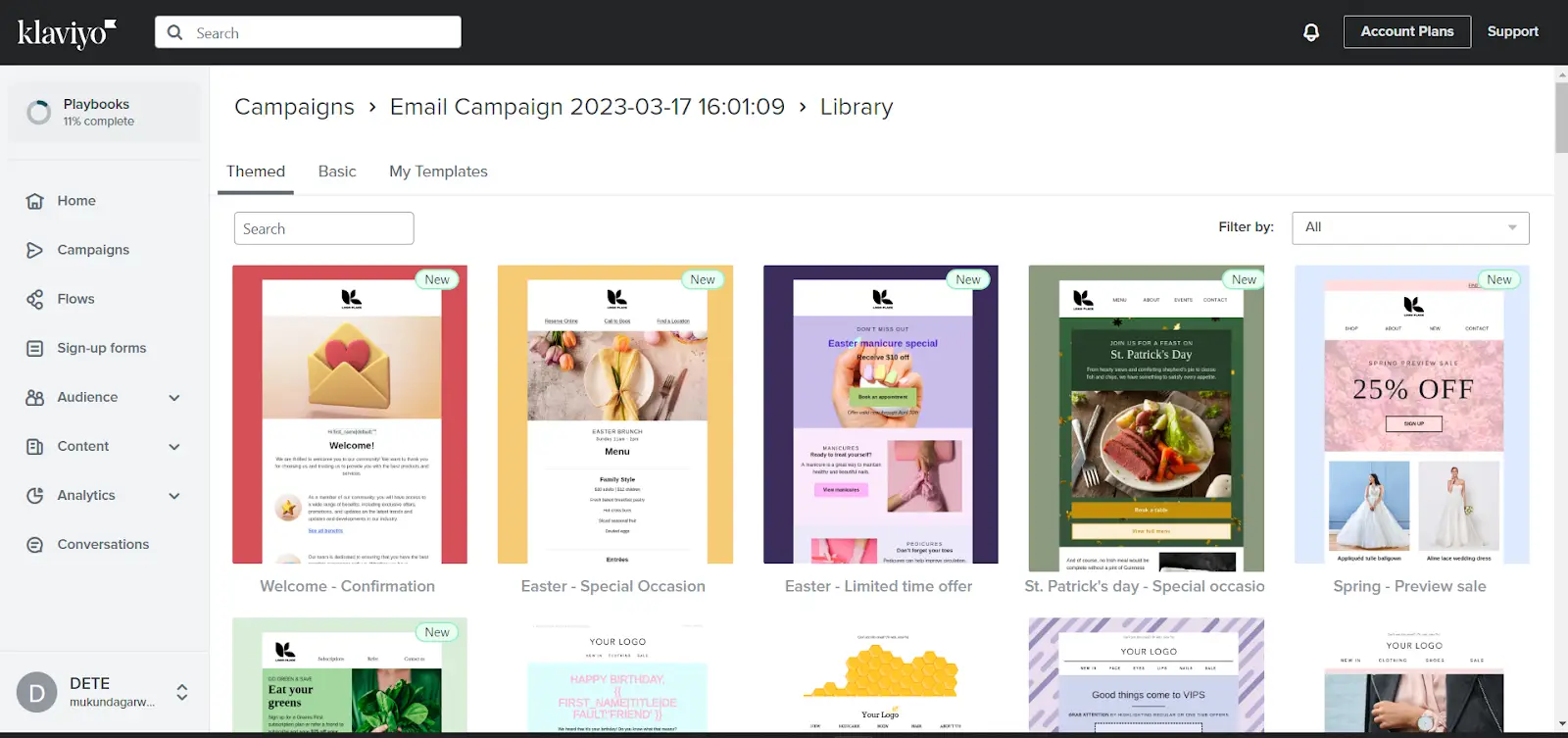 As an email designer, you will love Klaviyo's drag-and-drop email editor. It is an indispensable visual tool with a user-friendly interface that makes it simple to create stunning emails without the need for a coding experience.
The drag-and-drop interface makes it effortless to customize the templates or create new ones by adding text, images, and other elements to the email template such as customizable blocks, including product grids, social media links, countdown timers, and more.
The editor offers real-time previews, allowing users to see how their email will look on different devices like desktops, tablets, and smartphones.
Overall, if you're looking to take your eCommerce business to new heights, Klaviyo's email marketing tool provides everything you need to harness the power of personalization and creativity to deepen customer relationships, boost sales, and elevate your brand's online presence.
2. SMS Marketing
Klaviyo's SMS Marketing tool enables you to reach your customers through text messages, in addition to email. It comes with a user-friendly and easy-to-use interface, just like sending an email campaign.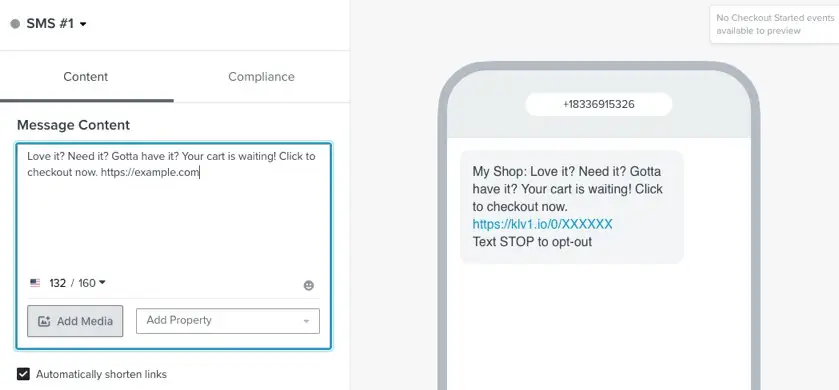 Once you have your contact list, you can create a new SMS campaign by selecting a pre-built template or starting from scratch. You can add dynamic variables to personalize the message and include a call-to-action to drive engagement.
Klaviyo also offers automation workflows for SMS, allowing you to set up triggered messages based on user behavior, such as abandoned carts or post-purchase follow-ups.
Klaviyo supports several types of SMS campaigns that you can use to reach your customers effectively. Here are some examples to give you an idea –
Abandoned Cart Reminders: These campaigns target customers who have left items in their online shopping cart but have not completed the purchase. Klaviyo sends them an SMS message reminding them of the items in their cart and encouraging them to complete their purchase.
Order and Shipping Confirmations: Klaviyo can automatically send an SMS message to customers to confirm their order and provide shipping details. This helps to reduce customer anxiety and increases their trust in the business.
Product Launch Announcements: Businesses can use Klaviyo's SMS campaigns to announce new products and special promotions. This is a great way to build excitement among customers and encourage them to make a purchase.
3. Sign-Up Forms
Klaviyo's sign-up forms feature allows you to easily collect email addresses and other important information from their website visitors and customers. These forms can be customized to match the look and feel of your website and can be embedded directly into web pages or hosted on a separate landing page.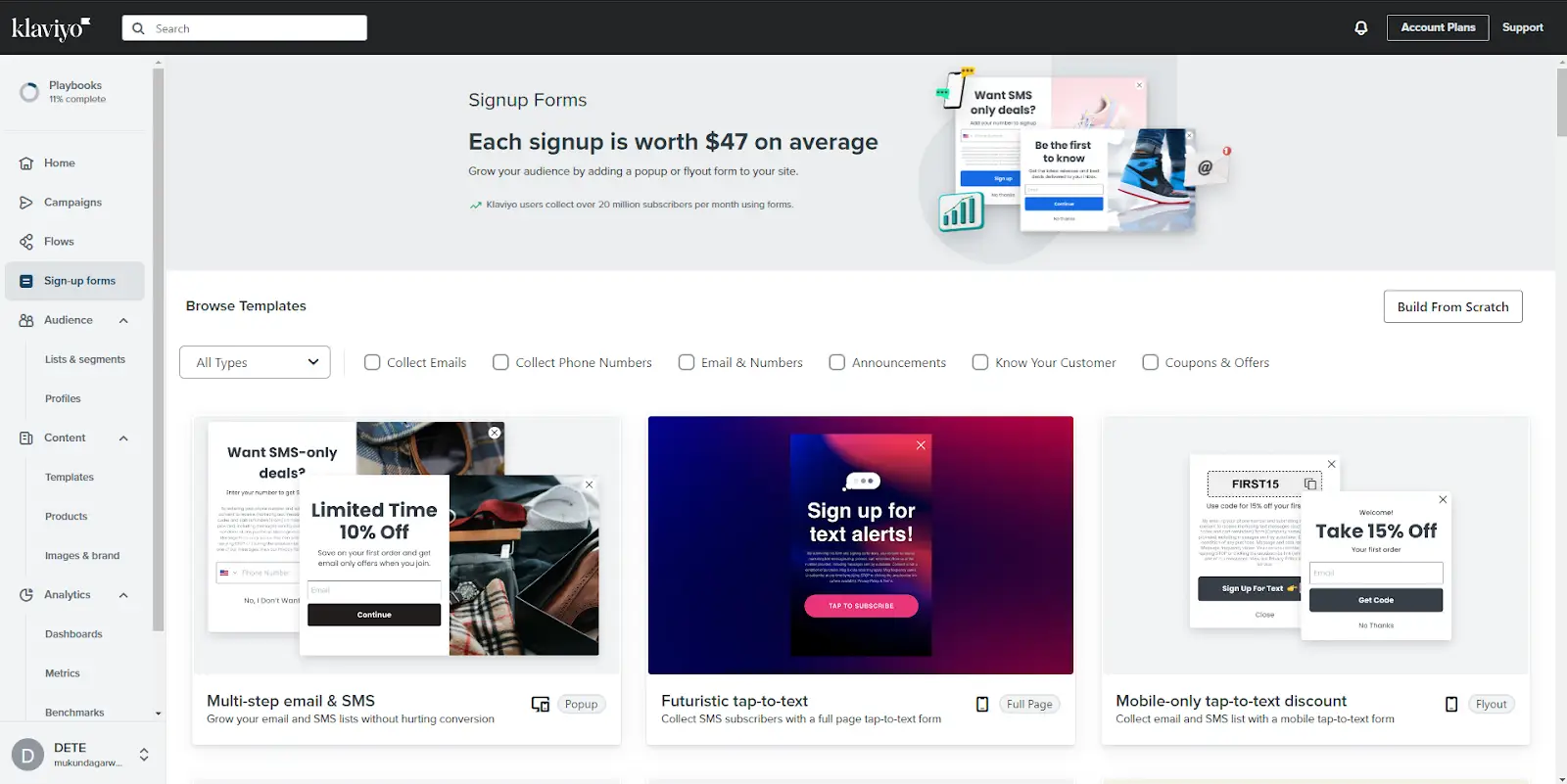 Klaviyo provides a variety of pre-designed form templates that you can choose from, or you can create your own custom form using the drag-and-drop form builder. The form builder makes it easy to add fields, buttons, images, and other elements to the form and provides real-time previews to ensure that the form looks great on all devices.
You can also use Klaviyo's segmentation and targeting tools to create custom sign-up forms that are tailored to specific audiences. For instance, you could set up a dedicated form for customers who left their shopping cart without making a purchase, proposing to them a discount or another motivation to finalize their order.
Using Klaviyo's sign-up forms, you can collect more accurate and relevant information from your subscribers. Here are some tips on how to use Klaviyo's sign-up form feature to improve data:
Offer incentives: Offer incentives to encourage subscribers to fill out your sign-up forms. This can include discounts, free shipping, or other exclusive offers
A/B test: Test different sign-up form designs, copy, and incentives to see which ones perform best and generate the most sign-ups
Optimize the placement: Place your sign-up forms in prominent locations on your website, such as the homepage or checkout page, to increase visibility and encourage more sign-ups
Use segmentation: Use the information collected through sign-up forms to segment your audience and send targeted personalized emails. This can help increase engagement and drive more conversions
4. Audience Segmentation
Klaviyo's audience segmentation allows you to create targeted campaigns that are tailored to specific groups of customers based on their behavior, preferences, and interactions with your brand.
By segmenting your audience, you can send personalized messages that speak directly to customers' interests and needs, including personalized product recommendations and exclusive promotions, resulting in increased engagement and higher conversion rates.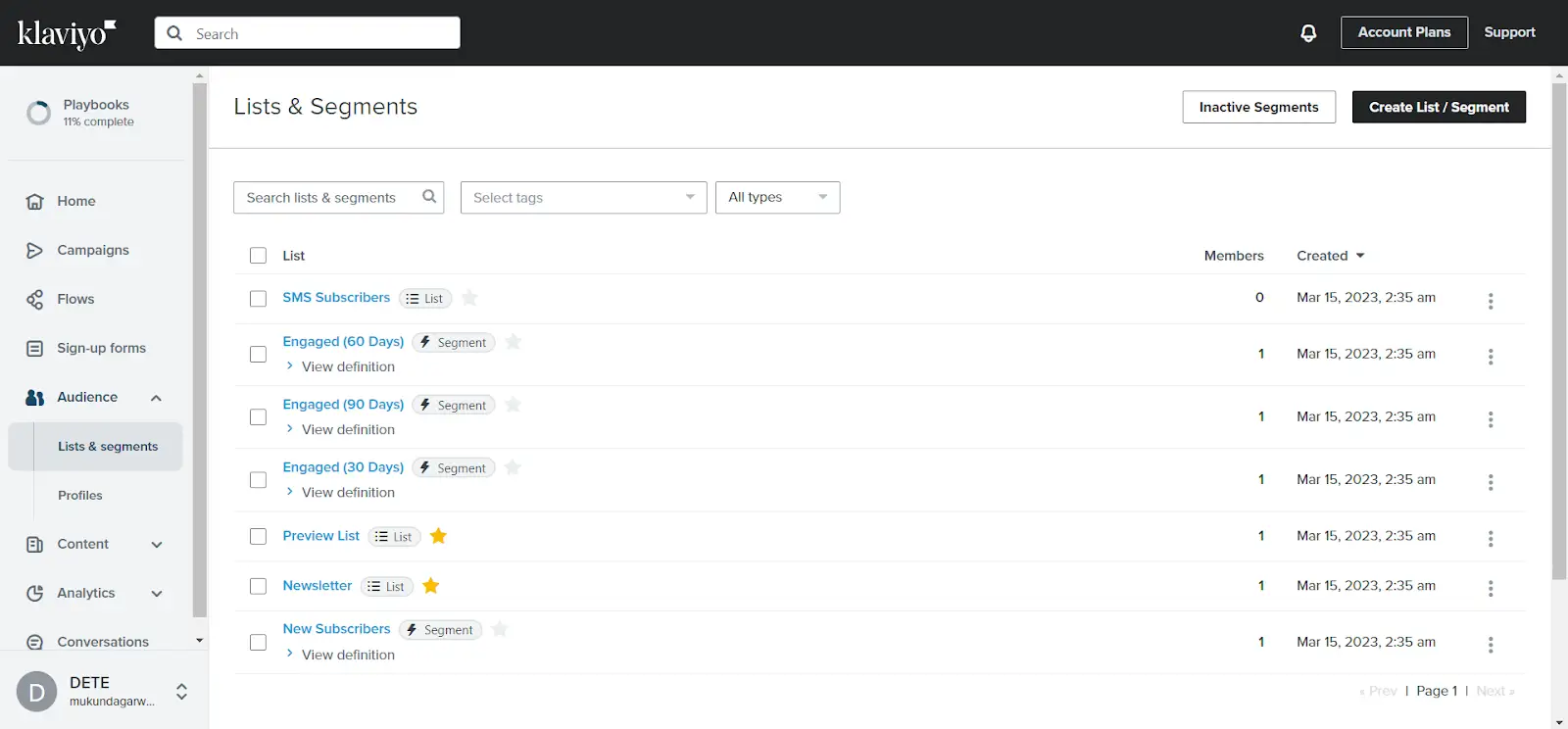 Klaviyo allows for very specific segmentation based on a wide range of factors. Some of these factors include:
Purchasing behavior: Klaviyo allows you to segment your audience based on how much they have spent, how frequently they make purchases, the average order value, and the date of their last purchase.
Location: You can segment your audience based on their geographic location, which can be particularly useful if you have physical stores or if you want to send targeted messaging to people in certain areas.
Browsing behavior: Klaviyo allows you to track and segment your audience based on their browsing behavior on your website, such as which pages they visited, how long they spent on each page, and which products they viewed.
With this level of segmentation, you can create highly targeted messaging that speaks directly to each customer's interests and needs, increasing the likelihood of conversion and customer loyalty.
5. Marketing Automation
As an eCommerce marketing platform, Klaviyo can help you automate your email and SMS campaigns using its drag-and-drop flow builder and various automation templates. It enables you to create tailored experiences for your customers based on their behavior, such as abandoned cart reminders, post-purchase follow-ups, and win-back campaigns.
By automating such campaigns, you can save time and effort while increasing customer engagement and driving sales. Additionally, Klaviyo's integration with popular eCommerce platforms like Shopify and Magento makes it easy to import customer data and create targeted campaigns based on purchase history, browsing behavior, and more.
Here are some specific ways in which Klaviyo assists eCommerce businesses in automating their email and SMS campaigns:
eCommerce-Specific Automation Templates: Klaviyo provides a range of pre-built automation templates that are specifically designed for eCommerce businesses. These templates cover common scenarios such as abandoned cart reminders, post-purchase follow-ups, and product recommendation emails. By using these templates as a starting point, eCommerce businesses can quickly set up automated campaigns that are tailored to their specific needs.
Powerful Segmentation Capabilities: As mentioned earlier, Klaviyo allows businesses to segment their audience based on a variety of factors such as purchase history, location, and email engagement. This segmentation capability is particularly useful for eCommerce businesses, as it enables them to create highly targeted campaigns that are tailored to each customer's behavior and interests.
Product Catalog Integration: Klaviyo integrates with popular eCommerce platforms such as Shopify and Magento, allowing businesses to automatically pull in product data and create dynamic product recommendations within their emails. This feature is especially useful for businesses with large product catalogs, as it enables them to showcase a wide range of products without having to manually create each email.
Drag-and-Drop Flow Builder: Klaviyo's drag-and-drop flow builder makes it easy for eCommerce businesses to create complex automation sequences without needing to write any code. Businesses can set up workflows that trigger based on specific customer actions (e.g., adding a product to their cart) and then automatically send targeted messages based on those actions.
Overall, Klaviyo's automation capabilities make it an ideal choice for eCommerce businesses seeking to streamline their email and SMS marketing efforts. With its workflow builder, you can easily automate marketing communications and grow your revenue by delivering personalized messages to customers at precisely the right moment.
6. Analytics Reporting
The metrics feature of Klaviyo is a crucial aspect of the platform that allows you to track and measure the success of your marketing campaigns. By providing you with detailed data on the performance of your campaigns, Klaviyo empowers you to make data-driven decisions to improve your results and optimize marketing strategies.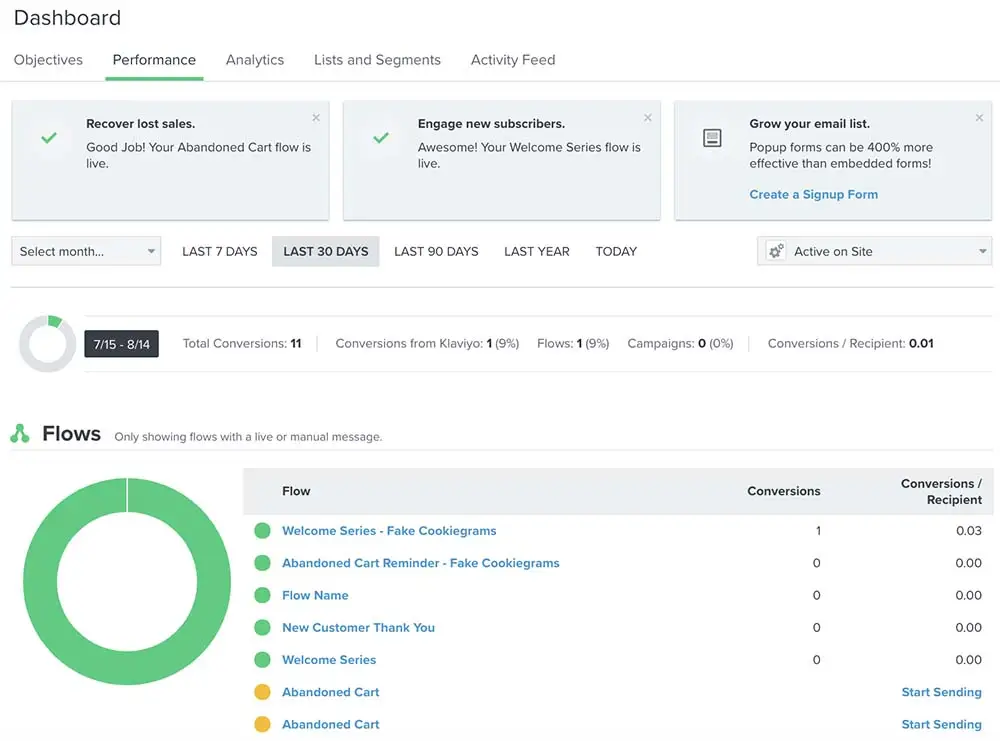 Klaviyo provides you with various types of reporting data with valuable insights into your email, SMS, and overall marketing campaigns.
Performance Metrics: These include basic metrics like open rates, click-through rates, and conversion rates. These metrics help businesses assess their campaign's effectiveness and identify areas of improvement.
Revenue Metrics: Klaviyo's revenue metrics provide businesses with an in-depth understanding of their campaigns' impact on revenue. This includes metrics such as total revenue generated, average order value, and revenue per recipient.
Engagement Metrics: These metrics track how recipients interact with email and SMS campaigns. Examples include opens, clicks, and unsubscribes.
List Growth Metrics: Klaviyo's list growth metrics help businesses track how quickly they are growing their email and SMS lists. Metrics include new subscribers, growth rate, and list churn.
Custom Metrics: Klaviyo enables businesses to create their custom metrics based on their unique reporting needs. This flexibility allows businesses to measure what matters most to their specific business goals.
With such robust analytics reporting, you can easily gather insights that matter to your business and make data-backed decisions to improve your marketing campaigns for better performance and overall business growth.
Klaviyo Review: Integration Capabilities
Klaviyo is probably the most flexible email marketing tool in terms of its integration with 3rd-party tools and software. It has a powerful integration with almost every eCommerce platform, including –
Shopify
WooCommerce
BigCommerce
Magento
Prestashop
Wix
and more…
Beyond these platforms, you will be surprised to know that it comes with 300+ direct integration with other popular eCommerce tools & software. Whether you want to connect your shipping software, review tool, helpdesk software, or anything else, you will be most likely able to integrate it directly with Klaviyo and use its data for marketing campaigns.
Klaviyo Review: Customer Support
Klaviyo provides a comprehensive collection of guides and answers to common questions that people face. So, if you need technical assistance, you can explore its help center and community forum. The Klaviyo community is quite active, where you can ask questions and get answers quite faster.
Speaking about its onboarding process, when you sign up, you will be offered five free onboarding webinars that will walk you through its key components, including integrations and setup, building segments and lists, designing effective emails, and creating workflows and automation.
However, the live chat support is probably where it lacks the most compared to other email marketing platforms. You can connect with Klaviyo product experts via email and chat who are available only from 6 a.m. to 10 p.m. ET during the week and 10 a.m. to 4 p.m. ET on the weekends.
Klaviyo Review: Pricing Plans
Klaviyo's pricing is based on the number of contacts and emails sent per month. The free plan includes basic features for up to 250 contacts with 500 monthly email sends & 150 free monthly SMS/MMS credits.
The paid plans start at $20/month for up to 500 contacts and 5,000 monthly email sends. The pricing increases with the number of contacts and emails sent per month, with the highest tier plan accommodating up to 350,000 contacts and unlimited email sends for a custom price.
Custom pricing is also available for enterprise-level businesses. Although Klaviyo's pricing may be higher than some competitors, its advanced features and capabilities may be worth the investment.
Klaviyo Review: Pros and Cons
Klaviyo has become a well-known brand in the world of email marketing automation, thanks to its comprehensive range of features and capabilities that enable businesses to manage their marketing campaigns effectively.
However, while the platform comes with a host of advantages, it is not without its potential downsides. Let's take a closer look at both the pros and cons of using Klaviyo, helping you make informed decisions about whether or not this platform is the best choice for your marketing needs.
Pros of Klaviyo –
Extensive onboarding process
Clean and user-friendly dashboard
Drag-and-drop visual email editor
70+ Customizable email and SMS templates
Powerful visual automation workflow builder
Advanced audience segmentation & targeting
Seamless integrations with major eCommerce platforms
Robust campaign analytics reporting
Cons of Klaviyo –
High learning curve for beginners
Limited CRM Capabilities
Limited SMS marketing features
Comparatively expensive to other marketing automation tools
Final Verdict – Is Klaviyo the Right Marketing Platform for You?
Klaviyo is best suited for businesses that have an established email marketing strategy and are looking to take their efforts to the next level. So if you have a large customer base and require advanced segmentation and automation capabilities to effectively target your audience, Klaviyo is your go-to platform.
With its powerful integration with popular eCommerce platforms like Shopify, Magento, WooCommerce, and others, you can easily leverage customer data to deliver personalized campaigns, such as abandoned cart reminders, post-purchase follow-ups, and customized product recommendations.
All in all, Klaviyo is a good fit for businesses that prioritize data-driven decision-making. Its reporting and analytics features provide valuable insights into the effectiveness of email campaigns and customer behavior, which can inform future marketing efforts.
So, consider all these factors before subscribing to Klaviyo. If it matches your business needs, you create a free account now and explore it yourself.
Klaviyo Frequently Asked Questions (FAQs)
Got more questions? Here are some of the common questions asked by our clients and readers.
What is Klaviyo used for?

Klaviyo is a powerful marketing automation tool for eCommerce businesses. It is used to send personalized email and SMS campaigns to customers and subscribers at the right time for higher conversions and sales.

Is Mailchimp the same as Klaviyo?

Mailchimp is a popular email marketing software, but it is designed for businesses of all kinds and also it lacks SMS marketing features. On the other hand, Klaviyo is built only for eCommerce businesses packed with powerful features to automate marketing campaigns via email and SMS.

Is Klaviyo only for eCommerce?

Klaviyo is primarily designed for eCommerce businesses only. But it has many features and tools that you can use for other businesses as well.

Which eCommerce platform does Klaviyo Support?

Klaviyo supports almost every major eCommerce platform, including Shopify, Shopify Plus, WooCommerce, Magento, SAP Commerce Cloud, BigCommerce, etc.

Is Klaviyo easy to learn?

It entirely depends on your experience with using other email marketing platforms. If you are a beginner, you will most likely find it challenging initially, but over time, you will be able to master it and run effective marketing campaigns.

Which are the best Klaviyo alternatives?

Omnisend is probably the best Klaviyo alternative as it is also designed for eCommerce businesses only and comes with all the features that Klaviyo has to offer. For more, you can check out our list of the best Klaviyo alternatives.
I hope this Klaviyo review gave you a complete overview of it features and helped you determine if it is the right one to implement the marketing strategies for your business. You can also check out our eCommerce email marketing guide to learn about different strategies and tips to grow your business.