Leadpages is one of the best page-building platforms that enables you to build beautiful and conversion-focused landing pages without writing even a single line of code.
With Leadpages, you can also build and host a complete website, including online stores. It also enables you to create popups and bars that you can use to promote specific products, offers or just grow your email list.
In the review, I'll break down all of its key features and everything you need to know about Leadpages to determine if it fulfills your business needs.
If you want to explore the tool along with reading this review, you can sign up with the link below, and you'll get a 14-day free trial.
Leadpages Review: Key Features
Leadpages come with plenty of features that most page builders within their pricing range don't offer. In this review, we will dive deep into these key features offered by Leadpages –
Landing Page Builder
Website Builder
Popups & Alert bars
A/B testing
In-build Payment System
Analytics & Reporting
1. Landing Page Builder
Leadpages provides you with code-free drag-and-drop page builders that let you build responsive landing pages without asking for any kind of outside help.
It comes with 200+ stunning and conversion-friendly templates for different page types like contests & giveaways, free resources & downloads, lead capture, newsletter signups, webinar, virtual event, thank you & confirmation, waitlists, and coming soon.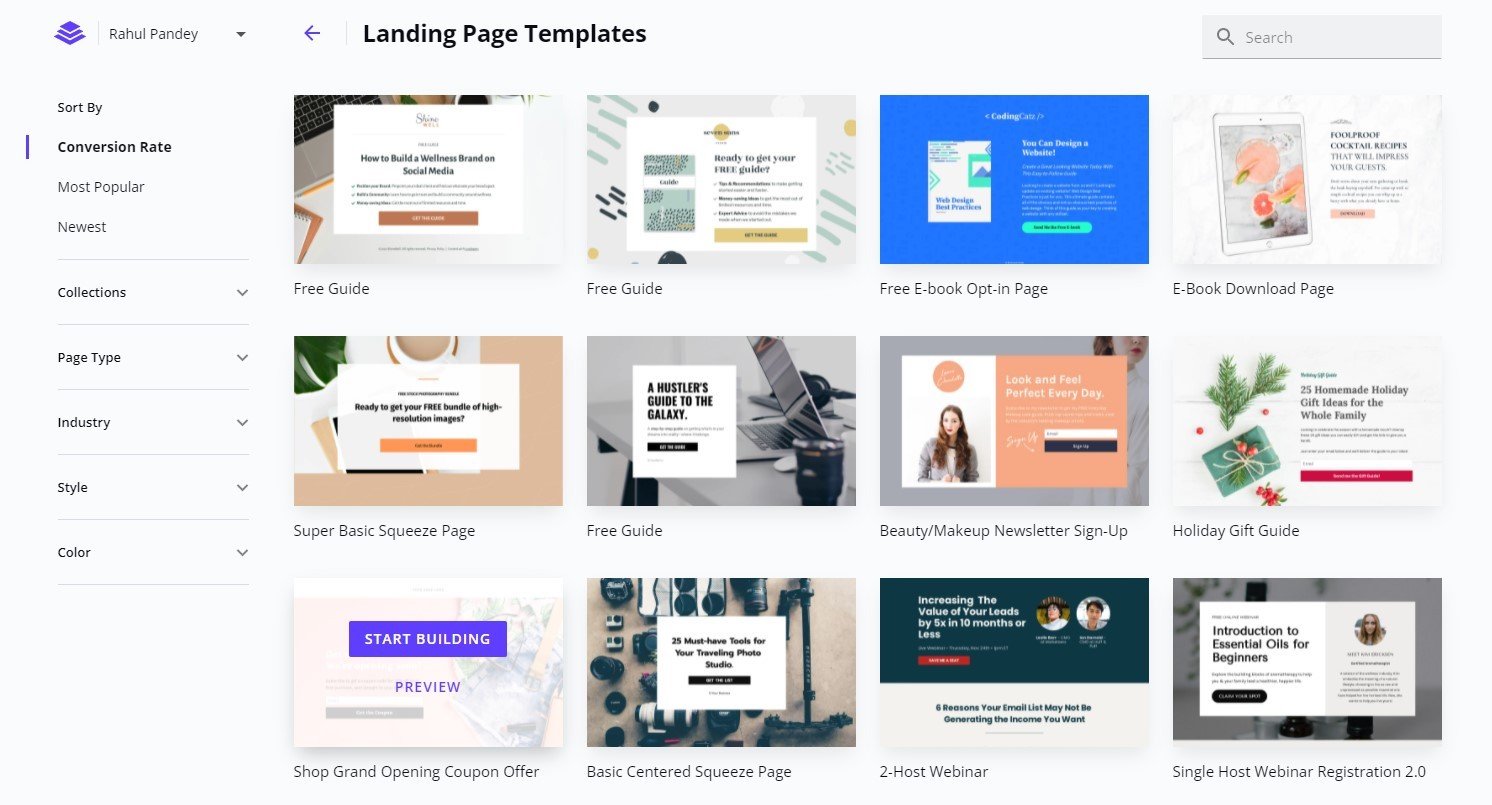 Apart from these themes, Leadpages builder has tons of conversion widgets such as a countdown timer, video player, Calendly schedule, OpenTable reservation widget, and more. You just have to drag and drop them anywhere on the page to add the feature – it is that simple!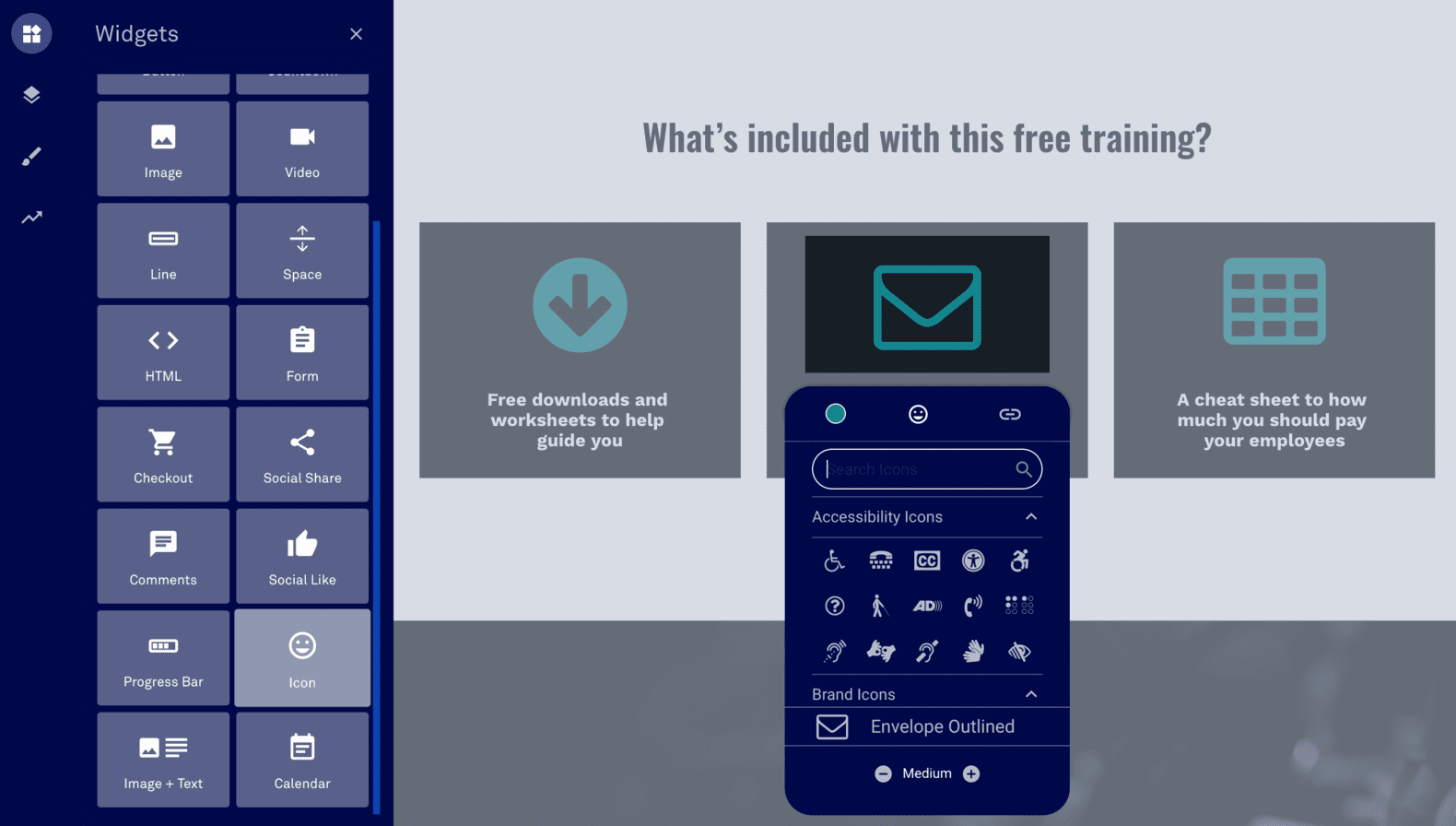 It also comes with built-in conversion guidance features that analyze your page design and offer data-backed suggestions to improve the conversion rates of the pages.
Overall, the Leadpages page builder makes it convenient and straightforward to build landing pages that can generate leads and boost the conversion rates of your marketing campaigns.
2. Website Builder
Gone are the days when you'll have to write lengthy codes to build a sophisticated website. With Leadpages, you can instantly create your niche website that readily converts the incoming traffic into leads and customers.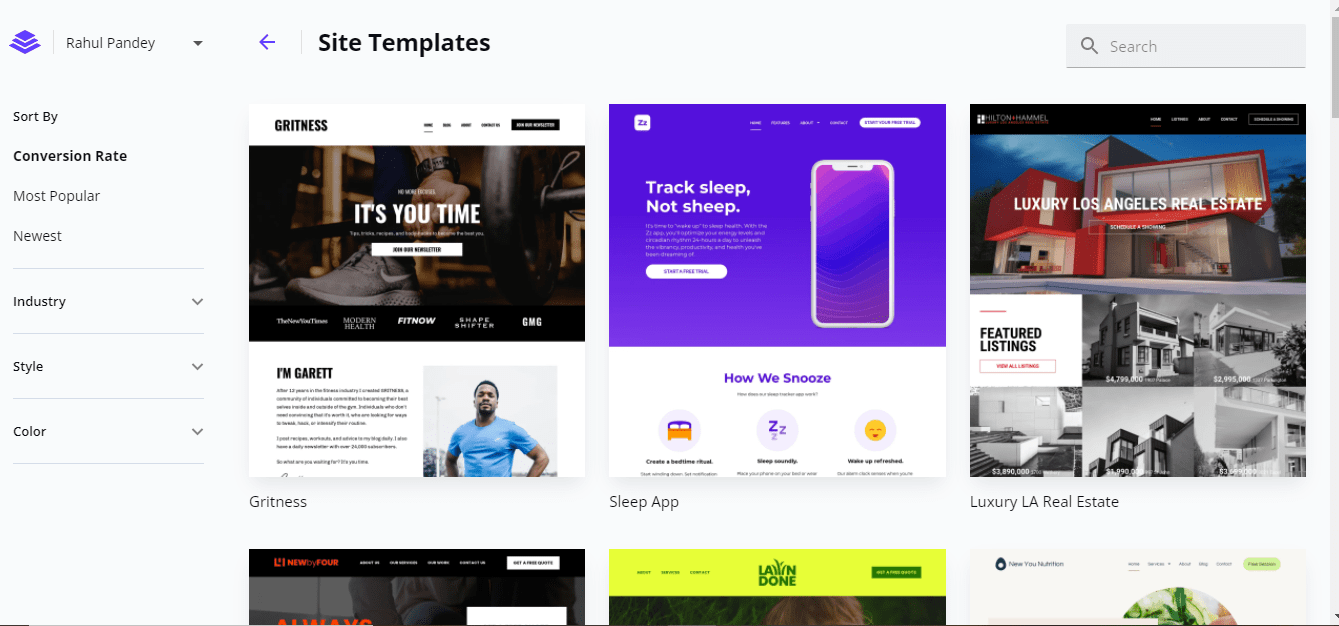 The process of building the website is akin to landing pages. You'll have to pick a relevant template and start customizing it. The only difference is that you can align the navigation of your site pages, create new pages, and hide specific pages. To the maximum, your site can have up to 100 pages.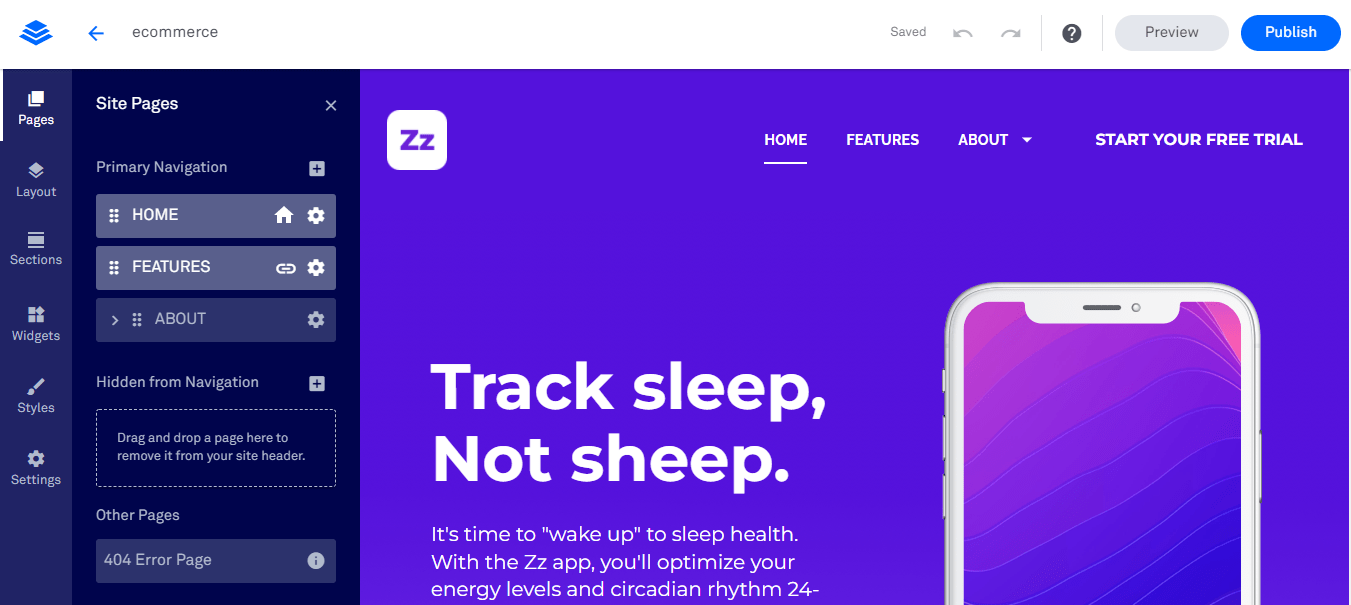 You can begin by editing the header, widgets, navigation, and your required site pages. To grow your subscriber list, you can embed at least one form widget on your site. We'll be getting into this in detail in the upcoming section.
Once your site is ready, you can publish it to go live. When you publish, each site page will have its URL as a subdomain of the Leadpages domain or add your custom domain.
Note: If you've changed your mind, you can immediately unpublish your website without facing any issues.
3. Popups and Alert Bars
Popups and alert bars are simple yet effective conversion tools that contribute to your lead-generation efforts. If properly planned, you can nudge visitors in a non-intrusive manner and make them enter your marketing funnel.
With Leadpages, you can encounter these benefits by creating three different types of popups –
Standalone popup – Triggered by clicking on a link, image, or button.
Timed-popups – Triggered after a specific time or after a certain number of page views.
Exit-popups – Triggered when a visitor is about to leave your page.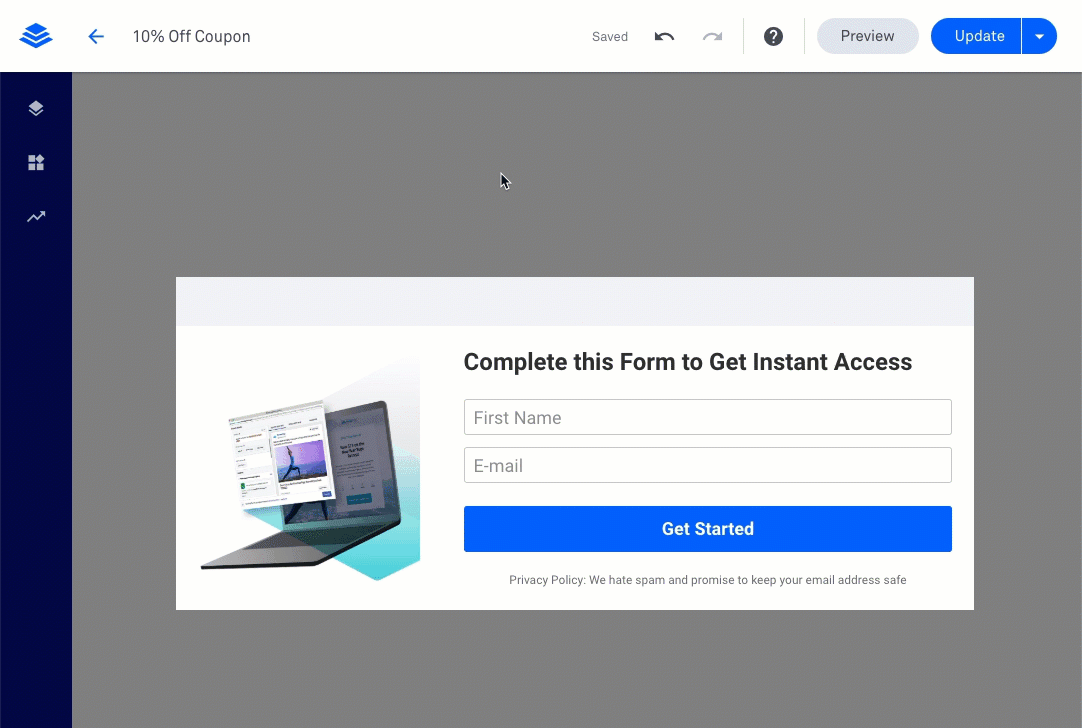 As seen here, you can add a new row, column, section, widgets, and edit CTA. You can also publish the same popup using multiple triggers. For instance, you can publish the same newsletter signup popup as a text link in one area and an image link in another section of your site.
On the other side, with alert bars, you can design either text-based announcements or opt-ins. You can access four types of bar layouts, as shown below.

Your alert bar can be positioned either at the top or bottom. If you want the bar to stay on top, you can leave the "remain in place on scroll" toggle untouched; otherwise, disable it if you want the bar to scroll away when the visitor scrolls the page down.
Note – If you select a different bar layout while editing, it will override your CTA text and click event. So be careful before you start creating the alert bar.
4. A/B Testing
A/B testing is the best way to remove the guesswork and implement data-backed decisions to optimize clicks and conversions for your landing pages.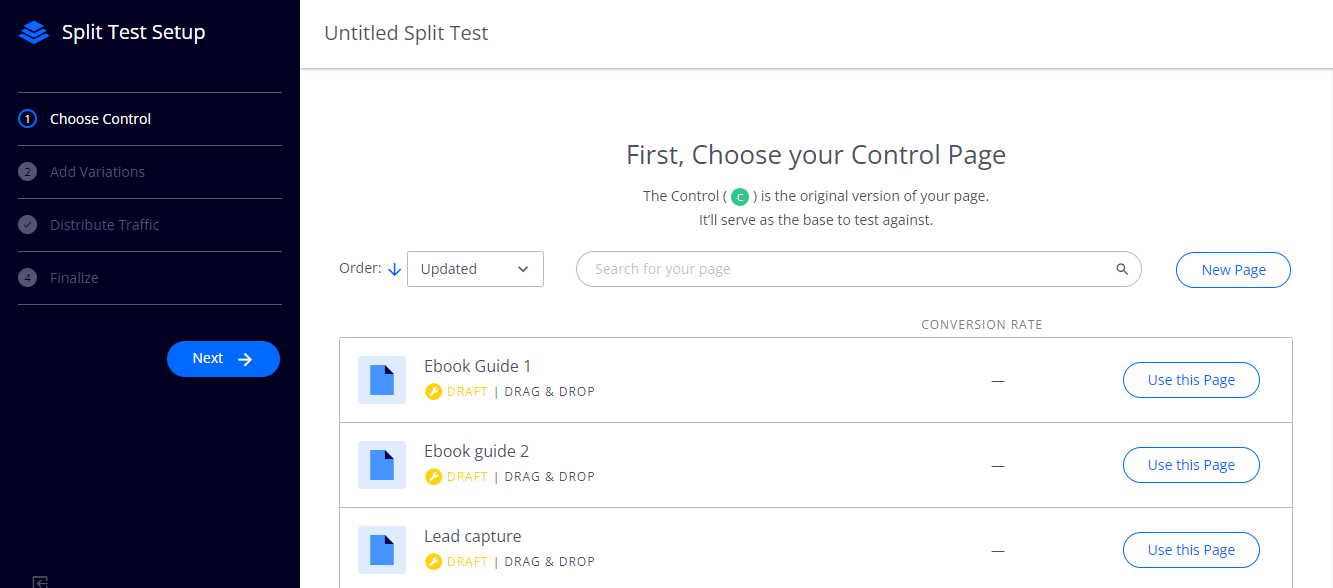 Leadpages lets you accomplish this by testing different versions of your landing pages. You'll have to navigate to your landing pages menu, click on "Create new split testing," and follow the steps mentioned below –
Choose Control – The Control is the actual version of your landing page which you can choose from your existing list.
Add Variations – Add a landing page that you've already created as a variation. You can either choose your control page or any other landing page.
Distribute Traffic – You'll have to decide how the traffic must be distributed among each variation. When people visit your split testing URL, Leadpages will direct them to one of the variations based on the traffic percentages you add.
Finalize – Ensure that you've made all relevant changes and click on the "Start test" to begin or save it for later.
For each test, you can have only one control page. Also, visitors who return to your test will not randomly view another variation. Leadpages will store which version they landed on as a browser cookie so that each individual will view only one page in your test.
5. Built-in Payment System
With Leadpages, you can sell via landing pages, websites, and popups using the checkout widget. Once you configure your checkout widget, you can start accepting payments via Stripe, the Leadpages' official payment partner.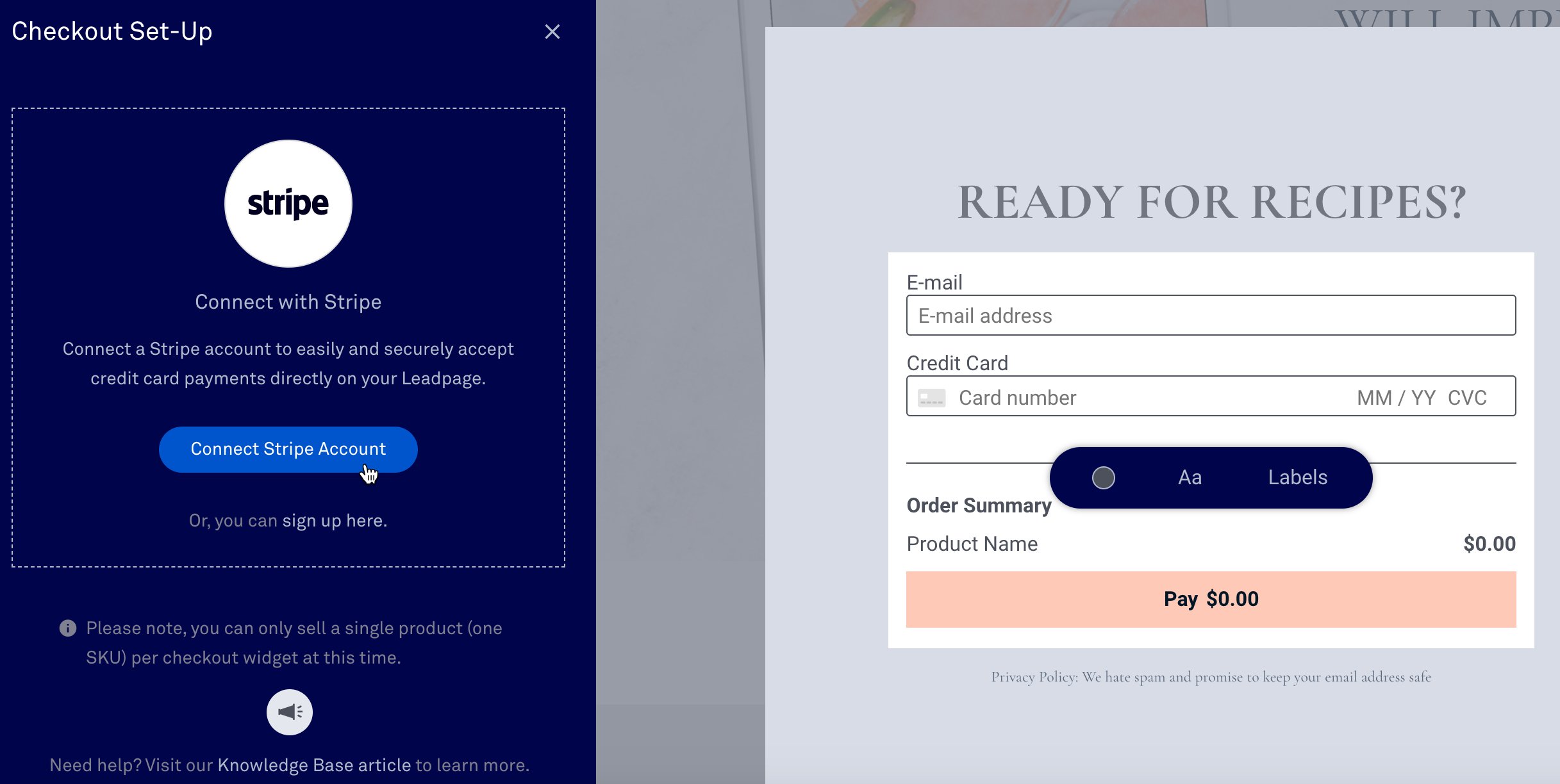 You can accept recurring payments, customize form fields (add shipping field), create an upsell, email receipts, view invoices, and process refunds. It's also possible to send the customer data to any 3rd party integration like ESP or CRM systems.
In addition to Stripe, Leadpages is compatible with PayPal and Gumroad (Zapier Integration). If you use Stripe, transaction fees of 2.9% + $0.30 per successful card charge are incurred.
However, you can sell only one product per checkout. To sell multiple products, you'll have to set up additional checkouts. For instance, you can add two buttons to your page and connect each to a popup with a checkout.
6. Analytics and Reporting
Leadpages provides built-in analytics with some basic tracking metrics like unique visitors, conversions, conversion rate, and earnings for your landing pages, sites, popups, and alert bars. You can see the overall performance report right on the dashboard.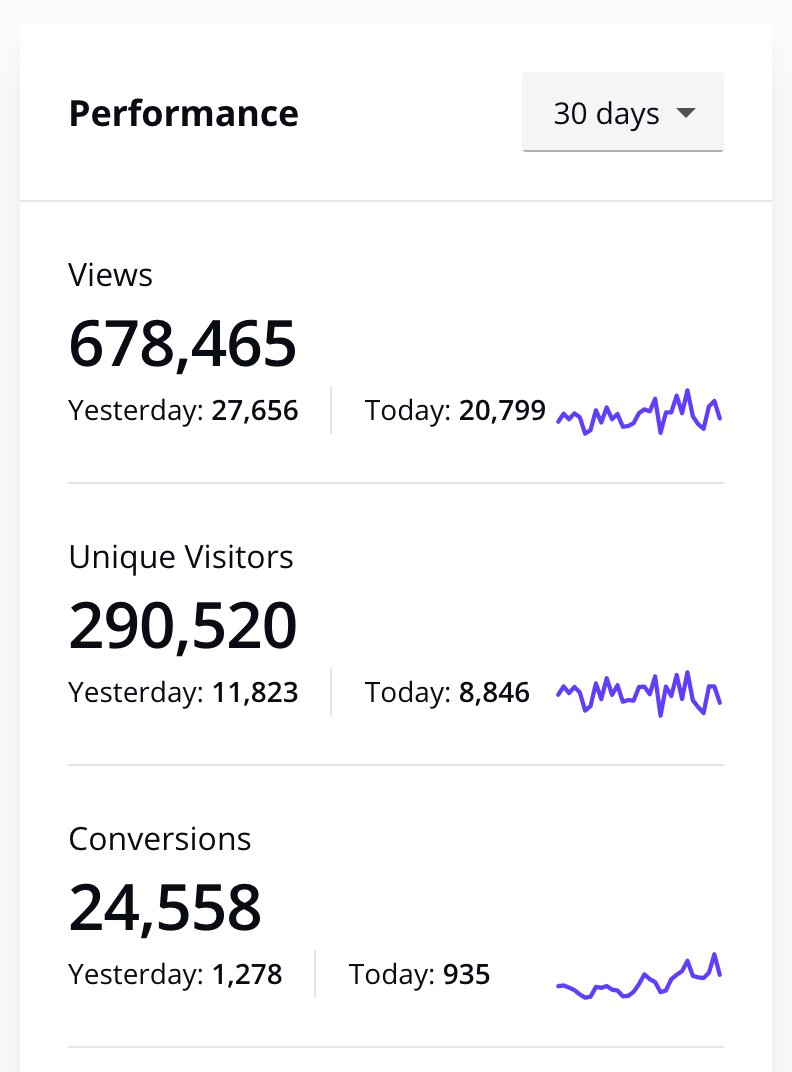 In addition to its built-in analytics, Leadpages allows you to add third-party analytics and tracking code, including Google Analytics and Facebook Pixel. This enables you to collect more traffic data for better insights and reporting.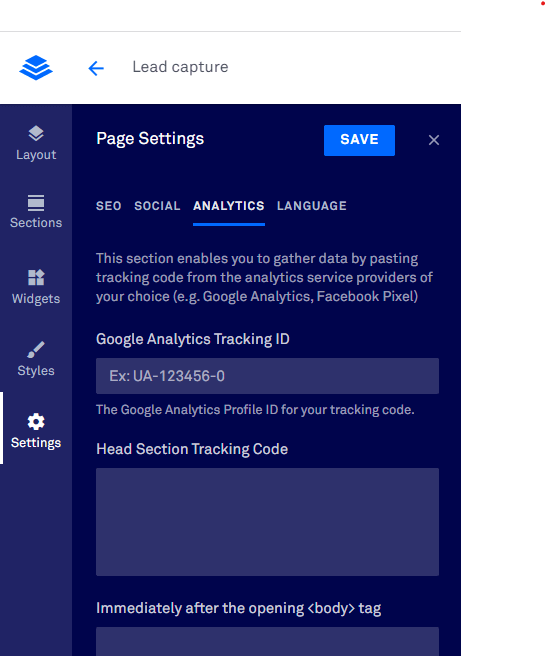 Leadpages Review: 3rd-Party Integrations
Leadpages offers integrations with more than 10 categories for you to flourish in sales and conversions. It also provides Zapier integration with 50+ useful apps like ActiveCampaign, Autopilot, Convertkit, Kajabi, Zoom, Google ads, Leadowl and the list goes on.
With that being said, let us view some of the popular integrations of Leadpages in the following categories –
Analytics – Google Analytics, HotJar, Javascript Analytics Platform, and Google Tag Manager.
CRM – InfusionSoft, Pardot, Salesforce, and apps like Zoho CRM, amoCRM, etc are available via Zapier.
Digital Advertising – Bing Ads, BrightRoll, Facebook Ads, Instagram Ads, Facebook Custom Audiences, Taboola, and other advertising platforms.
Ecommerce – Shopify, and SendOwl are available via Zapier.
Email Marketing – Aweber, Emma, Drip, GetResponse, Gmail, iContact, Kalviyo, Mailchimp, Mailerlite, Constant Contact, and much more.
Live Chat – Chat.io, Drift, Intercom, Live Chat, and ManyChat.
Marketing Automation – HubSpot, E-goi, Marketo, LeadsBridge, Ontraport, and other 1000+ apps via Zapier.
Payments – GumRoad, PayPal, and Stripe.
Scheduling – Calendly, Acuity, Timetrade, and OpenTable.
Social Media – Facebook, LinkedIn, LinkedIn ads, Twitter, and Twitter Ads.
Video & Webinar – Vimeo, Wistia, Youtube, and Webinar platforms like GoToWebinar, WebinarJam, Zoom,
Whether it is to generate leads, collect email addresses, interact with the audience or want to expand your digital presence, Leadpages has got you covered with this powerful set of integrations. Also, note that some of the listed apps are available via Zapier Integration.
Leadpages Review: Ease of Use
The unique selling point of Leadpages lies in its ease of use. You can create a full-fledged page/site by making use of customizable widgets and viewing all the required information in one place via the dashboard.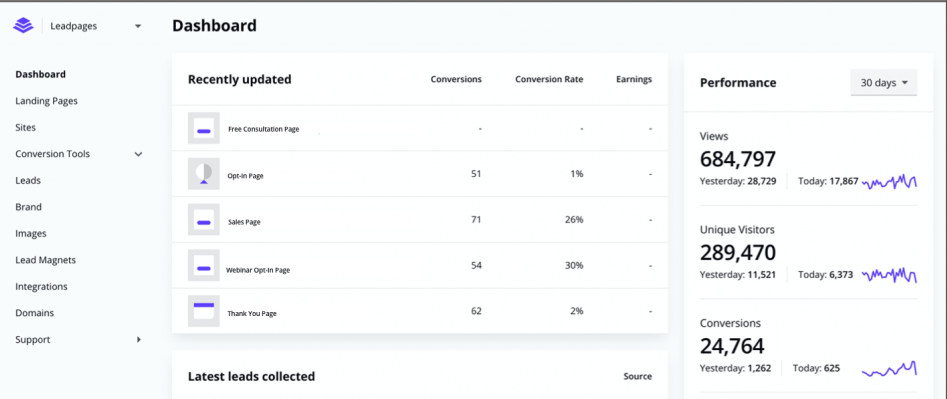 Leadpages also makes it easy by letting you store images (max 15MB size) and brand assets like colors and custom fonts. You can upload fonts in different formats like TTF, OTF, WOFF, and WOFF2 and a maximum of 10 custom font families can be uploaded.
Another favorite aspect of Leadpages is its flexible publishing options. It enables you to publish your landing pages to other CMS or website-building platforms such as WordPress, Shopify, etc.
Overall, Leadpages makes it easy for you no matter what task you want to perform. Whether to build or publish your creative assets, accept payments, or expand functionality via integrations, Leadpages serves you with the best.
Leadpages Review: Customer Support
Leadpages provides a good range of customer support options. You can access the built-in support options on the left sidebar of your dashboard.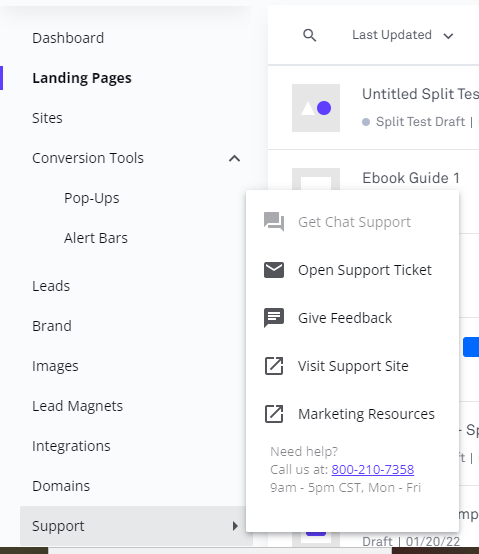 The chat and phone support are available between Monday to Friday (9 am to 5 pm CST). You can also reach out by submitting your request via email or visiting their help center and knowledge base to get immediate solutions related to your issue.
As an added advantage, you can access their free marketing resources like webinars, guides, downloads, podcasts to grab fantastic ideas and inspiration for increasing your business's ROI.
Leadpages Review: Pricing & Plans
Leadpages offers a 14-day free trial and comes with three major pricing plans, which are as follows –
Standard Plan – $49/month – build 1 site and technical support via email and chat
Pro Plan – $99/month – build 3 sites, priority tech support (phone, chat, support), online sales & payments, and unlimited A/B testing.
Advanced Plan – $399/month – build 50 sites, 5 Pro sub-accounts, advanced integrations, and one-on-one quick start call.
The Standard & Pro plan lets you build landing pages/popups/alert bars and support unlimited traffic, leads, free hosting, lead notifications, mobile-responsive templates, and 40+ standard integrations. However, if you wish to sell via your landing pages or popups and run A/B split testing, you'll have to upgrade to the Pro plan.
Note: You can also contact their team for custom pricing options.
Leadpages Review: Pros and Cons
Now it's time to know where Leadpages shines the most and where it needs room for improvement. So let us analyze some of its significant merits and limitations.
Pros of Leadpages –
Beginner-friendly platform
Large collection of mobile-responsive templates
Easily edit integrations to collect and process leads
Hassle-free publishing options for landing pages, sites, alert bars, and popups
In-built payment system to collect payments
Easy-to-use widgets and tons of integrations for ESP
Create unlimited lead magnets
Cons of Leadpages –
The Page Editor is very basic with limited customization options
Timed popups and exit-intent popups do not work on mobile devices
More design layouts could be added for alert bars
Important features required for selling and optimization are accessible only in higher plans
Leadpages Review: Is it worth it?
Leadpages is a simple yet feature-packed page builder that provides all the capabilities to build conversion-oriented landing pages and websites for small businesses, bloggers, and eCommerce sites. You get an easy-to-use landing page editor with conversion tools like pop-up and Alert bar builders.
Above all, it lets you host multiple sites and create landing pages for multiple pages at a very affordable price that you might not access in the higher plans for leading page-building platforms. So, if you are looking for a page builder for your business with a limited budget, but offers all the essential features you need to drive traffic and generate sales, then Leadpages would be my top recommendation for you.
If you have made up your mind and haven't tried Leadpages yet, I strongly suggest creating a free account with a 14-day free trial to see if it is worth your investment.
I hope this article gave a complete overview of Leadpages and helped you determine if it is the right landing page builder for your business. If yes, please do share and let others know your opinion about the platform.
Leadpages Frequently Asked Questions (FAQs)
Is Leadpages free?
Leadpages does not offer a free plan. However, it gives you a 14-day free trial for all their paid plans, which is quite affordable compared to other landing page builders available in the market.
Does Leadpages allow you to add a custom domain?
With Leadpages, you can create unlimited landing pages – there's no limit on the number of pages you can make. However, there's a limit on the number of sites you can connect to the platform based on your plan.
Is Leadpages SEO-friendly?
Yes. Leadpages is an SEO-friendly platform with all essential SEO features that let you optimize the SEO title, description (between 50 to 160 characters), and keywords for specific pages. In case, you don't want your pages to be indexed by a search engine, Leadpages lets you disable the search engine visibility.