Wondering if LearnWorlds is the right platform for your online courses? Want to know what it has to offer and how it can help you build your e-learning portal? Then, this article is for you.
LearnWorlds is one of the best online course platforms in the market. It is a powerful and fully-customizable platform for creating, selling, and promoting your online courses. It can be utilized to create robust online schools for students or training centers for employees and customers.
In this review, we will look into the key aspects of LeadWorlds to help you determine if it has every feature and functionality that you want for your e-learning website. If you want to explore the platform alongside reading the review, you can create a free account using the button below; you will get a 30-day free trial.
If you are ready, let's get started.
LearnWorlds Review: Key Features
In this section, I will break down the following features offered by LearnWorlds –
Website Builder
Popup & Form Builder
Course Creation
Mobile App Builder
Sales & Marketing
User Management
Analytics & Reporting
1. Visual site builder
If you want your students to pay for your courses, you have to provide them with an interactive and user-friendly platform where they focus on learning new things. Fortunately, with LearnWorlds site builder, it becomes super easy for anyone to build a robust e-learning website.
LearnWorlds provides a no-coding, simple drag-and-drop site builder with hundreds of ready-made, fully customizable templates, widgets, and layouts that you can use to build pages within minutes.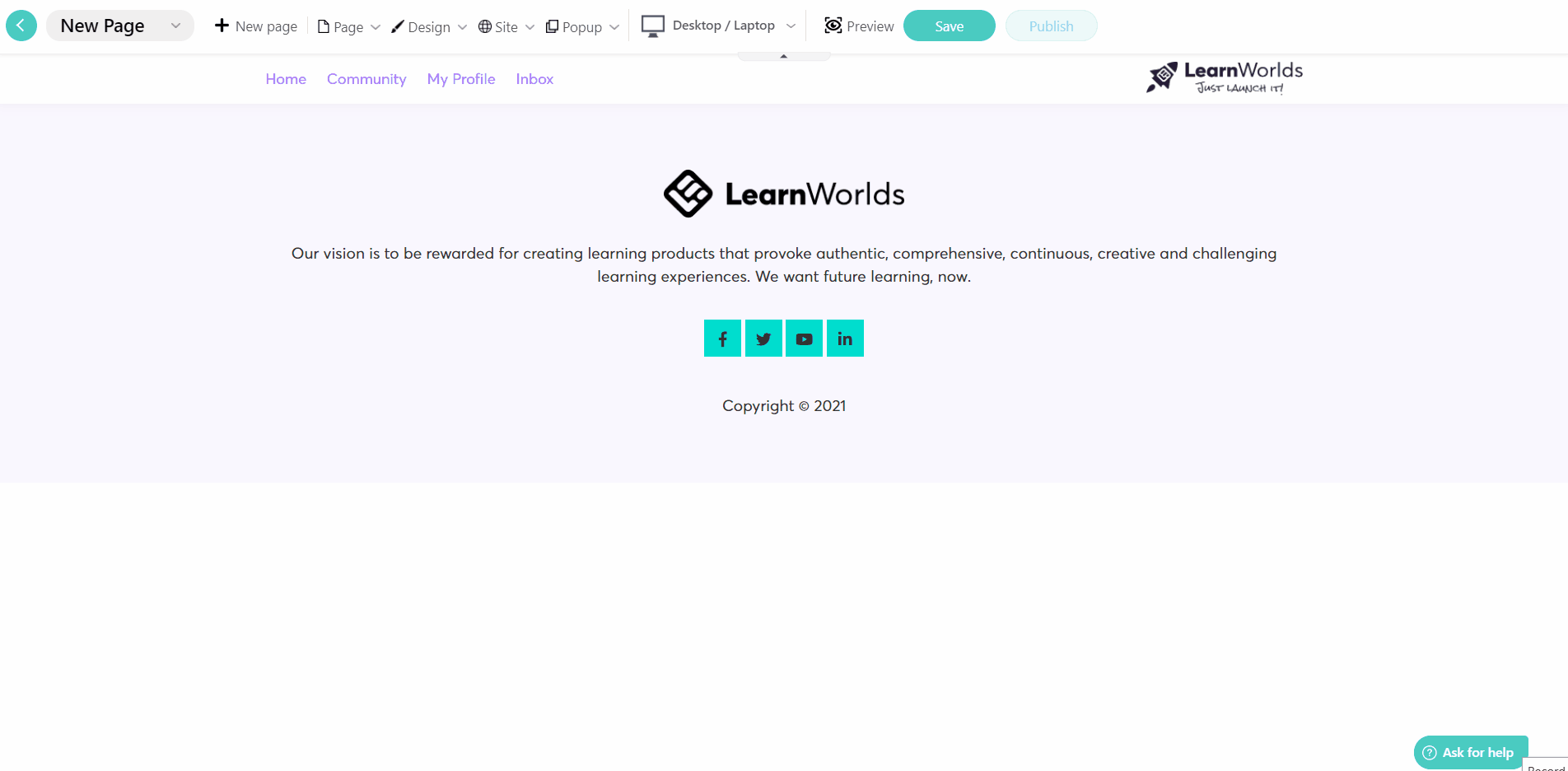 You can create different types of pages such as –
Landing Pages
Pre-launch & After Login Pages
1-click sales funnel
About us/Blog page
Affiliate Page
Payment and Thank you pages
Policy pages
And many more without navigating elsewhere.
The page builder comes with a theme explorer that lets you change the colors, typography, buttons, inputs, and layouts with just a click. It is pretty impressive and easy to use for anyone.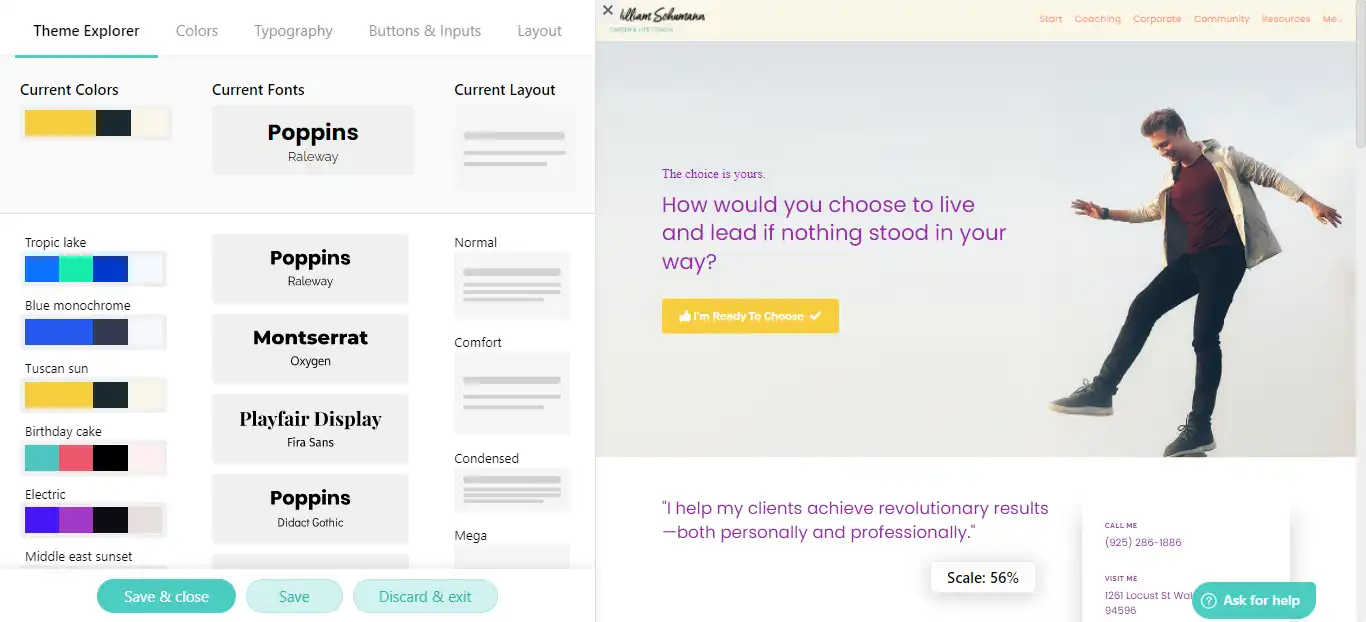 Moreover, its custom code editor enables you to inject HTML, CSS, and Javascript in different slots available. This is ideal for creating a school website with advanced functionalities and options.
Overall, LearnWorlds comes with a robust site builder packed with a plethora of design and customization options. It strives to deliver a professional, impressive, and enjoyable experience for you and your students as well.
2. Popups & Form Builder
Forms play a crucial role in attracting potential leads who will turn out to be your loyal students in the future. To achieve this, LearnWorlds lets you build different types of forms to align with your marketing goals. They are –
Lead Capture Forms: Include name, email, and other qualified fields to know more about your audience
Contact Forms: Collect your audience's details, get to know their personal interests, and let them know how to contact you.
Course Forms: You can design forms to introduce yourself, evaluate courses, and instructors, and also collect pre-event/post-event feedback.
Marketing Research: You can frame questions to know what students think about you, understand course topics preferences, demographics, and many more.
In addition to this, LearnWorlds also lets you create other important forms like Consent, Customer Satisfaction, Instructor application, and self-evaluation for students.
Next, coming to popups, LearnWorld lets you create user-friendly popups for –
welcoming students
promoting offers and coupons
announcements
and much more.
The best part is that you don't have to design popups from scratch. It has several pre-built templates you can choose from and customize by modifying text, colors, and other elements.
After creating the popup, you can specify rules to display the popups, which include the following details –
Where to show: Entire site, course pages, blog post, page groups, bundle pages, subscription pages, and much more
Range of target audience: All users, logged-in users, logged-out users, and tagged users
Trigger: After the page is loaded, If a user is inactive for X time or on exit-intent
Rules: Automatically close after X seconds, Repeat every X days, Set an Expiration date, and show a popup only X times to the same user.
Once this is configured, your popups are all set to smartly nudge your incoming visitors. You can view all the related data by accessing the popup manager.
In a nutshell, with LearnWorld's popups and forms, you can effectively improve your brand awareness, spark immediate attention and improve sales by directing visitors to achieve a specific goal.
3. Course Creation
Course creation is an integral part because it is the cornerstone of building a successful online course business. To achieve this, you'll have to create/manage more courses, conduct exams, issue certificates, and the list goes on. LearnWorlds has designed this process in a structured manner, and let's now view the complete working system.
Course Management
LearnWorlds has a well-organized process for creating and managing courses. You can get started by navigating to Courses → Create Courses and providing the required details, such as –
Course Title
SEO-Friendly URL
Access type (Paid, Draft, Free, Coming Soon, and Private)
Image upload and catchy description
Course delivery (Enable/Disable Drip feed delivery)
Next, you can start creating course pages, adding content sections, course player, and more as shown below –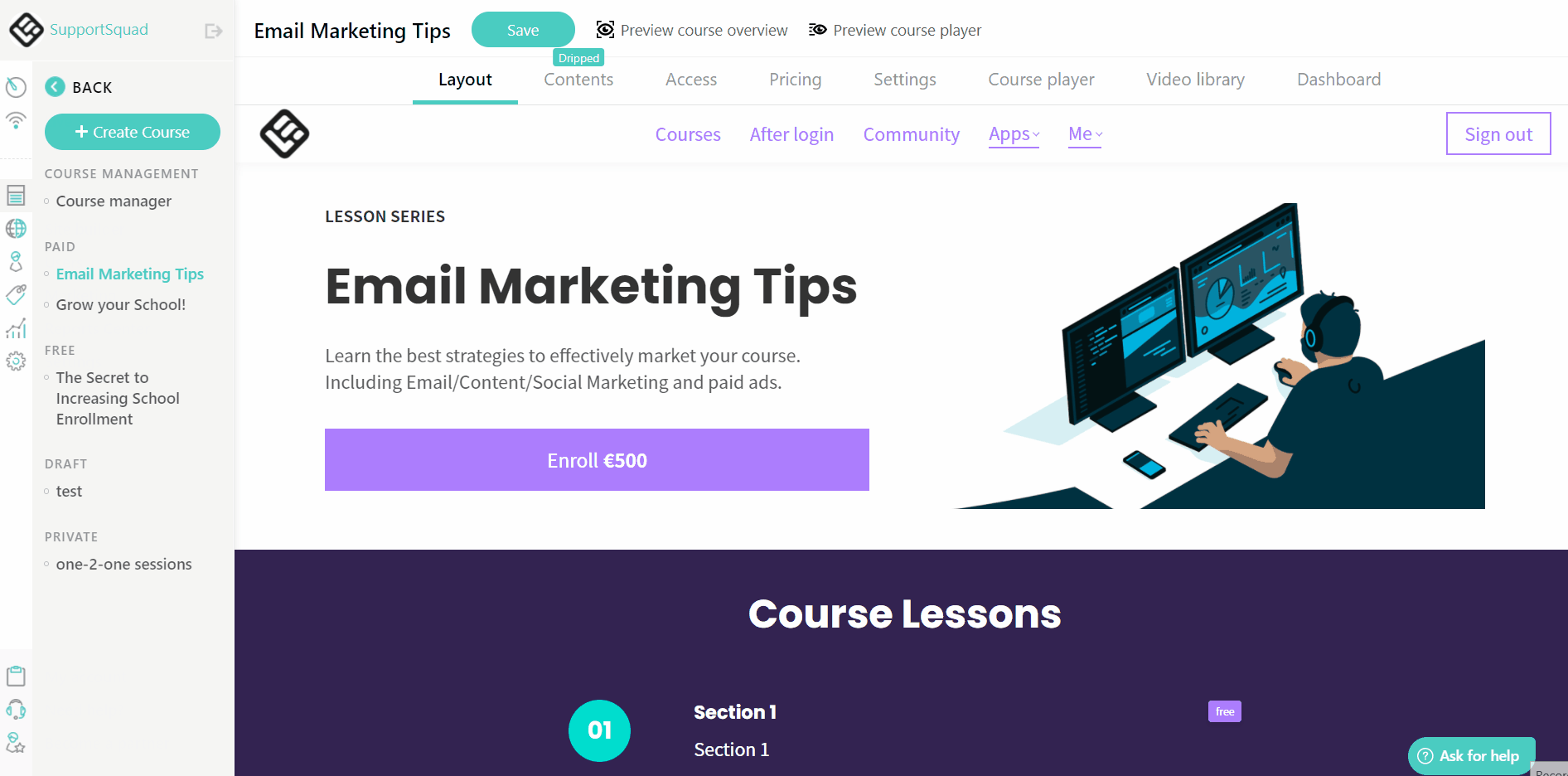 Here's a breakdown of the tabs available on the top –
Choose a Layout: This is for the initial page your students view to signup or register for your courses. You can customize the instructor's info, course details, and CTA buttons, add new sections, and social sharing buttons, and modify the footer.
Add contents: In this section, you'll be uploading your course content in supported formats. You can add videos, PDFs, youtube, ebooks, questionnaires, and certificates, conduct live sessions, and upload external links.
Select Access Type: Decide whether you'll offer the course for free, paid, or place it in draft mode till completion. You can also indicate that the course will be available soon or specify that the enrollments have been closed.
Pricing: You'll have to set the original price, offer a discount (if any), and create related bundles/coupons to optimize your course selling.
Settings: You can upload the course card, set the title, and description, add the author's name, and avatar, organize courses and optimize for SEO either automatically or manually.
Video library: Upload your course videos in the supported formats like .mov, .mp4, .3gp, .divx, .mpeg, .mpg, .wmv, .mkv.
Course Player: In this section, you can select your course player skin and customize the course player by enabling/disabling the required options.
The last tab of your course editing page is the dashboard. Here, you can view the statistics, the number of users (admins/instructors), new users, currently active users, total time spent, course revenue, and sales count.
Finally, LearnWorlds has a unique and one of the best course management systems that I have used in the last several years – It is simple yet sophisticated enough to create amazing courses and provide an excellent user experience with activities, certifications, and more.
Assessment Exams
You can conduct examinations for your students through your LearnWorlds school. The different types of questionnaires that you can set to evaluate your student's knowledge are:
Quiz: For students' learning and understanding purposes.
Exam: A formal test where you can indicate the passing score. Only closed-type questions are allowed, and the results will be available in the grade book.
Assignment: This consists of open-ended questions answered by your students.
File Assignment: Similar to the assignment, it consists of open-ended questions asking students to submit two or more files.
Graded SCORM Package: This enhances the SCORM learning option that lets you integrate Score or Pass/Fail results from SCORM into your Gradebook.
SCORM stands for Shareable Content Object Reference Model. It is an interoperable zip file that contains your online content. SCORM ensures that everything is properly tracked, measured, bookmarked, and so on.
To create the exam, navigate to course manager → (your) course → content → add activity → Questionnaires → Exam. You'll be presented with the options as shown in the image below: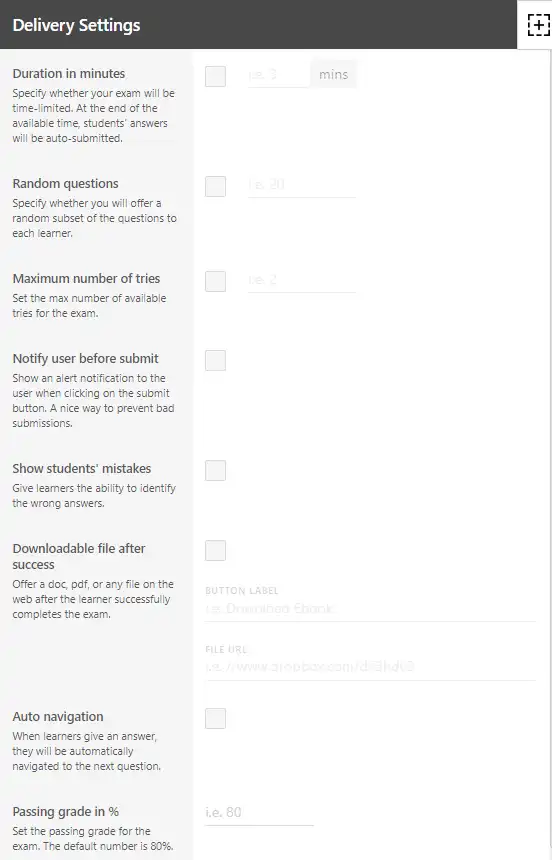 You can enable/disable the necessary options in the delivery settings to set the exam procedure. By clicking on the '+' icon in the top right corner, you can import the question types and create the questionnaire in the intuitive editor. You can also import questions from your question banks.
Next, you can add 2 types of questions for the exam –
Multiple-choices questions (MCQs)
True/False questions
Once you create the questions, this is how it appears in the exam interface –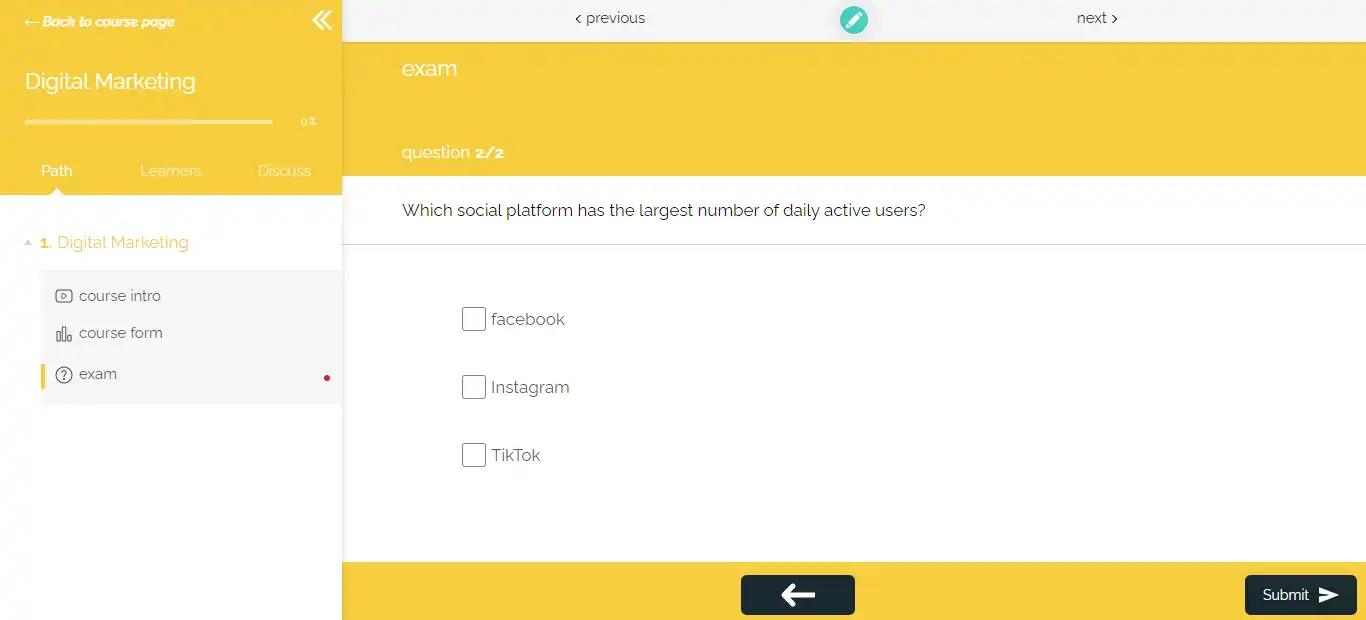 Digital Certificates
LearnWorlds enables you to reward your students with two types of certifications –
Certificate of completion
Certificate of Knowledge
You can award a Certificate of Completion to all the students who complete all course chapters and learning activities or get a passing grade in all your examinations.
This is what your users will see as soon as they complete all the requirements for the Certificate of completion. They have to insert their name and claim their certificate –

On the other hand, the Certificate of Knowledge can be awarded to students only when they pass the final exam specifically created for this purpose. This is what users will see if they want to sit for the certification exam.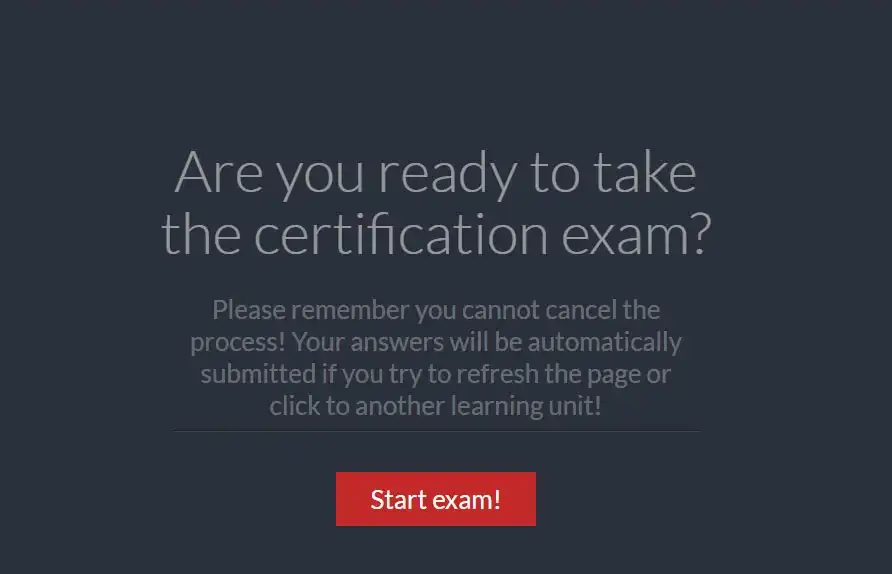 LearnWorlds uses PDF templates to create user certificates. They have a default certification template but it is not as good as you can design. So, you should create a pdf template for your certification. Here's an example of how your certificate could look –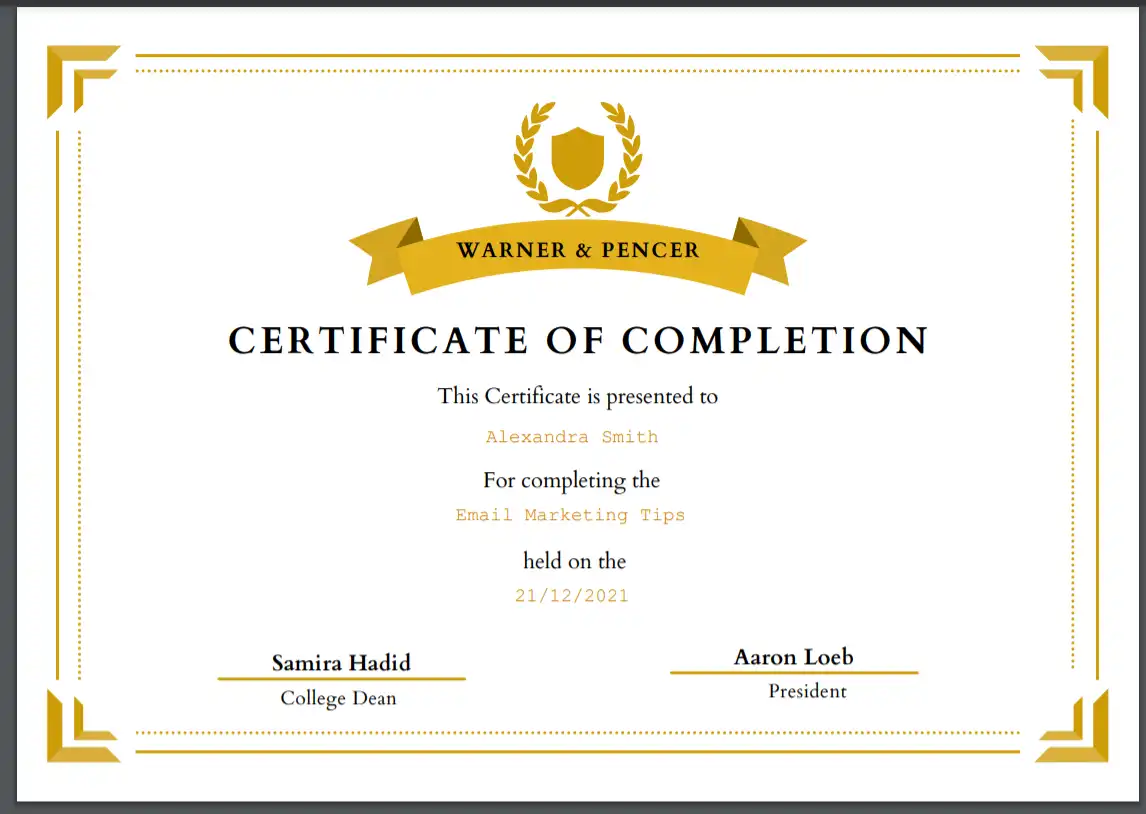 4. Mobile App Builder
Leveraging the digital presence is all about how fast and quickly you connect with your customers. One such way to directly tap into your growing audience base is by launching a dedicated mobile app for your online business.
With a mobile app, you can expand your reach and meet your students where they are. It simplifies their learning journey as they can access your course content, questionnaires, examinations, etc with a single click.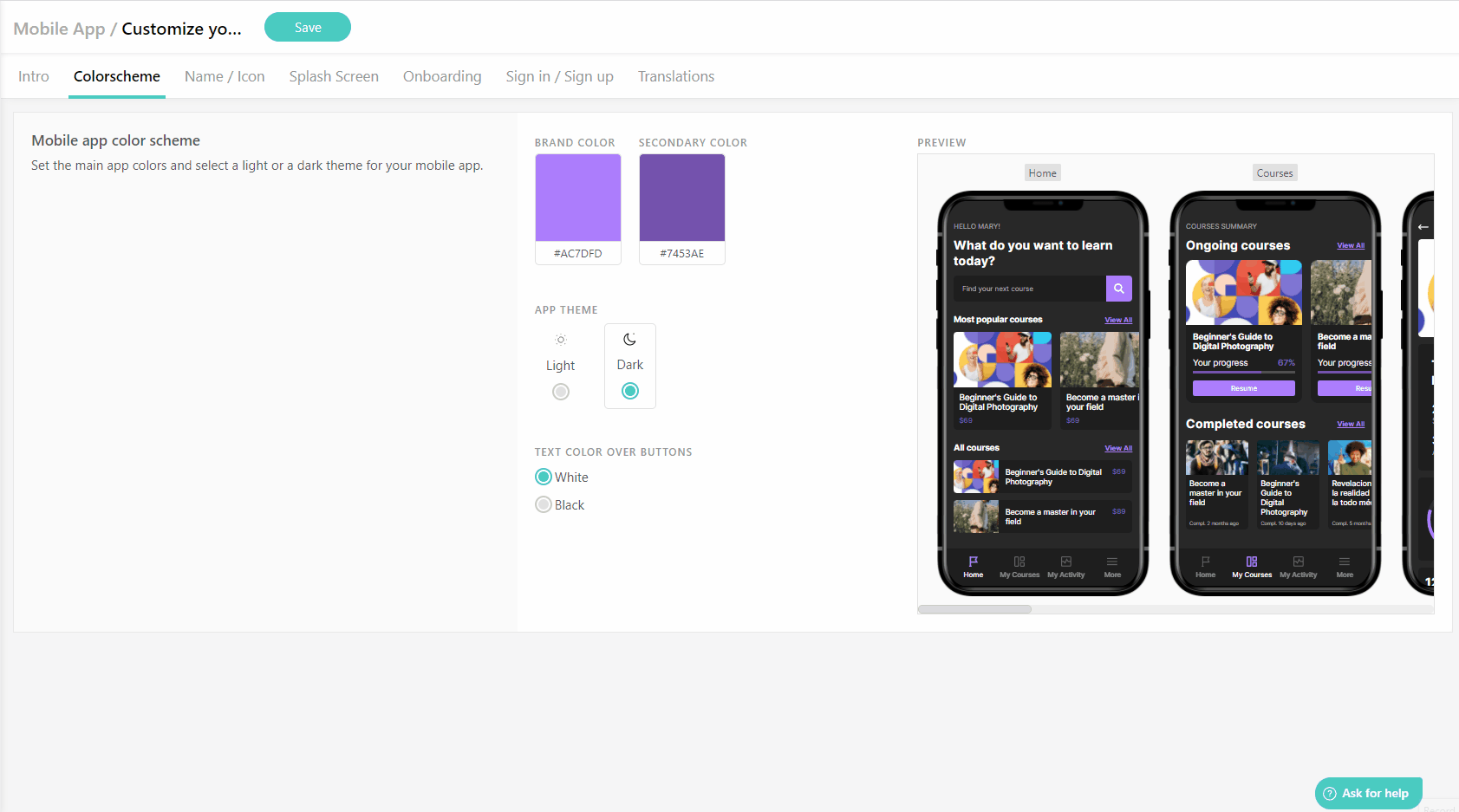 LearnWorlds lets you accomplish this by enabling you to build and launch your native mobile app for iOS and Android. Here are a few advantages of launching a mobile app with LearnWorlds –
No coding skill required
100% customizable for your brand
White-labeled solution
Multi-lingual content translation
Easy App Management on app stores
The process of building the mobile app is simple and straightforward in LearnWorlds. The steps are as follows –
App Customization – Brand color, icon, name, theme, and logo
Test your app – Resolve if there are any errors and then submit for testing
Prepare Submission – After successful testing, you can submit your app to the Play Store and Apple App Store
Review Team Account & Launch – You'll have to comply with all legal terms, and services and then select the payment plan for publishing your app
The best part of using LearnWorlds app builder is that it also allows you to communicate directly with your app users via push notifications. It enables you to send targeted push notifications to app users and students based on their behavior and engagement with courses.
5. Sales & Marketing
Your efforts won't matter if you don't let people know what expertise you offer in improving their knowledge and career.
LearnWorlds understands this and got you covered with an ample number of marketing tactics to widen the scope of your online course business.
Memberships & Subscriptions
Memberships and Subscriptions are a great way to amplify the revenue of your online course business. With LearnWorlds, you can create a membership site and collect recurring revenue from students to let them access your premium gated content.
By integrating Stripe as your payment gateway, you can start a membership and subscription plan in the following three ways –
Subscription Courses – Promote Subscriptions along with a list of included courses
Subscription List – Displaying a list of available subscriptions to your students
Subscription Offer – Provide a coupon code to increase signups for your subscription content.
Customizable templates are available for each category. However, students will not be able to subscribe to more than one subscription plan.
With this easy-to-implement subscription methodologies, you can build brand loyalty, deepen student relationships and ramp up your profit levels quickly.
SEO
With LearnWorlds, you can optimize SEO by selecting the required pages from your site's dropdown menu. As always, you can begin configuring your page's title, meta description, image and visualize the preview for mobile/desktop as well.
LearnWorlds also creates a sitemap for your school by default and lets you submit it to Google and other search engines to maximize organic visibility. If required, you can exclude specific pages from getting indexed on search results.
Coupons
Discount coupons are one of the best ways to attract new buyers and generate more sales. Fortunately, LearnWorlds provides you with a very simple and easy way to create and manage your coupon codes.
You just have to start by specifying the promotion name, the discount type, and the products for which coupons have to be applied.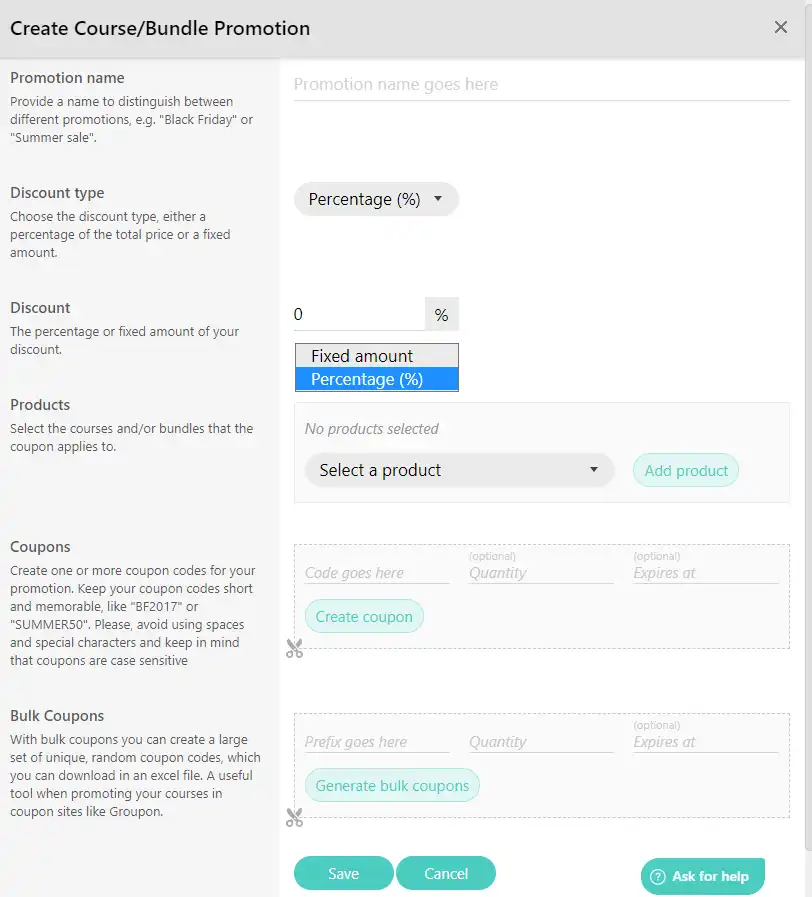 Next, input a unique coupon code. set the maximum number of times it can be used and the expiration date.
Finally, click the "Create coupon" button to make the coupon code live and redeemable. It is that simple to create coupon codes!
Further, you can track the number of times codes have been redeemed from the analytics reports about which we will talk in the later section.
Bundles
With bundles, you can create a collection of your courses and wrap it together under one product. All you have to do is specify the name of your bundle, provide a short description, upload a thumbnail, select courses, and set a discounted price.
LearnWorlds lets you decide what action your visitors have to take after purchasing the bundle. They can navigate to the thank you page, another page of your choice, or any other specific URL. You can also apply these purchase navigation settings to all your bundles.
By promoting your courses in bundles, you let your target audience understand more about your offerings. Each bundle has its own default sales page, customizable with the page builder.
Affiliate Marketing
Affiliate marketing is an excellent approach to incentivize others to promote your online courses without a high upfront cost. You can easily tap into your target audience base to grow your business.
LearnWorlds has a built-in affiliate management tool that is very easy to set up. You can track commissions and payments via LearnWorlds intuitive interface so you can know how much your affiliates have contributed to promoting your online courses.
You can choose to enable/disable the affiliate program, edit the agreement page, set up commissions, cookie expiration, select payment methods, products, and much more. Your affiliates can self-register themselves, or you can manually add them if they're already your users.
In the affiliate dashboard, you can track revenue, customers, active leads and perform specific actions like approving commissions and payouts. The preferred payment methods include PayPal, Bank transfer, and other modes.
Finally, LearnWorlds offers you everything to leverage affiliate marketing to grow your business in the simplest way possible.
6. User Management
LearnWorlds offers you advanced controls to manage your users in the school. You can add a new user, export users' reports, and perform bulk actions like import/tag/enrollment/suspension of users directly from your dashboard.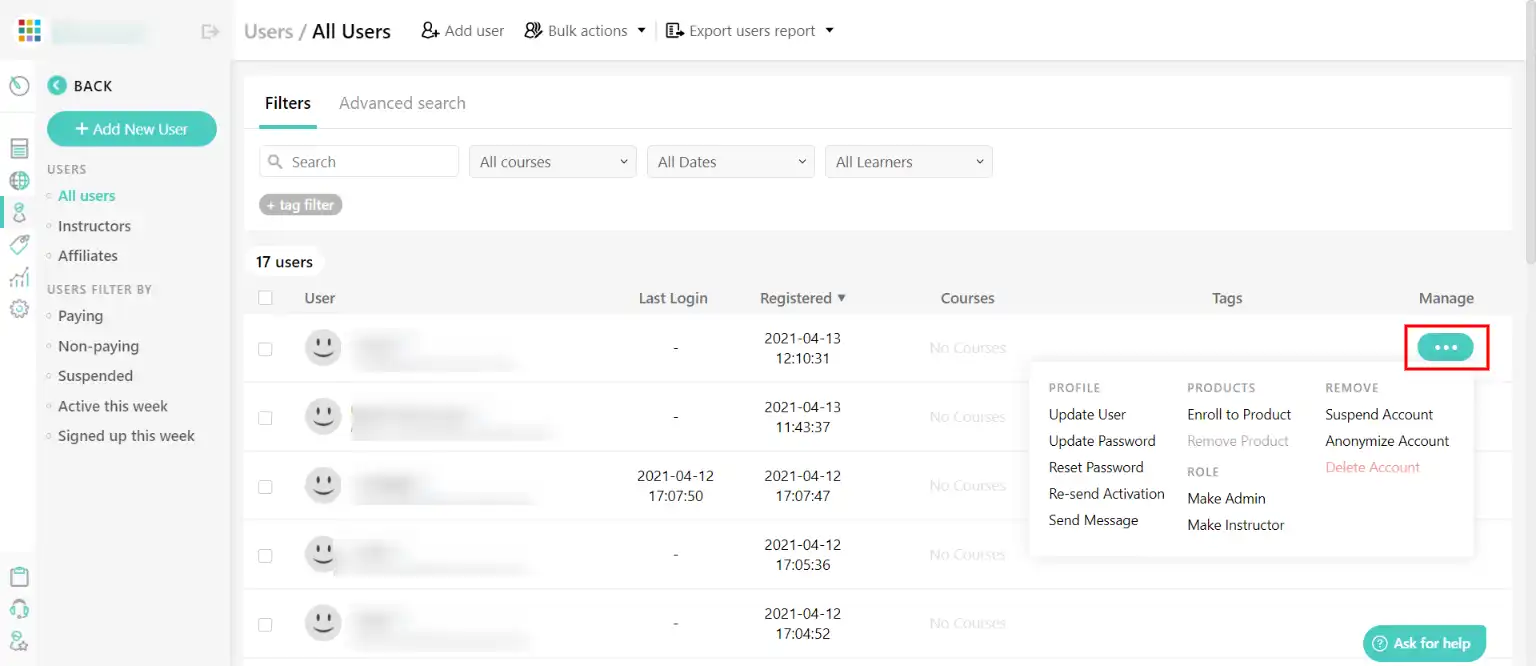 As an admin, it gives you the right to –
manage students, instructors, and affiliates (if any)
view every student's progress inside your school
check payment status
reset the user's password or resend the activation
manually enroll a user in a course/course bundle
Overall, LearnWorlds has got you covered with all the essential aspects that are ideally required to view, manage and grow your student's database simply and straightforwardly.
7. Analytics and Reporting
As the number of students continues to grow, you need to manage their data, examine how they perform, the number of sales you generate, and the list go on. With LearnWorld's extensive analytics, you can dive deep into every crucial student's data as follows –
User Progress: View the entire user's progress, such as registered date, last login, enrollment, study time, total time on the platform, and much more by applying a range of filters.
Course Insights: Visualize the number of enrollments, most popular courses, engaging courses, dropped out, and hardest courses.
Gradebooks: Select a course for which you want to view your student's answers. You can edit a score, view, and export answers.
Certifications: You can filter by dates and the list of available courses to view the certificates awarded.
Assignments: View the list of written assignments submitted by your students in this section.
Question Banks: Get access to the complete list of all the question banks created by you. You can also edit questions, rename, and delete them.
Orders: Displays the sales activity regardless of course type (Bundle/Subscription). It consists of the learner, purchase date, product name, invoice transaction ID, amount, and payment gateway.
Product Revenue: View the total sales of every product in your school, the total amount of receipts per product, and the total amount earned.
Instructor Revenue: Observe how much every instructor earns for courses or bundles, filter by products/dates, and export the results.
Canceled Sales: If any of your sales get canceled, you can view all the relevant details in this section.
In addition to this, you can create user segments, view the list of preset segments, schedule reports based on the report type, and send it directly to your recipients.
LearnWorlds Review: Integrations
LearnWorlds offers seamless integrations with tons of sales and marketing tools that can help you grow your business.
Here are some of the popular integrations available –
Affiliates: ReferralCandy and Refersion
Analytics: Google Analytics, Google Tag Manager, MixPanel, and Facebook Pixel
Customer Service: Freshchat, Zendesk, Olark, and Tawk to
Email Marketing: Mailchimp, ActiveCampaign, Aweber, and ConvertKit
Growth Tools: Google Search Console Verification, Intercom, Sumo, and HubSpot
Live Sessions: Zoom and Webex
Social Proof: FOMO
Payment Gateways: Stripe, PayPal, Shopify, and PagSeguro (Brazil)
In addition to this, you can use Webhooks and Zapier integration to improvise the learning functionality. Though the list of apps seems to be limited in each category, we can hope and expect that LearnWorlds might include more apps in the future.
LearnWorlds Review: Pricing Plans
LearnWorlds offers four major pricing plans along with a 30-day free trial and a money-back guarantee. Let us view the pricing breakdown for each plan –
Starter Plan – $29/month: 1 Admin, custom domain, unlimited paid courses, site builder (3 pages), popup builder (2 popups), built-in community, 3 payment gateways, coupons, basic integrations, drip-feed courses, and 24/5 email support.
Pro Trainer Plan – $99/month: 5 Collaborators, unlimited courses & landing pages, full access to site builder, unlimited popups, subscriptions & memberships, affiliate management, customizable course player, checkout page, custom certificates, live classes, webinars, 20 SCORMS, Question banks, advanced Zapier/premium integrations, and 24×7 priority email support.
Learning Center Plan – $299/month: 25 admins/collaborators, bulk user actions, full white-label, interactive video, auto-transcripts/subtitles for videos, unlimited SCORMS, user segments/progress reports, course insights reports, scheduled automated reports, advanced affiliate management, API Integration, mobile app (extra fee).
High Volume & Corporate Plan: Additional admins, custom bulk enrolments, branded corporate academy, 99.95% uptime, premium cloud servers, flexible invoicing, custom reports, premium support options, and tailored pricing options.
With the Starter plan, you'll have to pay a $5 fee per course sale. However, if you opt for higher plans, you can enjoy zero transaction fees.
LearnWorlds Review: Pros & Cons
Now that you've understood how LearnWorlds helps launch and grow your online course business let's look into some of its advantages and limitations over other platforms.
Pros of LearnWorlds –
Robust and extensive online course platforms
Easy-to-use site builder with lots of customization options
Tons of marketing features to widen your digital presence
Send personalized push notifications via mobile app
Meaningful analytics and reporting options to make smarter decisions
Ability to add video quizzes, interactions, titles, pointers, and watermarks to your videos
Enable scheduled automated reports
Build, manage, and grow your affiliates to increase revenue.
Cons of LearnWorlds –
Transaction fee on the Starter Plan
A limited set of integrations
Lack of ready-to-use certificate templates.
Gamification is still in beta mode.
Final Verdict – Is LearnWorlds worth it?
LearnWorlds
Sales & Marketing Features
Whether you're a blogger, coach, consultant, trainer, teacher, or entrepreneur, if you want to create an advanced e-learning platform to sell online courses and memberships, you should consider LearnWorlds.
And, if you are still at the ideation stage to launch your online courses, you may want to read our guide on creating and selling online courses to kickstart the process like a pro.
LearnWorlds Frequently Asked Questions (FAQs)
Here are some of the common questions I have asked regarding LearnWorlds. I hope this covers your questions as well.
Does LearnWorlds have a Free Plan?

No, LearnWorlds do not offer a free plan; but they do offer a 30-day free trial with access to all its features. So, if you are serious about starting an online school, you may give it a try before putting money into it.

Does LearnWorlds have a mobile app?

LearnWorlds doesn't have a mobile app to manage your courses, but it provides a mobile app builder that you can use to build your own mobile app for iOS and Android. (We have talked about it in detail in the above section)

What are other LearnWorlds alternatives?