Managing complex inventory and crumbling with an ever-growing product catalog can significantly affect your customer shopping experience.
Also, if the balance between the product inventory and projected demand is compromised, everything goes out of control. If you are dealing with these conflicts, it's time to switch to an efficient POS system.
You can easily manage your retail business by using a reliable POS system. It eliminates errors, improves service speed, and streamlines your entire stock management process.
One such POS software capable of handling your scalable inventory demands is Lightspeed POS. It is designed specifically for retailers, which helps in improving accuracy and productivity.
So is Lightspeed the right software for your business? In this review, we will analyze every aspect of the Lightspeed POS and help you determine if it offers what you need.
What is Lightspeed Retail POS?
Lightspeed Retail is a cloud-based POS platform for brick-and-mortar stores. It offers comprehensive point-of-sale solutions that cater exclusively to retailers, restaurants, and golf businesses.
This all-in-one commerce platform lets you accommodate scalable inventory with high SKU counts. It provides eCommerce tools, 360-degree reporting, customer management, expansion to new locations, and flexible payment options.
Lightspeed also provides an eCommerce platform with a centralized inventory management system. All the essential details will be synced from your POS system, enabling multichannel retailers to expand their online sales.
Since Lightspeed is browser-based, it can run on any computer without hassle. It also has an iPad app that lets you deliver personalized services, checkout customers quickly, and instant access to inventory levels.
Lightspeed Retail Dashboard & Interface
Lightspeed offers cloud-based back-office management, making it easy to access anywhere. It has a user-friendly dashboard that consists of four essential sections, namely –
Header – Displays six KPIs of your store to measure your performance.
Sales Chart – Displays line graphs and time period cards to visualize your store's data.
Tasks – Reminds you of various tasks that need to be completed.
Activity – Displays up-to-date events on sales/refund activities that were completed in your store.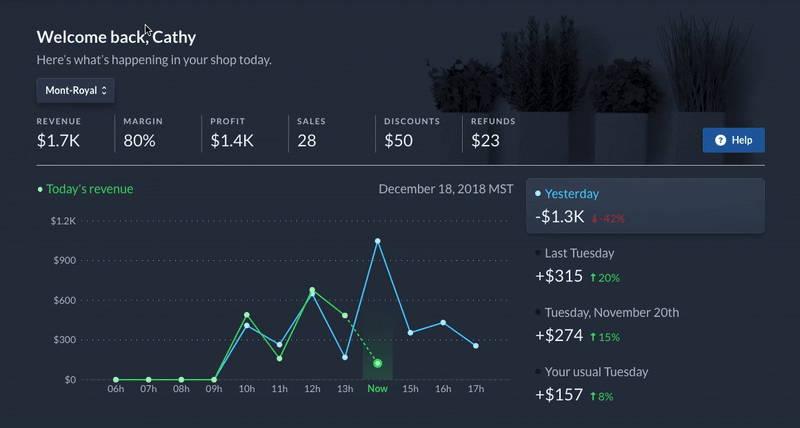 This makes it easy for you to track and stay updated on what's happening in your store. Furthermore, setting up catalogs can be done without any assistance, which helps to improve your speed and efficiency.
Overall, Lightspeed has an intuitive user flow that helps to update inventory, fulfill orders, issue refunds, and much more. Whether you want to manage your vendors, modify the cash register, or create a new sale, Lightspeed makes it easier for you.
Now that you've got to understand Lightspeed Retail, we shall review and analyze its POS management features next.
Lightspeed Retail POS Review: Features
Now lets us have a look at the features that Lightspeed has to offer:
Lightspeed Retail Sales
Lightspeed Retail Inventory management
Lightspeed Retail Customer Management
Lightspeed Retail Analytics & Reports
Lightspeed Retail eCommerce
Lightspeed Retail Loyalty & Marketing
Lightspeed Retail Hardware
1. Lightspeed Retail Sales
The Lightspeed Retail Sales enable you to manage your cash registers, update transaction details, and process refunds, and exchanges to deliver the best shopping experience to customers.
Moreover, Lightspeed comes with convenient options to streamline and manage your sales activities,
Special order – Create a special order for a customer.
Layaway – Create a purchase agreement in which the retailer agrees to hold the item for the customer until the full payment is done.
Refund – Add a refund to the current sale.
Switch registers – Choose a different register for doing sales and refunds.
Merge – Merge records and items to simplify the process.
Add/remove cash – Add or remove cash from the register's till.
2. Lightspeed Inventory Management
When it comes to inventory management, Lightspeed offers high-end capabilities. It lets you set low-stock alerts, track products, bulk import, and create multiple variants along with a customizable matrix inventory.
Here's the breakdown of the inventory management activities offered by Lightspeed –
Items and Inventory – Here, you can create/view/edit items, import product data, print labels, organize items in the matrix, and identify products via serial numbers.
Purchase orders and shipping – With this option, you can create master orders, check-in/review orders, return items to vendors, manage shipping details, and view customers' special orders.
Inventory Maintenance – It helps you periodically check your inventory levels, edit multiple items, modify descriptions, and manage attribute sets for your product matrices.
Inventory Settings – Access to vendors, categories, and tags. Use vendor catalogs for quick orders and manage reasons for products returned to vendors.
With such extensive capabilities, you can effectively align and balance your inventory with growing customer demands. Besides, it also predicts future customer trends, which lets you make informed decisions to optimize the shopping experience.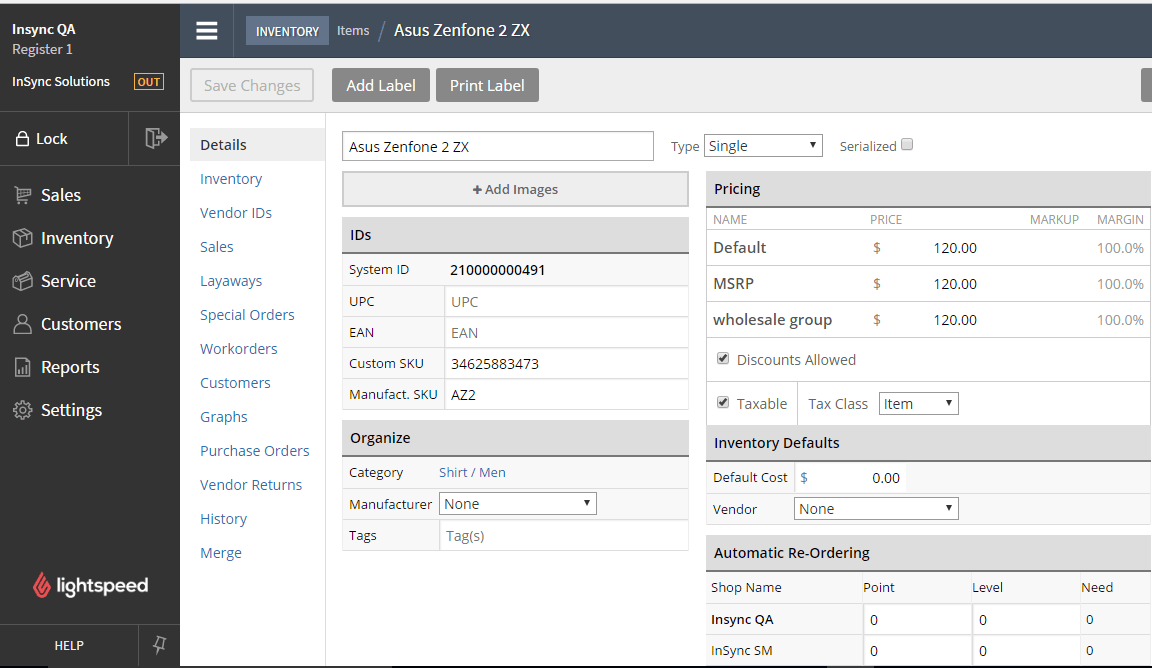 This example shows the process of creating an item for the inventory. All the fields are relatively easy to input, after which you can save and start with a new item.
3. Lightspeed Customer Management
The POS Systems gather loads of information when customers complete their checkout process. With this critical data, you can make strategic decisions and personalize the customer's shopping experience.
Further, it allows you to edit customer details, which include the type, biographical data, phone, address, etc. You can also add tags manually or will be automatically added as per configuration with other tools in your system.
Lightspeed gives you the leeway to offer lines of credit to your customers, define customers as "Frequent buyers," "Team Members," issue gift cards, and search for notes that you've entered for your customers.
Finally, the Lightspeed customer management system makes it inch-perfect to view all customers' information, ship items to their locations, email receipts, and recommend products based on their needs. Above all, it lets you automate special discounts based on your customer type (VIP, Loyal, etc.).
4. Lightspeed Retail Analytics & Reporting
Lightspeed provides a robust analytics and reporting system that enables you to track and analyze every aspect of your business from online transactions, and inventory to customer data.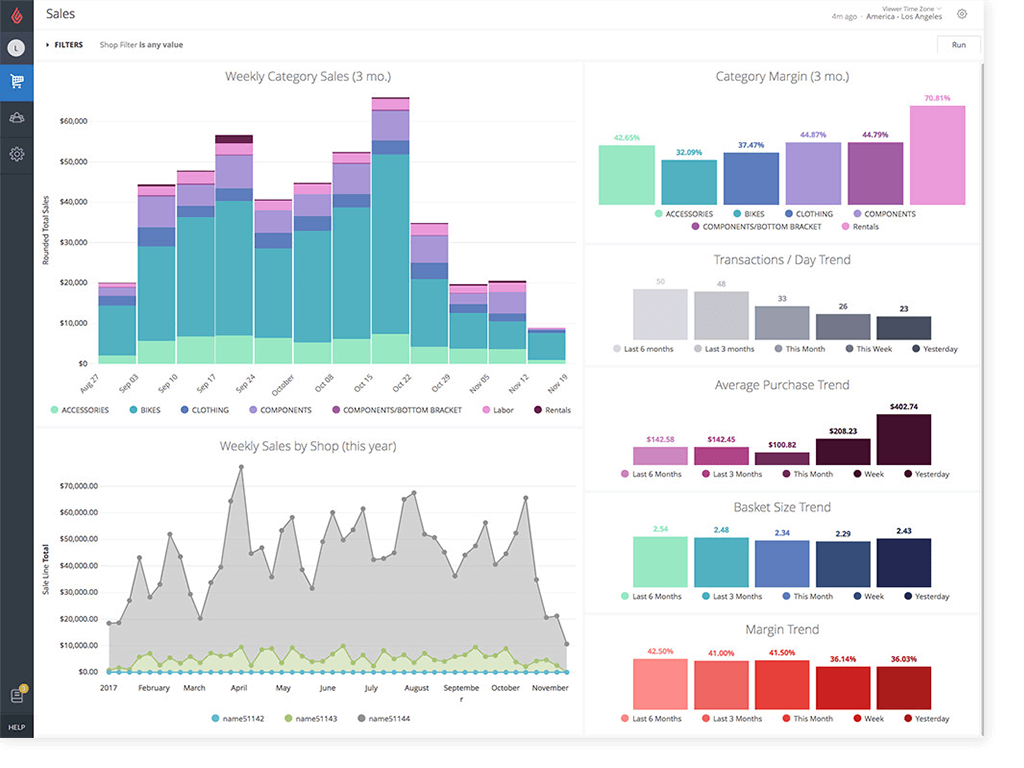 It provides analytics data in three sections, namely –
Point of Sale Reports – Analytics data related to sales, payment collection, refunds, and more.
Inventory Reports – Track and analyze current inventory, inventory received, Inventory changes, and more.
Other Reports – These include accounting reports of sales, payments, and tax audits.
Additionally, you can also monitor how your employees' performance in capturing customers' details. The reporting tools also allow you to delegate employees during your store's peak hours.
5. Lightspeed Retail Ecommerce
Besides POS, Lightspeed Retail is packed with a robust eCommerce platform that enables effective online selling.
It is not a standalone eCommerce platform like Shopify. Instead, it is designed for offline stores in which the products created in the retail POS are synced to your Lightspeed eCommerce platform.
That being said, here are key features of the Lightspeed Retail eCommerce platform –
Attract customers globally by selling in 10+ languages.
It has 50+ mobile-friendly templates, lets you display products in HD, combines stock from all locations, and manages in-store appointments.
Support multiple currencies, and accept orders from other countries.
Add product images, write descriptions, and manage products within matrices.
Allows customers to add product reviews, create a wishlist, and raise a ticket for exchange/refund.
Optimize your product listings for SEO via built-in tools.
Enable curbside pickup, BOPIS (Buy online pick-up in-store), buy now, and pay later options.
Send order tracking and shipment tracking codes to customers.
Enable customers to view product availability at different locations in multichannel retailing.
Provides access to Google Pay and Apple Pay one-click checkout.
Lightspeed's eCommerce platform covers an extensive range of features that enables you to expand your retail footprint. Though it is aimed at offline stores, the online store features seem to be captivating and brimming.
6. Lightspeed Retail Loyalty and Marketing
Lightspeed Retail offers advanced loyalty and marketing features to amplify the customer experience. You can automate your custom marketing campaigns, auto-segment customers, and send promotional messages via SMS & email.
It helps build your audience portfolio by selling on Facebook and tagging your products on Instagram. Besides, you can create discounts, send newsletters, and track customer habits to personalize their journey.
When it comes to marketing, you must aim to convert one-time buyers into loyal customers. To make this happen, Lightspeed offers an integrated rewards program.
To begin with, you can run point-based loyalty programs, provide coupons and send one-time rewards. It also enables you to categorize the rewards based on your smart customer groups.

For boosting engagement via a loyalty program, you need to motivate your shoppers to active participation. With Lightspeed, you can easily enroll customers directly from their profile and add new ones via a phone number or email address.
7. Lightspeed Retail POS Hardware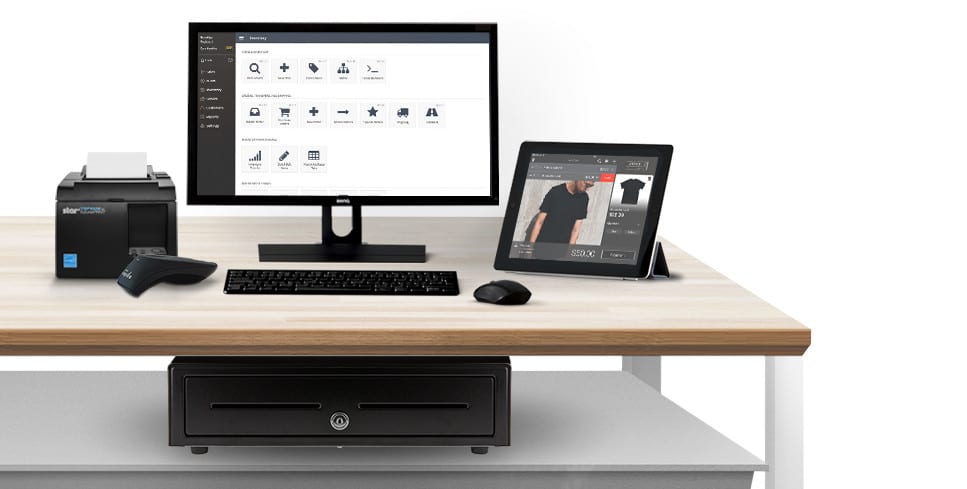 For offline stores, Lightspeed offers POS hardware. You can choose between two starter kits, and they are –
Desktop Hardware Kit: It offers three types of equipment a USB receipt printer, cash drawer, and USB scanner.
iPad Hardware Kit: It is packed with a LAN receipt printer, cash drawer, Bluetooth scanner, Lightspeed iPad stand, and receipt paper.
Apart from these, Lightspeed also offers individual hardware products which are as follows –
Zebra label printer
Bluetooth barcode scanner
USB barcode scanner
Cash drawer
TM- m30
WisePOS E
Mobile Tap terminal
Stand to mount your iPad hardware.
For purchasing hardware from Lightspeed, you need to contact the Sales Account manager. Also, if the hardware you choose is not compatible with your existing system, you can contact the hardware manufacturer for further assistance.
Lightspeed Retail POS Integrations
Lightspeed Retail POS offers featured integration with Plastic Printers. It is one of the best-in-class fast, efficient printers built with stunning features that let you stock up on sales.
On the other hand, it offers various integration options in multiple categories. It includes accounting, analytics, chat, eCommerce, procurement, ERP, Payment (UK, USA, EU, etc.), social commerce, warehouse management, and the list goes on.
Some of the notable integrations in these categories include AdVision eCommerce, BirdEye, City Hive, DataQlik, Zettle, Kosmos eSync, Kangaroo Rewards, QuoteMachine, etc.
Lightspeed Retail POS Customer Support
Lightspeed offers a great customer support system via email, chat, and phone. It also has a comprehensive help center with in-depth guides, tutorials, and community to resolve issues.
The timings for chat depend upon the language support. For English, the chat is available 24×7 (mon-sun), and for Dutch, the chat support is from Monday to Friday on respective hours based on the different time zones( GMT-5, GMT-8, GMT+1).
Speaking about phone support, there are different numbers available for countries like North America, Quebec, Australia, the UK, etc. Like chat, the phone support is also available in multiple languages, including English, Dutch, and French.
Lightspeed Retail POS Review: Pricing
Lightspeed Retail offers a 14-day free trial (no credit card required) and has four paid pricing plans based on the features offered. You can save a considerable amount if you accept Lightspeed Payments for your store.
Here's the breakdown of the pricing plan –
| Plans | Features | Pricing with Lightspeed Payments | Pricing without Lightspeed Payments |
| --- | --- | --- | --- |
| Lean Plan | Access to Retail POS, 1 Register, Integrated Payments, and all Lightspeed services. | $69/month | $99/Month |
| Standard Plan | Access to Retail POS, 1 Register, Integrated Payments, Accounting, eCommerce, and lightspeed services. | $119/month | $149/Month |
| Advanced Plan | Access to Retail POS, 1 Register, Integrated Payments, accounting, eCommerce, omnichannel loyalty, analytics, and lightspeed services. | $119/month | $229/Month |
For high-volume merchants and large businesses, they also have an Enterprise plan with custom pricing based on the features you need. It includes everything in the advanced plan + unlimited personalized onboarding, personalized consultation, preferred lightspeed payment rates, a dedicated customer success manager, and much more.
In addition to the subscription fees, it also incurs a card-present rate of 2.6% + 10 cents, if you use Lightspeed Payments, and for other payment methods, it entirely depends on the solution providers.
Lightspeed Retail POS Review: Pros and Cons
By now, you must have a clear idea of the key features offered by Lightspeed POS and how it can be useful for your business.
LightSpeed is not a perfect tool and has a fair share of pros and cons that you must know before making a decision.
Pros –
Extensive inventory management capabilities that are suitable for high-end catalog systems
In-depth built-in analytics and reporting options
Excellent customer support
Reward loyal customers with omnichannel loyalty points
Maximized for scalability due to cloud-based architecture
Sell customizable gift cards
Offers all types of payment modes like cash, credit, debit card, and gift card
Cons –
Not suitable for small-sized businesses
Most of the features like analytics, loyalty, and accounting are available only on higher plans
Currently, it is not compatible with Windows devices built on ARM architecture
Must pay more to buy additional registers
Final Verdict – Is Lightspeed POS best for your business?
Lightspeed offers remarkable features that leverage your retail business to a great extent. It provides a suite of comprehensive features useful for mid-sized, large, and established businesses whose customer size is ever-growing.
Speed, Performance, and Precision seem to be top-notch with Lightspeed. With these factors in hand, there's no way to encounter any flaws in stock management. The learning curve is also relatively easy, and you can instantly make changes without making any mess.
On the downside, some of its reliable features are available only on higher plans. In my opinion, I feel at least built-in analytics should have been accessible in the Starter plan.
Bottom line, you can switch to Lightspeed Retail POS if you have,
Scalable inventory with massive items
Cloud-based store management
Ability to manage multiple shops
Multichannel retailers
Integration with all types of software
In search of the best iPad POS System
Above all, everything starts with good practice, isn't it? If you wish to explore how Lightspeed seems to fit your business, you can sign-up now for a 14-day free trial.