Are you wondering if Loox is the right Shopify app for your store? If so, this article is for you.
Loox is one of the popular Shopify apps that you must have seen in the Shopify App Store or heard about from fellow Shopify store owners. In fact, it is one of our most recommended Shopify apps to increase sales.
But the question is, is Loox the right app for your store too?
To help you determine that, in this review article, I will break down every aspect of the Loox app and walk you through its key features and how it can be useful for your business.
What is Loox? – An Overview
Loox is one of the best Shopify product review apps that enables you to collect product reviews and showcase them on store pages to build trust with customers and generate more sales.
Besides collecting and displaying product reviews, Loox can take you a step further in creating social proof by helping you turn your happy customers into brand advocates through referral marketing. It lets you create offers to incentivize your existing customers to promote your products and help you acquire new customers.
Overall, you can consider Loox as a social-proof solution for your store that you can use to bring credibility to your store via genuine customer reviews and referrals from your loyal customers.
Going forward, we will dive deep into all these features. So, if you want to explore the app while reading the article, you can use the button below to sign up now and you will get a 30-day extended trial.
Video Review
If you prefer a video review over reading this article, here's our in-depth review video for you.
Loox Review: Ease of Use
As soon as you install the app in your Shopify store, you will be directed to its dashboard, which is right within your Shopify admin.
Here's what it looks like –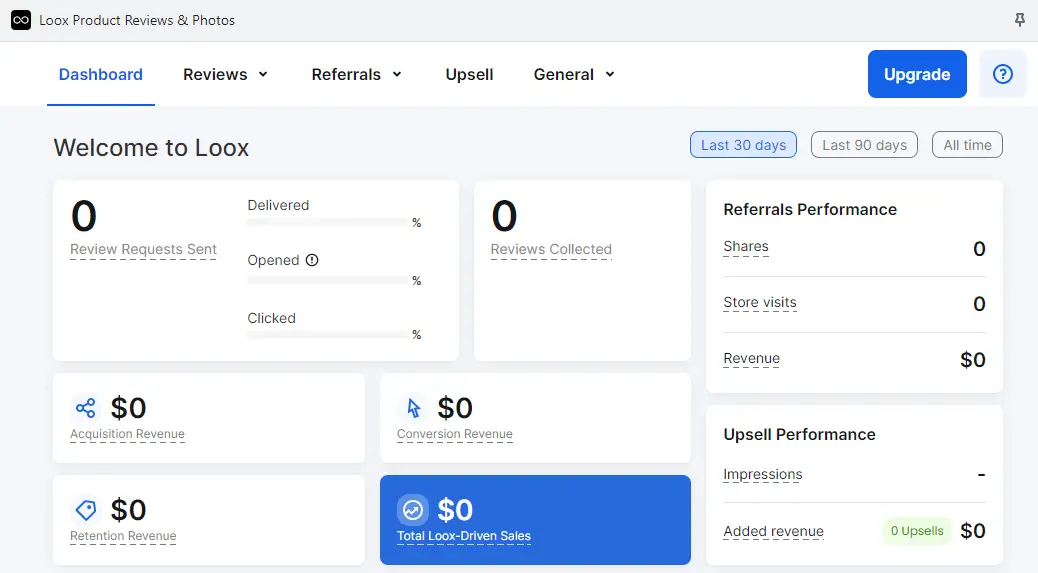 As you can see, the dashboard is minimal and clutter-free design. You will see all the analytics reporting related to the app right on the screen – so, you don't need to manually analyze how Loox contributes to sales and revenue for your business.
Finally, on the top, you will see a menu bar from where you can navigate to different features of the app and settings. We will look into these features in the later section.
Loox Review: Product Review
Product reviews are the most powerful social proof for any eCommerce brand to win the trust of new customers and drive them toward conversion.
With Loox reviews, you will get everything you need, from collecting reviews to beautiful widgets to display reviews on products and other store pages.
So, let's look into some of the key features of Loox Reviews –
1. Photo & Video Reviews
According to a report, photo/video reviews have a 91% higher conversion rate than regular text reviews. This is probably because customers can't feel or touch products when they shop online, but with photo and video reviews from other customers, they can see how the product looks in real.
With Loox, customers can easily submit photo or video reviews of your products and you can display them across your website in various styles (about which we will talk later).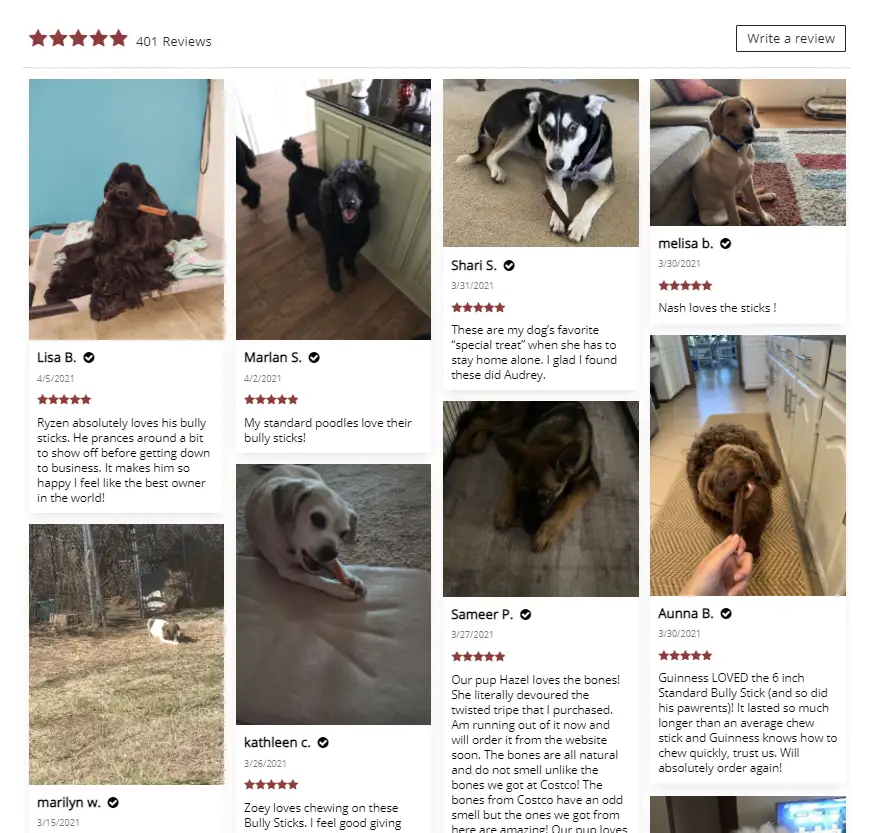 What I like the most about Loox photo and video reviews is that it allows you to download the reviews directly, which you can use as User Generated Content (UGC) to share on social media or use for marketing campaigns.
2. Automated Review Emails
Although Loox allows customers to submit reviews directly from the review widgets on product pages, it won't be labeled "Verified purchase," even if the customer has bought the product.
So, if you want to display verified purchased reviews on your store, you will have to go the long way i.e., review request emails. You can set up timings to automatically send the first email after purchasing, fulfillment, or delivery.
In addition to the first review request email, Loox automatically sends reminder emails, which are as follows –
All these emails have a default subject and body, which you can edit with more relatable texts. To make the emails more appealing, Loox allows you to add a banner on top of the body content, which you can also remove if you want to keep it simple.
Here's what the review request email editor looks like –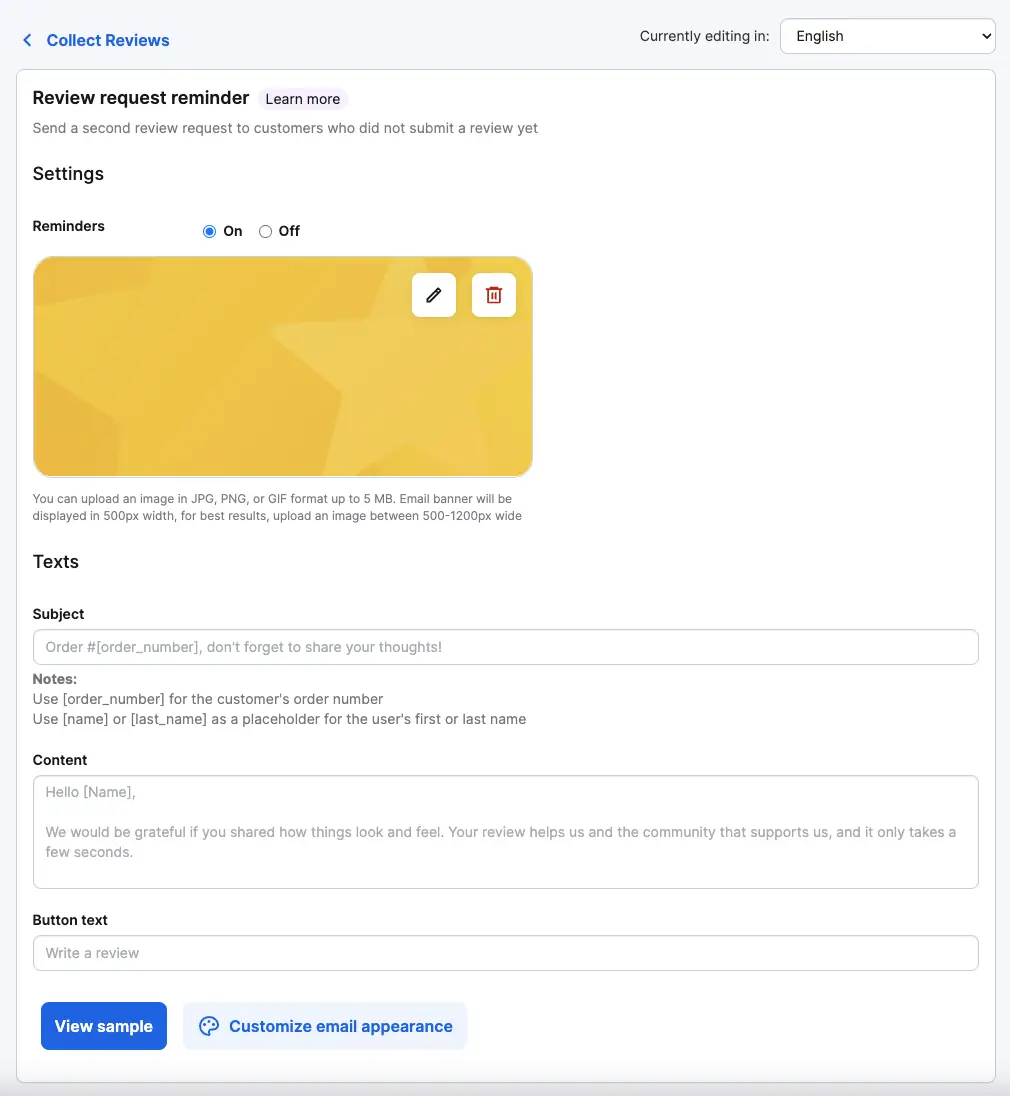 Once you update the banner and content, you can click the "View Sample" button to see how the email will appear to customers.
You should also know that all the emails after the original review request emails are pre-configured by Loox based on customer action and delays. It doesn't allow you to edit the timing of the emails other than the first one.
3. Discount for Reviews
As we know photo and video reviews can be very effective in building trust with consumers and improving the conversion rate. But the challenge is that most customers don't want to put that much effort into taking photos or creating videos for reviews – unless you incentivize them for it.
Loox understands this and thus allows you to offer discounts to encourage customers to leave a photo or video review for the product they purchased.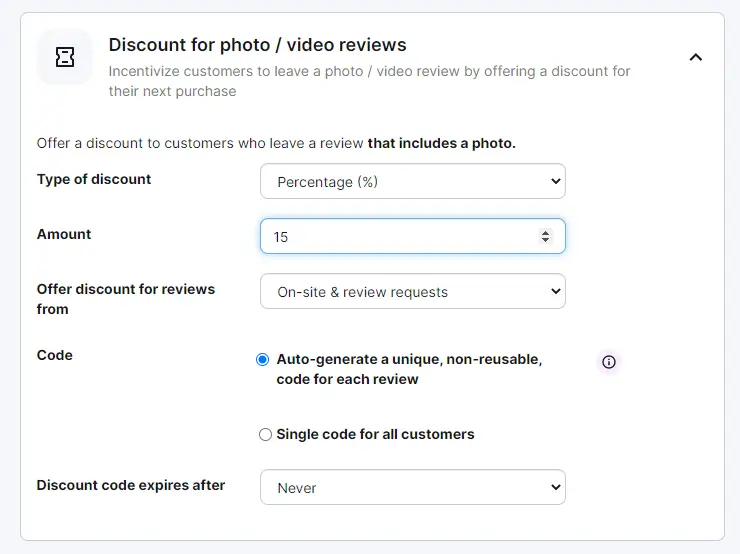 Loox allows you to offer either a percentage or flat cash discount to customers for their next purchase. You can also set the expiry duration for the coupon code generated.
Now, once you set up the discount for reviews, Loox will automatically send the discount code to every customer who leaves a photo/video review.
4. Reviews Management
Now, after all the review emails and discount offers, when a customer leaves a review, Loox gives you complete control over which review will go live and which won't.
You can also enable to auto-publish all the new reviews or specific ones with good ratings, as shown below.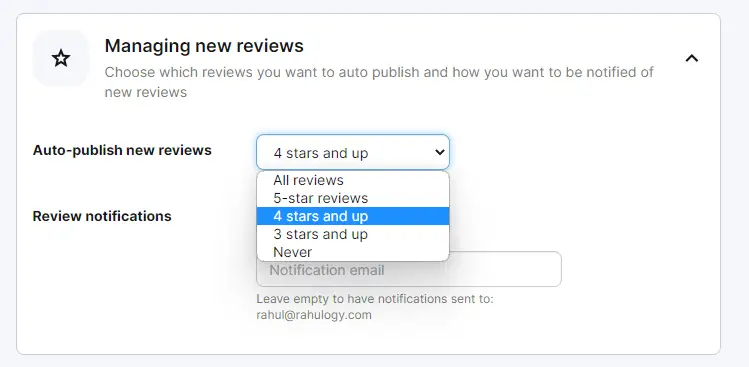 If you want to manually moderate new reviews before making them visible to the public, Loox allows that too. Just go to Reviews > Moderate reviews and you will see all the reviews and ratings submitted by your customers.
From here, you can go through each review and approve them to be visible on your store page. If you find offensive reviews, you can click the "Hide" button or delete them from the "More actions" options.
5. Import Product Reviews
Whether you are creating a new store, sourcing products from other platforms, or migrating from other Shopify review apps, Loox makes it very simple to import reviews.
For instance, if you are a dropshipper, you can easily import product reviews from AliExpress with just a click – just visit the AliExpress product page, click the "Import to Loox" button, select the product page from your store and reviews will be added to that specific product.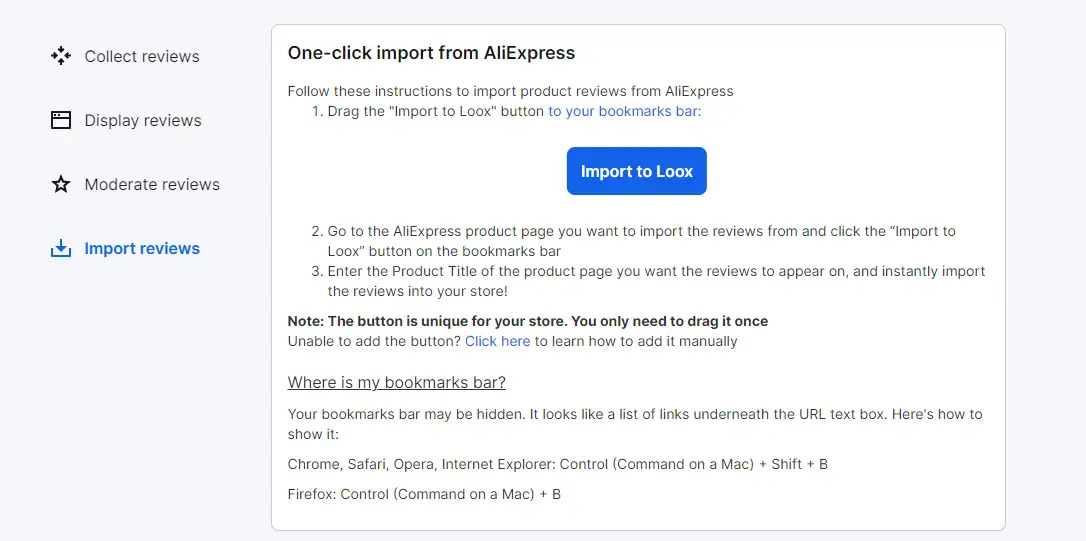 You can also import reviews from other channels or review apps by using a spreadsheet. To do this, export your existing reviews in .CSV format and upload them – you will find the complete instructions in the Import Reviews section.
6. Review Display Options
After you collect product reviews or import from other sources, you want to display them across your store pages, right?
Well, Loox excels in it as it offers a wide range of widgets that you can access from the Shopify theme editor to anywhere on your store pages. The widgets come in various design options, allowing you to change the layouts, colors, and fonts to match your store's branding.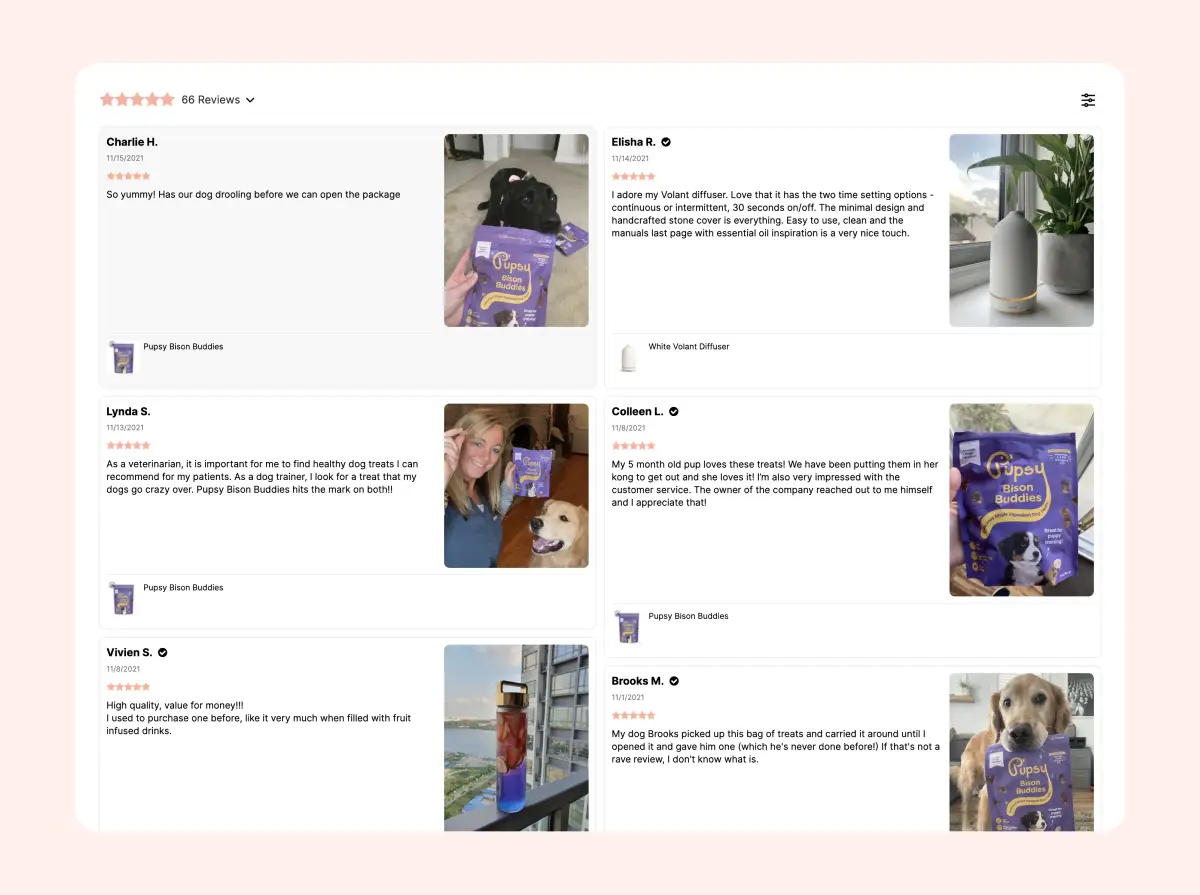 In addition to classic review and rating widgets for product pages, Loox offers a few more display options, which are as follows –
Smart Pop-ups –
The Smart pop-ups are small review widgets that display different reviews depending on the page the customer is viewing. You can choose the placement of the pop-up and select the type of page you want it to appear on.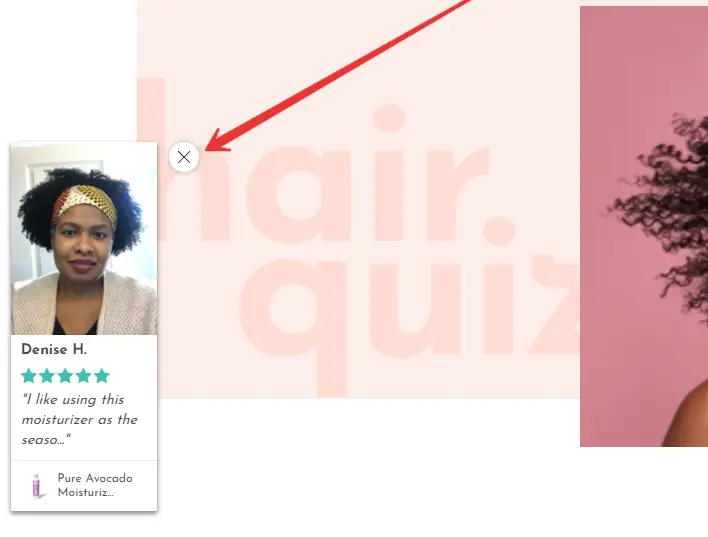 These pop-ups are designed to ensure the relevance of the reviews appearing on pages. So, on product pages, the pop-up will display reviews for that specific product only, while on the homepage and other pages, it will display your store's reviews or testimonials.
Sidebar widget –
The Sidebar widget is basically a floating button that appears on the side of the screen. On clicking the button, customers can view all of your store's reviews in a beautiful gallery layout as shown below.
The best part is that the widget is context-aware, which means that it will display the reviews based on the page the customer is viewing, similar to Smart Pop-ups.
Carousel Widgets –
Using Carousel widgets, you can display your best customer reviews in beautiful layouts to grab visitors' attention. You can add carousel widgets on any page from the Shopify theme customizer/editor.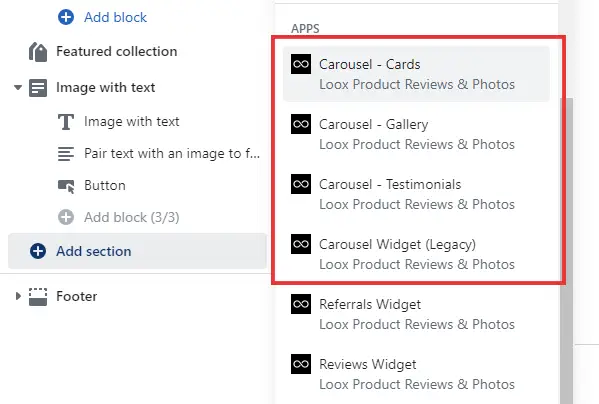 As you can see, it provides 4 different carousel widgets, which you can access and drag to the page where you would like them to appear. You can also customize the carousels to match the store's branding.
Dedicated customer review page
With review widgets, you can display a limited number of reviews on your store pages. But what if you want to showcase all the positive experiences to your customers?
Well, Loox enables you to create a dedicated customer review page to display all your reviews. The page is called Happy Customers Page.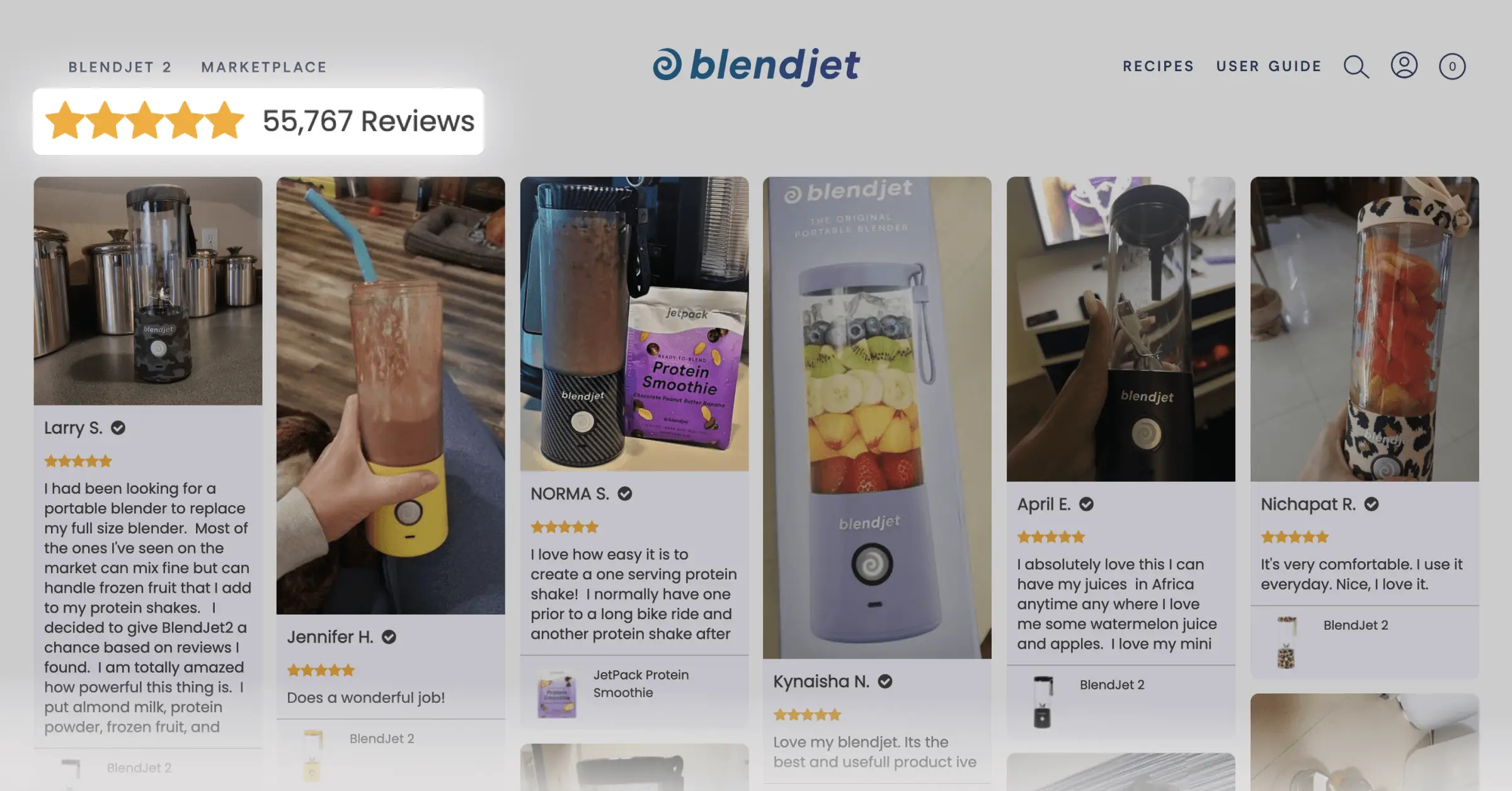 By displaying all the reviews on a single page, you can help new customers to know more about the products and eventually build trust. You can also use the page in your email campaigns to share customers' positive experiences with your brand.
Loox Review: Customer Referrals
With Loox reviews, you can identify your happy customers. So, why shouldn't you turn them into brand advocates to promote your products and store? In return, you can reward them with discounts for every successful referral.
Sounds interesting, right? Well, this is called referral marketing and almost every successful eCommerce brand uses it to acquire new customers. Now, with Loox Referrals, you can do it too.
Loox Referrals is not as advanced as other Shopify referral apps, but it serves the purpose of helping you turn your customers into brand advocates.
So, let's look into some of the key features it has to offer.
1. Referral Offers
In offers, Loox lets you choose whether you want to incentivize both your advocate and referred customer or just the customers. In my experience, a Two-sided incentive works better as it encourages both parties to take action.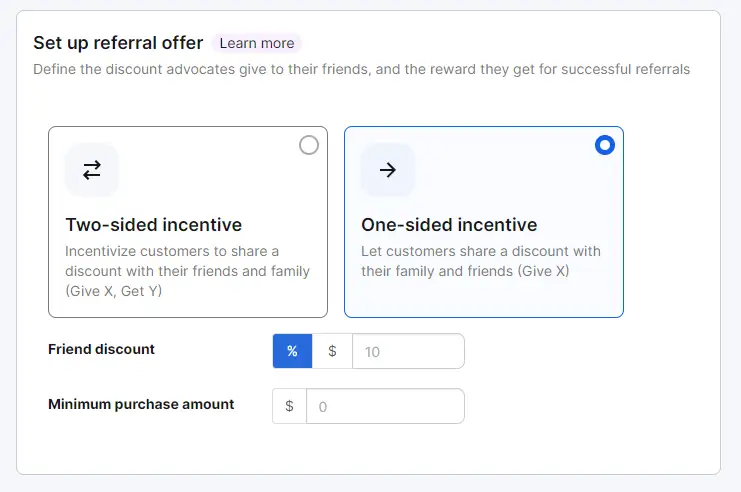 After deciding on the referral offer, you enter the discount value for their future purchase. You can also set a minimum purchase amount for offer eligibility.
2. Referral Widgets
Loox provides three types of widgets that you can use to display the referral on store pages. These are as follows –
Onsite referral widget – You can use it to create a dedicated page for your referral program from where customers can join and get their referral links to promote your products.
Post-purchase referral widget – You can activate this widget to encourage customers after completing their purchase to share a referral link and get discounts for themselves and their friends on future purchases.
Post-review referral widget – Finally, you can also offer your happy customers ( ones with 4 or 5-star ratings) a special discount code to share with their friends and family.
Further, you can access the onsite referral widget from the Shopify theme editor, which you use to display the referral program form on any store page and convert visitors ( non-customers) into your brand advocate.
3. Referral Emails
Once a customer joins your referral program, you want to send them onboarding emails and regular updates on their rewards, right?
Well, Loox takes care of this on your behalf – it automatically sends three types of emails, which are as follows –
Inside on-site and post-purchase referral emails, advocates will receive the unique referral link, and just like the Loox review request emails, you can customize the content of these emails.
4. Referral Fraud Protection
To protect you from misuse of your referral program, Loox comes with a built-in fraud protection feature, which you can access Referral > Settings.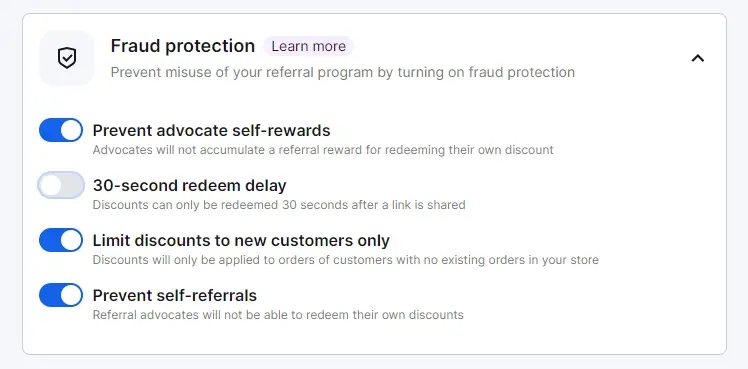 In fraud protection, it lets you decide if you want to prevent self-referrals and awards for advocates. You can also limit discounts to new customers only, which I think should be always enabled so that the existing customers can't use the code repeatedly.
Loox Review: Post-purchase Upsell
Loox provides a simple upsell page that appears right after the customers complete the checkout and before the thank you page. On this page, you can display one product with a discount and its reviews for social proof.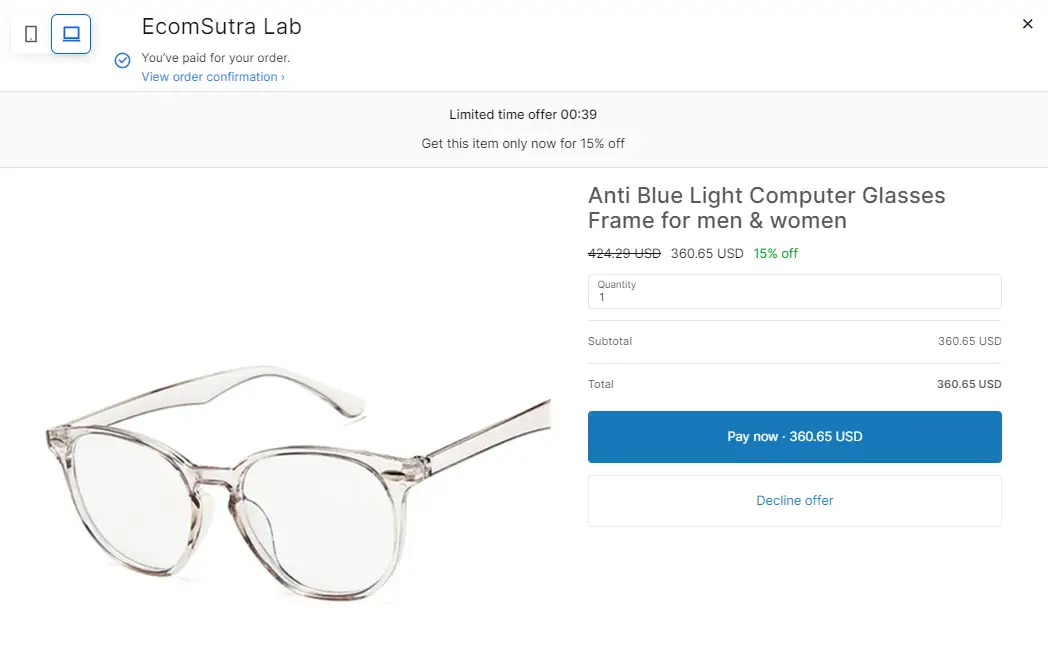 While setting up this page, you can also enable a countdown timer to create a sense of urgency and boost the conversion rate.
Overall, the Loox upsell page is rudimentary as it lacks personalized product recommendations. It allows you to upsell only one product either for all the deals of specific products, which is not sufficient for large product catalog stores.
Loox Review: 3rd-party Integrations
To make the best use of Loox, you will need several apps in sync to collect and display product reviews in your store. Fortunately, Shopify provides direct integration with most of the popular Shopify apps, which are as follows –
You can also integrate your store with Google Shopping to display ratings & reviews on search results pages and in ads, allowing you to boost ROI on your Google Ads and generate more sales.
Overall, Loox comes with seamless integration with powerful Shopify apps that you will need to provide an excellent user experience and drive more sales.
Loox Review: Pricing Plans
Loox pricing plans is mainly based on the number of automatic review requests and upsell revenue generated from the app. The plans are as follows –
The beginner plan will cost you $9.99/month, which allows you to send up to 100 review request emails and generate up to $100 of upsell value. I suggest this plan for someone just starting the store.
The growth plan, at $34.99/month gives you access to integrations with email marketing apps and other platforms. In this plan, you can send up to 6,000 review requests and generate up to $1,000 of upsell revenue.
The Unlimited plans give you complete access to its features with unlimited review requests and upsells.
Regarding the referral program features, you will just have to pay an additional $5/month if you are a Beginner or Growth Plan user. For unlimited plan users, it is already included.
Loox Review: Pros & Cons
By now, we have looked into almost every aspect of Loox, making it a good app to have in your Shopify store, right?
But, wait! Before you make decisions, let's look into some of its advantages and limitations.
Pros of Loox –
User-friendly
Easy to set up
Automated review request emails
Beautiful review widgets
Discounts for reviews
Downloadable photos and video reviews
Built-in referral program
Revenue-based reporting
Direct integration with popular Shopify apps
Cons of Loox –
No video reviews in the basic plan
The basic plan lacks integration capabilities
The referral program can be a better
Lacks AI-based product recommendations on the upselling page
Final Verdict: Is Loox Worth It?
While Loox is a highly-rated review and referral app in the Shopify App Store, it does come at a cost and has some limitations. However, its ease of use, customization options, automated review requests, and referral program make it an excellent tool for many eCommerce businesses.
If you find it suitable and want to try it for your store, use the above button to sign up now and get a 30-day extended free trial, instead of 14 days. However, if you're on a tight budget or looking for a more feature-rich app, you might want to check our list of the best product review apps for Shopify.