Shopify lets you customize your online store, but it doesn't provide complete flexibility to create custom page designs. So, if you want to create stunning landing pages or customize store pages, you need a robust page builder app.
This is where PageFly comes into the picture. It is a page builder app developed by Shopify experts that lets you build different types of pages with its drag-and-drop builder.
So want to know how it helps in creating highly convertible and stunning pages for your Shopify store?
Going ahead, I'll review Shopify's page builder, PageFly by analyzing its customization ability, pros, cons, and pricing based on my hands-on experience.
Stick with me till the end to determine whether Pagefly is the right page builder for your store or keep looking for a better option.
What is PageFly?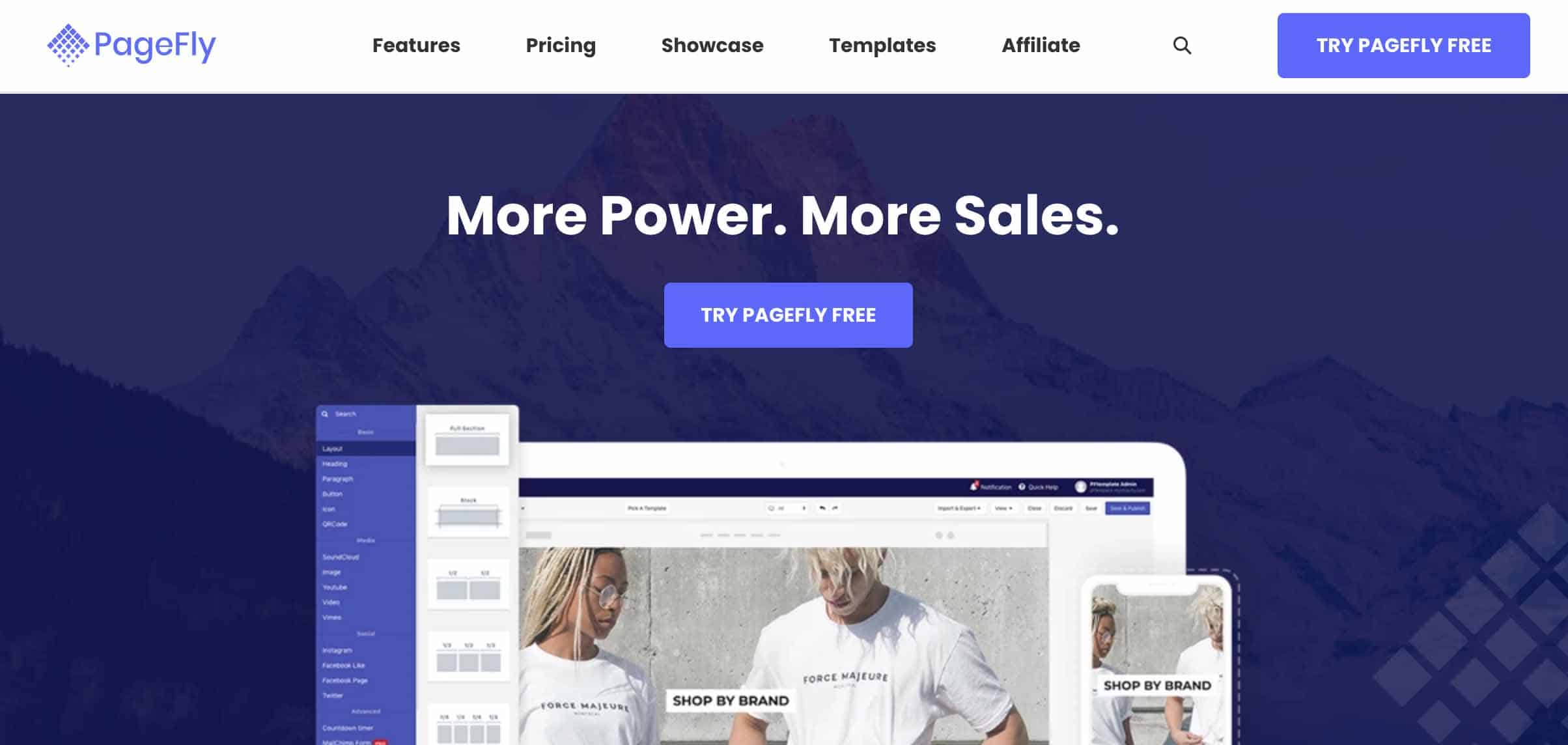 PageFly is a popular Shopify page builder app that lets you build responsive pages for your store with 70+ stunning templates and an easy-to-use drag-and-drop page editor.
It lets you design custom pages that are optimized to boost sales. All you have to do is choose the page type, pick a beautiful starter template, and instantly start building the page using its intuitive page editor. 
Using PageFly, you can build stylish and SEO-friendly pages for your Shopify store without any hassle. It has a sleek and professional workflow that removes all complications and helps you convert visitors to paid customers.
PageFly Review: Key Features
Now, let me walk you through all the features offered by PageFly and help you experience the app from my perspective.
In this review, we will look into the following features that PageFly has to offer –
Ease of use
Design and customization
Section and Layout Elements
Analytics and Tracking
1. Ease of use
PageFly has a flexible page editor that lets you build or customize pages by using the drag-and-drop editor. All the pages you design will be 100% responsive on mobile, desktop, and tablets, creating a seamless shopping experience for your customers.
You can redo/undo page designs, enable autosave for easy modification, and save your templates/sections for reuse. Besides, it also provides a version history tab that helps in getting your original page back.
Another exciting aspect worth sharing is that you can quickly navigate during the editing process as the interface is enabled with breadcrumbs. So it becomes easy to move at any point and ensure that all changes have been made to publish the pages.
On the whole, PageFly's reliable and smooth editor makes customization a cakewalk for all types of users. It makes the entire page-building process easier for your Shopify store, which you'll learn in the next section.
2. Design and Customization
Once the onboarding process is over, you'll be taken directly to PageFly's dashboard. On the left, you can access the pages that you wish to build for your Shopify store.
With PageFly, you can build the following types of pages with ease –
Regular Pages: This enables you to create a wide range of pages such as landing, sales, promotion, contact, about us, testimonial pages, etc.
Homepages: Design homepages with eye-catching content optimized for different devices.
Product Pages: Display your products in a fashionable and elegant manner with rich images.
Collection Pages: Embark a great design on your existing collection page.
Blog Post Pages: Display your blog posts in a stylish manner that represents your brand personality.
Password Pages: Design an attractive page that adds password protection to your online store.
About Page: Introduce who you are to the world in a highly professional way that gives confidence to your customers.
Contact Page: Embed Google Maps and a contact form so that customers can quickly reach you.
You can either choose to build from scratch or by selecting the best-looking templates. You can also easily adjust the design elements using the general and styling tab on the right side.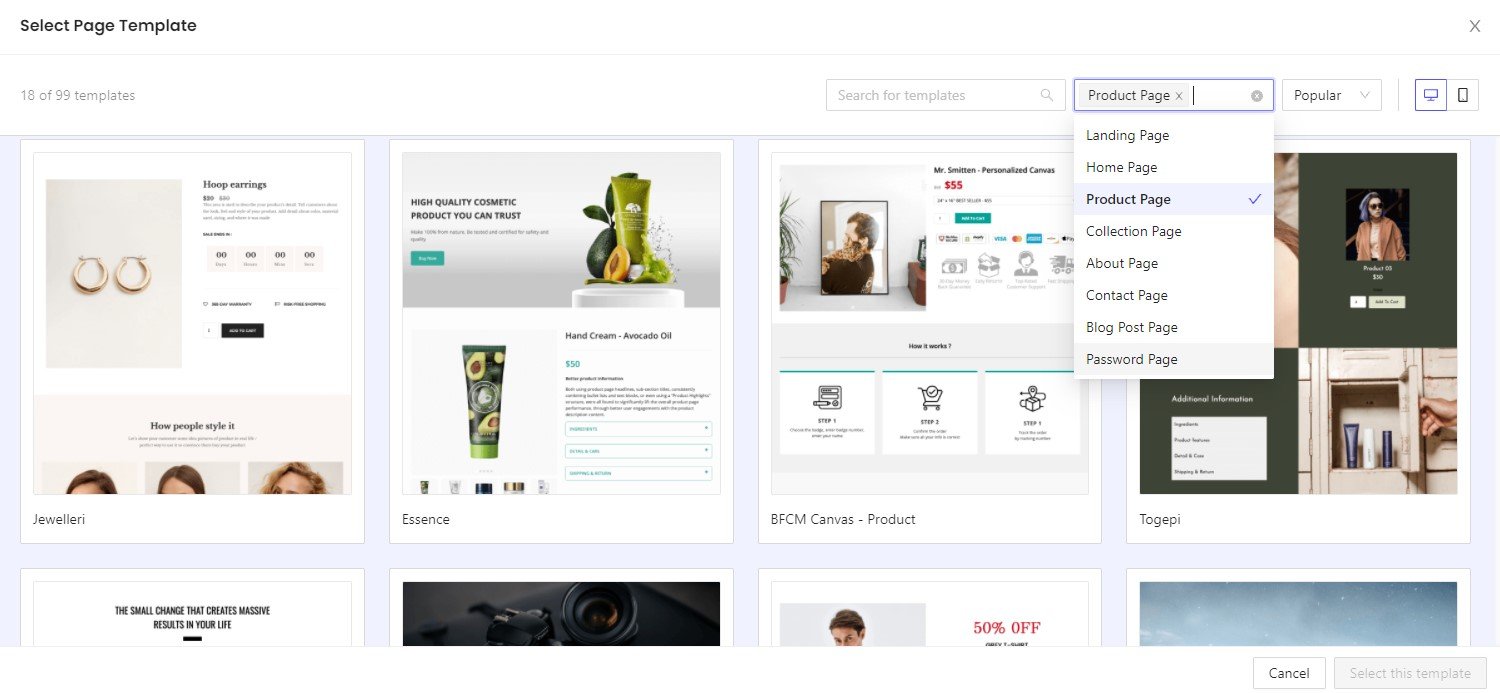 Overall, PageFly's editor is beginner-friendly which makes the entire page-building process a cakewalk. As every element can be customized, you can take complete control over your Shopify page to improve the browsing experience.
3. Sections and Layout Elements
We have been talking about the extreme ease of use and flexibility that PageFly offers to its users. In fact, it's the main reason for it to shine as the most popular page builder among competitors.
So how do you think this would be possible? It's because of the different kinds of sections and layout elements that PageFly offers.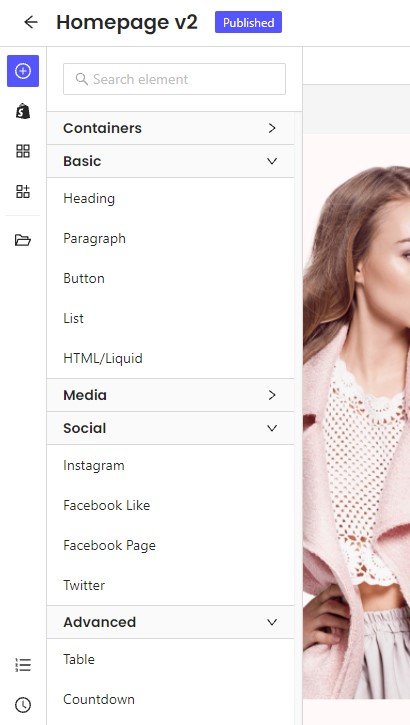 Let's have a look at the types of elements that PageFly has to offer –
Standard elements: Using this, you can add layouts and tabs, including rich media and social elements, QR codes, insert headings/paragraphs, and advanced ones like timers, Google Maps, Mailchimp form, etc.
Shopify elements: It includes elements that need your Shopify store data like product elements, collections, blog posts, building custom forms, etc
Third-party elements: You can include all the third-party apps with various categories like reviews, badges, upselling, subscriptions, order tracking, etc.
Sections: This is the place where you find all your saved sections. Other than that, you can insert different types of page sections to display your content.
With this powerful package, you have everything to build, design, and customize for your pages. Creating a persuasive page that triggers the customer's buying intent can be genuinely achieved using PageFly.
4. Analytics and Tracking
Initially, PageFly didn't support in-built analytics, which was a setback. But after upgrading to version 2.9, it automatically enables analytics and tracking for all the pages.
PageFly uses cookies to gather all the relevant data for measuring the performance of your store's pages. With this data, you can get a picture of how your custom pages have been working to improve the revenue of your Shopify store.
It displays metrics separately for all the pages you have created. For instance, if you have made a homepage, you can visualize its performance with relevant metrics.
So now pops the next question! What metrics does PageFly track? Here comes the answer:
Add to cart – The percentage of visitors who added their products from the page to the cart.
Revenue – The total revenue generated by the page.
Conversion rate – Average number of visitors who clicked the CTAs.
Product views – The percentage of visitors who moved next to the product details page from the page.
Time on page – The average amount of time (minutes) your visitors spend on your page.
Visitors – Displays the total number of unique visitors who visited your page.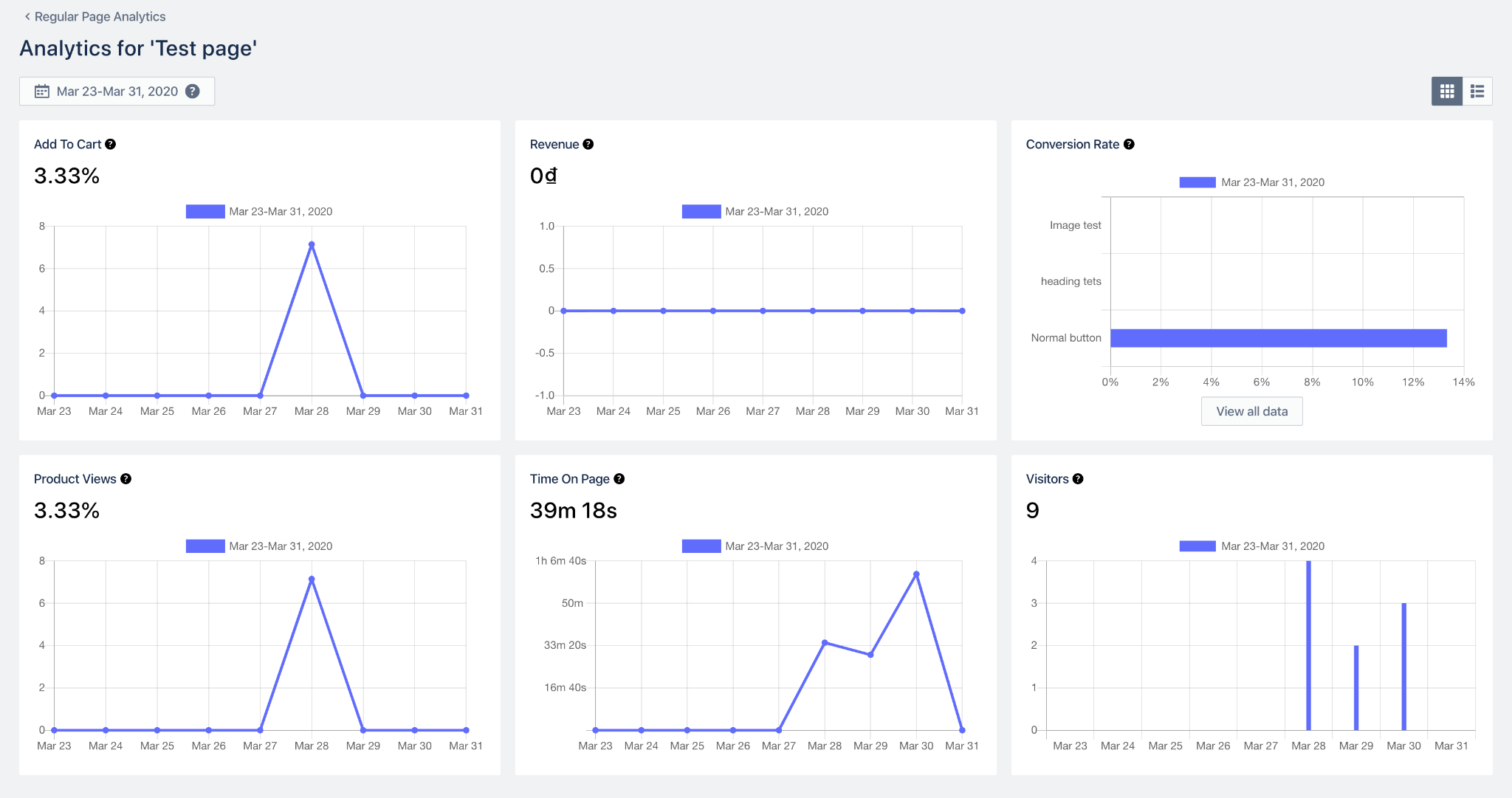 As you can see in the above image, all the metrics for a particular page have been tracked and presented. In addition to this, you can also connect Google Analytics and Facebook Pixel to delve in-depth into the performance of your Shopify pages.
PageFly Review: Customer Support
When it comes to customer support, PageFly excels in it. Even if you are new to the platform, you won't get that surreal feeling as it has documentation videos to guide you throughout the page-building process.
Besides, it has an in-app live chat where you can chat with the support team 24/7 for assistance or contact via email if needed.
If you need help with installation, usage, account, and membership, the support team can provide you assistance instantly. However, the requests related to customization may take a bit longer to resolve as it involve technical tasks.
Apart from these, you can visit PageFly's help center to find solutions for the common issues that users face or visit their YouTube channel to learn from their video tutorials.
PageFly Review: Pricing Plans
PageFly pricing plans are designed to meet the needs of Shopify merchants of all kinds. The plans depend on how you want to use PageFly for your store.
It has a free plan that allows you to create 1 page for all page types and gives you access to all the page elements and templates. And the paid plans are as follows –
Pay As You Go Plan – Starts at $24/month for up to 10 publishable slots + $49 for unlimited blog post pages.
Enterprise Plan – $199/month, allowing unlimited pages of all types with priority support.
If you want to use PageFly just to create landing pages, you can opt for the Pay-as-you-go plan. If you want to create the entire store pages, you should opt for the Enterprise plan.
PageFly Review: Pros and Cons
Now that you know what PageFly has to offer as a page builder app, let me throw some light on its advantages and disadvantages to help you decide.
Pros of PageFly –
The platform is very easy to customize.
Wide collection of different kinds of sections and layout elements.
Free plan available.
Customer support is highly appreciable.
It has a good range of template collections that are highly optimized.
Cons of PageFly –
Some advanced optimization features could be added.
Offers only limited tracking sessions.
Final Verdict: Is PageFly the Best Shopify Page Builder App?
PageFly is one of the powerful Shopify page builder apps that makes it easy for anyone to create landing pages or customize the entire store design. Its beginner-friendly page editor, stunning templates, and a vast collection of page elements make it stand out among other page builder apps.
PageFly
Customization Flexibility
Finally, if you are someone who likes to play with page designs and user experience to enhance your store conversion rate, PageFly would be the perfect app for you. Moreover, it has a free plan which offers enough features to let you experience it and determine if it can fulfill your requirements.
I hope this review helped you take a call on whether PageFly is the best page builder for your Shopify store. And, if you have made up your mind to try PageFly, you can use the button above to create your free account and get a discount on any paid plan.
Frequently Asked Questions (FAQs)
Is PageFly Free?
PageFly has a free plan that lets you create 1 page of every page type, including the homepage, product page, and collection pages.
Which theme does PageFly support?
PageFly is compatible with almost every popular Shopify theme. However, if you are buying Shopify themes for ThemeForest or other marketplaces, ensure that the theme is compatible with PageFly.
How many pages you can create with PageFly?
PageFly enables you to create unlimited pages with its Platinum plan. However, if you just want to use it to create landing pages for your store, its Gold plan should work for you.