Podia is a popular digital platform for creators to sell digital products like online courses, ebooks, webinars, etc. You can host your content, build a professional website, sell your products, engage with your community, and increase your revenue – all from a single platform.
But does Podia offers everything you are looking for in a digital platform?
In this article, we will break down every aspect of the Podia to help you determine if it has every feature you want for your customers and aligns with your design and technical skills in building a website.
Now, if you want to explore the platform along with reading this review, you can use the button below to create a free trial account (no credit card required).
If you're ready, let's get started.
Podia Review: Dashboard and Interface
When you log into Podia, the first thing you'll see is its user-friendly dashboard. From here, you can easily navigate to other sections without any long clicks.
The interface is clutter-free and straightforward to use. You can instantly access the following options as mentioned in the above screenshot. They are –
Podia Editor – You can customize your online storefront by adding colors, fonts, design, and content in this section.
Products – You can create your preferred product, specify all the relevant details and make it ready for hitting more sales.
Community – This is the exclusive membership portal that you can utilize to grow your audience base. You can place a subscription fee to make people enroll in it.
Email – You can send email broadcasts and campaigns to interact and engage with your customers
Coupons – Drive more sales by offering discounts on products and memberships in your store
Audience – This is the centralized area where you can view the complete information of your current customers and their activities
Affiliates – You can set up your affiliate program, invite them and track the overall sales
Sales – Here, you can set up the payment methods for your store. You can view the invoices, sales data, and refunds too.
Messaging Icon – View all the incoming messages, respond to them, or start a conversation with your customer.
Being a creator, you will have many resources to manage and maintain. Podia has kept this in mind and doesn't complicate the user experience. With all such options available at your fingertips, you can effortlessly organize things and effectively present them.
Podia Review: Course Creation
If you want to sell online courses, Podia might be a good fit. It provides the simplest way to build your website, add course materials and promote it via email marketing.
Podia allows you to create three types of courses –
Standalone Courses – Your students can purchase the course and take their own time to complete it. The supported content types include text, images, videos, audio files, MP3, links, PDFs, quizzes, etc.
Drip Courses – Schedule the delivery of your course materials such that the students will get access to the material only after a specific day of enrolling.
Cohort-Based Courses – A group of students takes these types of courses simultaneously. You just have to set the future date so they can access the material all at once
To create a course, you just need to go to the "Products" section from the top menu bar and click the "+New Product" button.
Next, select "online course" from the popup, and give a name to the course. Then, click the "Create & Continue" button.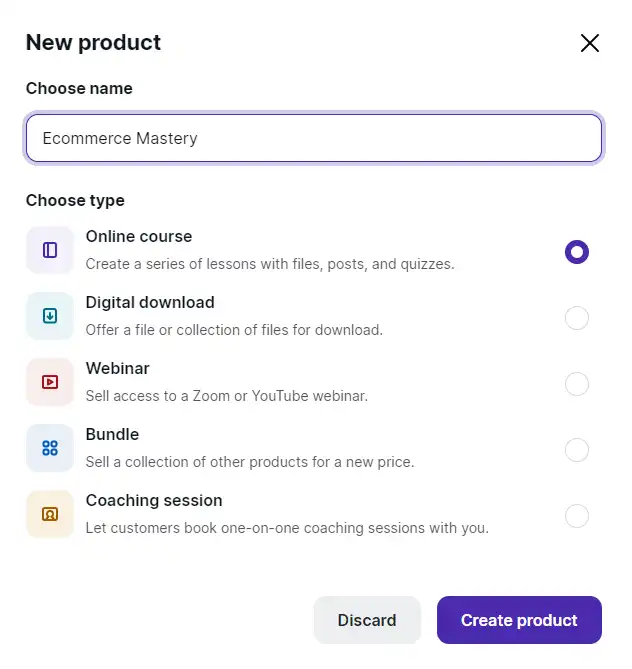 Afterward, you need to add content for the courses. Podia provides an easy-to-use method – just add sections for each lesson and add your content in videos, texts, quizzes, or documents stacked below each other.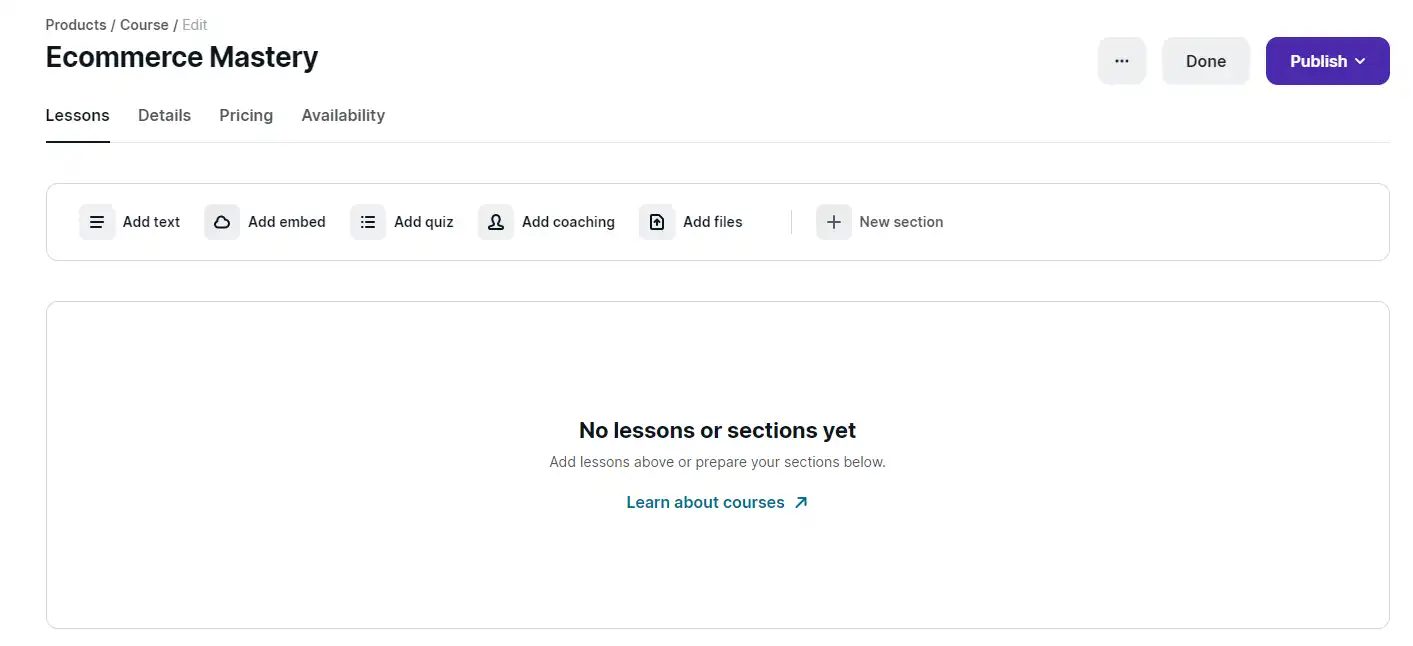 You can create multiple sections within a course, which can be re-arranged later by the drag-and-drop method.
The best part of creating courses with Podia is that you don't need a separate platform for video hosting as it supports good unlimited bandwidth for hosting video files.
Once you publish the course, you will unlock more features like manual enrollment, certificate of completion, and more.
On the whole, if you are looking for a simple and easy-to-use platform that enables you to deliver a distraction-free learning experience to your students, Podia's simplistic course management can be an ideal fit for you.
Podia Review: Digital Downloads
Apart from selling courses, you can also sell digital products with Podia. You can sell eBooks in PDF/EPUB format, templates & presets, music, audio files, etc.
You can also offer free digital products as a lead magnet to build and nurture potential leads for your business.
The procedure is the same as we did for course creation. You need to head over to the "Products" section and select "Digital Download" as your product type.
Next, similar to creating courses, you can add multiple sections and files inside each section. Except, here, you don't have an option for drip-feeding.
Finally, add the product details such as title, description, and pricing. It also allows you to upsell other products from the promote section, but you will need multiple digital products to access this feature.
Overall, Podia provides a complete solution for selling digital products and makes it super simple to add the products and promote them among existing and new customers.
Podia Review: Community & Membership
If you are selling digital products and courses, you might have a build a community of people who like your products. So, instead of charging per product, you can also start a Membership plan, giving access to products based on the chosen plan.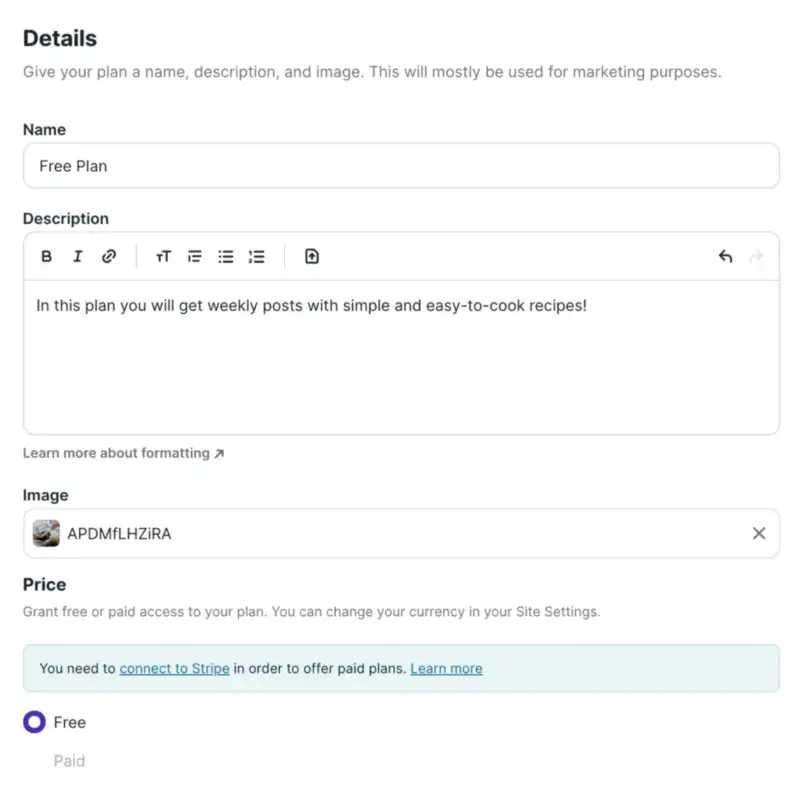 This way, you will generate recurring income and build a community of loyal fans. With Podia, you can create such membership plans.
With Podia Community Management tool –
You can create unlimited free and paid membership plans
You get complete control over visibility and access.
You can control access to other digital products within a plan.
Further, once you publish the membership plan, you can create topics, and members can publish posts and engage with each other in comment sections.
Over time, Podia has been improving the community platform, and I think not it is at the best level. Users can report spam posts, moderators can pin the posts, and most importantly, users can search for old posts easily.
This is how Podia helps you in building and launching a healthier community. With Podia's community management, you can bring your audience, discussions, and products together in one place.
Podia Review: Webinars
Being a creator-specific platform, Podia understand that webinar is the new normal to connect with the community and share knowledge online.
With Podia, you can host webinars via YouTube Live, Zoom webinars, or Zoom meetings.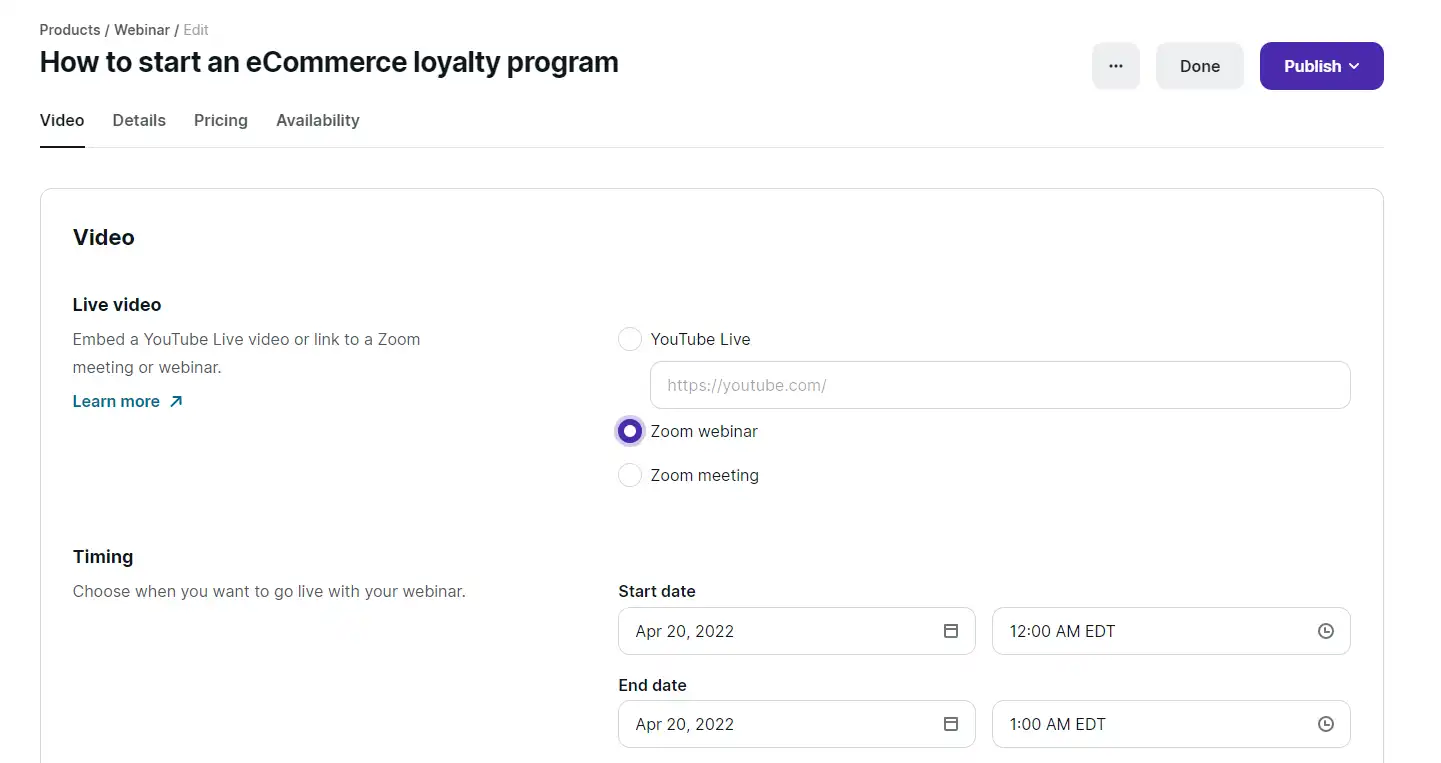 If you opt for YouTube Live, you have first to schedule a live session on your YouTube channel and paste its link there. On the other hand, you can connect your account with Zoom, and Podia will create the events accordingly.
It also allows you to add pre-recorded videos and sell them as webinars.
Finally, Podia doesn't have an in-built webinar feature. Still, the way it enables you to promote your YouTube Live or Zoom webinar to your existing customers makes it incredibly useful for creators and online course sellers.
Podia Review: Coaching Session
In addition to selling online courses, membership, digital products, and webinars, you can also let your customers book one-on-one coaching sessions with your customers and community members.
Podia lets you use calendar-booking services like Calendly to offer paid coaching sessions, and for free ones, you can use Google Calendar, Outlook Calendar, or other free services.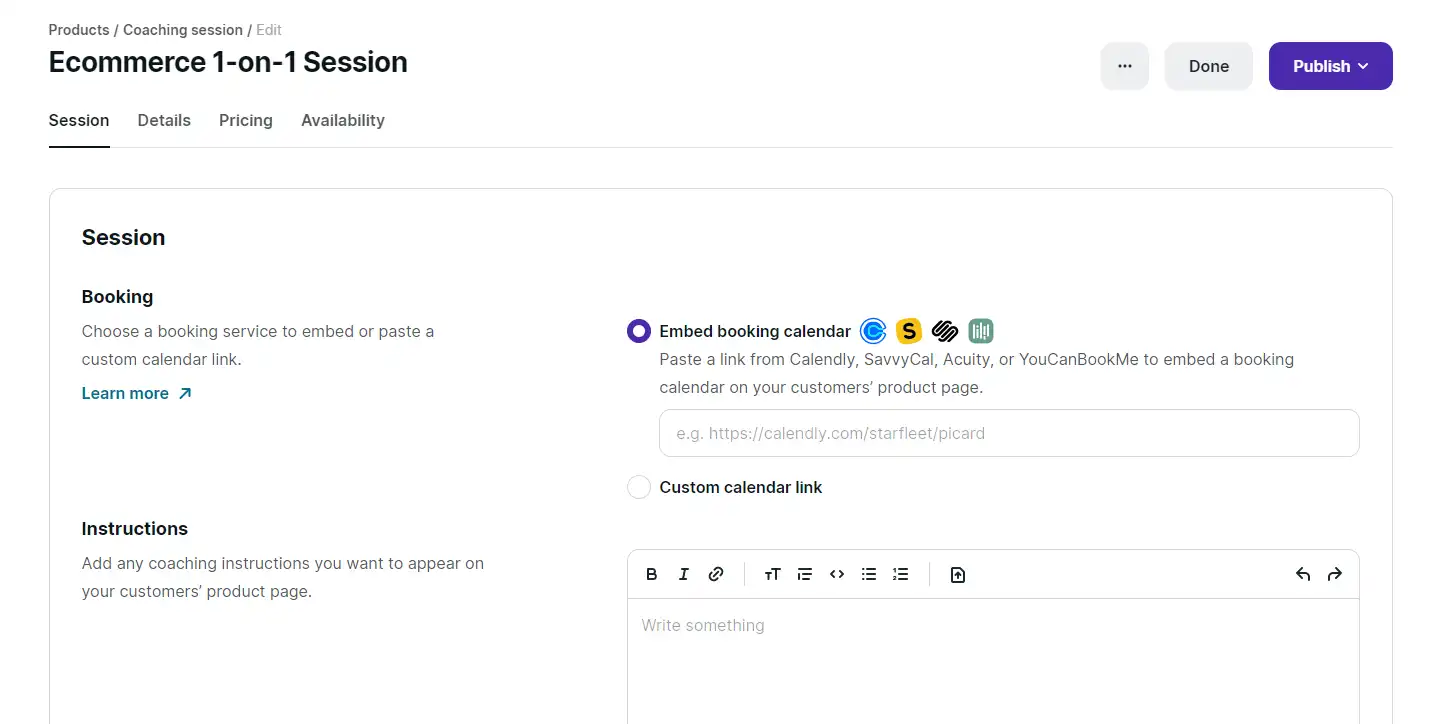 Podia Coaching session has nothing new to offer – you can offer it off the platform as well. But, what Podia brings here is a single platform where you can consolidate the data of interested customers and leverage it for marketing and selling other products.
Podia Review: Sales and Marketing
Being a creator isn't an easy job. You'll have to constantly promote your freshly brewed content and engage with your audience across every touchpoint.
Keeping this in mind, Podia offers six tools to help you with your sales and marketing efforts, which are as follows –
1. Email Marketing
With Podia's built-in email marketing solution, you can engage and grow your customer base by sending –
Broadcast emails – Send to your entire list or targeted customers
Series of conditional emails – Set up entrance and exit conditions to interact with specific people
Integration with Drip for running automated email campaigns
You can trigger the drip campaigns to start when someone signs up to download your freebie, so you can move them into your sales funnel. You'll also get a 360-degree view of the number of sales & revenue generated by every email you've sent.
In addition to this, Podia helps in increasing your overall sales by –
Adding email signup forms to any page on your Podia site
Hosting unlimited email subscribers
Offering free lead magnets to grow the email list
Segmenting campaigns based on the products your subscribers have purchased
Though you get access to useful features via Podia's email marketing toolkit, its email editor is simple and basic. However, for advanced personalization and segmentation, it allows you to integrate with popular email marketing software such as ActiveCampaign, Drip, ConvertKit, and more.
2. Messaging
Instead of using third-party apps, Podia offers integrated on-page live chat support (or messaging) directly on your site. You can convert anonymous visitors into customers, set your availability status, and enable chat notifications to never miss out on important conversations.
The messages you send can be viewed from the same browser & device that the visitor has messaged you on. The best part is that it allows you to converse in 11 languages to attract customers from across the globe. However, we can expect more languages to be added in the future.
So with Podia's live chat support, you can instantly chat with your customers, understand their needs, and improve the overall experience. Since there's no limit on the number of visitors and chats, you've got more opportunities to engage and sell your products.
3. Coupons
If you're ready with your products or membership plans, you can create coupons for –
all products and community (membership) plans
products only
community plans only
specific products
specific community plans only
Podia allows you to limit the collective total usage of coupons by everyone or not. And, the coupon can be set to automatically expire on a specific date or you can choose never to expire at all.
Once the coupon code is created, you can copy the coupon link and share it with your customers through your preferred medium. What's next? Be ready to witness your products getting sold out faster.
4. Bundling
Whether you want to create bundles for your online courses, webinars, digital products, or memberships, Podia makes it super simple. You just have to give your bundle a name, choose the eligible products, and set the pricing.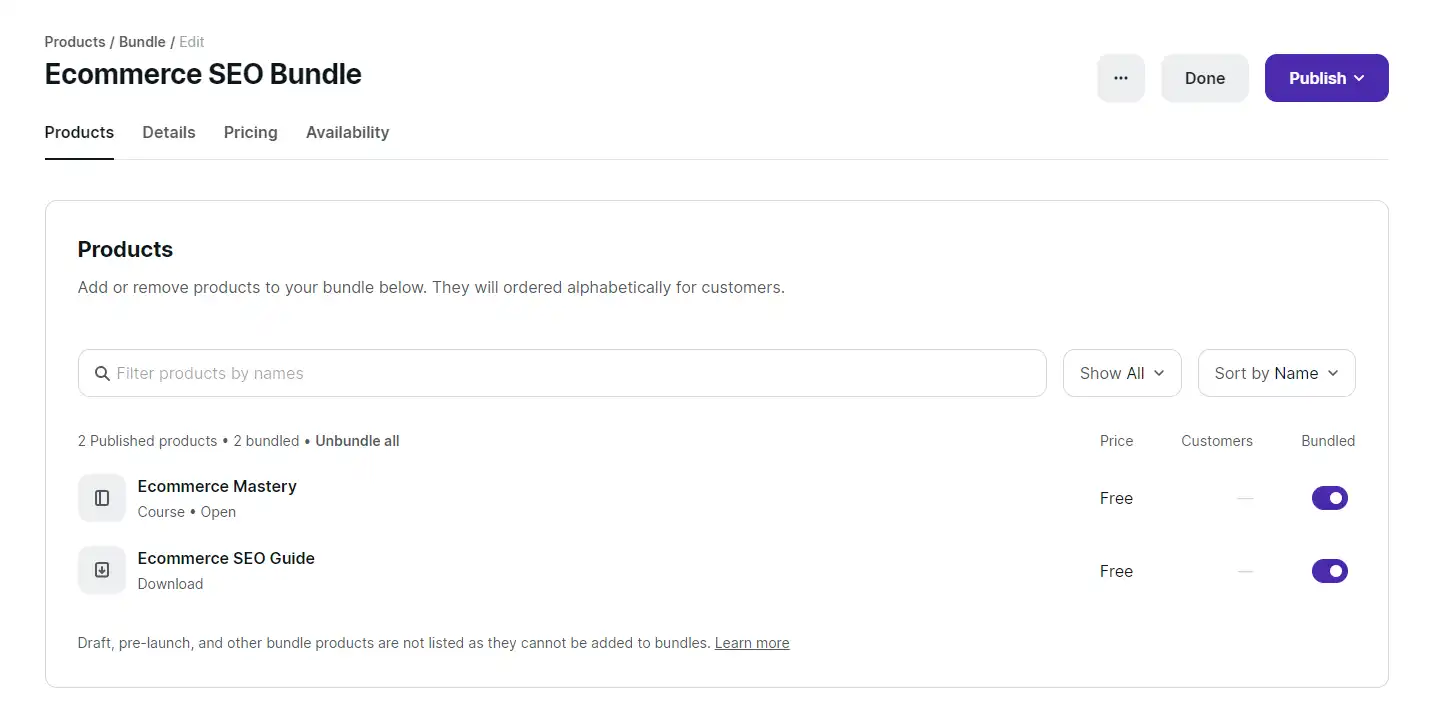 However, before going ahead, here are two things you must know –
If a new product is added to the bundle, the currently enrolled customers will receive access to the new bundled product.
The currently enrolled customers will retain access if a product is removed from the bundle. The removal will reflect only new customers.
You just have to put your products together and make them ready for sale. Only a few platforms support adjusting bundles favorable to customers, and Podia is one of them.
5. Pre-launching
Pre-launch is creating hype or excitement for your product before it goes live in the market. So, do you want to attract potential customers before launching your course or digital products?
Podia makes this happen by letting you create a pre-launch offer before rolling out the main product. Here's what pre-launch looks like –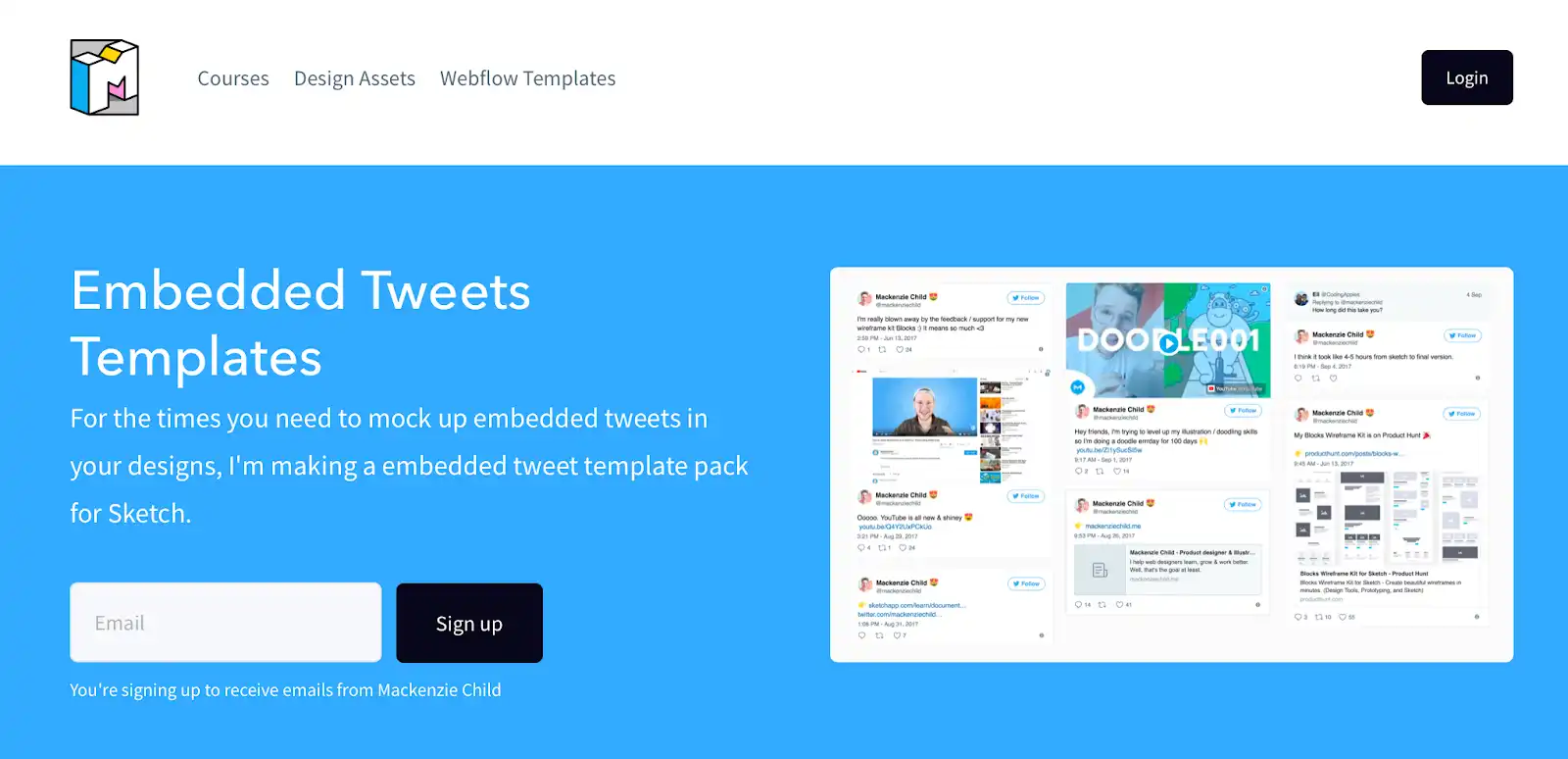 It allows you to customize the page design, but not the sign-up form to capture the email addresses of interested prospects.
Once people start signing up, you can engage with them by automatically sending emails to update them about the product you're working on. This is truly one of the smartest and most innovative ways for aspiring creators to build their loyal fan following.
6. Affiliate Marketing
Affiliate marketing is one of the effective ways to encourage your customers and other creators to promote your products among their audience base. And. in exchange, you reward them with money for each lead or paid sale.
Podia enables you to run an attractive affiliate program for your digital products. Once your program is published, you can invite your customers or others to join the program and help you generate more sales.
The best part of its affiliate tool is its dashboard, where you can see statistics on affiliates, sales, revenue, unpaid, and paid commissions.
Podia Review: Customer Service
Podia has a friendly team of creator supports agents to guide and help you seven days a week. You can reach out to them via –
email
live chat at the bottom of the Podia page
weekly Zoom Q&A sessions.
The Live chat is available between 9 am to 6 pm ET on weekdays and 9 am to 5 pm ET on weekends. Besides, you can access around 150+ valuable articles on their help center to instantly understand and self-resolve your issues.
Podia Review: Integrations
Podia offers integrations with popular email service providers, payment processors, analytics, webinar, advertising, scheduling platforms, and third-party snippets.
Some of them are ActiveCampaign, Drip, Convertkit, Stripe, PayPal, Hotjar, YouTube, Zoom, Calendly, Facebook, Google Ads, Pinterest, etc.
Even if you want to embed content from other websites, Podia's native iFramely embed feature is possible. It supports over 1900 platforms like Spotify, Vimeo, Dribble, GitHub, Twitter, etc.
Podia also supports Zapier Integrations with around 1,000 apps. To mention a few, it is compatible with LeadPages, ThriveCart, Trello, Google Sheets, and Dubsado. 
Podia Review: Pricing & Plans
Podia has a free plan with 8% transaction fees on every sales. The plan allows you to sell a single digital product and coaching product with complete access to community management.
It has two paid plans, starting at $39/month, which allows you to sell unlimited courses, digital products and coaching products with no additional transaction fees. The plans are as follows –
Mover Plan – $39/month, Sell everything except webinars
Shaker Plan – $89/month, Sell everything, including webinars with access to affiliate management feature.
The great news is that Podia charges zero transaction fees and provides unlimited on everything, free migration, and support on all of its plans. However, you'll be required to pay $20/month each on Mover and Shaker plans for adding additional teammates. Free teammates are allowed only on the Earthquaker plan.
Podia Review: Pros & Cons
By now, you know what you can sell on Podia and how it works. But to make a decision, you may want to know where the platform shines and its limitations. So, let's take a look at its Pros and cons.
Pros of Podia –
Zero transaction fees
7-day customer support on all plans
Extremely beginner-friendly to use
On-page live chat to convert every conversation into a sale
You don't require any additional tools as Podia has got you covered with everything necessary to increase your ROI
Built-in email marketing capabilities like broadcasts and automated campaigns
Free migration with an annual subscription
Unlimited video bandwidth, so there is no need to rely upon third-party video hosting.
Ability to pre-launch or pre-sell your products
Cons of Podia –
Lack of advanced customization options
Zoom integration is available only on higher plans (Shaker/EarthQuaker)
It supports only PayPal and Stripe for collecting payments
No unlimited email recipients, even on higher plans
Lacks built-in analytics reporting
Final Verdict – Is Podia the right platform for you?
Podia is an all-in-one platform that enables you to sell online courses, memberships, and digital products. It has also got good in-built email marketing features.
As an online course platform, it is an excellent alternative to the platforms like LearnWorlds and Teachable, which are comparatively expensive and offer most of the features in their advanced plans.
So, if you are looking for an affordable platform that enables you to sell online courses along with digital courses, membership, and webinars, you might want to check out Podia.
Podia
Customization Flexibility
Supported Digital Products
Now, if you have made up your mind and want to give Podia a try, use the above button to get a 14-day free trial, during which you can explore the platform and build the site before making any upfront investment.
Podia FAQs
What can you sell on Podia?

Podia lets you sell online courses. digital Products (eBooks, documents, images, etc.,), webinars, membership, and one-on-one coaching sessions. Podia is pretty much a complete package to sell all kinds of digital products.

Can I offer a certificate of completion?

With Podia, you can decide whether to offer a certificate or not for the course. You can edit the certificate by adding the logo, title, and subtitle. When your students complete all the lessons, you can automatically send an email with the download link to the certificate. 

Is Podia better than Teachable?
I hope this guide gave you an overview of Podia and helped you decide if it is the right platform for your business. If you have more questions regarding the platform, you can tweet us at @ecomsutra, and our team will try to get you answers in the best possible ways.