Printful is one of the best print-on-demand and dropshipping service providers in the world. It provides all the essential tools and services you need to sell customizable products online. The products include apparel (men/women), kids, hats, accessories, homeware, and more with tons of categories to choose from.
Printful is a big name in the space. It has partnered with some popular brands such as Adidas, American Apparel, Champion, Cotton Heritage, Flexfit, Gildan, Rabbit Skins, Shaka Wear, etc.
But the important question is – Is Printful the best print-on-demand service provider for your business?
So, to help you figure this out, in this article, we will break down every aspect and the key features of Printful so that you will know what it has to offer and if it is what you want for your business.
If you want to explore the platform while reading the article, you can use the button below to create your free account (no credit card required)
Now, continue reading till the end while exploring the platform, and I'm sure you will know everything about Printful to make your decision.
Printful Review: Feature Highlights
Before diving into the services and all the detailed aspects of Printful, let me give you some of the feature highlights that make it the best –
It does not require minimum purchases, so you can order products as little as you need.
Personalize 200+ high-quality products with its user-friendly mockup generator.
Printful's automated software checks graphics quality, and its AI tool evaluates the images before printing.
You can enjoy zero upfront costs or monthly fees. You'll only have to pay for fulfillment and shipping.
Access to custom branding tools to deliver an exceptional brand experience.
Intuitive automation flow to fulfill incoming orders quickly.
It takes into account sustainability and ethics to prevent printing waste.
Your items will be shipped again if lost or damaged during transit.
Printful Review: Services Available
Printful is not just another print-on-demand website; it offers many other features that can help you start an eCommerce business hassle-free – you just have to pay for the services you will use, and Printful will handle the rest.
Having said that, let's get into the detail of each service that Printful has to offer.
1. Print-on-demand Products
Printful gives you access to its over 200+ whopping collections of customizable print-on-demand products in different categories like apparel, accessories, and homewares.
Let's take a look at some of the popular products it has to offer –
Men's clothing: All shirt types, Jackets, Hoodies, Sweatshirts, Sweatpants, Joggers, shorts, and many more.
Women's clothing: T-shirts, tank tops, crop tops, leggings, skirts, shorts, dresses, swimwear, robes, joggers, sweatpants, and the list goes on.
Kids & Youth Clothing: T-shirts, all-over shirts, long-sleeve shirts, baby bibs, baby bodysuits, swimwear, hats, hoodies, and leggings.
Hats: Beanies, dad hats, baseball caps, snapbacks, trucker hats, 5-panel hats, mesh hats, bucket hats, and visors.
Accessories: Patches, Bags, Phone cases (iPhone, Samsung), hair accessories like headbands/scrunchie, face masks, keychains, footwear, and jewelry.
Home & living: Wall art, drinkware, stationery, pillows, blankets, towels, aprons, fabrics, bean bags, and pet products.
You can also browse products based on the tons of collections and fast-selling brands that Printful provides. If you want to rapidly ship products to specific countries like France, Portugal, and Brazil, Printful has got you covered.
In addition to this, Printful keeps adding new products to its list. So, you will always have something new to offer to your customers.
Finally, the lucidity in displaying the products and the ever-growing diverse collection is one of the undeniable reasons Printful is successful.
2. Warehousing & Fulfillment
It becomes a big caveat for your business if you don't have sufficient resources to handle your growing inventory. To help you with this, Printful allows you to store your products in their warehouse, so when an order is received, they'll immediately ship and fulfill it for you.
So how can you benefit from Printful's warehousing and fulfillment? You've got to see them below –
Store products, pack-ins, and packages in Printful Warehouse
Use the storage cost calculator to estimate your warehousing fees
Same-day shipping for orders placed by noon.
Reach out to potential customers across the globe – fulfillment centers on the two biggest continents – North America and Europe
Allows for automatic order fulfillment by integrating with top eCommerce platforms
Pre-order bulk products (up to 26 min) and store them in the Printful warehouse for faster fulfillment.
If your products don't qualify for same-day shipping, it will be fulfilled within Printful's standard time of 2-5 business days. The warehousing costs depend on the storage, processing, and fulfillment fees.
Overall, Printful has structured the entire warehousing and fulfillment process to be smooth and hassle-free for entrepreneurs. All you have to do is fill out the approval form with relevant product details, and upon confirmation, you can start managing your inventory right from the dashboard, sitting anywhere in the world.
3. Branding
One of the most compromisable factors in dropshipping is branding. Since suppliers take full control from ordering to fulfillment, it becomes difficult to directly showcase your branding potential to customers.
This is where Printful steps in to build your brand reputation by providing customizable branding options, which are as follows –
Custom Packaging: Choose the preferred packaging method, add stunning colors, and characters to deliver a memorable unboxing experience.
Branded Pack-ins: Pack-ins are items you add as a bonus in shipments. It includes flyers/coupons to share discounts, business cards to stay in touch, postcards, and handwritten thank you cards. You can either create your own pack-in or bulk order from a supplier.
Branding for white-label & POD products: You can create branded inner/outer labels, customizable return addresses, and personalized notes inside the packages.
4. Creative Services
A lot of time, people avoid starting a print-on-demand business because they lack creative design skills. Printful understands this and thus offers you creative services to help you with your design requirements.
The services offered are as follows –
Graphic design services: Merchandise designing, Print file editing, Illustration design, branding, and social media post designing.
Photography services: Choose a product category and specify the total no. of shots, design style, and reference images to get started.
Video services: Designing visually appealing product videos, production videos, showcase videos, and sending videos to the Printful team for responsive editing.
Whatever your requirement, Printful has got your back to fulfill all your needs in the best way possible.
By now, you should have understood the broad range of features and services offered by Printful to its users. But how user-friendly is it to handle all your business operations? That's what we're going to see in the next section.
Printful Review: Designing & Ordering
Printful makes the process of designing and placing an order super-fast and convenient. The dashboard is highly beginner-friendly, and you can complete the process within minutes.
You can place –
a basic order – customize around 200+ premium products
sample orders to test the quality
choose to import orders from the spreadsheet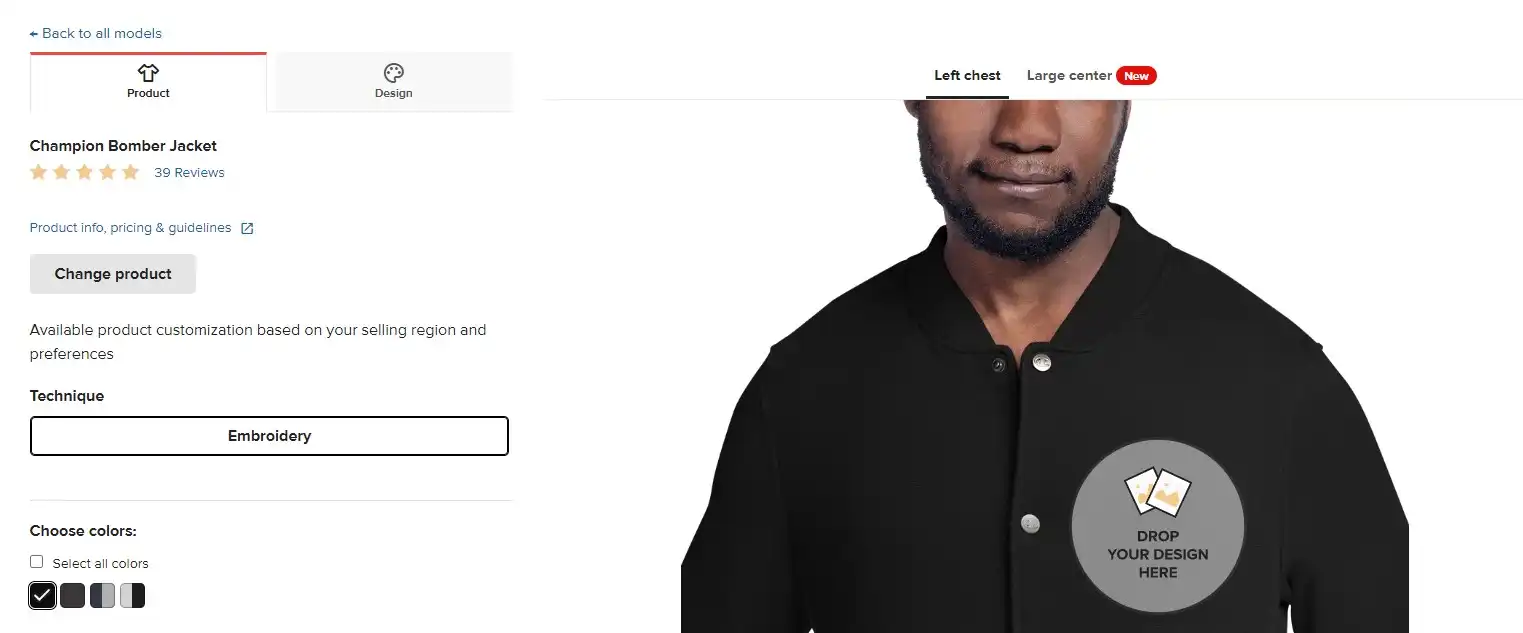 If you opt for a basic order, you can choose your preferred product and start customizing it via the free mockup generator. Printful enables you to add creative elements like text, clipart, premium images, and eye-catching stickers to make the product look more attractive and lively.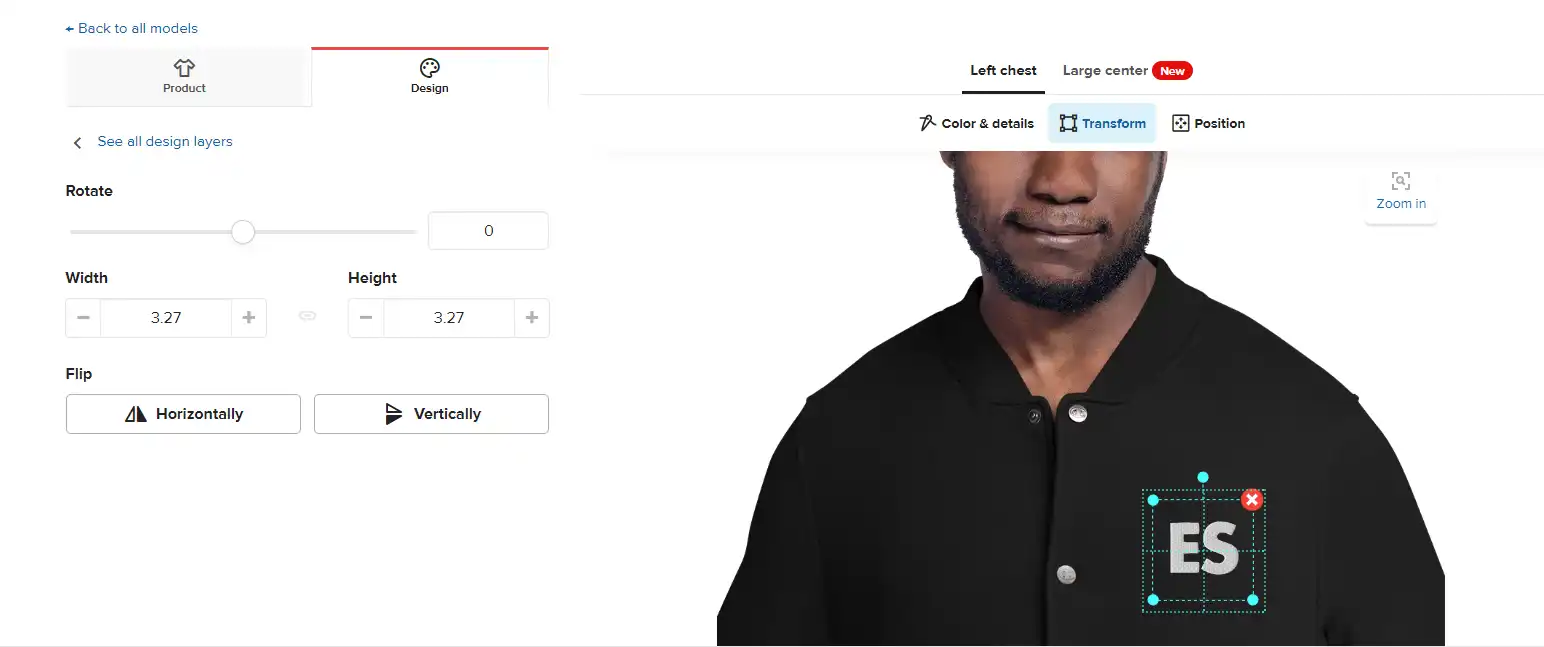 Next, once you're ready with your design, you can place the order or add the product to your store. In this step, you can –
customize the product name
add quantity and specify the product's retail price
After adding the designated shipping address, you can review whether all details are good to go. At last, you can make the payment via PayPal, Payment cards, or use a Printful wallet if you've added any funds to it.
So, this is how the designing and ordering process happens in Printful. The Basic order is Printful's standard order that ships within 3 business days. Besides, you can also add more products by clicking the "add product" button.
Overall, product designing and placing an order is pretty easy, time-saving, and worthwhile. Even if you plan to make a lot of orders with the same products & variants, you can save them as product templates and add them to your store.
Printful Review: Sample Order
We usually order samples to test the product's quality, reliability, and durability, isn't it? The same goes for Printful's sample program.
With Printful, you can order samples at a 20% discount and enjoy free shipping to selected destinations. By ordering product samples, you can test the print quality and cloth texture and visualize how the product looks.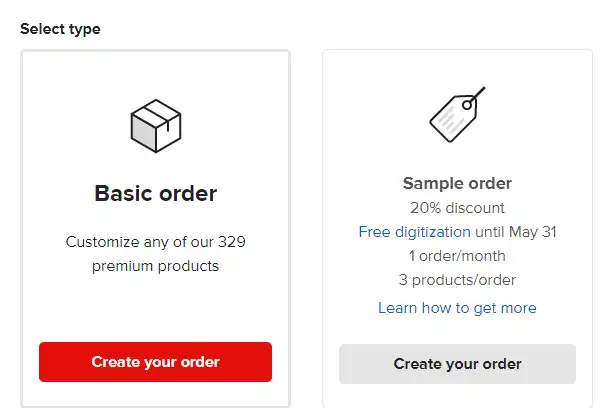 The ordering procedure is the same as we did for basic orders. However, there are a few conditions that you must be aware of –
Every registered Printful customer will qualify to use 1 sample order/month for a maximum of 3 products.
The sample orders are meant only for eCommerce store owners and they will be available to order at the start of each month.
You can enjoy getting access to additional sample orders if your monthly sales reach the defined thresholds – $100, $300, $500 & $1500.
Whatever your design expectations may be, you can check whether it meets the utmost quality via sample order. You can determine whether it is a worthwhile investment for you to partner with Printful to grow your brand reputation and sales.
Printful Review: What is Printful Pro?
Printful Pro unlocks exclusive access to use advanced tools to amplify your eCommerce business. You can benefit by availing its –
Built-in tools and services
Product customization with distinguishable design assets
Free digitization for embroidery files
Background removal tool
Promo maker to create outstanding visuals for your brand
Keyword research tool to enhance SEO
Custom Mockup Maker
480+ attractive clip art images
Carrier-based shipping option
Access to premium photos at no cost
This list of value-driven perks costs $49/month with a monthly subscription and $539/year with an annual subscription. You can also examine how it works for you by signing up for a 14-day free trial.
Printful Review: Integrations
Printful offers seamless integrations with leading eCommerce platforms, online marketplaces, sales channels, and a flexible API to personalize the entire shopping experience.
On that note, here are some of the major eCommerce platforms and marketplaces that integrate with Printful –
WooCommerce
Magento
Etsy
Amazon
eBay
You can also grow your social selling by linking your eCommerce store's product catalog to your social media page and enabling in-app checkout if available. The preferred social channels include TikTok, Instagram, Facebook, Spotify, and Pinterest.
Printful Review: Customer Support
Though Printful's support has mixed reviews, they seemed to be helpful by providing 24×7 assistance. You can chat with the Printful team, send an email, or fill out the contact form to submit your queries.
To instantly resolve your day-to-day issues, you can access Printful's help center covering a wide range of topics. From getting started to knowing about terms & policies, it gives you answers to all your questions so you can solve them without any delay.
With the chat option, you'll get access to some of the relevant articles based on your input. If you're not satisfied with those results, you can start conversing with the Printful team. In my experience, I got an instant reply from the customer support executive, and she patiently answered all my questions.
Printful Pricing: How Much Printful Cost?
You can get started with zero minimums and monthly fees. It charges only for every individual order. The total costs are ideally based on –
Product price
Shipping
Applicable taxes
So you sign up for a free account, customize your products, and list them on your eCommerce store absolutely for free. You only have to pay when you make a sale.
As discussed earlier, the Printful Pro costs $49/month and gives you access to a bonanza of features. On the other hand, Printful Plus is a cost-effective alternative to Printful Pro at just $9/month and comes with a 14-day free trial.
With Printful Plus, you can enjoy creating custom product mockups and easily adjust any image via the background removal tool.
Printful's free plan shall be worth it if you're getting started. Once your sales tend to grow, you can potentially invest in any of these paid tools to accelerate customer experience.
Printful Review: Pros & Cons
By now, you must have realized that Printful is undoubtedly the best POD service provider. However, there's always room for improvement.
So, let's look at the advantages & limitations of Printful.
Pros of Printful –
Easy to use with a user-friendly interface
Discounted sample ordering
High-quality printing capabilities
High-quality products
No minimum orders
Transparent shipping prices
Built-in product designing tool
Customizable branding options
Built-in free product mockup generator
Seamless integration with major eCommerce platforms
Excellent customer support
Cons of Printful –
High shipping charges
Low-profit margins
Some products like framed posters are not deliverable everywhere
Final Verdict: Is Printful the Right Platform for You?
Printful is the most popular POD service provider that enables anyone to start a print-on-demand business without having to invest in expensive printing technology and warehouse management.
Here's a quick overview of the platform based on our experience –
In a nutshell, Printful would be the perfect choice for anyone who –
Want to sell high-quality and customizable POD products
Run a white-labeled POD/ dropshipping business related to apparel, accessories, and homeware products
Have no prior experience in entrepreneurship – anyone with a passion for growing their revenue can opt for Printful
Want to get rid of managing growing inventory
Printful FAQs
Finally, here are some of the common questions that you might have regarding Printful.
Is it free to sell on Printful?

You can sign up for free and start adding customized products to your store. If an order is placed, Printful charges for manufacturing and shipping.

How to Calculate Printful Profit?

You can view your monthly sales in the Statistics tab of your Printful dashboard. Using those data, you can easily create the profit and loss report for your store.

What printing techniques does Printful support?

The printing techniques are as follows –
– Direct-to-Garment – Apparels
– Embroidery – Hats, apparel, bags, home & living items
– Cut & Sew – Apparel, accessories, home and living items
– Engraving – Personalize jewelry and keychains
– Sublimation – Ready-made blank products
– UV Printing – Phone cases 

What is the best alternative to Printful?

Honestly, I have not found any other platform that offers all the features and services Printful offers. However, if you just want print-on-demand dropshipping services, Printify stands next to Printful. For more, you can check our list of the best Printful alternatives.

Can I sell directly from Printful?

No, you cannot sell directly from Printful as they do not provide a storefront where you can list your product to sell. Currently, you need to link Printful with an eCommerce platform like Shopify, Etsy, Woocommerce, etc., where your customers can see the products and place orders.

How can I sell print-on-demand products with Printful?

You will need a reliable eCommerce platform that supports integration with Printful to set up your storefront to sell products. Shopify is a popular platform for print-on-demand businesses; you can refer to our tutorial on starting a POD business with Shopify for step-by-step guidance.
Do you have more questions? Tweet us at @ecomsutra, and we will try to help you in the best possible ways!