The enormous growth of digital platforms has opened huge doors for small businesses to thrive in the market. Especially when you are in the eCommerce field, there are many eCommerce platforms where you can build your online store and sell anything you want.
Such platforms are also making it easier to set up an online store. However, you must choose an ideal platform that enables you to sell your product in the best possible ways and provide a comfortable shopping experience to customers.
One such eCommerce platform is Sellfy, and in this article, we will review it and see if it is an ideal platform for eCommerce entrepreneurs.
Geared Up? Let's get started.
What is Sellfy? – An Overview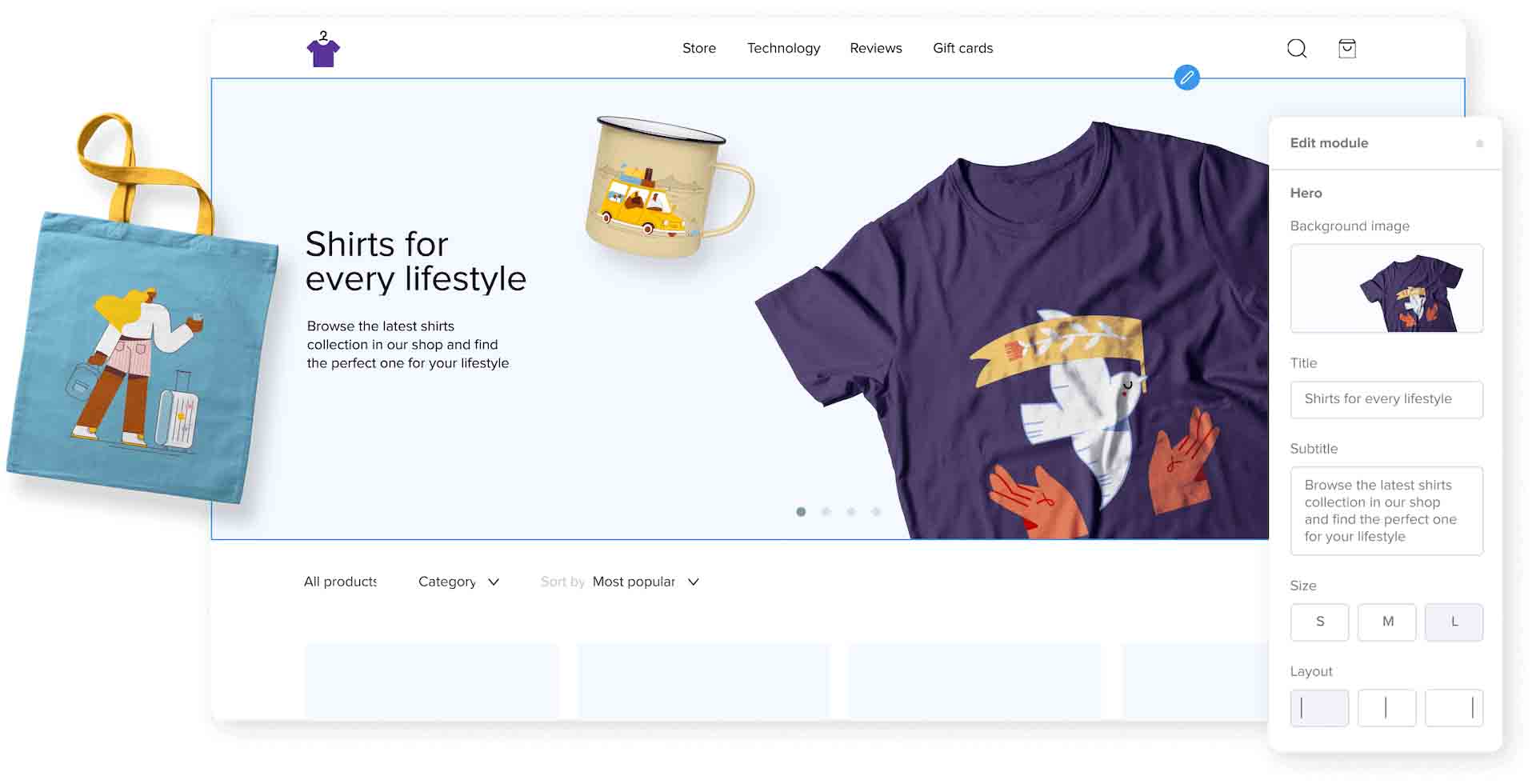 Sellfy is a cloud-based eCommerce platform designed specifically to sell digital products, such as music, illustrations, photos, books, or videos in digital files. It is a subscription-based service, i.e., you will have to pay monthly or yearly to keep your store active.
Recently, they have also added a feature to sell print-on-demand products, allowing you to sell custom-printed merchandise for your brand. This can be a useful feature for public figures and creators to sell their brand merch.
Sellfy is an ideal platform for content creators and digital artists who want a simple online store solution that is quick and easy to create and manage. So, whether you are a video creator, music director, author, or YouTuber, this platform shall ideally serve all your needs in a simple yet effective way.
In the next section, we will dive into the features offered by Sellfy. So, if you want to explore Sellfy along with reading this review, sign up using the button, which will get you a 14-day free trial with full features ( no credit card required).
Sellfy Review: Key Features
Sellfy allows you to build an online store without worrying about the technical aspects of managing an online store. Sellfy takes care of everything behind running an online store, including hosting servers, security payments, and more.
In this section, we are going to look into all such features that Sellfy provides. Following are the features we will be looking into –
Ease of use
Store Design and Customization
Product Management
Analytics and Tracking
Marketing
Payment Methods
Now, let's dive into each features in detail.
1. Ease of Use
The key USP of Sellfy is that it enables you to build an online store in under five minutes, and based on my experience, the claim seems right.
Its user interface is easy to use such that you can quickly customize, upload your products and start selling your products without any technical knowledge.
In a nutshell, Sellfy is a beginner-friendly platform, enabling anyone with little to no knowledge of eCommerce can enjoy a hassle-free experience of smoothly launching their online store.
2. Store Design & Customization
The store design and customization options offered by Sellfy are simple and straightforward. The editing interface is easy-to-use and flexible with all reliable options. It provides basic customization features, and unfortunately, it doesn't provide any theme options to choose from.
However, you can change the logo, color, reorder the menu items, change the background, and add social links. Also, it offers a dedicated mobile editor, which lets you edit the site for mobile display.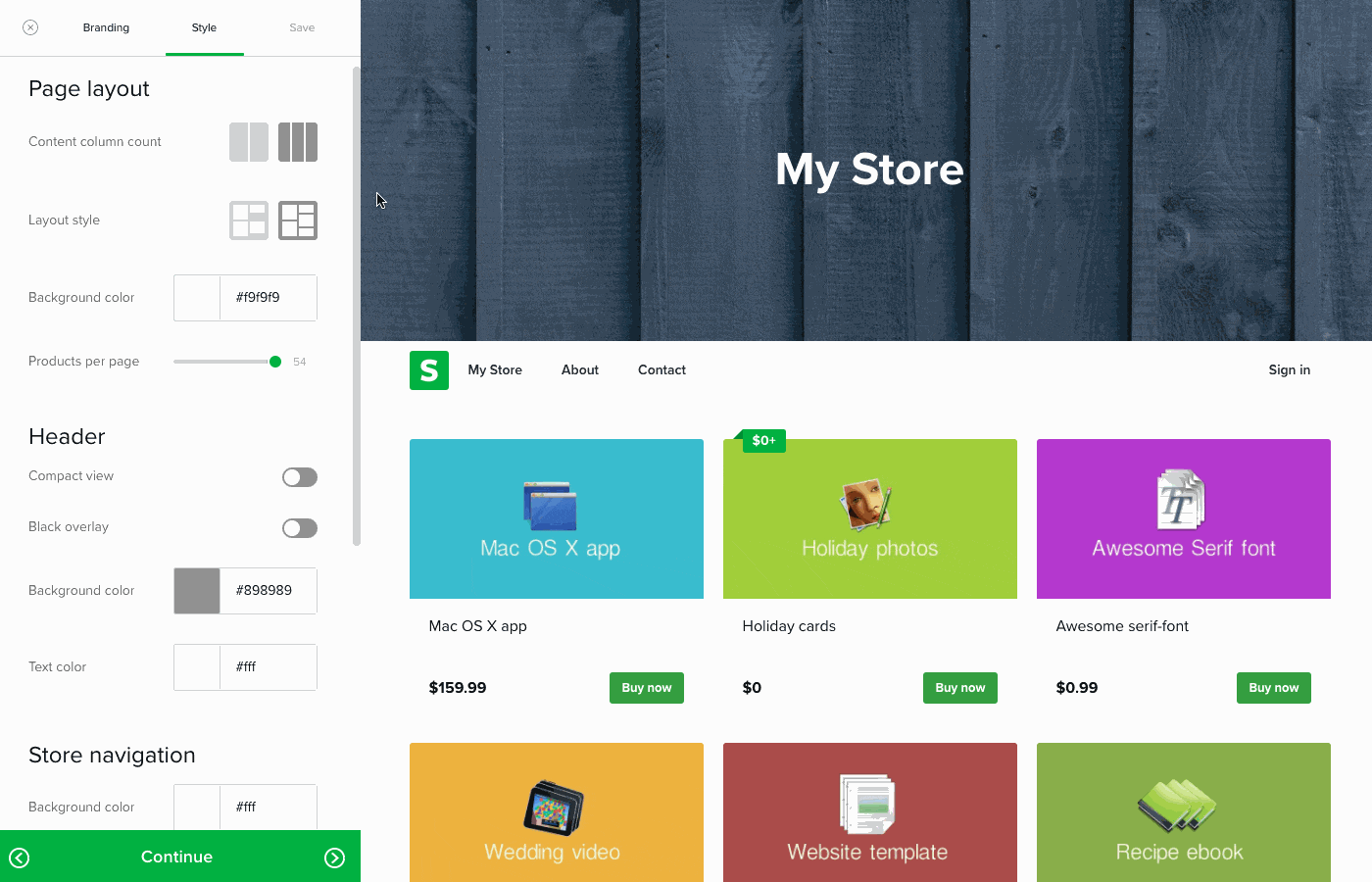 The bottom line, as Sellfy tries to keep everything simple, it has only limited features in customizing your online store. You cannot find many customization and design options, which can be a drawback for those who like to play with the look and feel of the storefront.
3. Product Management
When it comes to adding products, you will find different sections to add different types of products. This makes it easier for users to navigate to respective sections, upload products, images and add product titles, and descriptions.
Sellfy allows you to upload up to 50 files per product, and the total file size for all the files should not exceed 10GB. Besides, you can add audio or video previews from Youtube, Vimeo, Soundcloud, and other hosting platforms to save the product size and page loading time.
4. Analytics and Tracking
Sellfy provides a simple yet powerful analytics tool, allowing you to track and analyze your store performance. It makes it super-easy to identify top-performing products and where the visitors and buyers are coming from.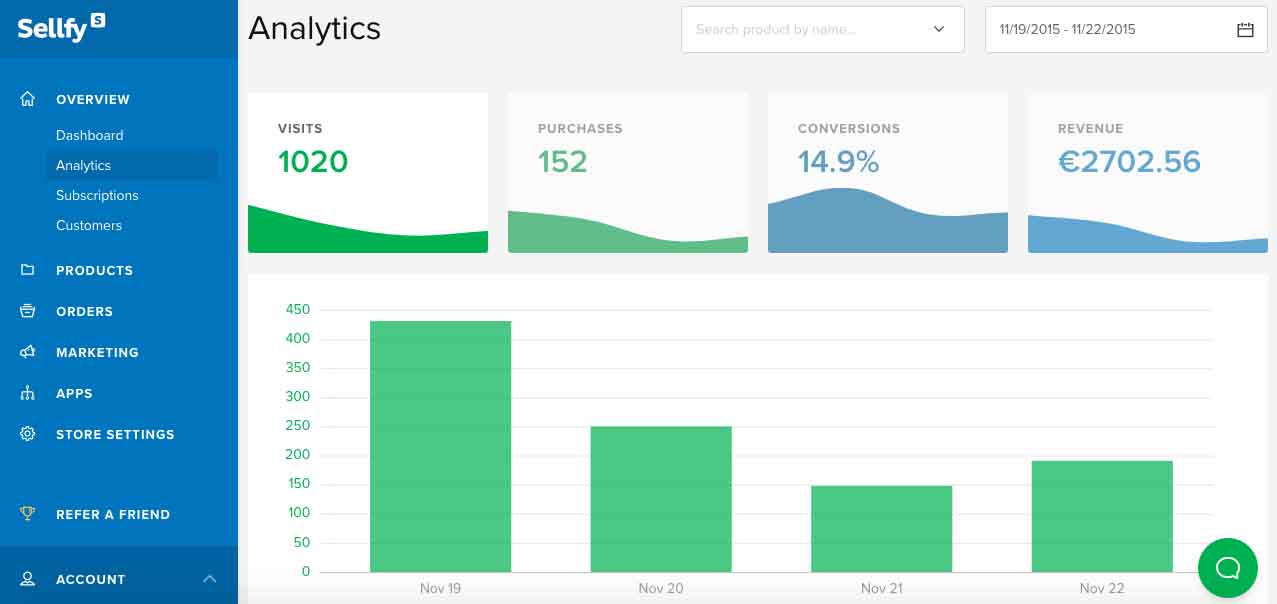 In the Sellfy Analytics dashboard, you can view the data like the total number of visitors, purchases made, conversions, and also the total revenue you earned for the current month.
You can also see the performance metrics of email marketing campaigns sent from Sellfy. Using these analytic reports, you can optimize your store for better performance and generate more sales.
5. Marketing
Sellfy offers stunning built-in marketing tools that readily help in expanding your store potential to a considerable level. Though you won't get any advanced options, Sellfy promises to elevate your sales and conversions with its refined set of marketing tools.
Let's take a look at them –
Email Marketing – Sellfy allows you to send email campaigns based on different categories like a product launch, discounts, product updates, or also create a custom message. You can also purchase email credits in advance or enter a credit amount manually, for which you'll have to pay to deliver the campaign.
Sadly, the email editor offered by Sellfy is quite basic and doesn't have more customization options. It provides easy-to-use formatting options and allows inserting images and links.
Coupons & Discount Codes – Coupons and discount codes are one of the best ways to attract more customers and drive sales to your online store. With Sellfy, you can add a discount code for one or multiple products or even run a sale for all your products at once.
You can choose to offer the discount type either in amount or as a percentage. Also, as an added advantage, you can display countdown times for discount offers.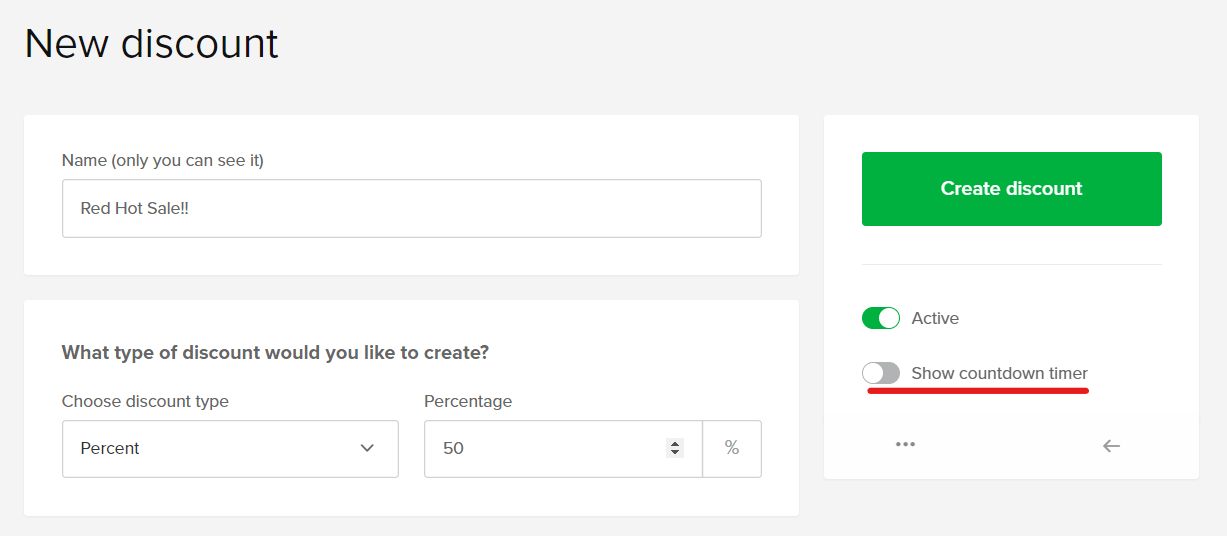 Cart Abandonment – Cart abandonment is a big challenge for eCommerce businesses. With Sellfy, you can create email campaigns targeting customers who have added products to the cart but didn't checkout.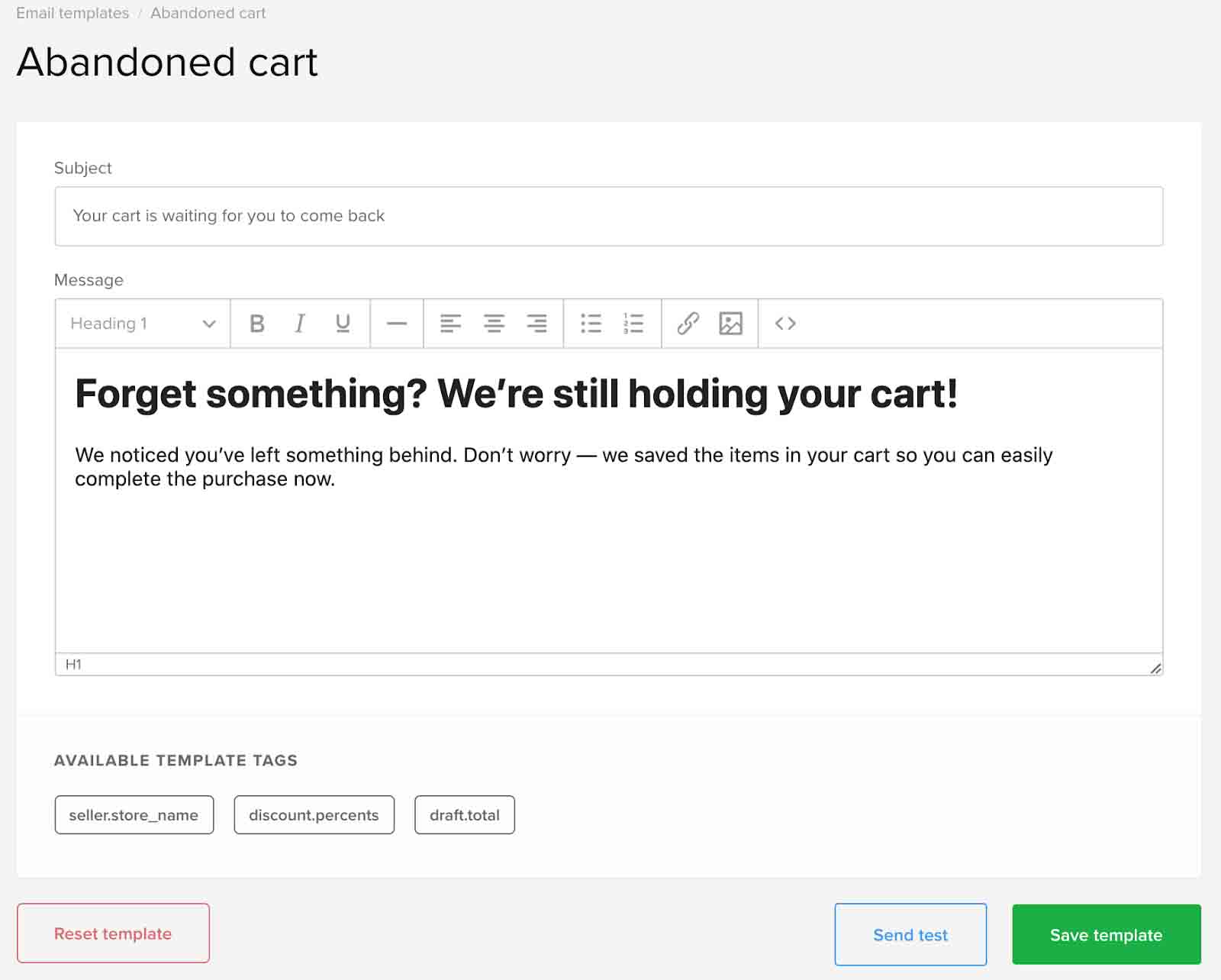 Using this feature, you can-
Set a time delay for sending a cart recovery email
Give a discount on the products in the cart
Customize your cart abandonment email
Upselling – Using this marketing feature, you can offer exclusive deals on add-on products to customers already intended to make a purchase. You can show upselling products to all the products available in your store or specific ones.
It also allows you to display upsell popup message that nudges customers to buy additional products.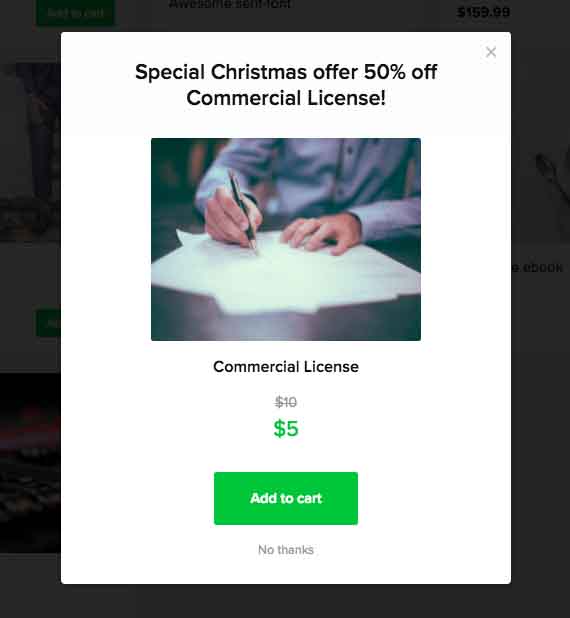 6. Payment Methods
Sellfy allows you to receive payment via two popular payment gateways – Paypal and Stripe. With either of these payment gateways, you can accept payments hassle-free. These are PCI-compliant which ensures the safety of your customer data and secure transactions.
To add further, if you wish to offer freebies to your customers, you can enter the price as $0 and enable the "Pay as you want" button. This allows your customers to donate a certain amount to the products if they want or download them for free.
Sellfy Review: 3rd-Party Integrations
To automate the essential functionalities of your online store, Sellfy provides seamless integrations with Google Analytics, Facebook Ads, and Twitter Ads, allowing you to track your website visitors and retarget them across channels.
You can also add live chat to your site using Facebook live chat and offer products at a discounted price to your Patreon page followers.
Finally, using Zapier, you can also connect to a handful of other third-party applications or you can request a specific integration from the Sellfy team. But overall, the integration options are very limited.
Sellfy Review: Website Security
When it comes to selling digital products, there are lots of ways that scammers can misuse your product and sell it in their name.
To prevent this, Sellfy offers three main security steps to enhance your store experience. They are:
PDF Stamping
Unique download links
Limited download attempts
Besides, all your customer's transactions and payment details are processed safely as both Paypal and Stripe offer high-level encryption.
Sellfy Review: Pricing Plans
Sellfy offers a 14-day free trial and has three pricing plans: Starter, Business, and Premium. None of the plans charges transaction fees but comes with a sales cap limit.
Here are the three pricing plans of Sellfy –
Starter plan costs $29/month and $19/month if paid annually. It has a cap limit of $10k in sales per year. You can sell all types of products but not marketing features.
Business Plan includes all the Starter plan features plus product upselling, free migration, and 10,000 email credits. It costs $50/month and comes with a cap limit of $50k sales per year. It
Premium plan provides the highest sales cap limit of $200k sales per year. It comes with all the business plan features plus 50,000 email credits and priority support at $129/month.
Note: If the sales limit of your selected plan exceeds, Sellfy will automatically upgrade it to the next higher plan and charge accordingly.
Sellfy Review: Supported Product
Sellfy offers the following major product types to add to your store –
Digital Products – Sell ebooks, music files, videos, etc.
Subscription – Sell subscription products by setting up recurring and flexible payment procedures.
Print on demand – Sell custom-printed t-shirts, mugs, hoodies, etc., using the built-in print-on-demand feature. The incoming orders will automatically be printed and sent to the customers.
Physical Products – Sell physical products like clothes, books, or any product which needs to be shipped.
Freebie – You can upload freemium products to attract customers and build your email list.
Sellfy Review: Pros & Cons
Every eCommerce platform has its own set of advantages and disadvantages. But based on my own experience of using the platform, here are a few pros and cons of Sellfy that you can consider while making a decision.
Pros of Sellfy –
Easy to use: On the whole, Sellfy is one of those flexible platforms where you can easily build your online store with just a few clicks away. And it requires a minimal learning curve, and the interface is beginner-friendly.
Highly Suitable For Selling Digital Products: Sellfy is highly optimized for promoting and selling digital products. It allows the creators to upload and sell their products without any complicated barriers.
No Transaction Fees: Sellfy doesn't charge anything on transaction fees which is a great relief for merchants. This allows you to book more profit on each sale.
Cons of Sellfy –
Limited Options Available: When compared to other eCommerce platforms, Sellfy seems to lack many essential features. It offers limited integrations, and you can use only two payment processors for your store. Also, it does not provide any tools to run affiliate programs.
Limited Customization Options: The customization options provided by Sellfy are not sufficient compared to other platforms as it has one default storefront theme. If you are a pro and expect more built-in features, then Sellfy is not the ideal place for you.
Limited Email Templates: The email templates are limited, and Sellfy has to improve it in terms of design and layout structure.
Final Verdict: Is Sellfy Worth It?
By now, you must have got an idea of what Sellfy is and what features it offers. If you're a photographer, videographer, blogger, or musician, you can consider using Sellfy to sell digital products and monetize your skills.
I hope this article gave you an overview of Sellfy and helped you determine if it is the right platform for your business. Finally, if you want to explore more options to sell different types of digital products, you should check the following articles –