Being a Shopify store owner, you need to add multiple apps for different features and functions, which adds up to your monthly expenses and, most importantly, slows down the site speed.
Over that, the apps do not sync well with each other, resulting in a poor shopping experience for your customers.
If you want to avoid all these hassles, there's a Shopify app that brings multiple app features into one. It is Vitals App – it has features and functionalities of over 40 Shopify apps, i.e., you can replace most of your apps with it.
This is exciting, right? Well, that's why I thought to try the app, and in this review, I will break down every aspect of the Vitals app to help you determine if it is the right app for your store.
If you want to explore the app along with reading this review (which I highly recommend), you can use the button below to sign up now and get a 30-day free trial (No credit card required).
What is the Vitals App?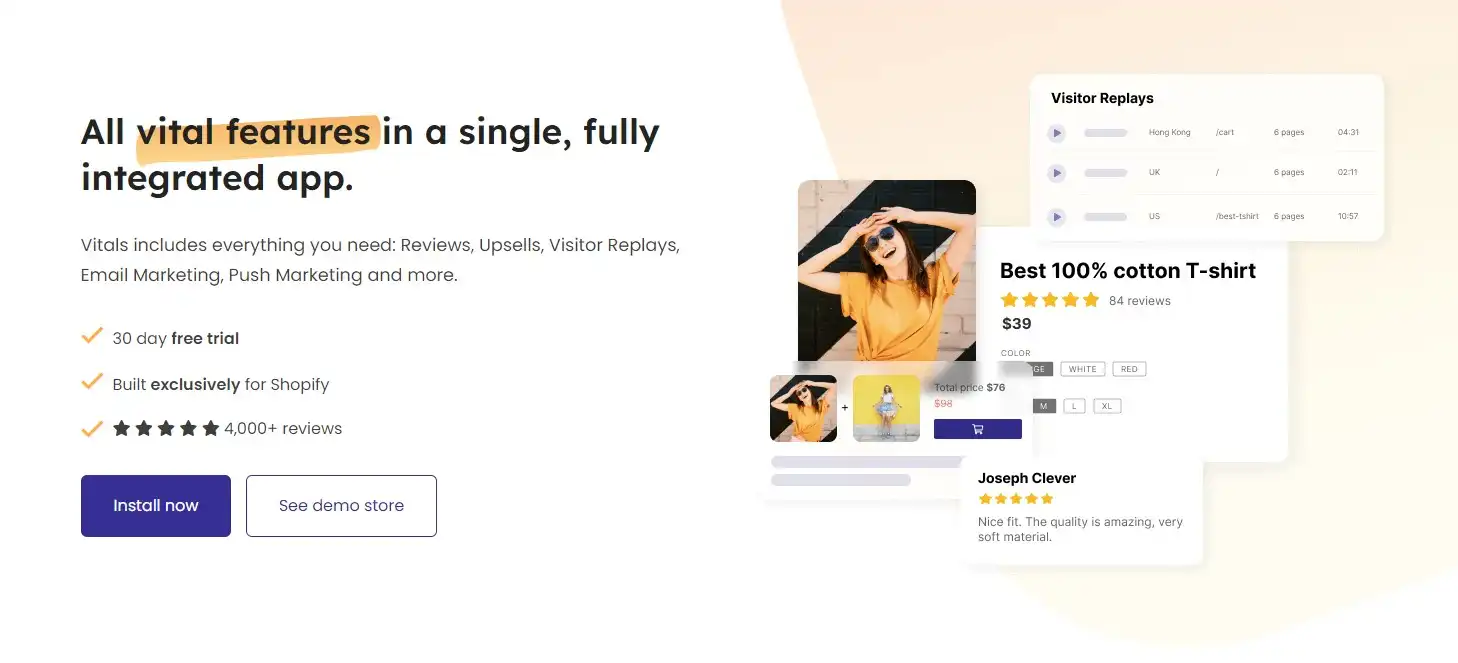 Vitals is an all-in-one sales and marketing app for Shopify merchants to optimize and grow their businesses. It brings 40+ essential apps under a single roof. That is, you just have to install one app to add 40+ features to your store.
With Vitals, you can activate apps to build trust, capture leads, reduce cart abandonment, boost revenue, and improve the overall customer experience within a couple of clicks.
As a next step, you might ask me, "Hey, will my Shopify store be dragged down due to the usage of 40+ apps"? The answer is a big NO.
Due to fast CDN and best caching practices, Vitals increases your store speed as all the apps are well-coded and light-weighted. Also, there is no compulsion to use all 40 apps, and you can enable only the needed apps and disable the rest.
Vitals App Review: Ease of use
Vitals has a simple and user-friendly interface that makes navigation a lot easier. As soon as you complete the signup process, you will see a very minimalist user interface as shown below –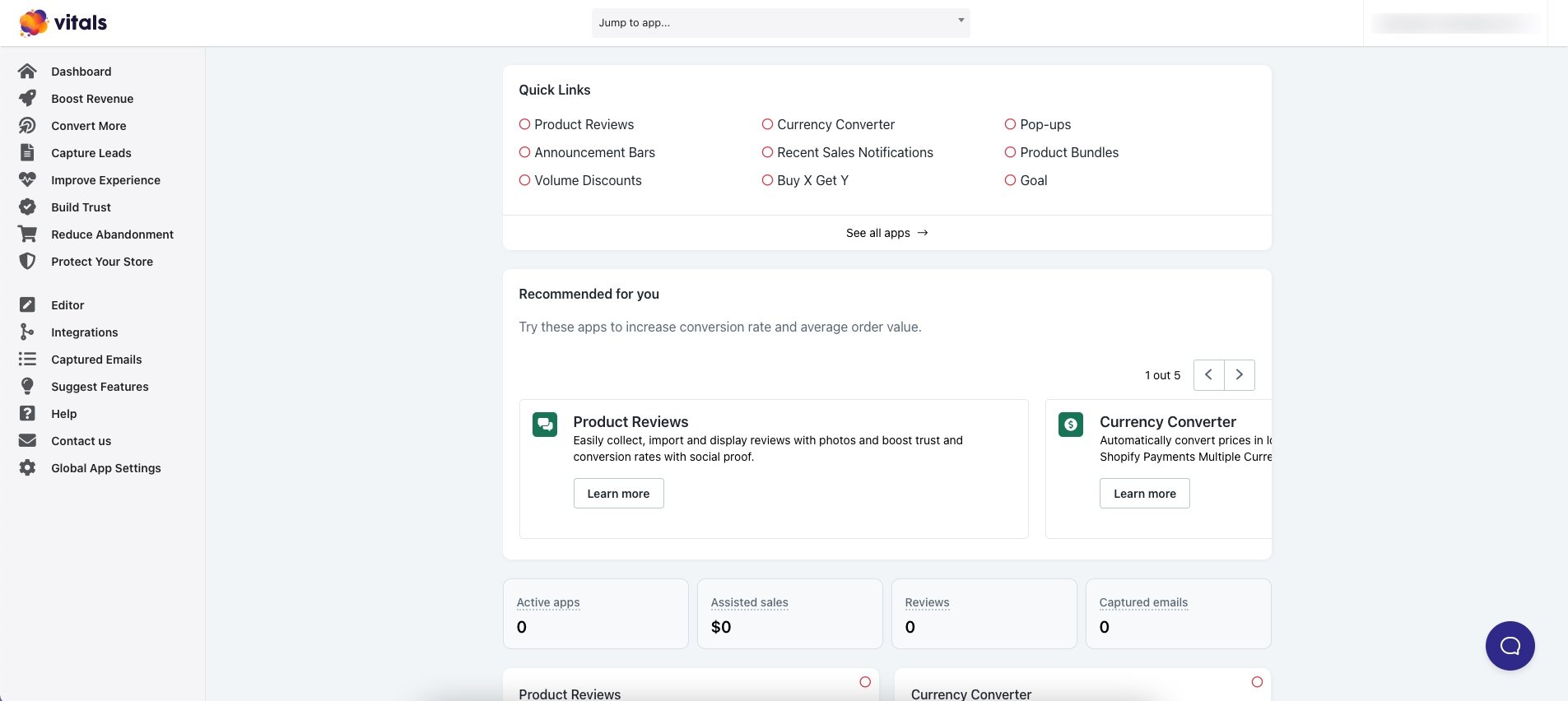 At the top, you have quick links to all the apps within Vitals. You can also access them from the menu on the left-hand side. Below that, you will see some recommended apps to enable your store. So, overall, Vitals provides a very simple and easy-to-use interface, which is quite similar to Shopify. That's really good!
Another best part of the Vitals is compatible with almost every popular Shopify theme. It blends well with all the themes in the Shopify store, but even if you use a custom theme, their support team will customize the app to make it work for you.
All the Vitals apps are integrated with each other, enabling seamless sync of content from one app to another. For instance, while upselling, you can also display product reviews on the landing page.
Finally, Vitals has the potential to easily organize all the apps in a single platform. Its ease of use also lies in the fact that the apps don't conflict with each other. This helps you to deliver a frictionless buying journey for your customers and thus generate more sales.
With that being said, next, we shall review the long list of features that Vitals has packed in it, so you can know what it offers.
Vitals App Review: Features
In this section, we will look at the following features and functionalities that the Vitals app has to offer
Boost revenue
Convert more
Capture leads
Improve experience
Build trust
Reduce abandonment
Protect your store
Let's get started.
1. Boost Revenue
Vitals helps in boosting your revenue in two ways – Pre-orders and Upsell Builder.
Pre-Orders – This option allows customers to pre-order products that are either out of stock or yet to be released. The customers can access only the product variants with the "pre-order" option enabled. Besides, it lets you customize the add-to-cart button for a specific product that can be pre-ordered. You can mention additional information like the time and duration it takes to ship the product.
Upsell Builder – To improve your average order value, Vitals allows you to upsell and cross-sell products in the following ways –
Product Bundle – Easily bundle different products together, choose the discount type, and customize it while displaying it on the product page, cart page, and thank you page.
Volume Discounts – Offer volume discounts by choosing eligible items and appropriate discount tiers. You can enjoy tons of customization options for the volume-discount badge, like modifying the text, background color, alignment, etc.
Buy X Get Y – It is the "Buy One Get One" offer. Add two eligible products, choose the discount type (%, fixed), and customize the label, text, color, size, etc., before displaying on different pages.
Goal – This enables your customer to reach the desired spending amount to reach the goal. Select the product, fix your spending goal, and customize the progress bar look. Finally, you can display the text when the goal has been successfully completed.
2. Convert More
Vitals includes all the necessary apps that aid you in fetching more conversions. The list of apps for converting new visitors into paid customers is as follows:
Countdown Timer – With timers, you can boost the FOMO effect by specifying the sale ending duration. If needed, you are given the option to use timers only for discounted products. Also, it provides easy customization options to match your branding efforts.
Sticky Add to Cart – You can add a sticky add to cart bar on the desktop and mobile and integrate the Vitals Reviews app to push more sales. To make it more interactive, Vitals lets you add animation effects to the bar to attract customers to checkout.
Related Products – To improve per-customer sales, you can display related products. Vitals enables you to prioritize showing the relevant products on different criteria. It recommends the best products based on past purchases or other algorithms.
Accelerated Checkout – It helps your customers skip the cart page and proceed to the checkout to fasten the purchasing process.
Facebook Pixels – This allows you to quickly build lookalike audiences by tracking customer behavior either for your entire store, specific collections, or specific product tags.
Recently Viewed – Display recently viewed products to customers on product pages and cart pages. Also, enable reviews below the product titles in the recently viewed section.
Shipping Information – Inform your customers about their shipping by formatting it with proper terms. The data for shipping is pulled automatically from your Shopify shipping settings.
Stock Scarcity – Boost the urgency mindset by letting customers know that the product runs low on stock. It gives you the option to show the urgency box when the inventory is below a specified level or when the product is out-of-stock but still purchasable.
3. Capture Leads
Identifying prospects is an excellent opportunity to leverage your store's existing audience base. Vitals has got you covered with three simple lead capture tools to assist you in this process:
Announcement bars – You can create different announcement bars like displaying offers, free shipping deals, email capture, order counter, and countdown timers.
Wheel of Fortune – Deliver a gamified experience to visitors by letting them spin wheels and win the game. The collected email addresses are sent automatically to Shopify or your third-party email service providers.
Popups – Create different types of popups like newsletter subscriptions, popups with a CTA button, and providing discount codes (incentivized requests) for subscribing to the newsletter.
4. Improve Customer Experience
Do you know that 86% of buyers are willing to pay more for excellent customer experiences? Vitals has got this heard and has included apps that contribute to a pleasant shopping journey by understanding every touchpoint.
Scroll to Top Button – You can add a small button at the bottom of the page to enable customers to easily move to the top. The button color can be customized, animations can be added, and different button design options are available to choose from.
Auto External Links – This enables customers to open any external links in your store pages in a different tab to prevent them from leaving your page immediately.
Quick Access Links – For Shopify store admins, this can be useful by accessing the most important sections using this bar. It appears only when you are logged in.
Facebook Messenger Chat – Connect your official Facebook page account to deliver personalized services to your social media followers via messenger chat.
Social Media Buttons – This enables you to strengthen your social media presence by embedding social icons in your store. The options include Facebook, Instagram, Snapchat, TikTok, Pinterest, Youtube, Tumblr, etc. If needed, you can hide these buttons on mobile.
Instant Search – Customers always want to quickly know the product's availability, for which instant search is highly useful. You just need to type the search term, and all the relevant results and popular searches are displayed without pressing the 'Enter' button.
Currency Converter – It helps in automatically converting the prices to local currency using geo-location. It also integrates with Shopify Payments. Note that if your theme has a built-in currency switcher, you need to disable/remove it to use this feature.
SEO Alt Tags – Reach more visitors by inserting an ALT tag into your product images. Vitals offers a preferred format for ALT tags to make your work easier.
Product Description Tabs – Let your customers know the complete product details by creating static and automated product tabs. To boost credibility, you can integrate it with the Vitals Reviews app.
All-in-one chat – Provide a great customer experience by integrating multiple chat apps like Whatsapp, Messenger, SMS, phone, email, Instagram, telegram, LinkedIn, etc. Just enter a valid link or number, and customize the settings to get started.
Visitor Replays – Helps identify the barrier blocks by allowing you to view the real-time recordings of your visitor's behavior. Vitals allows up to 5000 page views beyond which you need to upgrade the plan.
5. Build Trust
Trust is a highly influential factor that enables customers to choose only you amidst lots of competitors. Vitals comes with five different apps that foster trust feeling into your customer's mindset. They are:
Trust Seals and Badges – Vitals offers premium-designed seals and badges with different layouts. You can choose the appropriate size, color and align it to place it in the correct area to catch attention.
Recent Sales Notification – Psychologically make your customers believe that you run a busy store by displaying sales notifications. You can choose the layout and set up the time duration to be displayed on the screen.
Payment Logos – Insert payment logos like Amazon Pay, GPay, Master Card, and PayPal. You can insert a customizable text above these logos like "Checkout safely using your preferred payment method."
Product Reviews – Collect, import, and display reviews with photos. It lets you send automatic review request emails, apply moderation, and display featured reviews on the homepage to create a great impression.
Shoppable Instagram Feed – Connect your Instagram account to import your product images, tag products in your Instagram posts, and display an eye-catchy gallery in your Shopify store.
6. Reduce Cart Abandonment
There are many frictional elements that cause customers to leave their carts immediately. Vitals understood this and has got you four interesting elements that prevent incomplete purchases.
Hide dynamic checkout buttons – You can hide dynamic checkout buttons like Paypal, Apple Pay, etc. These buttons affect the checkout flow as customers think that these are your only payment-accepting modes.
Favicon cart count – It allows you to display the number of products in the customer's cart in your store's browser tab to bring customers back to shopping mode.
Inactive tab message – If your customers switch to another tab, remind them by displaying a customizable message like "Don't forget this" or "Come back" to facilitate cart recovery.
Cart Reserved Timer – Push your customers to buy their favorite products quickly by letting them know that they will be available only for a limited time period.
7. Protect your store
Vitals comes with the best options for store owners to protect their customer's confidential data and internal details from getting rid of potential theft. Here are the options:
Cookies Bar – Let your customers know that you comply with EU regulations and inform them that you use cookies to track site activity.
Content Protection – Prevent stealing your store content by blocking right-clicking, text and image selection, copy, cut, save shortcuts, etc.
Agree to Terms checkbox – Get your customer's consent to use their data according to EU regulations before checkout.
Best Sellers protection – Hide your store's best-selling products to prevent competitors from copying you.
Geo-location Redirect – Easily redirect visitors to the corresponding local store based on geo-location rules.
Vitals App Review: Customer Support
Vitals offers a good range of customer support options. You can access its vast knowledge base to browse various articles. They also provide 24×7 support via live chat and email to assist with whatever issues you deal with the app.
Vitals App Review: Pricing Plans
Vitals app uses a single pricing point that costs just $29.99/month with a 30-day money-back guarantee. The entire list of features is accessible, and you get unlimited service in all its functionalities.
All you have to do is just install the app once and enjoy getting rid of complex upgrades that suck your precious time. However, you need to purchase add-ons to send extra automatic review request emails and record more visitor replays.
Vitals App Review: Pros & Cons
Okay, by now, you know all the features you can get with just one app at a relatively low cost. Next, let's look at the advantages and limitations of the app.
Pros –
Bundled with tons of sales-boosting features.
Free up from installing multiple apps that drain your store's energy.
Increases your site's load speed effortlessly via Cloudflare caching.
Unlimited upselling and cross-selling opportunities.
30-day money-back guarantee.
Cons –
Very few third-party integrations – Klaviyo and MailChimp.
Analytics is basic and can be much improved.
Final Verdict: Is Vitals worth its hype?
By now, you would have understood how impeccable the app can be in skyrocketing the sales for your store. You do not have to research top apps in any category as they are all easily accessible with a few clicks in the app.
So, if you are looking for multiple conversion optimization apps to boost sales for your store, choose Vitals over 40+ different apps. It will save you money and provide you better user experience.
If you have made up your mind and want to try it, use the button above to sign up, and you will get a 30-day free trial. Enjoy the easy onboarding process and get hands-on experience with how Vitals works.
I hope this review gave a complete overview of the Shopify Vitals apps and helped you decide. If so, you may want to check our other recommended Shopify apps to increase sales.