Do you want to start an eCommerce business? Are you wondering if Shoplazza is the right platform for you?
If so, this article is for you.
In this Shoplazza review, we will take a deep dive into its features and everything you need to know to decide if it is the right one for your business.
So, if you're ready, let's get started.
What is Shoplazza?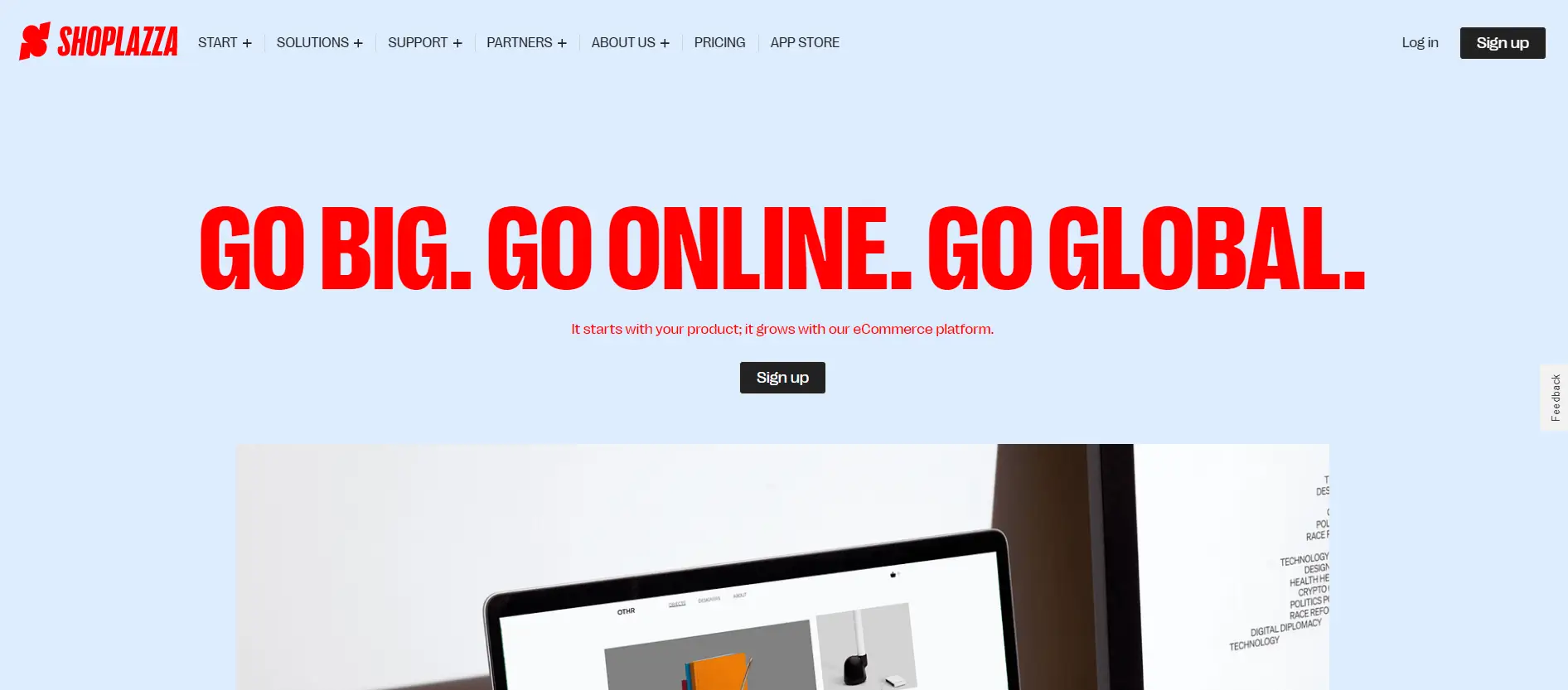 Shoplazza is a SaaS-based eCommerce platform that has been designed to help entrepreneurs and businesses set up their online stores and sell anything online from anywhere. It provides you with everything you need to build, manage, and grow your online stores – all without any technical hassle.
The platform was launched in 2017 and since then, it has been growing significantly in the market among platforms like Shopify, BigCommerce, and other popular eCommerce website builders.
With built-in marketing tools, analytics reporting, and various payment options, Shoplazza is an all-in-one platform that can help you take your business online and expand globally. From the next section, we will look into ease of use and other key features of the platform. So, if you want to explore the platform while reading this review, you can use the button below to get a 7-day free trial.
Shoplazza Review: Easy of Use
As mentioned on Shoplazza's website, their aim is to make eCommerce simple. And, after using it for a while, I think they have done it pretty well.
The platform has been designed to be user-friendly and intuitive, even for users with little or no technical knowledge. The drag-and-drop interface makes it easy to customize the look and feel of the online store, and the platform's step-by-step setup process guides users through the process of setting up their store.
To get started, you will just have to sign up to create an account and once you are done, you will be taken to your admin dashboard from where you can manage every aspect of your business from creating a store to sales and marketing.
In addition, Shoplazza has an in-house app store, where you can find a range of integrations with third-party apps and services, making it easy to add additional functionality to the online store.
Bottom line? Shoplazza makes it easier for anyone to start an online store, even with technical knowledge or expertise in website development, design, and marketing. With Shoplazza, you will get everything on a single platform to build and run a fully functional online store.
Shoplazza Review: Key Features
Now, in this section, I will break down every key feature of Shoplazza to help you determine if it has everything you need for your eCommerce business.
The features are as follows –
Store Builder
Order Management
Product Management
Marketing Tools
Payment Methods
Analytics Reporting
Store Builder
Shoplazza provides a section-based store builder packed with various pre-designed blocks and elements. You can easily add new sections and drag blocks to any part of the page to customize per your store branding.
The platform comes with a range of professionally designed, responsive, and themes, which you can customize using its store builder or create new pages from scratch.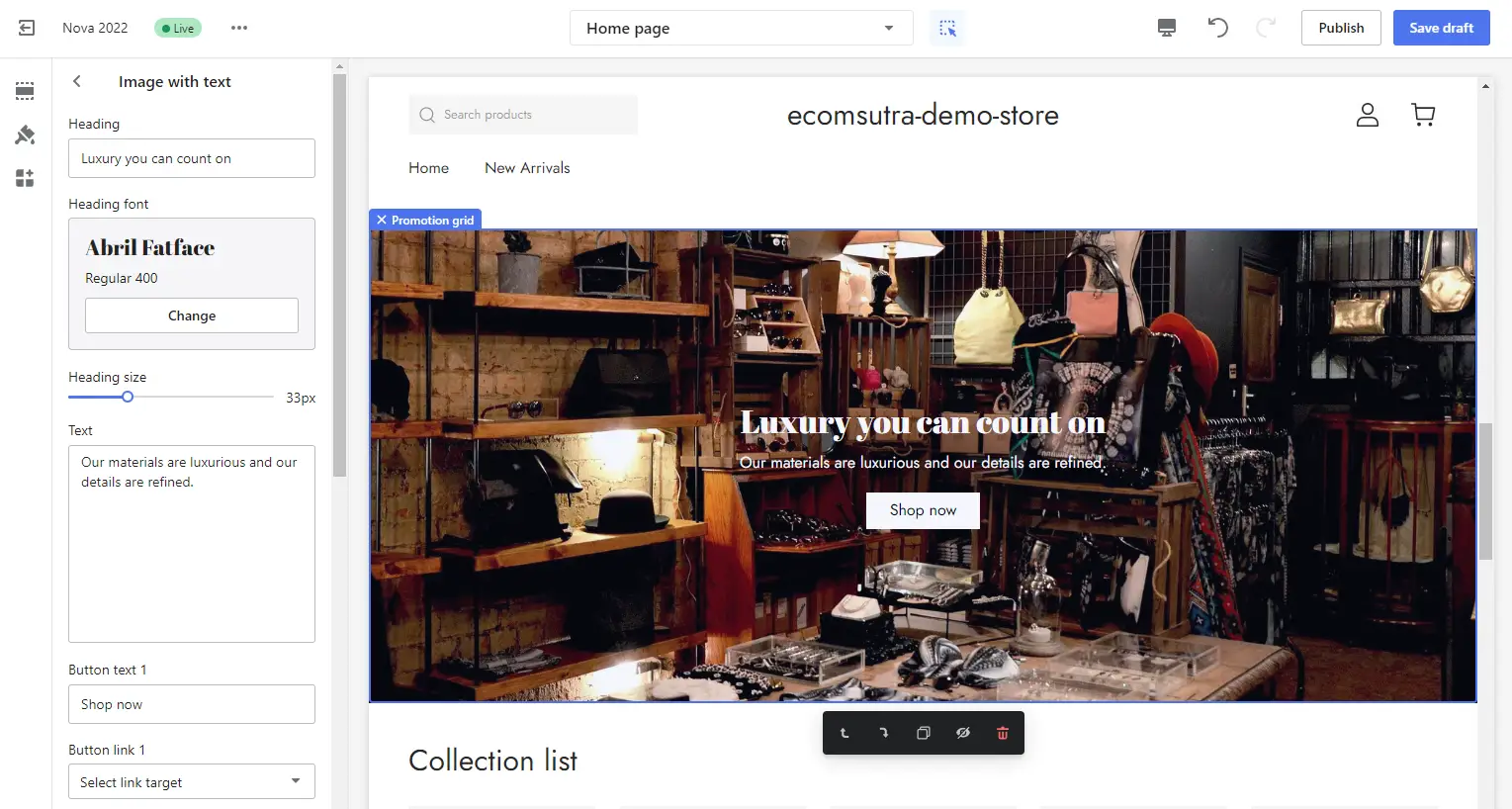 Once you add a new section or drag elements to the page, you will see various customization options, like colors, fonts, spacing, etc., which are fairly simple to use.
The best part is that the builder comes with a dedicated mobile editor, allowing you to customize the pages for mobile displays and ensure its responsiveness for different screen sizes.
Product Management
Shoplazza provides a powerful product management tool that allows you to manage all aspects of your product catalog, including adding new products and organizing them into categories and collections.
To add new products to your store, you just have to head over to Products > All products from your admin dashboard and click the "Create Product" button to add products.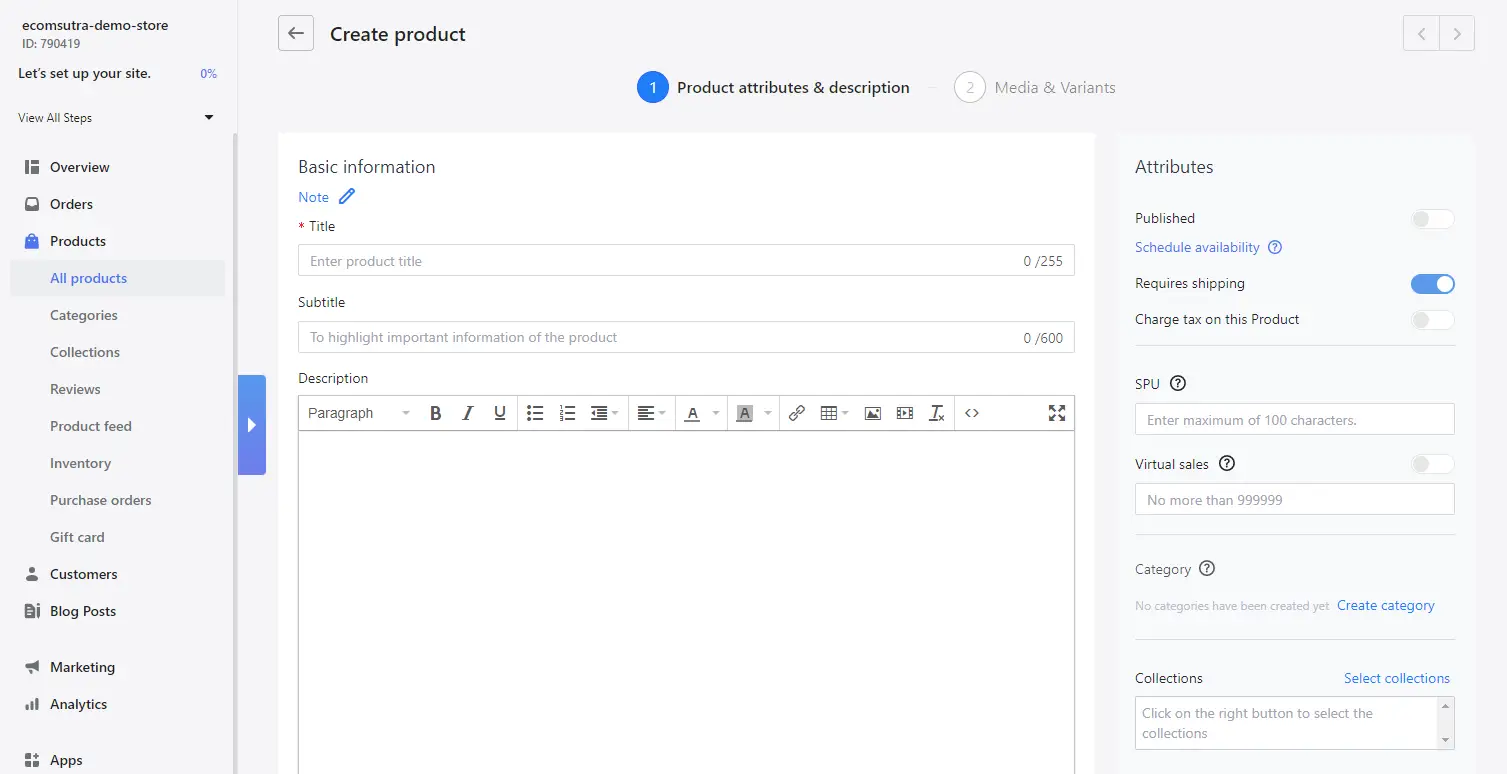 As you can see in the above image, you can add a product title and descriptions, upload product images, pricing, inventory details, and more. You can even add a custom SEO title, meta description, keywords, and URL for each product page.
You can even import products from your existing Shopify store or .xlsx format, making it easier to migrate your existing store on Shoplazza.
But that's not all. Shoplazza makes it even easier to manage your products and grow the business efficiently by offering you the following features –
Customer Reviews: This allows customers to leave reviews on your products, which can be a powerful tool for building trust and credibility with potential customers. You can also moderate and respond to reviews to address any concerns or issues.
Inventory management: With this, you can manage your inventory levels for each product, set up alerts for low stock, and track your inventory levels over time.
Product Feeds: This allows you to create and manage product feeds for different sales channels, such as Google Shopping or Facebook Marketplace. This can help you expand your reach and increase sales.
Purchase Order: This allows you to create and manage purchase orders for your suppliers, making it easier to keep track of inventory levels and restock when needed.
Order Management
Managing orders is a critical aspect of an eCommerce business and can be a daunting task without the right tools and systems in place. Fortunately, Shoplazza offers an efficient and comprehensive order management section from where you view all your orders and manage them.

On clicking the Unfulfilled Orders tab, you can view all your pending orders and update the delivery information for individual orders, and refund or cancel an order, manually.
Further, to help you recover lost sales and manage the post-sales process, Shoplazza provides you with the following tabs under the Orders section –
Abandoned Checkouts: From this tab, you can view all the abandoned cart details, which you can use to follow up with customers and encourage them to complete their purchases.
After Sales: From this tab, you can manage the post-purchase process, including tracking orders, managing returns and refunds, and providing customer support.
Disputes: From this tab, you manage any disputes that may arise between you and your customers, such as refund requests or product issues. It provides a platform for you to communicate with customers and resolve any issues in a timely and professional manner.
Sales & Marketing Tools
Relying solely on people finding your online store on their own isn't realistic. You must actively market your products and services to your target audience across multiple channels. Thankfully, Shoplazza understands this and offers a range of built-in marketing features to help you grow your business.
Let's explore each of these marketing tools in detail.
1. Ad Management
Shoplazza allows you to connect and manage your ad accounts for Facebook, Google Ads, Snapchat, and Tiktok from your admin dashboard. From syncing your product catalog to respective platforms and creating ad campaigns to installing tracking pixels and building custom audiences, it helps you with everything.
2. Facebook Shop
If you want to expand your brand reach beyond your website and allow customers to buy directly from Facebook Shop, Shoplazza can help you with it. Its direct integration with Facebook Shop allows you to display your Shoplazza store products on your Facebook page and generate more sales.
It even supports real-time inventory synchronization which can help you avoid over-selling of products and provide an excellent shopping experience to customers.
3. Rebate
With the rebate feature of Shoplazza, you can offer your customers a cash-back incentive for purchasing products from your store. You can set the rebate amount and conditions according to your preferences, and it can be a powerful marketing tool to attract new customers and increase sales.
4. Flash Sales
One of the best features of Shoplazza is the flash sales feature that allows you to offer limited-time big discounts on a particular product or group of products. You can set it up to last for a short period of time, ranging from a few hours to a few days, and offer discounts in percentage or a fixed amount.
5. Coupons & Discounts Codes
In online shopping, customers always crave discounts and coupon codes. And as an eCommerce merchant, you can leverage it to attract new customers and drive more sales. With Shoplazza you can create different types of discount codes, which includes percentage off, fixed amount off, Buy X Get Y, and free shipping.
6. Pop-Up & Banner Builder
Shoplazza provides a built-in pop-up and banner builder to promote offers across your website. It comes with pre-designed templates, which you can easily customize to promote your offers across the website.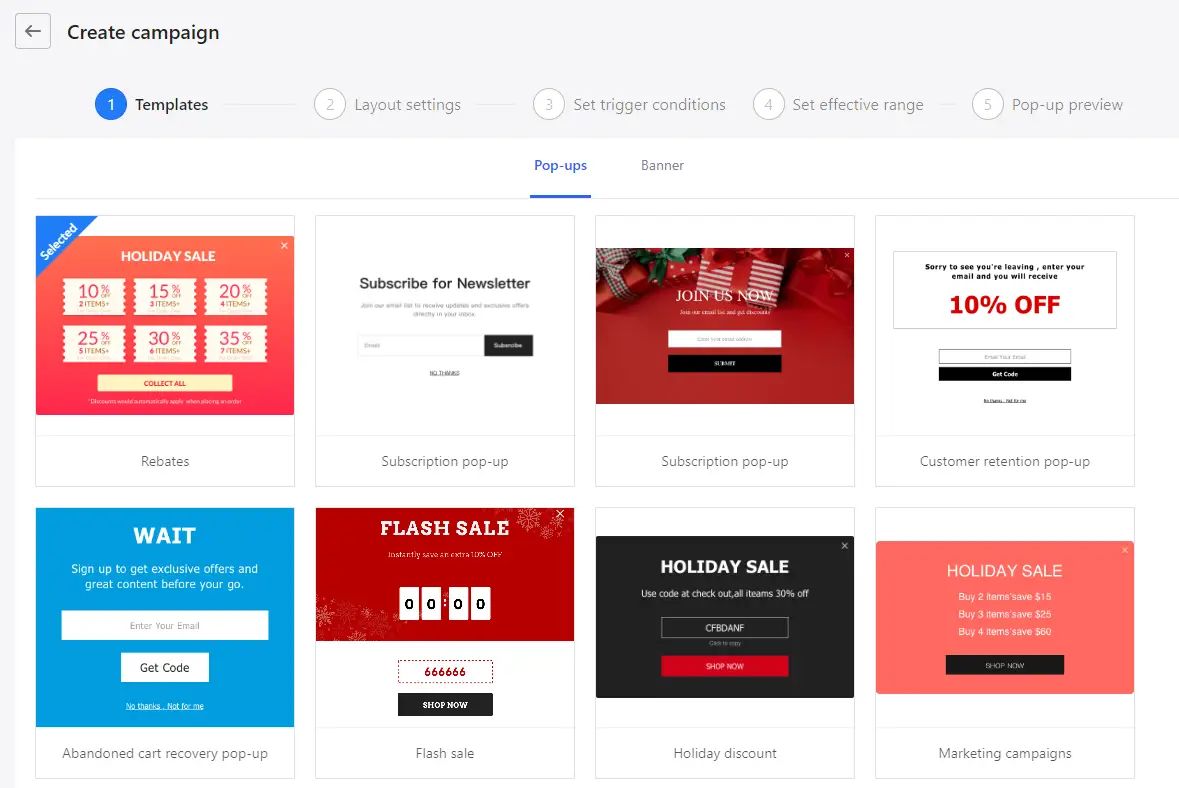 You can set up the popup to trigger when a users arrives, or when they are above to leave the page. You can use the popups for welcome message, a discount offer, a newsletter sign-up prompt, or even a survey. The possibilities are endless, and the message can be customized to fit the specific needs of your business.
7. Email Marketing
Shoplazza provides a basic email marketing tool that allows you to send customer notifications for shipping, order confirmation, and others. You can also set up a welcome email for new customers and a series of cart recovery emails from your dashboard.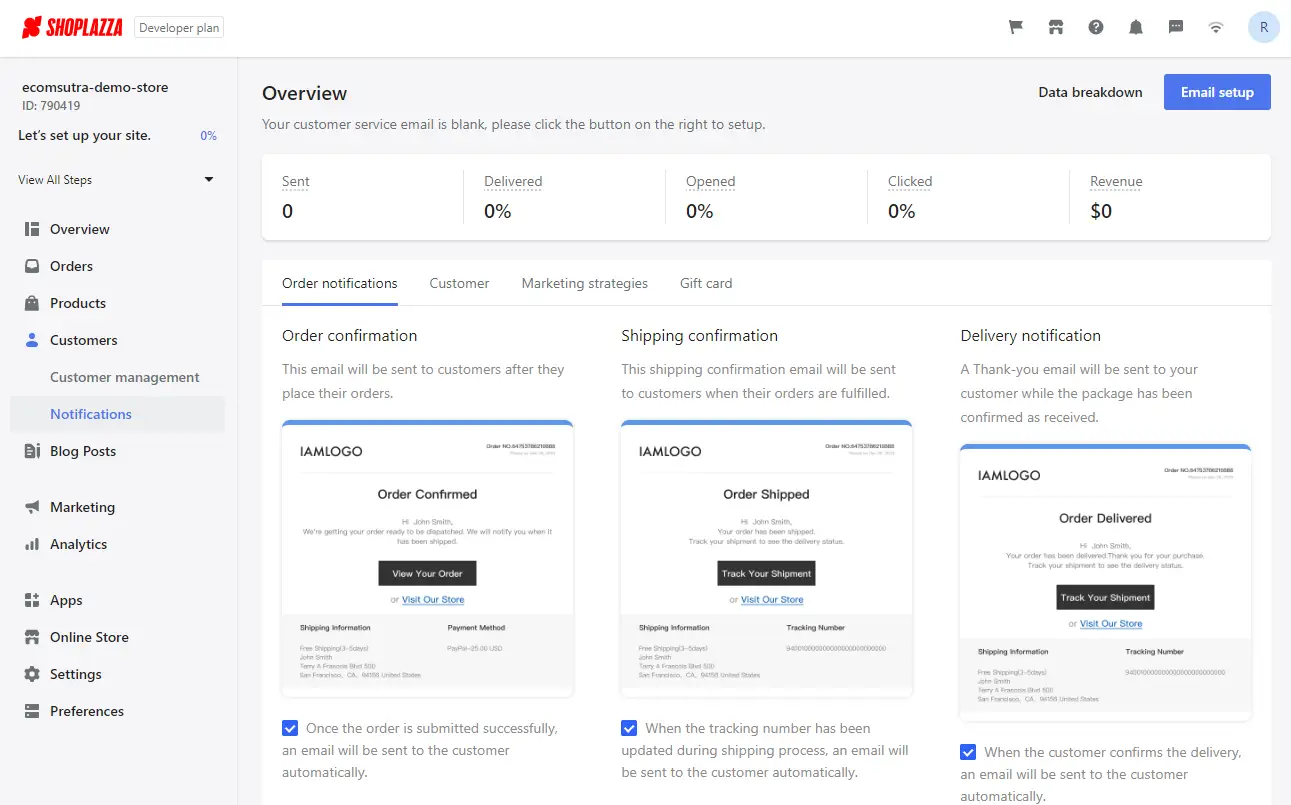 You can change the email content, but you can't play with the designs. For advanced email marketing features, it comes with direct integration with Mailchimp, allowing you to synchronize customer data and set up automated marketing campaigns.
8. Search Engine Optimization
Shoplazza is an SEO-friendly platform that offers decent built-in SEO features that allows you to add custom SEO title and meta-description to products, collections, and other pages on your site.
However, you will have to add the SEO for each page manually. To do so, you will find the SEO section on the right side of the page editor, as shown below.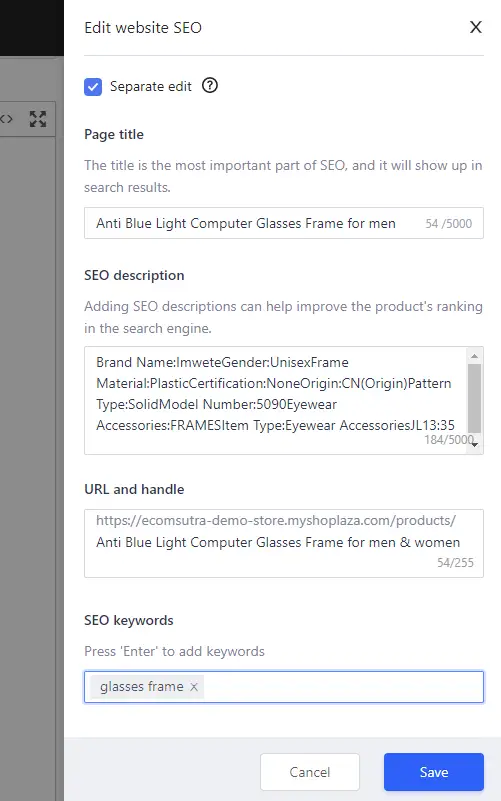 Further, it even helps you fix broken links by creating URL redirects to new or other pages. Just navigate to Online Store > URL Redirects from your admin dashboard and click the "Create URL Redirect" button to add new URL redirects.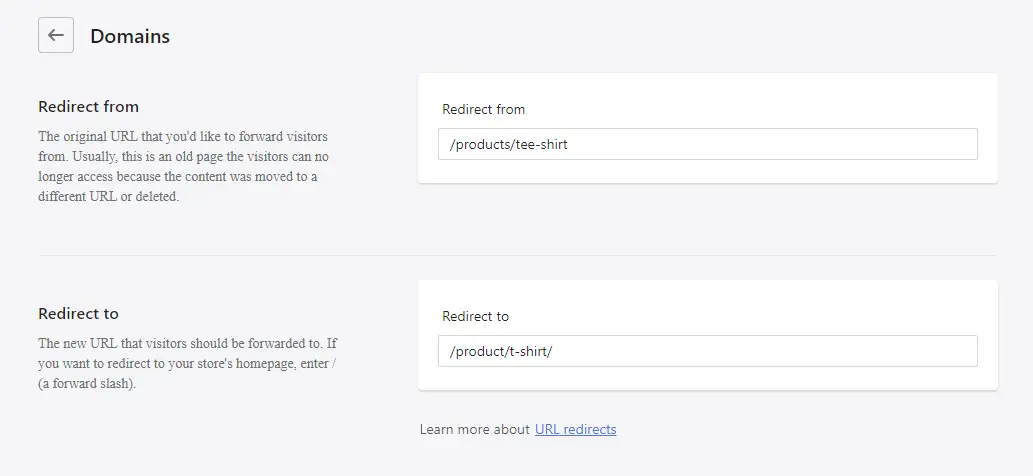 Overall, Shoplazza provides you with essential tools to optimize your website SEO. But you will need additional apps to ensure the content and other aspects of the website are optimized for ranking on search result pages.
Payment Methods
Ensuring that your customers have a seamless payment experience is essential to building trust and loyalty. That's where Shoplazza's payment options feature comes in. It allows you to offer a variety of payment methods to your customers, including credit cards, PayPal, Apple Pay, Google Pay, and more. This not only gives your customers the flexibility to choose their preferred payment method, but it also makes the checkout process smoother and more convenient.
Shoplazza makes it easy to set up any payment method of your choice with its pre-built integrations with popular payment gateways. Plus, if you need help setting up a specific payment method, Shoplazza's customer support team will assist you in creating custom payment methods per your needs.
Overall, with Shoplazza, creating and configuring custom payment methods is easy. You can simply choose the type of payment method you want to add, set up the details such as payment instructions and transaction fees, and you're good to go.
Analytics Reporting
Shoplazza provides detailed analytics and reporting tools that allow you to track the performance of their online store. You can track sales revenue, number of visitors, conversion rate, and other important eCommerce KPIs such as AOV, return rates, etc.,
You can also view live reports of your store performance and create custom reports based on your business KPIs. You can use the data to analyze your store performance and customer behavior to make strategic decisions to grow your business.
Shoplazza Review: Third-Party Integrations
So, the third-party integration feature of Shoplazza is all about making it easy for you to connect your online store with other platforms and services that you use to run your eCommerce business. This means that you can integrate your store with popular payment gateways, shipping carriers, and marketing tools, among other things.
Ultimately, the third-party integration feature of Shoplazza can help you streamline your operations and improve the overall efficiency of your business. By connecting your store with the services that you use every day, you can work more efficiently and focus on growing your business rather than getting bogged down in administrative tasks.
Some of the popular third-party integrations that Shoplazza provides include:
Social media platforms like Facebook, Instagram, and Pinterest for marketing and advertising purposes
Payment gateways like PayPal, Stripe, and Apple Pay provide customers with more payment options
Shipping carriers like FedEx, UPS, and USPS provide customers with accurate shipping rates and tracking information
Accounting software like QuickBooks and Xero for managing finances and automating bookkeeping tasks
Email marketing services like Mailchimp and Klaviyo for email campaigns and customer engagement
Product review apps like Yotpo and Judge.me for collecting and displaying customer reviews
Chat and messaging apps like Facebook Messenger and WhatsApp for customer support and communication
Shoplazza Review: Customer Support
Shoplazza takes customer support seriously and provides a range of options to help its users get the assistance they need. One of the primary ways to get support is through the Shoplazza Help Center, which has a comprehensive collection of articles, videos, and FAQs covering everything from setting up your store to using advanced features.
If you can't find the answer to your question in the Help Center, you can reach out to Shoplazza's support team through email, live chat, or phone. They are available 24/7 and are known for their prompt and helpful responses.
In addition, Shoplazza offers a community forum where users can connect with each other to ask questions, share advice, and provide feedback. This can be a great resource for getting help from fellow Shoplazza users who may have faced similar challenges.
Shoplazza Review: Pricing Plans
Shoplazza gives you access to all its features in every plan with an additional commission on every sale made through the plan. The higher the plan you choose, the lower your commission rate will be.
The pricing plans are as follows:
Basic Plan: $28/month with a 2% sales commission.
Advanced Plan: $59/month with 1% sales commission.
Premier Plan: $99/month with 0.6% sales commission.
Enterprise Plan: $189/month with 0.3% sales commission.
Pro Plan: $218/month with 0.2% sales commission
Shoplazza offers a 7-day free trial on all its plan and allows you to upgrade or downgrade your plans at any time while you will be using it.
Shoplazza Review: Pros and Cons
As you have seen, Shoplazza has a plethora of features to assist you in launching and expanding your online store. However, as with any platform, there are both pros and cons to consider before making a decision.
So, before you make a decision, let's take a closer look at the advantages and limitations of Shoplazza.
Pros of Shoplazza –
User-friendly interface
Drag-and-drop store builder
20+ customizable themes
Abandoned cart recovery features to increase sales
Multi-language support
Multiple Payment options
App store for seamless integrations
Advanced analytics reporting
Cons of Shoplazza –
Additional transaction fees on all plans
Limited customer support options
On-page SEO features can be enhanced
Limited direct integration with major eCommerce tools
Final Verdict: Is Shoplazza the right Ecommerce platform for you?
Shoplazza takes all your technical hassle for setting up an online store and growing it. From hosting, and site designing to security and payment methods, it provides everything you need to start an eCommerce business without requiring a tech team to help you manage it.
So, if you are not technically sound in terms of website development and looking for a platform to help to set up a fully-functioning online store, Shoplazza is definitely worth considering. The platform is reliable, fast, and easy to use, making it an attractive option for anyone to set up their online store.
While there are a few drawbacks to the platform, such as the limited customization options and transaction fees, these are minor issues that are outweighed by the platform's many benefits, which you will rarely find in most eCommerce platforms.
In this review, we dived deep into all the key features you need to decide if the platform is right for your business. But, it would be much easier for you to decide if you give it a try yourself. So, sign up now for a 7-day free trial with access to all its features, and upgrade to the paid plan only if it matches your business needs.