One of the crucial aspects of a dropshipping business is finding high-demand products and trusted suppliers for your store. There are tons of products and suppliers available in the market, making it challenging to find the right products and quality suppliers.
This is where Spocket comes to the rescue. You can easily select the products from its marketplace and make them available to your customers with just a few clicks.
But how reliable Spocket is, and will it contribute to making your dropshipping business a success?
In this review, I will walk you through every aspect of Spocket, including pricing, pros, and cons, to help you determine if Spocket is the right dropshipping platform for your business.
What is Spocket? – An Overview
Spocket is a dropshipping platform that lets you source your desired products from US and EU suppliers. Besides, you might also find suppliers from New Zealand and Australia.
In addition to this, Spocket lets you choose products from where they are shipped. For example, if you are selling to customers within the United States, you can choose the origin as India or the US to enable faster shipping.
To get a trademark that you sell only the best products, Spocket lets you order sample products from the suppliers. In this way, you can identify the product's packaging, shipping duration, and other quality parameters that clearly show the supplier's reputation.
If you're happy with the samples, you can easily import them to your eCommerce store and increase your per-customer sales.
How does Spocket work?
Now that you've got an idea of what Spocket does, we shall next understand how Spocket helps in setting up a dropshipping business for you.
1. Link to your eCommerce store
Whether you are starting your eCommerce business with Shopify, WooCommerce, BigCommerce, or other platforms, getting started with Spocket is relatively easy.
You just have to install the app in your online store and configure it by entering the required details.
Once it's done, you'll be directed to Spocket's dashboard from where you can search for products, hunt for the best suppliers, winning products, and add them to the import list.
2. Discover the best-selling products
As discussed in the previous section, Spocket lets you surf through thousands of products from various categories in its marketplace.
But how is it possible?
It's possible by using the range of advanced filters that Spocket offers to its users. The filtering options are based on the following:
Shipping destination
Item costs
Supplier names
Top Suppliers
Bestseller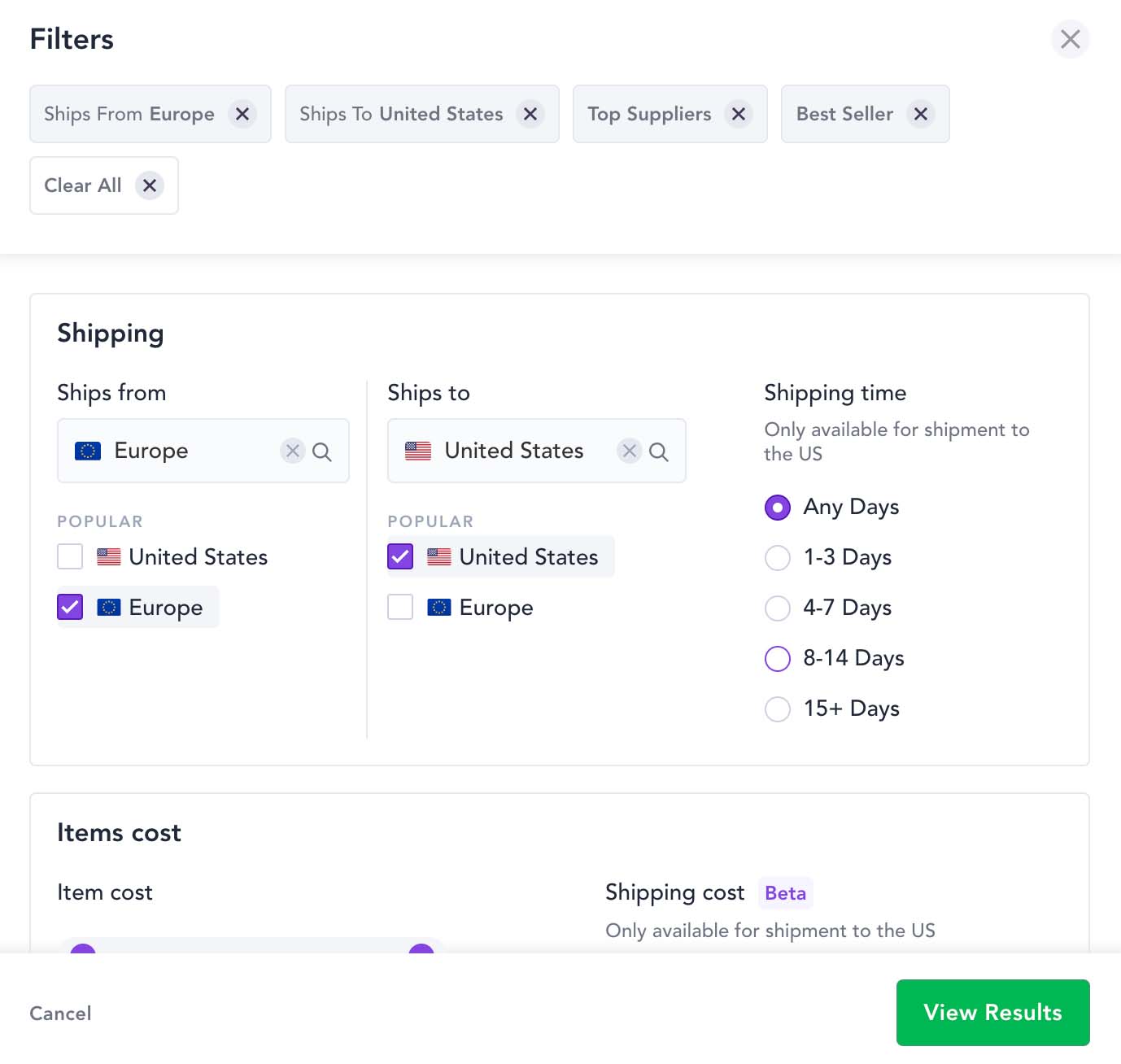 Once you hit the "view results" button, the products relative to the applied filters will appear. Note that if there are no products available based on the filtering options, you might consider using other options as an alternative to source your desired products.
So this is how you source and discover the winning products in your online store. Upon discovery next, we'll import the products, which will be discussed in the following section.
3. Add them to the import list
After the product discovery process, you can choose to add them to your import list.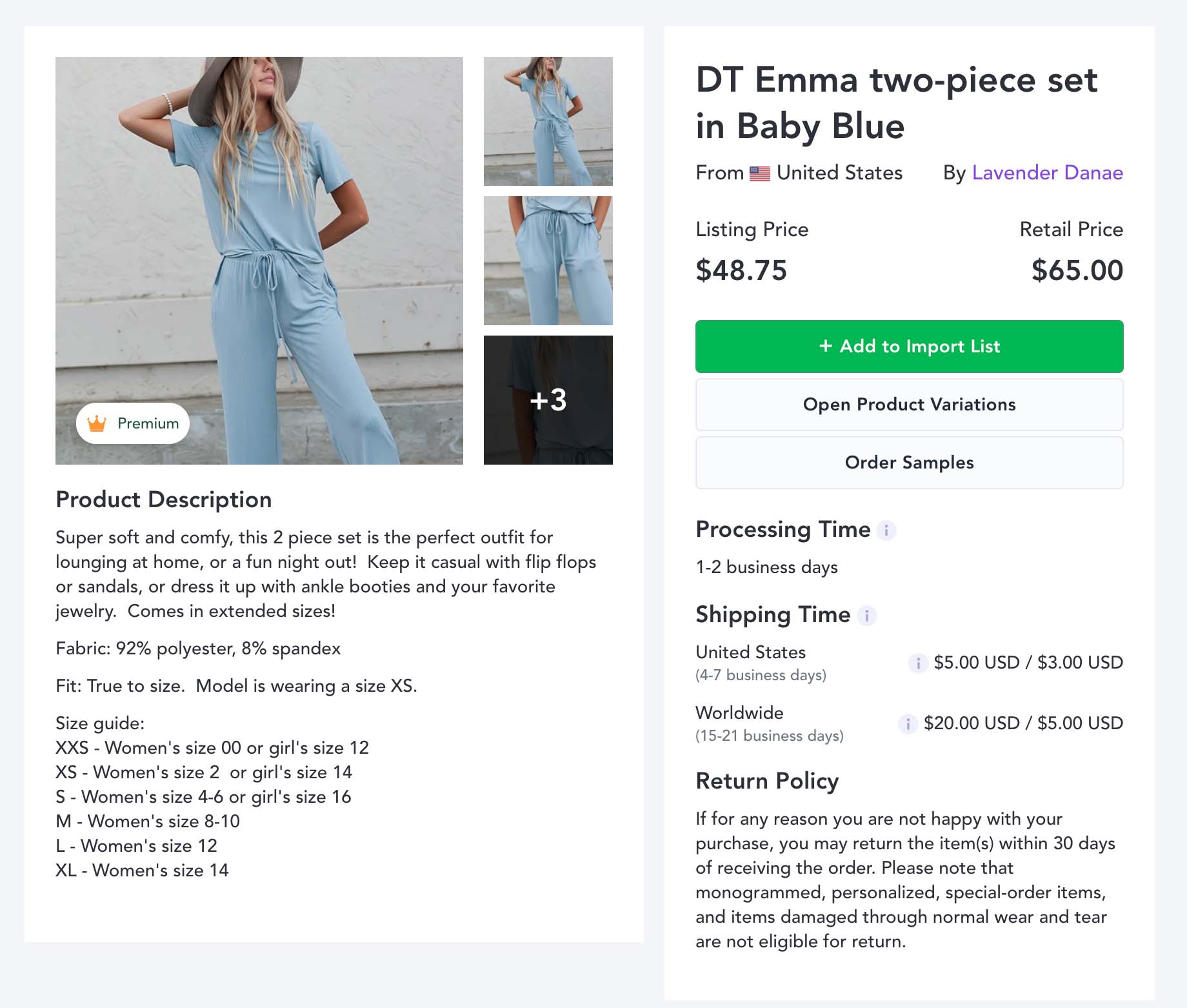 When you click on "Add to import list," the particular product you have chosen will automatically get imported. Likewise, you can add your other favorite products within a fraction of a second without any hassle. It is as simple as that.
4. Customize your products for SEO
Once the selected products are in your import list, you can quickly edit them to optimize for a higher search ranking.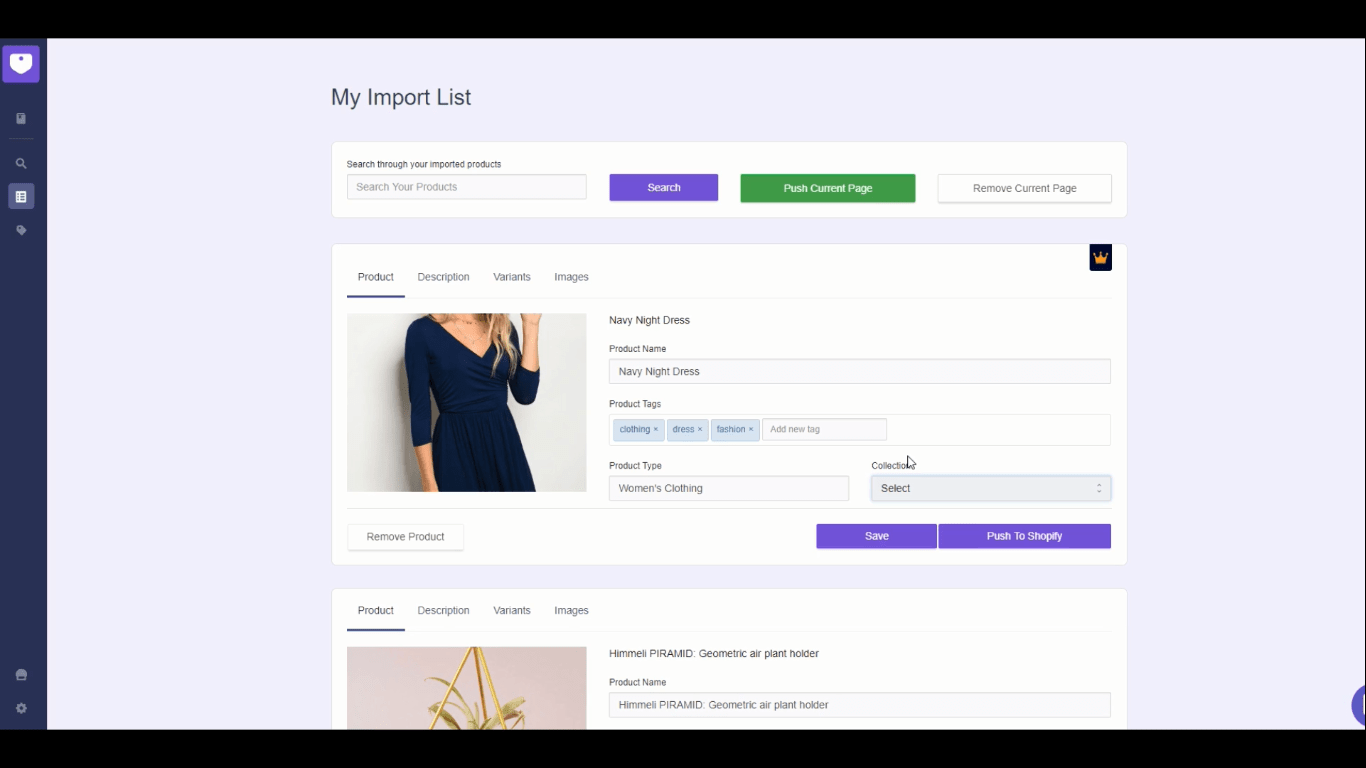 As you can see in the above image, there are four sections that you can begin with your product editing.
Product
Description
Variants
Images
You can modify the product name, add tags, type, and if needed, you can add them to your collection list too.
Followed by this comes the product description. Keep in mind your target audience and include the necessary details to boost sales and conversions.
Next comes the variants. You have the flexibility to either select/unselect variants that you need to include in your store.
Finally, you can select/deselect images and add alt text to get recognized by the search engine.
When you are done with all these specifications, you can push them to your eCommerce store and get motivated to unlock high sales.
What can you sell with Spocket?
Spocket lets you choose from a variety of product categories which include –
Men/Women's Clothing
Jewelry and Accessories
Watches
Tech accessories
Kids and Babies
Toys
Footwear
Bath & Beauty
Pets
Home and Garden
Automotive
And the list goes on…
These are Spocket's most recommended categories that help in building dropshipping stores that readily convert.
Selling different kinds of attractive products is fine, but how can you make money with them? What's the pricing strategy that Spocket offers to its users?
The following section has got you the answer to that.
How can you make money with Spocket?
Spocket offers two ways to get the most out of your profit:
Retail Price: This is the price that Spocket suggests you sell to your customers. You can make changes to the retail price by modifying it in the import list.
Listing Cost: This is the price you pay to Spocket, i.e., the amount you have to pay the supplier for the product.
So if you choose the Listing Cost option, your estimated profit would be calculated as –
Profit – Selling price – Price that you pay to Spocket.
Note that neither the retail price nor the listing cost includes shipping. So ensure that you take the shipping charges into account before finalizing your fees.
Spocket Review: Pricing Plans
Spocket has a free plan that allows you to browse Spocket's product catalog, but to add products to your store, you will have to opt for one of its paid plans.
Here's the breakdown of Spocket pricing plans –
Starter plan – $24/month. You can add up to 25 unique products to your store and get customer support via email. This plan is ideal for you if you are just getting started and want to try your hands at dropshipping.
Pro plan – $49/month. You can add up to 250 unique products and 25 premium products to your store. You can also generate branded invoicing, and get support via live chat.
Empire plan – $99/month, You can add up to 10,000 unique and premium products, and generate branded invoices for your customers.
There's also a Unicorn plan which costs only $79/month (billed annually at $948). You'll get access to additional features like supplier sourcing, product requests, and bulk checkouts.
Spocket Review: Pros and Cons
By now you know how Spocket works and the features that can help you start your dropshipping business or grow it to the next level.
Now let us look at the merits and demerits of Spocket that enable you to determine if it is the right supplier for your store.
Pros of Spocket –
Offers faster shipping rates
It connects you with the best and most trusted suppliers for boosting sales.
It provides automated order fulfillment.
You can create branded invoicing to gain trust and reputation.
Offers 30-60% discounts off of regular retail prices.
Easy-to-use interface for managing dropshipping operations.
Cons of Spocket –
You can't sell via online marketplaces like Amazon, eBay, etc.
Suppliers are available only in the US and EU.
No reviews for the product.
Final Verdict: Is Spocket the right solution for you?
Spocket
Summary
Spocket is an excellent platform for sourcing high-quality product suppliers from Europe and the USA. Its easy-to-use interface, top-rated products, vetted suppliers, and faster shipping policies can help you deliver a great customer shopping experience and build a successful dropshipping business.
I hope this article gives you a complete overview of Spocket and helps you determine if it is the right platform for your business. If you are looking for more guides on dropshipping business, here are a few hand-picked articles that you might want to check next –