To ultimately thrive in social media, you need to go beyond the process of creative content creation – you must listen to your audience's opinions, respond to their queries, run targeted promotions, analyze data, customer touchpoints, and the list goes on.
Alongside this, team collaboration is also crucial for delivering fast customer service, resolving issues, and managing all social profiles together. Who doesn't want all these? I want these for my business.
Bringing all these features under one umbrella can be quite challenging by integrating multiple tools. But with tools like Sprout Social, you get all these features on a single platform. Sounds amazing, right?
But is it the perfect social media management tool for your business?
Going ahead, I'll be walking you through an in-depth review of Sprout Social by breaking down every key feature of it. If you want to explore the features while reading this review, you can sign up using the button below to get a 30-day free trial (no credit card required).
I highly recommend reading it till the end, so that you can understand all its features and determine if it is worth the pricing to grow your social media presence.
What is Sprout Social?
Sprout Social is one of the best social media management tools that help you handle all the activities associated with social media like content creation, publishing, listening, scheduling, managing inbox, reporting, analytics, and internal collaboration with clients/colleagues.
It lets you manage all your brand's social media profiles under one roof. You can track incoming message volume, add content labels, personalize using automation, post at the best times, and use custom keywords to understand how people perceive you as a brand.
Sprout Social also has a mobile app that enables you to manage your social media activities from anywhere at any time – whether you're an aspiring entrepreneur, own a fast-growing business, or a full-time client-service agency, Sprout Social has got you covered with everything.
Sprout Social Review: Ease of Use
Sprout Social is relatively simple, easy, and practical to use. The onboarding process is super-quick, after which you'll be presented with a broad and intuitive dashboard that gives a complete picture of your social media tasks and activities.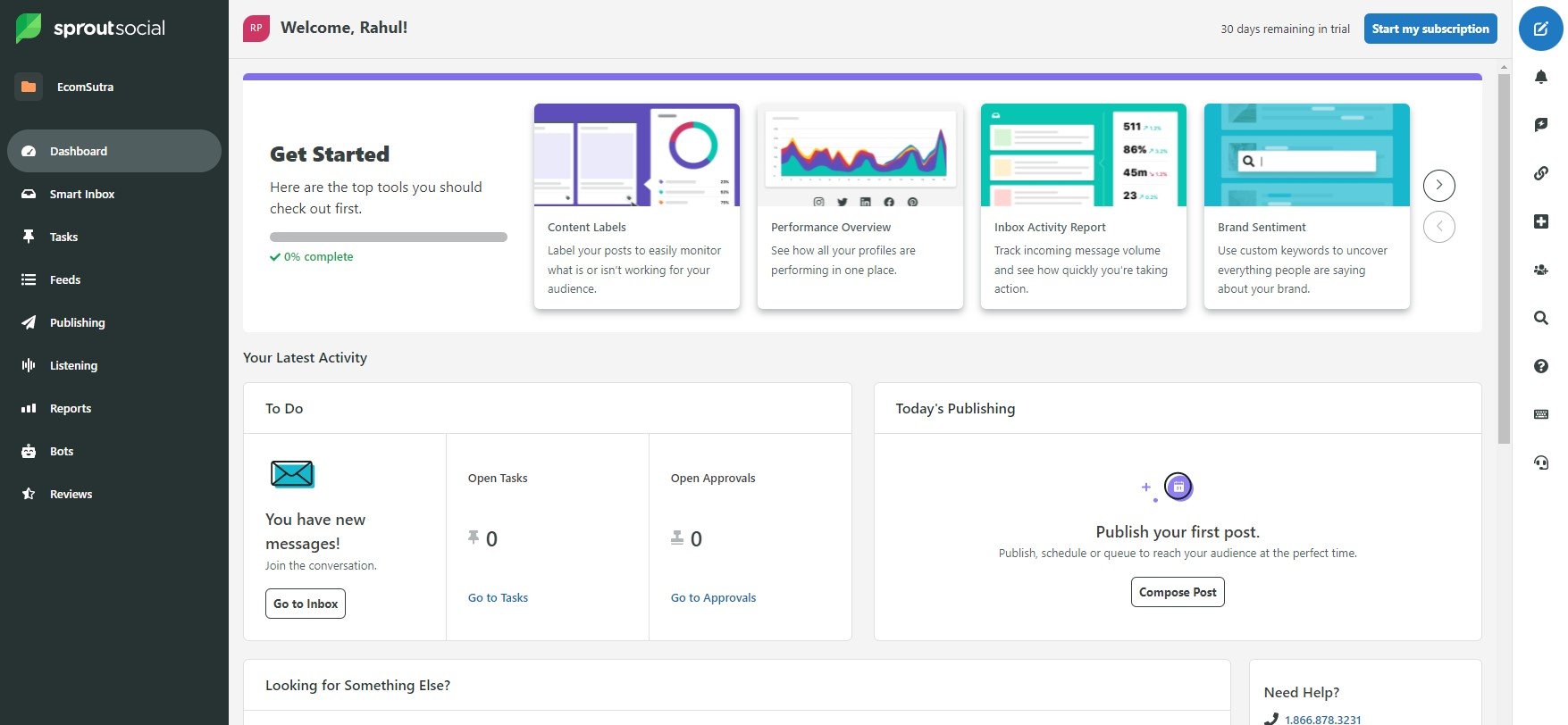 For ease of use and quick navigation, Sprout Social's dashboard consists of options both on the left and right sides. On the left, you can access the platform's primary features like inbox, feeds, tasks, publishing, listening, and reports.
Using the right sidebar, you can compose posts, connect profiles, invite team members, view team conversations, access the help center, keyboard shortcuts, and much more to make your life easier.
This way, you can perform and manage multiple operations from a single screen with just a few clicks. Even if you're a beginner in social media marketing, with Sprout Social, you won't find any friction in utilizing the platform's full potential.
Overall, Sprout Social has a clean and smooth UI that enables you to interact, monitor, and effortlessly complete all the assigned activities.
Sprout Social Review: Features
Sprout Social is a feature-packed tool. So, in this section, we will break down some of its key features which are as follows –
Social media publishing
Social media listening
Smart Inbox
Automation & Chatbot
Reporting and Analytics
Team Collaboration.
1. Social Media Publishing
Sprout Social offers an extensive range of publishing tools that facilitate better content management. Using a publishing tool, you can identify the posts in the queue, that require approval, or are kept in the backlog for further improvement.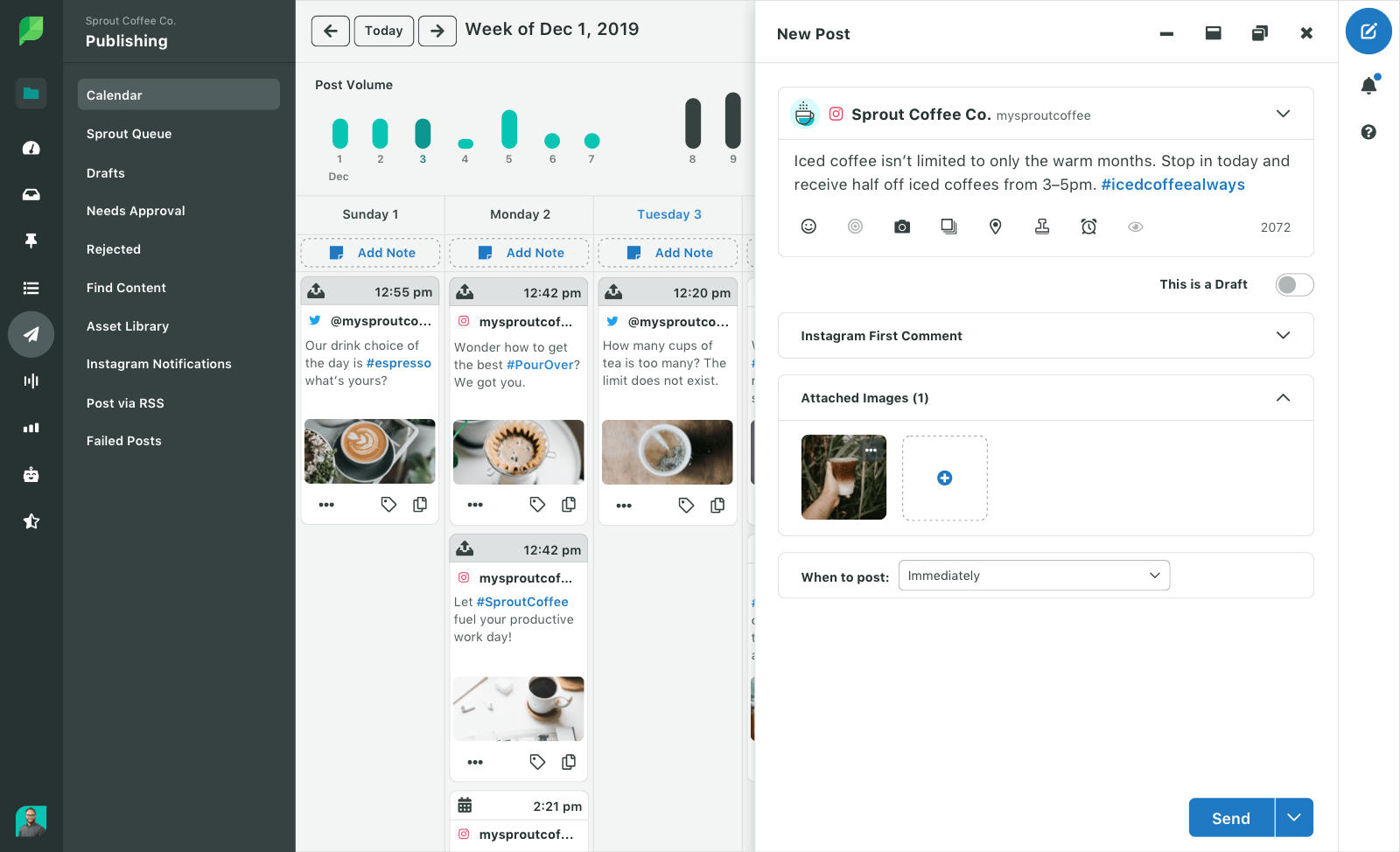 Now let us have a look at the range of activities you can perform using Sprout Social's publishing feature –
Social Media Calendar – Add notes, schedule posts, analyze post volume, and visualize the calendar in a list, weeks, or months view.
Sprout Queue – Add your posts to the SproutsQueue to publish optimized times.
Drafts – Create and view drafts to publish posts later.
Need Approval – Posts that require approval from your assigned member. As the head, you can also create workflows to approve your team's social media posts.
Rejected – Posts that get rejected get listed here.
Campaigns – Manage your entire social media campaigns and view real-time performance.
Find Content – Browse hot and trending topics in your niche by specifying the search term.
Instagram Notifications – Publish Instagram stories and multiple Instagram photos in the same post.
Sprout Link in Bio – Setup your Sprout Social "Link in Bio" in your Instagram profile.
Post Via RSS – Automatically post new content via RSS.
Failed Posts – Use the Sprout Social mobile app to revise and resend failed posts anytime.
When you start composing a post, you can see the preview of how your posts will appear on different social media. You can simultaneously publish or schedule posts on different platforms, shorten links, enter the location, add product links, edit URL tracking parameters, and much more.
If you choose to separately publish your posts with SproutQueue, you can use the ViralPost method to publish at the best times automatically or manually select your preferred times for publishing queued posts.
Finally, with this smart array of social media publishing tools at your fingertips, Sprout Social simplifies your task and empowers you to run result-driven social media marketing.
2. Social Media Listening
As a business owner or marketer, you want to know what your target audience and followers are talking about your brand and the overall industry.
This is important because it helps you understand why, where, and how these conversations are happening and what people think—not just when they're tagging or mentioning your brand.
With Sprout Social, you can unlock these listening capabilities and collect actionable data that you can leverage for future marketing strategies and overall business growth strategies.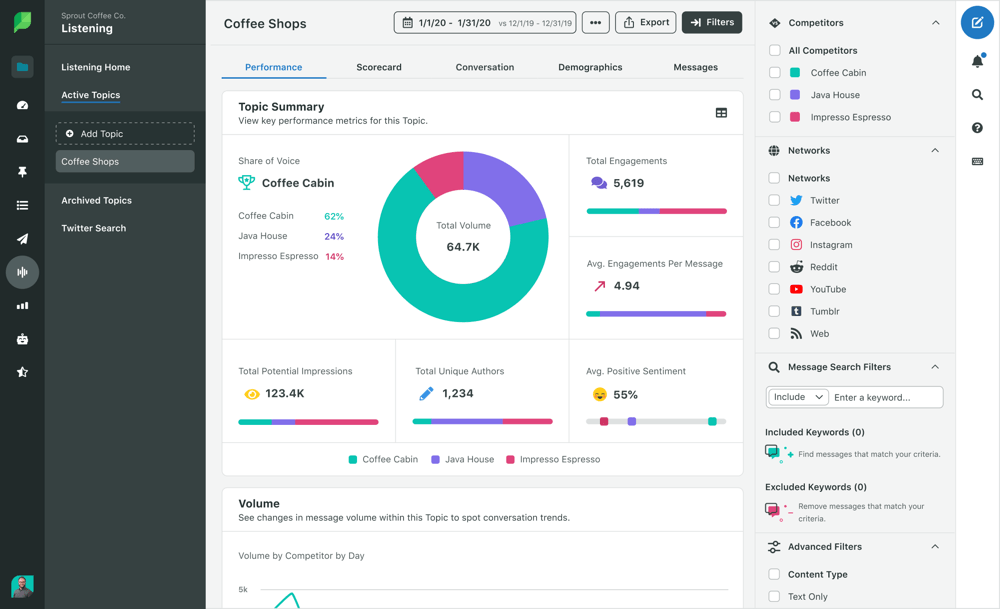 You just have to create topics related to your niche using the intuitive query builder by adding the following information –
Topic title and description
Select sources for listening, such as – Twitter, Reddit, Youtube, Facebook, Instagram, Tumblr, and Web (blog, forum, and news articles).
Include/Exclude keywords – words/phrases, hashtags, mentions, and much more.
Add themes to categorize topic messages.
Apply sentimental keywords (BETA).
Apply optional filters.
As you can see in the above image, you'll see data in real time based on your inputs. Similarly, you can also use their pre-made business-ready templates to create multiple topics to track and listen to on social channels.
Bottom line, Sprout Social has one of the best social listening tools with advanced reporting data that helps you analyze brand sentiment among your target customers and optimize your sales and marketing strategies accordingly.
3. Smart Inbox
With Sprout Social's Smart Inbox, you can collectively view all the messages sent by your audiences across all connected social accounts.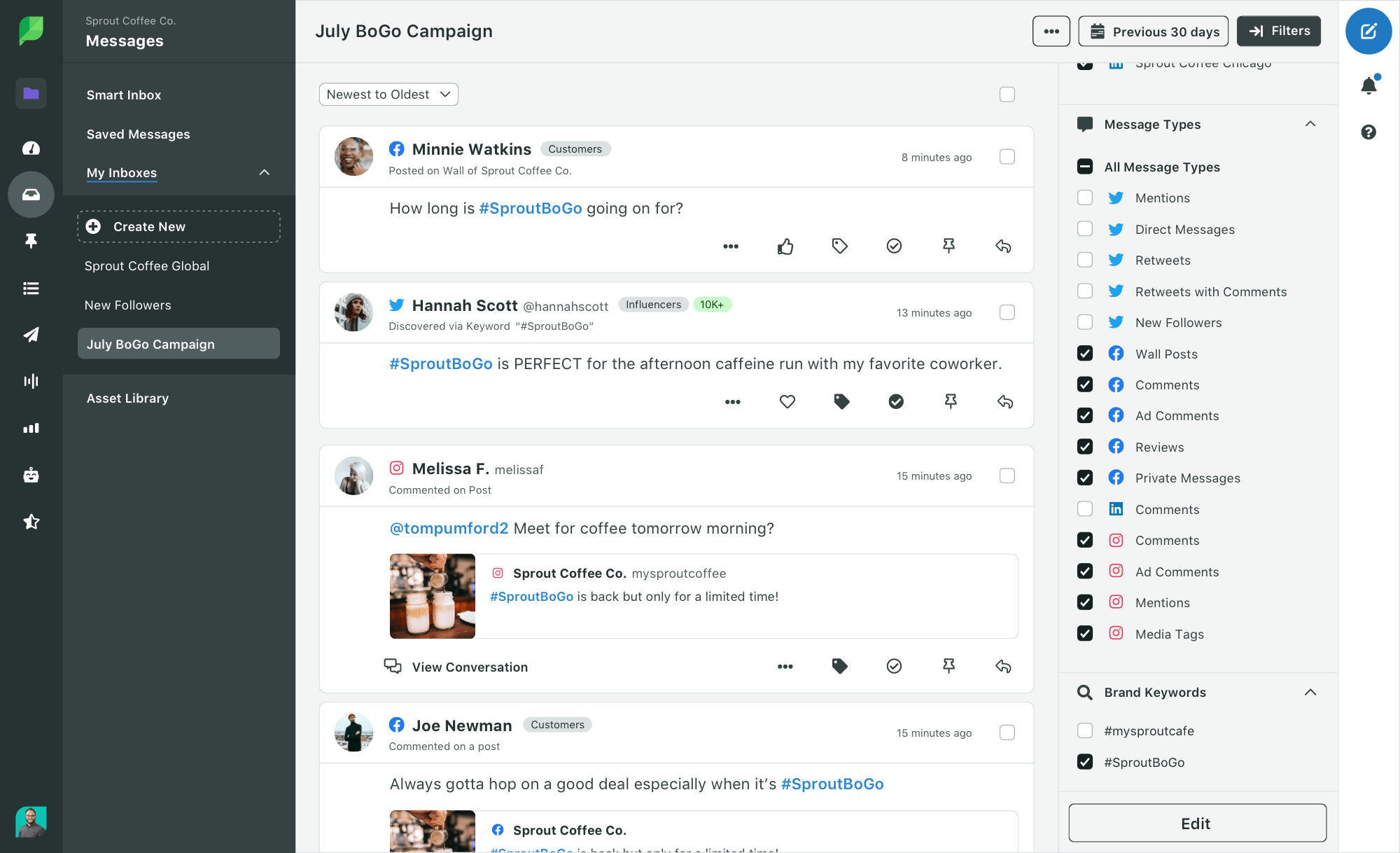 You can control how you want to visualize your smart inbox by applying filters like Sources (social profiles), message types (retweets, mentions, comments, etc), and tags. Besides, you can also create custom views directly from the left sidebar.
There's also a real-time activity chart at the top (next to the search icon) displaying the number of messages you've received. On clicking it, you'll view a set of bars in gray and green colors like this –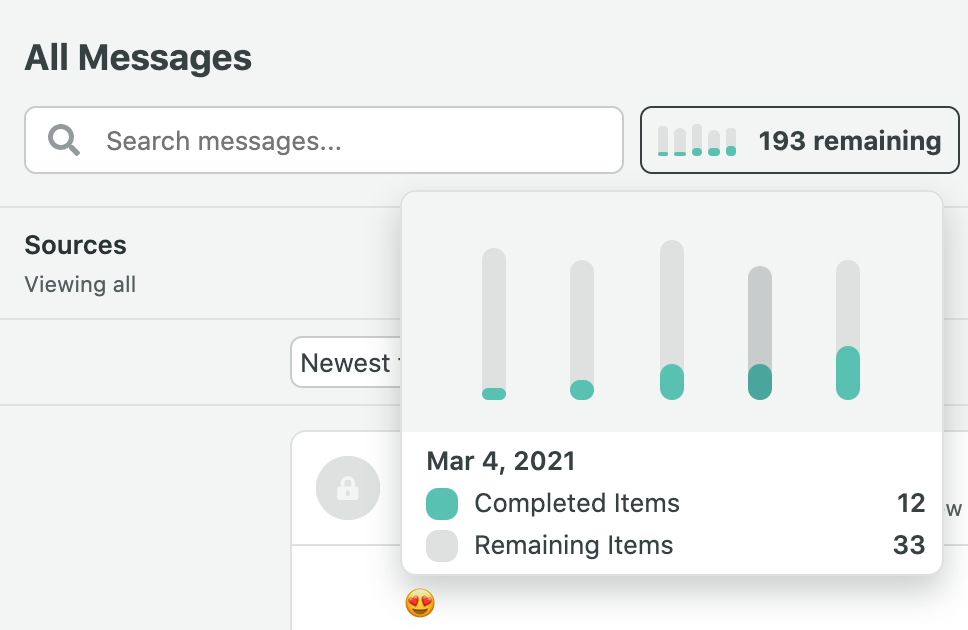 The Gray bars indicate the remaining items in your inbox, and the green indicates the completed ones as you keep fulfilling the pending items, the green color gets highlighted more.
To delve into more insights, you can use the Search icon to find messages that contain a specific keyword or phrase. The more you analyze a particular trend, you can tag that keyword and use it as a trump card to improve your social media strategy.
4. Automation & Chatbots
Sprout Social offers advanced automation features that optimize your internal collaboration as well as social interactions. You can set up alerts & rules based on keywords, message types, and profiles to automatically tag and complete messages in your smart inbox.
The best part is that you can set up a chatbot to respond and engage with your audience via Twitter and Facebook private messages. You can create various types of chatbots for different tasks. To create a chatbot, you can start from scratch or choose one of its pre-configured bot templates and customize it as per your needs.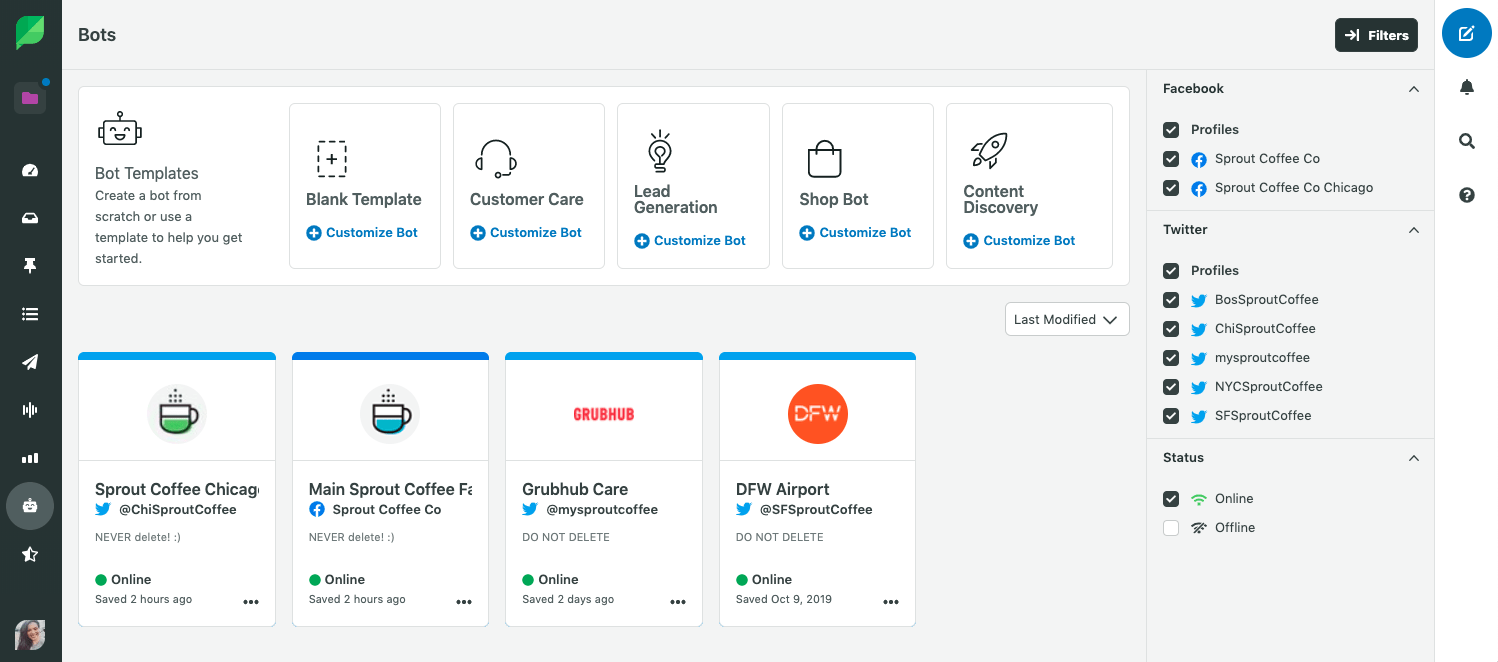 For Twitter, you can create three conversational components – Welcome messages, Quick Replies, and Auto-Responses to Quick Replies. While for Facebook and Instagram, you can set up bots with welcome messages, Auto-responses with images, titles, and buttons.
Overall, Sprout Social chatbot features enable you to engage with your followers 24/7 and generate leads for your business. It saves you time and allows you to focus on other creative aspects of the marketing to grow your follower base and generate more sales.
5. Reporting & Analytics
To get a blueprint of how your brand is performing on social media, you must extract critical insights and connect the dots. Fortunately, Sprout Social offers tons of meaningful reports and analytics data that can help you make data-backed decisions for future strategies.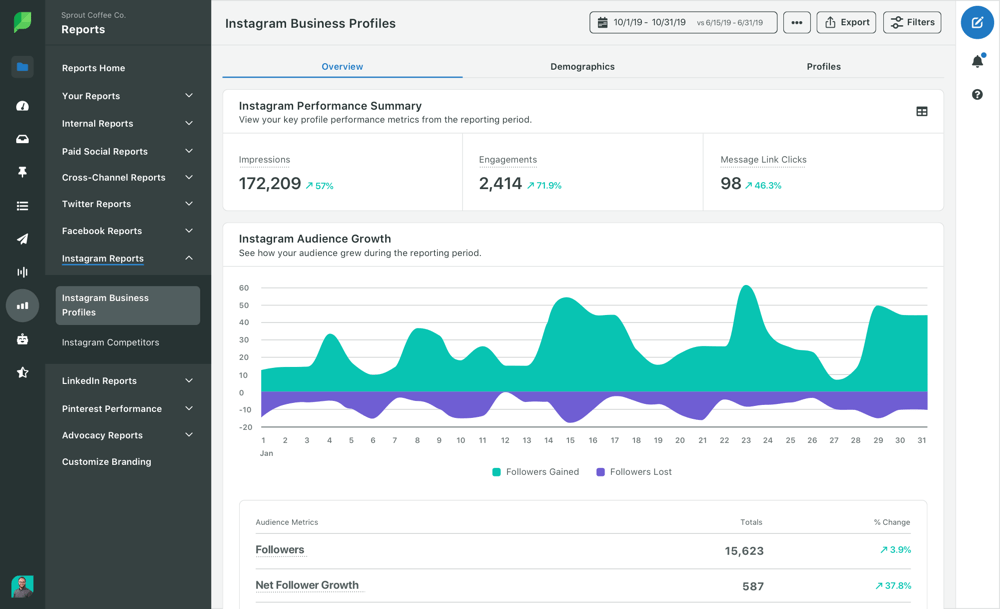 Here's the breakdown of different types of reports provided by Sprout Social –
Cross-Network – Analyze the performance of your posts, profile, tags, ad campaigns, and competitor posts.
Profiles by Network – Monitor and optimize your Facebook page, Instagram business profile, Twitter, and LinkedIn.
Paid By Network – View your Facebook, Instagram, Twitter and LinkedIn paid ad performances.
Competitors by Network – Grab some fantastic inspiration by understanding how your Facebook, Instagram, and Twitter competitors interact with your target audience.
Twitter Analysis – View topics & hashtags frequently mentioned for your brand and keyword volume.
Internal Performance – Unbox parameters required to increase productivity and efficiency by analyzing various teams, task performance, and advocacy.
This is an example of the profile performance report. You can select your respective social media handles and view how they helped foster engagement.
By clicking on the Profiles tab (on the right), you can get a detailed list of all your profiles with metrics like net audience growth, impressions, engagement rate per impression, video views, and much more.
Also, you get the privilege to customize the reports by uploading your brand logo. You can upload any image that is 2MB or less in size. Supported formats include JPG, GIF, and PNG. This works well if you run an agency that manages clients' accounts.
6. Team Collaboration
Sprout Social provides dedicated social collaboration tools that are specifically designed for teams. You can add more people to your account, assign actions to incoming messages, and prioritize them to improve productivity.
Your team can assign tasks to each other when they view a message or profile that they think should be looked into by another member. Besides, any individual in the team can add internal comments about the task.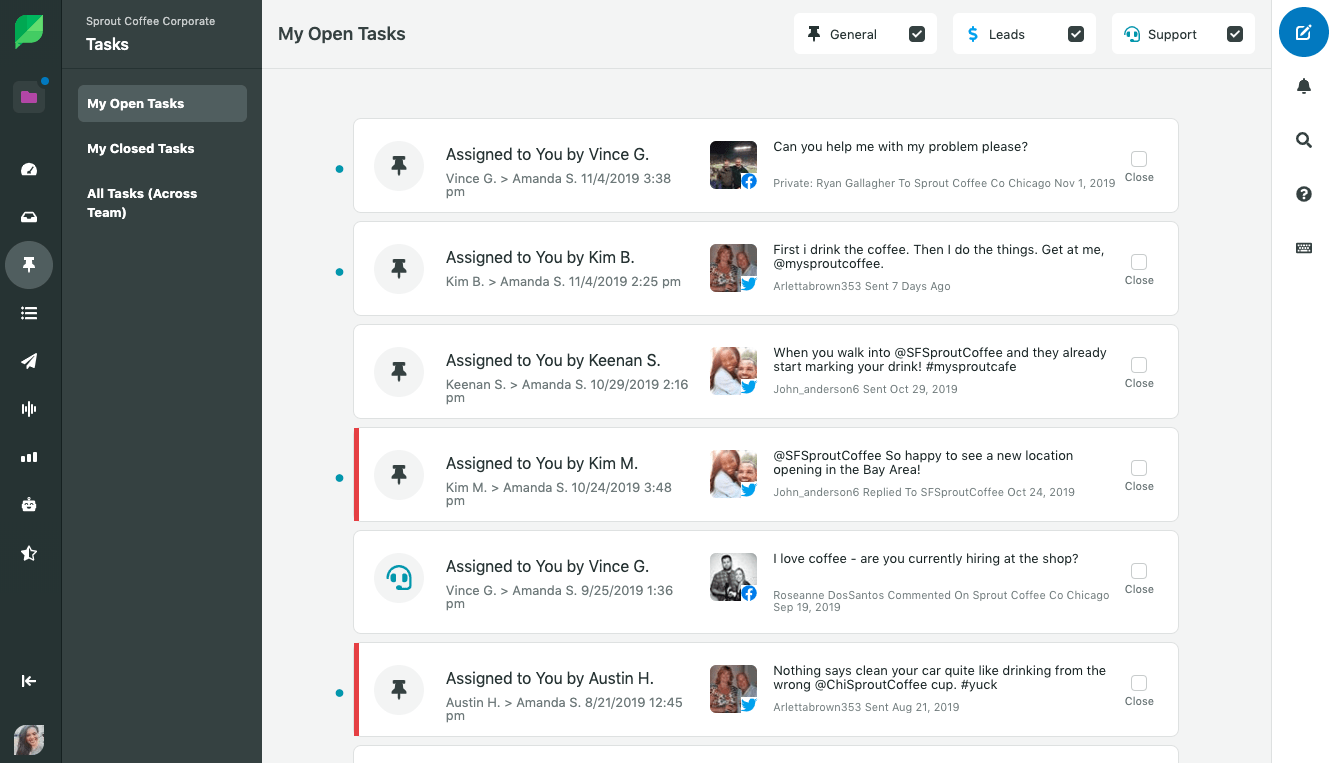 In addition to this, you can make the collaboration much more effective by accessing –
Shared publishing calendar that provides team-wide management
Managing team workflows
Creating helpdesk support tickets from any message
Viewing live activity updates in the inbox
Mark messages as complete
View who took the appropriate action on the message
Access team reports knowing your team's active task time, completion ratio, and much more
With this bunch of features, you can seamlessly manage your growing customer base and team members to level up your social media presence.
Sprout Social Review: Integrations
Sprout Social offers tons of integrations in different categories. This social media management tool can also be used for customer service, helpdesk, CRM, and much more beyond your expectations.
The list of integrations available are as follows –
Network Integrations – Facebook, Instagram, Twitter, LinkedIn, Pinterest, Youtube, Google My Business, Reddit, Tripadvisor, Yelp.
Help Desk – Zendesk, Hubspot, Microsoft Dynamics 365, Salesforce.
Lead Generation & CRM – Marketo, Microsoft Dynamics 365, Salesforce.
Social Commerce – Facebook Shops, Shopify, and WooCommerce.
Workflow and digital asset management – Dropbox, Google Drive, Canva, Slack, Feedly.
Website and Link tracking – Google Analytics, Bit.ly
With this whopping list of integrations, it is evident that you can outperform your competitors, view intricate touchpoints and maximize your business to the next level.
Sprout Social Review: Customer Support
Sprout Social offers excellent customer support to its users, and they make them feel like they are a part of the community. You can access blogs, tips, events, pre-recorded videos, and articles in the help center to resolve issues quickly.
The customer support team is available from Monday to Friday on a 24-hour basis. You can contact them via live chat, which is available at your Sprout dashboard's down right-side panel (Support & Resources).
There's live phone support (Monday – Friday), and you can also submit your request by specifying your queries. Apart from this, you get a two-hour response from their Support team via its premium success option. To utilize this, you can contact the Sprout account manager to know the pricing and other benefits associated with it.
Sprout Social Review: Pricing & Plans
Sprout Social offers a 30-day free trial on all its plans (no credit card required). On that note, let us now view the breakdown of Sprout Social's pricing plans –
Standard Plan – $99/month – 5 social profiles, social inbox, manage reviews, social CRM tools, mobile app, paid promotion tools to boost Facebook posts.
Professional Plan – $169/month – All Standard plan features 10 social profiles, competitive reports, custom workflows, scheduling for optimal send times, Twitter trend analysis, helpdesk CRM, and Social commerce integrations.
Advanced Plan – $279/month – All Professional plan features plus digital asset, content library, chatbots, saved & suggested replies, automated link tracking, inbox rule builder, Twitter surveys (CSAT, NPS) score.
In addition to this, Sprout Social offers additional premium solutions which can be added to any plan. It includes listening, premium analytics (150+ reports & custom report builders), and employee advocacy.
Sprout Social makes it easy for you to switch plans at any time, even during the free trial. Also, it allows you to add additional social profiles for some extra charges, without needing to upgrade to a higher plan.
Sprout Social Review: Pros and Cons
By now, you should have got a clear idea of how Sprout Social works in aligning your social media activities and tasks. However, before you take a call, here are a few merits and limitations of the tool that you should know.
Pros of Sprout Social –
Streamlined inbox to manage all your social conversions.
Easy-to-use and beginner-friendly dashboard.
Out of box publishing tools.
Build approval workflows for content.
Automated link tracking.
Powerful automation features to elevate the customer experience.
360-degree analysis of your entire social media management system.
Measure your workflow effectively.
Group social channels and team members for effective collaboration.
Cons of Sprout Social –
Social listening is available only as a premium functionality.
Trend analysis is currently available only for Twitter and could be rolled out to other social platforms as well.
Final Verdict: Is Sprout Social worth it?
Sprout Social is a comprehensive and feature-packed social media management tool that just works beyond your expectations. It is an all-in-one solution that helps grow your social media presence to a greater level and lets you build profound customer relationships that stay forever.
In a nutshell, Sprout Social can not only help you with social media management but also enables you to generate and nurture leads, personalize the customer experience, improve customer service, automate workflow, and drive high audience engagement that proliferates your revenue.
So, if you're looking for a social media management-cum-sales and customer service tool, then Sprout Social would be one of my top recommendations.
Sprout Social Frequently Asked Questions (FAQs)
Does Sprout Social have a free plan?
Sprout Social has no free plan but it offers a 30-day free trial for every plan. No credit card is required to start the trial.
How many social profiles can you have on Sprout Social?
The number of social profiles you can include in a Sprout Social account depends entirely on the plan you choose. With its standard plan, you can connect up to 5 social profiles and 10 profiles with higher plans.
Can I add more profiles without upgrading the existing plan?
Yes, Sprout Social allows you to purchase additional profiles for a nominal fee without the need to upgrade to a higher plan. If you are interested, you will have to contact your account manager or salespeople for more info.