Squarespace is a one-stop solution for creators and bloggers to build websites without even touching a piece of code. It offers an easy-to-use drag-and-drop builder that enables you to create, design, and launch any type of professional website on the fly.
Squarespace has now stepped into the field of eCommerce, empowering online merchants to sell products and manage orders online via its eCommerce Website Builder.
Squarespace Commerce is emerging as one of the best Shopify alternatives for small businesses and artists to create online stores for selling anything.
In this review, we will break down every aspect of Squarespace Commerce to help you decide if it is the right platform for building an eCommerce site.
Ready to dive in? Let's start with knowing the platform in detail.
What is Squarespace?
Squarespace is a cloud-based website-building platform that lets you design stunning sites, blogs, magazines, portfolios, etc. It is very popular among designers and bloggers for its stunning website templates.
And, its eCommerce website builder offers numerous selling options, beautiful templates, reliable payment options, and other outstanding features to start an eCommerce website.
In this review, I will break down all of its features and everything you need to decide if Squarespace Commerce is the right choice or look at a better platform to set up your online store.
If you want to explore the platform along with reading this review, you can sign up now using the button below, and you'll get a 14-day free trial (no credit card required).
Squarespace Review: Ease of use
As soon as you get started, Squarespace will ask you a series of questions that makes the online store building a complete breeze. You can choose to add your products, customize your store by selecting attractive templates, integrate payment options, and start selling.
Squarespace comes with an easy-to-use editor which makes it easier for beginners and non-techy to design beautiful sites. With this intuitive editor, you can quickly prioritize design aspects and build an eCommerce store from scratch without any technical knowledge.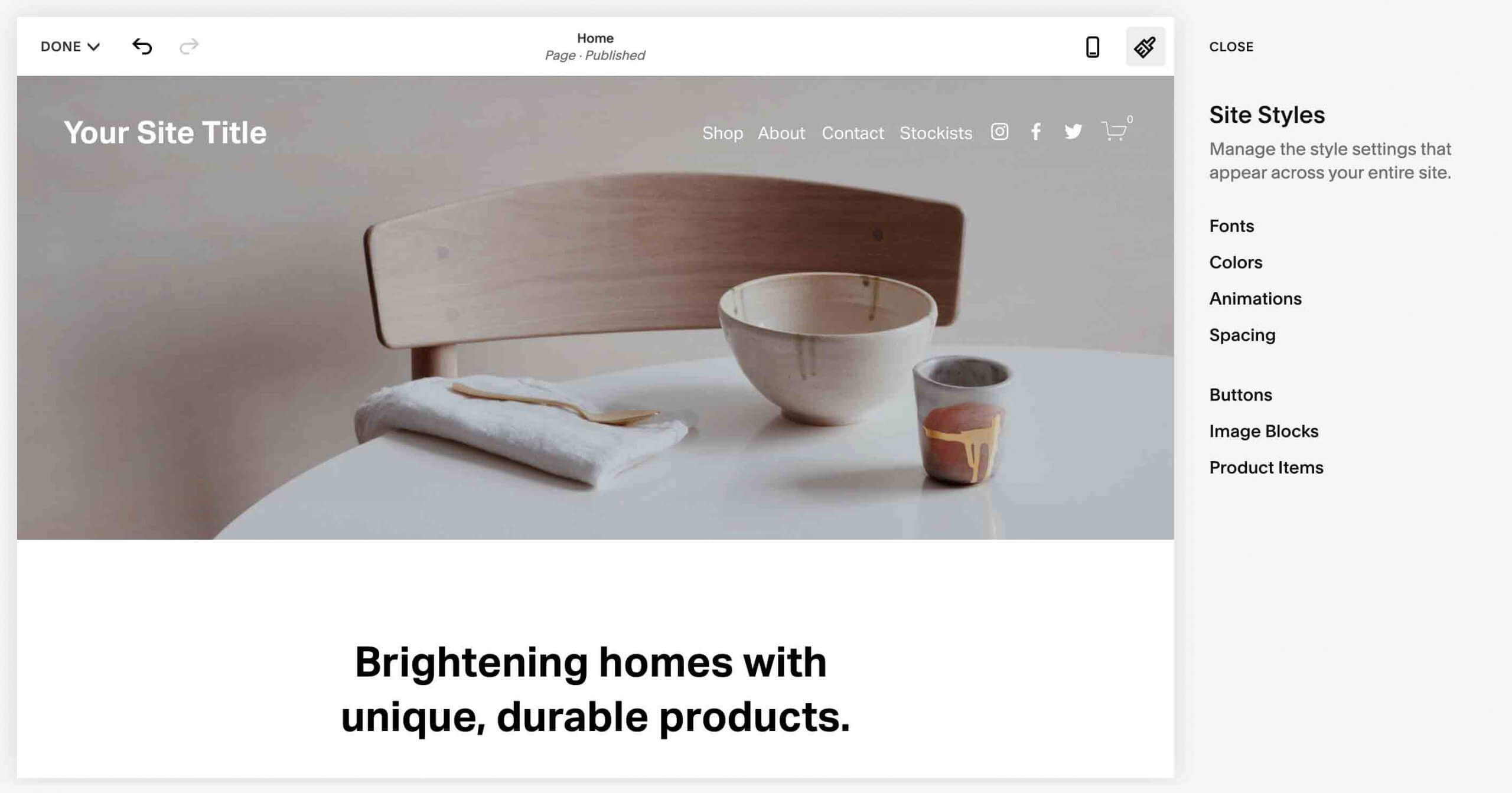 Also, if you are hooked on other tasks, you can use Squarespace's mobile app to manage your online store, track inventory, and seamlessly engage with customers anywhere at any time.
In addition to this, you can schedule appointments, integrate social channels, and build your mailing lists, all of which prove to improve your sales and conversion rates.
Squarespace's ease of use is simply predominant and also highly competitive with other major eCommerce platforms. On the whole, Squarespace is a power-packed website-building platform that lets you quickly launch an online store.
Now, without any further ado, let's get started with its most essential features.
Squarespace Review: Key Features
Squarespace allows you to build an online store without touching even a single line of code. Squarespace takes care of everything behind running an online store, including hosting, security payments, and more.
In this section, we will look into the following features that the platform has to offer –
Design and Customization options
Product Management
Marketing
Analytics and Tracking
Payment methods
Security
1. Online Store Templates and Customization
While major eCommerce platforms are focusing on selling premium themes, Squarespace sets a benchmark in providing free website templates that are not only design-focused but conversion-friendly as well. These templates are mobile responsive and enable you to easily customize as per your brand needs.
Squarespace offers the best-in-class eCommerce templates that can be easily customizable to fit your needs. Squarespace offers templates from its latest version, but you can use templates from its earlier version.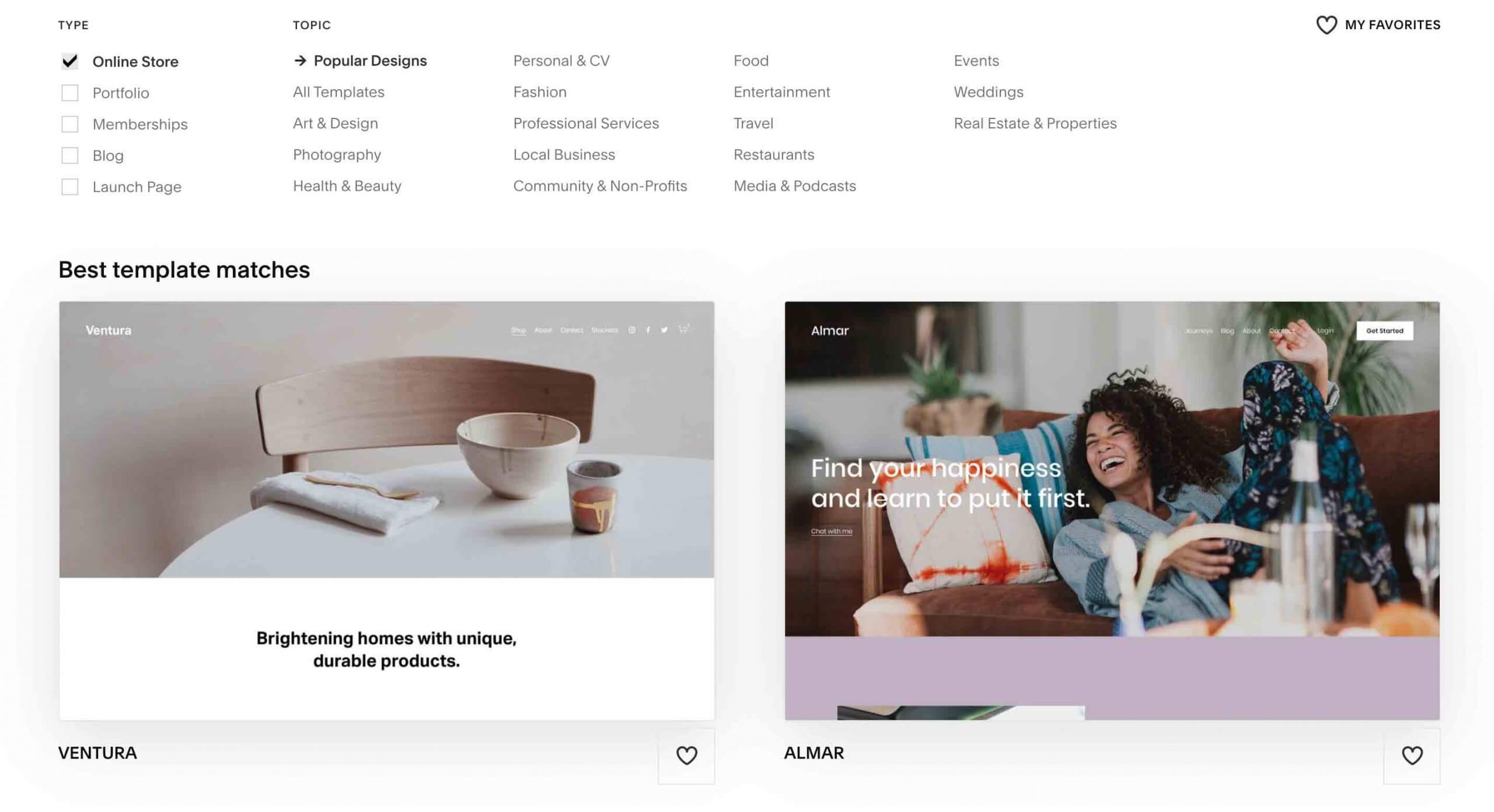 You can add or edit different sections of your site and change the background by browsing stock images. Also, by using its site style options, you can quickly edit fonts, colors, product items, animations, spacing, etc., with a few simple clicks, which readily saves your precious time.
Additionally, you can design checkout pages, and 404 pages and add social icons that boost your visibility.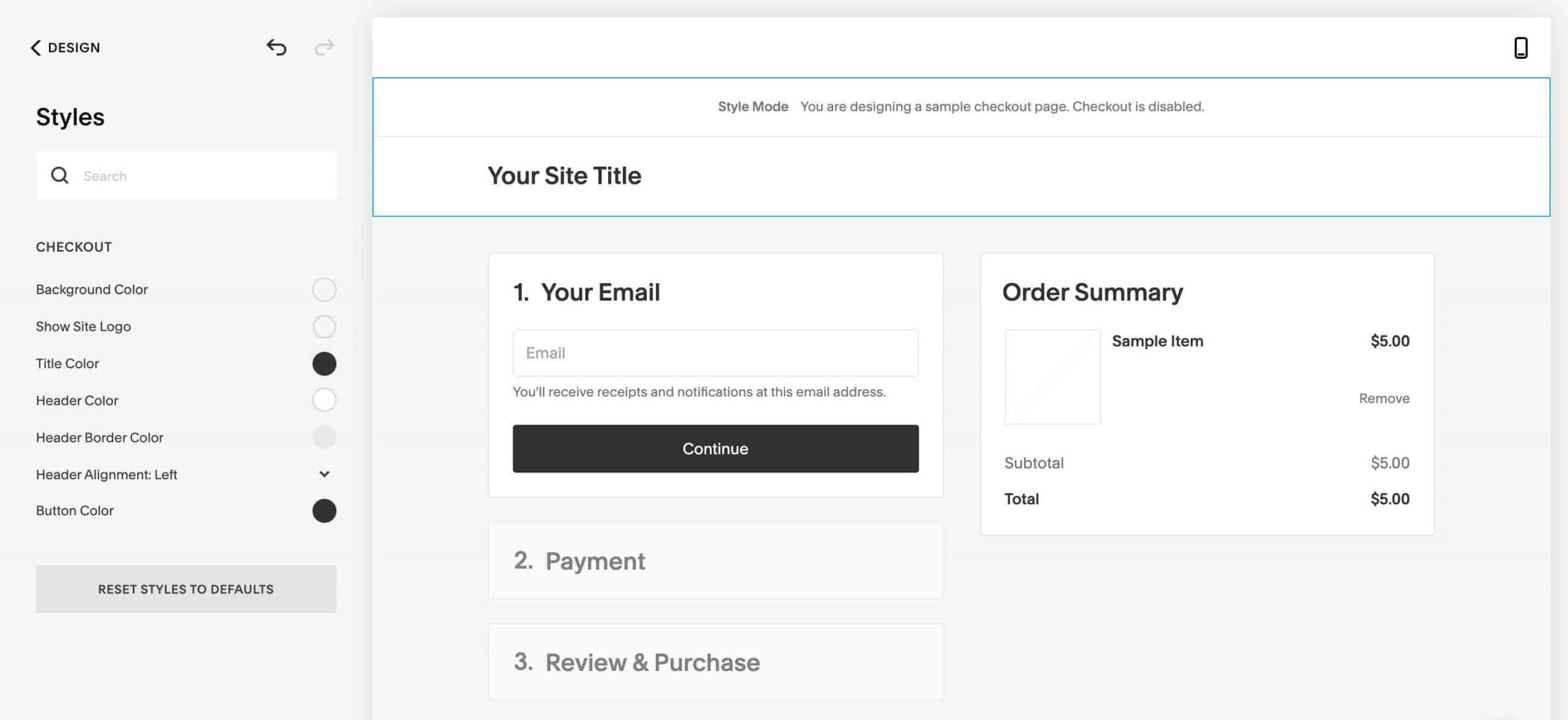 For advanced users, if you know to code, you can use custom CSS to enhance your site's look and feel. However, Squarespace doesn't show much support for using this as it might break the site design. Also, it does not allow custom CSS for the homepage.
Overall, Squarespace has its unique identity when it comes to design and customization. it provides stunning templates which you may not find anywhere else and the page editor makes it super-easy to customize the design to your needs.
2. Product Management
Squarespace Commerce enables you to sell various kinds of products like physical, digital, services, and subscriptions and its project management system makes it easy to add any type of product and optimize it accordingly.
Adding products is a piece of cake as it also allows importing products from platforms like Etsy to your online store. So, if you are already selling products on other channels, it should be easy for you.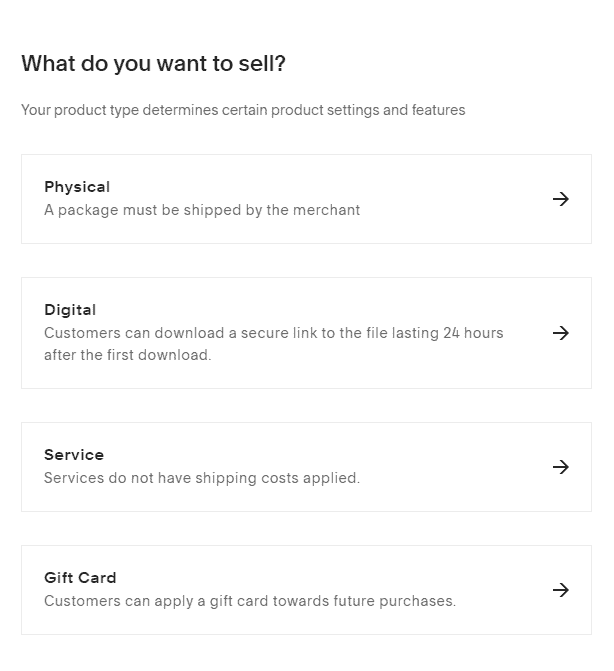 It offers a minimalistic and easy-to-use product editor. You can easily add product names, descriptions, images, pricing, and other details. You can also enable products "on-sale" just with a click.
To extend further, it allows you to add additional elements to the product pages like subscription features to specific products/services, embed custom forms to gather more info, buttons, social accounts, create advanced shipping rules, etc.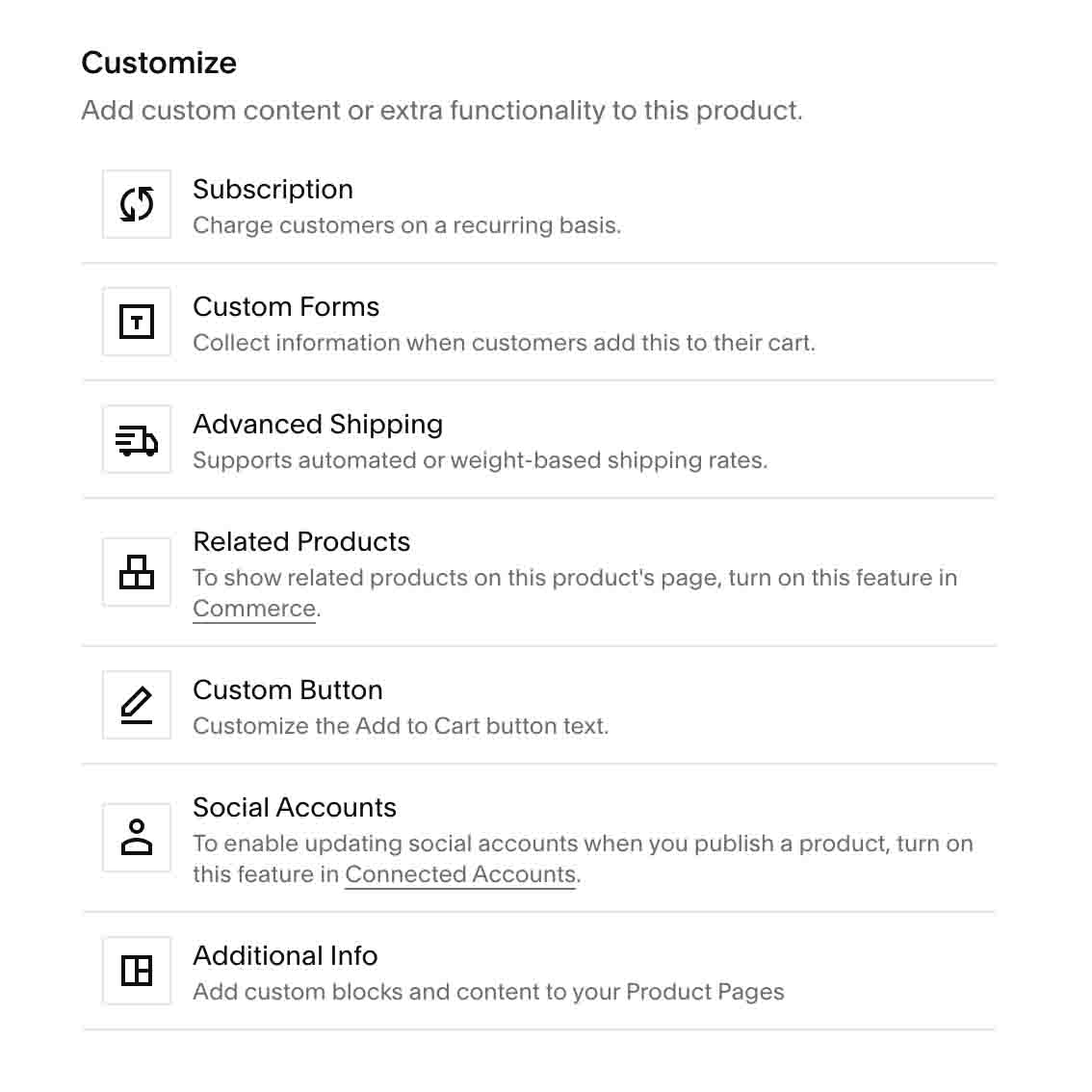 Squarespace product management comes with all the essential features you need to optimize it for more sales without using any third-party tool. Isn't this amazing?
3. Marketing Tools
Squarespace provides you with in-built marketing tools which are sufficient for early-stage eCommerce sites. However, as the business grows, you may need third-party marketing tools for advanced features.
Let's take a look at the marketing features you'll get with Squarespace –
Email Marketing –
Squarespace email marketing tool provides stunning email templates for different marketing goals. These email templates are easily customizable and responsive for mobile devices.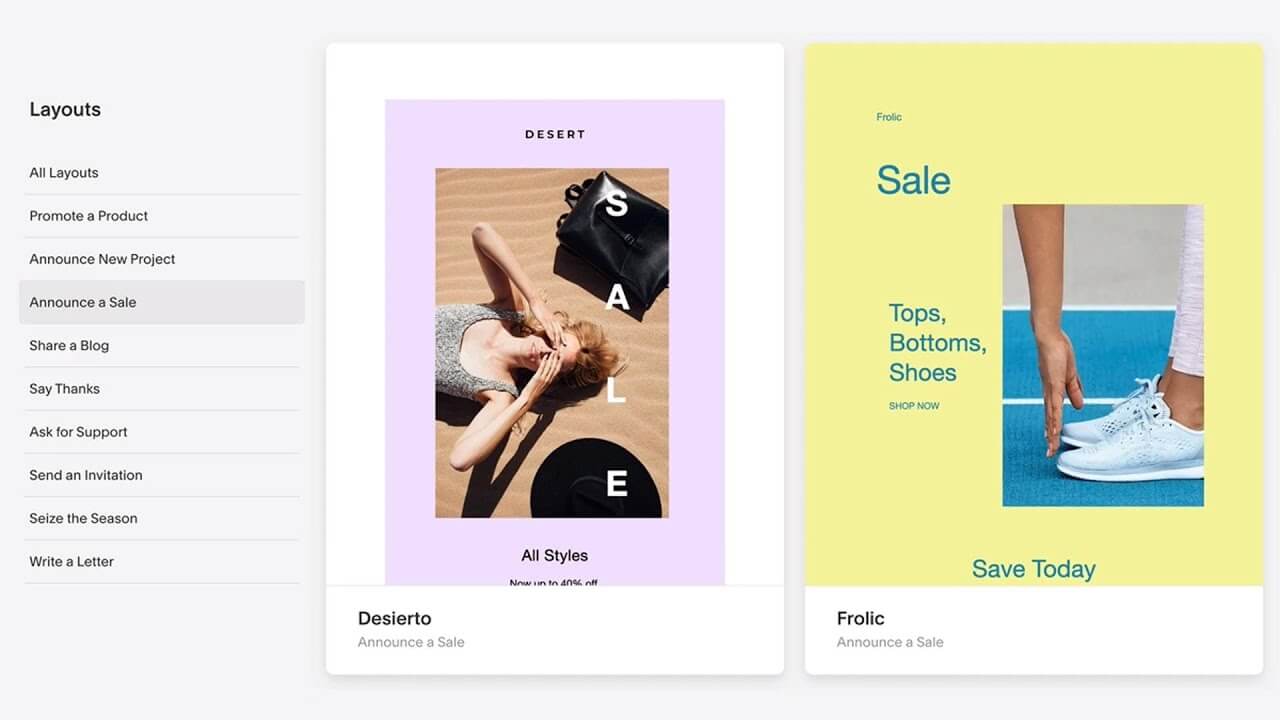 It also enables you to set up two types of automation sequences, and they are as follows:
Subscriber activity automation – These are the emails sent once a visitor/customer signs on your mailing lists. This type of automation lets you send triggered emails such as welcoming new subscribers, sending a coupon, and much more.
Customer activity automation – These are the emails that are sent once a customer purchases a product. With this automation, you can send thank you emails, recommend additional products, abandoned cart recovery emails, and more.
It also enables you to create popups and add newsletter forms on pages to help you grow your email list.
Search Engine Optimization (SEO) –
Squarespace website comes with a complete suite of integrated SEO features that enables you to optimize your site for search engine ranking. Here's everything you'll get with Squarespace SEO –
You can modify SEO page titles and descriptions for each product and blog page.
You can choose to hide specific pages from search engines.
Squarespace automatically creates a sitemap for your website using the .xml format, which can be easily submitted to the search console.
Site content, like products, events, and blogs, is correctly marked up with rich snippets to improve search engine indexing.
You can easily manage your Google My Business listing and locations from the Squarespace dashboard.
Although Squarespace provides all the SEO features, it doesn't come with in-build image compression, which is a big downside as you have to manually compress the image before adding it to your site.
Further reading: Squarespace SEO Checklist
Blogging –
Blogging is an essential aspect of eCommerce marketing, and Squarespace excels at it. It lets you write posts, enables comments, and automatically shares articles on social media.
Squarespace blogging feature displays blogs beautifully and engages consumers to spend more time and thus generate more sales.
4. Analytics and Tracking
Squarespace integrates seamlessly with Google Analytics and Search Console, which can be used for advanced analytics and search engine performance reporting. Its analytics reporting provides insights into traffic analytics – traffic sources, geographic locations, and more.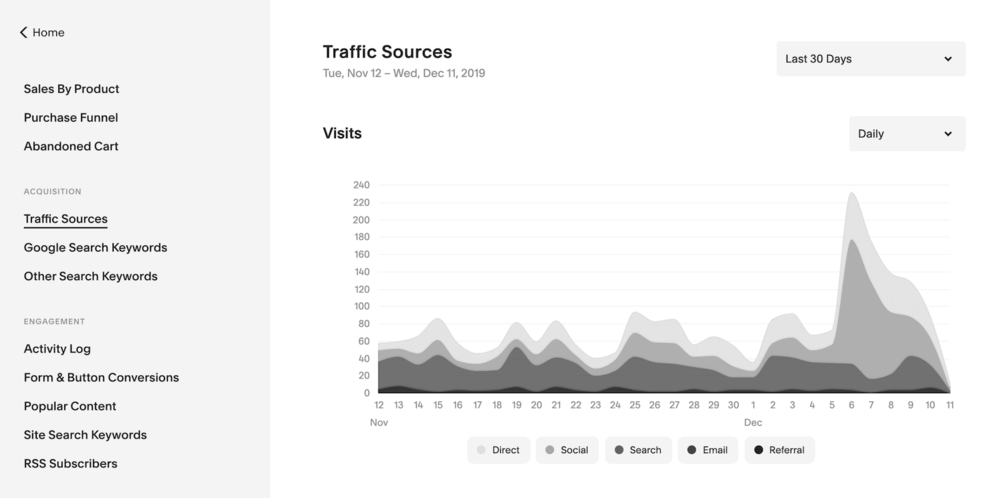 With Squarespace Analytics report, you can also view product performance and analyze the purchase funnel to see where your customers are leaving the site and optimize it for better results.
Apart from the website, it also tracks the marketing campaign performance for email marketing, pop-ups, and banners, allowing you to analyze what works and optimize it for better performance.
The bottom line, Squarespace provides in-depth analytics reporting that enables you to make data-backed decisions to grow your eCommerce business.
5. Payment Methods
Squarespace provides two popular payment gateways Paypal and Stripe for online transactions. Squarespace doesn't charge transaction fees but these gateways charge processing fees. For Paypal and Stripe, the fees vary depending upon the country.
Squarespace also allows you to accept in-person cash and cart payments via Square payments. Currently, it is available only for US businesses.
6. Security
Squarespace comes with advanced security features to protect your website and customer data from hacking attempts. It has a dedicated security team that is in charge of governing and safeguarding the security of customers.
Squarespace leverages an SSL certificate that encrypts the data transmission between the website end users and custom domains. For an extra layer of security, it also uses HSTS (HTTP Strict Transport Security), which encrypts the content served during the sessions.
Squarespace Review: Customer Support
Squarespace Customer Support is available 24/7 over email and Twitter. However, for complicated issues, you may have to submit your query relating to any issue at Squarespace's contact center.
You can also access their knowledge base, which contains popular guides and offers helpful resources that extensively cover all the topics for you to solve the problem.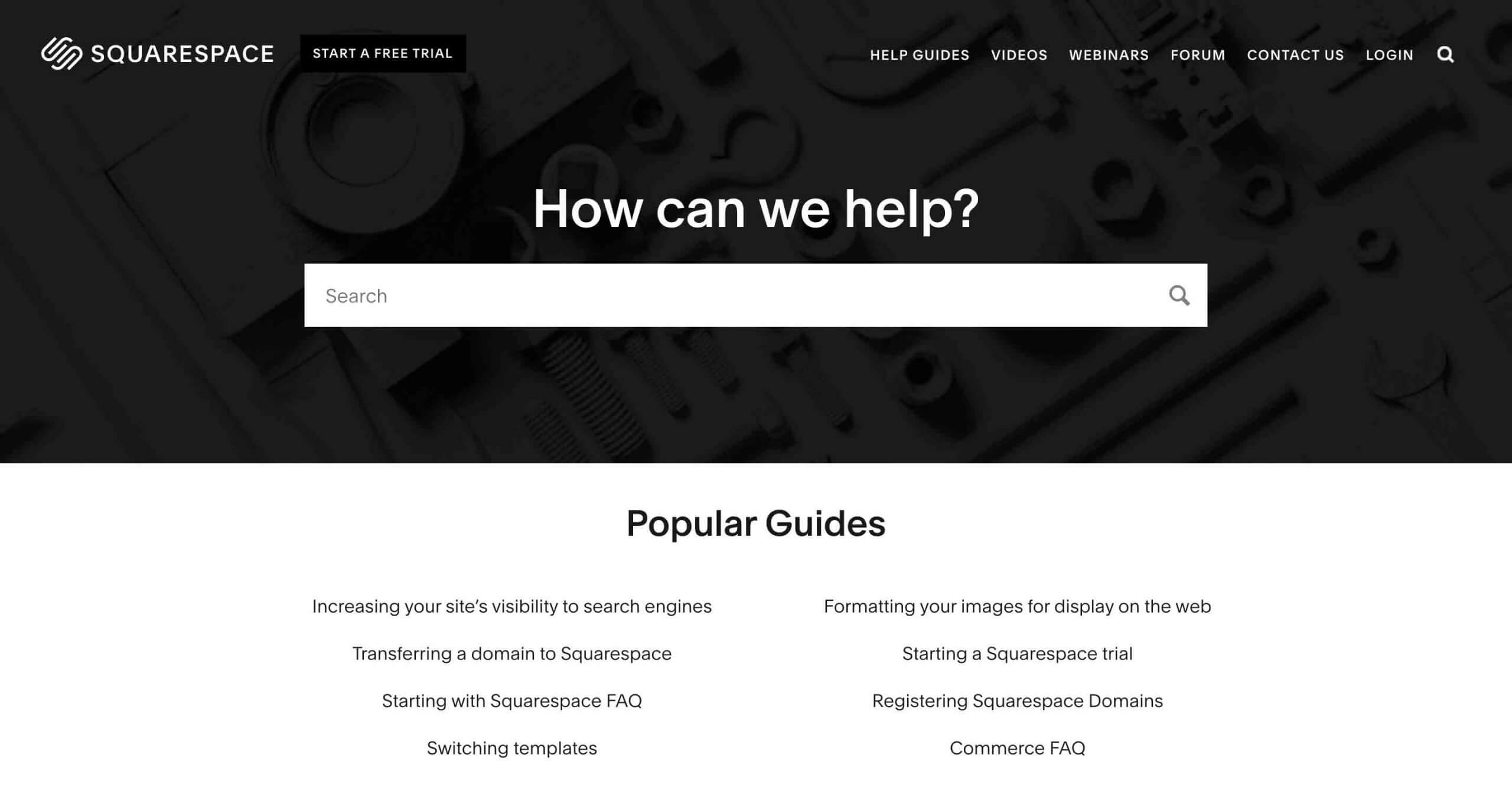 Squarespace provides live chat support from Monday to Friday (4 am to 8 pm EST) and is unavailable on weekends. You can also chat with the support assistant, which is a bubble in the bottom-right corner in the Squarespace help center.
You can also place a request to speak to a human if the chatbot cannot answer the questions. With this option, you can start chatting with the customer support team of Squarespace.
Squarespace Review: Pricing Plans
Squarespace offers a 14-days free trial and has four pricing plans – Out of which the Basic plan is best for business or portfolio websites, and the other two are mainly for eCommerce websites.
Here's the breakdown of three Squarespace pricing plans that provide eCommerce features –
The Business plan starts at $26/month and $18/month if paid annually. The commerce features offered are minimal, and it charges a transaction fee of 3%.
The Basic Commerce plan starts at $35/month and $26/month if paid annually. It offers useful features to get started, but you cannot create advanced shipping rules and not send abandoned cart emails.
The Advanced Commerce plan starts at $54/month and $40/month if paid annually. This plan lets you utilize the full-fledged eCommerce features offered by Squarespace.
The Basic and the Advanced commerce plans to offer everything you need to build and grow your online store. And the best part is that none of these plans incur transaction fees.
What can you sell on Squarespace?
With Squarespace, you can sell different kinds of products, and they are as follows:
Physical – The package must be shipped by the merchant
Digital – customers can download files via a secure link to a file lasting 24 hours after the first download.
Services – It does not incur shipping costs.
Subscriptions – Add services or products with recurring payment systems.
Squarespace Review: Pros & Cons
Now that you know what Squarespace offers and its capabilities, let's see where it shines and where it needs improvement.
Pros of Squarespace-
Beginner-friendly Drag-and-drop builder
Stunning Ecommerce templates
Excellent product and inventory management tools
In-built marketing tools
Robust Analytics reporting
Excellent customer support
Cons of Squarespace –
Navigation can be complicated
Limited Payment Methods available
Limited third-party tool integration
No Free Plan is available
Final Verdict: Is Squarespace the Right Ecommerce Website Builder for you?
Squarespace is mainly a website builder which is used mainly for creating portfolio and business websites. Its beautiful pre-designed templates are its biggest strength as it enables users to create beautiful websites without any design expertise.
However, in case of eCommerce, it is an ideal platform for businesses with small product catalogue. It is the best platform for artists to create beautiful portfolio or online store with artistic touch to the website pages.
Squarespace Commerce
Summary
Squarespace is fairly a new eCommerce website builder that provides you with everything you need to sell online. However, its limited customization options and integration features, makes it more useful for someone who prefers store design over advanced features and integrations – It is perfect for selling artworks!
Now, if you have decided to go ahead with Squarespace as your preferred platform to start your eCommerce site, you should head over to our Squarespace tutorial to get started.