Are you wondering if Stamped.io is the right marketing tool for your eCommerce brand? Do you want to know what all the features it has to offer? If so, this is a comprehensive Stamped.io review to help you find answers to your questions.
Stamped.io is an eCommerce marketing platform that helps in leveraging your brand's presence to the next level via its two suites of products –
Loyalty & Rewards
Reviews & Ratings
With the loyalty program, you can improve retention by offering exciting rewards for customers based on their desired actions. It enables you to create VIP tiers to offer exclusive perks and increase word-of-mouth via attractive referral programs.
Speaking about reviews, you can moderate, auto-publish, and use customizable widgets to display them. Further, it enables you to use visually curated reviews in your social media campaigns to build brand awareness, sales, and on-site conversions.
Overall, Stamped.io helps you seamlessly increase brand loyalty, gather authentic reviews, and showcase them on your site to build social proof.
Now, in the next section, I will break down every aspect of Stamped.io to help you visualize everything that it has to offer and how it can be useful for your business. If you want to explore the software while reading the review, you can use the button below to create a free account (no credit card required).
Stamped.io Review: Supported Ecommerce Platforms
Since Stamped.io is an eCommerce-centric tool, I think the review must start with knowing if your preferred eCommerce platform is compatible with Stamped or not.
So, here are the five platforms that Stamped.io integrates with –
Shopify & Shopify Plus
BigCommerce
WooCommerce
Ecwid
Magento
These are some of the best eCommerce platforms available in the market. So, I hope your preferred platform is also one of them. If so, keep reading!
Stamped.io Review: Loyalty & Rewards
A well-planned and executed loyalty program can turn your eCommerce store lively, convert customers into brand advocates, reduce churn and increase sales.
With Stamped Loyalty, you can attain all these above benefits by implementing –
Point-based programs
VIP Tiers
Referral Programs
Now let's have a look at how it works.
1. Point-based Program
Point-based reward programs are the simplest way to encourage customers and visitors to take the desired action for loyalty points, which they can later use to redeem the rewards.

With Stamped's setting up a point-based program is very simple, it allows you to set up rewarding options for any of the following actions below –
Makes a purchase
Reaches the specified order goal
Creates an account
Subscribe to newsletter
Celebrate birthday/ account anniversary
Following, Liking, and Sharing social pages
Submitting review
Based on custom activity
Stamped gives you complete flexibility to select the actions you want to reward the customers. Afterward, you have to choose the rewards they can redeem with their earned points.
For the point-based reward program, Stamped.io offers plenty of rewarding options, which are as follows –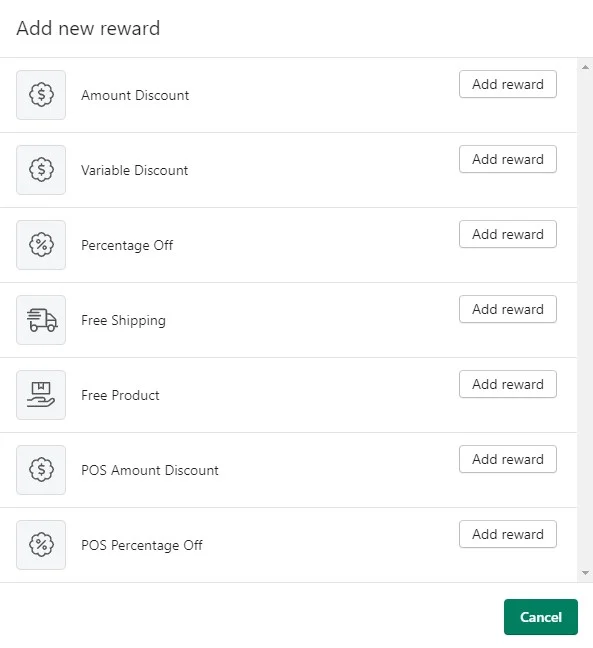 Overall, Stamped.io enables you to create an exciting points-based program with various actions and rewarding options to choose from. This can be an excellent advantage for your brand to boost customer engagement and generate more sales.
2. VIP Tiers
While point-based programs help you convert visitors into potential customers by rewarding them for their actions, a VIP program is to encourage your loyal customer to shop more to earn high-value rewards.
Stamped.io lets you create different VIP Tiers like Gold, Silver, and Platinum based on entry goals, as shown below –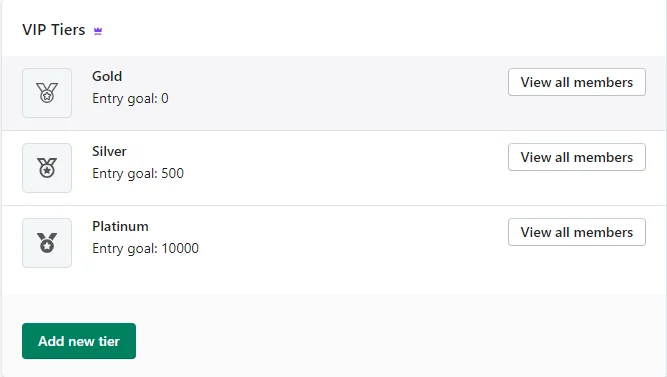 To encourage customers to earn more points to reach the next level, you have to offer higher-value rewards & perks at each tier. Some of the rewarding options can be –
Fixed Amount discount
Percentage off discount
Free Shipping
Points for customers to redeem rewards at Point Program
Accelerated Points – Eg: 2x, 3x, 4x
The success of a VIP-tier reward program entirely depends on how excited your customers are to win the rewards. So, make sure to offer rewards worth their spending value on your store.
3. Referral Program
Referral Programs are one of the best ways to leverage word-of-mouth marketing as they speed up the customer acquisition process. Stamped.io makes this possible by enabling you to incentivize both the referrer (customer) and the referees (friends), which helps increase engagement and conversions.

Every customer will get a unique referral link to share on multiple channels like Facebook, Twitter, Whatsapp, Email, SMS, and Messenger. When the customer's friend signs up and purchases using the link, both the customer and the friend will receive the reward.
The type of rewards that your customer (advocate) and his friend will receive are –
Fixed discount coupon
Percentage off coupon
Free shipping coupon
Points
The referral codes can also be customized separately for individual customers by navigating their profiles. It is unique for all of them, so it cannot be assigned to another customer if one code is taken up.
By rewarding both parties, you add value to their efforts, and they'll feel motivated to bring in more new customers to your store. This is what you can achieve with Stamped.io's referral program. It leads to high brand reach, effortless acquisition, and nurturing of new relationships.
4. Email Customization
When your customers engage in a loyalty or referral program, you'll have to notify them with relevant updates when they perform or complete a specific task. For this purpose, Stamped.io enables you to send emails for different events when –
Points are earned
Rewards are redeemed
Points/rewards are about to expire
Customers enter a VIP Tier
Customer refers to a friend
Referral rewards are claimed
And many more.
Whatever be the event, you can customize the email by using Liquid variables as placeholders. For example, if you want to send an email when your customer earns a point, this is how it appears –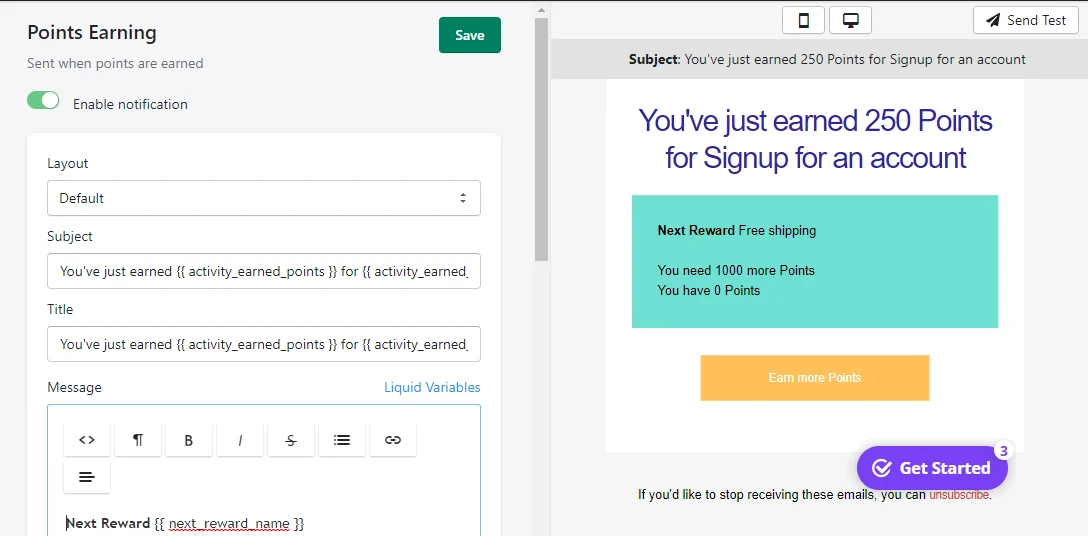 As you can see in the above image, the entire customization process is relatively easy and quick – you just have to modify the sentences and update the liquid variables if needed, and you're set to go.
5. Loyalty & Rewards Launcher
The Loyalty & Rewards launcher can be displayed on your store through the Stamped.io dashboard. Your customers will be able to signup, view their total points, redeem for rewards, and many more via the intuitive launcher UI.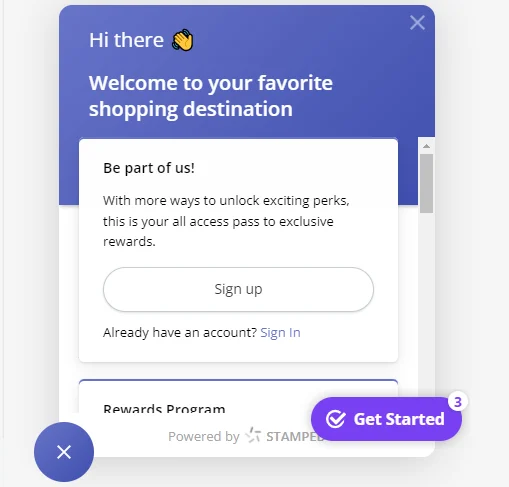 All you have to do is to modify the placeholders and text in the following areas –
Heading – Write a catchy title and subtitle to grab visitor's attention
Localization – Consists of 5 customizable sections for each category – Signup, Rewards, Referrals, VIP, and Reviews.
Placement – Decide the launcher's position and device visibility
CSS Editor – Advanced editing capabilities via coding
Further, your customers can view all their previous orders and submit a review within the launcher itself if it has not been done yet. So with the launcher, your customers can easily signup and perform the necessary actions without navigating anywhere.
By now, I hope you got a clear idea of how Stamped.io's loyalty & rewards program works and how you can leverage it to grow your brand reputation and sales. Next, we shall see the different ways in which reviews & ratings help in elevating your brand's credibility and social proof.
Stamped.io Review: Reviews & Rating
To gain a competitive space in the consumer market, you need to make your business more trustworthy than sales-oriented. Because every customer's belief in your product is an unbreakable investment, you get to grow your business.
To compound this trust factor, you must leverage reviews in your marketing tactics. Fortunately, Stamped.io makes this happen by enabling you to utilize the power of customer reviews in different ways. Now it's time to explore them in detail.
1. Customizing review requests
Asking customers for reviews is the best way to understand their feelings and perceptions of your end product or service.
With Stamped Reviews, you can ask for reviews by sending a sequence of review request emails with the specified interval delay. Along with emails, you can also include SMS sequences in between. But the SMS review requests are currently available only in the US, Canada, and India.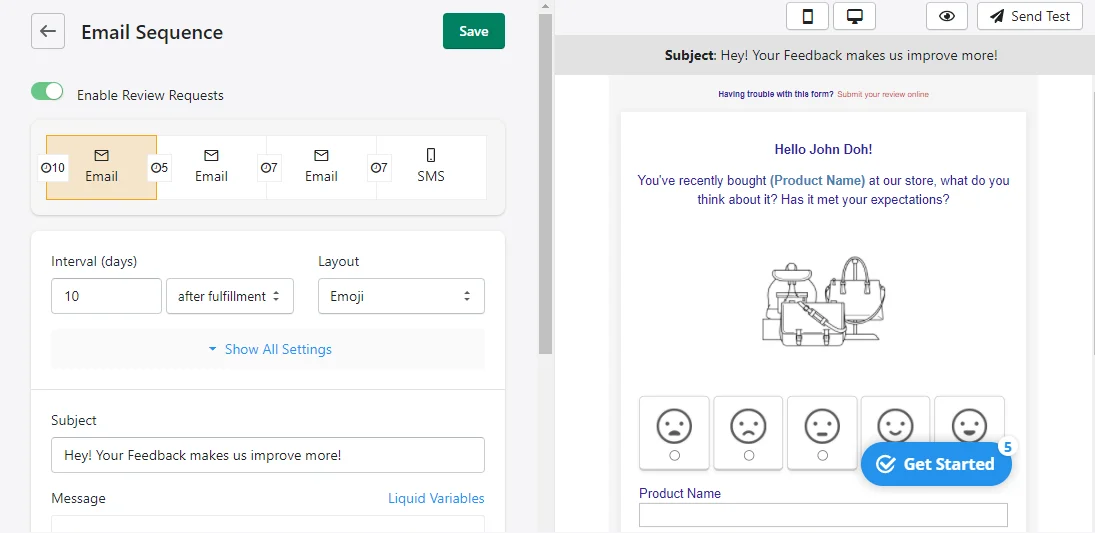 As seen in the above image, you can easily create sequences by –
customizing the subject and message using liquid variables
set options to upload photo/video reviews
auto-publishing high rated reviews
specifying the redirection URL after the review is submitted
add an option to allow customers to recommend your product to others
In addition to this, even if you want to collect additional information regarding your product, you can add custom questions to understand your customer's profile and demographics.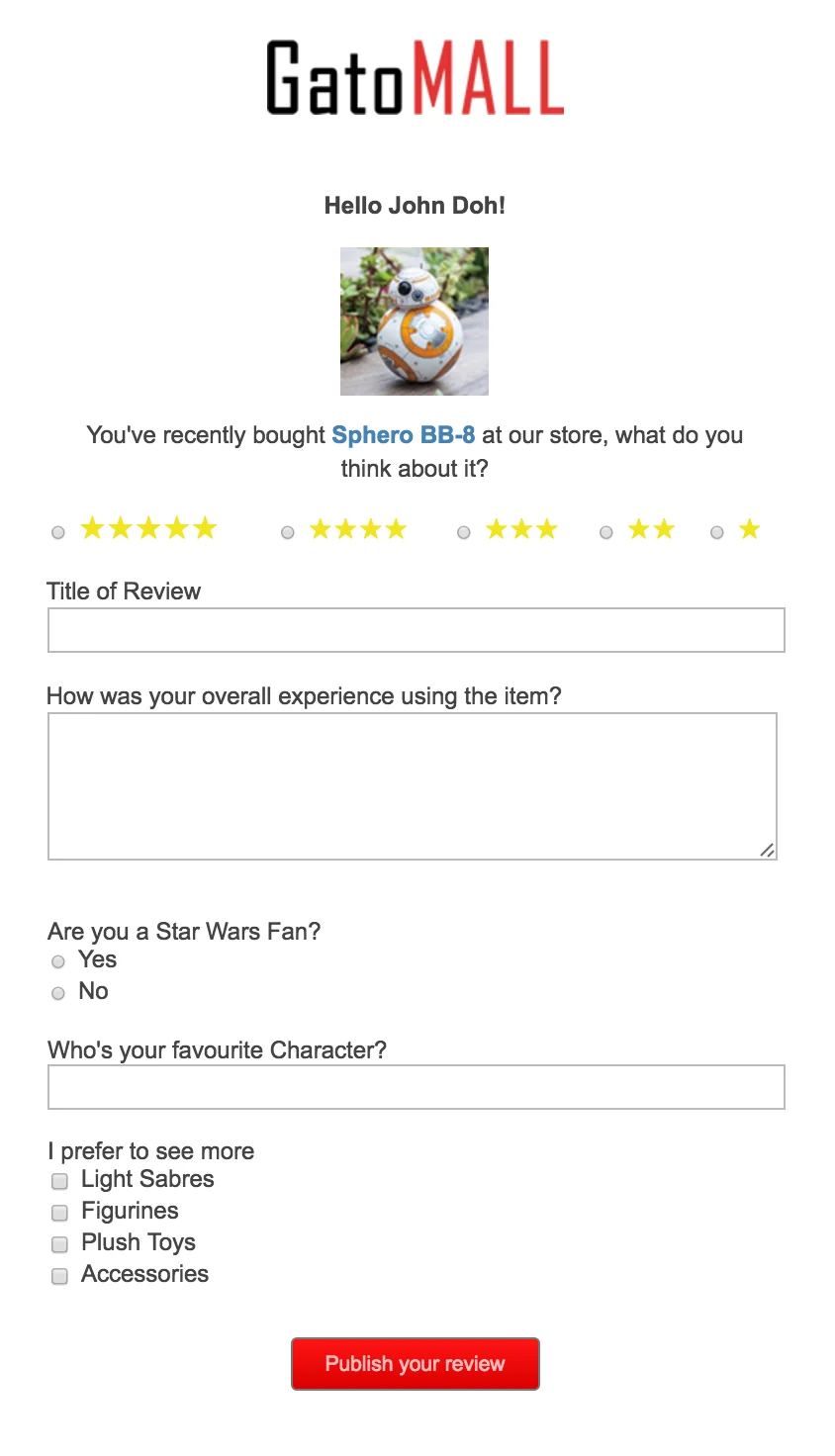 This is an example of how a custom form appears. Not only can you understand your customers better, but it also allows you to use the collected information in your email marketing to run personalized campaigns that convert.
Overall, customizing review requests is facile and effortless with Stamped.io. You only have to be clear of the frequency and time interval for sending the review emails, and the rest is taken care of by Stamped.io.
2. Review Moderation
Consider the impact when your customers get carried away by viewing a single false review. Won't it greatly affect your brand value and sales? This is where Stamped.io eases the process by allowing you to moderate reviews so you can ensure only authentic reviews get posted.
The different types of moderation actions that Stamped.io allows you to perform are as follows –
Publishing and Unpublishing reviews
Archiving (can be published later)
Deleting reviews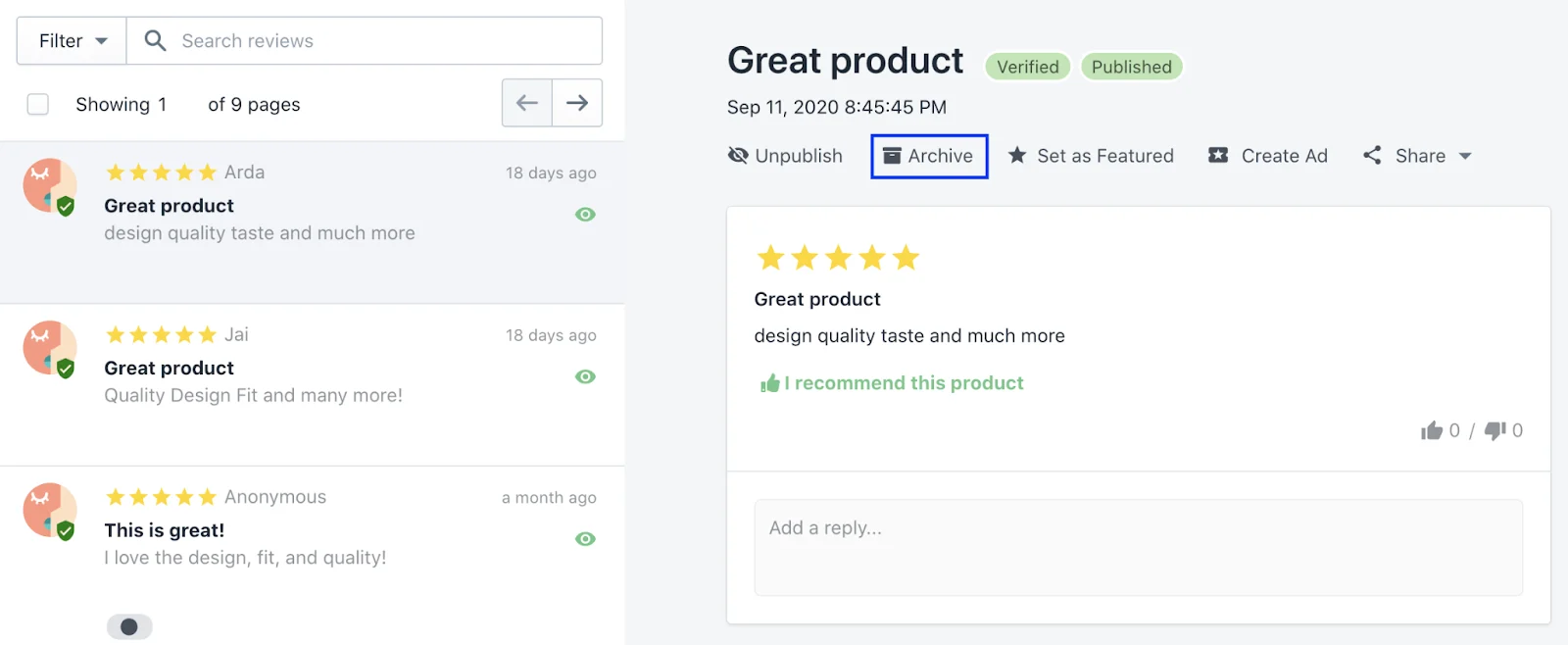 As seen in the above image, the green eye icon shows that the reviews have been published. Besides, you can also filter the reviews based on rating, reviews with photos/videos, dates, and many more for quick processing.
Regardless of positive or negative opinions, your customers should not create misconceptions by seeing a scam review. With Stamped.io, you don't have to worry about these things, as you can easily take complete control and moderate changes.
3. UGC Marketing
Though Stamped.io helps you gather customer reviews and moderate them, its potential doesn't stop there. It goes a step ahead and enables you to use your customer reviews for social proofing and building credibility with new customers.
With Stamped's UGC, you can feature your customer's reviews in the following 3 ways –
Smart Banners – Use pre-designed templates, choose a review, customize and start running attention-grabbing marketing campaigns.
Social Push – Share the reviews on your social media pages to improve brand awareness, web traffic, clicks, and conversion.
Ads Center – Transform your customer's reviews into highly engageable Facebook and Instagram Ads. You can also run retargeting and non-retargeting ads on Instagram to convert followers into active shoppers.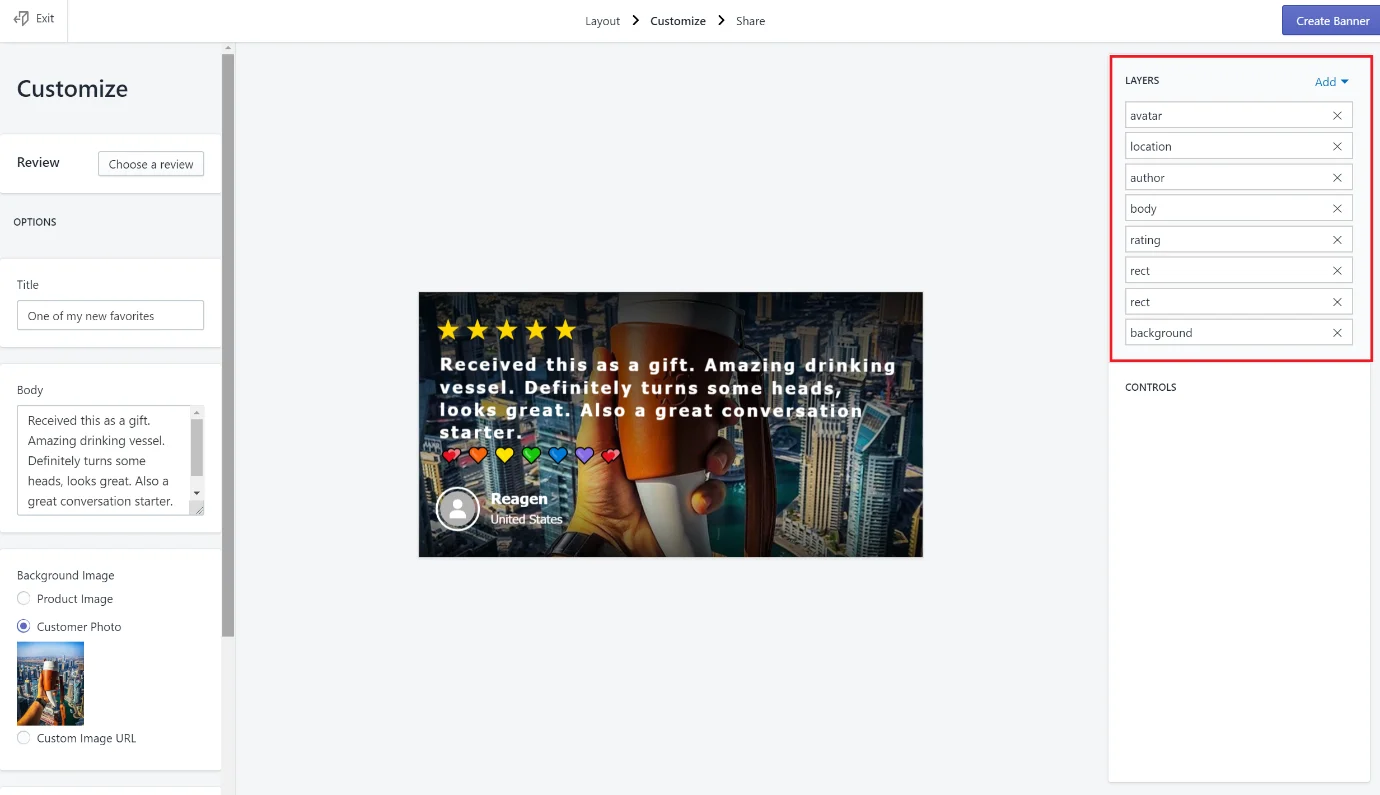 The above image is an example of creating banners. The procedure is simple as you have to add the title, select the review to be applied, customize, upload the background image, and you're done.
4. Stamped.io IQ Sentiment Analysis
Though reviews help build credibility, it also has some concealing dangers that you as a store owner must be aware of. If a customer posts a spam review, you can moderate it, but what if a customer rates your product with 4 stars but a negative review?!
Stamped.io identifies such reviews and flags them from getting published automatically. You can view it and approve it or reject it based on delusional or misleading reviews.
Bottom line, Stamped sentiment analysis helps you ensure reviews are better for customers by enabling them to make an informed decision based on genuine reviews rather than getting confused with misleading reviews.
5. Visual Curation for Instagram Shoppable Gallery
Stamped.io enables you to display curated content (photo/video) from your Instagram page on your site to turn clicks into conversions. In this way, you can create a high-performing shoppable gallery that shortens your customer's buying journey.
However, you need to display visually captivating product images to attract your fellow shoppers. This is where Stamped.io's Computer Vision AI enables you to filter the visual content based on dominant colors, objects, quality, and person and automatically flags inappropriate visuals.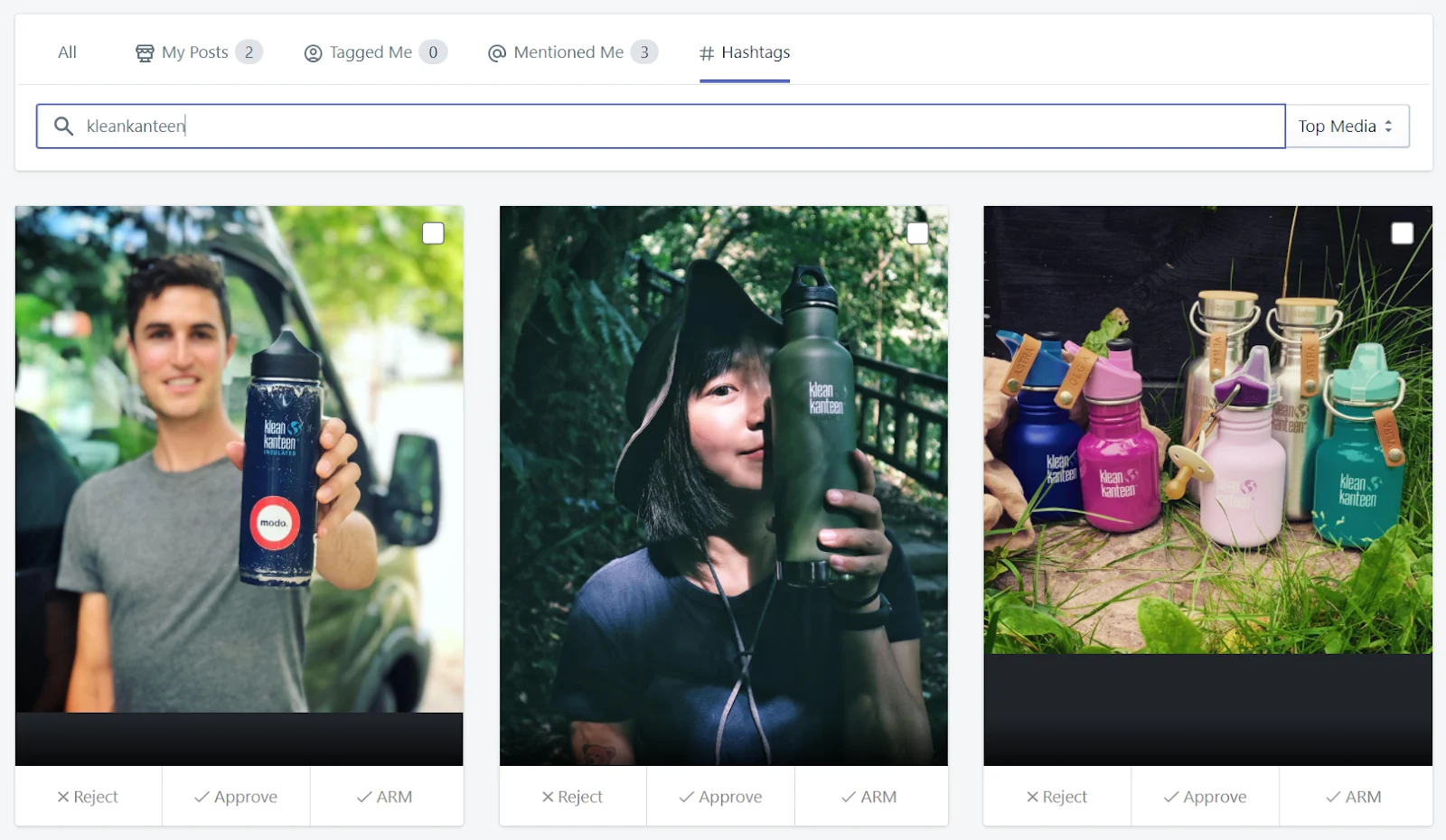 Once you connect your Instagram account, the photos/videos will be populated in the Visual Curation section in your dashboard. Here you can approve the images/videos you want to display in your gallery.
One of the exciting aspects of this feature is its Automated Request Management. It allows you to send permission requests to the users for reusing their posts.

Once they reply with your "permission agree tag," if the request is approved, you will have the absolute right to use the content to display on your site. This method smartly saves you from copyright infringement issues that may affect your brand's reputation.
6. Net Promoter Score
NPS surveys are a proven method to gauge your brand's overall customer experience and expectations. It lets you analyze how likely your customer will recommend your brand to others or make repeat purchases.
Stamped.io comes with a built-in NPS rating system, which lets you survey your customers via email, SMS, link, or website. In the survey, customers have to answer questions with a rating and share experiences with your brand.
Here's what Stamped NPS system looks like. It allows you to customize the email and questions as per your needs.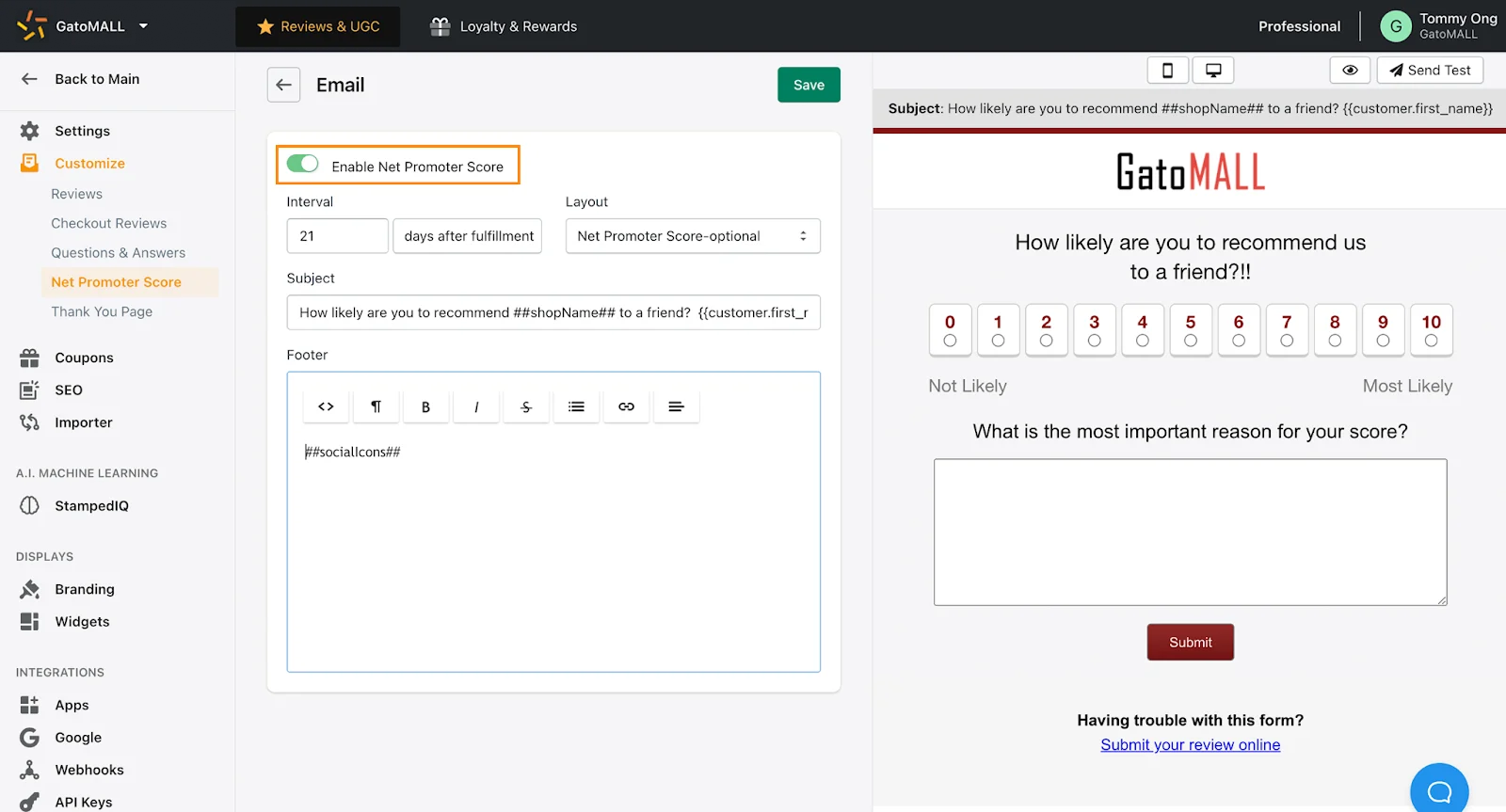 Based on the survey data, it displays your NPS score in real time. Here's what the scores mean –
Promoters – (Score 9-10) – Extremely happy to use your product
Passives – (Score 7-8) – Though satisfied, these types of customers can easily switch to your competitors
Detractors – (Score 0-6) – Highly unhappy or disappointed with your product
Further, you can display your NPS score as site reviews throughout your website to build social proof for your new customers. Here's what it may look like –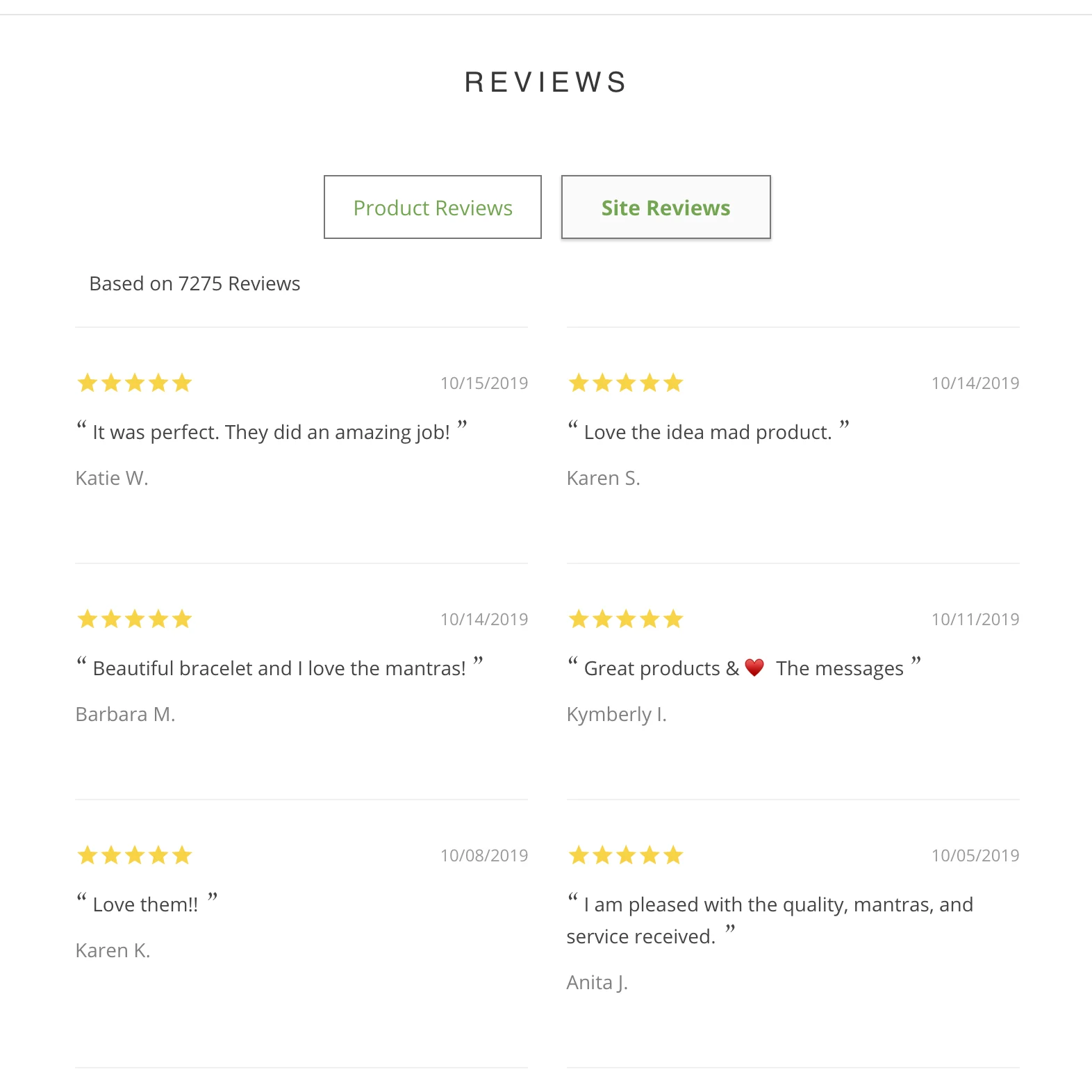 Stamped.io Review: Analytics & Reporting
Stamped.io has a robust analytics reporting system that provides critical data on your loyalty reward program and customer sentiments via reviews and ratings.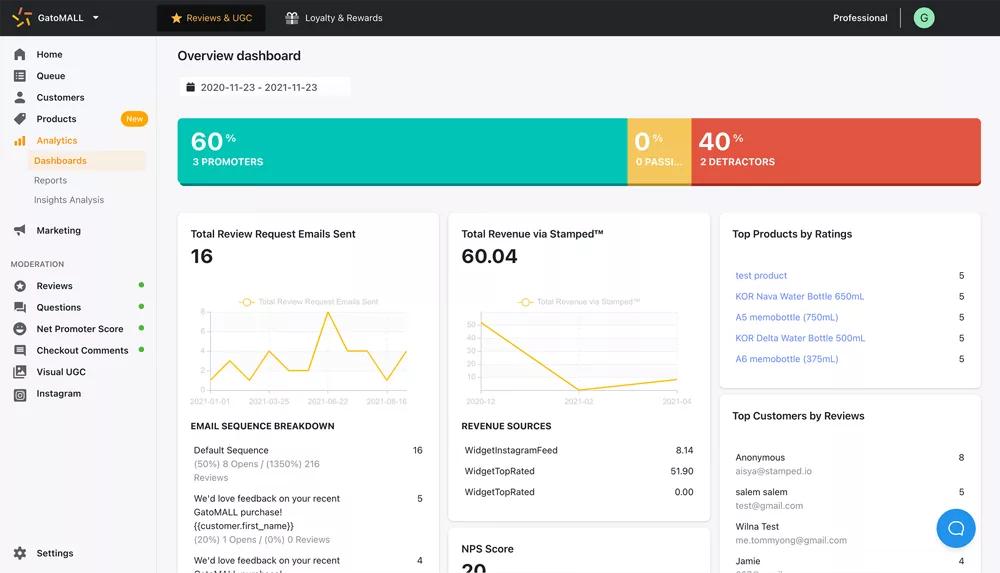 Below is an overview of all the data you will be able to track and analyze in your Stamped analytics dashboard.
Loyalty & Rewards –
Number of customers gained over time
Number of referral orders received over time
Total Revenue earned via Stamped.io
Number of rewards redeemed over time
Number of points earned and spent over time
Number of referral traffic gained over time
Reviews & Ratings
Percentage of Promoters, Passives, and Detractors
Total Review Request Emails Sent
Conversion tracking for review email sequence
Total number of reviews sent
Total number of NPS Emails Sent
Top Searches and Top Keywords in Reviews
Visualize the top customers, products, and countries by reviews
Average Rating over Time
NPS Score over time
Apart from these data, Stamped.io goes a step ahead and provides you with AI-powered insight analysis. It processes and analyzes all the collected reviews content and displays the sentiment score between -100 to +100, with 0 to 100 indicating positive scores and 0 to -100 being negative.
With all these data and insights, Stamped empowers you to understand your customers better and make data-backed decisions to grow your business from every aspect – product development, sales, and marketing.
Stamped.io Review: Integrations
Stamped.io offers tons of meaningful integrations in various categories like email marketing, social media, automation, product search, helpdesk, advertising, etc.
Some popular integrations include ActiveCampaign, Klaviyo, Drip, Omnisend, Facebook, Instagram, Twitter, Facebook, Gorgias, BoostCommerce, GemPages, Pagefly, Slack, and the list goes on. 
Even if you want high-end integration capabilities, you can do it via Zapier or Webhooks to customize the entire setup.
How much does Stamped.io cost?
Stamped.io has pricing plans for businesses of all sizes. It has separate pricing plans for Loyalty & Rewards and Reviews & Rating tools.
It also offers combined plans if you want to use both tools. Here's the breakdown of its pricing plans –
Loyalty & Rewards Pricing Plans
Premium Plan – $39/month – Upto 500 orders, full access to points, rewards, referrals, customization, analytics, Integrations with POS, Stamped.io Apps, and Help desk Apps
Business Plan – $149/month – Upto 1500 orders, All Premium plan features plus advanced customization, language translation, integration, and migration support
Professional Plan – $479/month – Upto 3500 orders, All Business plan features plus access to VIP Program, Dedicated onboarding, and Success Manager
Enterprise Plan – Custom – Starting at 3500 orders, API Access, Ongoing customization support, and other advanced features
Reviews & Ratings Pricing Plans
Basic Plan – $23/month – Upto 200 orders, Product reviews, Photo reviews, Checkout reviews, customizations, display widgets, advanced auto-publish, rich snippets, manual & auto social push with customer photos, and many more.
Premium Plan – $49/month – Upto 500 orders, All Basic plan features plus smart social banners, widget CSS editor, visual gallery, clicks tracking, product reviews grouping, integrations.
Business Plan – $119/month – Upto 1500 orders, All Premium plan features plus video reviews, community Q&A, FB Messenger Review Requests, advanced layout editor, Smart Sentiment analysis, Google product ratings.
Professional Plan – $299/month – Upto 3500 orders, All Business Plan features, Stamped.ioIQ, Instagram curation, NPS, Ads center, Google seller ratings, Media rights management, AI Insights Analysis
Enterprise Plan – Custom – Starting at 3500 orders, API Access, and a group of dedicated experts to help you at all levels.
Full-suite Pricing Plans (Loyalty + Reviews)
The Full-Suite is a combination of both loyalty and reviews with which you can combine the power of both to outgrow your potential. It comes with 3 pricing plans, which are as follows –
Business Plan – $229/month – Upto 1500 monthly orders, Product/Photo/Video/Checkout reviews, Community Q&A, Google Product Ratings, Points & Referral Program
Professional Plan – $659/month – Upto 3500 monthly orders, All Business plan features plus Google Seller Ratings, NPS, Instagram Curation, AI Insights Analysis, and VIP Program
Enterprise Plan – Custom pricing- Starting at 3500 orders and access to high-end capabilities
Apart from these, Stamped.io also offers a free plan that allows up to 50 monthly orders, a points starter program, a referral program, reward types, in-email & SMS review requests, review field customization, and social sharing of reviews.
The free plan is basically for you to test the platform before deciding. So, sign up now to create a free account.
Pros and Cons of Stamped.io
By now, we have discussed all the features and functionalities that Stamped.io offers. Now, let's look at where Stamped shines and lacks.
Pros of Stamped.io –
Beginner-friendly
Fully customizable to fit your brand
Create point-based and VIP loyalty programs
Collect photos and videos in reviews
Collect micro-reviews at checkout
Mobile-responsive review widgets
SEO-friendly reviews and rating system
Customizable Landing Page for reward programs
Watermark customer photos to protect your brand's reputation
AI-powered advanced analytics reporting
Cons of Stamped.io –
No unlimited orders, even on higher plans
Limited Integration in the Basic Plan for Reviews
Final Verdict: Is Stamped.io Worth it?
Stamped.io is a powerful eCommerce marketing platform with robust reward program features that enable you to create point-based, VIP tier, and hybrid programs, which can help you increase the customer lifetime value (CLTV) and Average Order Value (AOV) for your business.
And with its review and rating tools, you can gather reviews by sending personalized review request emails and text messages. It also allows you to showcase the reviews on the homepage, product pages, and other pages on your site to build social proof for your brand and win customers' trust.
In a nutshell, Stamped.io is the perfect tool for you if you want to –
run on-branded loyalty and referrals programs
boost trust & transparency with genuine customer reviews
Now, I hope this article gives you a complete overview of Stamped.io and helps you make a final decision. If you have already decided to try Stamped.io, use the button above to create a free account now.
Want to learn more about loyalty and referral programs? Here are a few hand-picked articles that you can read next –