Are you wondering if Tidio is the right customer service tool for your business? If so, this review article is for you.
Tidio is a customer service platform that combines live chat and chatbots, designed to enhance customer communication for businesses across various industries.
It is packed with several automation features and AI-powered chatbots that can help you streamline your customer support system and provide excellent customer service.
In this review article, we will break down every aspect of the Tidio, from features, and pricing to pros and cons to help you determine if it is the right customer service tool for your business.
If you want to explore the platform while reading this article, you can use the button below to sign up for a 7-day free trial with complete access to its features.
Now, without further ado, let's get started.
Tidio Review: Who is it for?
As an AI-powered customer service platform, it is designed to cater to a wide range of businesses that are focused on improving customer engagement and providing efficient support.
Its features and capabilities make it particularly valuable for the following types of businesses –
Small and Medium Businesses (SMBs) – Ideal for SMBs seeking personalized customer support without a large team.
eCommerce Websites – Supports online retailers with real-time assistance, product queries, and personalized discounts.
Service-Based Businesses – Engages potential clients promptly, making it valuable for consulting or professional services.
In essence, Tidio's versatility and range of features allow it to serve a diverse audience across industries. Any business or organization that values responsive customer engagement, personalized support, and efficient communication can benefit from Tidio's capabilities.
Tidio Review: User Interface & Onboarding
Tidio stands out for its emphasis on simplicity and user-friendliness. From its onboarding process to its intuitive user interface and organized dashboard, Tidio is designed to make live chat and chatbot integration effortless for businesses of all sizes.
Upon signing up, you will be guided through a step-by-step setup wizard that prompts you to customize the chat widget, set up chatbot responses, and integrate the software with their website. With the wizard's clear instructions and logical flow, you can easily set up live chat on your site even without any technical expertise.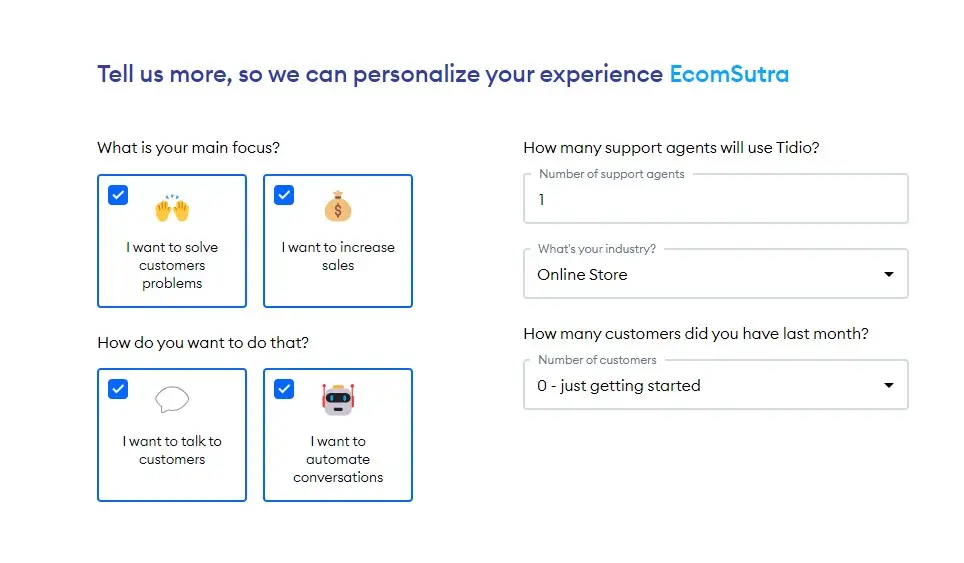 After completing the onboarding process, you will be taken to your dashboard, which serves as a control center for managing live chat, chatbots, and tickets. The dashboard's layout is logically structured, presenting key features and information in an organized manner.
Overall, Tidio shines in its ability to provide a highly user-friendly experience with an intuitive user interface, making it easier for both beginners and experienced users to set up and manage chats and customer support tickets.
Tidio Review: Key Features
Tidio is packed with powerful features, but here are the key features that we will be looking into –
Live chat
Chatbots
Ticket management
Multi-channel Communications
Analytics Reporting
1. Live Chat
Tidio's live chat feature excels in facilitating real-time communication between businesses and their website visitors. Through an inviting and customizable chat widget, visitors can initiate conversations with ease.
Getting started with Tidio's live chat is a seamless process. The platform's user-friendly onboarding guides users through setting up the chat widget, configuring triggers, and integrating the chat functionality into their website.
Beyond website interactions, Tidio's live chat extends to other communication Email, Facebook Messenger, and Instagram Messages. This integration consolidates customer interactions into a single dashboard, ensuring consistency and ease of management across multiple platforms.
While chatting, Tidio displays information like visitors' location, previous interactions, and purchase history, enabling agents to provide personalized responses.
Overall, Tidio provides a seamless experience for your customers to interact in real-time and enables your customer service agents to provide excellent support from its intuitive conversation panel.
2. Chatbots
Live chat is great, but if you want to provide 24/7 customer support, you will need chatbots. Tidio's chatbots are triggered conversation tool that enables you to provide automated responses to customers based on specific rules. You can customize them to increase sales, reduce cart abandonment, etc.
When you open the Chatbots section, you will see the recommended templates panel based on the information you provided during the onboarding process. Upon scrolling down, you will see many more chatbot templates that you can easily add to your website.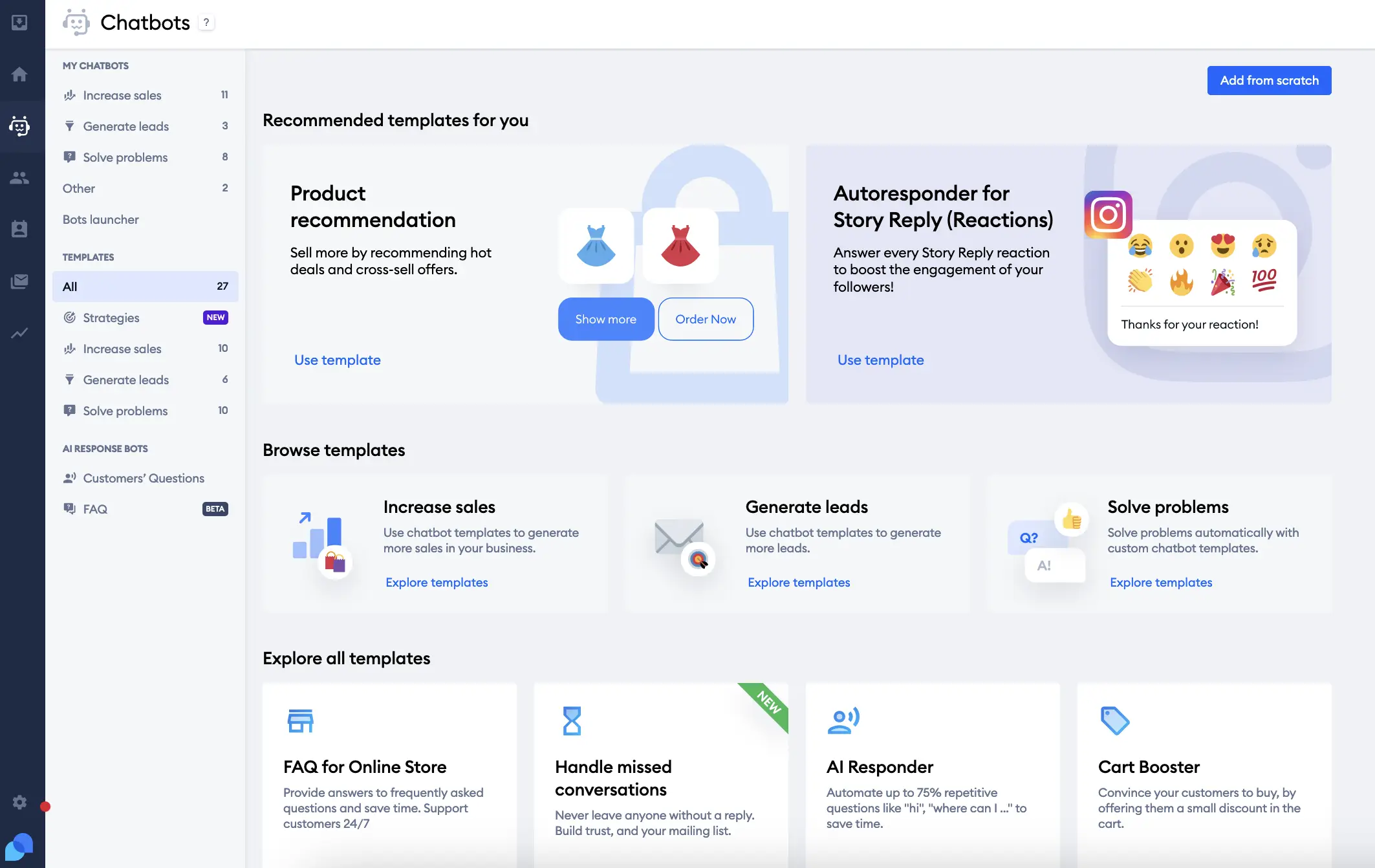 It also comes with a visual chatbot builder that you can use to easily customize the chatbots per your business requirements or even create new ones from scratch.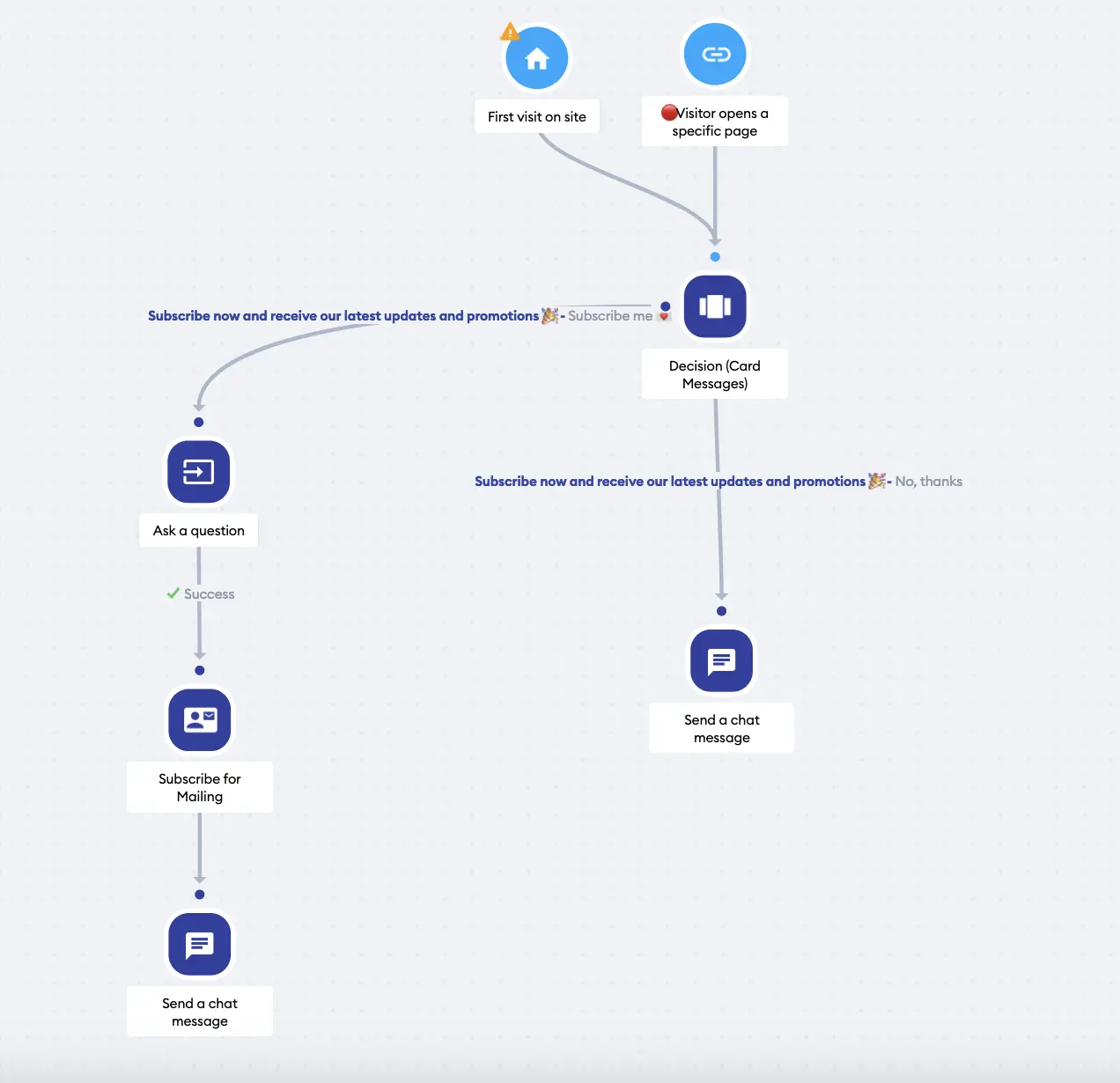 Overall, if you are handy with using visual page builder, and marketing automation tools, you can easily set up chatbots with your customized requirements. For beginners, it can be a bit challenging to understand the process.
3. AI Response Bot
Apart from visual chatbot builders, Tidio also provides an AI Response Bot called Lyro. It is an AI-powered chatbot that you can use to automate responses for some of the common questions.
It learns from your support content such as FAQs. You can either import these resources from your website or manually add questions and answers to educate Lyro about your business.
The best thing about Lyro is that it doesn't provide robotic responses. It works pretty much like ChatGPT. It tries to understand what a customer is asking and provides responses accordingly.
By enabling Lyro, you can enhance your customer support efficiency by avoiding common queries and free up your agents to deal with more complicated cases more quickly.
4. Ticket Management
Tidio's Ticketing System enables you to manage complex issues and long conversations efficiently by creating tickets and assigning others for special attention.
You can view Tickets from the Inbox section of the Tidio panel. It automatically creates tickets for every email support request and also allows you to create tickets manually.
While creating a ticket, you can specify the subject, add customer email, assign an agent to resolve the issue, set priority, and add a message for the internal team.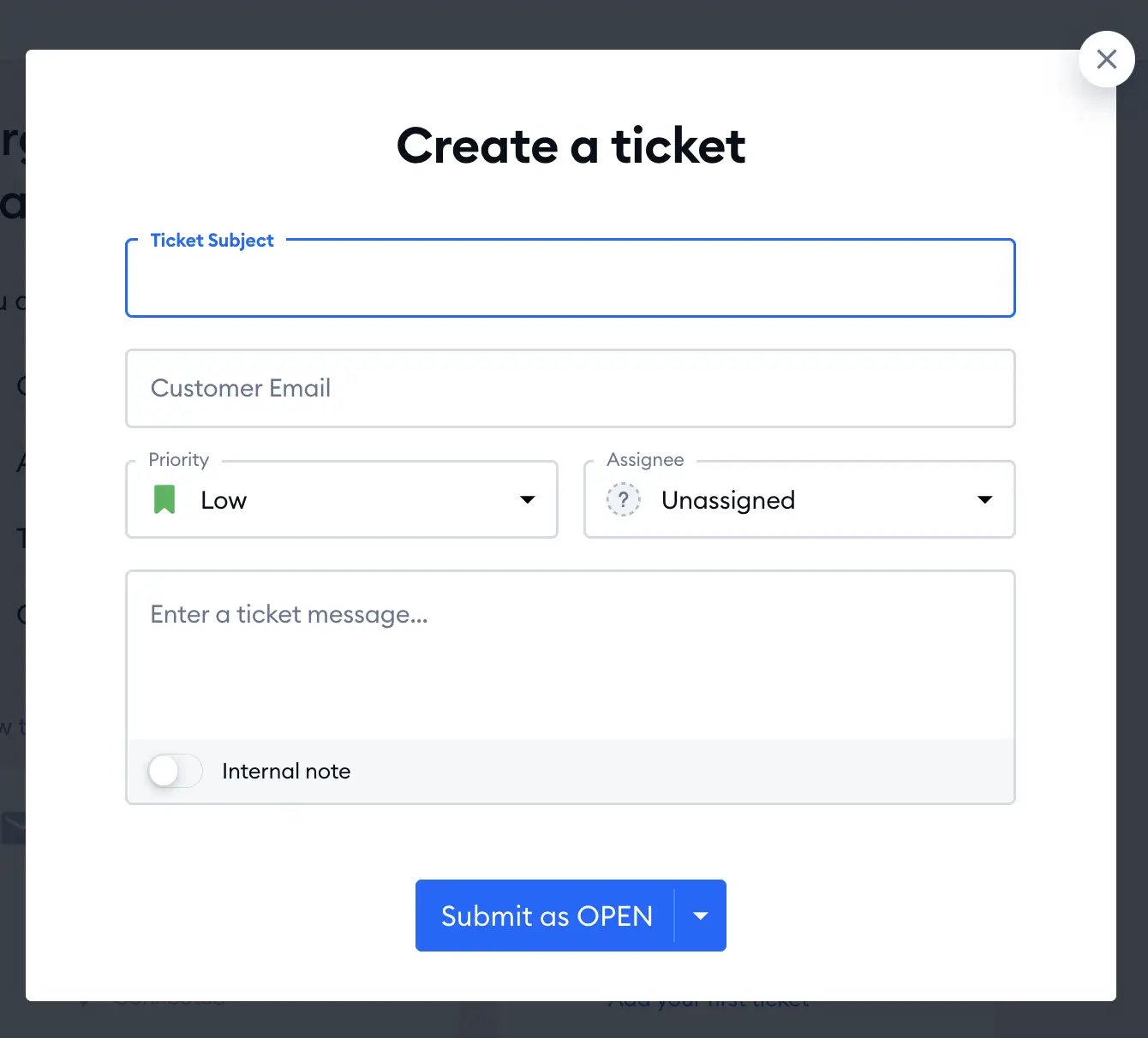 You can even allow customers to create a ticket themselves. This feature enables you to show your visitors a short message and encourage them to create a ticket directly from the Tidio widget.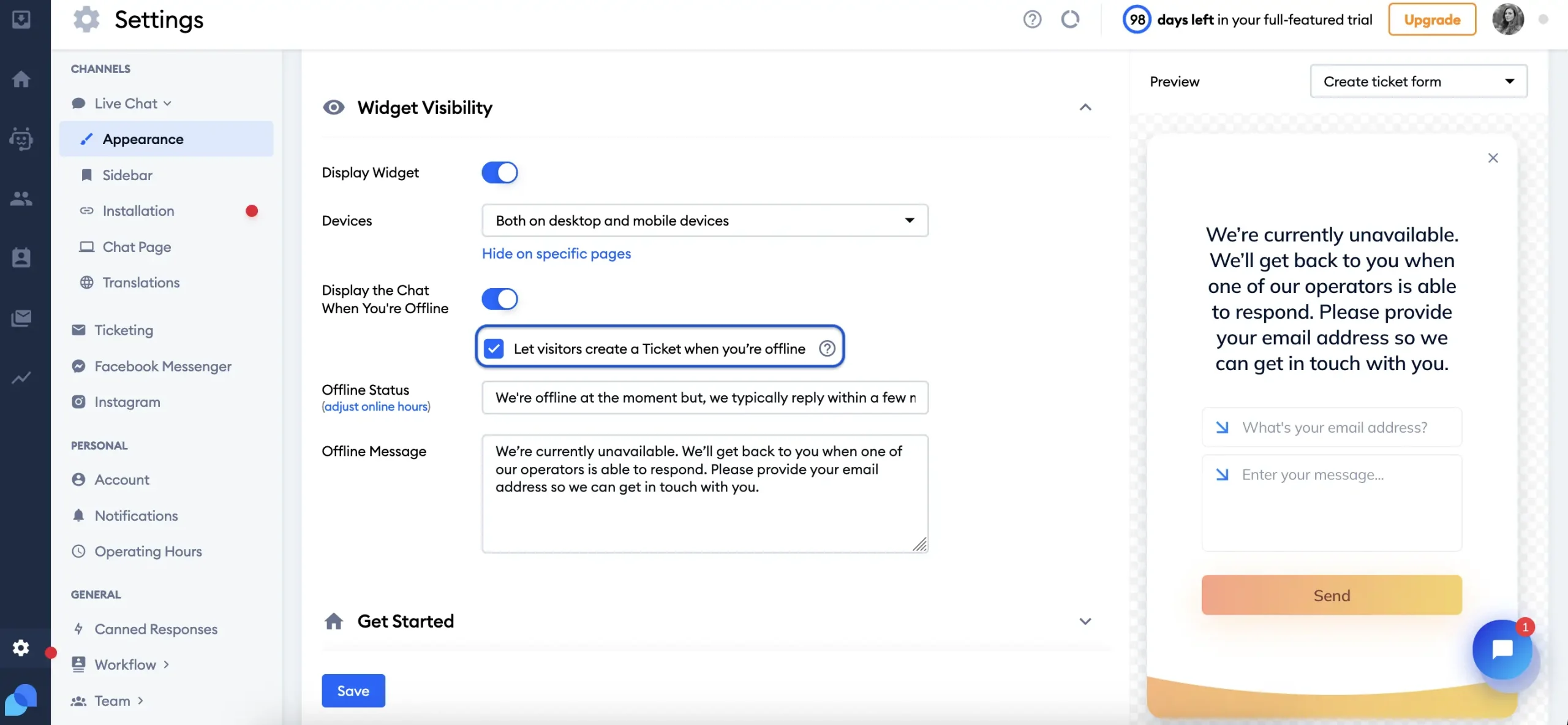 Overall, Tidio's ticketing system is good for small customer service teams. However, it lacks advanced automation features for ticket assignment, merging, and more that can make it easier for the customer support team to manage support requests and tickets.
5. Analytics Reporting
Tidio performs admirably as an analytics tool. Analytics is a feature that aids in measuring and improving your customer service and sales. You can monitor the effectiveness of your chatbots and live chat agents as well as conversion rates and client satisfaction levels.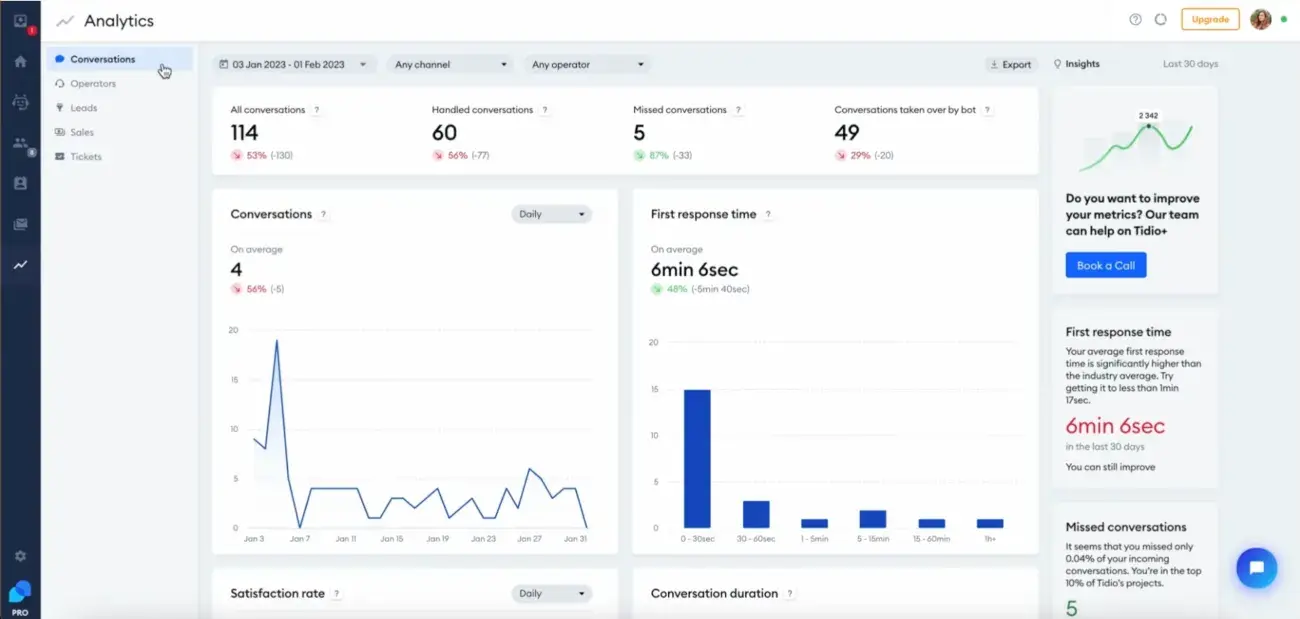 Additionally, it provides helpful recommendations on how to get ahead. Charts let you compare various metrics side by side and track their evolution over time, which may be used to improve your conversation strategy and boost ROI.
Tidio Review: Notable Integrations
Tidio's value proposition rests primarily on its integration capabilities, which let businesses consolidate communication, improve workflows, and improve customer interactions.
It equips you to build a unified and effective operational ecosystem by effortlessly integrating with a variety of platforms and technologies, which are as follows –
eCommerce Platforms – Tidio supports direct integration with all the popular eCommerce platforms like Shopify, WooCommerce, BigCommerce, Wix, etc. With such integration, Tidio's chatbots are able to automatically recommend products, update orders, and support customers with sales-related questions.
CRM Integration – If you want to use Tidio for lead generation, then with its integration with popular CRM platforms, the lead information that the chatbot obtains can be immediately synchronized with the CRM, ensuring a seamless transition from chatbot conversation to sales follow-up.
Third-Party Solutions – Tidio also provides seamless integration with email marketing software, analytics platforms, and help desk systems, to ensure smooth data flow and increase overall productivity.
Beyond these direct integrations, Tidio also offers API access to create custom integrations for a seamless flow of information throughout your tech stack.
Tidio Review: Pricing Plans
Tidio offers several distinct pricing tiers, all of which are very competitively priced. However, when you sign up, you will get a 7-day free trial with access to all its features.
Afterward, you can either opt to continue with the free plan or subscribe to one of the paid plans, which are as follows –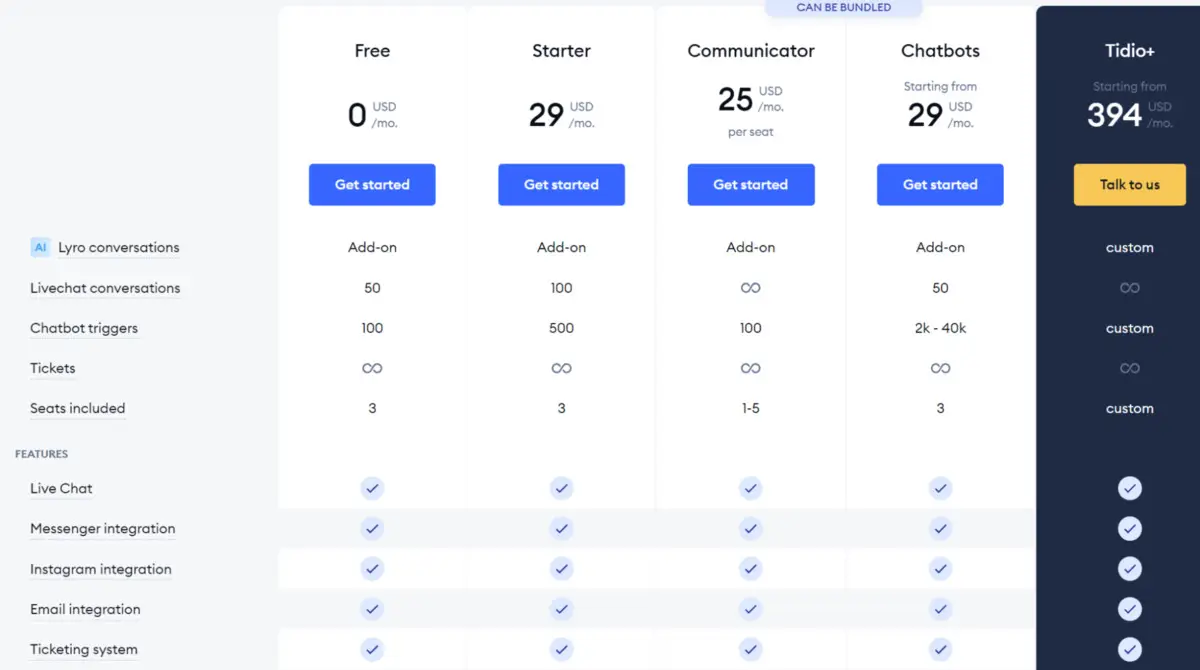 Free plan, $0/month – This plan is great for beginners, allowing up to 50 monthly live chats with access to all the basic features.
Starter plan, $29/month – With this package, you receive 500 chatbot triggers in addition to 100 live chat interactions.
Communicator plan, $25/month per seat – This subscription is ideal for small enterprises or online stores who desire Shopify integration, limitless live chat conversations, and customer team performance data.
Chatbots plan, $29/month – For businesses that prefer chatbots over live chat, this plan might be the right one. You will get access to all the pre-made chatbot templates which allows you to add 2K–40K chatbot triggers.
Tidio+ plan: Starting from $394/month – This plan is ideal for large-cap companies or corporations that require email marketing, multi-website support, and bespoke integrations.
The Lyro comes as an add-on that costs $39/month for up to 50 monthly conversations and goes up to $140/month for up to 200 monthly conversations. You can enable the addon with your free plan as well.
Tidio Review: Pros & Cons
Now that you know what Tidio has to offer, here are some general pros and cons of the platform that you must consider while making a decision.
Pros of Tidio –
Tidio is available to businesses of all sizes because of its simple setup procedure and integration choices.
Tidio provides a Free plan with necessary functionality, which shows affordability.
It offers an intuitive and user-friendly interface, making it easy for anyone to set up and manage conversations.
Lyro, a noteworthy feature of Tidio's AI chatbot, automates responses to client inquiries by gaining knowledge from FAQs.
It provides a mobile app for iOS & Android devices, allowing you to stay active on chat from anywhere while you are on the go.
The platform's analytics offer useful information about visitor behavior, response rates, and other topics.
Cons of Tidio –
It has limited customization options for the chat widget.
Tidio Lyro can be a bit pricey for small businesses.
The chatbot builder and other automation features might have a steeper learning curve for beginners
How to Set Up Tidio: Step-by-step Walkthrough
By now if you find Tidio useful for your business and want to set it up, let me walk you through the simple steps of setting up Tidio live chat and chatbots on your website.
Let's get started.
Step 1: Create your Tidio Account
In order to gear up with the installation, go to the Tidio website and hit the "Get Started" button to continue.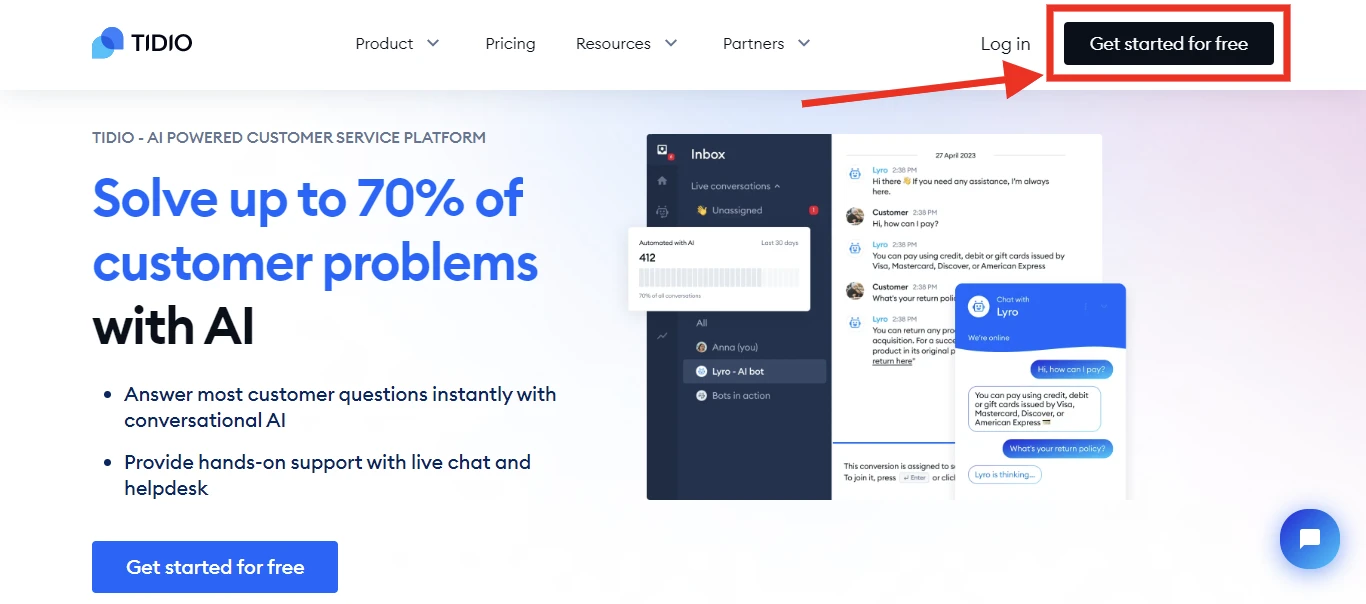 Afterward, you'll be redirected to the account registration page, where you will have to enter your email address, determine a password, and provide the URL of your website.
Following that, click on the "Get Started for Free" button to complete the signup process for your Tidio account.
Step 2: Configure your Live Chat
Next. you'll be prompted to customize your live chat widget. You can add Your Name, select a Color Scheme for your chat, upload an Avatar, and select a Language for live chat based on your customer's preference.
After that, click the Continue button to move forward.
A customizing window would then show up and ask you for some information regarding the nature of your company and the specific purposes you plan to use Tidio. Simply click the Continue button after choosing one of the choices.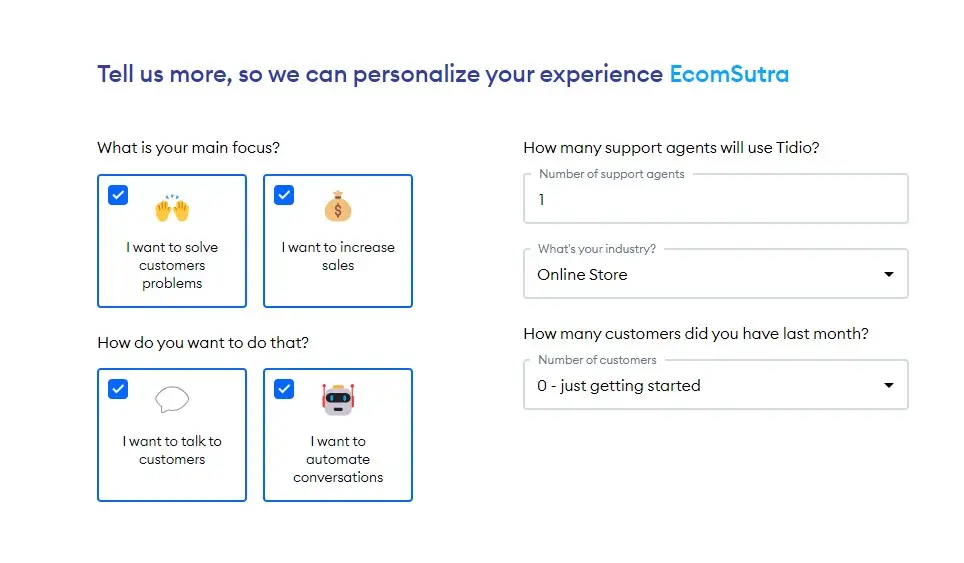 The aforementioned information will enable Tidio to get to know you and your business better so that adequate assistance can be provided for you in enhancing customer satisfaction levels.
Setting up your custom chatbot is the very next step. Your chatbot will simply ask you how you prefer to use it; you can choose any of the options listed below and click Continue.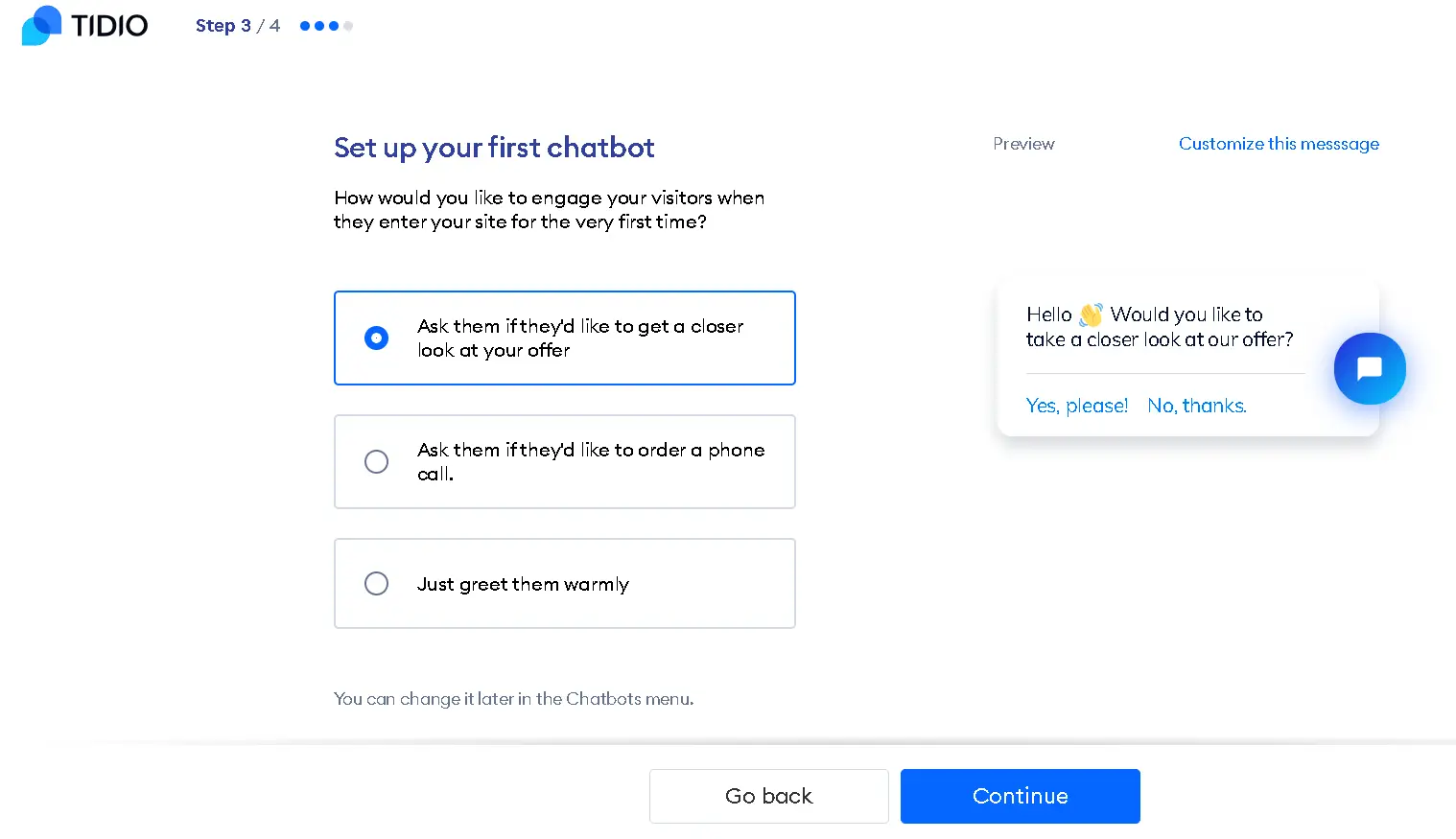 Rest assured that this can be readily modified in the Chatbots menu in the future.
Step 3: Install and Activate Tidio on Your Website
Tidio offers a JavaScript code snippet that you can add to your website's HTML code to activate the live chat widget on the site. However, if you are using any of the listed CMS platforms for your website, you can simply use its app or extension for seamless integration.
For instance, if you're using Shopify, Tidio provides an app for easy integration. Similarly, you can find apps or extensions for WordPress, BigCommerce, Magento, and other platforms in their respective marketplaces for direct integration.
Once you're all done by adding up the code snippet or integrating the plugin, just mark save the changes and simply activate Tidio on your website.
Now, the Tidio is successfully Installed and Activated on your website. Just hit the Continue button after you're done to move further setup.
Step 5: Set Up Automation & Responses
Afterward, you'll be directed to your Tidio dashboard where you'll see a short checklist of things you can do to set up Tidio for your website. The checklist includes —
Adding a Widget to your website, which we just covered in the last step.
The very next step is to test your live chat by starting your first conversation. You can start a test chat with yourself to initiate the conversation by clicking the Simulate Conversation button on the right.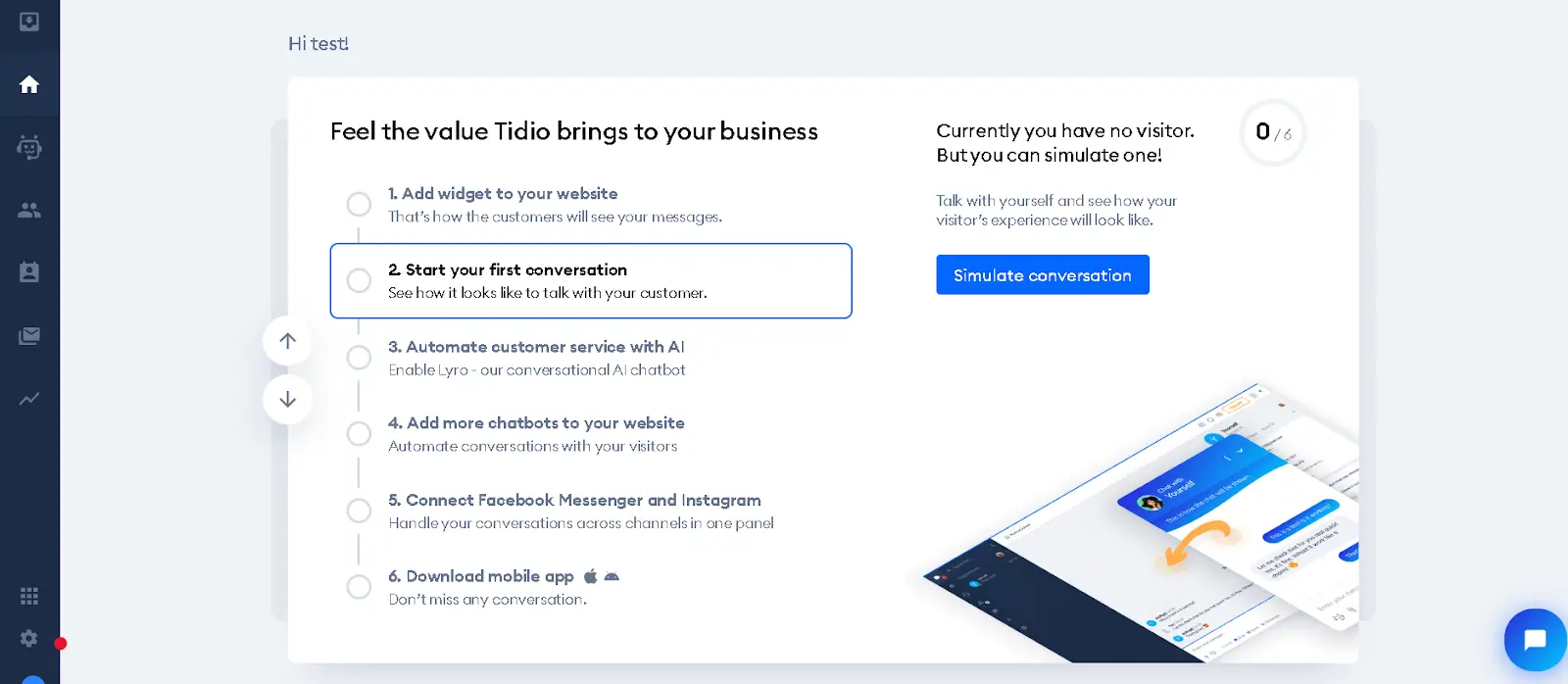 The third step involves the automation of your AI chatbot Lyro. You need to enable the Lyro right from here, an AI-powered powerful chatbot. This would help you assist your customers in a better way and offer automated responses based on your support content.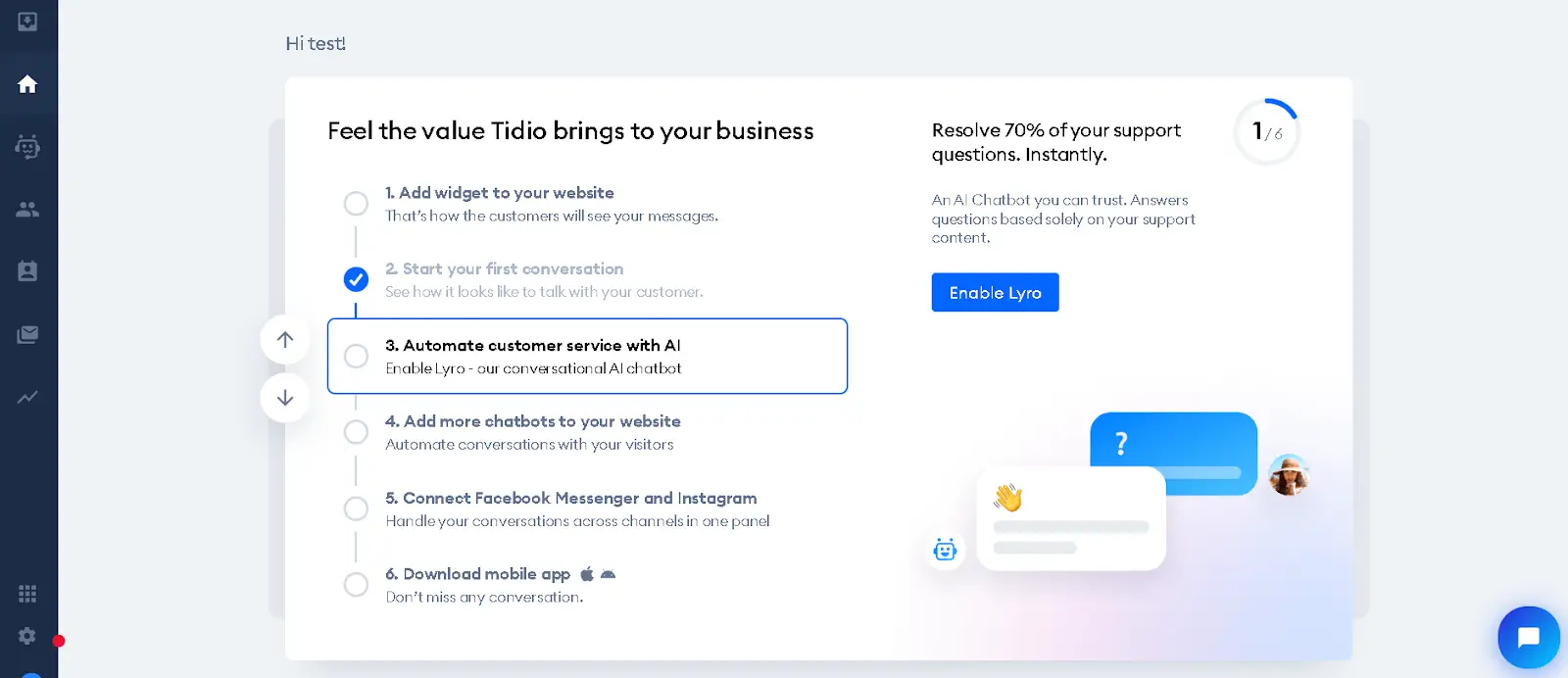 To enable Lyro just hit on the Enable Lyro option on the right and proceed further with the Lyro setup by adding a knowledge base, testing the chatbot, and reviewing the analytics available with Lyro.
Next, add more Chatbots to your website. This would help your customers resolve their frequent queries without human intervention or when you're not around to respond.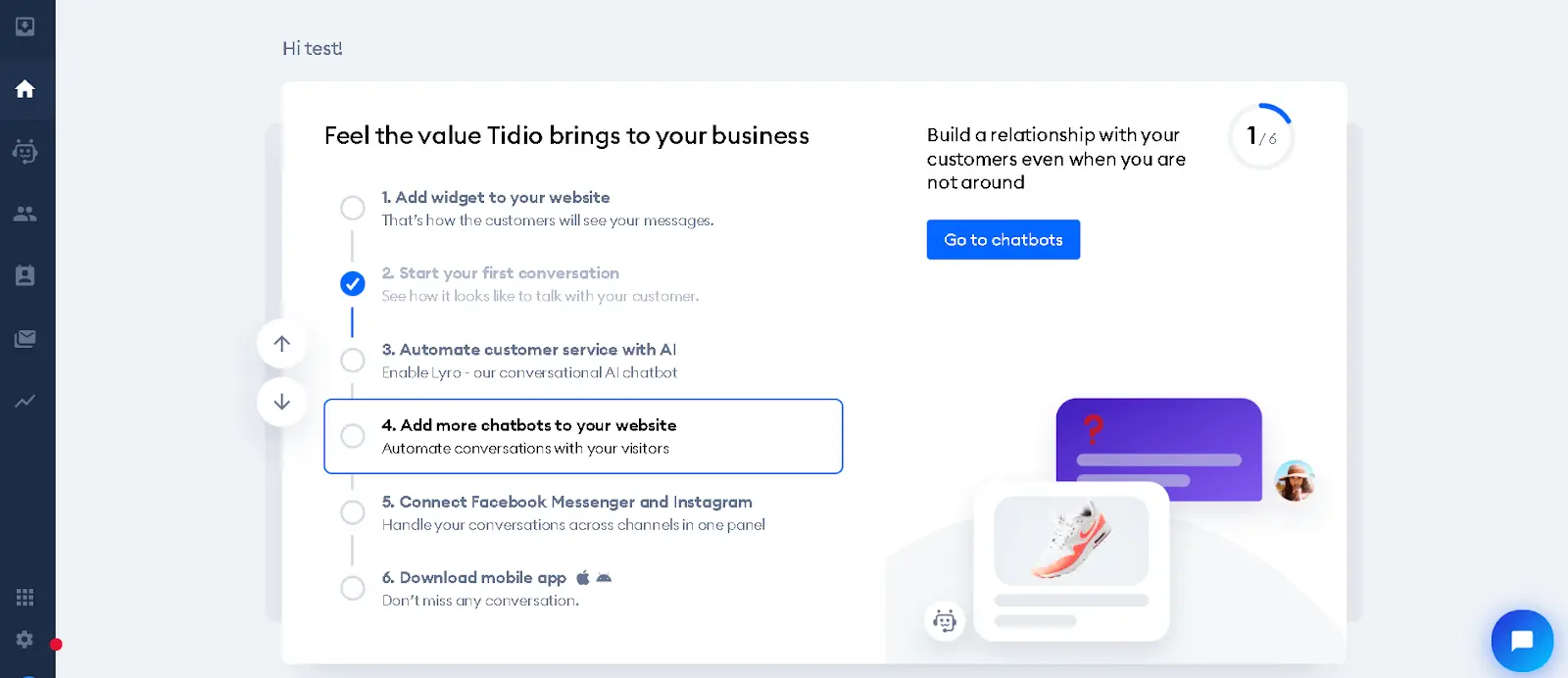 For this, you just need to click on Go to Chatbots, and there you will see various chatbot templates for increasing sales, generating leads, solving problems, and more. You can open the templates by clicking on the Customize & Add button to edit the text messages sent to your website visitors.
After that, a Social Integration setup is available, You can opt for social integrations from the given list on the right to initiate social conversation with your customers too.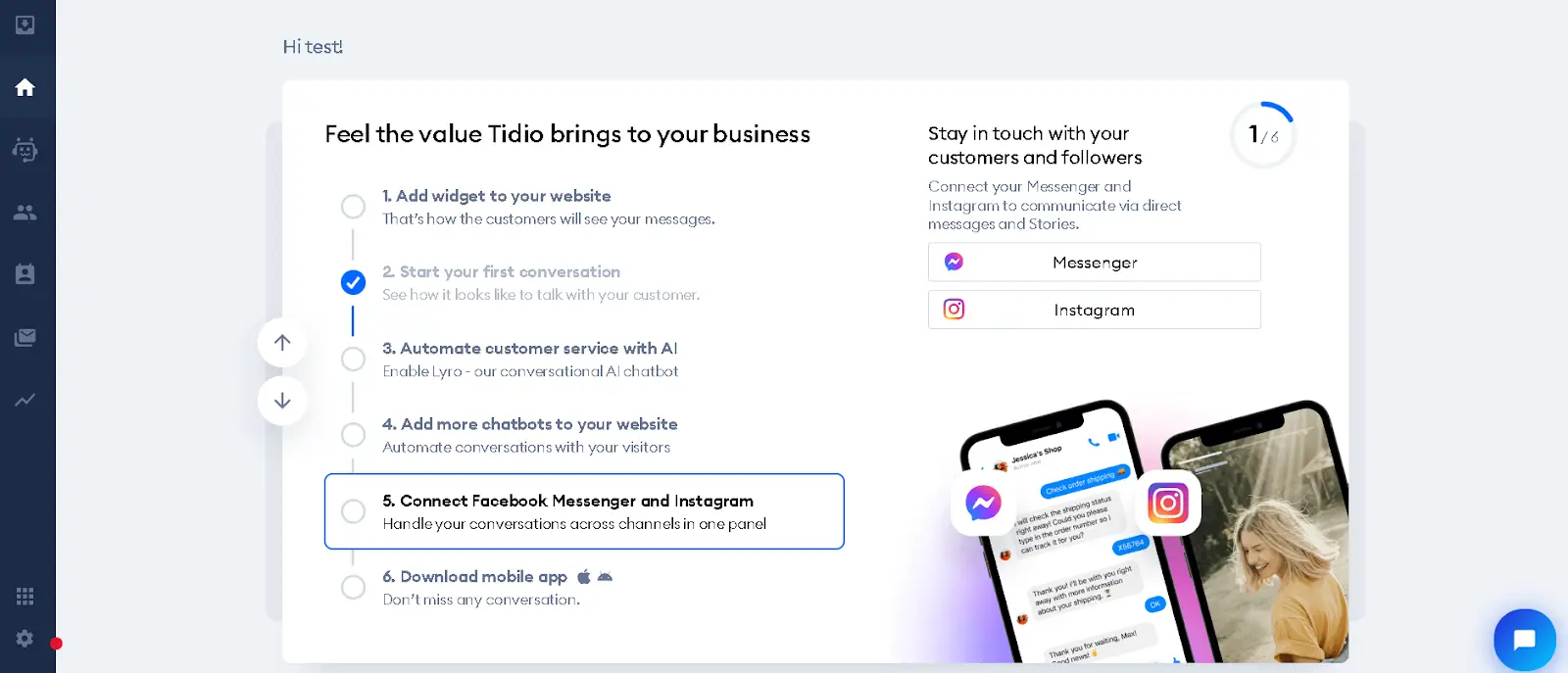 The very last step proposes you Install the Mobile App for the Tidio mobile version and stay updated on each and every conversation utilizing your mobile device too.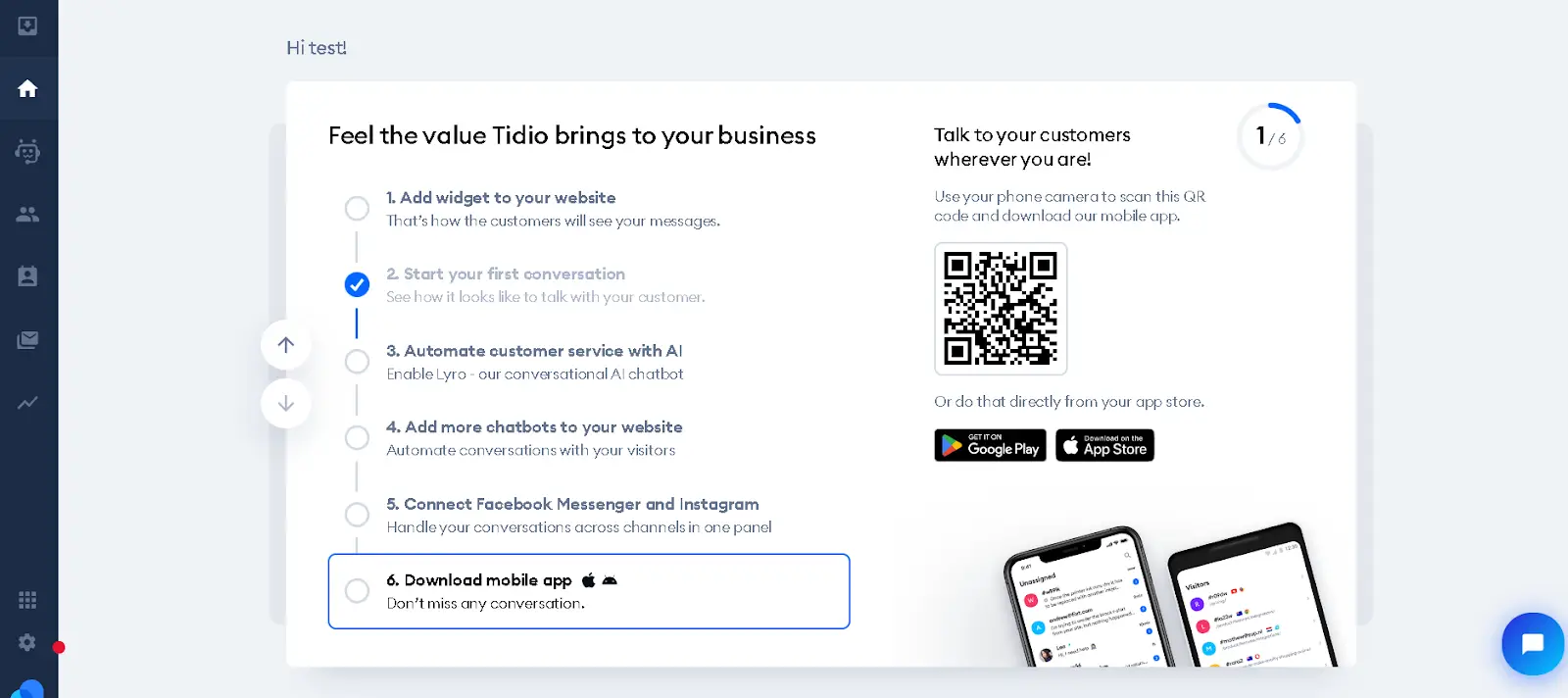 This step is purely optional, you can install the app or just proceed further.
Lastly—Explore Features and Integrations
Now, it's time you can move within the Tidio Dashboard, and simply explore the Tidio features available there.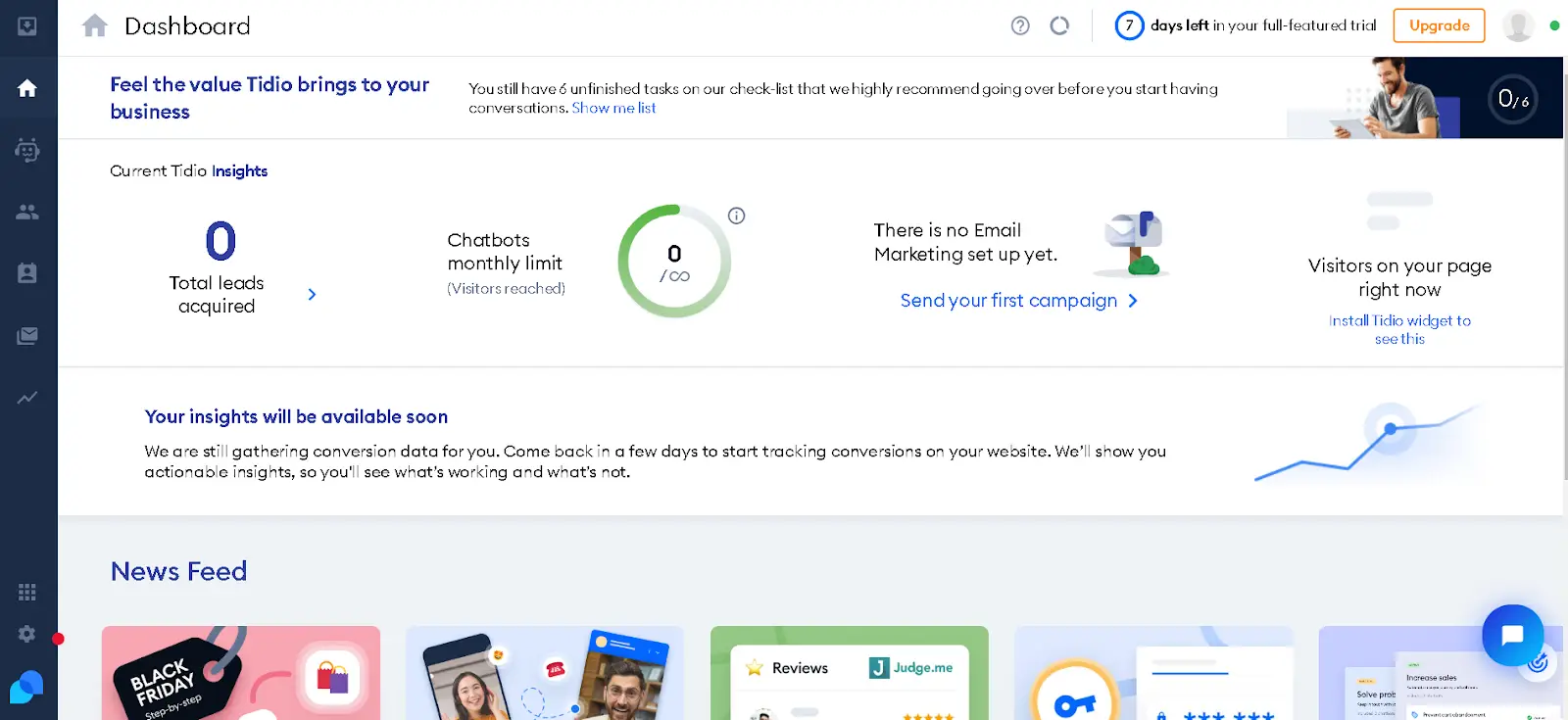 Get acquainted with the various capabilities Tidio provides, such as visitor tracking, email integration, and chatbots.
In order to meet the demands of your company, you may also modify the behavior, display choices, and other features of your chat widget. Don't forget to test your website's chat widget to make sure it is working properly and whether it seems as you would like.
All right, that wraps up a brief introduction of Tidio and its features. You can quickly choose to install the Free version of Tidio, which is always available.
That's all for a quick setup of Tidio and its features. You can easily opt for a Free version available anytime, set up, and try your hands on Tidio for 7 days.
Final Verdict – Is Tidio Worth It?
Bottom line, if you are looking for an affordable live chat and chatbot tool to help you with customer service and automate customer engagement to boost sales from your website, Tidio would be the perfect choice for you.
It also supports direct integration with popular business tools and platforms. So, irrespective of your tech stack, you might be able to incorporate Tidio into your customer service system.
I hope this article gave you an overview of Tidio and helped you determine if it is the right platform for your business. If you have any questions or need help with setting up Tidio, feel free to tweet us @ecomsutra.