Landing pages are important elements of any successful online marketing campaign because this is where your target audience converts into leads or customers.
And to ensure that you get a higher conversion rate, you'll need a robust landing page builder that enables you to design and create high-converting landing pages.
Unbounce is one such landing page builder software available in the market. And, in this article, I'll be doing a complete review of Unbounce by critically examining its features, pricing, pros & cons, etc., from my own experience of using it for quite a while.
By the end of this review, you'll be able to decide if Unbounce is the right fit for your business.
Geared up? Let's get started.
What is Unbounce?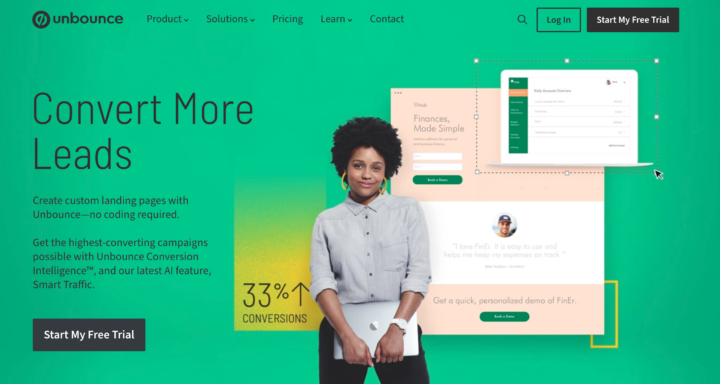 Unbounce is a leading landing page builder software that enables you to create beautiful, responsive, and high-converting landing pages.
The best thing about using Unbounce is that you don't have to be a skilled designer or coder to design the pages – you just have to drag and drop the elements to add to the page.
Besides landing page builder, Unbounce provides other essential conversion optimization features like popup & sticky bar builder.
In this review, I'll break down all of its features and everything you need to know about Unbounce to make your decision. If you want to explore the tool along with reading this review, you can sign up with the link below, and you'll get a 14-day free trial.
With that being said, let's explore the features of Unbounce, which lets you determine if it is the right landing builder tool for your business
Unbounce Review: Key Features
Unbounce comes with plenty of powerful designing and conversion optimization tools that empower you to generate more leads and get better ROI on your marketing budget.
In this review, we will look into the following features that the platform has to offer –
Landing Pages
Accelerated Mobile Pages
Dynamic text replacement
Popups and sticky bars
A/B Testing
Smart Traffic
Reports and Analytics
1. Landing Page Builder
In the first instance, the Unbounce page builder may seem overwhelming with so many elements and features displayed on the screen. But as you explore and get hold of it, it will be very easy to use.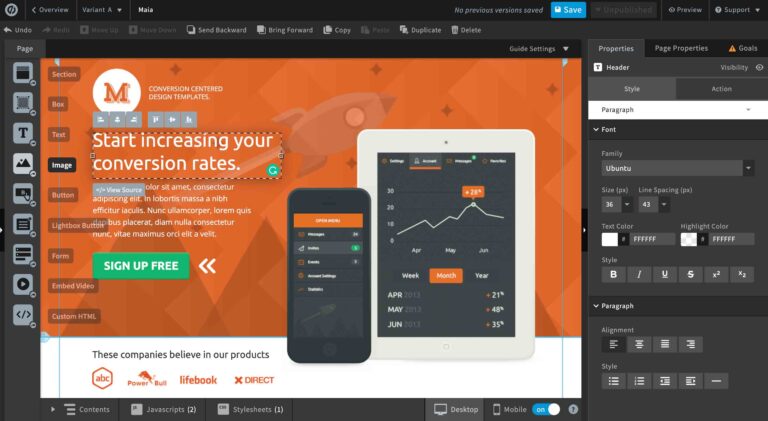 Unbounce provides you with a very flexible drag-and-drop page builder using which you can add text, buttons, images, videos, and forms easily. You just have to pick an element from the left sidebar and drag it onto the page.
Further, each element you add to the page can be customized from the properties tab available in the right sidebar. You can add links, adjust the font size, text color, image resolution, boundary, and many more.
To make your life easier by designing the pages from scratch, Unbounce provides 100+ stunning and customizable templates for different marketing roles like lead generation, coming soon pages, webinar registration, ebook downloads, etc.
Besides these templates, you can also download templates from ThemeForest Marketplace, giving you an additional advantage over other landing page builders.
In the right sidebar, you have a page properties tab that allows you to optimize your landing page for search engine visibility. You can hide the page from search engines or add SEO titles and metadata to make it rank higher on SERPs.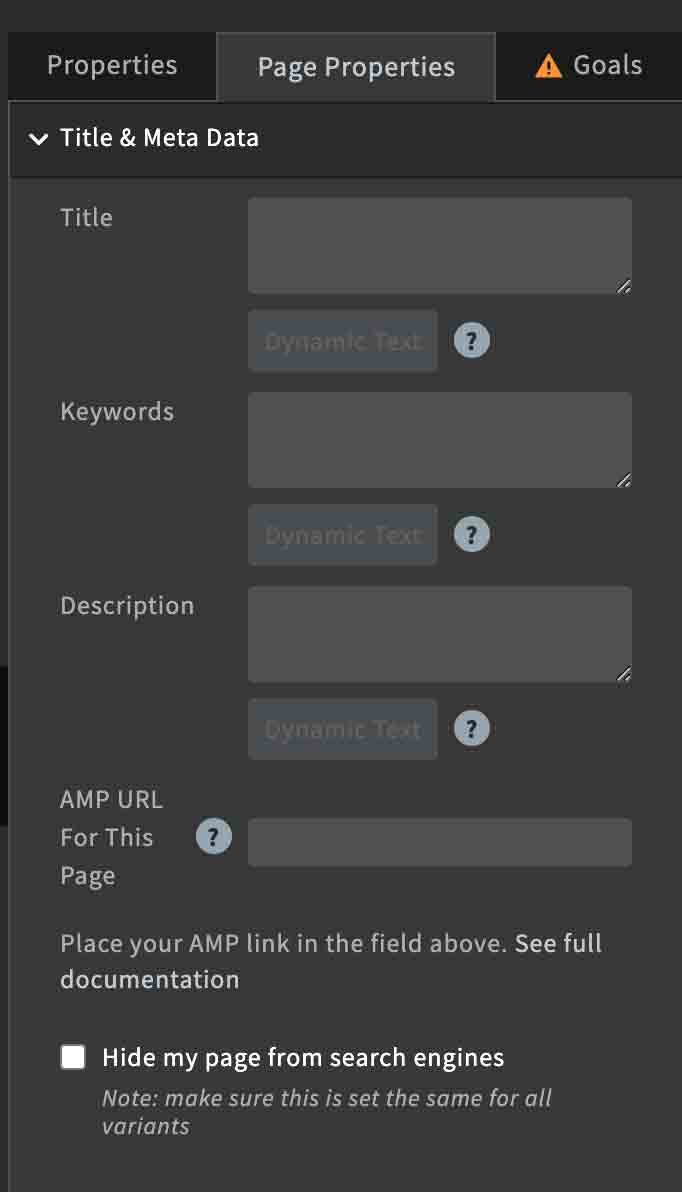 With all the essential features, the Unbounce page builder is exceedingly powerful yet easy enough for anyone to design a compelling landing page.
2. Accelerated Mobile Pages
Unbounce has recently introduced the Accelerated Mobile Page builder, which lets you design landing pages that load more swiftly on mobile devices than standard pages.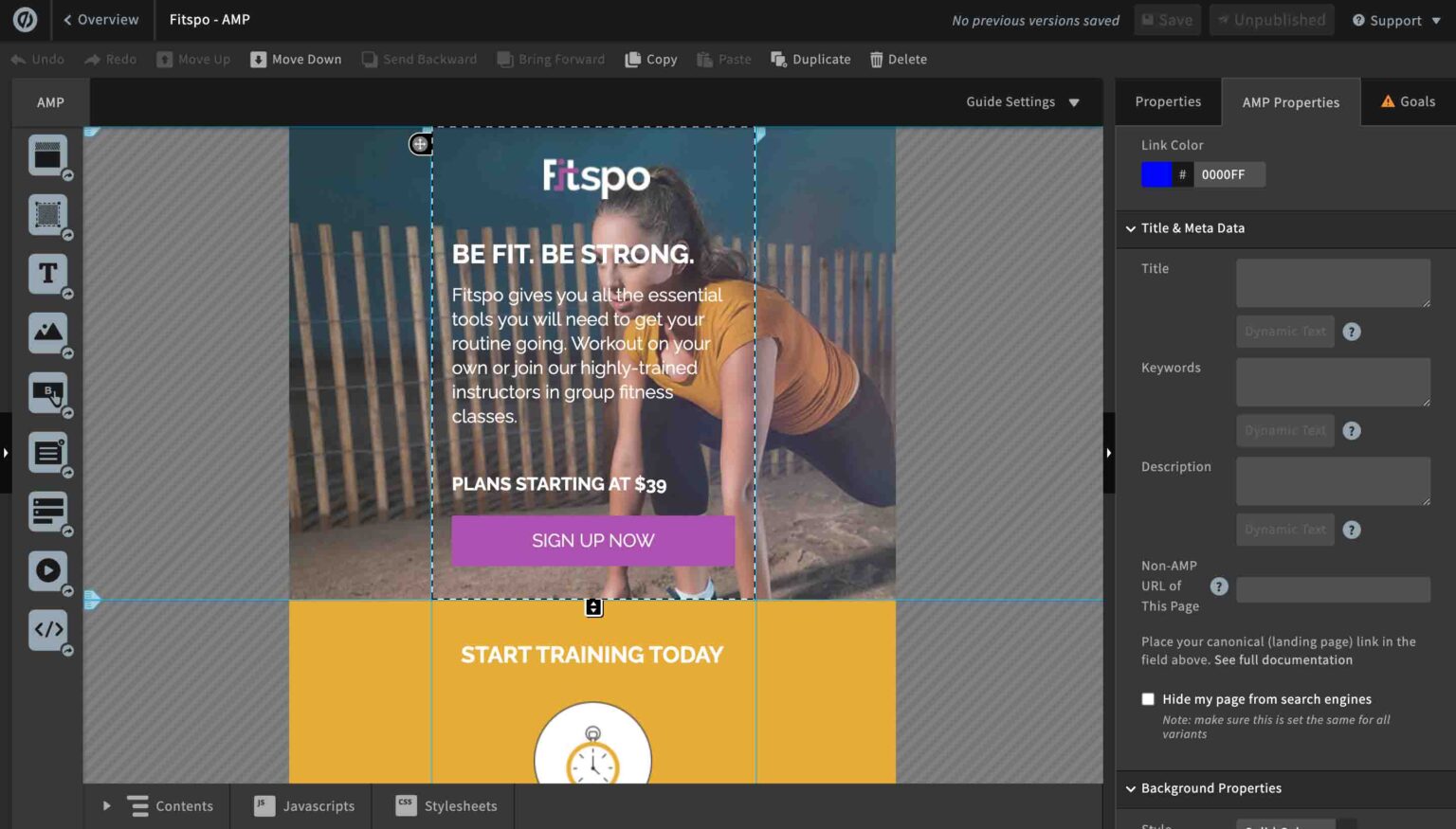 Accelerate Mobile Pages, or AMP pages, use a specialized HTML framework that helps your content load nearly instantly. In simple words, AMP pages load 5 times faster than the standard pages.
With such a faster loading speed, you tend to provide a better user experience to your target audience and thus generate more conversions from the page.
Like the standard landing page builder, Unbounce provides 15+ pre-made AMP templates that you can easily customize as per your business needs.
3. Dynamic Text Replacement
Personalization is a crucial element of a landing page for a higher conversion rate, and Unbounce enables you to add personalization to your landing page copy using dynamic text replacement.
Dynamic text replacement boosts the relevancy of landing pages for each individual by replacing the page copy with relevant text based on the URL parameter.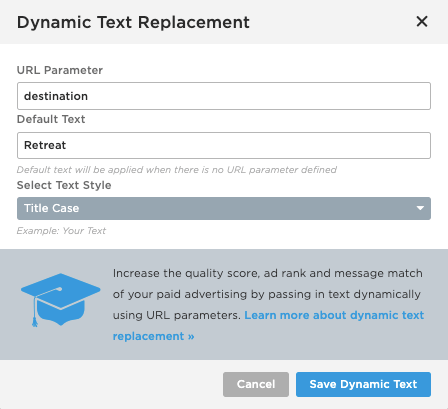 You can add the dynamic text in three different locations on your landing page:
Title, Keywords, and Description
Landing Page Copy
Buttons
It is a powerful conversion optimization feature for landing pages as it allows you to match your PPC ad copy with the landing page copy based on searchers' interaction that boosts the relevancy of the page and thus the conversion.
4. Pop-ups and Sticky Bars
With Unbounce, you will not need any third-party tool to create pop-ups and Sticky bars for your existing website.
It provides a drag-and-drop builder to create and customize the pre-built templates as per your needs. The editing interface is easy to use, and it provides a mobile layout assistant that readily modifies the pop-ups and bars to fit correctly for the mobile display.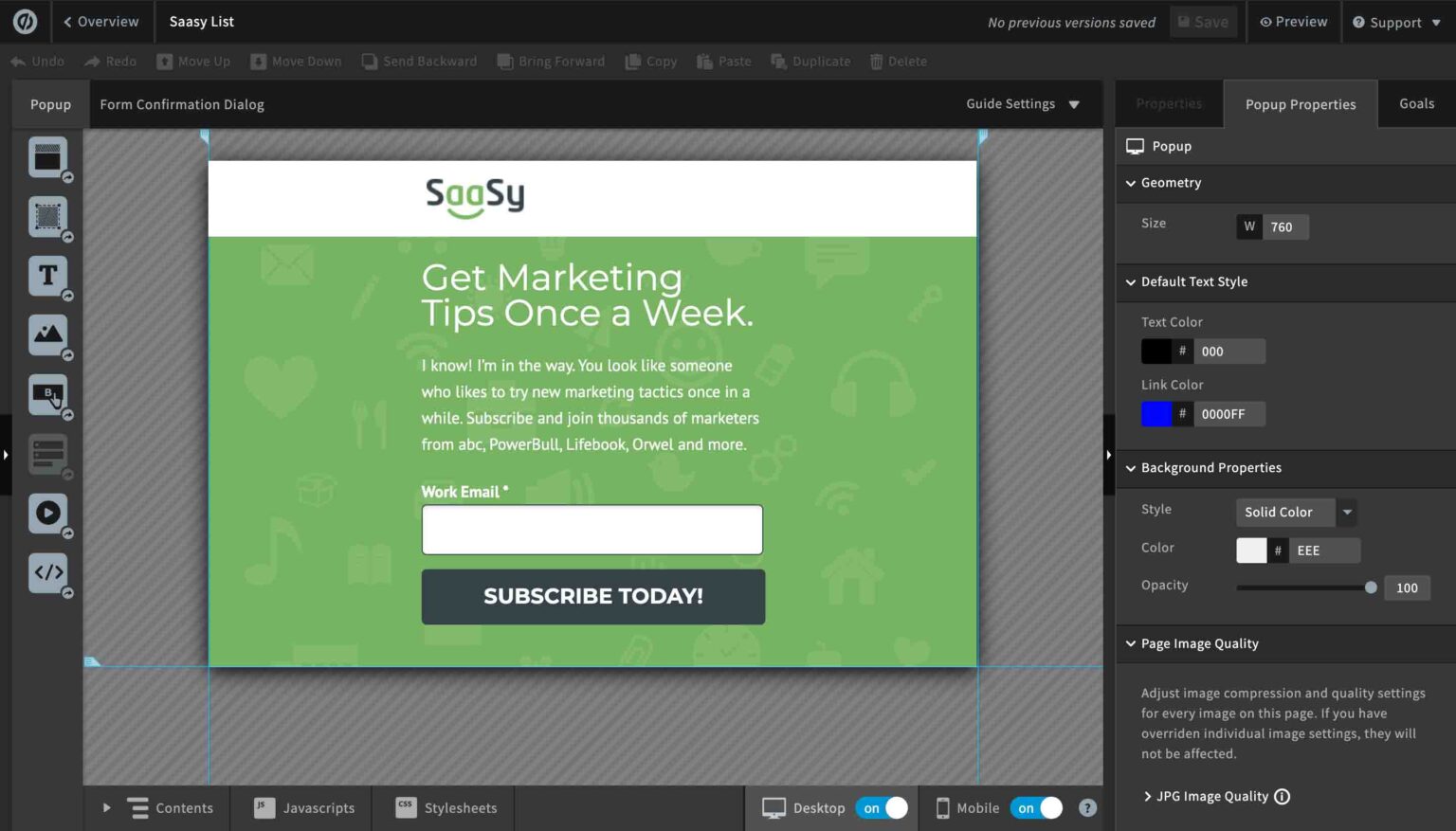 Additionally, Unbounce lets you provide a personalized experience to the visitors by displaying unique pop-ups and bars using its robust targeting options like –
URL Targeting – You can place the popup on your website, including Unbounce landing pages.
Triggering Options – You can choose when the popup/bar should appear based on the page visited, delay, exit intent, page scroll, or clicks.
Frequency – You can choose how often popups/bars should be displayed to your visitors. However, it will stop displaying the popup to the converted visitors.
Advanced Targeting – You can choose to show the popups/bars based on visitors' geographic location, cookies, and arrival from specific URLs (Referral), and schedule the start and end date.
Pop-ups and sticky bars have proven to be one of the best ways to convert website traffic into leads. So, leverage it and improve your website conversion rate like never before.
5. A/B Testing
A/B testing is an important feature offered by Unbounce that allows you to test different versions of landing pages and sticky bars.
You can create variants by duplicating existing ones, starting from scratch, or choosing different templates. Once you have multiple variations of the landing page or sticky bar, you have to assign the percentage of visitors to the original and variations.
And as the campaign starts, the data for individual variations are displayed in the A/B test center. After having conclusive data, you can decide which version works the best and deploy it on 100% of the traffic.
The A/B testing feature is a savior for marketers as it allows them to test different ideas and pick the best performing based on data – no bias! 
6. Smart Traffic
Smart traffic is an AI-powered algorithm that delivers the most relevant landing page variant to the visitors where they are most likely to convert.
As I repeatedly say, personalization in marketing communication is vital for any business to grow- Unbounce Smart Traffic helps you move in that direction.
Once you activate it, it starts learning what version of the page is most likely to convert different visitors based on their attributes like traffic source, keywords, device, etc.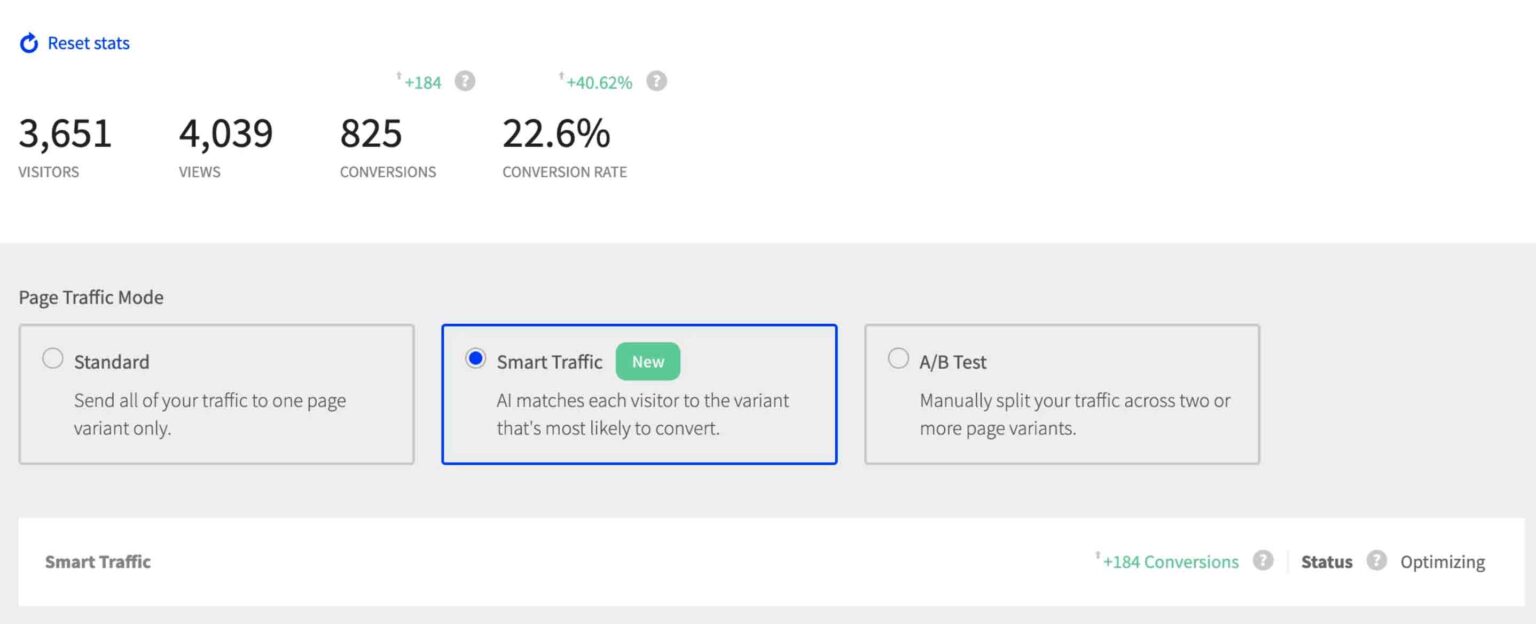 The best part of using Unbounce Smart Traffic is that you won't have to wait for weeks to collect data and optimize your campaigns for better conversion – it starts optimizing as soon as it has enough data to get started.
Smart Traffic is a unique and powerful conversion optimization tool that can enhance your marketing performance and increase your revenue.
6. Reports & Analytics
Unbounce provides all the essential data on how your landing page, popups, and sticky bars are performing. The reports include –
Number of visitors
Number of views
Number of conversions
Conversion Rate
You can view these reports by clicking on the respective pages, popups, and bars. Here's how it displays reports for a landing page –

At the time of writing this, Unbounce doesn't allow you to download reports – you can only view them. However, if you need to share the reports, you can add users with "View only" access so that they can view the stats and preview pages but cannot make changes.
Reporting and Analytics of Unbounce are very basic. I think a dedicated section with a reporting tab would be a better way to display insights for each domain and the assets under them.
Unbounce Review: Integrations
In online marketing, you have to use multiple tools and software to streamline the entire customer journey within the company ecosystem. That's why, whichever tool you pick, ensure that it can integrate with your existing tools.
However, with Unbounce, you don't have to worry about that. It offers a wide range of integrations – both in-app and Zapier compatible.
Since Unbounce is a landing page builder the primary objective of using it is for lead generation, right?
The Unbounce team understands this; that's why they provide seamless in-app integration with major CRM and email marketing software.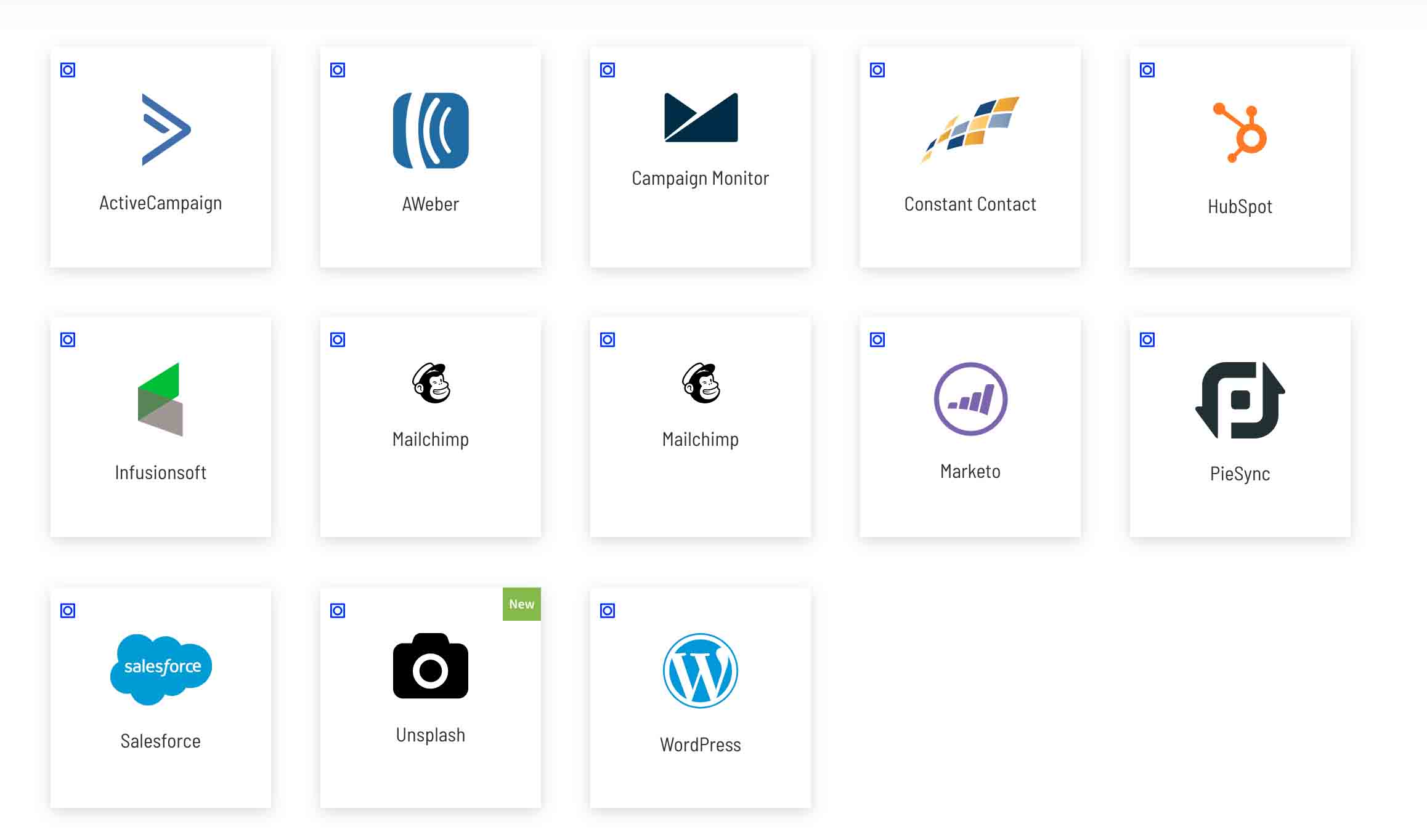 Additionally, there are other third-party tools that provide Unbounce integration from their side. Some of them are LiveChat, Outgrow, Hotjar, Crazyegg, and many more.
Unbounce provides a wide range of integration capabilities. However, I hope the list of in-app integration tools keeps increasing as most small businesses can't afford to invest in tools like Zapier and Automate.io
Unbounce Review: Pricing Plans
Unbounce offers four pricing levels that let you grow your business at every stage: Launch, Optimize, Accelerate, and Scale.
The pricing plan entirely depends on the number of conversions, unique visitors, and few advanced features. So you need to pick the plan that matches your lead generation goals as per conversions.
Here's the breakdown of each plan based on conversions and the number of unique visitors allowed –
The Launch plan starts at $99/month, allowing up to 500 conversions and 20,000 unique visitors.
The Optimize plan starts at $1445/month, allowing up to 1000 conversions and 30,000 unique visitors.
The Accelerate plan starts at $240/month, allowing up to 2500 conversions and 40,000 unique visitors.
The Concierge plan starts at $625/month, which allows more than 5000 conversions and 50,000 unique visitors.
Despite the limitation on the number of lead generation and traffic, what I love about the Unbounce pricing model is that you can create unlimited landing pages, popups, and sticky bars – complete freedom to create and experiment with copy and layouts.
Unbounce Review: Pros & Cons
Now that you know what Unbounce offers and its capabilities, let's see what makes Unbounce stand out in the market and where it needs improvement.
Pros of Unbounce –
Easy to use
User-friendly drag-and-drop builder
100% mobile responsive
100+ customizable templates for pages, popups, and sticky bars
Powerful conversion optimization tools – Smart traffic & A/B testing
Customer support available via chat
Plenty of self-help documentation is available in the Help Center
Cons of Unbounce –
Limited conversions and traffic could be a deal-breaker
Customer support is limited to business hours
Reporting and analytics could be better
Limited in-app integrations
Final Verdict: Is Unbounce the right landing page builder for you?
Unbounce is truly an amazing landing page builder software that provides one of the most powerful and flexible page builders. I have used several landing page builders and it is certainly one of the best platforms to design beautiful and high-converting landing pages.
To sum up, if you are looking for a landing page builder that gives you complete freedom over the design of your landing pages, Unbounce is highly recommended for you.
If you have already made your decision and want to go ahead with Unbounce, then you can use our Unbounce Discount Coupon to get 20% off on all plans for the first three months. 
I hope this review helped you take a call on whether Unbounce is the best page builder for your team or not. If you want to look for other alternatives, you may want to check our best Unbounce alternatives. Thank you!