Shopify is one of the best eCommerce website builders packed with every features and tools you need to build an online store. However, one thing where it lacks is with the customization flexibility for store design.
Although, with Shopify OS 2.0, they have introduced a drag-and-drop theme editor, it doesn't offer much editing and customization options. Moreover, you can't create additional pages like landing pages using that theme editor.
This is where you need a page builder app that allows you to customize store pages and enable you to add new pages without writing codes. EComposer is one such Shopify page builder that you can use to design your entire Shopify store.
But the question is – Is EComposer the best page builder app for you?
In this article, we will dive deep into every aspect of EComposer to understand the features it offers and how it can be helpful in building a Shopify store.
If you are ready, let's get started.
What is EComposer?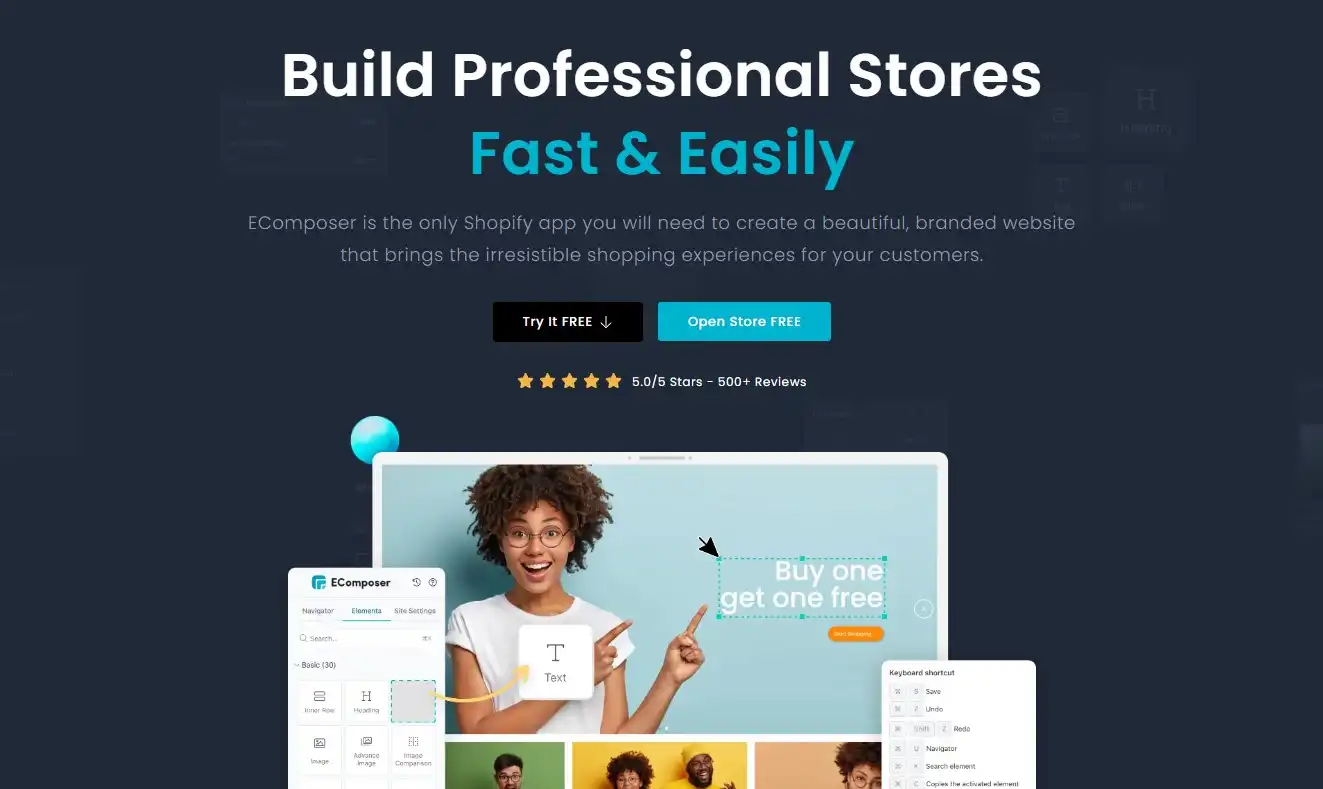 EComposer is the latest Shopify page builder app that is getting the attention of merchants rapidly. It is a drag-and-drop page builder app that lets you create any kind of pages on your Shopify store without writing a single line of code.
It is packed with 80+ professionally-designed pages templates for every types. You just have to install the app, select a templates and customize it per your requirements. You can also use its 190+ section layouts, design element presets that keep adding up.
The best part is it is compatible with almost every Shopify themes and apps, which makes it more effective in designing conversion-friendly pages. It also provides SEO options to optimize the store pages for higher rankings on search results.
We will explore everything the next section. But if you want to explore the app yourself while reading this article, you can use the button below to sign up to try it for free (no credit card required).
EComposer Review: Key Features
Now, in this section, I will breakdown the key features of EComposer to determine if the features offer everything you need from a page builder app.
Here are features, we we will look into –
Visual page builder
Design & Customization
Section layouts and elements
Global fonts and colors
SEO and Speed performance
1. Visual Page Builder
The most important part of a page builder app is how easy it is to use – you don't want an app that is not user-friendly with lots of technical elements that may go over your head. EComposer understand this and thus provides an intuitive user interface with a powerful page builder that is easy to use and hassle free for anyone to design their store.
With its live drag-and-drop editor, you can visualize what your page will look like and preview it in real-time. You just have to click the "Preview" button, and you will see how the pages page will appear to visitors. Once you are done, you can publish it to make it live or as save as draft.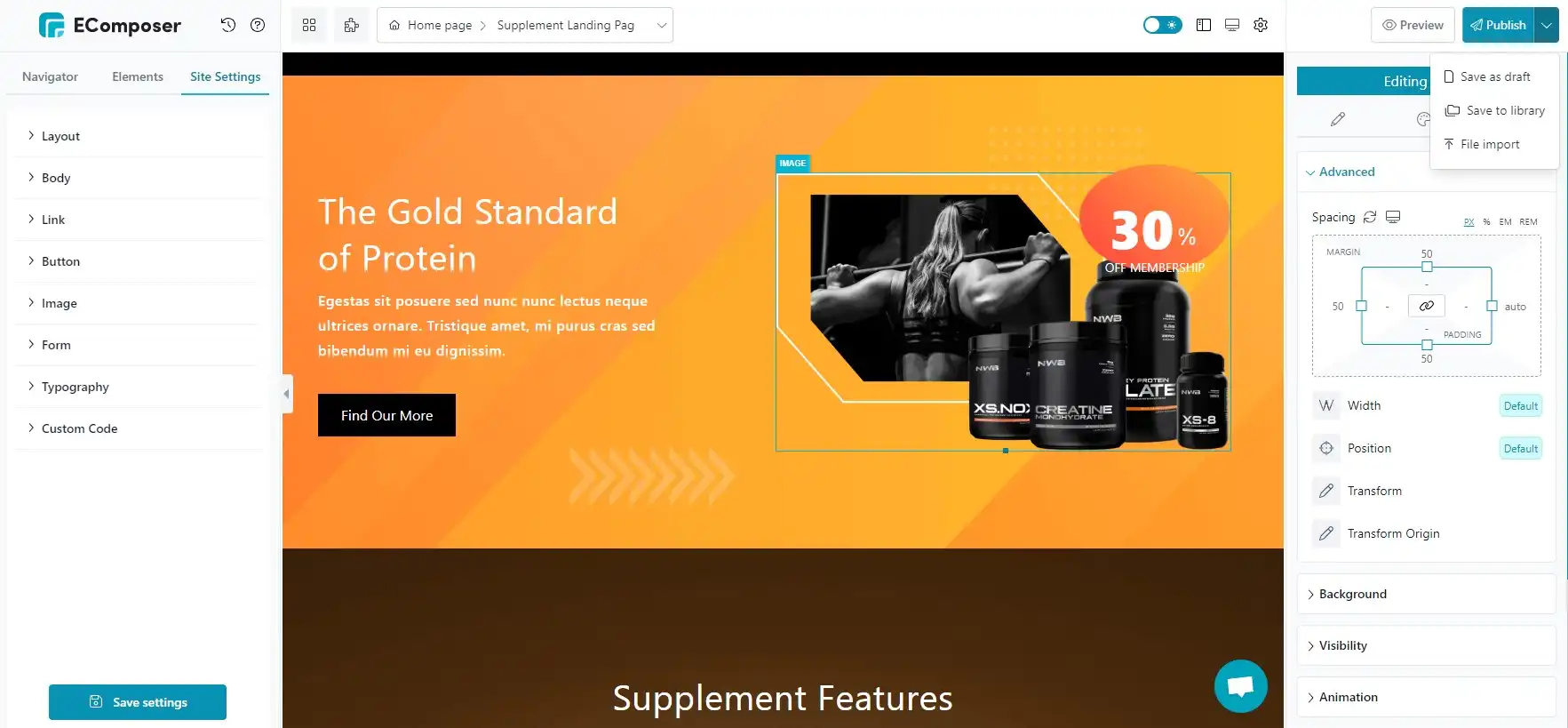 As you can see in the above image, you can also save your pages to library as well. It will allow you to reuse the same page design for other pages.
Another amazing feature is that the changes in your editor will be auto-saved every 5 mins, giving you backup versions in case you forget to save your page or face internet issues. You won't have to worry about losing data or accidentally deleting something that can't be fixed.
2. Design & Customization
As you already know, EComposer provides a robust page builder that allows you to easily design and customize any kind of store pages. Once you enter the page editor, from the Dashboard menu, you can access the type of pages you want to create for your Shopify store.
Here are the supported page types –
Homepage: Impress your visitors and customers with an attractive Homepage for your store.
Product Pages: Create high-converting product pages that provides all the require product info and generate more sales for the store.
Collection Pages: Aggregate products of the same type into collection pages for customers to easily find.
Blog Posts: Increase brand credibility with read-friendly blog page designs.
General Pages: Easily create About Us, Coming Soon, FAQs, and other pages to help customers understand more about the brand and how to contact it.
Landing Pages: Create high converting landing pages for marketing campaigns for higher conversion rates.
EComposer allows you to design website pages from scratch using your creativity or choose from 70+ conversion-friendly templates, which you can also easily customize and add features using the drag and drop builder.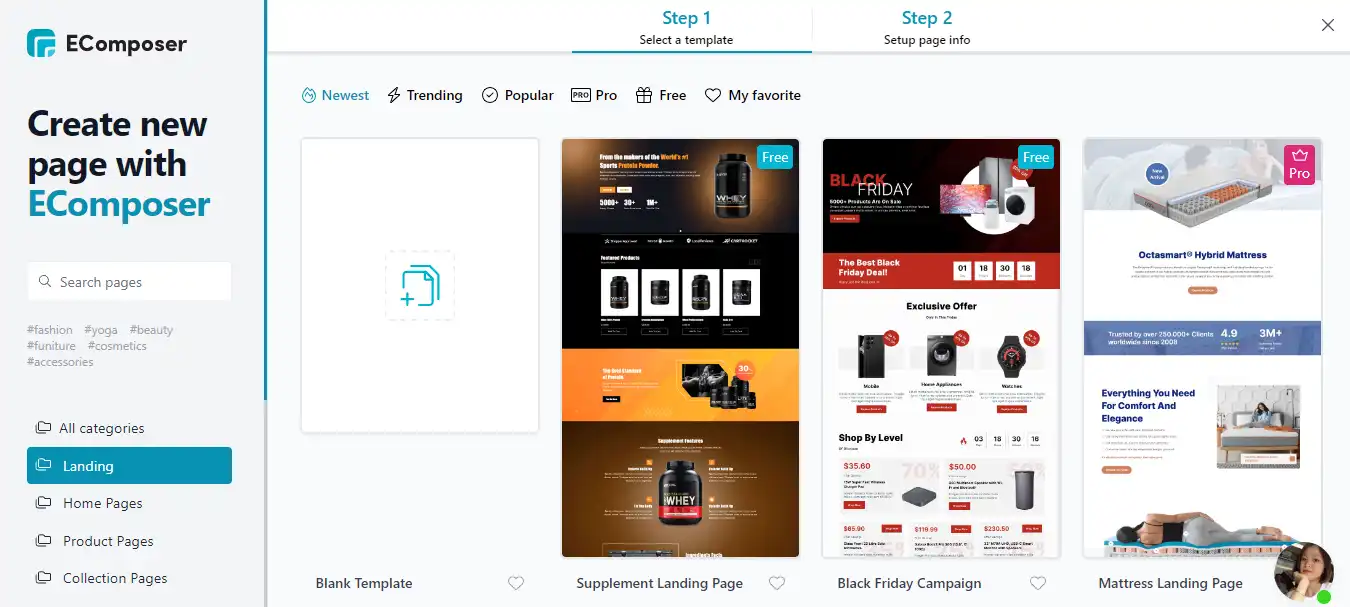 Whether you sell clothes, electronics or hardware products, you can find the the templates to match your product types to create any page type. Moreover, if you create store pages from scratch, you can save it to the template library to reuse it as your base design for other pages.
3. Section Layouts & Elements
EComposer offers beautiful templates, but if you don't want to use the built-in page templates and design the store pages yourself, you will need a good collect of section layouts and elements that you can drag and drop to the page editor.
EComposer provides you with 190+ section layouts and huge collection of elements that keep growing over the time. Here are the type of elements you will find in the EComposer page editor –
Basic Elements – In this category, you will find the elements to add text, headlines, images, sections, and other basic design elements required on a web page.
Shopify Elements – In this category, you will find default Shopify elements like contact form, newsletter form, menu, etc. to add in your pages.
Single Product Elements – In this category, you will the design elements required to create compelling product and collection pages. Product image, tabs, description, buy now button, wishlist, reviews are few to name.
Blog Elements – This category comprises of blog/article related elements which you can use to customze blog pages or add its section to other pages. The elements are title, image, content, comments, etc.
Apart from these, it also supports elements from third-party apps, which you can use to add elements like customer reviews, product variants, etc. to make the pages more conversion-friendly.
4. Global fonts and colors
Every business/retailer uses a specific color/font for their brand recognition – you also have picked some colors for your logo and store pages, right?
While designing the store pages, sometimes people don't find the exact color or font that matches the store branding. Recognizing this situation, EComposer allows customers supports global fonts and colors, the most used fonts and colors worldwide.
When you add an element to the page, you can find the options to add the global font and color in its settings, as shown below –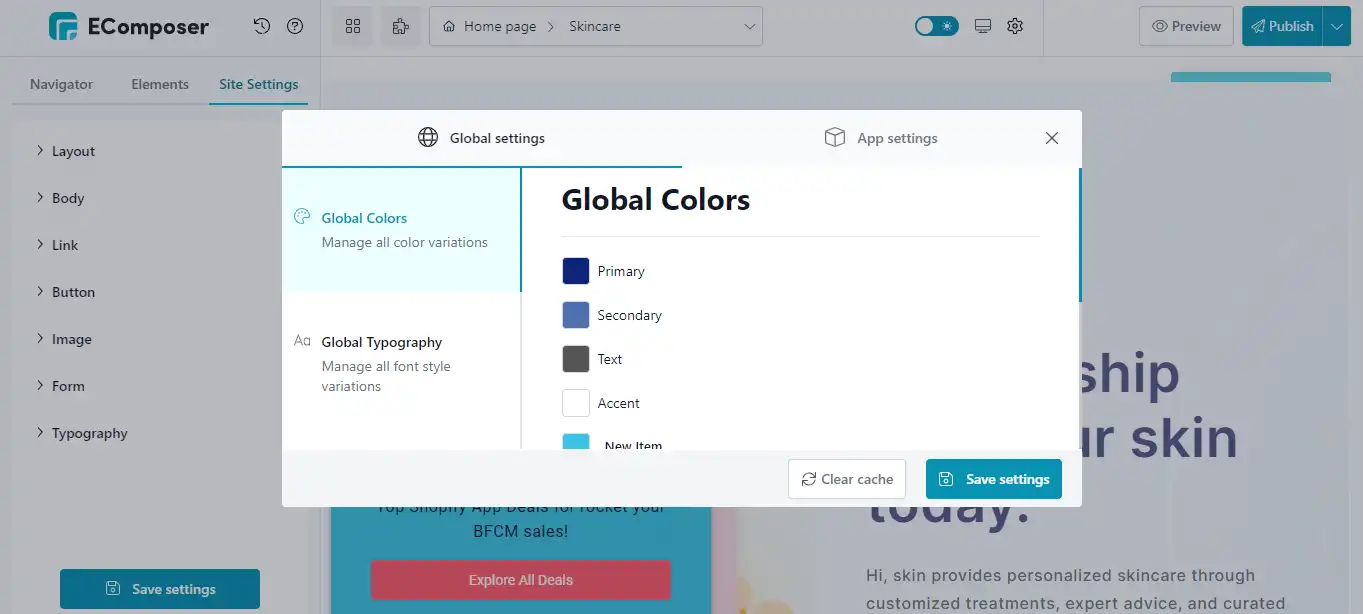 So, as an EComposer, you don't have to worry if your chosen fonts and colors will be available in the builder elements. You just need to click on "Setting" and selects the colors and typography per your brand guidelines.
5. SEO & Speed Performance
You don't want to create pages with EComposer and optimize it for SEO using other apps, right?
Well, EComposer is an SEO-optimized page builder with faster loading time and fields to add custom titles, meta descriptions and social image.
Loading speed is one of the key ranking factors for Google and other search engines. Since, eCommerce sites are loaded with high-quality images, EComposer provides an option to enable Lazy loading. It is a widely-accepted technique of deferring the loading of non-critical resources at page load time.
So, instead of loading all the images immediately, it will be loaded only when the visitor reaches that section of the site. This way, it –
Improves user experience – Lazy loading reduces data loading. Therefore, the page load speed is faster, and the cost is reduced (by reducing the total number of transferred bytes).
Improves website performance – Lazy Loading with the function of only loading data when users surf will return results to users faster, as well as improve the professionalism of the website, helping the website to preserve all data.
Saves resources – Applying Lazy Loading to stagnate unnecessary data will save memory, CPU, GPU, etc., and is completely useful for users who use a browser on the phone with a slow connection.
Increases website review score – Lazy Loading helps your website load faster because it doesn't take time to sync all the data, thereby increasing your website rating score based on speed scales page load.
EComposer supports Lazy loading (auto apply) for all the pages on your store. This is an unique feature that most Shopify page builder doesn't offer.
EComposer Review: 3rd-party Integrations
As I said earilier, if the built-in elements are not enough for you, you can use 3rd-party app elements to add their content on the page. Just click on the "Extension" icon located on the panel or go to Elements > Extension, and press Add more.
Next, you will be taken to a treasure trove of extensions and unlimited top app integrations. There, you will find both free and premium extensions. The premium ones will be accessible only for paid users – no additional charges required.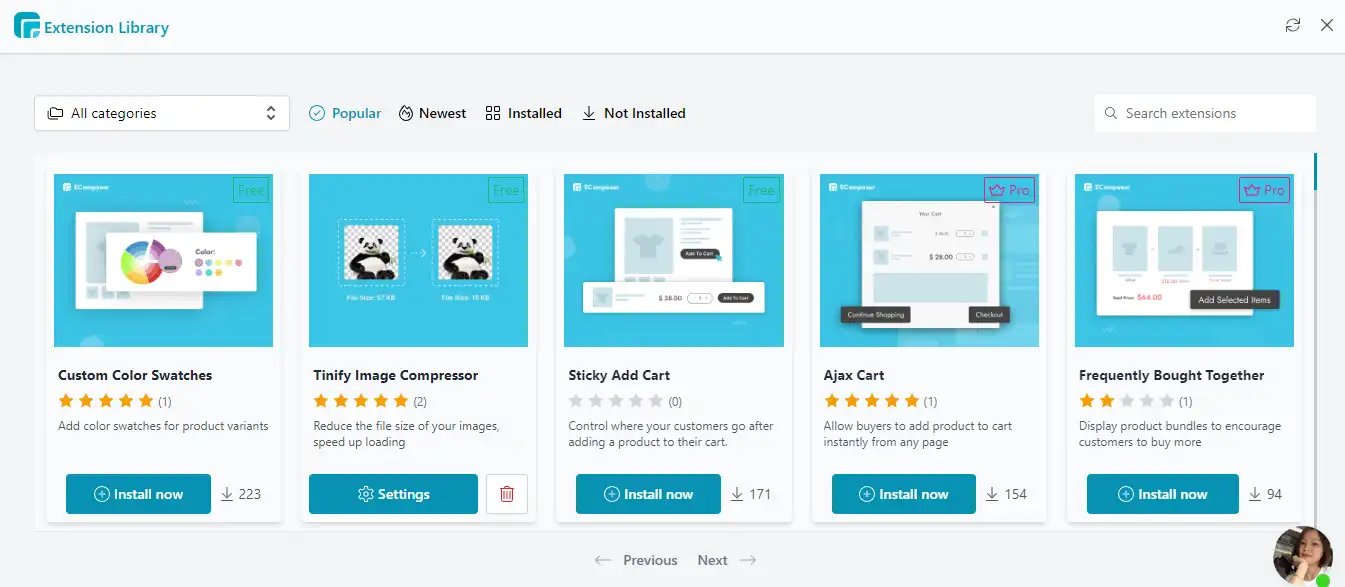 So, with EComposer, you are not limited to built-in tools and features to design your store pages. With just a click, you add more extensions to add more features and functionalities to the store pages.
EComposer Review: Pricing Plans
Unlike many other apps, EComposer has a lucrative free plan, which allows creating up to 3 pages of all types and access to free templates. The free plan is perfect for anyone to create landing pages; this way you can new landing pages for new campaigns.
However, if you want to create more than 3 pages and access to premium page templates, you will have to opt for one of the paid plans, which are as follows –
Basic Plan – 14.99/month, create up to 15 pages.
Pro Plan – $29.99/month, create up to 50 pages.
Premium Plan – $59.99/month, create up to 100 pages.
EComposer pricing plans are carefully designed to cater businesses of all sizes. For instance, for new stores, the Free or Basic plan would be perfect. For a growing store that require more landing pages for marketing and other requirements, the Pro or Premium plan would be best choice.
So, it is entirely up to you to pick a plan that matches your business requirements. You can always start with its free plan and upgrade per your needs.
EComposer Review: Customer support
Although EComposer is a beginner-friendly app, you may face some technical issue which using it or you may need help with setting up something that is not readily available.
EComposer understands this and this provides an active live chat support that is available on the page builder. You will see a chat box in the lower right corner of the screen that connects you directly with one of the EComposer experts.
The expert will be available 24/7 to assit you with any question or technical assistance. In some priority cases, they also offer direct call via WhatsApp.
Furthermore, the EComposer Help Center also provides a full user guide documents and video guides library. So, if you use EComposer, you may not have to worry about the help you may need.
EComposer Review: Pros and Cons
We have gone through the outstanding features of EComposer – Landing Page Builder. Now let me talk about its pros and cons.
Pros of EComposer –
Free plan available
Easy to use drag and drop builder
70+ stunning page templates
Huge library of section layouts & elements
Compatible with popular Shopify themes
Supports Google fonts & custom fonts
Seamless integration with Shopify apps
24/7 live customer support
Cons of EComposer –
No built-in analytics reports
No A/B testing system available
Final Verdict: Is Ecomposer Worth it?
Shopify is hands down the best eCommerce platform for anyone to start an online store without requiring technical skills. But to customize the store beyond the built-in theme builder, you will need website development and designing skills.
Fortunately, with the apps like EComposer, you don't need technical skills or have to hire a professional designed – you can design the customize the store as you wish without writing even a line of code.
So, if you are not technical sound, but wants to create a compelling Shopify store, EComposer might be the perfect page builder app for you. It is easy to use, packed with pre-designed templates, endless sections and elements that gives you freedom to create and customize the store pages per your needs.
Want to give it a try? I highly recommend you to do so. Click the button below to sign up now for a free account and see if EComposer offers what you desire.
EComposer FAQs
Here are some of the common questions we have been asked by our clients when we recommend using EComposer for creating the store and landing pages –
Can I use EComposer for Free?

Yes, you can use EComposer for free. It has a free plan that allows creating up to 3 pages of any type and access to its free page templates. The free plan is perfect if you just want to use it to create landing pages for your store.

Is EComposer compatibe with Shopify Themes?

How many pages can I create with EComposer?

You can create unlimited pages with EComposer premium plan. However, with the free plan, you can create only 3 pages and in the Basic and Pro plan, you can create up to 15 and 50 pages respecively.

How can I get live chat support from EComposer?

To request assistance from Live Chat, you can simply find the chat box icon at the bottom right corner of the EComposer app. Or you can click the "Live Chat" button at the top header bar. 

EComposer's customer support team will be available 24/7 to iron out any potential questions or technical issues you face while using the EComposer app.

What are the best alternatives of EComposer?

If you want to explore other page builders, PageFly and GemPages are the best EComposer alternatives that your can consider. They also offer drag-and-drop page builder, but differs in terms of other features and pricing plans.

You can read their reviews here –
– Pagefly review
– GemPages review
Do you have more questions? Feel free to contact us or tweet us @ecomsutra with your questions and our expert will get in touch with your asap.
Finally, I hope this review helped you get a complete overview of the features it offers and how it can be useful for creating Shopify stores. If you find value in this article, do not forget to share it on social media and help other know about this amazing app.