Dropshipping is a risk-free business model as you need not hold any inventory or make a solid investment. All you have to do is find winning products, source them from trusted suppliers and start selling on your website.
However, to get started, you need to first choose a dropshipping platform that connects you with suppliers selling quality products and providing excellent customer services.
There are many dropshipping suppliers available in the market. However, Oberlo and Spocket are the most popular ones among dropshipping site owners for product sourcing and shipment to customers.
So the question now is, which one is better for you – Spocket or Oberlo?
In this article, we'll be going through the in-depth comparison of Oberlo and Spocket by digging deep into various aspects. And, by the end of this comparison, you should be able to decide which is the right dropshipping platform that adheres to your needs.
Ready to dive in? Let's get started.
What is Spocket?
Spocket is a dropshipping platform that enables merchants to source products from EU and US suppliers.
You can easily find the best-selling products from top suppliers via its huge marketplace by applying advanced filters. Apart from this, you can also choose products based on the location they are shipped.
What is Oberlo?
Oberlo is an exclusive dropshipping platform for Shopify stores. It makes the process easy to find products to add and sell from your Shopify store.
You can find a large number of products from AliExpress suppliers directly from the Oberlo dashboard. It provides suitable filtering options to select desired products, add them to your import list, and push them to your Shopify store.
Oberlo Vs Spocket: Dashboard & Setup
Spocket
Once you connect Spocket to your eCommerce store, you'll be presented with a bright and well-structured dashboard with product lists.
You can enter your keywords or apply advanced filters to source the best products. Clicking on the product will display essential details like pricing, product variations, processing and shipping time, etc. You can easily customize the product-related information and import them to your store with a few clicks.
Overall, the dashboard is easy to navigate, user-friendly, and the setup doesn't take much time.
Oberlo
Once you have connected Oberlo to your Shopify store, everything just gets done easily. In its dashboard, you can view the step-by-step instructions on how to get started with the platform.
It lets you search for different kinds of products from AliExpress that cover the niche you were looking for. Unlike Spocket, Oberlo offers tons of product viewing and customization options that make the process extremely easy for you.
For example, when you select a product, Oberlo displays its stock levels, statistics such as the number of imports & orders made, reviews, supplier name, shipping location, and much more.
Besides, you can split the chosen product or remove them. Also, it lets you override the product to change your product variants with the variants from another supplier in bulk.
Who's the winner? The point obviously goes to Oberlo. Spocket has a decent range of setup and customization options, but Oberlo surpasses it by giving its merchants more credible information about the products.
Oberlo vs Spocket: Products & Suppliers
Spocket
When it comes to product sourcing, Spocket connects you with trusted suppliers from the US and EU. The suppliers on Spocket undergo a vetting process to be eligible to sell on the platform, which ensures quality partners and products for you.
Though Spocket has a vast marketplace of quality products and suppliers, the variety of products offered are quite limited – you may not find some products which are easily available on Oberlo or other marketplaces.
Another aspect of Spocket is that guarantees faster shipping for US and European customers as most of the suppliers are also based in the same region. This allows you to offer faster product delivery and generate more sales.
Oberlo
Oberlo has an extensive library of products to source from the AliExpress market. Compared to Spocket, Oberlo offers only a few trusted suppliers, which makes it quite hard to decide whether to establish a long-lasting relationship with them.
Next, Oberlo takes a longer shipping time as the suppliers are based out of China. Delayed shipping might cause the customer to lose interest in your product and consider switching to your competitor, who sounds better than you.
On the whole, you'll have to delve into deep hunting and filtering options to find trusted suppliers and high-quality products from Oberlo.
Who's the winner? Spocket scores the best. Though Spocket offers limited products, its suppliers are highly trustable. In the case of Oberlo, this is not possible as you have to spend more time finding reliable suppliers.
Oberlo vs Spocket: Product Searching
Spocket
When it comes to Spocket, there are numerous filters available to quickly search relevant products. You can filter products based on the following attributes –
Shipping
Items cost
Supplier
Advanced (Premium products and Best-seller)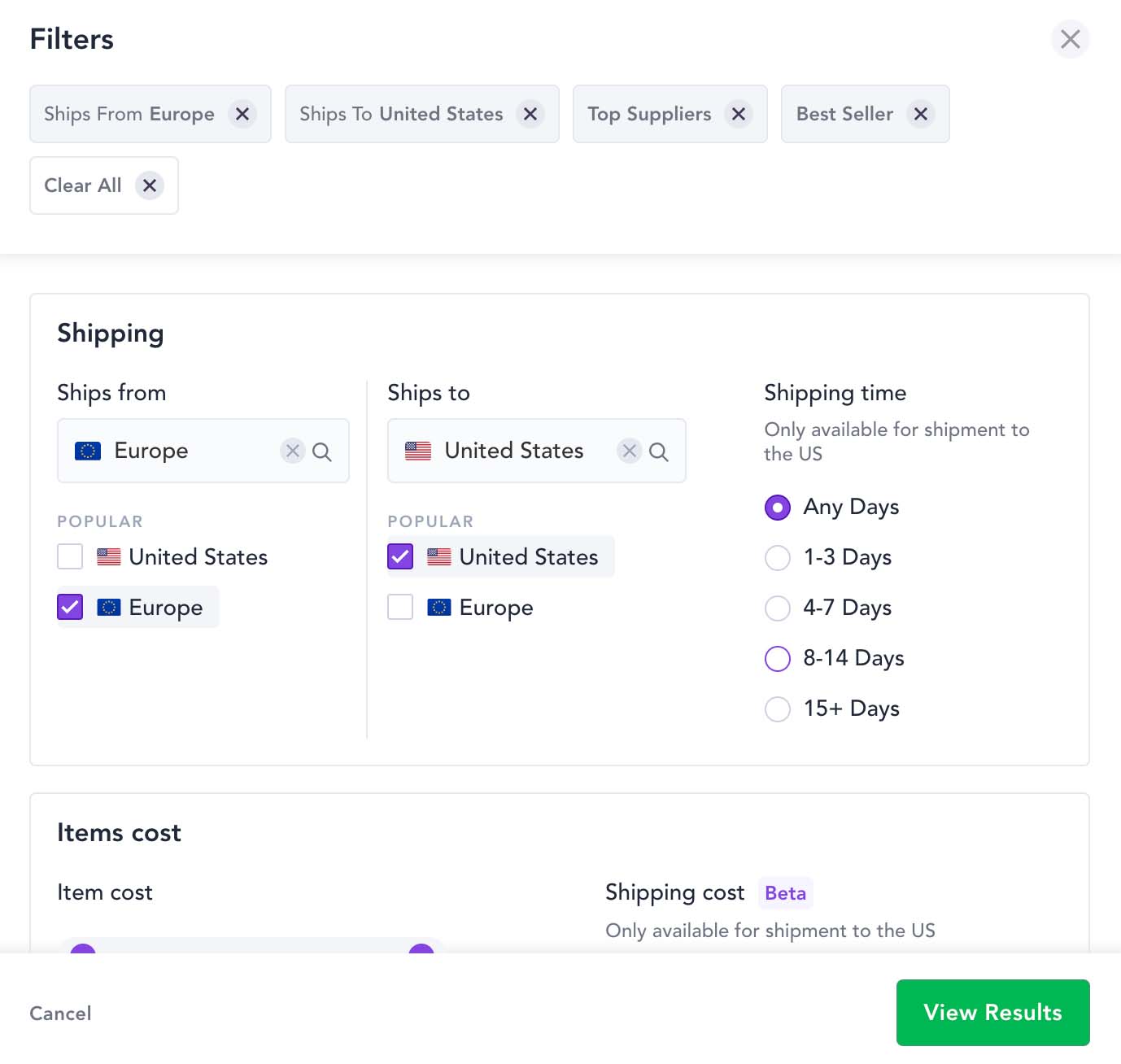 In addition to this, you can also filter products by choosing countries between EU & USA, fast USA shipping, the USA shipping under $5, various inventory options, and relevancy.
With this wide range of filtering options, you can instantly land upon your desired products. It saves you time by only displaying the products you are looking for.
Oberlo
Oberlo allows you to search for products based on product niches and "selling to" locations. For example, if you want to import Men's clothing products and sell them in the United Kingdom, you can select the options from the left sidebar, and all the relevant items will appear as shown below.
Other than this, there are no other filtering options available for you to explore and narrow down to the most relevant products for your store.
Who's the winner? Spocket is the apparent winner as it provides more filtering options that allow you to narrow down to the best quality products. In comparison, Oberlo allows filtering only via categories which makes it time-consuming to find the right product.
Oberlo Vs Spocket: Branded Invoicing
Spocket
Though a third-party supplier ship the product, your customers must feel it's you who made their purchasing experience valuable. 
Spocket understands this and lets you customize your invoice by including your logo, store's name, contact details and also send a personalized note to your customers that gives them a special feeling of being valued.
Oberlo
On the other hand, Oberlo offers neutral packaging, which means there is no door for customization. Whatever your customer orders, it will be directly shipped to them without crafting any value-added features.
Who's the winner? The winning shot goes to Spocket. Today, customers always expect value over money, so obviously, Spocket takes the stand here.
Oberlo vs Spocket: 3rd-party Integrations
Spocket offers integration with leading eCommerce platforms like Shopify, Wix, BigCommerce, WooCommerce, Ecwid, and Squarespace.
In the case of Oberlo, it is a dedicated dropshipping app designed for Shopify. So it is compatible only with Shopify stores. However, you can use the "buy button" sales channel to embed your products on third-party websites.
Spocket relatively expands your dropshipping capabilities as it integrates with major eCommerce platforms. On the other hand, Oberlo limits the dropshipping capability only to Shopify and cannot be integrated with other eCommerce platforms.
So once again, Spocket takes the winning point.
Oberlo Vs Spocket: Pricing comparison
Having talked a lot about how both the dropshipping platforms differ in various aspects, it's now time to compare the pricing options and choose which one shall be the best.
Spocket Pricing Plans –
To test the platform, you can get started with the free plan to have a look at Spocket's product catalog. To launch a full-fledged store, you can choose the best plan that caters to your needs.
However, you need to upgrade to the Pro plan to access powerful features like branded invoicing, premium products, and chat support.
| Plans | Pricing | What does it offer? |
| --- | --- | --- |
| Free plan | $0 | Browse Spocket's product catalog. |
| Starter plan | $24/month | Sell 25 unique products and offers email support. |
| Pro plan | $49/month | 25 premium products, 250 unique products, branded invoicing, and chat support. |
| Empire plan | $99/month | 10,000 unique and premium products, branded invoicing, and chat support. |
Oberlo Pricing Plans –
Oberlo's free plan might benefit beginners who are getting started with dropshipping. But to get access to bulk orders, shipment tracking, etc., which are vital for a store's success, you need to upgrade to the Boss plan.
| Plans | Pricing | What does it offer? |
| --- | --- | --- |
| Free plan | $0 | Sell up to 500 products, Unlimited monthly orders, Chrome extension, Variant mapping. |
| Boss plan | $29.90/mo | All free plans include bulk orders, shipment tracking, multiple staff accounts, affiliate program, CAPTCHA solver. |
Though Oberlo's pricing plan is more lucrative than Spocket, you must have an active Shopify subscription plan to use Oberlo. But Spocket doesn't have such limitations, and you can quickly get started with any plan on any eCommerce platform.
Another point is that it is not possible to start with 500 products in the case of Oberlo. But with Spocket, you can slowly and steadily scale your dropshipping business by choosing the best plan.
The only thing where Spocket lacks is the absence of multiple user accounts and lack of features in its free plan. Rest, I would say its pricing plans are way better than Oberlo.
Oberlo Vs Spocket: Pros and Cons
Now let us look at the key aspects in which Oberlo and Spocket shine and where they lack.
Oberlo: Pros and Cons –
| Pros of Oberlo | Cons of Oberlo |
| --- | --- |
| Wide range of products to import from AliExpress | Limited to Shopify |
| More customization options | Product quality cannot be assured |
| Free plan with decent features | Shipping takes a long time, and supplier trust cannot be guaranteed |
| Easy to view product statistics to make informed decisions | No customization in packaging or invoices |
Spocket: Pros and Cons –
| Pros of Oberlo | Cons of Oberlo |
| --- | --- |
| Faster Shipping times | Limited suppliers |
| Trusted suppliers and high-quality products | Can include some features in its free plan |
| Easy-to-use interface with good customization options | Cannot sell on online marketplaces |
| Offers branded invoicing and 30-60% discounts off of retail prices | Lack of detailed reviews for the products |
Final Verdict: Which is the best dropshipping platform to choose?
By now, you would have understood the features and capabilities of both the dropshipping platforms. Let me now present my final verdict, which lets you choose the best dropshipping platform.
If you wish to get started with Oberlo, your dropshipping abilities will be limited to Shopify. Also, the product quality and choosing the best suppliers from a massive marketplace are slightly tricky.
On the other hand, Spocket is flexible with major eCommerce platforms, so you don't have any restrictions. The products are proven to have good quality, and also the suppliers are verified before onboarding.
Another aspect to consider is product delivery. Spocket ensures faster shipping times as their suppliers are based in the US and EU, while Oberlo makes it longer as their suppliers are from China.
Adding to the top, with the capability to create branded invoices, source quality products from trusted suppliers, Spocket comes with a complete package to launch a successful dropshipping business. If you want to learn more about Spocket, you should read our in-depth review on it.