Marketing is all about connecting with customers across every single touchpoint. You need to identify their preferences, and interests, and craft an engaging buying journey that is highly personalized for every customer.
If you're looking for a tool that covers all these aspects, I've got Omnisend for you. It lets you communicate with customers across multiple channels, improve targeting, and drive sales on autopilot which contributes to boosting conversions.
There's much more on my plate to explain about Omnisend and its offerings.
So in this review, I'll walk you through Omnisend and let you experience its features and functionalities from my perspective. By the end of this article, you should be able to decide whether Omnisend is the ideal fit for you or not.
If you want to explore Omnisend along with reading this review, sign up using the button below to create a free account (No Credit Card required).
What is Omnisend?
Omnisend is an eCommerce email marketing and automation platform built for growth-focused brands. It enables you to communicate via email, SMS, and push notifications along with dynamic Facebook and Google ad integrations.
With its automation capabilities, you can send personalized messages by segmenting customers across various categories. This lets you get in touch with your customers at the right channel, at the right time, and at the right moment.
Besides, Omnisend offers different types of lead generation forms, supports extensive analytics, and tons of integrations to improve functionality.
On the whole, it is an all-in-one platform that provides all essential tools for eCommerce merchants to simplify their marketing campaigns across different channels to improve sales and conversions.
Omnisend Review: Ease of use
Omnisend has a user-friendly interface that breaks down complex routines into simple tasks. Signing up takes only a few minutes and getting started is easy. After that, you'll be presented with a dashboard from which you can access and navigate to any section of the platform.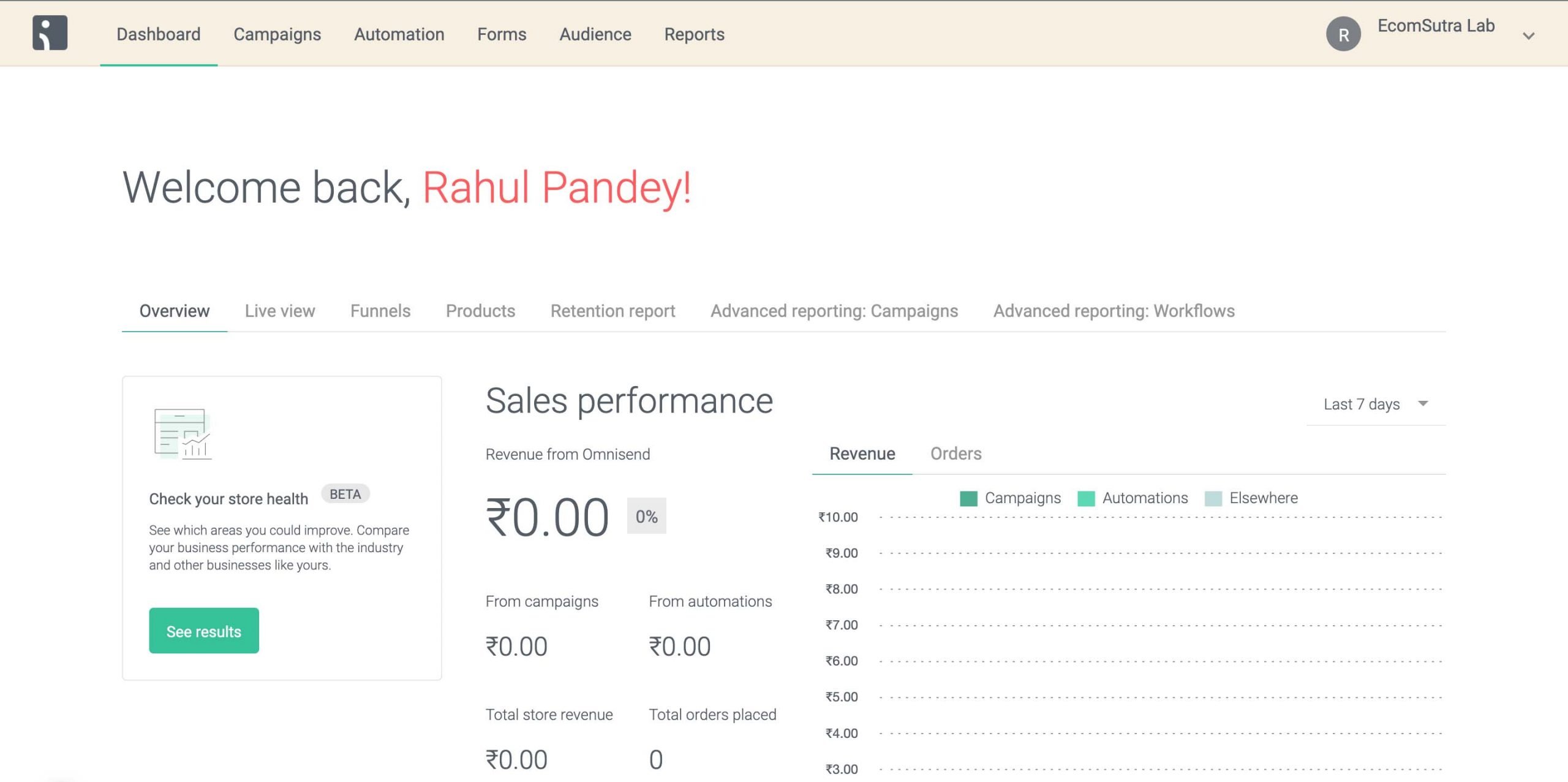 Furthermore, it lets you quickly create engaging emails and has a flexible automation builder with pre-built workflows. It also reduces your overhead by merging multiple communication channels into a unified environment.
This eventually makes your work a lot easier as every single piece of data is available at your fingertips. Overall, Omnisend is easy to use, offers customizable workflows, captures leads, and automates the entire sales-generating process within a few clicks.
Having seen a glimpse of what Omnisend does, next, we shall view its long list of email marketing and automation features.
Omnisend Review: Features
In this section, let us have a look at the features that Omnisend offers –
Email marketing
SMS and push notifications
Marketing Automation
Segmentation
Forms
Customer Intelligence
Reporting
Now, let's get into the details of these features.
1. Email Marketing
Omnisend lets you build beautiful emails using the intuitive drag-and-drop email editor. All you have to do is configure your email settings, select the template, type the message, choose the list of recipients, and hit the "send" button.
You can either start with a ready-made design or work on a pre-built layout that suits your branding needs. The content blocks are eCommerce-focused which means it lets you insert shoppable products, dynamic discount codes, product recommendations, etc to amplify your revenue.
As you can see in the above image, two products have been added to the email body. It helps you to edit your product image, price, titles, URLs, and above all the emails can be personalized to serve your tailor-made audiences.
An added advantage is that if you are running multiple stores, you can share your templates across the connected stores. This lets you focus more on content creation and helps you send the email directly with a single click.
2. SMS and Push Notifications
SMS Marketing and push notifications are core vitals to instantly nudge customers to shop more from you. It reaches closer to their fingertips which triggers them to take immediate action.
When it comes to SMS, Omnisend lets you send text messages to both US/CA and non-US/CA recipients. It also shortens the links that you insert in the messages to make them easily trackable.
For best practices, Omnisend doesn't recommend inserting emojis as it might cause delivery issues or cannot be displayed on mobile.
You can also skip subscribers that you've messaged by setting up the hours. Also, Omnisend makes it mandatory to include an unsubscribe option for US/CA recipients as per the rules and regulations.
Next, to enable push notifications, you need to integrate a recognized app to start your campaign. You can do this by navigating to Choose Campaign Type → Push notification → Connect App. The content editor will open where you can customize the title, text, logo, and image of your campaign.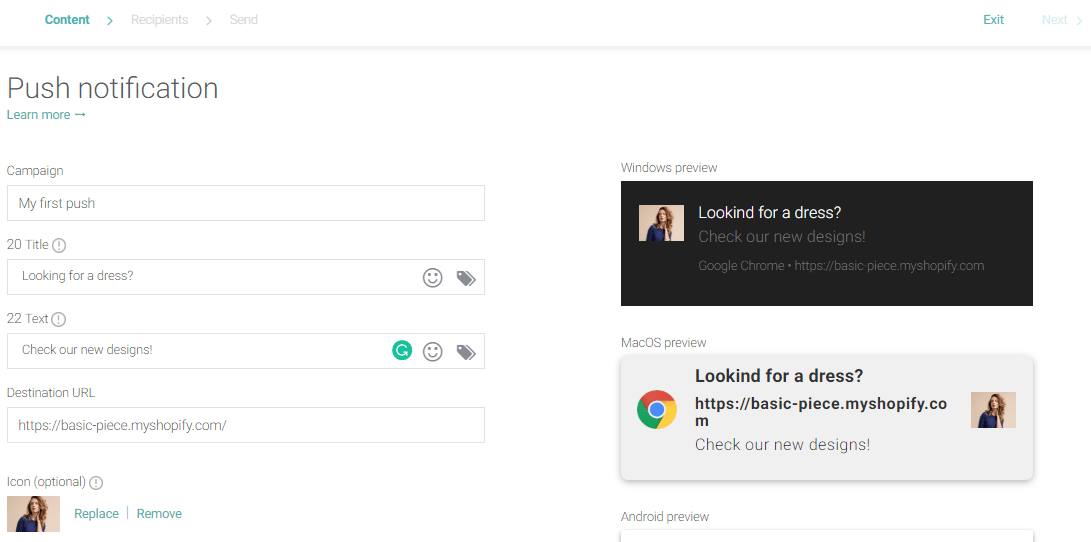 Next, select to whom you want to display the notifications either to your subscribers or to the selected segments.
Finally, you can send a test notification to check if it's fine and then click the send button. And yeah! Your push notification is now live.
3. Marketing Automation
One of the primary features of Omnisend is its robust automation capabilities. It has got you covered with lots of pre-built workflows and if you need, even a custom workflow can be launched to satisfy your specific campaign requirements.
If you're a beginner, then you can get started with Omnisend's pre-built workflows. The amount of effort required is minimal as all the recommended settings and content are added automatically.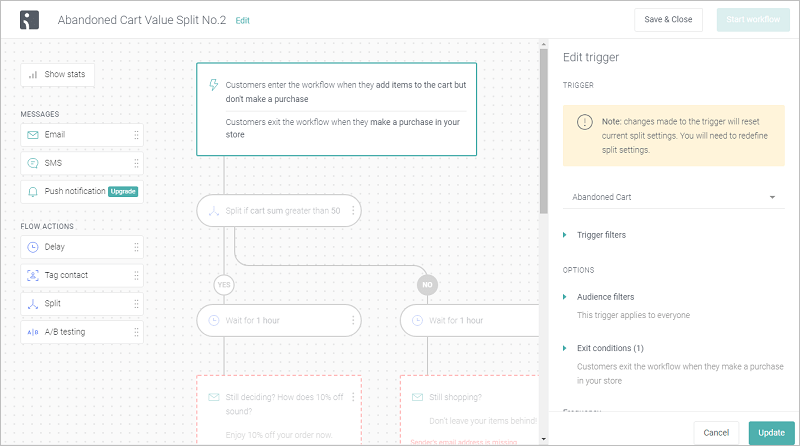 It has a flexible drag-and-drop editor that lets you easily customize any type of workflow. You can edit triggers, and apply trigger filters, messages, and exit conditions on the right side of the editor without much hassle.
With that being said, the different types of pre-built automation workflows provided by Omnisend are as follows –
Welcome email – when a new user signs up.
Abandoned Cart – gets triggered when a customer adds the product to the cart but leaves without purchasing.
Browse Abandonment – automation based on customer browsing behavior.
Post-purchase – Various activities like feedback, cross-selling, order follow-up, etc, get triggered after order placement.
Special occasions – automation gets triggered several days on or before your customer's birthday.
Transactional emails – Order confirmation, shipping, or cancellation and get triggered when an order is placed or change of status.
As discussed earlier, Omnisend unifies all communication channels. In automation, you can simultaneously engage with customers by combining email, SMS, and push notifications. You'll only have to set up the conditions and it will get activated automatically once the conditions are satisfied.
Note: Omnisend enables you to filter according to goals if you're not sure about the type of automation you want to create. The goals include recovering visitors, converting subscribers, cross-selling, building loyalty, and reactivating customers.
4. Segmentation
All of your customers do not fit into the same sales pipeline, right? This is why you need to filter your customers and segment them into groups to deliver relevant messages that nurture them at every stage of their buying journey.
Omnisend enables you to filter segments based on the following –
By channels – Email, SMS, and push notifications
By shopping behavior – Order placed, purchased/not purchased product, purchased from the category, etc
Email campaign activity – Been sent/not been sent an email campaign, Opened, not opened email campaign, clicked/not clicked campaign.
SMS campaign activity – been sent/not been sent campaign and clicked SMS/not clicked SMS campaign link.
By properties – eg: date added, email/SMS opt-in, customer lifecycle, email, gender, city, state, etc.
With Omnisend's segmentation, you can classify your contacts under the following possible conditions –
Segmentation based on source tags.
Segmentation based on customer activity.
Creating a segment of inactive contacts.
Creating a segment of unsubscribed contacts.
Creating a cross-sell segment
Segmentation based on tags identifying your contact's browser behavior.
In addition to this, Omnisend also offers auto-renewal segments that enable you to smartly categorize people based on campaign activity and the channels they use to communicate with you.
This type of segmentation is helpful in creating tailor-made messages that highly resonate in your customer's minds.
5. Forms
Integrating your online store with different types of lead generation forms makes your job easy in collecting potential subscribers. On that note, Omnisend lets you create four types of engaging forms which are –
Pop-Ups
Landing pages
Wheel of fortune
Sign up boxes
Whether you want to create a popup, landing page, or signup box, the procedure is the same. You need to state the purpose, customize design options, modify content, and launch it within minutes.
However, you need to keep in mind the following factors while designing any type of form:
You can design responsive forms (separately for mobile or desktop)
Purpose: Free shipping, newsletter, discounts, black Friday, exit intent, etc.
Enable/disable email opt-in, and phone number opt-in, and can also add additional fields.
Configure the form to comply with TCPA and GDPR regulations.
Checkbox to show the form to mobile visitors.
Add tags to filter contacts to know who has subscribed to it.
Schedule when will the form appear, target based on UTM parameters or based on specific pages.
When all the above settings have been specified, the forms will get triggered and you can start collecting more subscribers.
6. Customer Intelligence
Customer Intelligence gives you a 360-degree by analyzing the statistics based on your products, and customers and gives you accurate results that are good for scaling up your eCommerce marketing.
Customer intelligence basically combines different types of meaningful reports that help boost your brand's engagement. They are:
Customer lifecycle stages – Analyze who and why you need to re-engage with customer lifecycle stages.
Retention Analytics – Analyze how much revenue your returning customers contribute to your store.
Funnels – Categorize your customers as inactive, aware, interested, intending, and purchased with relevant details.
Product Analytics – Get a detailed report on understanding your customer's product preferences, and products that drive first-time or repeat purchases to improve your marketing efforts.
One standout feature is that Omnisend highlights which products shall attract new customers and the ones that are abandoned in the shopping cart. This will be useful in creating automated workflows by prioritizing your customer's needs in mind.
7. Analytics Reporting
Omnisend offers tons of reporting capabilities to optimize the marketing campaigns that drive you to make informed decisions. You will find detailed reports in the Report section. You can also view individual campaign details by specifying the campaign name.
The different types of reports that Omnisend offers are –
Email Campaign Reports
SMS Campaign Reports
Benchmarks and Business health check.
Customer lifetime value
Customer breakdown
Lifecycle map.
Sales tracking
Automation performance reports
Opens, clicks, and sale rates in campaigns.
To extend further, Omnisend also lets you create custom reports for digging deep into your customer's behavior. For example, you can create a custom report that analyzes your target audience's location and language.
With all these sets of comprehensive reports, Omnisend enables you to unbox what works and what doesn't which smoothes your marketing activities.
Omnisend Review: 3rd-Party Integrations
Omnisend comes with tons of integration options which can be categorized into store connections and 3rd party apps.
In terms of store connections, it integrates with Shopify, BigCommerce, WooCommerce, Magento 1, Magento 2, OpenCart, Drupal Commerce, and Volusion, and also integrates with any custom eCommerce via API.
The list of 3rd party app integrations in various categories includes –
Signups and forms – Recart, Pagefly, Email Pirate, Nextsale, etc.
Rewards, competition, reviews, wishlists – Yotpo, Smile, Stamped Loyalty, Stamped Reviews, Growave, Loox, LoyaltyLion, etc.
Shipping – ShipStation, AfterShip, EasyShip, Rush, etc.
Other integrations include Zapier, Alloy, Shopify flow, ReCharge, Fyrebox, CartHook, etc. which help in improving your store's functionality.
Omnisend Review: Customer Support
Omnisend offers excellent customer support around the clock to quickly resolve your questions. If you choose Omnisend's free plan you can talk to support via email or Facebook Messenger.
You'll get access to the in-app live chat on upgrading to paid plans. Besides, Omnisend provides onboarding tutorials and a helpful knowledge base that gets frequently updated with new articles.
Omnisend Review: Pricing Plans
Omnisend's pricing plan varies based on your contact size, and the number of emails, SMS, and web push notifications.
Here's the pricing plan breakdown –
Free plan – $0/month – Allowed up to 250 contacts, 500 emails/month, up to 60 international SMS, and 500 web push notifications.
Standard plan – $16/month – Allowed up to 500 contacts, 6000 emails/month, up to 60 international SMS, and unlimited push notifications.
Pro plan – $59/month – Allowed up to 500 contacts, unlimited emails, up to 3540 international SMS, and unlimited web push.
Omnisend's pricing plan is designed for businesses of size as it provides access to all its essential features in every plan except for a few changes. To remove Omnisend branding you need to upgrade to the paid plans and the number of segments allowed to create varies as per your chosen plan.
In addition to sales and performance reports, Omnisend also offers advanced reporting which is available only on the Pro plan. Note that if your contact size is >500, the plans vary accordingly.
Omnisend Review: Pros and Cons
By now, you know all the features Omnisend has to offer and how efficient it is for eCommerce businesses. Now, let's see where Omnisend shines and where it lacks.
Pros of Omnisned –
Advanced automation capabilities.
Ability to seamlessly communicate with customers across multiple channels.
Tons of integration options.
Has a beginner-friendly interface that enables you to get started within minutes.
Comprehensive reporting to make strategic decisions.
Provides good customer support.
Free plan available with lots of amazing features.
Cons of Omnisend –
The email design options are quite limited.
Shifting from the Standard plan to the Pro plan seems to be a very high cost.
Final Verdict – Is Omnisend the right marketing tool for your business?
Omnisend has incredible email marketing and automation capabilities exclusively catered for eCommerce. It comes with all the tools that you need to accomplish online which saves a plethora of time and lets you focus on unlocking your conversion strategies.
Omnisend
Segmentations & Targeting
Exclusive Offer: Omnisend 10% Discount
We, at EcomSutra, love Omnisend and we have used it for several of our eCommerce clients. Never heard any complaints from them – if they face any issue, the Omnisend support team and we are always there for you.
So, we asked our friends at Omnisend if they could offer our readers a discount on paid plans.
Fortunately, they agreed and offered a generous discount of 10% off for all paid plans. You just have to use the button below and use our promo code "ECOMSUTRA" at checkout to claim the discount.
If you want to go with the trial first, go ahead and sign up now but, remember the promo code to claim the discount when you upgrade.
Omnisend FAQs
Here are some of the common questions people ask us about Omnisend –
How do I set up Omnisend on Shopify?
To be able to add Omnisend to your Shopify store, you need to first create your Omnisend account, and on the last stage of your Omnisend account set-up, you need to click on the Connect Store option and enter your Shopify URL into the input field. Your store will be connected.
How many emails can I send in Omnisend?
With the Free plan, Omnisend allows you to reach up to 250 contacts with up to 300 emails per month. However, it also allows you to send unlimited emails and SMS on higher plans.
What is Omnisend best used for?
Omnisend is best for growth-focused eCommerce marketers looking for advanced marketing automation tools. Think of Omnisend as your omnichannel marketing tool that enables you to communicate with your customers in multiple ways, which includes email, SMS & push notifications.
Got more questions? Tweet us @ecomsutra and will try to help you get your answers as soon as possible. Thank you!