Immersive viewing experiences are shaping customer experiences to the next level. It ultimately changes the way how brands interact with their audiences. In fact, the number of viewers is expected to reach around 164.6M in the US for consuming live content.
No matter which industry you belong to, video streaming has gained immense popularity. With real-time video streaming, you can engage with your target audience in a live manner, host Q&A sessions, sell products, collect payments and deliver exclusive content virtually across the globe.
However, to accomplish this, you need the best streaming software that lets you stream videos on YouTube, twitch and other channels. From video encoding, mixing, and production to utilizing advanced capabilities, streaming software enables you to maximize direct communication at ease.
In this article, we've collated some of the best streaming software that lets you live stream professional-grade videos across multiple channels.
If you're ready, let us begin with the most popular streaming software!
Restream is one of the most popular video streaming software businesses, entrepreneurs, and influencers use to stream high-quality videos. The best part is that it lets you easily create and stream live videos from your browser to 30+ platforms like LinkedIn, Twitch, Youtube, Facebook, etc., from a single platform.
You can stream company announcements, host interviews, and launch new products, flash sales, webinars, and workshops via Restream Studio. It gives you all tools to host videos hassle-free. You can add branded logos, overlays, and actionable CTA, and it lets you highlight messages from all channels to boost engagement levels.
On top of all, Restream allows for Real-time Platform & Channel Toggling. It is a unique feature that enables you to edit channels while you're "on-air" without restarting your encoder or going offline. This way, you can easily add any platform to your multi-stream dashboard and go live within minutes.
Thus Restream is a fantastic solution if you wish to stream videos on multiple platforms effortlessly. With its seamless integrations and excellent user interface, you can easily tap into a more significant audience potential.
Key Features –
Ability to stream pre-recorded videos
Built-in chat to interact with customers simultaneously
Switch between your webcam and screen sharing instantly
Streaming amplifier to stream videos reliably to distant platforms
Update metadata of all streams in one place
Track bitrate, frames per second, and frame drops
Add background music that is infinite in length and free from copyright
Access to robust cross-platform analytics
Native integration with OBS Studio, SLOBS, Elgato, XSplit, etc
Pricing Plans – Restream has a free plan that allows for 2 multichannel streaming, 6 on-screen participants, access to the studio, and integrations. To unlock premium features, you must upgrade to the paid plans –
Standard Plan – $19/month – Stream in 5 platforms, 10 stream participants, custom RTMP streaming, 6 hours/stream for stream recording
Professional Plan – $49/month – stream in 8 platforms, stream pre-recorded videos, 1 hour/2GB video upload limit, store 10 videos, 10 hours/stream for stream recording, 10 stream participants
Premium Plan – $99/month – stream in 15 platforms, 2 hours/5GB video upload limit, store 25 videos, 20 hours/stream for stream recording, 10 streaming participants
Business Plan – $299/month – stream in 20 platforms, unlock full HD (1080p), 4 hours/10GB video upload limit, store 50 videos, and access to full-fledged features.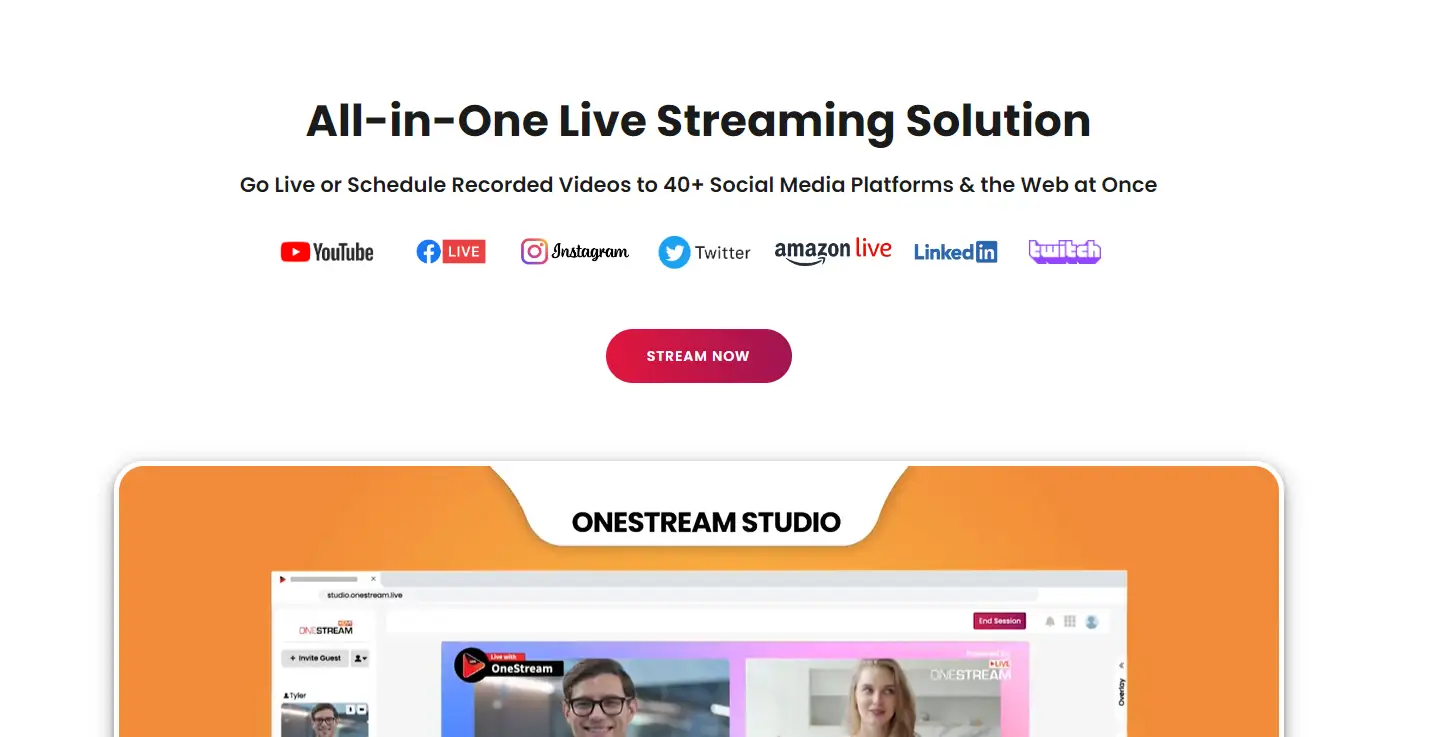 Onestream is a two-in-one free streaming software that enables you to schedule and live-stream both real-time & pre-recorded videos to 40+ social media platforms like Youtube, Facebook, Instagram, Twitch, or any custom RTMP destination all at once.
You can stream stored videos directly from Google Drive, Dropbox, OneDrive, Zoom, Webex, S3 Amazon, etc., and save your bandwidth. Moreover, you can upload videos directly from your computer, use your camera to record yourself or capture your screen to live stream later.
Speaking of pre-recorded videos, it is easy to schedule within 3 steps. You just have to select a video file, pick a date and time to live stream, and choose the streaming destinations. Onestream will handle all the transcoding, processing, and live streaming for you.
In terms of real-time streaming, you can align your streaming settings, couple Onestream to external streaming tools, and configure and start multicasting. Both processes are relatively simple.
Thus Onestream comes with powerful multistreaming and scheduling capabilities to engage with your viewers impeccably. Businesses of any type with more focus on marketing can be benefitted using Onestream.
Key Features –
No installations or setups are needed.
Queue recorded videos in any order and schedule them to go live
Embed live streams on your website or anywhere to reach more audience
Add captions or subtitles to pre-recorded live streams using SRT files
Manage incoming messages, comments replies from multiple streaming platforms on a single screen
Go live with recorded 180° or 360° videos
Robust analytics and reporting
Access to Android & iOS apps to stream on the go
Pricing Plans – Onestream has a free plan that allows for unlimited live streaming, pre-recorded streaming, 1 queued stream at a time, 5GB video file size, recorded video broadcasting, 5 min camera recording & screen capture, 1 social account, etc.
If you want to increase the duration, size, and multicast videos, you must upgrade to the paid plans –
Basic Plan – $10/month – Multicast pre-recorded videos, 3 queued streams, 15 min max per recorded stream, 3 social accounts, captions, 15 min camera recording & screen capture, 360° videos support, 5GB file storage, etc
Standard Plan – $39/month – Real-time streaming, multicast live & pre-recorded videos, 15 queued streams, 1-hour max per recorded stream, 25 social accounts, unlimited file size via the cloud, 60 min camera recording & screen capture, 20 GB storage, team management, chat, custom logo/overlay
Professional Plan – $89/month – playlist streaming, 30 queued streams, 8 hours max per recorded stream, 50 social accounts, 8 hours of camera recording & screen capture, 50GB file storage, FB live crossposting, etc.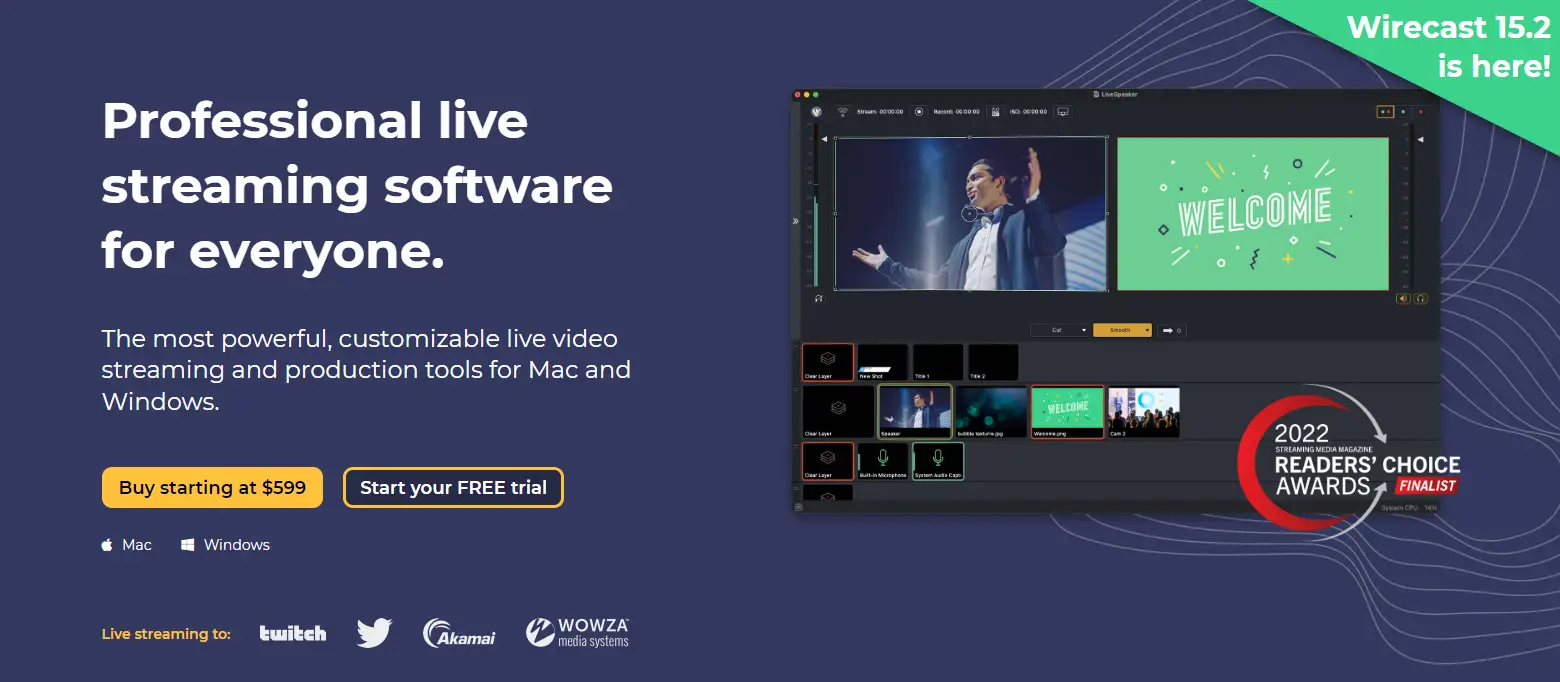 Wirecast is a professional live video streaming and production studio software that enables you to create spectacular live-streaming videos. It is best suited for YouTube live streaming, live sports streaming, Facebook live streaming, and other popular platforms like Vimeo, LinkedIn, Twitch, etc.
It has a predefined workflow that eases your video streaming process. You just have to plug in your mic, capture engaging audio/video, unboundedly customize your broadcast, and stream 4K live video. This is possible as Wirecast is compatible with multiple capture cards, devices, and camera inputs.
In addition to this, even if you want to use pre-recorded video within your broadcast, Wirecast makes it simple and more manageable.
Regardless of what business you're into, Wirecast lets you stream both TV-like live stream production and on-demand broadcasts. Since it allows live streaming to any RTMP destination, you can get a high level of flexibility in terms of the choice of your streaming platforms.
Key Features –
Unlimited live camera inputs – iOS, NDI, HDMI, SDI, HP)
Compatible with both Windows and macOS
Access to a free wireless camera app for iOS
Live guests, PPT Slides, screen sharing, and web feeds
Mix up to 8 independent audio tracks and add FX & processing
Production automation tools like playlists and hotkeys
Built-in chroma key, animated graphics, and overlays
ISO Recording & virtual camera and microphone
Built-in moderated Facebook, Twitter & Youtube comment overlays
Access to over 5,00,000 unique media assets
Integration with and Rendezvous chat for private messages
Pricing Plans – Wirecast offer free trial with no time limit but has has an audio and video watermark. The paid plans are as follows –
Wirecast Studio – $599 (lifetime license) – unlimited inputs, 2 remote guests via Rendezvous, built-in animated lower thirds title library, advanced audio mixer, unlimited destination outputs, 1-4 slot multi-viewer output, etc
Wirecast Pro – $799 (lifetime license) – All Wirecast Studio features + 7 remote guests via Rendezvous conferencing, ISO record of individual scores, PTZ Camera Control, multi-track audio recording, 1-17 slot multi-viewer output, pro audio controls, etc.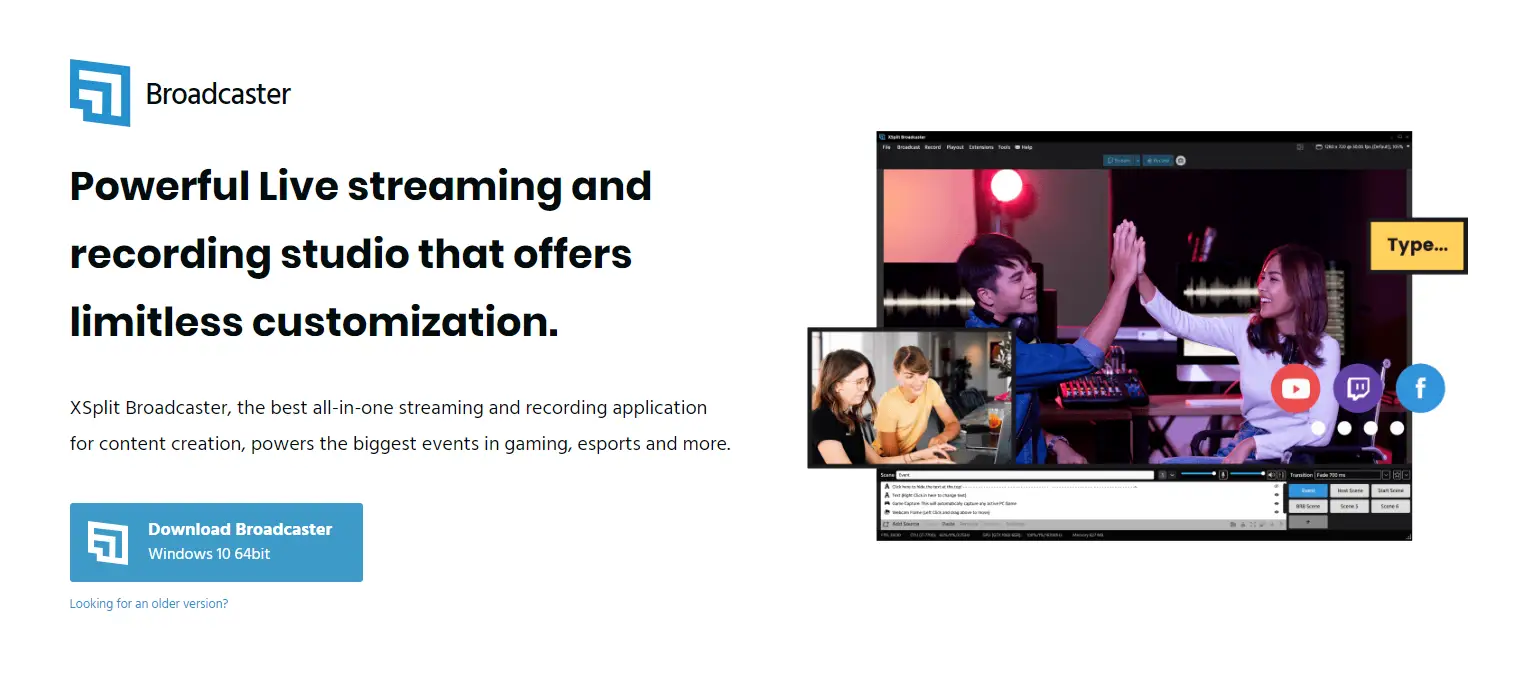 XSplit Broadcaster is an easy-to-use live streaming software suited for gamers and game casters. It lets you live-stream and record videos on various platforms like Youtube, Twitch, LinkedIn, Skype, Facebook, etc.
It has a fantastic user interface that allows for unlimited customization possibilities. All you have to do is simply drag and drop & resize media sources like images, GIFs, and web pages. You can manage everything from a single monitor with the in-GAME HUD or use multiple displays with its projector mode.
The best part is maximizing your video streaming capabilities by integrating plugins and extensions from its store. Some of them include a Gamepad visualizer, whiteboard, audio mixer, DSP effects, replay source, etc. I would recommend the gamepad visualizer if you want to create breathtaking gaming videos for Youtube.
Overall, XSplit Broadcaster enables you to produce high-grade content for the video games you love.
Key Features –
Custom RTMP to stream to any platform
Simultaneous broadcasting to multiple stream services
Add multiple animations & broadcast effects to your scenes
Media slideshow to loop multiple images and videos
Top-notch chroma sensitivity for webcams, capture source, and media files
Enable Split Mode – Scene preview & Program preview
Access to source and extension plugins
Pricing Plans – XSplit Broadcaster has a free plan that lets you create 4 scenes, video content, thumbnail scene preview, chroma-key, access to the virtual camera with watermark, etc., and basic support.
The Premium plan costs $15/month, which allows for all free plan features plus unlimited scenes, a skype video camera, audio source, local streaming, stream delay, preview editor, source transitions, broadcasting, unlimited resolution, 240 FPS, and 24×7 support.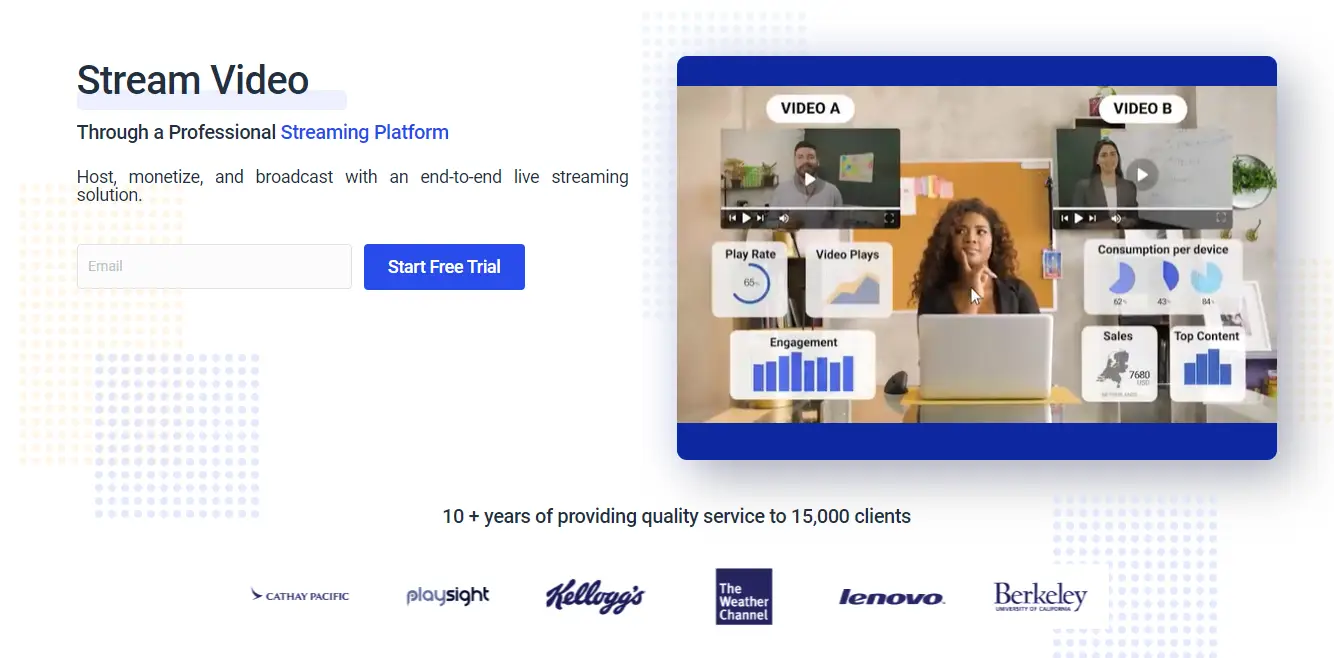 Dacast is a fully-integrated platform that lets you stream live videos & on-demand videos along with a wide array of video monetization options. It is an all-in-one platform that takes care of your video hosting, streaming, and managing professional broadcasts on the fly.
Firstly, its built-in CMS will take care of organizing and managing your video content. It also makes it easy to group, upload, delete, and edit videos in bulk coupled with sharing and embedding. It also comes with advanced privacy settings to stream your videos securely.
Now comes the best part – with an integrated paywall system into your video player, you can charge customers either with a pay-per-view or subscription-based payment system. It supports over 135 currencies and 10 languages which means you can massively scale your video streaming to a global audience.
On the whole, Dacast offers everything needed to augment & monetize your video streaming to the next level. You need not invest in separate tools as Dacast has covered everything under one roof.
Key Features –
End-to-end low-latency online video streaming for optimization
Showcase your live streams in an immersive video gallery
Ability to embed live video anywhere
Broadcast live or on-demand video content to your OTT apps
Ensures scalable delivery via powerful CDN
Mobile video hosting for a seamless experience
Easily encode content for adaptive bitrate streaming
Full 1080p HD broadcasting
Pricing Plans – Dacast offer 14-day free trial for all it paid plans, which are as follows –
Starter Plan – $39/month – 1.2 TB/year, 50GB storage, live streaming, video hosting, 24×7 support, unlimited concurrent viewers, full 1080p HD broadcasting
Event Plan – $63/month – All Starter plan features plus 6TB/year, 50GB storage, real-time analytics, live & video-on-demand playlists, live countdown, paywall, etc
Scale Plan – $188/month – All Event plan features plus 24TB/year, 1000GB storage, unlimited channels, VOD chapter makers, advanced library management, 3 team members, phone support
Custom Plan – Contact team – All Scale plan features plus added support, special features, SLAs, migrations, integrations, large scale events, 5 team members
OBS is a free and open-source live streaming software along with video recording. It is easy to use, highly customizable, and enables you to get benefitted from smartly playing around with video streaming capabilities.
It supports RTMP broadcasting, switching between multiple sources, capture cards, webcams, chroma key, and video & audio streaming. It does not have native plugins instead, its community members have developed a broad set of plugins that broadcasters can use to include more streaming functionalities.
Furthermore, its streamlined settings panel makes it easier for you to tweak or modify each aspect of your broadcast or recording. Once everything is done, you can effortlessly start streaming on Windows, Mac, and Linux. However, you should know that OBS doesn't support multi-bitrate streaming.
Key features –
Access to high-performance real-time video/audio capturing and mixing
Setup unlimited number of scenes to switch between via custom transitions
Powerful and easy-to-use configuration options
Noise gain and suppression to remove disturbing sounds in the background
Modular Dock UI to rearrange layout as per your needs
Preview your scenes and sources via Studio mode
Visualize a high-level view of your production using Multi-view
Pricing Plans – Since it is open-source, OBS Studio is free to use.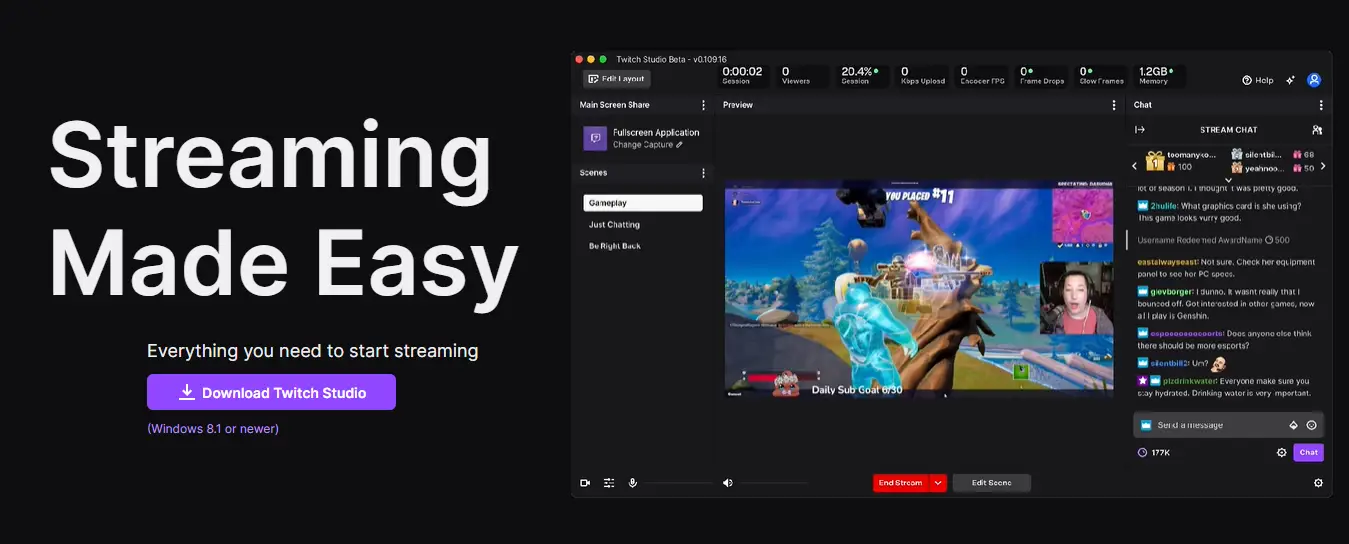 Twitch Studio is a free streaming software that enables you to stream directly on Twitch. It is highly user-friendly, so even beginners and new streamers can quickly start streaming with Twitch Studio.
It provides a structured setup for setting up your mic, webcam, green screen, monitor resolution, bitrate, etc., to stream live videos at ease. Moreover, you can even personalize the preset options automatically set for you.
In general, if you're passionate about online gaming and want to stream live only on Twitch, Twitch Studio shall be your best pick.
Key Features –
Access to starter layouts and overlays
An array of customizable Twitch brand assets
Built-in alerts and activity feed
Ensures that your microphone doesn't get too loud if your scream
Add a variety of layers to your scene
Multiple stream layouts
Pricing Plans – Twitch Studio is a free streaming software.
Which is the Best Streaming Software for you?
Now a days, live video streaming is an effective marketing and communication channel for businesses of all kinds. Whether you want to announce new product launches like Apple or host live events across multiple platforms, live streaming can help you reach your target audience and engage them for longer duration.
If you wish to stream on multiple platforms simultaneously Restream is our favorite and most-recommended video streaming software. On the other hand, if you want to stream pre-recorded videos on YouTube, Facebook, Instagram and other channels, you can use Onestream.
Rest assured, all the above-listed stream software and platforms are the best in class and offer something unique from each other. Now, it is your turn to evaluate your requirements and choose the most suitable one.
If you want to take video streaming to the next level for marketing and advertising, you should read the following articles next –