Are you looking for the best video software to edit your videos? Try Camtasia, my all-time favorite and easy to use video editing software for beginners and feature-packed for advanced users.
Whether you are a YouTuber, marketer, or business owner, if you want to make the best out of videos for your business, you need the best video editing software in your arsenal.
A good video editing software helps you create videos by providing you with essential tools and features from arranging different shots & scenes to adding computer-generated imagery such as filters and effects. There are many video editing software that you can choose from based on your editing skills, device type, or the type of videos you want to create.
So, to help you pick the most relevant for you, I have collated a list of the best video editing software for beginners to advanced filmmakers and in different pricing ranges – from the cheapest to the most expensive one.
If you are ready, let's get started.
1. Adobe Premiere Pro – Best Video Editing Software for All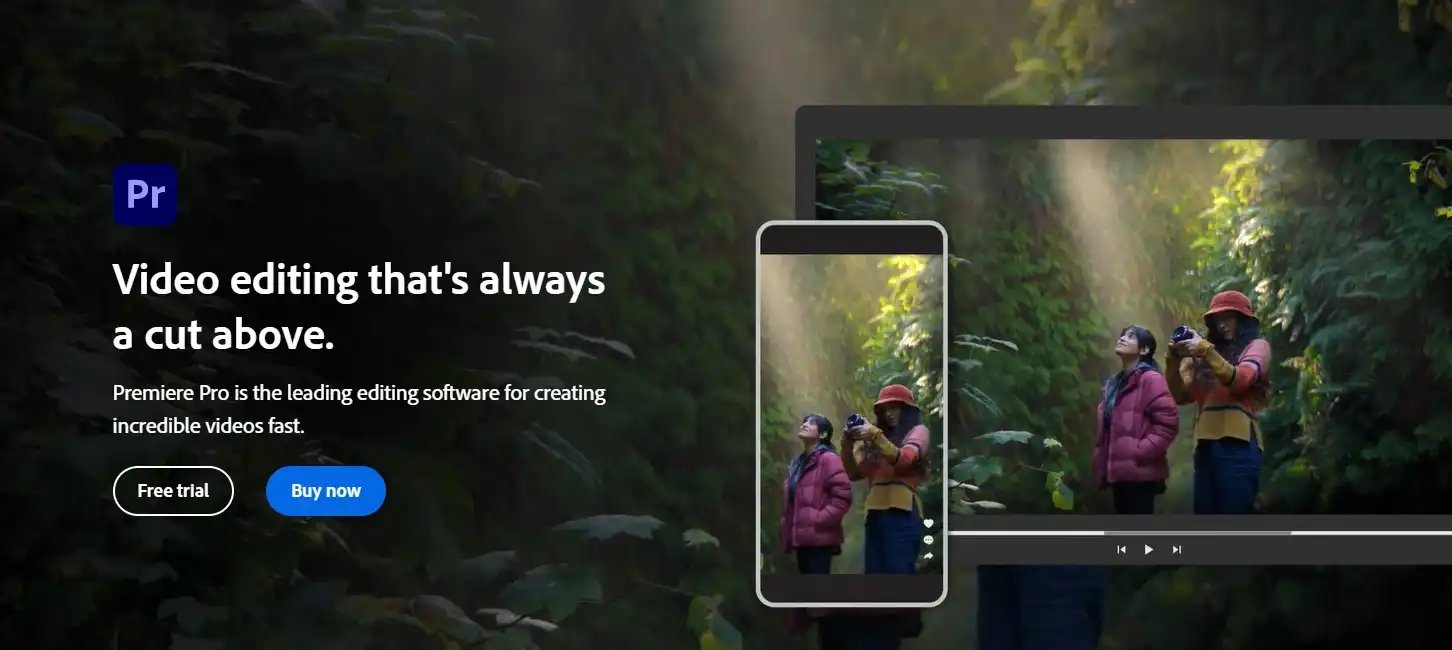 Adobe Premiere Pro is a cutting-edge video editing software built for creating stunning videos on TV, film, and the entire web. You can use its professional templates or customize animated graphics to match your design mood and style.
One blazing aspect that I like the most is the ability to use a VR headset to view the 360° video while editing. It supports HTC Vive, Oculus Shift, and Windows Mixed Reality VR headsets. However, you can still use your keyboard for dynamic trimming and adding markers.
You can also edit any footage type shot from either a professional camera or your phone. With native file support and intuitive workflows, the editing process can be fastened to increase productivity and efficiency.
Since Adobe blends well with Creative Cloud, you can integrate thousands of creative assets and hundreds of third-party extensions. Thus high-end video editing is unlocked with just a few clicks and taps.
In a nutshell, Adobe Premiere Pro is a pioneer to introduce hard-core video editing features and that's why it's always popular among video editing expert gurus.
Key Highlights –
Convert your dialog into captions with automatic transcriptions
Integration with Adobe stock to use premium assets
Save multichannel master track settings for reusing on different projects
Ability to find, select and group clips in the sequence
Detect the editing points in the video instantly via scene edit detection
Merge one or more audio clips into a single video or AV clip
Pricing & Plans – Adobe Premiere Pro offers a 7-day trial to test the software. The paid plan for individuals costs $20.99/month and for teams and businesses, the pricing starts at $79.99/month.
2. Final Cut Pro – Best Video Editing Software for Mac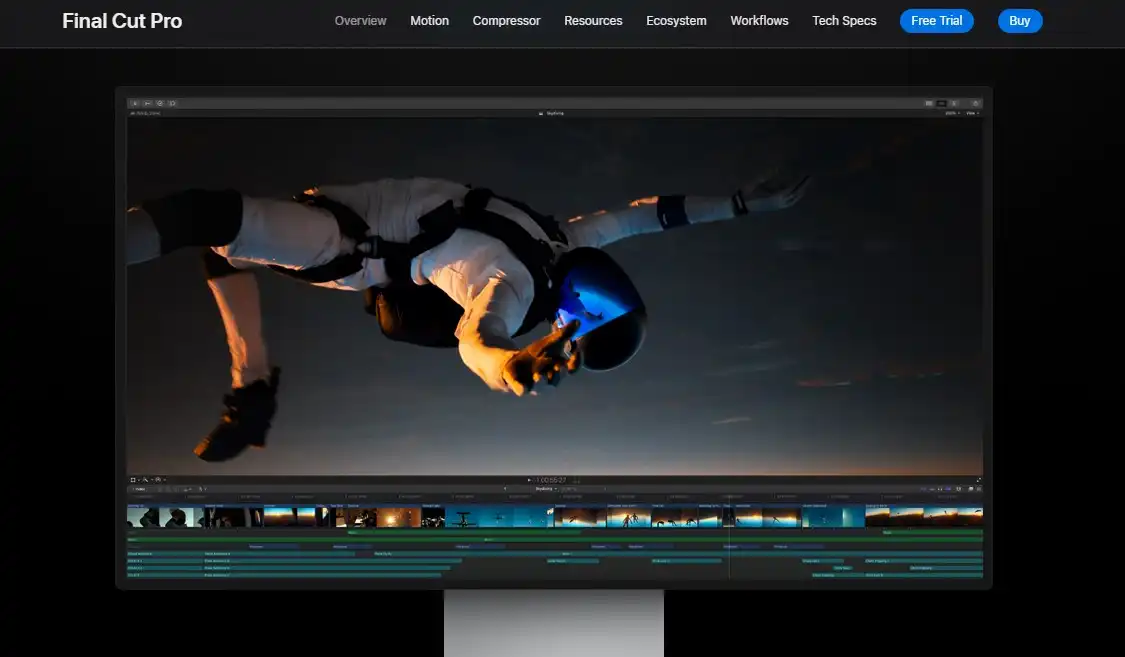 Final Cut Pro is an advanced video editing software built for professional Mac users. The entire software is optimized for Apple Silicon so that you can work on sophisticated assets with bigger frame sizes at unimaginable speed controls.
With its object tracker, you can drag a title, graphic, or effect directly into the viewer to detect the faces using machine learning. It also allows you to adjust the focus points and field depth on clips to transform the video look shot in the Cinematic mode on iPhone 13.
One outstanding aspect is that you can edit multicamera projects by automatically syncing 64 video angles with different formats, sizes, and rates. This shifts video editing to the next level by giving your audience an extraordinary multidimensional viewing experience.
So altogether, if you are an ardent Mac video editor looking for an extremely high-performing video editing software at your fingertips, there's no better option than Final Cut Pro.
Key Highlights –
Create 2D and 3D tiles which can be opened and adjusted
Fastens up the post-production process
Access to advanced color grading tools
Advanced organizing tools
Use compound clips to create separate audio and video clips into a single movable package
140+ video effects, 100+ audio effects and 150+ transitions
Perfectly optimized for the new Macbook Pro
Pricing & Plans – Final Cut Pro offers a lifetime pricing of $299. It can be installed on several MAC devices, and you'll also get automatic updates when you buy it. It also offers a 90-day free trial so that you can test the software to your satisfaction.
3. Camtasia – Best Video Editing Software for Beginners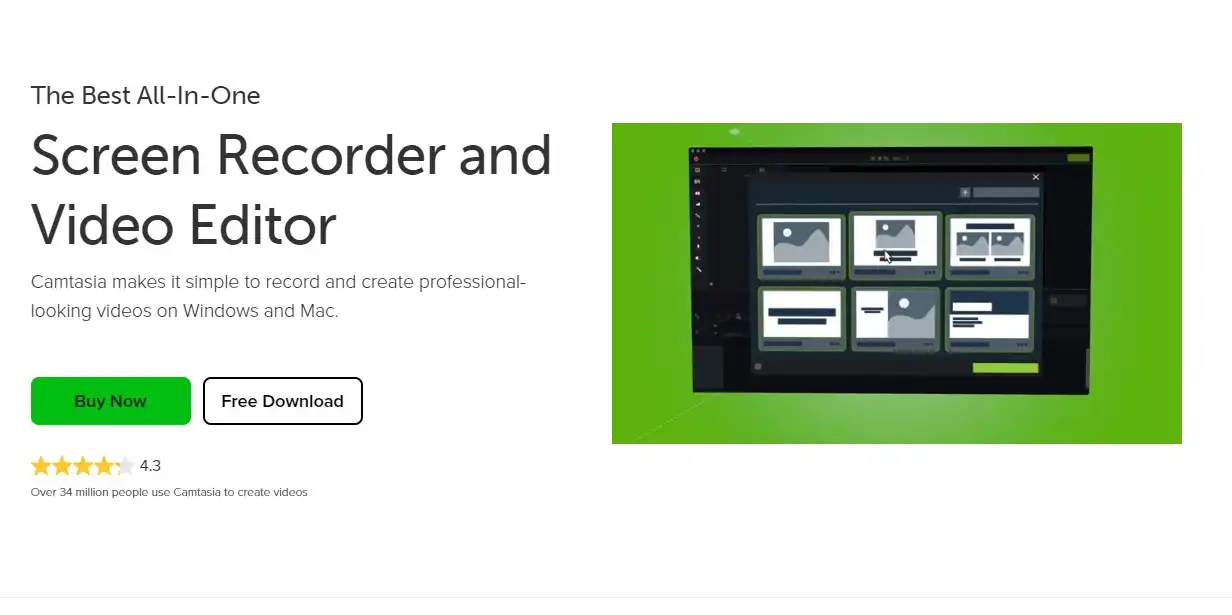 Camtasia is beginner-friendly software in which you can record and edit videos as well. With its simple editor, you can capture anything on your screen – website, product demos, tutorials, presentations, etc. Upon adding a few effects, you're ready to hit your audience's eyeballs.
It also has free and premium video templates to kickstart your design process. In addition to this, you can also select stunning themes, device frames, and motion graphics assets to help you make a fully-functional video without navigating elsewhere.
To simplify it, you can use Camtasia's flexible drag-and-drop editor to add, remove, trim and move sections of videos or audios. Moreover, you can include callouts, animations, and transitions in your video to make it interactive and worthwhile.
Whether you have video editing experience or it's the first time you're making one, you can confidently rely on Camtasia. In fact, I have used Camtasia for editing and recording videos and was highly satisfied with the output.
Key Highlights –
Record the entire screen, specific dimensions, region, window, or application
Save custom styles and configurations for repetitive use
Customize royalty-free assets to add them to your video
Add captions directly to your recordings
Replace backgrounds and insert footage videos
Upload your video to Youtube, Vimeo, Screencast, or your online video course
Pricing & Plans – Camtasia also offers a 30-day free trial, which allows you can test the software before opting for its one-time price of just $299.99/user. You can get one Camtasia license, the first year of maintenance, Windows/Mac Compatibility, customer support, and get renewed at $50.00/year.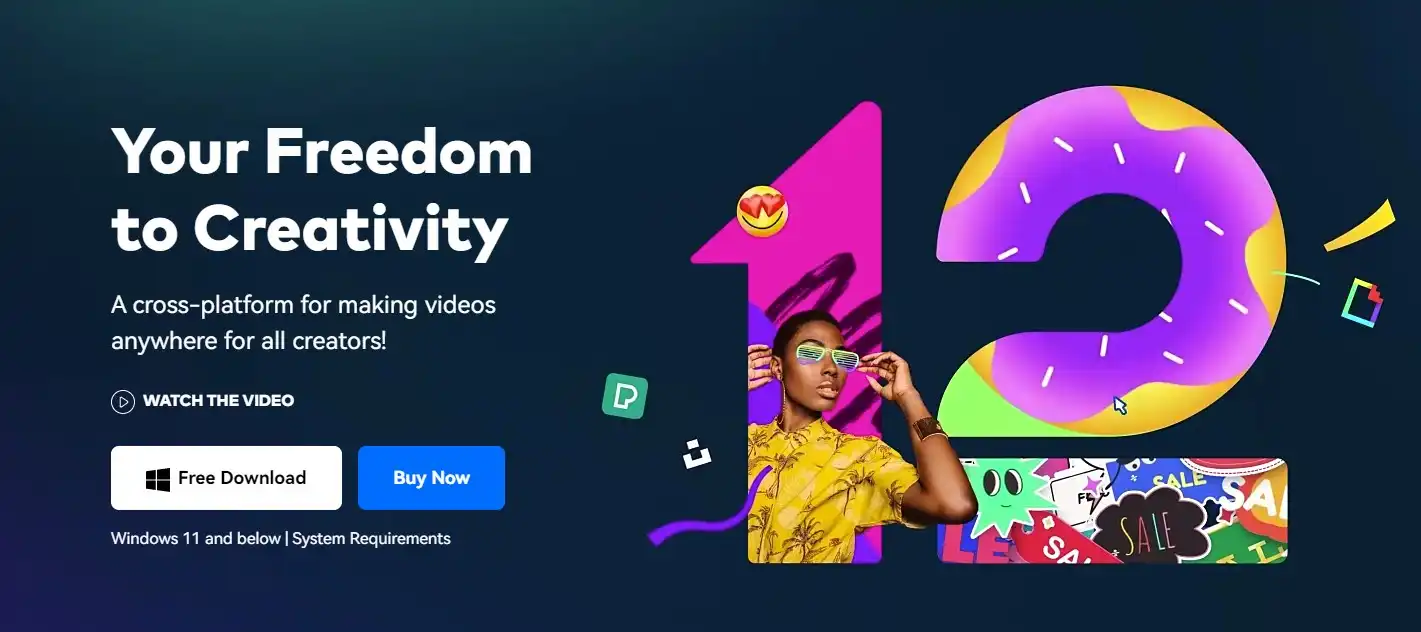 Wondershare Filmora is every digital creator's favorite video editing software as it makes the process of creating and sharing inspiring stories user-friendly and straightforward.
You can get started with 20+ preset templates or use the instant mode to make a video within three steps. Also, it's possible to save your own video templates in the cloud and exchange them with your fellow creators to facilitate their video creation process.
Another interesting aspect to highlight is the Filmora AI Portrait. It detects the human in your video and removes the background with a simple drag-and-click. It sounds like a smart alternative to using green screens, isn't it?
In addition to this, you can access the library of AR stickers and 60+ effects such as human noise, emojis, sunglasses, and many more. Additionally, AI Potrtarits can help you create a youtube thumbnail, game streaming video, and freeze frames for an amazing character introduction in your video.
Other value-added video editing capabilities include applying color correction to several clips, showcasing videos on split screens, and tracking the person's movements to craft better-engaging videos.
Key Highlights –
Separate editor for Windows and Mac
Slow down or speed up your videos to create unique cinematic effects
Automatically align audio and video captured by different cameras in the same screen
Wondershare Drive – uploading/sharing of project documents, templates, and exported videos
Detects silenced moments and automatically remove them from your video
Access to Filmora's effects and visual plug-ins
Pricing & Plans – You can download Wondershare Filmora for free on both Windows & Mac to explore its fully-functional editing tools and effects. But there will be a watermark in the exported video. To remove this, you'll have to subscribe to its paid plans which are as follows –
Month Plan – $28.98/month
Annual Plan – $68.98
Perpetual Plan – $116.95/lifetime
Besides, you can enjoy free downloads of all Filmora updates in every plan.
5. InVideo – Best Video Editing Software for Marketing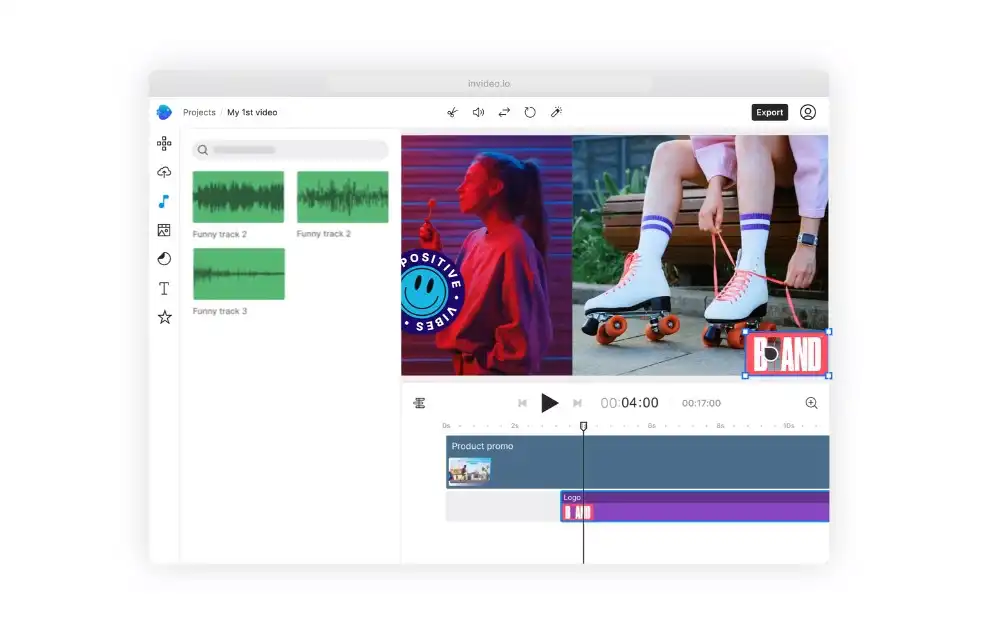 InVideo is a free video editing software best suited to scale up your marketing potential. It is easy-to-use, flexible, and provides around 5000+ stunning templates, stock videos, and music to leverage your innovation and creativity.
With InVideo, you can create eye-grabbing product video ads, presentations, testimonials, brand promos, long/short sized ads, webinar promos, etc. It offers 300+ awesome branding templates, and the number seems to increase based on the aspect ratio you choose.
To improve your business's online presence, you will have to work vigorously to engage with your fellow fans on social media. This can be made effortless by using InVideo's fantastic video editing tools for social media. It includes –
Facebook video ads
Instagram and Youtube video editor
Meme Generator
Easy-to-use Poster Maker
Finally, if you are a marketer and looking for the easiest way to create video ads and creatives, InVideo should be your go-to video editing platform.
Key Highlights –
Convert an article into a beautiful video via the text-to-video tool
Full control over what you edit
3M+ Standard Media Library
Freedom to make videos in any language
Event-specific templates for every special day of the year
Maximum of 100GB Cloud Storage
Unlimited team members
Pricing & Plans – InVideo is free to get started. But to remove the watermark, you'll have to upgrade to its paid plans –
Business Plan – $17/month – Premium templates, 1M+ premium media worth $1500, 1080p video resolution, 10GB cloud storage, branding
Unlimited Plan – $34/month – All features of Business Plan plus, unlimited video exports, 100GB cloud storage, and priority support
6. Animoto – DIY Online Video Editing Software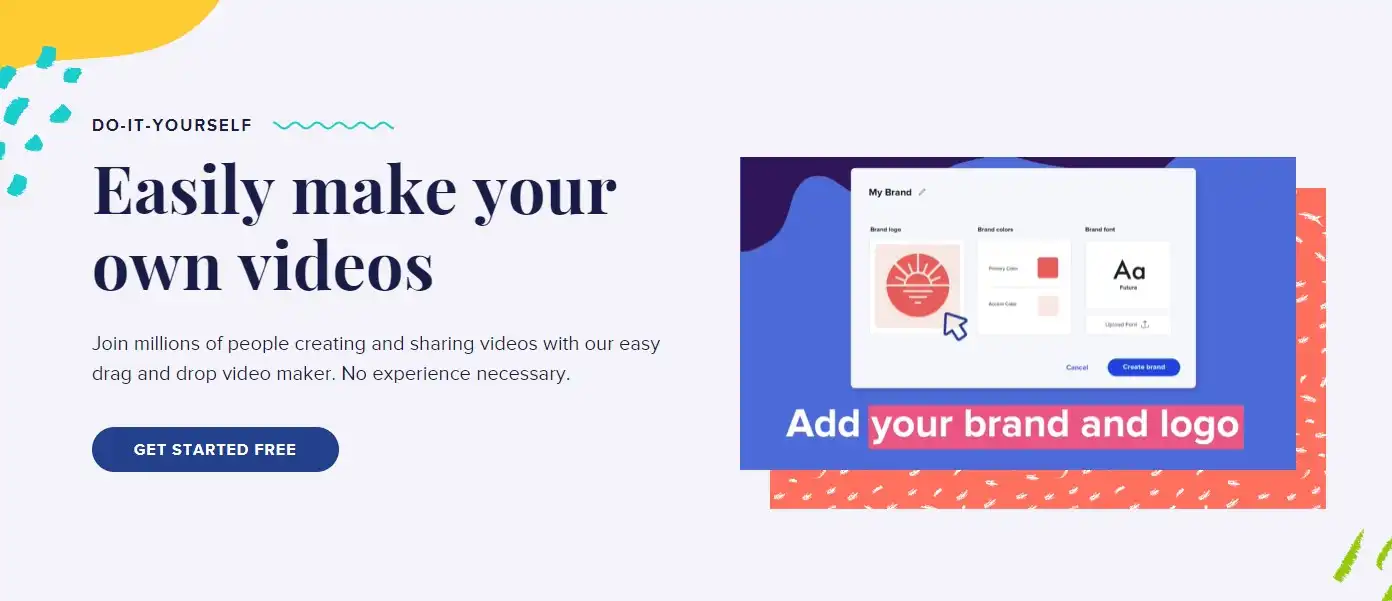 If you want to leverage the power of animated videos in your business, then Animoto is the best place to start. It has won a competitive position by partnering with leading brands like Facebook, Youtube, LinkedIn, Twitter, and Hubspot.
It is a cloud-based free online video editing software that lets you access millions of in-built photos, video clips, and graphics to create awe-inspiring videos.
With Animoto, you can create promo videos, behind-the-scenes videos, how-to demos, bite-sized product intro, etc. Creating these video types doesn't take much time, as its drag-and-drop editor makes the process quick and straightforward.
The most beneficial aspect is that you'll get a lifetime license that doesn't get expired. So you're given the creative freedom to design unlimited videos, and download and post them anywhere without any limits.
Key Highlights –
Record, upload and edit your voice-over
Mesmerizing text effects to grab user attention
Create square, landscape, vertical videos to make it look adaptable and responsive
Access to a wide range of customizable templates in multiple categories
Save colors, fonts, and other assets to create on-branded videos easily
Pricing & Plans – Animoto comes with a Free Plan to explore the platform and has three paid pricing plans –
Basic Plan – $16/month – No Animoto branding, HD 1080p video, unlimited downloads
Professional Plan – $29/month – All Basic Plan features plus 1M+ licensed stock photos/videos, 3000 licensed music tracks, voice-over, 40 professional fonts
Professional Plus – $79/month – All Professional Plan features plus 3 uses, license to resell to businesses, upload your fonts, and 100M+ Premium licensed photos/videos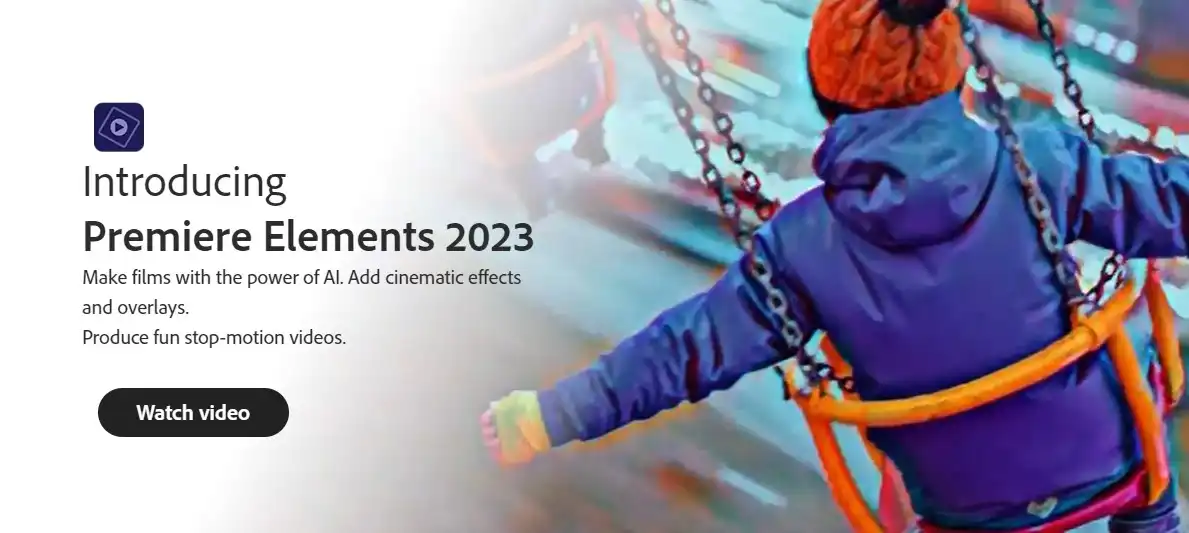 Adobe Premiere Elements is one of the leading video editing software designed for beginners. You can create beautiful videos via its automated AI editing, which makes it fast and easy to reframe subjects, trim & edit, the ability to match the music length with videos, and many more in a smooth manner. 
To make the process more user-friendly, you can use its 20+ guided effects to include visually appealing effects, transitions, and animations. As the name suggests, it teaches you how to apply these components to create a stunning video in a step-by-step manner.
You can also explore eye-catchy slideshow styles, compress the size of your films and create visual stories to share on social media. You can select your desired clips or themes, coordinate them, and create an instant film within seconds.
Overall, Adobe Premiere Elements lets you deliver an impressive story by embedding astounding video elements. Its user-friendly interface makes it super easy for anyone to learn and excel at video editing.
Key Highlights –
Create dynamic time-lapse videos
Slideshows and collages are automatically created from your videos
Ability to add effects only in the specific areas
Easily create photos from videos instantly
Freeze frames and motion titles
Pricing & Plans – Adobe Premiere Elements offers a 30-day trial, and it comes with a one-time payment of $99.99. So, if you think it is what you want, sign up for a trial and give it a go.
8. Apple iMovie – Free Film Video Editing Software for macOS & iOS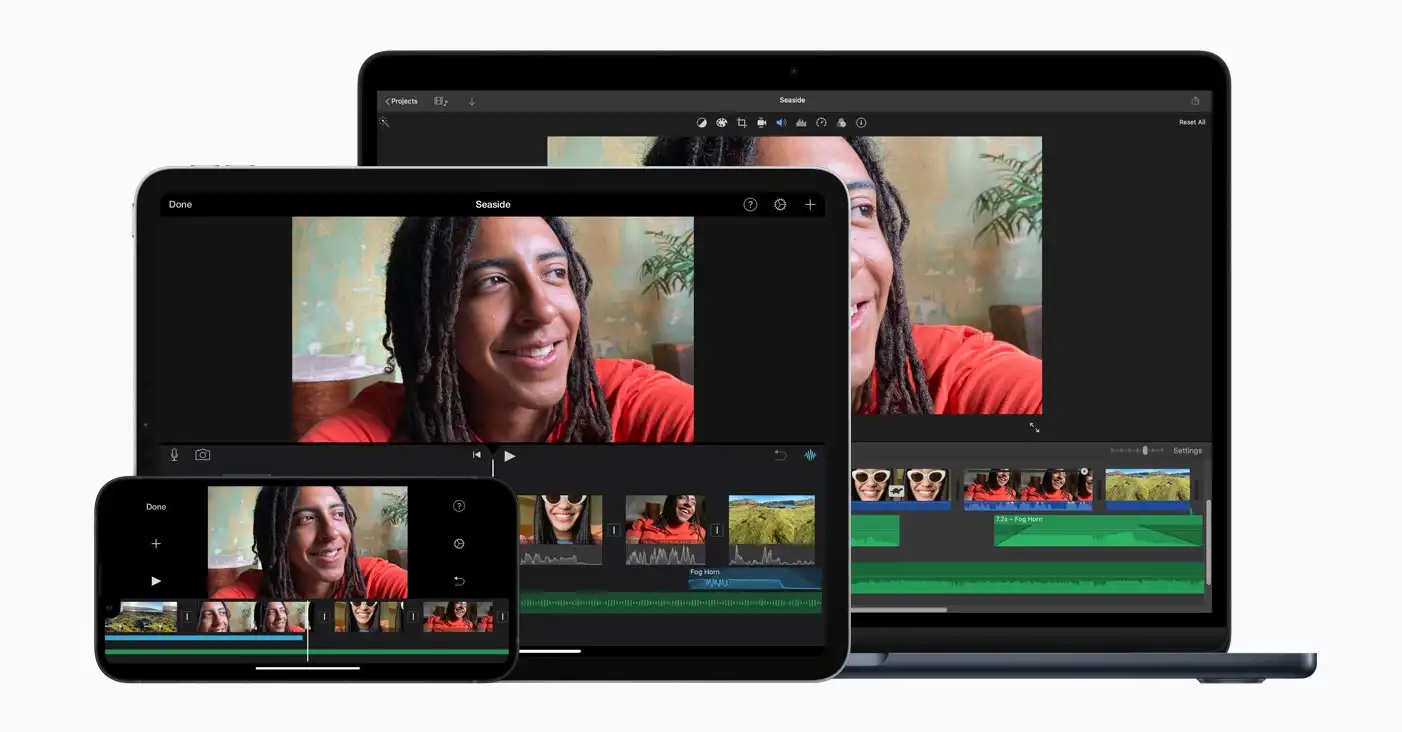 If you're looking to create a better way of representing your cinematic storytelling, then Apple iMovie is a good fit. You can choose clips, add titles, music, effects, or even allow the magic storyboard to do your hard work.
It blends well with Macbook Air & Macbook Pro and supports upto 4k video resolution. Since it is compatible with Apple, you can easily import & export video clips, audio, and photos from iCloud, thus making your job easier.
The video editing software offers over 13 creative video filters. Whether you need a nostalgic era, comic style, or western appearance, you can easily add them and give an excellent movie-looking experience.
Adding to this, iMovie makes this effortless to create Hollywood-style trailers – you just have to choose a template, add your logo, add other creative assets, and your trailer will be ready,
Altogether, if you're looking for creative video editing software and an alternative to Final Cut Pro, iMovie is your best pick.
Key Highlights –
Create personalized title cards, credits easily on your iPhone and iPad
Access to 100 smart soundtracks
Add picture-in-picture and split-screen effects
Process video clips at a speed of 60 frames per second
Pricing & Plans – iMovie is free to use. So you can signup instantly and analyze how it helps make your films attractive and inspirational.
9. Mini Tool MovieMaker – Free Video Editing Software for Windows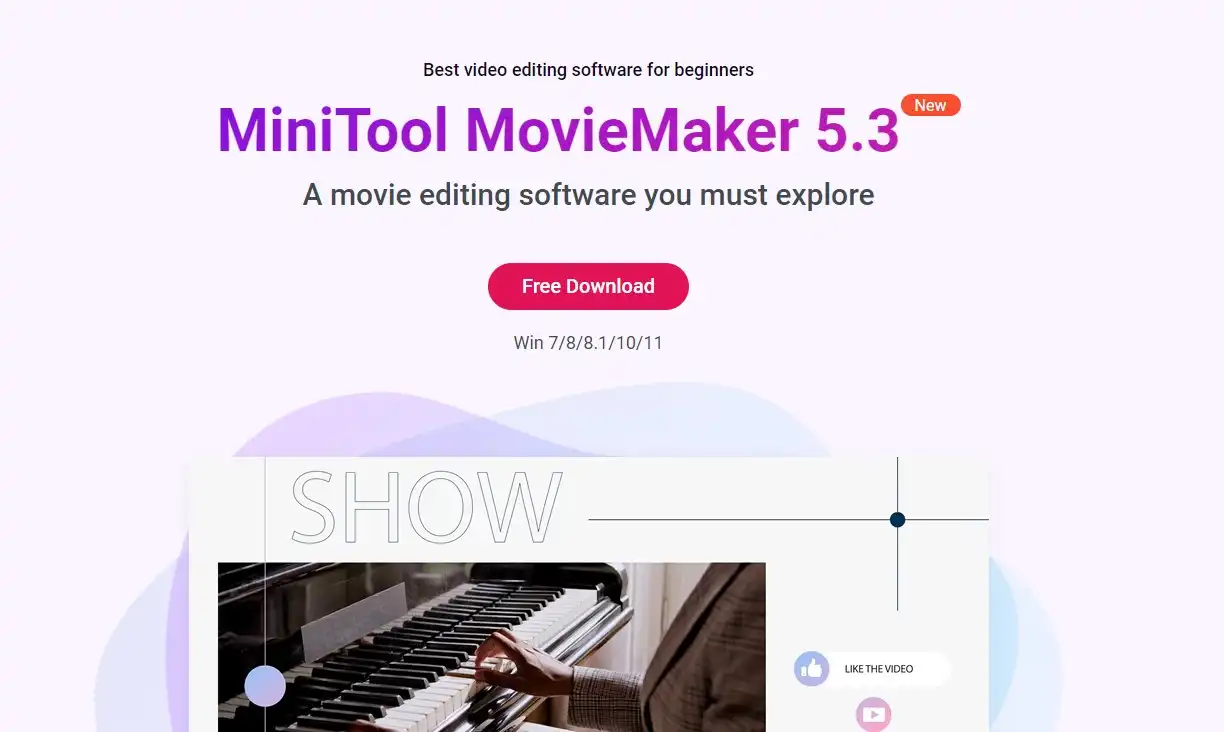 Mini Tool MovieMaker is a free video editing software that lets aspiring filmmakers create beautiful videos. It helps improve the aesthetics and visual quality by adding unique filters and professional 3D LUTs to amplify the viewing experience.
With its minimalist interface, you can instantly edit images, videos and apply all the changes within a few minutes. Also, you can light up your videos with over 25+ customizable animated elements to create a memorable impression in your audience's minds.
Bottom Line, if you're looking for a simple yet effective video editing software for movies with great support for Windows, then Mini Tool MovieMaker has got you covered.
Key Highlights –
Apply pan or zoom effect to create photo animation style
Split large videos into parts or fine-tune the clip duration with its trimmer
Intuitive video speed controller
Hollywood style movie templates
Add animated subtitles to your videos
Autosave project within seconds
Pricing & Plans – Mini Tool MovieMaker is absolutely free to use. If you're new to creating filmmaking videos, I recommend you use this video editing tool to know how it works for you.
10. VideoPad – Easy-to-use Video Editing Software 
VideoPad is a versatile video editing software that lets you create professional and HD-quality videos as fast as possible. You can drag-and-drop video clips, apply over 50 visual & transition effects, edit & export 3D and 360-degree video files without hassle.
One of the best aspects of the VideoPad is its intuitive interface, making it flexible for first-time users. Even you can upload the completed video directly to your preferred social platform or save it to a portable device for easy accessibility.
It is one of the fewest video editing software with a suite of video optimization tools. It enhances video stabilization, fine-tunes visual effects, uses lossless export for optimal quality, adds digital images to your sequences, and lets you make changes to videos like cropping/trimming within minutes.
Overall, VideoPad is a fully-featured video editor packed with intelligent capabilities to create excellent videos on the fly.
Key Highlights –
Over 60+ supported file formats
Burn videos to DVD
2D to 3D stereoscopic conversion
Create visual effects templates to use on any project
Add custom logos and watermarks to videos
Ability to record your own narration
Professional templates for intros, outros, titles, and themed projects
Pricing & Plans – VideoPad has a free version and offers two paid versions. The Home Edition costs $34.99, and the Master Edition is priced at $59.95 for a discounted price. 
Which is the best video editing software for you?
Choosing the best video editing software entirely depends on your skills with video editing and the types of videos you want to create. If I have to recommend, here are my top picks for video editing software –
Videos play a crucial in today's sales and marketing strategies. People want to learn about your products and nothing works better than videos. So, it's high time that you pick the most suitable one based on your skills and start creating videos.