Despite being one of the oldest digital communication methods, emails remain an exceptionally potent means of conveying your marketing messages to both potential customers and loyal clientele. In fact, for every $1 spent by a marketer on email marketing yields an ROI of $36.
However, achieving such remarkable results hinges on selecting the right email marketing app — one that empowers you to craft compelling email campaigns boasting high deliverability rates. This is where the significance of BigCommerce email marketing apps truly shines.
In this article, we'll delve into a selection of email marketing apps tailor-made for your BigCommerce store.
What To Look For In a BigCommerce Email Marketing App?
Before we jump into our list of awesome BigCommerce email marketing apps, it's crucial to know what makes a perfect one. These are the things I look for when deciding if an app is top-notch:
Integration with BigCommerce: The app should seamlessly integrate with your BigCommerce store, allowing you to sync customer data, product information, and order history. This integration ensures that your email campaigns are relevant and up-to-date.
Email Campaign Creation: The app should offer a user-friendly email editor with customizable templates, allowing you to create visually appealing and responsive email campaigns without needing coding skills.
Contact Management: Effective contact management features are crucial. Look for the ability to segment your email list based on various criteria such as purchase history, demographics, and engagement levels. This helps you send targeted messages to different customer groups.
Segmentation & Personalization: The app should provide advanced contact segmentation option and support dynamic content to address customers by their names and provide personalized product recommendations based on their past purchases, browsing history and other factors.
Automation and Workflow: Automation features, such as drip campaigns, abandoned cart recovery, and personalized product recommendations, can save you time and improve the effectiveness of your email marketing efforts.
Multichannel Marketing: If you plan to expand beyond email marketing, consider apps that offer multichannel marketing capabilities, like SMS marketing, push notification, or social media integration.
A/B Testing: A good email marketing app should allow you to conduct A/B tests on subject lines, content, and other elements to optimize your email campaigns for higher open and click-through rates.
Reporting and Analytics: Robust reporting tools are essential. You should be able to track metrics like open rates, click-through rates, conversion rates, and revenue generated from your email campaigns. This data helps you assess the effectiveness of your strategies.
Compliance with Email Regulations: Ensure that the app complies with email marketing regulations like CAN-SPAM and GDPR. It should also offer opt-in and opt-out features to help you maintain a clean and compliant email list.
Apart from these, you may also want to ensure tha the app can integrate with your existing tech stack such as CRM system, analytics tools, social media and advertising networks. You should also consider your budget and business needs while choosing an app for your store.
When picking an email marketing service for your BigCommerce store, make sure it checks all these boxes. The good news? We've already done the homework for you. So, without further ado, let's dive into the list!
Top 5 Email Marketing Apps For BigCommerce
Now, based on the features mentioned above, we did the leg work for you and reviewed some of the best BigCommerce email marketing apps that you can consider using for your store.
Ready? Let's get started.
Omnisend is one of the best eCommerce email marketing platform with a direct integration with BigCommerce stores. It's a powerhouse designed to transform to help you make the best out of your email campaigns with automation and other advanced features.
This feature-rich app is tailor-made for BigCommerce users, providing a comprehensive toolkit to bolster your email marketing efforts. From building your email list through strategically crafted landing pages and engaging popups to effortlessly creating captivating emails using a plethora of pre-designed templates, Omnisend ensures your email game is strong.
What sets Omnisend apart is its ability to send highly personalized emails, striking when the iron is hot with features like abandoned cart recovery and welcome workflows. Plus, it offers round-the-clock email and live chat support, catering to all users, including those on the free plan.
But the magic doesn't stop there. Omnisend unleashes an array of cool features, including pre-built automation workflows, SMS marketing, and web push notifications. These tools are your secret weapons to boost engagement and drive sales in the competitive world of online retail. By integrating your BigCommerce store with Omnisend, you pave the way for exceptional customer experiences, ultimately leading to increased sales.
To dive deeper into its features and functionalities, make sure to read our detailed Omnisend review.
Key Features –
Create and dispatch email marketing campaigns, newsletters, and global SMS messages with ease.
Turbocharge your email list growth with exit-intent popups, spin-to-win, and an array of signup forms.
Utilize ready-made email templates for various occasions, no coding expertise required.
Effortlessly establish abandoned cart recovery workflows with a single click, and set up welcome and browse abandonment campaigns.
Harness over 20 pre-designed automations to enhance personalization and boost sales.
Pricing Plans – Omnisend has a free plan for you to 250 contacts, allowing up to 500 email sends per month. For store with 250+ contacts, the paid plan starts at just $16/month with access to its SMS and web push notification features.
You can also check our Omnisend coupon code to get exclusive discounts on its paid plans.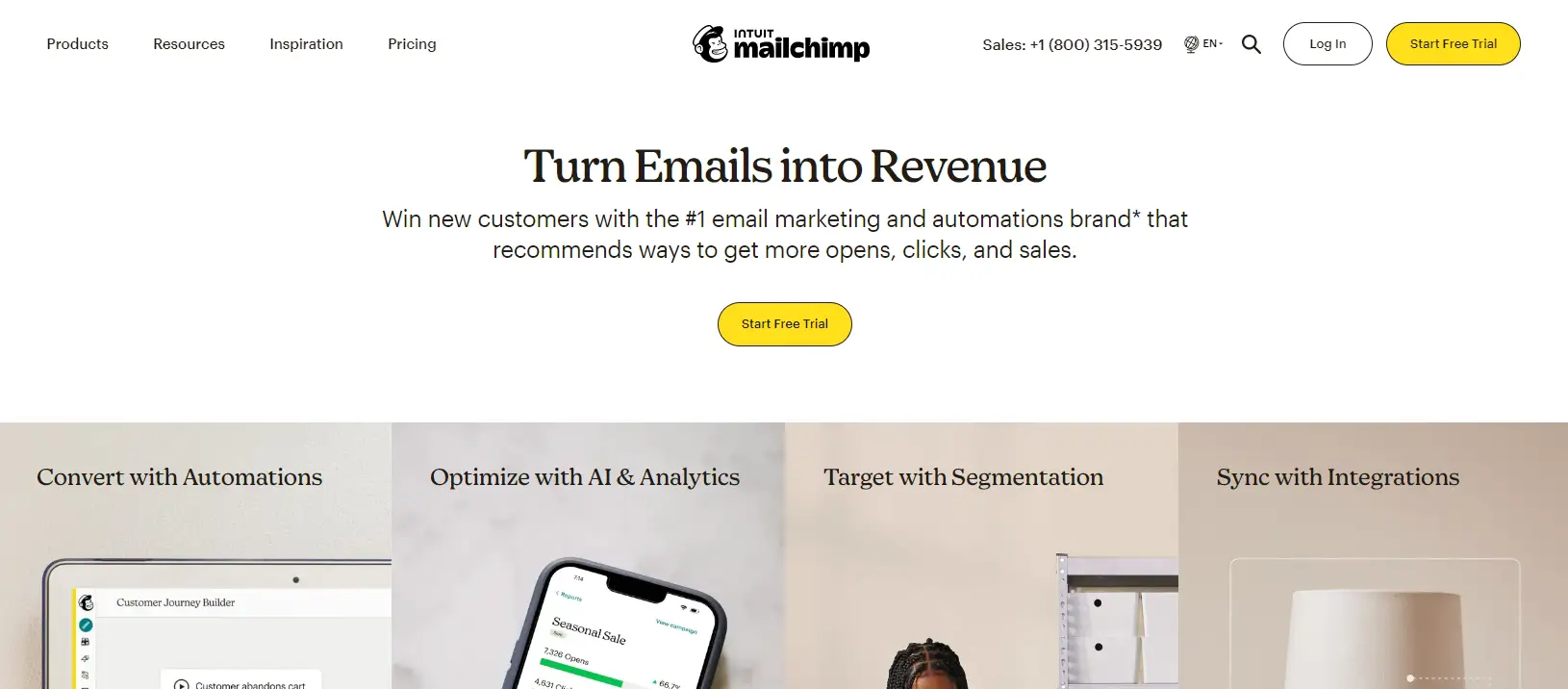 Mailchimp stands tall as a formidable player in our lineup. When you connect your online store with Mailchimp, you unlock a treasure trove of potent marketing tools designed to drive sales, enhance customer engagement, and nurture lasting relationships.
The real beauty of Mailchimp lies in its all-in-one marketing platform. This versatile tool empowers you to build, promote, and expand your business using a variety of channels, with email marketing being a standout feature.
With Mailchimp, you can set up entire storefronts, gain profound insights into your audience, leverage cutting-edge AI-powered tools, craft intricate customer journeys, automate your email campaigns, and gain valuable insights from comprehensive campaign reports.
Now, when you unite the forces of BigCommerce and Mailchimp, magic happens. The integration seamlessly syncs your BigCommerce store data with Mailchimp, enabling you to manage customer journeys with finesse and automate your marketing strategies.
Key Features –
Mailchimp's robust suite of automation tools covers various essential aspects.
The Customer Journey Builder tool lets you seamlessly automate your customer's voyage.
Mailchimp's advertising prowess extends to Facebook and Instagram.
Their retargeting ads on these social platforms serve as digital reminders to potential customers.
Mailchimp's predictive insights tool examines patterns in return customer behavior to gauge their likelihood of making another purchase.
Pricing Plans – Mailchimp caters to a range of merchants, starting with a free plan for up to 500 contacts and 1,000 email sends per month. Beyond that, there are three paid plans, starting at just $4.59/month based on your brand's size and needs.
Klaviyo has garnered immense popularity among BigCommerce merchants, promising an all-encompassing shopping experience for your customers through automated text and email campaigns.
Klaviyo's strength lies in its intelligent marketing automation and customer data platform. Marketers find it exceptionally user-friendly as it allows them to centralize and harness every morsel of customer data to craft hyper-personalized experiences across various communication channels, a surefire strategy to boost conversions and revenue.
What truly sets Klaviyo apart is its scalable and flexible data infrastructure that seamlessly meshes with your tech toolkit. It efficiently integrates with an array of tools, including those for shipping, loyalty, user-generated content, subscriptions, helpdesk support, and more, uniting all customer data into one consolidated source. This treasure trove of data is at your fingertips, enabling you to automate deeply personalized marketing endeavors across email, SMS, forms, and mobile push notifications—all from a single login.
Klaviyo empowers you with a plethora of features aimed at optimizing your email marketing campaigns and SMS marketing flows. With its user-friendly analytics dashboard and robust list segmentation tools, you gain valuable insights to evaluate campaign performance.
In essence, Klaviyo is a powerful email marketing app for BigCommerce. Its formidable automation builder acts as your guide to navigating customers through the conversion funnel, ultimately resulting in increased sales over time. You can read our in-depth Klaviyo review to learn more about its features & functionalities.
Key Features –
Crafting compelling emails is a breeze with Klaviyo's intuitive drag-and-drop editor.
Pre-built automation workflow templates to streamline your automation strategies.
Ready-made sign-up forms to grow your email list.
Top-notch segmentation and personalization capabilities to reach the right audience with precision.
Facebook and Instagram audience sync to extend your reach with social media audiences.
ROI-Based Analytics Reporting: Gain valuable insights into your email marketing performance.
Unlimited A/B testing to fine-tune your campaigns.
Pricing Plans – Klaviyo starts with a free plan for up to 250 contacts, allowing to send up to 500 emails each month. For more than 250 contacts, it has two paid plans starting at just $20/month, with access to all its features.
Privy, a dynamic BigCommerce marketing integration, is on a mission to supercharge your sales through email marketing at warp speed. With Privy, merchants gain the tools to expand their contact lists, salvage abandoned carts, and dispatch profit-boosting emails and text messages, all conveniently in one place.
At the core of Privy's capabilities are four types of email campaigns. You can craft engaging newsletters, recover abandoned carts, re-engage past customers, and roll out a welcoming series for newcomers. If you're seeking an app with pre-configured email automation campaigns tailor-made for BigCommerce, Privy makes for the perfect choice.
This BigCommerce app excels in elevating customer engagement. Privy achieves this through an array of engaging features, including popups, abandoned cart emails, and irresistible special offers. These elements enhance your communication with shoppers who've expressed interest in your products. For instance, in addition to standard popups featuring special offers or email list invitations, Privy adds a touch of interactivity with options like 'spin to win' popups and customized coupon code programs.
Key Features –
Intuitive drag-and-drop email editor for crafting eye-catching emails in a breeze.
Combat cart abandonment with automated follow-up emails.
Automated customer win-back emails to revive interest from past customers.
Advanced audience segmentation for a focussed email targeting for better results.
Unlimited popups and flyouts to amplify your email list growth.
Increase revenue with appealing upsell popups.
Incentivize purchases with customized coupon codes.
Attract shoppers with enticing free shipping offers.
In-depth revenue reporting.
Pricing Plans – Privy has a free plan for up to 100 mailable contacts with access to all its popup features. The paid plan starts at $30 per month, giving you access to all its advanced email targeting and automation features.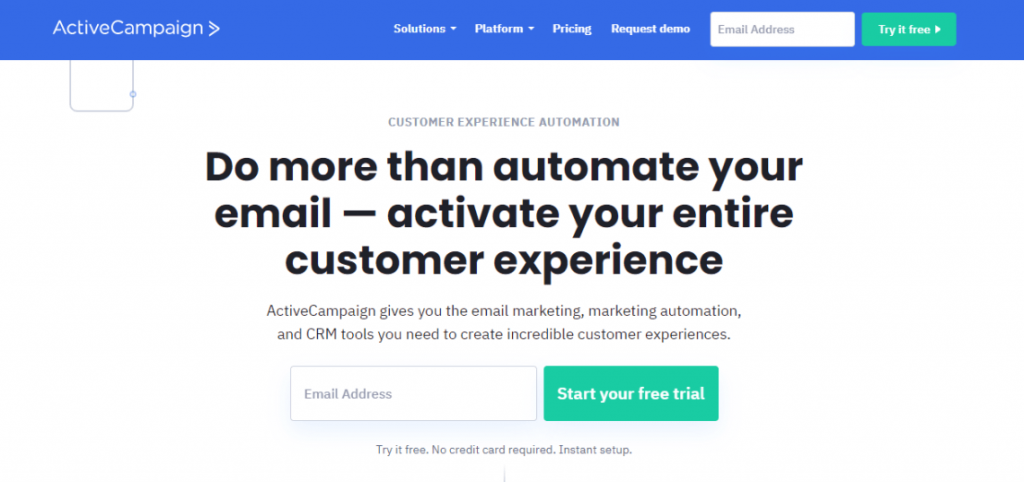 ActiveCampaign emerges as a versatile all-in-one BigCommerce email marketing automation solution, enriched with an integrated sales CRM. It equips you with the tools to nurture potential leads, construct automated campaigns based on diverse conditions, and simplify email creation through an intuitive drag-and-drop builder.
BigCommerce users will find ActiveCampaign's app to be a game-changer, empowering them to deliver persuasive, tailor-made communications to their audience precisely when needed, thanks to its email and interaction automation prowess. Whether you're automating small tasks or routing leads to the right teams for a seamless end-to-end experience, ActiveCampaign has you covered.
For those aspiring to expand beyond platform-specific commerce, ActiveCampaign's comprehensive marketing automation toolkit provides all the essential tools. Much like a Swiss Army knife, it's incredibly versatile and capable of adapting to a myriad of functions.
ActiveCampaign earns its stripes for its robust automation capabilities. This feature allows you to segment contacts using a plethora of collected data, laying the groundwork for building intricate automation flows that deliver hyper-personalized shopping experiences to both visitors and loyal customers.
For a deep dive into ActiveCampaign's full potential and how it can supercharge your BigCommerce store, don't miss our ActiveCampaign Review.
Key Features –
Automated personalized experiences for highly personalized interactions across all touchpoints with your customers.
In-depth buyer tracking that gains insights into buyer preferences, behaviors, and numerous custom attributes throughout the customer lifecycle, enabling precise segmentation and more effective outreach.
Customize email sends based on an extensive array of parameters to ensure your messages consistently reach the right audience.
Leverage data collected throughout the entire customer lifecycle to optimize content selection, delivery times, and the most effective communication channels for each customer.
Craft fully customized campaigns with minimal effort, fine-tuning your sending strategy in real time based on customer behaviors.
Pricing Plans – ActiveCampaign extends a 14-day free trial for all its paid plans. There are four pricing tiers, with costs based on your contact list size. Plans commence at $29, offering standard features, and progress up to $149 per month, providing advanced features and integration access.
Wrapping Up
In a world where over 4.2 billion individuals are plugged into email, it's crystal clear that email marketing reigns as one of the most influential communication channels. The potential it holds for building, expanding, and monetizing your target audience is boundless.
That's why the quest for the perfect BigCommerce email marketing app that seamlessly integrates with your store becomes paramount, and it can truly be a game-changer. The right email marketing app can equip you with a essential and advanced email marketing features to help you grow your store exponentially.
In this article, we showed you some of the best email marketing apps that can automate and enhance your engagement, encourage customer loyalty, and propel your sales to new heights. Now, it is your turn to pick one of the apps and set up your email marketing campaigns today.
If you need help with it, here are few articles that you migh want to read next –