When it comes to eCommerce marketing, email is the most crucial component of the marketing strategy. And to make it a success, choosing the right email marketing platform is very important.
So, which is the best eCommerce email marketing software for your business?
Well, it depends on several factors, and going ahead I will show you some of the top email marketing software that you can consider for your business.
Ready? Let's get started.
Top 5 Email Marketing Software for eCommerce
Every email marketing software offer some of the basic features that include –
Email builder
Audience segmentation
Detailed Analytics
Marketing Automation
And more. But the difference in most of the tools is how they approach each of these features and what else they can offer to make eCommerce email marketing easier and effective.
Above all, you also want your email marketing platform to handle your database within your budget. So, going ahead, I will try to provide you with information about the tools using which you can make the right decision for your business.
Drip is a marketing CRM that provides email marketing services for eCommerce businesses. So, if you want to run highly-target campaigns across social media and email, Drip will be a tool to consider.
Drip integrates with all the major eCommerce platforms including WooCommerce, Shopify, BigCommerce, and Magento. It also integrates seamlessly with Facebook Ads and Google Ads allowing you to track and retarget your customers with personalized content.
Feature Highlights-
When you plug all your eCommerce marketing tools into Drip, you can track the entire customer journey across all channels.
It shows your must-have engagement metrics from all channels including the website metrics.
You can create automated workflows that trigger at critical moments based on the user behaviors defined by you.
Pricing and Plans-
Pricing of drip is based on the number of customers in your account and all plans come with the same features and benefits. Its pricing starts at $19 for 500 contacts. You can try it out free for 14 days and have access to all of the features.
Klaviyo is one of the best email marketing platforms designed specifically for eCommerce businesses. Its deep integration with major eCommerce platforms like BigCommerce, Shopify, and Magento allows you to capture data across multiple channels and create segmentation for marketing automation and product recommendations.
Klaviyo also offers mobile-optimized email templates for every type of email campaign. You can easily customize the templates using the drag-and-drop editor and also personalize the content using dynamic data blocks.
Feature Highlights-
It provides ROI-based reporting that lets you see sales from email marketing, based on actual transactions.
You can create powerful customer segmentation that allows you to personalize email content based on past behavior, browsing, properties & more.
It allows you to add product recommendations into emails based on past purchases and browsing history.
It enables you to create custom audiences for Facebook and run campaigns directly from the dashboard.
Pricing and Plans-
The pricing structure of Klaviyo is based on the number of email contacts and you can send unlimited emails. It offers free services to up to 250 contacts and 500 emails sent/month and the paid plan starts with $20/month once you cross the bandwidth of free features.
Unlike other email marketing software, SendInBlue doesn't charge based on the number of contacts. So, if you are looking for a platform where you don't want to worry about monthly bills based on how much your customer list has grown, SendInBlue is for you.
SendInBlue offers an extremely easy-to-use drag and drop email editor that is perfect for beginners with no experience in email marketing.
SendInBlue marketing automation tools allow you to send transactional emails, create workflows for automatic follow-up emails, and segment users. It can also select the best time to send bulk emails using its AI algorithms to ensure the best email deliverability. 
It also allows you to send SMS updates to your customers regarding the shipping, discount offers, delivery, etc. You can also add a live chatbox on your site using which visitors can interact with you for more information related to products in real-time.
Feature Highlights-
You can store all of the information you have about your contacts, including notes from your previous call or meeting and relevant documents that you upload directly into the CRM contact profile
Using SendInBlue you can build an automatic conversion machine with more advanced workflows that include user behavior on your website, email, and social channels.
It allows you to retarget website visitors and email contacts with display ads on Facebook, Instagram, and Google to sell more.
Pricing and Plans-
SendinBlue offers a completely free email marketing plan that lets you send up to 300 emails per day, but all your emails will have their branding. Paid plans start from $25 per month.
GetResponse is more than just email marketing software. It's more of an all-in-one marketing automation platform that enables you to capture leads and drive them toward conversion.
GetResponse also offers a drag-and-drop landing page builder using which you can create beautiful and responsive landing pages. It also integrates seamlessly with advertising platforms like Facebook Ads and Google Ads allowing you to retarget your customer with display ads.
Feature Highlights –
You can easily integrate your online stores created eCommerce platforms like Shopify, BigCommerce, WooCommerce etc.
You can use GetResponse marketing automation to send perfectly timed follow-up emails: post-purchase confirmations, abandoned cart reminders, upsell offers, and product suggestions.
Its advanced analytics dashboard allows you to track contacts as they interact with your messages – you can track opens, clicks, social shares, and unsubscribes all in real time.
Pricing and Plans –
GetResponse offers a 30-day free trial with all the features and its paid plan starts at $15/month per 1000 contacts with the basic plan. However, for eCommerce marketing, I'd recommend the Plus plan which costs $49/month.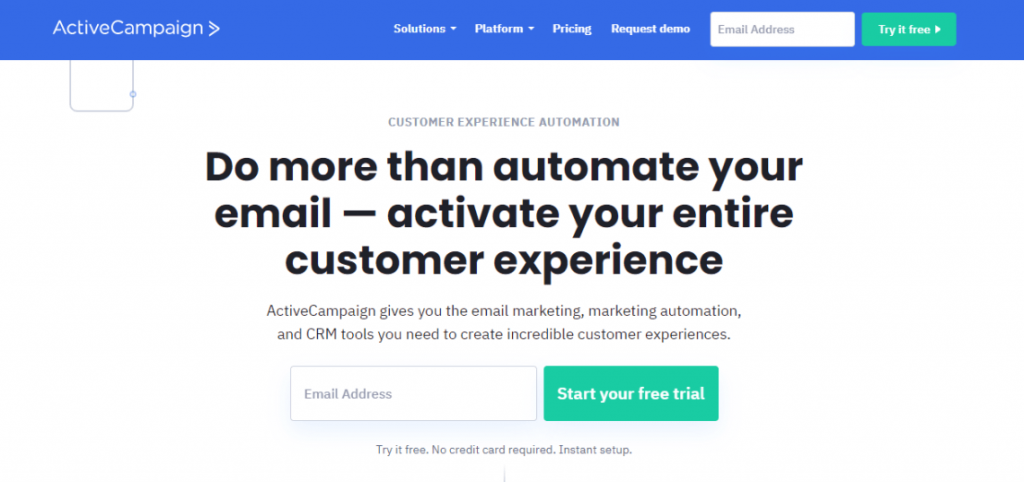 If you are looking for advanced email automation software for your business, ActiveCampaign is the #1 recommended tool for you.
ActiveCampaign comes with an easy drag-and-drop email builder, marketing automation flow builder, and CRM to manage all your contact allowing you to create visually appealing emails and personalize content with dynamic blocks based on the user data.
ActiveCampaigns also provides you with tools to create beautiful landing pages, promotional popup forms, and bars on your site. It integrates easily with other essential marketing platforms like Google Ads, Facebook Ads allowing you to create custom audiences and retarget your customers.
Feature Highlights-
It provides advanced analytic reporting that tells you everything about what's working and what's not on your website, landing pages, email campaigns, and social channels.
With ActiveCampaign, you can literally create segments with almost any behavioral data whether it's on your site, landing pages, or social channels.
Using its advanced email automation and segmentation tool, you can send abandoned cart reminder emails, win-back old customers by offering unique and personalized discount offers.
Pricing and Plans-
ActiveCampaign offers a 14-day free trial with all the features from the Professional plan at the cost $129/month. Its basic plan starts at $9/month. 
Choose the best eCommerce email marketing software
This is a very small list of eCommerce email marketing software in comparison to the tons of other tools available out there.
But too many choices cannot help you make your decision. That's why in this article, I have covered only those email marketing platforms that I believe are more useful for the eCommerce business.
And if you observe, the list comprises email marketing software with price ranges from $9/month to $129/month. So, pick the tool based on your budget and get started with a killer email marketing campaign.
I hope this article gave you a good overview of the best email marketing software that you can use for your eCommerce business. If you liked this article, you can also find us on Twitter, Facebook, and Instagram for more tips.