Are you looking for the best SMS marketing platforms for your eCommerce business? If yes, you've reached the destination.
SMS marketing is one of the most effective ways for DTC eCommerce businesses to engage with customers to build customer loyalty and increase sales for the store.
In fact, with 98% of text messages being opened and 90% being read within the first three minutes of receipt, SMS marketing surpasses email and other marketing channels in terms of direct communication and immediate impact on sales.
Now, to include SMS in your marketing strategy and make it a success, you need a reliable SMS marketing platform that can help you run effective campaigns and drive more sales for the business.
So, in this article, I will show you some of the best eCommerce SMS marketing platforms available in the market and help you determine the right one that matches your business requirements and helps you reach your goal.
Key Features of Ecommerce SMS Marketing Software
There are hundreds of SMS marketing platforms available in the market, catering to businesses of all kinds and sizes. But for eCommerce businesses, you need SMS marketing software packed with some of the key features.
Here are some of the important features that you must look for when choosing an eCommerce SMS marketing software –
Automated Messaging: You should be able to set up automated messages to customers based on their behavior on your site. This can save you a lot of time and effort while also improving the customer experience.
Personalized Messaging: Personalization is key to making customers feel valued and increasing engagement. A good SMS marketing software should enable you to customize messages with customers' names and provide personalized recommendations and offers based on their purchase history, and other attributes.
Two-Way Messaging: With the two-way messaging feature, you can have real-time conversations with customers, addressing their questions and concerns quickly and effectively. You can use this feature for pre-sales consultation and even for customer support.
Opt-In and Opt-Out Management: Your SMS marketing software should allow you and your customers to manage opt-ins and opt-outs easily, ensuring compliance with regulations such as the Telephone Consumer Protection Act (TCPA).
Campaign Analytics: SMS marketing software should be able to track important metrics and provide insights into campaign performance. Using these insights, you can optimize your SMS marketing campaigns to drive more sales and conversions.
Integrations: Finally, you want your SMS software to be easily able to integrate with other eCommerce platforms such as Shopify, Magento, or WooCommerce, and other existing tech stacks to marketing automation and improve efficiency.
If your SMS marketing software has these features, you can be assured that with the right skills and knowledge, you can create effective SMS marketing campaigns that drive engagement, sales, and customer loyalty for your brand.
Top Ecommerce SMS Marketing Software
In this section, I will review some of the best eCommerce SMS marketing platforms and rank them based on the above-listed features.
If you are ready, let's get started.
If you are looking for a solution that offers both email and SMS marketing features, Omnisend is my #1 recommendation for eCommerce SMS marketing software. It is an all-in-one marketing automation platform with advanced SMS marketing tools designed specifically for eCommerce businesses.
Omnisend enables you to provide an omnichannel shopping experience to customers by combining automated texts with email and push notifications into a single automated workflow. It comes with pre-built workflow templates for abandoned carts recovery, birthday offers & wishes, shipping details, etc., which you can customize using its visual automation flow builder.
Overall, Omnisend is a powerful eCommerce SMS marketing platform that provides everything you need to engage with your customers automatically and grow your sales performance significantly.
To learn more about Omnisend as an email and SMS marketing automation tool, you should read our Omnisend review.
Key Features –
Combine automated texts with email and push notifications
Various pre-built SMS automation workflows
TCPA-compliant SMS list-building popups and forms
Allows 2-Way SMS messaging
Supports all country codes for SMS sending
Detailed analytics reporting on SMS campaigns and other channels
Direct integration with popular eCommerce platforms like Shopify, WooCommerce, and others.
Pricing Plans – Omnisend has a free plan with free 60 SMS credits. The Pro plan, starting at $59/month, gives you up to 3,399 Free SMS credits with access to advanced email and SMS marketing features.
Klaviyo is another leading eCommerce marketing platform with a powerful built-in SMS marketing software that lets you combine email and SMS campaigns to deliver an omnichannel shopping experience to customers. It comes with several SMS campaign templates and pre-built automation flows that you can customize per your business needs and drive more sales.
It even supports 2-way SMS conversation, which you can leverage for pre-sales and post-purchase customer engagement. With direct integration with Gorgias, you can use this feature to deliver customer support via text messages with your branded contact card.
The best part about Klaviyo is that you can collect almost every piece of data about your customers, making it easy for you to set up advanced automation and personalized SMS sequences. Whether you want to send order details, shipping confirmations, cart abandonment, back-in-stock alerts, or any detail, this tool has got you covered with everything.
Want to know more? Read our in-depth Klaviyo review to get a complete overview of its features and how it can be useful for your business.
Key Features –
Allows 2-Way SMS messaging
Built-in benchmarks and A/B testing tools
Drag-and-drop SMS automation flow builder
Combine email and SMS messages in automation flows
Include dynamic product images in campaigns
Built-in text message compliance features
Powerful SMS list-building popups, forms, email banners & more
Provides clear-cut SMS campaign performance reports
Integrates seamlessly with 200+ eCommerce platforms and tools
Pricing Plans – Klaviyo has a free plan that gives you free 150 monthly SMS credits. For complete access to SMS features, the plan starts at $60/month with additional SMS carrier fees.
3. Brevo ( Formerly Sendinblue )
Brevo is a comprehensive all-in-one digital marketing platform that offers a range of solutions for businesses, including email marketing, SMS marketing, chat, CRM, and automation. It is the best-known for bulk email and SMS marketing services with an affordable pricing plan.
Besides that, it is also well-equipped with the ability to create and send targeted SMS campaigns, personalized messages, and automated SMS workflows to engage with customers, drive conversions, and build lasting relationships.
It also comes with a customization automation workflow builder for cart abandonment recovery, customer onboarding, and other campaigns, allowing you to engage with customers on auto-pilot. Moreover, in the automation flow, you can combine email and SMS campaigns together to deliver impactful campaigns with higher ROI and more sales.
Finally, if you are looking for an all-in-one marketing platform with built-in email, SMS, and other marketing features, Sendinblue might be the perfect pick for you.
Key Features –
Allows sending bulk SMS marketing campaigns
Provides advanced customer segmentation options
Add dynamic attributes such as names, coupon codes, and other information to text messages
Include SMS campaigns in marketing automation flows
Realtime deliverability and engagement reports
Provides plugins for WooCommerce, Shopify, Magento, and other platforms
Pricing Plans – Brevo has a free plan that allows sending SMS and WhatsApp marketing campaigns with additional charges based on country.
Privy is another popular eCommerce SMS marketing tool designed for Shopify and Wix store owners. It enables you to create and send automated text messages rapidly such that it instantly gets delivered right at your customer's fingertips.
This easy-to-use SMS marketing software comes with a built-in popup builder, using which you grow your SMS contacts list and engage them with automated welcome messages and other updates. It also comes with advanced audience segmentation filters which enable you to send highly personalized and targeted text messages to your customers with special offers, discounts, product launches, etc., for higher conversion rates.
All-in-all, Privy is a simple marketing platform that makes it easier for anyone to set up automated marketing campaigns, without needing any expertise. So, if you are a beginner in eCommerce and marketing, Privy might be the right SMS marketing software for you.
Key Features –
60+ SMS marketing templates
Pre-built customizable popup templates for list growth
Dozens of contact segmentation attributes
Allows consent-based SMS sending only
Set up automated email campaigns for abandoned carts, welcome series, etc.
Provides revenue-based reporting for each campaign
Pricing Plans – Privy Text starts at just $10/month for up to 100 contacts, which you can add to it Free or Starter Plan. The Growth plan, starting at $45/month provides complete access to SMS marketing features along with Email marketing.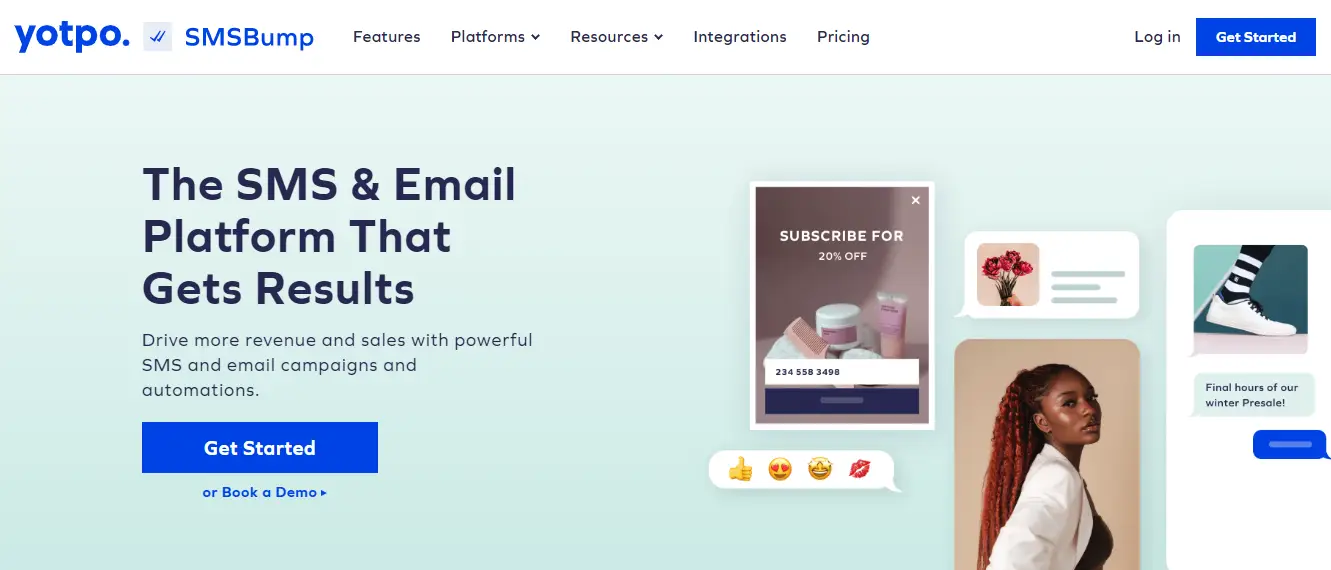 SMSBump is probably the best dedicated eCommerce SMS marketing software that is built for Shopify, Shopify Plus, and BigCommerce. You can conduct highly targeted campaigns, smart SMS automation, and track every click to optimize your marketing goals.
It offers pre-built SMS flows for various activities like cart abandonment, customer reactivation, shipping, and much more. In addition to this, you can segment your customers wisely by using its AI-Powered predictive segmentation so you can send personalized messages at the right moment.
Feature Highlights –
Advanced customer segmentation features
Top-performing SMS templates
40+ SMS automation workflows
In-app 2-Way SMS messaging
Strict compliance-based approach
Built-in subscription form builder
A/B Test Automated Messages
Advanced real-time analytics reporting
Pricing Plans – SMSBump has a free plan that provides access to all its SMS marketing features with separate SMS career fees based on the country you send messages to.
Postscript is a dedicated Shopify SMS marketing app with powerful audience segmentation and trigger options that enables you to deliver highly-personalized text messages to the right customer, at the right time for higher impact and more sales.
It comes with pre-built automation flows for subscriber welcome series, abandoned carts, back-in-stock, loyalty offers, review requests and so much more, which you can easily customize using its visual builder and set it live within minutes.
Postscript also helps you grow your SMS subscriber list by collecting the potential details of your customers at checkout, landing pages, QR codes, etc. The best part is that it is TCPA compliant, so all the details are processed safely and securely, keeping you away from legal troubles.
So, if you own a Shopify store and want to boost sales and customer retention via SMS marketing, then Postscript must be your first choice. With its direct integration, you have access to every aspect of your store data that you will probably not get with any other app.
Key Features –
Customizable popups templates with SMS opt-in form
Allows text-to-join keywords for SMS opt-in
Add SMS opt-in form on checkout and other pages
Advanced customer segmentation filters
Visual SMS automation flow builder
65+ events for automation workflows
Strict regulatory compliance features
Allows 2-Way SMS conversation
In-depth analytics reporting for SMS campaigns
Pricing Plans – Postscript has a free plan that gives you access to all the essential SMS marketing features. However, with paid plans, starting at $100/month, you will get cheaper SMS carrier fees and access to its advanced features.
Choose the Best Ecommerce SMS Marketing Software
SMS marketing is a widely adopted marketing channel in DTC eCommerce businesses for its high open and read rates, immediate response time, and personalized messaging capabilities.
And, if you combine it with email, push notifications, and social media campaigns, you can deliver an impactful omnichannel shopping experience to your customers, resulting in increased sales with higher ROI.
So, choosing the right eCommerce SMS marketing software is crucial to create effective marketing campaigns that deliver results. For instance, if you are looking for a platform that enables you to use SMS marketing alongside email and other marketing channels, Omnisend or Klaviyo would be the perfect platform for you.
Rest assured that all the above-listed SMS marketing platforms are tried and tested before making their place on the list. So, what are you waiting for? Choose the right eCommerce SMS marketing software for your business and start reaping the benefits of SMS marketing today.